The most useful Iceland camper maps for your trip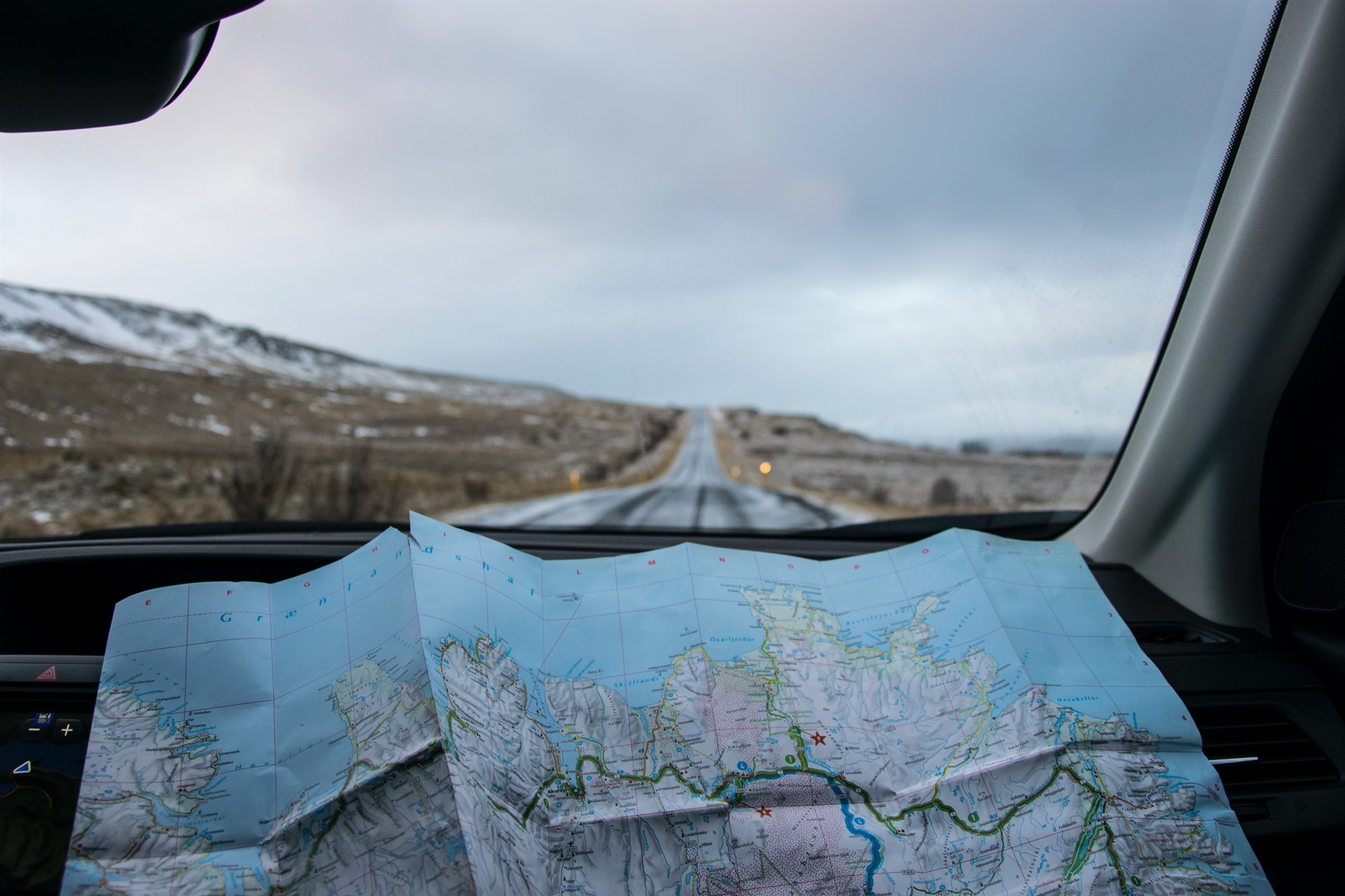 MAPS OF ICELAND FOR CAMPERS
Are you planning to come to Iceland for a camping road trip but don't know where you can go with your campervan? Today, we are going to make you discover Iceland through the maps.
Don't waste your time using old Iceland tourist maps that you may have found in inexpensive tourist guides, we are giving you the latest, updated maps made in KuKu Campers !
---
Here are all the maps we created to make your camper van trip planning easier:
---
Campsites map 🏕️
You won't have any trouble finding a campsite in Iceland. More than 200 can be found and they are spread all over the country. 
Prices vary between €7 and €15 and you'll find there all the conveniences you need, to be nice and comfy. 
On this map you can filter campsites according to their opening dates, in blue the ones open all year round, in orange the one open during summer and in red you can see the campsites included in the Camping card. This card will allow you to stay in approximately 40 campsites in Iceland. It is valid for 2 adults and 2 kids, for a price of €159, so this is perfect for families or even couples for a long stay. 

---
         
Waterfalls map 🏞️
We have for sure some of the best waterfalls in the world in Iceland. If you want to know more about Iceland's waterfalls, you can check out this article : 10 best Waterfalls in Iceland. Indeed, there are way more than just ten as you can see on the following map, but if you want to be able to find even the most hidden gems of Iceland you can check our Ultimate Kuku map of Iceland ! 
During your camping trip in Iceland, you can find waterfalls all around the country, and most of them are really easily accessible with the campervan because they are really close to the ring road. 

You may have your own favorite ones, but here's our Kuku top 3: 
Dettifoss
Svartifoss
Gullfoss waterfall (Part of the Golden Circle, with Thingvellir National Park and the geothermal area of Geysir)
You can also check Seljalandsfoss waterfall in south Iceland, off route 1. Then the less-visited Kvernufoss at Skógar - facing the main waterfall then you go to the right, behind the museum, and follow the trail into this magnificent waterfall where you get really close.  There is also a very good camping place at Skógar to spend the night in your campervan.

---
      
Hot springs - hell yeah! 
🌡️
Want to take a nice bath in a hot swimming pool in Iceland ? We especially like it in winter, feeling the cold air on your face while being in hot water is an awesome experience.
Hot springs are like a religion in Iceland, and Icelanders really like to gather and enjoy a nice bath with families and friends.
From Blue Lagoon to the most secret places, there is definitely one that you will fall in love with.
We must say, finding each hot spring in Iceland was not an easy job ! But we sure have managed to do it !! Here is the map:

---
           
Volcanoes 
🌋
Iceland has 32 active volcanic systems for about 130 volcanoes on the island. You probably have heard about the big eruption of Eyjafjallajokull in 2010 that led many flight to be cancelled, but also permitted the explosion of tourism in Iceland.
There are so many volcanoes in Iceland that it is very hard to remember which one is dangerous and which one is not. Go check on this page to have a safe trip while enjoying the volcanoes 

Top 3 of the most famous volcanoes : 
Eyjafjallajokull volcano
Katla volcano
Snæfellsjökull volcano
Fact: Have you ever heard about the Skaftáreldar eruption that happened from 1783 to 1784? It was the biggest eruption in Iceland's history and killed approximately 25% of Iceland's population!!!

---
Best place to see the Northen Light ✨
Imagine standing under a starry Arctic sky as the Northern Lights paint the night in vibrant colors. If it's a dream you'd like to realize, Iceland is the perfect place as it's covered by the Aurora Belt : A circle, at both of the geomagnetic poles of our planete, where the electrically charged particles make the air shine.
With this map, we will take you to discover the best places in Iceland where you can witness this impressive natural spectacle.We'll show you the most beautiful places to see the Northern Lights in Iceland. Get ready for a breathtaking adventure under the Arctic lights with KúKú ! 
Basically, you can see the northern light everywhere in Iceland when there's minimal light pollution. In that way, you will definitly have a better chance of experiencing the Northern Light in the westfjords !

---
        
Whale Watching Map 
🐳
Are you seeking excitement? Do you want to feel the real power of nature? Then whale watching MUST be on your bucketlist ! There are a lot of companies that provide tours to meet the biggest mammals on earth, with departures from several harbors in the west and in the north of the country.
Husavik is known to be the capital of whale watching in Europe, but if you want to know more about whales, tours, prices, and so on, just read this article: The Ultimate Guide for Whale Watching in Iceland
In this map we gathered the main whale watching companies in Iceland so that you can easily compare them and their location to choose according to your plans:
The 3 main spots to meet whales in Iceland are: 
Husavik
Akureyri 
Reykjavik 
Most of the tours last 3 hours, so do your plans accordingly. The best idea is to plan a one-day stay in the town where you will go whale watching, or in the area.

---
         
Puffin watching spots 
🐧
Puffins are incredible and so cute that you will instantly fall in love with them. Iceland hosts more than 60% of the world's puffin population, making our country the best place to meet these tiny creatures.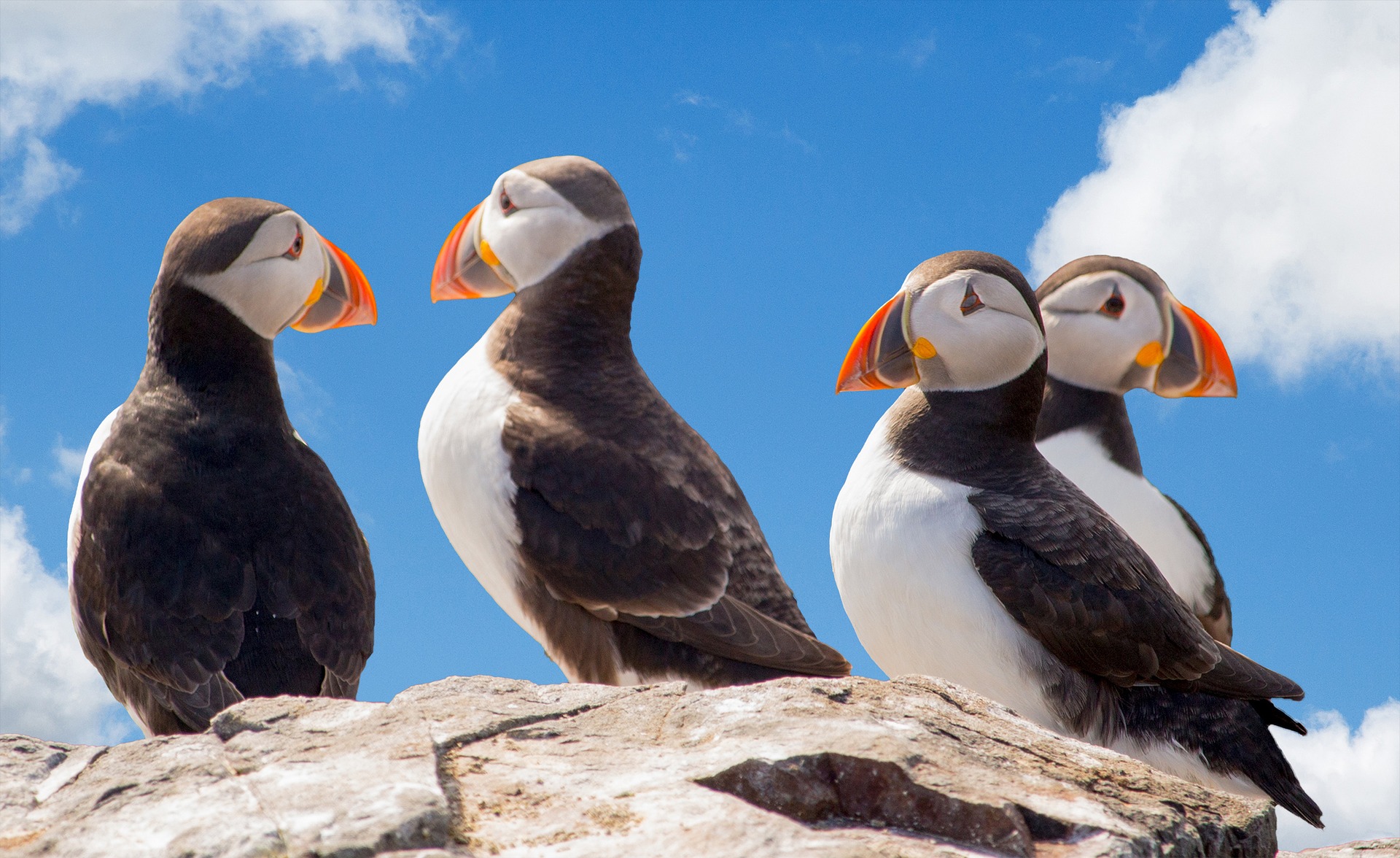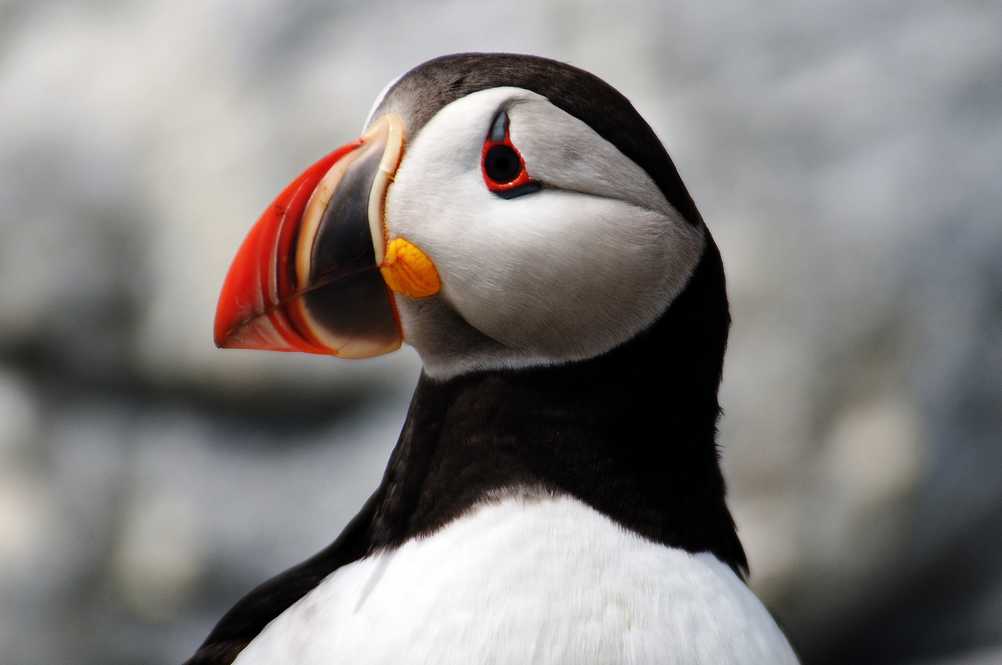 Iceland is full of cliffs and islands that puffins love to colonize during the summertime. That's why there are so many of them around here. There are a lot of spots where you can find these friendly birds all around the country, from west to east Iceland. 
Here's the map:
Want to know more about puffins and how to see them? Go and read our dedicated article: Meet the puffin in Iceland!

---
      
Road map 
🚙
💨
Fun fact: There is no railway in Iceland. That means that if you want to travel to Iceland, the best way is to use our roads and of course do a campervan trip!
Driving in Iceland may be a bit different from what you know, snowy road conditions, wind, gravel road, that will be for sure a new experience for you, but no worries all of our vans are equiped with winter tires ans spikes.
The famous Ring Road in Iceland (Route 1) circles the island, and a lot of famous places are just a few turns from the main road. This is the longest road in Iceland with a length of about 828 miles (1332 km)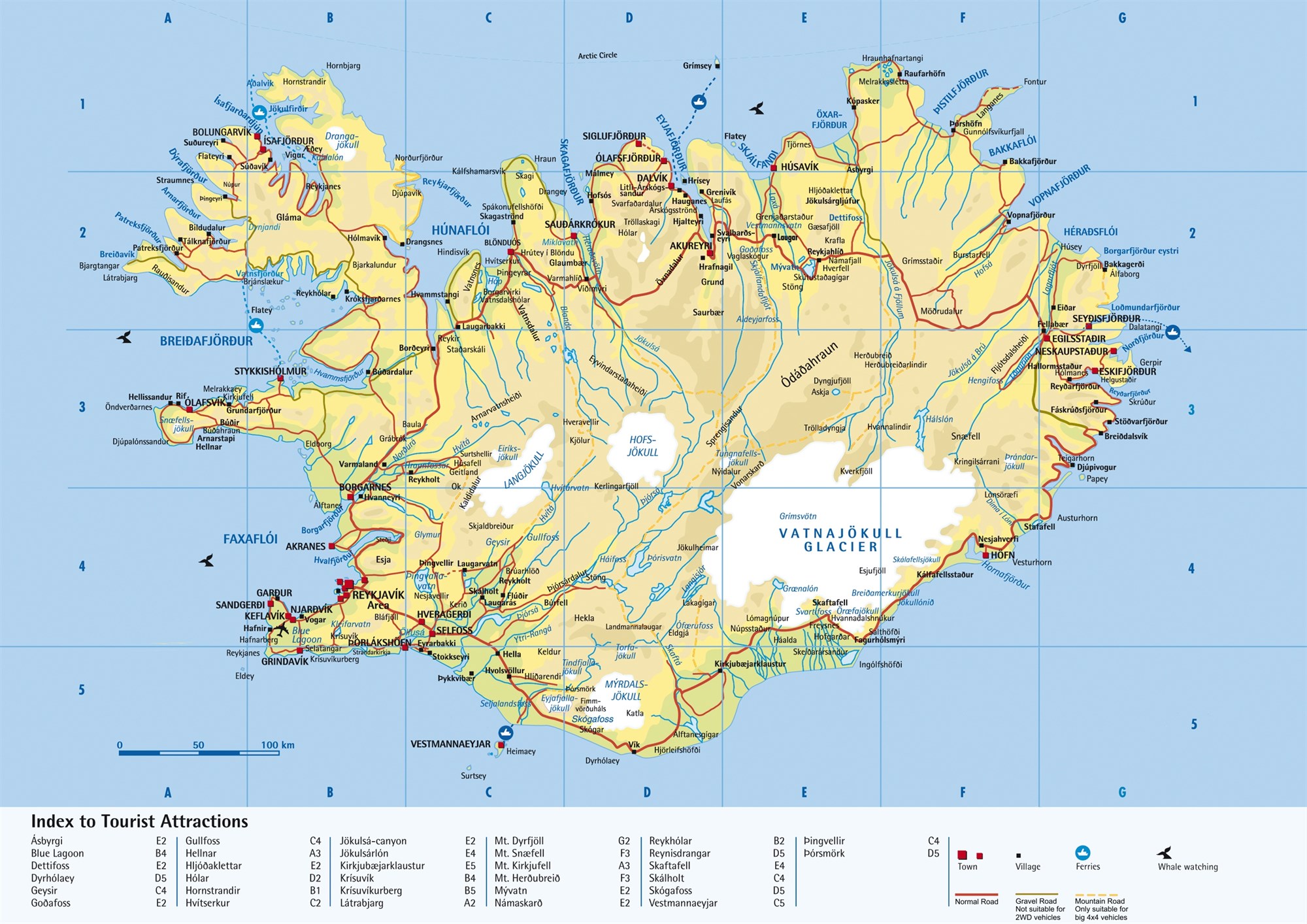 Pro tip: Plan to spend 10 days in Iceland if you want to do the full Ring Road tour!
Not inspired to plan your road trip ? No worries, we've got you ! We've prepared some examples of itineraries that you can either reproduce or take inspiration from to create your own ! Want to check them ? It's this way !

Different types of roads can be found in Iceland, but to keep it simple, you'll find paved roads, gravel roads or F-Roads.
The main roads of Iceland are paved roads and connect the bigger cities, every car or campervan can drive on these.
(pssst: you can send us an email for personalized road trips or ring road itineraries!)
But you can drive on certain gravel roads in Iceland, like the ones you can see in this video:
F-Roads are gravel roads or just tracks. Only 4x4 are allowed to ride F-Roads. There is often a 1-way roads that connect remote areas to primary roads. But don't worry, if you're only driving the ring road then an FWD (a basic campervan) is perfect for you.
Be careful, they are closed during winter!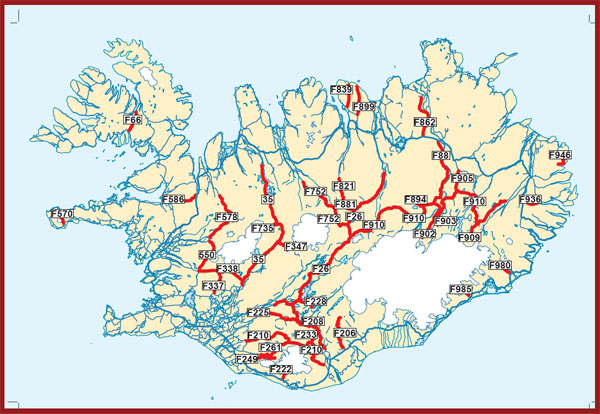 Map: Iceland Road Map - F-Roads
---
      
Churches 
⛪
Aaaah here we are, churches. During your trip to Iceland, you will see a lot of little towns in the middle of nowhere. What do they have in common? Churches. 
Why are there so many churches in Iceland? 
Churches belong to the island's history. Before roads for your campervan were built in Iceland, the harsh weather and deserted landscapes made most journeys challenging for Icelandic people. So they couldn't get so far and that included going to the church. To fix that, they decided to build one in every little town on the island. 
One of my favorites belongs to Husavik, a nice town in North Iceland. It is a really tiny one but its charm is huge. The color of the roof is green which matches with the color of some boats at the port that gives a nice harmony to the town. 
Of course, churches are also present in big cities like Reykjavik, the capital of Iceland, Hafnarfjordur, or Akureyri. 
---
        
Reykjavik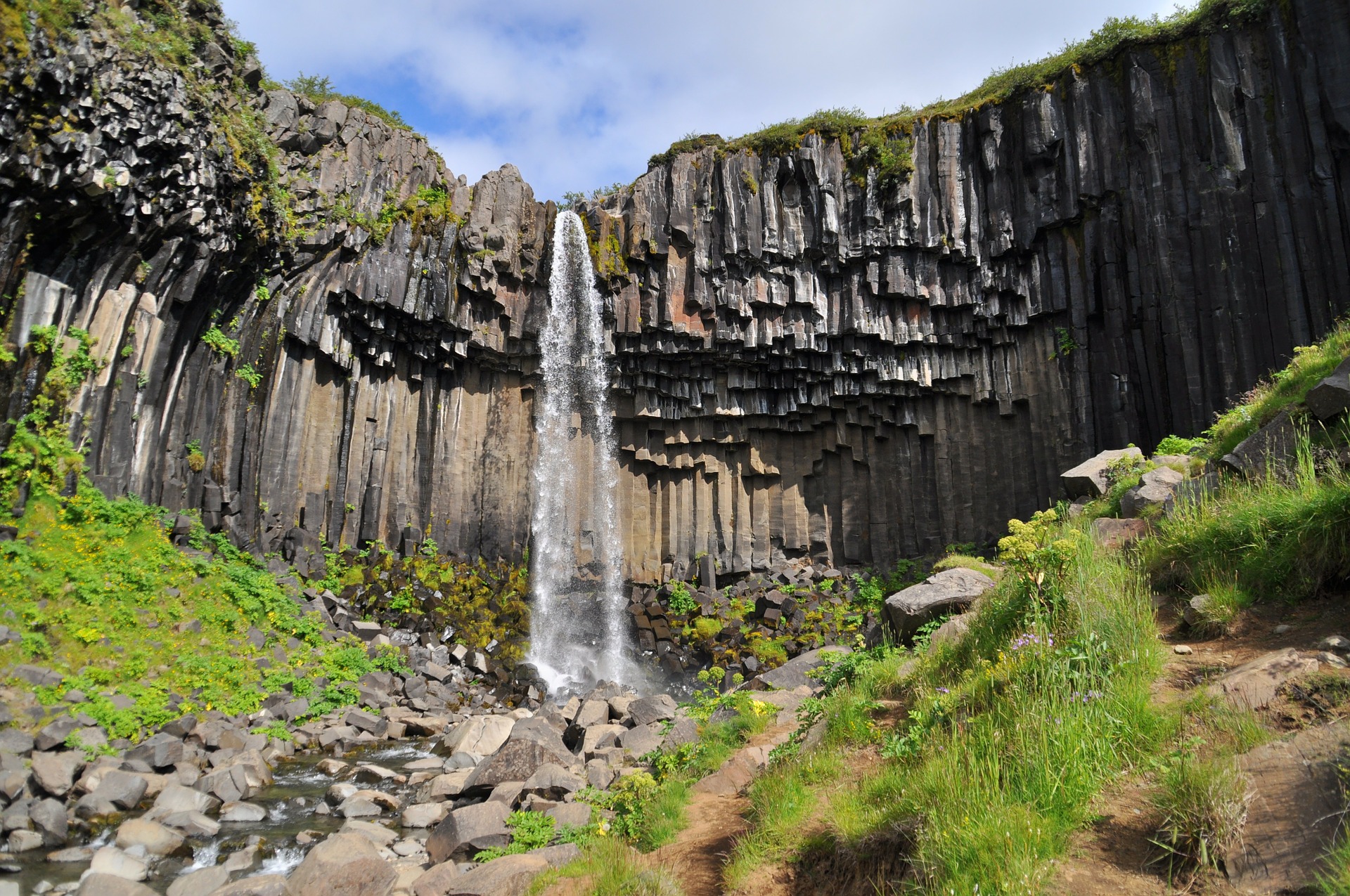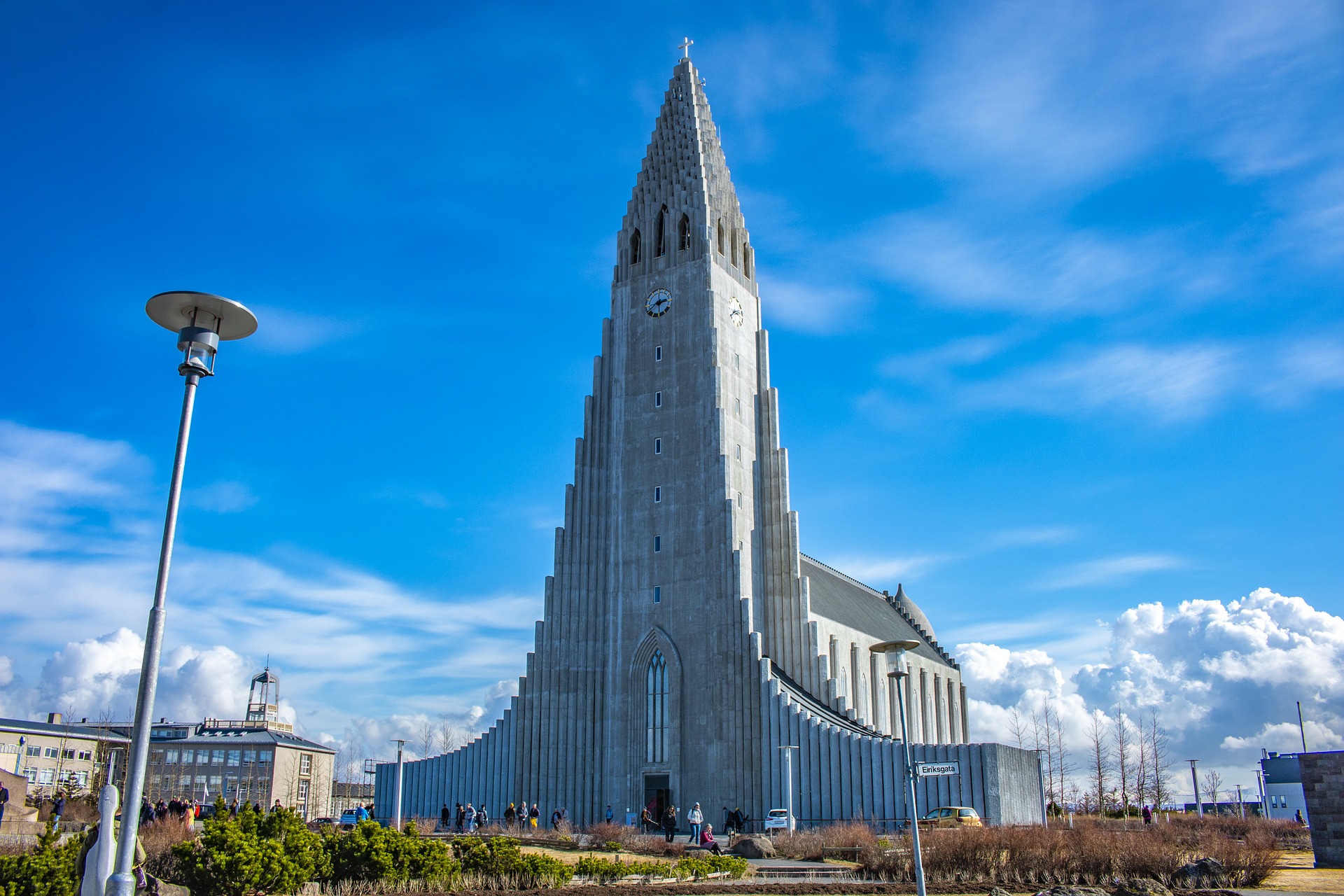 Hallgrímskirkja is the tallest building in Reykjavik and you can see it from almost everywhere in the city. It was designed by Guðjón Samúelsson in 1937 who was inspired by the shapes and forms created when lava cools into basalt rock.
Svartifoss is a good example of his inspiration. And you can easily make the link between them. 
There are so many things to do in Reykjavik that we couldn't summarize it in just a few lines, so if you are interested in all the activities the capital city has to offer, go check our dedicated article !

---

Akureyri
Akureyri church is one of the most popular attractions and is a real symbol of the small town. Located above the town center this church is a Lutheran church and was designed by the famous architect Guðjón Samúelsson (yes yes, him again!) and consecrated in 1940. Believe me, this church is worth the visit.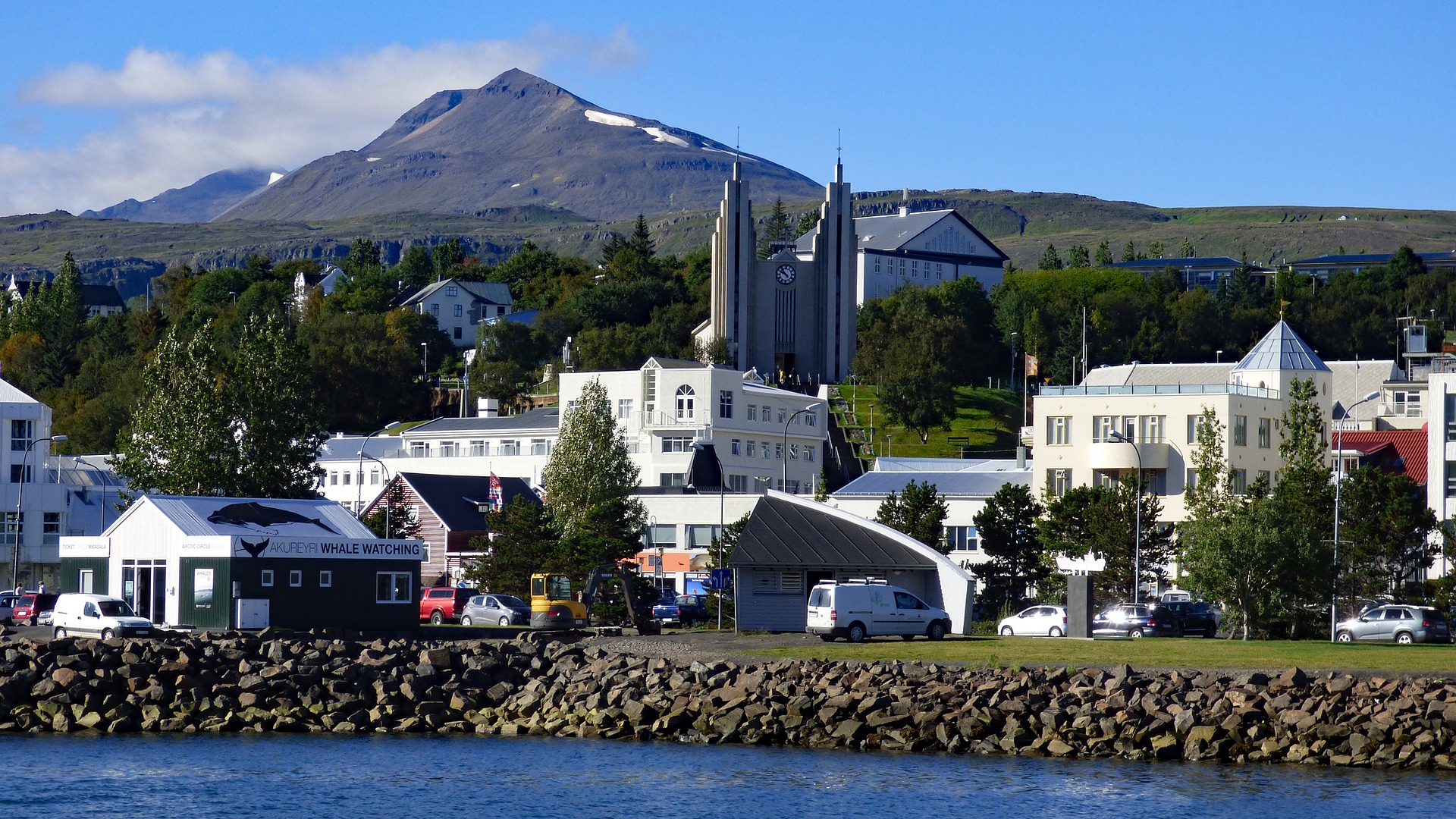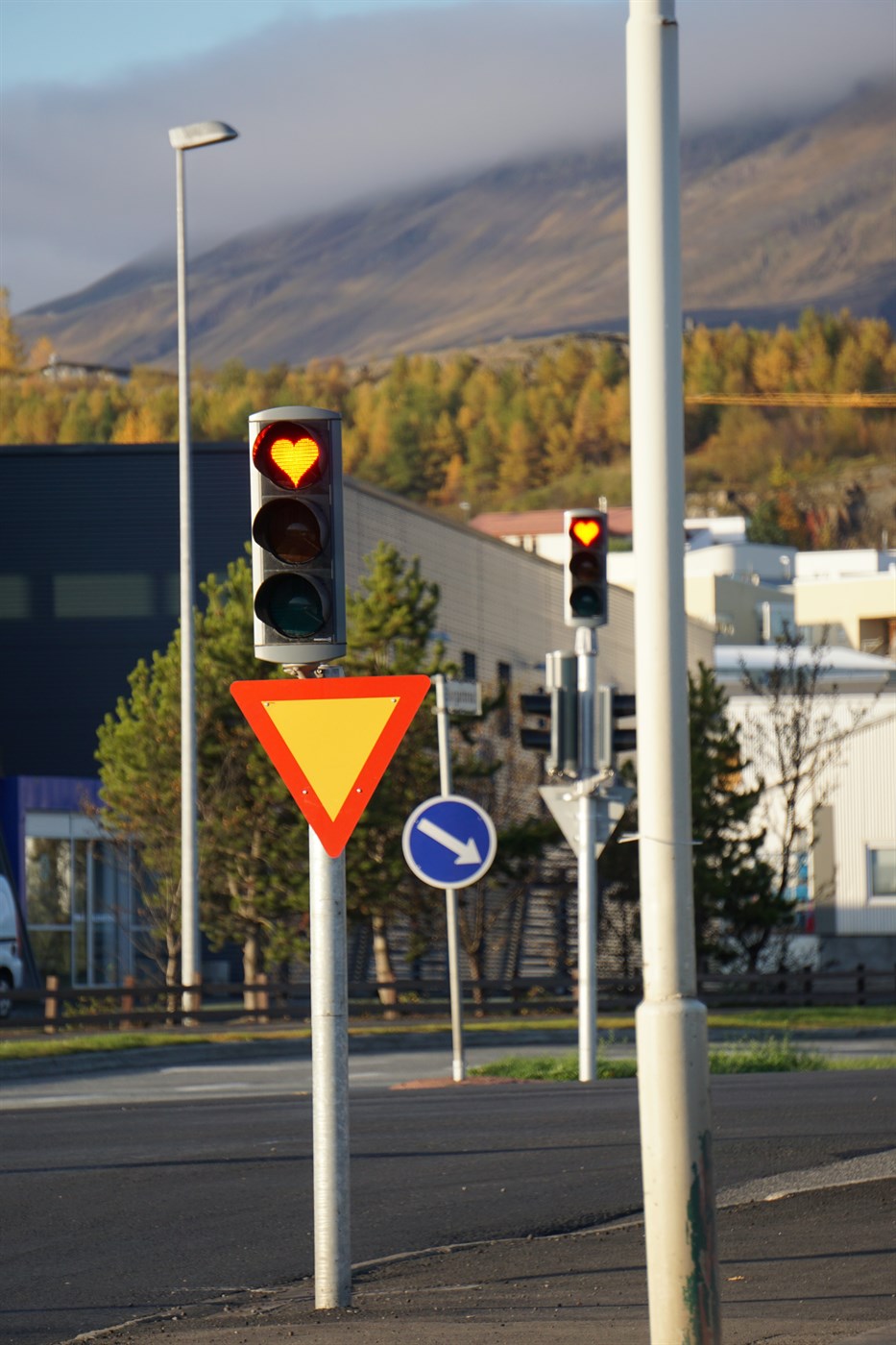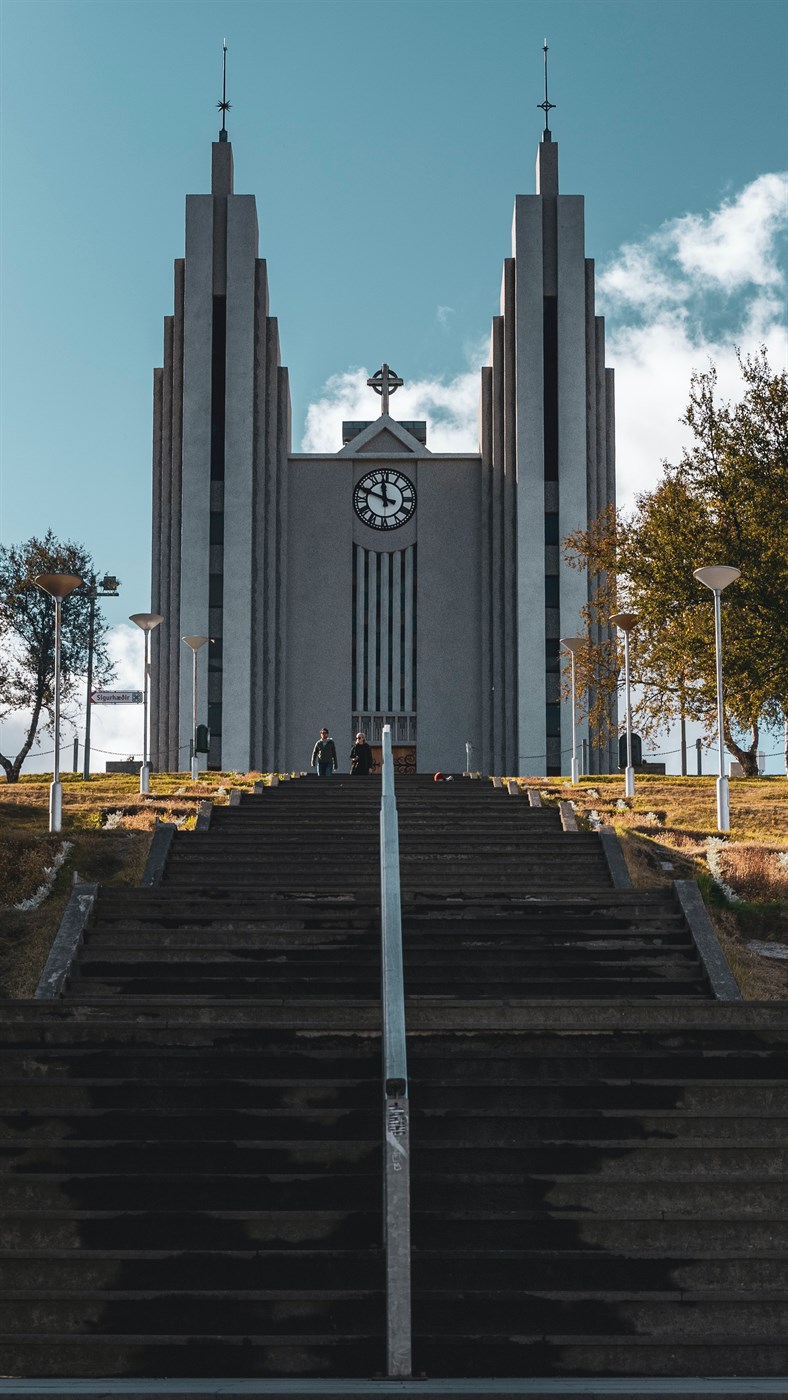 Among other things, Akureyri is known for its great whale watching tours (Psst : check our special Kukustomer discount for Elding whale watching tours, and more right here !). But you can also enjoy the city's numerous restaurants, cute cafes and shops.
We did our best to list our favorite spots:
---

Glaciers 
❄️
Glaciers are all around the south of Iceland and cover 10% of the Island. So be sure to visit at least one of them since it is a unique experience. Indeed, you won't find as many glaciers in any other country except in Greenland of course!   
Our top 3: 
Vatnajökull Glacier (You should add this one to your bucket list)
Hofsjökull Glacier
Mýrdalsjökull Glacier
Sad fact: Okjökull is not part of Iceland's glaciers anymore.
Okjökull is an old volcano in the Highlands located in West Iceland and was used to be covered by ice but, for the past 20 years, due to climate change, the glacier has melted down really fast and lost its glacier title in August 2019. Because it became so small, this glacier couldn't carry the title anymore and is now simply known as "Ok" since" jökull" means glacier. 

---

Fishing Spots 
🐟
You want to fish but you don't know where to go in Iceland? Don't worry we got you covered!
First of all, you will need a fishing card. Don't worry, you and can get one at the KuKu reception !
Secondly, you can't fish in every lake you find and if you find one where you are authorized to fish, you will have to follow the rules of the lake's owner. 
Another thing, each lake has its own rules so be sure to respect them, my friend!
Here you will find a map of the best spots to fish in Iceland, what a best way to experience your camping adventure than to go full in and fish your own dinner ?
---

Black Sand Beaches 
🌊
Most Icelandic beaches have black sand. Yes yes, in Iceland we don't do what others do. This particular color will give you unrealistic, lunar landscapes, and leave you thinking that you are in another world. 
The most famous one is by far Reynisfjara also called the black sand beach of Vik. You will be amazed by its rock formations and incredible sand! But they are so many less touristic ones, spread in the west and in the south of the country.
Millions of people visited those beaches and felt the same feeling of amazement and excitement, but it's your turn this time. With this map, you'll know where to go! 
If you want to discover more about each spot you can read our article about the black sand beaches in Iceland.
Our top 3: 
Reynisfjara
The Diamond Beach ( and the J

ökulsárlón glacier lagoon)

Stokksnes beach

---

Cities and Towns 🏙️
In Iceland, you will find some of the most picturesque cities and towns in the world. The best example is Husavik, in the north of the country, with its picturesque harbor.
In this map you can find the best cities to visit in Iceland:
The biggest city is the capital city: Reykjavik, and is far bigger than Kopavogur, which stands at second place, to give you an idea, here are the top 5 biggest cities in Iceland:
| | |
| --- | --- |
| Reykjavík | 130,345 inhabitants |
| Kópavogur | 33,205 inhabitants |
| Hafnarfjörður | 27,357 inhabitants |
| Akureyri | 18,191 inhabitants |
| Reykjanesbær | 15,379 inhabitants |
The cities and towns of Iceland are definitely something you don't want to miss. You will enjoy colored houses, beautiful churches, a lot of bars, traditional restaurants, museums, and so on. And you can also meet Icelanders, that's an all-in-one!
---

SECRET KUKU MAPS
We didn't tell you but we also have other maps that you can take with you during your trip...the kind of map that we only keep for our beloved customers (or cannot display on this website... oops 😅), they will give you extra thrills, excitement, or even babies during your drive tours! 

The honeymoon map: 
Take your beloved one to the most romantic places in Iceland. 

The mooning map:
If you feel like mooning people from the government or banks, just to show how much you love them. 

The farm day map:
Tired of urban life? Trade your costume for a fork and become a farmer for one day. 

The nightlife VIP map: 
Spend the most "unforgettable" nights with this Nightlife VIP map Made in Kuku.

Sex outdoors map:
Do I really have to explain this one?
---
One more surprise... 🎁
If you stayed until here, lucky you ! We have one more surprise map for you : the Ultimate map of Iceland, which has all the previous maps in one 😍😍😍
---
Now you are all set to visit Iceland with your campervan ! So what are you waiting for my friend ?

---
You might also like...