Ice hiking hiking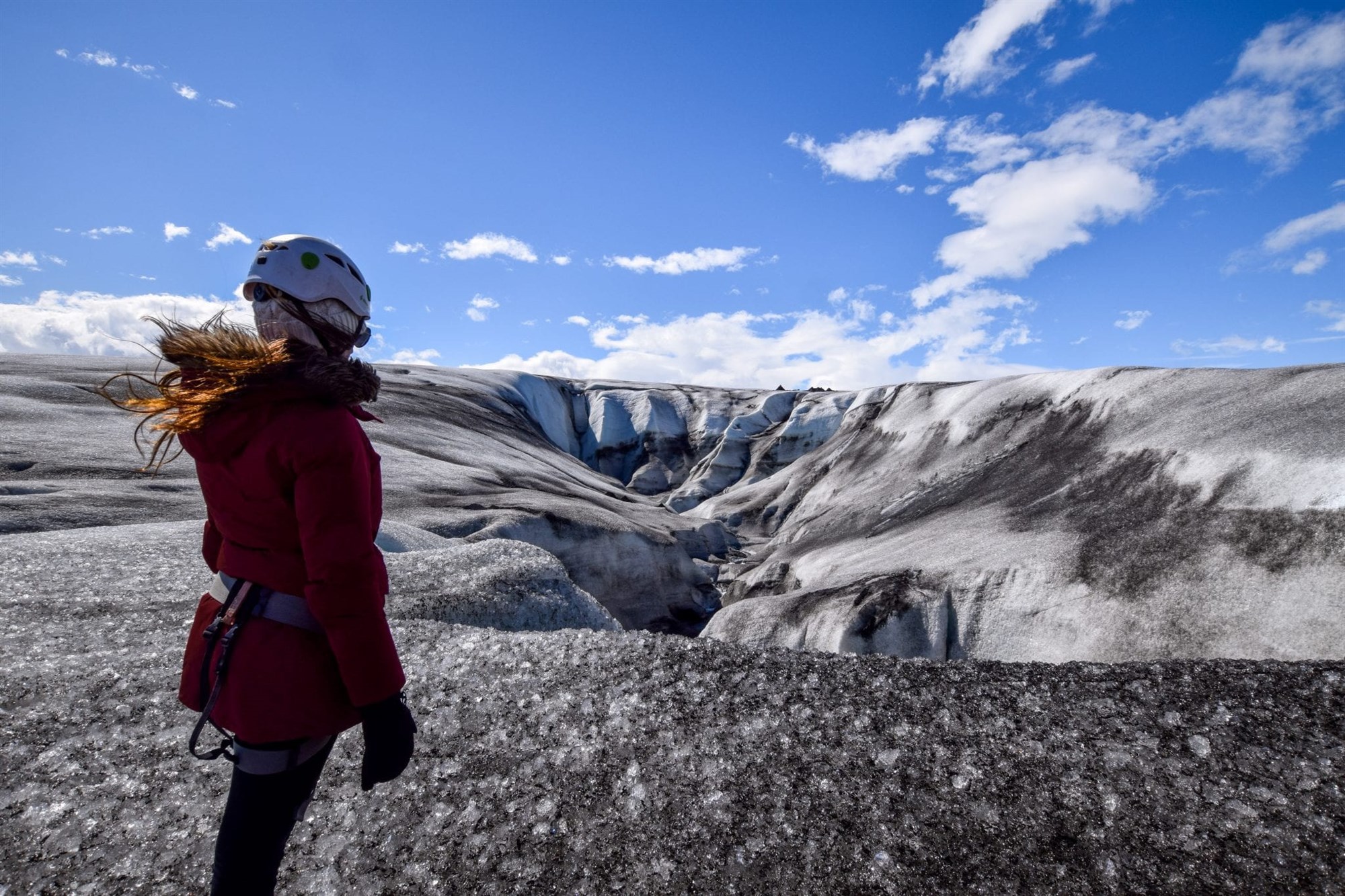 Iceland is known as the Island of Ice and Fire, due to its massive  glaciers alongside roaring volcanoes. It is only fitting, then,  that during your Icelandic experience, you get to see some of  the best glaciers the island has to offer. 
There are all sorts of tours, trips, and hikes that highlight the glaciers of Iceland-  this guide will direct you to some of the best!   
Before we get into it… 
There are certain precautions you should take before attempting any significant  day hike in Iceland. For one, you should always bring warm clothing, and perhaps  a windbreaker to block the ferocious winds. You will probably find that once you  get moving and your heart rate goes up, you will warm up, but it is always better  to remove layers than to not have any layers at all! A solid pair of hiking boots  are a must as well. Many hiking tour services offer rentals of good jackets, gloves,  headwear and waterproof clothes, all of which are highly recommended for any  extended hike. Of course, you can bring your own as well, but don't let your lack  of clothes stop you from experiencing these amazing tours- you can always rent  the appropriate clothing!   
Be sure to pack some food as well! From granola bars to sandwiches, you're  going to need a good energy source as you scale the ice. You'll be outdoors for  the majority of the day, so don't forget to bring some good nutrition to keep your  body going.  Also, don't be afraid to price check! This guide lists a couple of the many  agencies which offer tours of the glaciers of Iceland. There are many options to choose from, so you should find the package that best suits the experience you  are looking for as well as the one that fits your price range. It doesn't take much  research to find the one that's right for you, so get to work finding the best deal!   
Vatnajokull National Park 
Hosted by Arctic Adventures and costing around $122 dollars, this hiking tour  offers you an intimate look at the largest glacier in all of Europe, on the glacier  outlet known as Falljokull. Roughly six hours in length, you will scale the glacier  with crampons and ice axes, and get a real look a icelandic nature far removed  from civilization. Your guide will highlight some of the best spots to see on the  massive glacier, and you will get some pretty amazing natural views as well.  Informative and breathtaking, this is one of the best hiking tours in Iceland.  The tour takes off from Skaftafell, which is about 203 miles east of Reykjavik along  the Ring Road. It is a pretty remote area, with the nearest towns being  approximately 40 miles away. The tour meets on location, so be sure to get there  early!   
Another tour offered by Arctic Adventures is a little lighter on the strenuous  exercise. It's also a little lighter on the wallet, costing about $80 dollars for the full  hike. Known as the Glacier Wonders tour and running for a total time of about  four hours, your guide will inform you of the way that glaciers move and form, all  while showing you fantastic views and sights. You will see the fascinating  crevasses and contours of ice through the glacier, forming intricate pathways  and patterns. You will also get a good look at the tallest peak in all of Iceland,  Hvannadalshnukur (as seen on Game of Thrones!), as it towers above you and  your fellow hikers.  
All in all, the Vatnajokull glacier is an excellent place to hike glaciers and  experience the intimate nature of Iceland. It is a bit out of the way, but it is well  worth it, and is surprisingly affordable as well.   
Solheimajokull Glacier 
Located along the South Coast between Reykjavik and Vik, this is a relatively easy  hike that offers some spectacular views of the world-famous South Coast  beaches. It is surrounded by several volcanoes, offering unique views of the land  formations as well. If you go in the summer, you will get to see the glacier lagoon  which forms in front of the glacier when the weather warms up. Under the ice is  the massive volcano known as Katla, the biggest volcano in Iceland! The trip  offered by Arctic Adventures also includes a couple of stops on the way back to  Reykjavik at two of the most beautiful waterfalls in Iceland, Seljalandsfoss and  Skogafoss. All in all, a very worthwhile experience! 
Another trip, offered by Asgard Beyond, offers what is called the Ice Climbing  Clinic, in which their expert tour guides will (literally) show you the ropes of how to  properly climb the ice. No skill level is required, and you can dictate what level of  difficulty you want to experience- the guides are at your command!     
These are the two most common glacier hiking experiences in Iceland. Each  offers its own benefits and perks, so choose the trip that is best for you. With all  sorts of services for tours and hikes, you should be able to find one that fits your  budget as well. You'll be sure to have a one-of-a-kind experience either way!