Discover Iceland Through Hot Springs!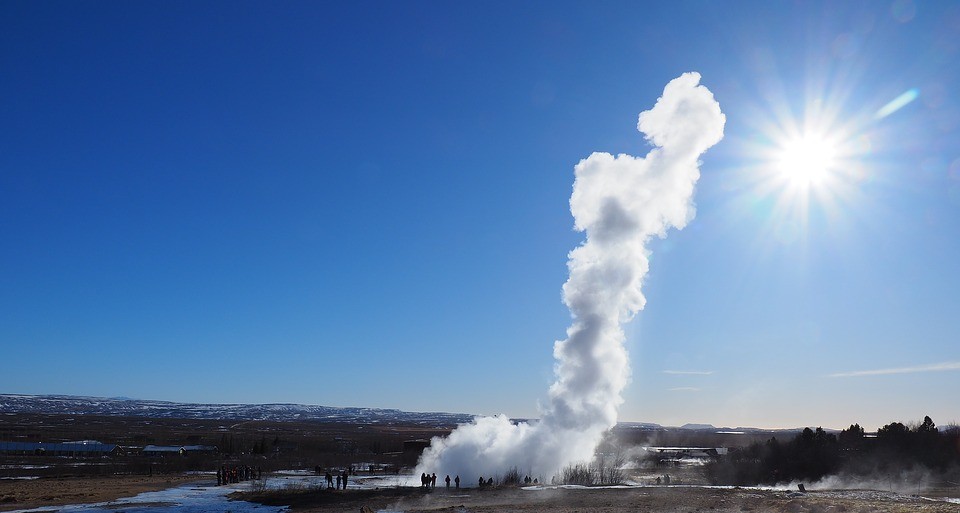 Hot Hot Hot springs!
---
---
You probably think that because our country is named Iceland you're always freezing and constantly trying to stay warm. Nei! This is a common misconception that we are going to clear up once and for all.
While it can get freezing cold here, we do have our warm seasons, and there's definitely a lot of outdoorsy things to explore!
Iceland is known for its natural hot springs due to the volcanic activity. In this guide, we're going to hop in our Kuku Camper Van and show you the best hot springs of Iceland!
What is a hot spring?
A hot spring is a body of water that is heated from underground thermal sources. These phenomenons are very similar to geysers caused by volcanic activity. Which means technically, there's a chance that you could blow up any minute… But trust us - it's worth the explosion!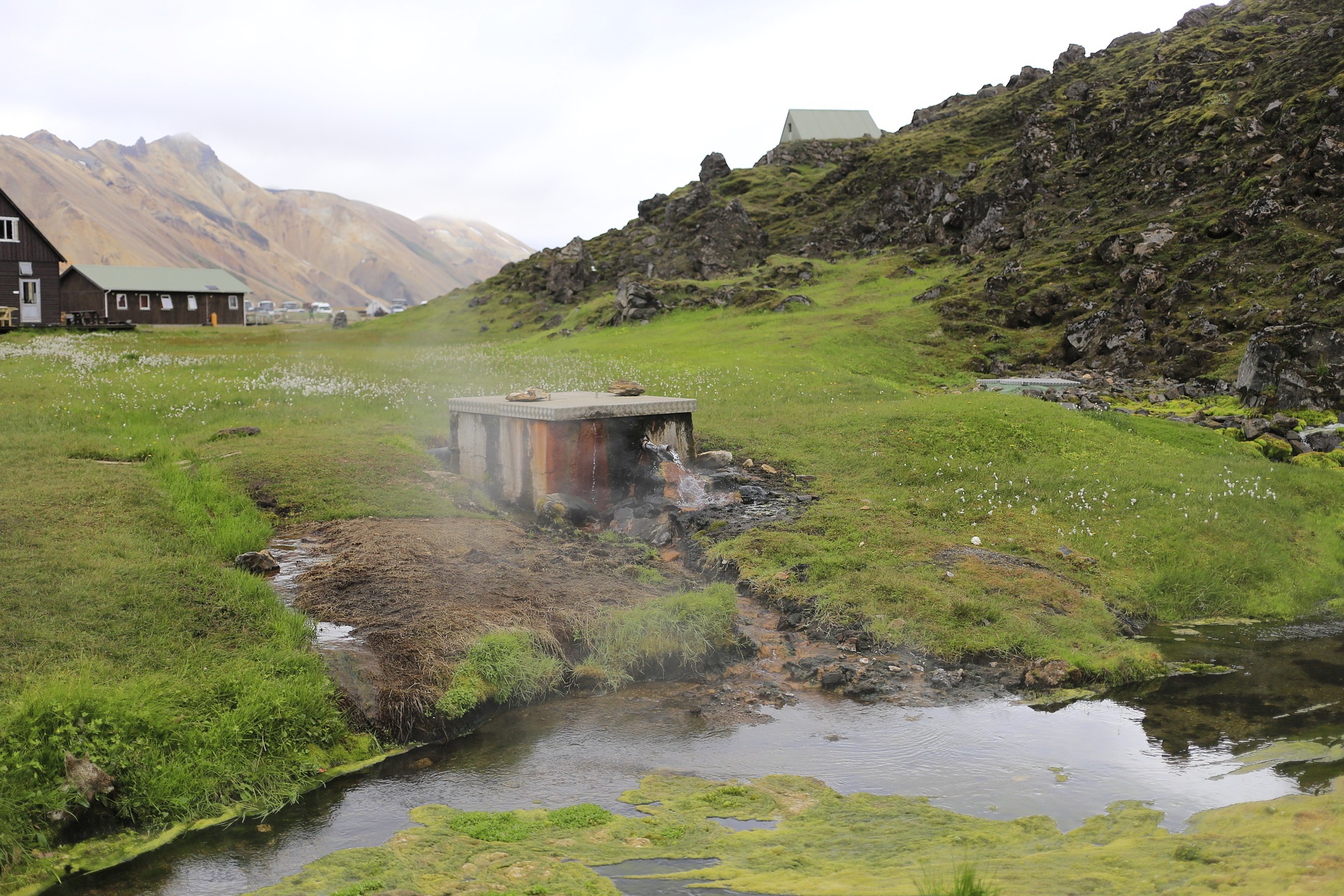 Photo: Hot spring in Iceland
Just kidding. We've actually never heard of anyone soaking it up in a hot pool and then blowing up from a random volcano. We're pretty sure that won't happen. So, you can enjoy yourselves in those swimming pools without worrying about exploding!
But in case you did explode from a spontaneous eruption and tried suing us later - we must disclose that there is a 99.9999999% chance that it could happen!
Why are thermally heated pools so popular?
Well, my friend, let me explain it to you this way - have you ever had a puppy snuggle with 100% of you all at once? If not, you'll know what it's like when you soak in one of our many heated pools.
Imagine coming to Iceland and hiking for hours without stopping. Your back hurts, your legs are sore, your feet swollen and you have to go to the bathroom. What's the solution?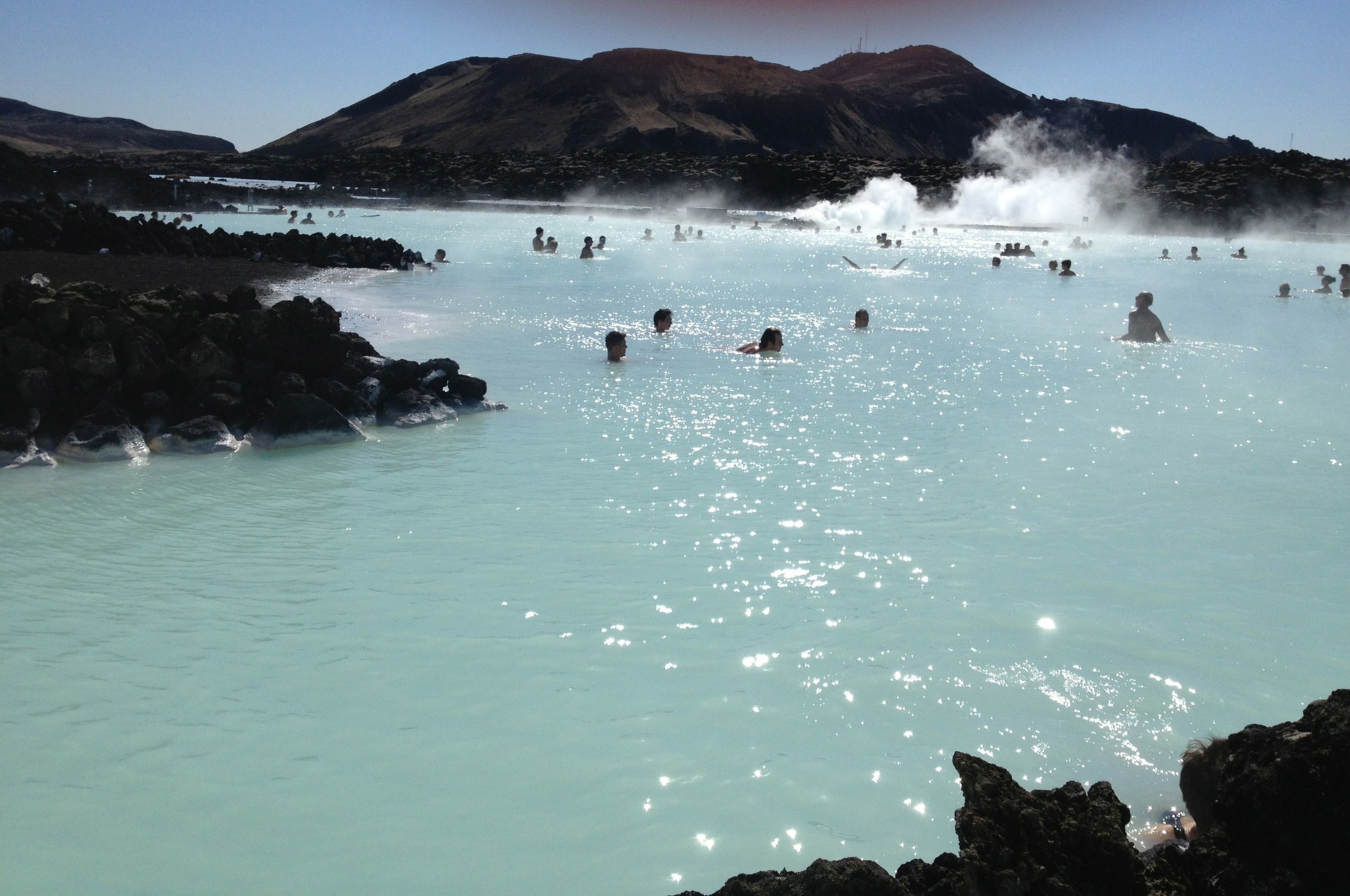 Photo: Blue Lagoon is the most famous spa in Iceland
Drive your Kuku camper van to the nearest heated pool and relieve your aching bones and joints, that's the solution! Except for going to the bathroom… you'll need to figure that one out on your own.
But really, nothing is more relaxing than soaking it up in a natural, outdoor hot tub. This warm water is composed of sodium bicarbonate and calcium found in mineral hot springs help with good circulation of the body. You won't be disappointed about this experience!
Best places to find thermally heated pools and hot springs
Everywere you will go, you will find a hot spring, that's how it is in Iceland! But to make it easier for you, we created a map of the best hot spring in Iceland, just because we love you. 
Hot Springs KuKu Map: 
Thankfully, you will have a wide choice of Iceland hot springs that you can enjoy. The question is: Are you looking for something more secluded and Jon Snowish? Or are you fine with sharing the waters with others?
Either way, here are our top of heated pools in Iceland!
Most famous hot springs in Iceland
Spas in Iceland
The Blue Lagoon
Hard to talk about hot spring in Iceland without talking about the Blue Lagoon, this is the most famous spa in Iceland. These milky blue waters will give you a unique experience in an incredible natural area.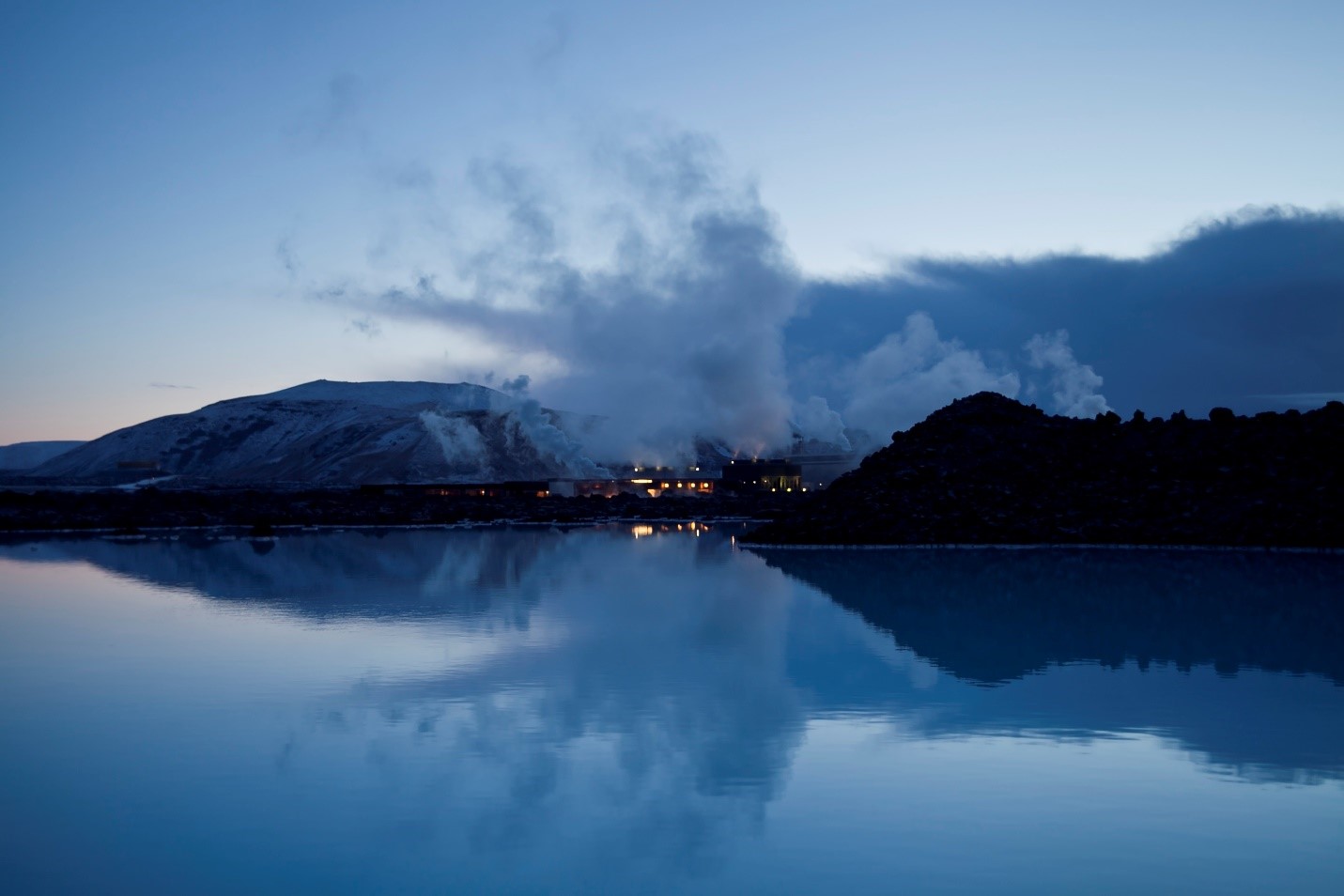 Photo: The blue lagoon in Iceland is the most famous spa
As this place is a spa, you will be able to enjoy massages, cocktails, hot waters, saunas, ... and so on! 
These naturally hot waters are full of silica, a mineral that is really good for your skin, and helps a lot against psoriasis and joint pain, among others. 
This is the best way to fully relax while healing your body and soul!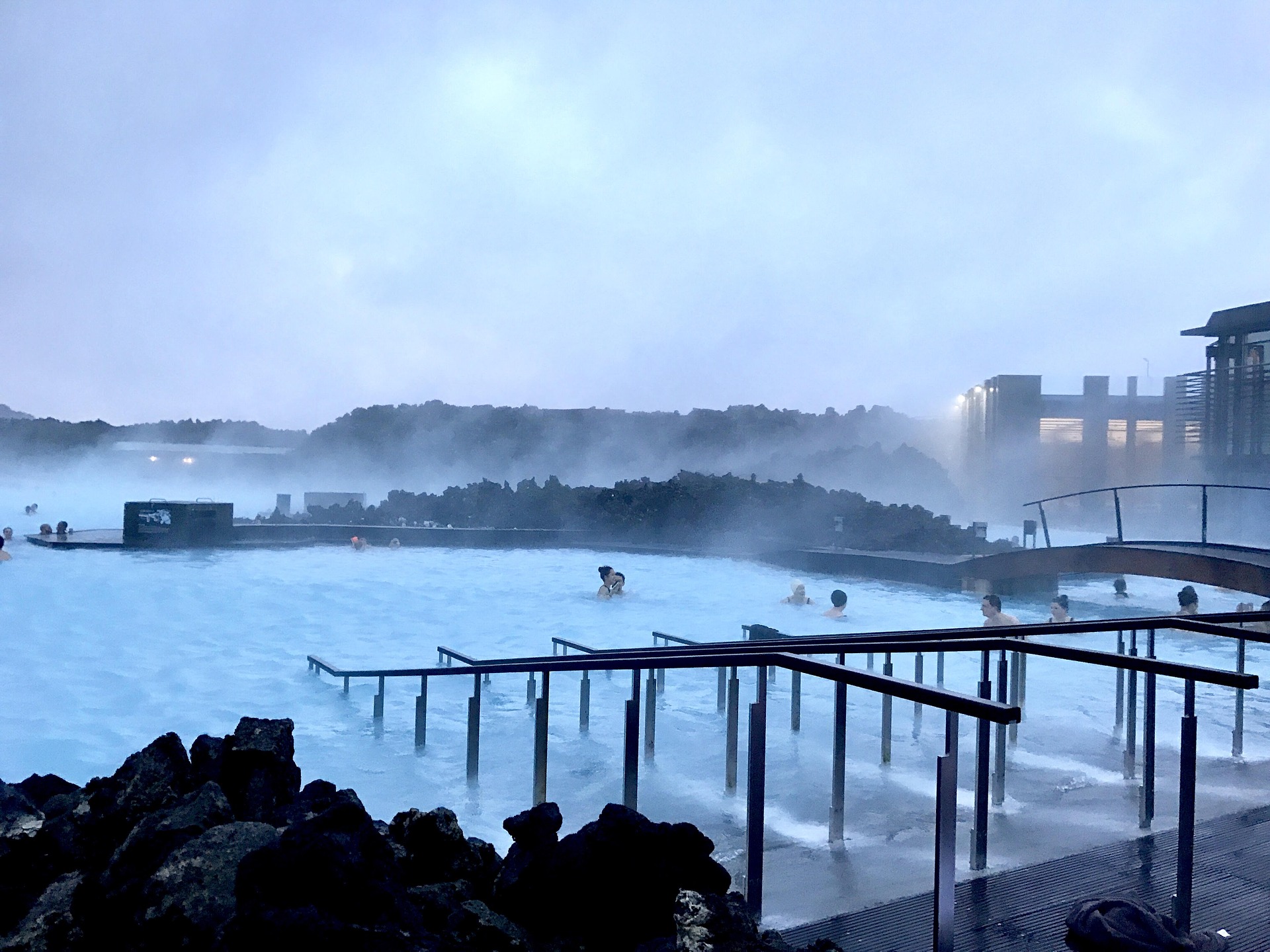 Photo: Blue Lagoon in Iceland
If you fall in love with the place, you can even stay a bit longer and have lunch or dinner at one of the restaurants: The Moss Restaurant or the lava Restaurant.
---
Check our full article about this amazing place: The geothermal waters of Blue Lagoon in Iceland
---
Laugarvatn Fontana
Fontana Geothermal Baths are located next to Laugarvtn Lake and is a 90-minute drive from Reykjavik. If you are driving through the Golden Circle, those Geothermal Baths are right next door!
You'll find hot pools, steams baths and saunas here. And after having a pleasant, realaxing time, we dare you to have a jump in the cold lake nearby. 
It is easy to drive to Laugarvatn, which is located on road number 37 on route to Geysir and Gullfoss. A new road number 354 connects Laugarvatn to the þingvellir National Park.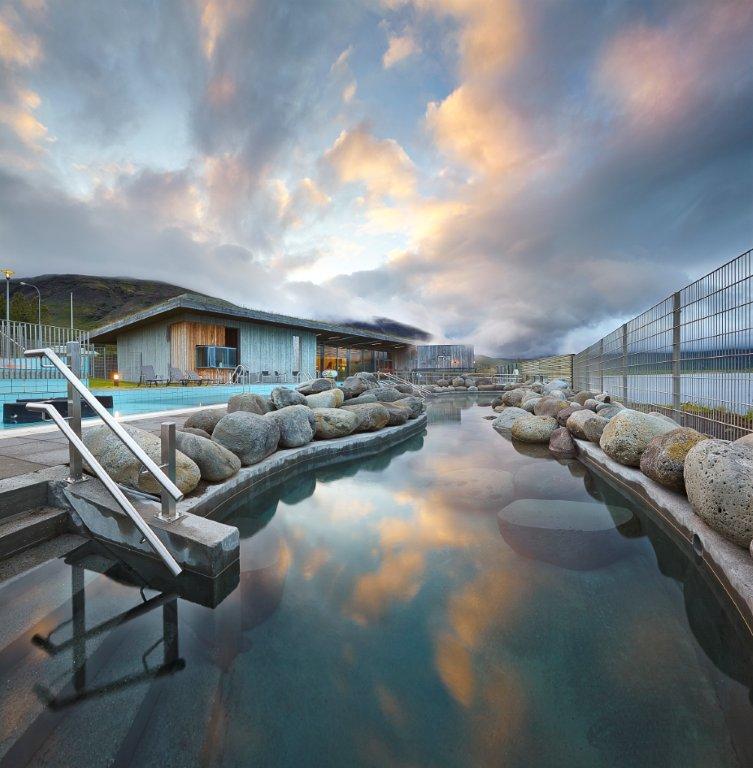 Photo: Laugarvatn Fontana in Iceland
The baths are opened all year from 10a.m to 10p.m on summertime (from June to the end of August) and 11 a.m-10 p.m on wintertime (From September to the end of May)
Mývatn nature baths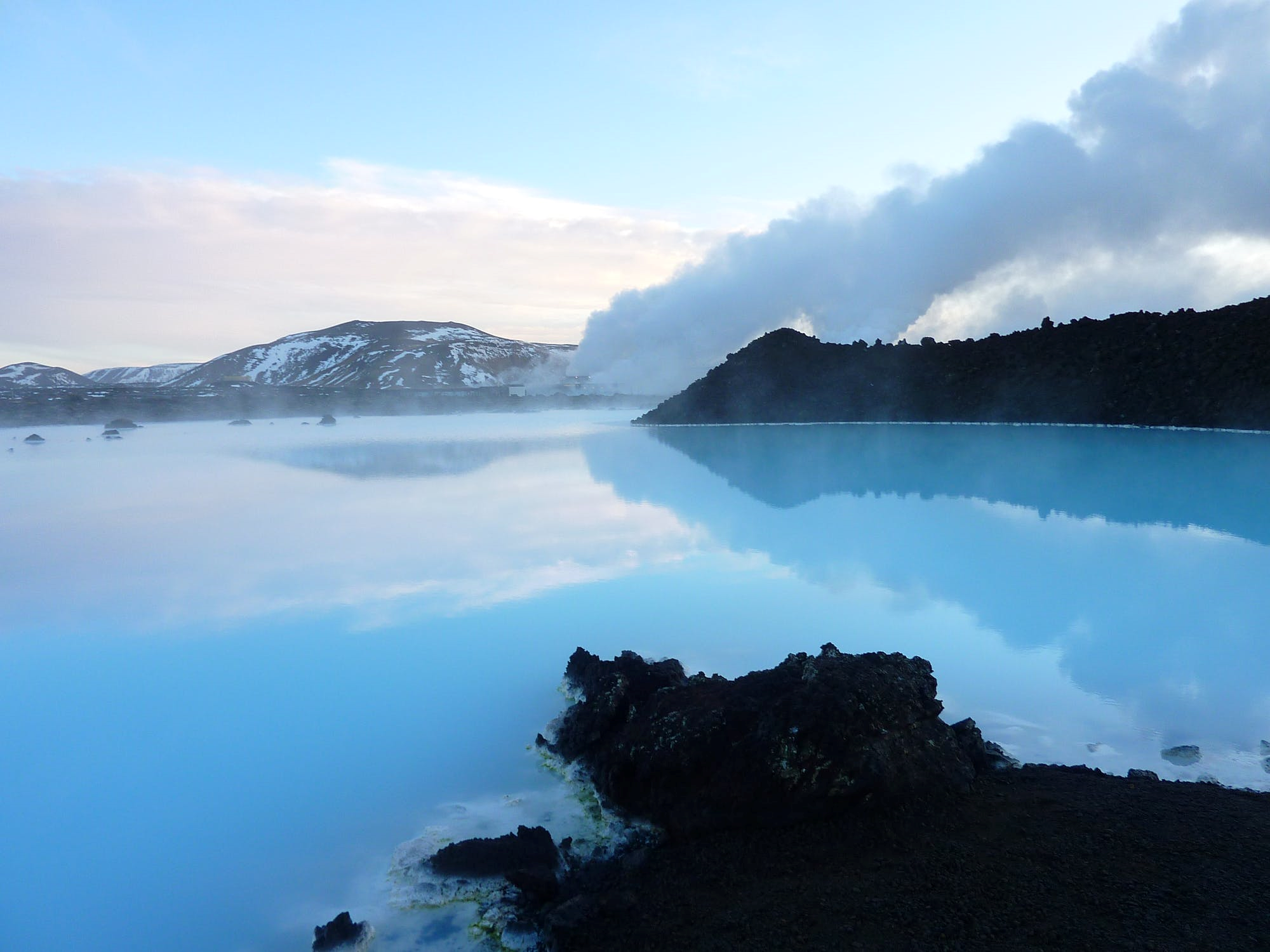 Photo: Mývatn nature baths
This place is located near the small Icelandic town of Reykjahlíð, and it is directly off of Route 1, so if you're traveling the Ring Road, this would make a great stop on your road trip! Myvatn nature baths are not your out-of-the-way hidden pools and are very popular for tourists to visit.
They offer several perks such as beers and wines that you can purchase with your bracelet, beauty products for sale, a cafe to buy coffee and lunch, and you can also rent towels if you forgot to bring one. If you're looking for a heated pool with a more civilized touch to it, this one's for you!
Geosea - Geothermal Sea Baths
The Geosea Sea Baths are located in the town of Husavik, known as the whale-watching capital of Europe. It is a new attraction in north Iceland, and one of these places that you will never forget.

Just watch for yourself:
As you can tell with the name, the water here is different from hot springs because it is geothermally heated seawater instead of spring-water.
It is filled with salt and a host of healing minerals a little bit different than those you can found in hot tubs and swimming pools which gives you a unique experience!
The GeoSea baths offers you incredible views of the ocean and the beautiful mountains who surround it. If you are hungry, you can find a small but convenient restaurant with an outdoor terrace permitting you to enjoy the beauty of seascapes.
Krauma Spa
This is one of the newest spas in Iceland. Krauma opened in 2017 and offers five hot tubs, two steam baths and a relaxation room.
You will enjoy there the most modern, finest architecture, right in the middle of Europe's most powerful hot spring. The hot spring is actually so powerful that the water has to be cooled. For that, it is mixed with cold water from the former glacier Ok.
When it arrives at the spa, the water is at the perfect temperature, so that you can have the best relaxing experience!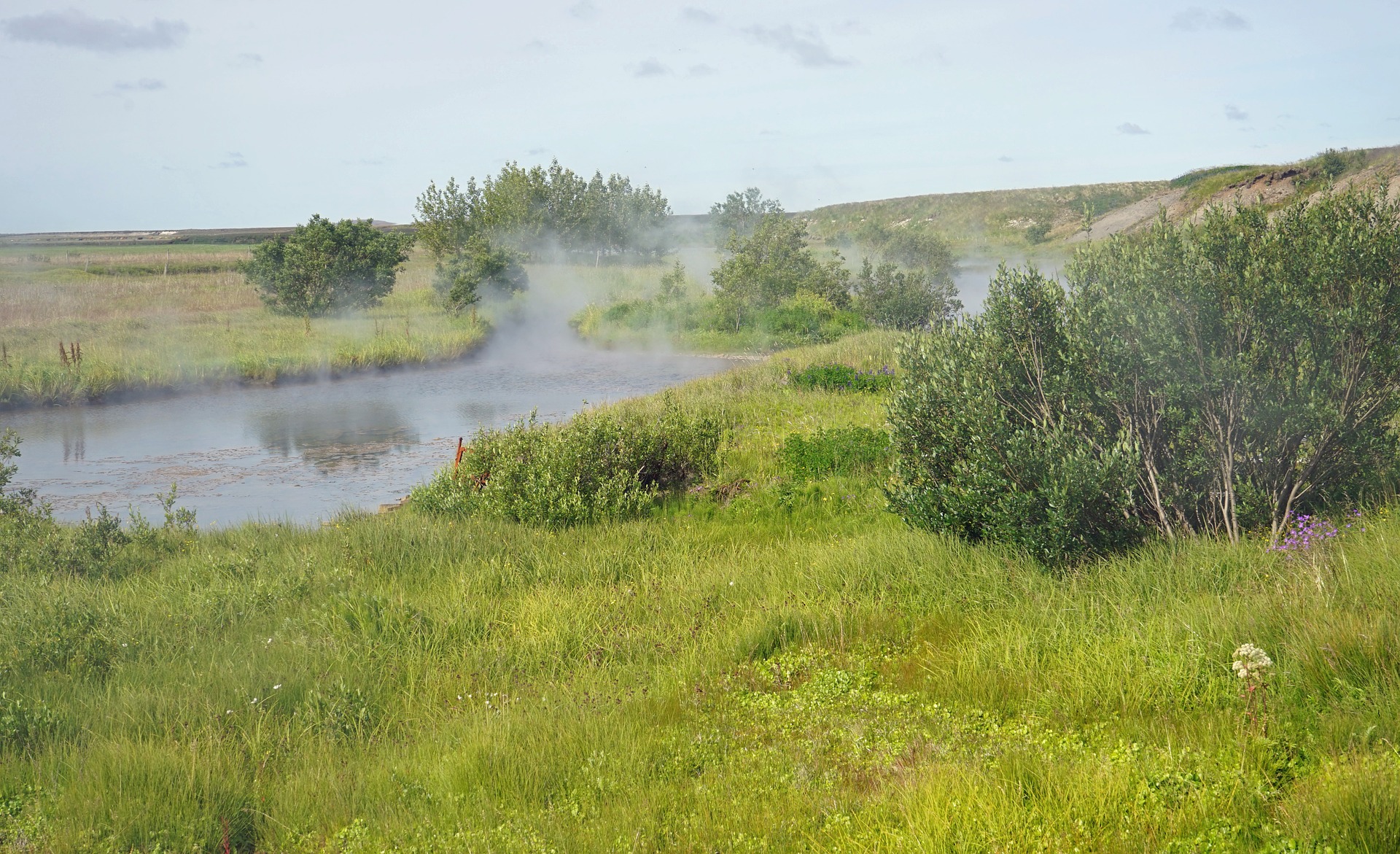 Photo: Deildartunguhver is where Krauma Spa is taking its water from. 
Hungry after bathing in the hot water? Have a stop at the restaurant and eat some Icelandic food. 
The spa is located in East Iceland, and is easy to acces via route 50. It is a 30-minute drive from Borgarnes, the nearest town.
The Sky Lagoon
The Sky Lagoon is a new handmade spa located in the Reykjavik Area. It will feature a unique 70 meters infinity edge, which will give you an amazing view of the ocean and the mountain.
But that's not all, the lagoon also includes a cold pool, sauna, in-lagoon bar and restaurant!
Yes, it also make us think about Blue Lagoon. They are located close to each other and have some features in common, but the experience will be totally different:
The water of Blue Lagoon is milky-blue
The Sky Lagoon has this stunning ocean view and infinite lagoon
Sky Lagoon is smaller than the Blue Lagoon, so in a way it is more quiet and intimate. We know that this what couple travellers want when visiting Iceland.
Also, the design is unique and inspired by Icelandic traditional turf houses, combined with modern design. 
We advise to go to one of the two only, because it will take you a lot of time and you have sooo many other things to see around Iceland.
The spa is located in Kársnes Harbor, Kópavogur - which is within the capital area in a way!
Natural hot springs of Iceland
Do you prefer natural things instead of man made spas? No worries Iceland has what you want. Here are the most famous natural hot spring of our island. 
The Reykjadalur Valley hot springs - known as hot river
The Reykjadalur Valley is located outside of the small town of Hveragerði, and offers a warm, bubbling thermally heated stream that you can hike to and visit. This hot spring is easy to access using trails and bridges.
One reason you'll enjoy this is that while you'll find tourists here, you won't find as many people enjoying the springs as compares to most public places. Most people you'll find here are hiking with their mountain gear and taking pictures.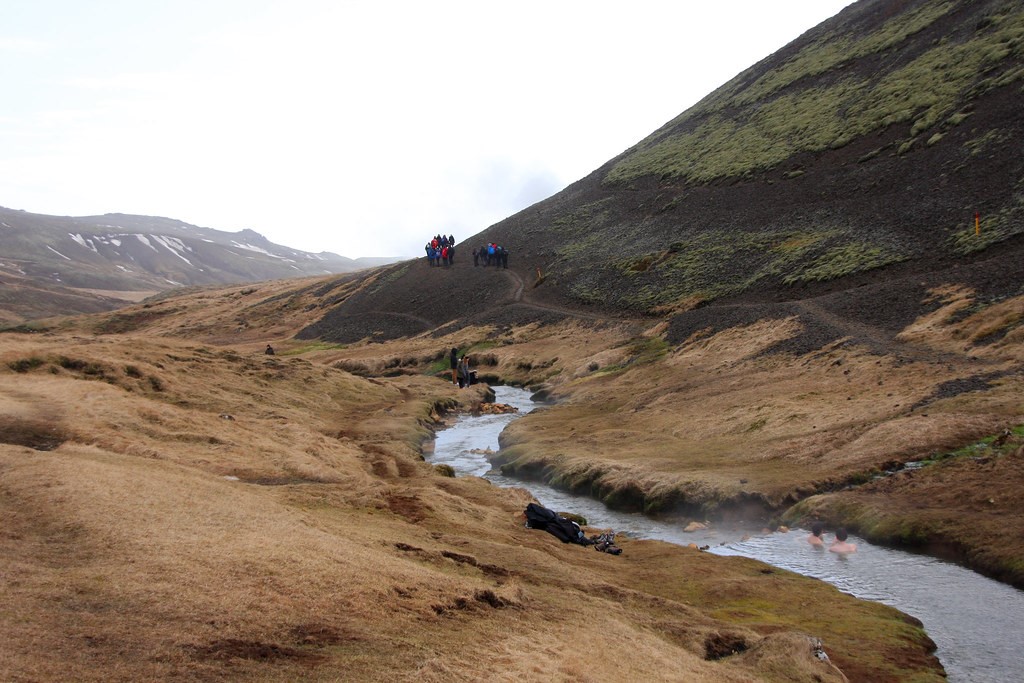 Photo: Reykjadalur Valley hot springs
After you've hiked for about 45 minutes, you'll cross a small wooden bridge and have access to the hot river!
The farther along the river you go, the hottest it gets. It can go to 150°F (66°C). You can enjoy the bath with beers or other cold drinks to have a unique experience!  If you didn't bring your own drinks, you can find a café at the parking lot called Dalakaffi.
So if you're looking for something easily accessible, yet not so busy compared to other public heated pools, this one will offer you both a relaxing and remote experience!
You can drive the Ring Road from Reykjavik until you arrive in the town of Hveragerdi. The drive takes around 50 minutes from Reykjavik. Drive Road Breiðamörk until you reach a parking lot. Lucky for you, the entrance is free!
The hot springs of Landmannalaugar
The Landmannalaugar area is in the natural reserve of Friðland að Fjallabaki, which is just off of Route F208.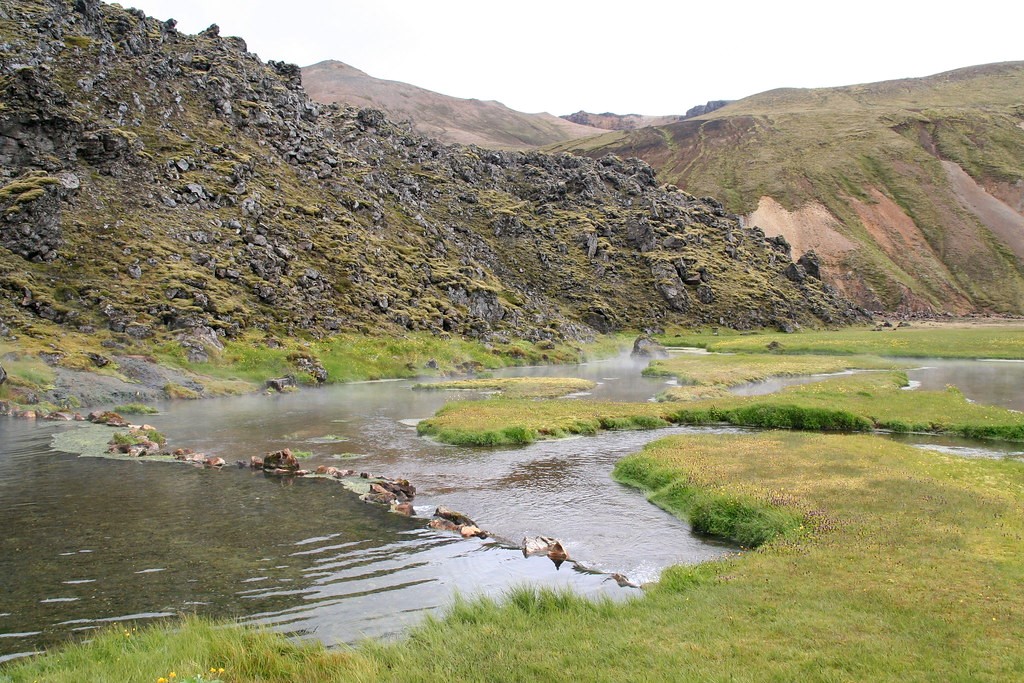 Photo: hot springs of Landmannalaugar
If the last two places we talked about weren't remote enough for you, then you're in luck. The only tourists you'll find here are a few hikers here and there! Most visitors come here for the majestic scenes that were created hundreds of years ago when the last volcano erupted.
Since then, hikers and outdoor enthusiasts can plan on doing day-hikes where they can hike 3-4 hours to find multiple hot springs to enjoy.
You will first need to drive one of our 4x4 campervan to have access to Landmannalaugar because you will drive on rough, unpaved roads called F Roads.  The North Route would be the easiest for you. Drive from Route 1 on South Iceland or From the Golden Circle, take route F26. Turn right onto F208 south and take this to F224 to Landmannalaugar.
Hveravellir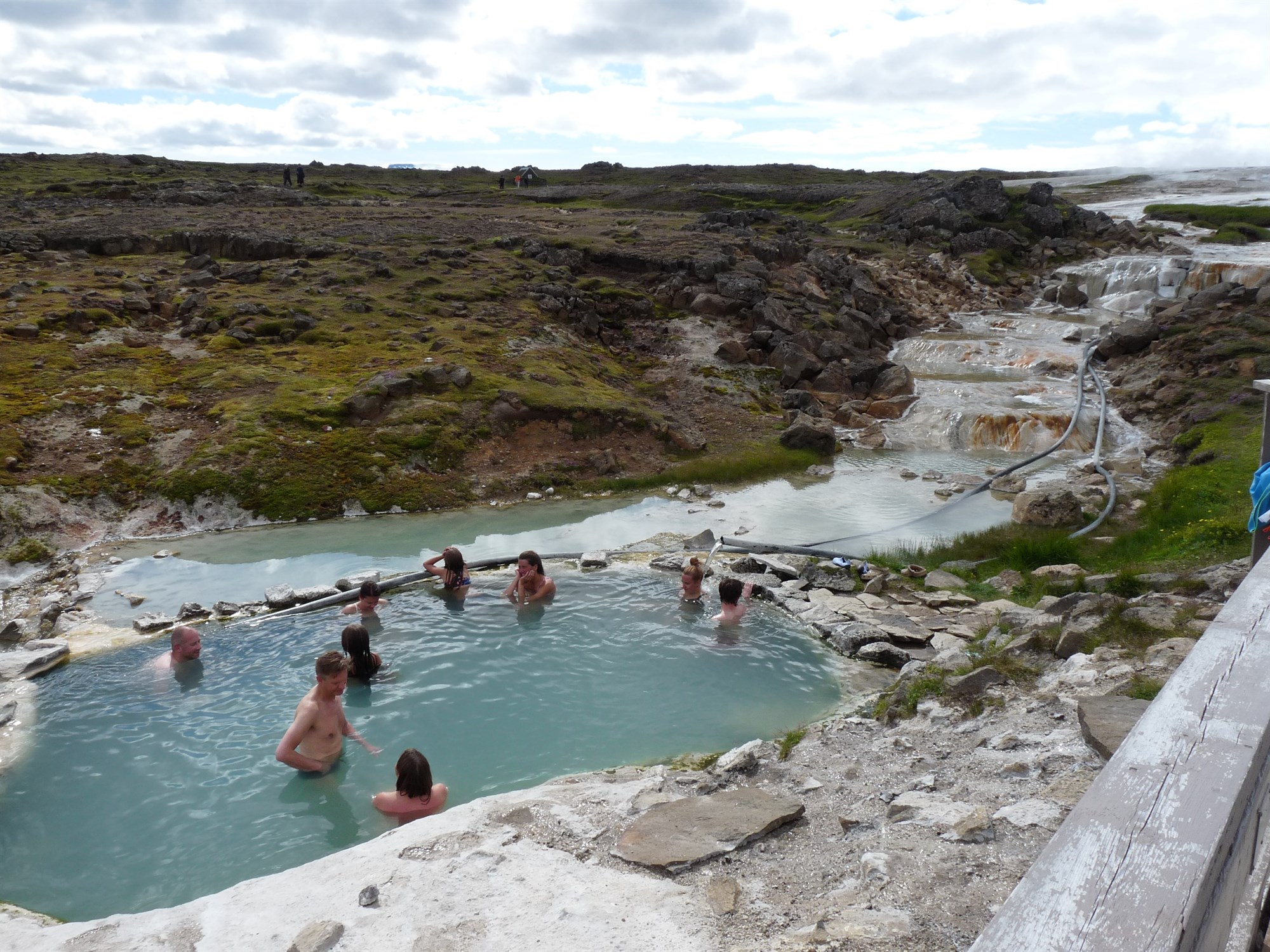 Photo: Hveravellir hot springs
You will find this beautiful geothermal pool in the North of the Gullfoss waterfall of the Golden Circle, between the glaciers, Langjokull and hosjokull.
This area is a protected nature reserve, one of the most stunning geothermal areas in the world. It is about 6x3 meters 'size and is located on a warm river wich ensures that the current always keeps the pool clean.
there is a restaurant, a campsite, changing facilities and toilets next to the pool. You will have to pay a small fee of ISK 500 per person fr using facilities such as parking, shower and toilets.
It is located in the highlands so you will need a 4x4 to go there.
Viti Crater Lake, Askja
Viti means 'hell' in Icelandic and even if the trip there isn't quite so hellish as the name implies, it is still extreme. Viti is an explosion crater about 150 yards. It is one of the country's many active volcanic areas and you can go swimming in its greenish-bluish sulfurous crater lake! If your adventurous part of you is looking to hike somewhere more secluded from the crowds of tourists, this one will be up your alley!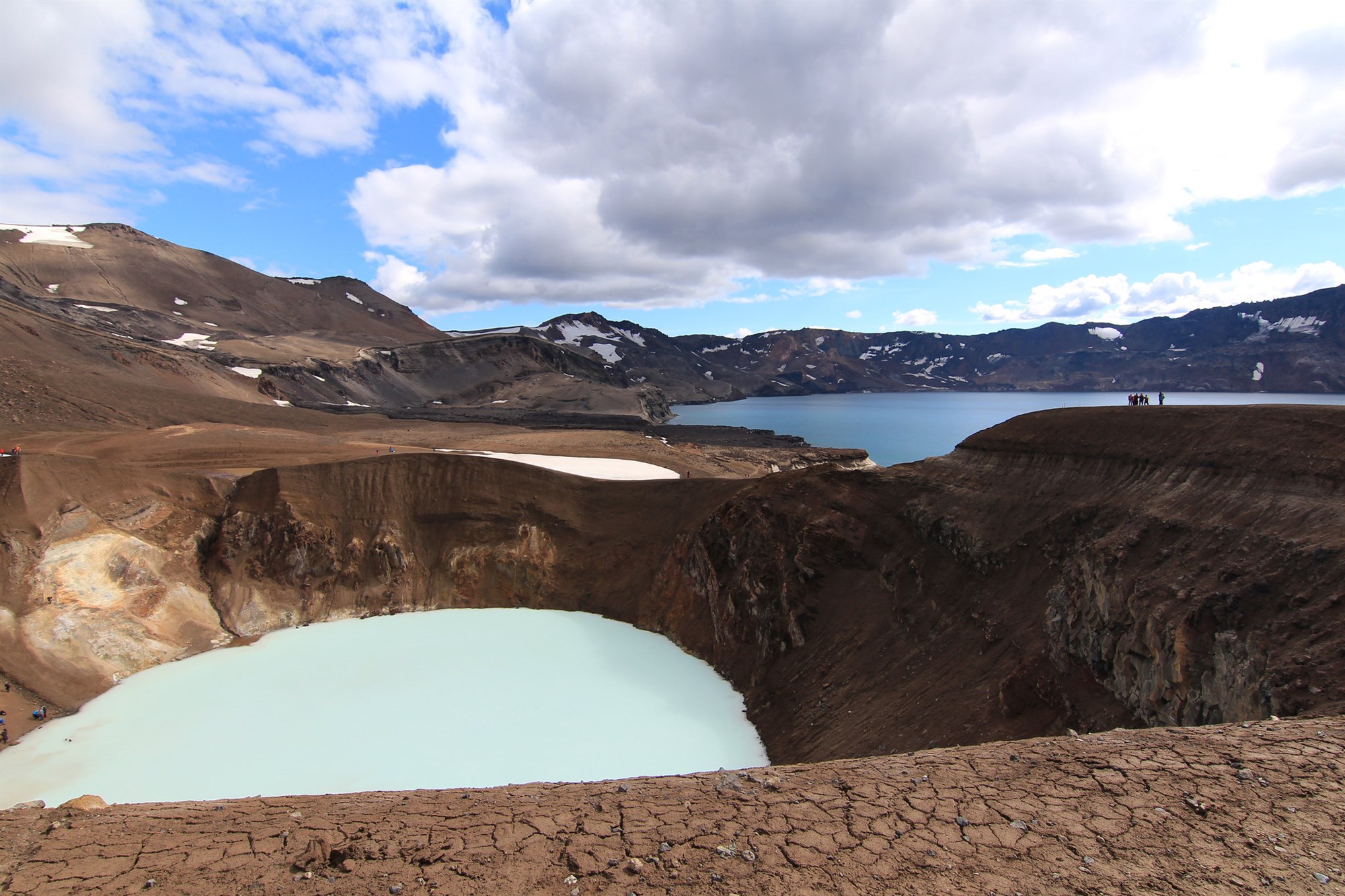 Photo: Luca Temporelli - Askja - Flickr - No changes were made
From Lake Myvatn, drive east on Route 1 for 6km. Turn left at the sign towards Viti / Krafla, drive past the geothermal power plant to the car park at the end of the road.
The carpark is next to the rim and takes about an hour to walk around as the path is very slippery. The best views of the crater and surrounding mountains are on the left side. It is essential to follow the path. Avoid the small geothermal area which is hot enough to melt the soles of boots.
The hike to Viti Crater lake can take anywhere from 20-45 minutes, depending on your pace, so be sure to bring your camera and use this as an opportunity to grab some pictures of the scenic views!
Hörgshlíð
You can easily miss this little pool as you drive along the eastern edge of the fjord but if you keep your eyes open you will see the little changing room and pool down on the coastline as you are nearing the fjords. This pool is not always maintained and therefore is a bit dirty, with algae growing on its sides and the concrete starting to crack. But it has a charm that makes it a great photo spot.
Landbrotalaug hot springs
You will be surprised when you will see this tiny hot pot for two persons in the middle of nowhere. To go there from Reykjavik, leave the city heading North, crossing the Hvalfjarðargöng tunnels and continuing to the town of Borgarnes. When leaving Borgarnes, take a left at the roundabout and head North/West of Snæfellsnes.
In about 25 minutes' drive you should see Eldborg, an old volcanic crater. To get to Landbrotalaug, take a left turn after you have passed Eldborg crater and drive for a few minutes on a dirt road. you will find the parking spot in front of Landbrotalaug.
Best geothermal pools in Iceland
Seljavallalaug Swimming Pool
When you hear about swimming pools, you may think about classic ones that smells chlorine and that are full of people. Believe me, this one will surprise you!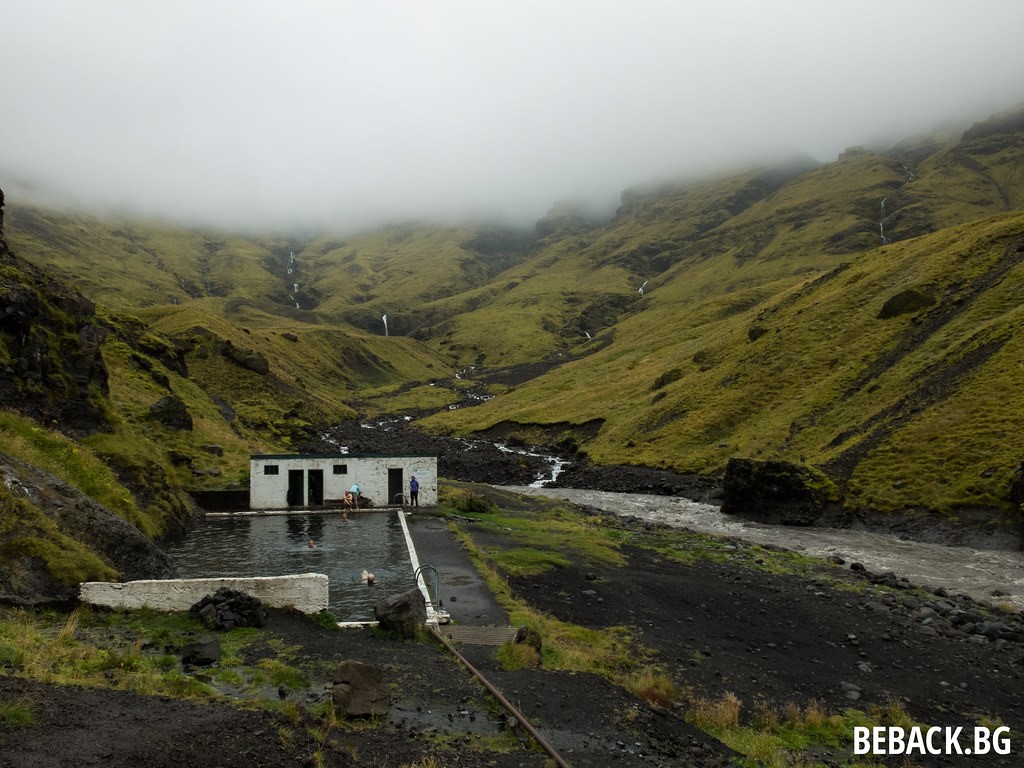 Photo: Seljavallalaug Swimming Pool
Seljavallalaug is among the oldest natural pools in Iceland. This pool has been built in 1923 in the middle of nowhere in the infamous Eyjafjallajokull Glacier which is not far from Skogafoss Waterfall. This pool is very picturesque and makes a very interesting stop along the South Coast which is way different than other swimming pools that you've been. There is no charge to swim at Seljavallalaug Pool.
To reach Seljavallalaug from Reykjavík, drive east along the Ring Road that encircles the country for just over an hour and a half, before turning onto Route 242 for the car park.
The Secret Lagoon Iceland, Flúðir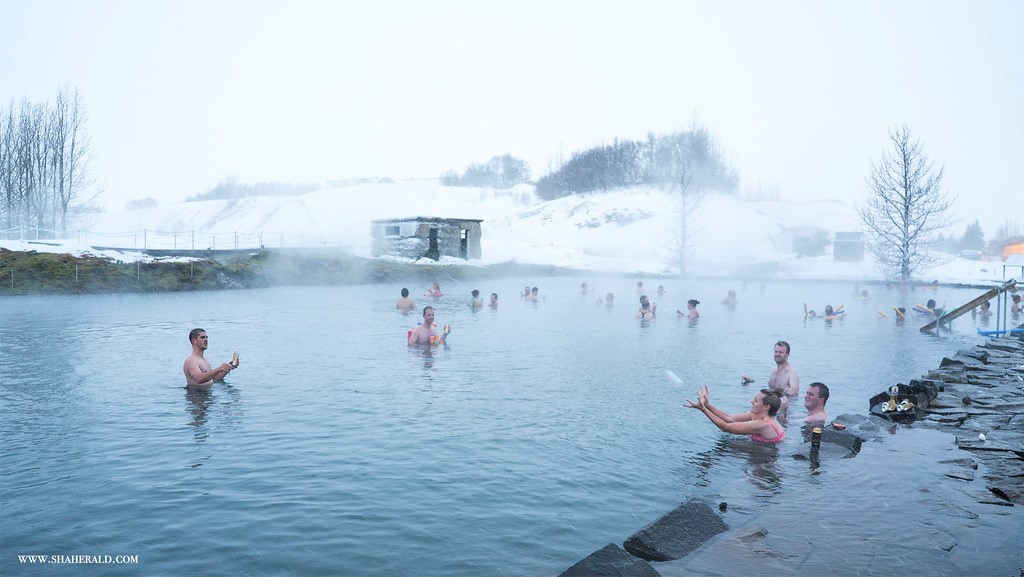 Photo: The scecret lagoon in Iceland
Located in the small village of Flúðir, the secret lagoon has a more secluded, intimate feeling to it that you won't find at more popular places such as the Blue Lagoon. The reason we love it so much is that it is open to the public, and you can book reservations online if you want.
So if you're looking for something more civilized but don't feel like trekking the mountains to get to it, the Secret Lagoon is the place for you!
Grettislaug
In Skagafjörður, you can find two pools right by each other, Grettislaug and jarslaug. They are both circular and surrounded by pilled rocks where you can enjoy fantastic views over the mountains and the sea.
Grettislaug is located 25 min north of the Ring Road (Road nr.1).
Once driving road nr. 748, just drive through Sauðárkrókur and soon you will find a small road at your right-hand side. This is the 748 Road and you will discover those pools at the end of the road.
Lucky you, the pools are opened all year, but it might close earlier depending on the seasons. You must keep in mind that it can get a bit crowded during summertime when the camping site is open! The cost will be 1000 ISK (around 6€) per person.
Krossneslaug
Krosseslaug is probably the most remote hot spring in Iceland. It is a small man made pool, located in the Westfjords.
You will appreciate here mountain on one side, and the ocean on the other side. You won't find a lot of facilities there, only some changing rooms. But you won't need more than that as the surroundings are truly amazing and will give you all the satisfaction you need. 
Be careful though, the pool is accessible only from mid-May to the end of August.
You'll have to drive on a gravel road to access this pool, making this place perfect for true adventurers. Once you're here, it is very likely that you'll be alone, making you feel that you're alone in the world while enjoying the pool. 
Hot tubs
Guðrúnarlaug hot spring
Located in West Iceland, which is a pure Viking area, this natural bath of hot water spring has over 1000 years of history spending 140 years blocked by a landslide and have been the oldest story that goes in Iceland. The hot spring is mentioned in Laxdæla, one of Iceland's most famous sagas.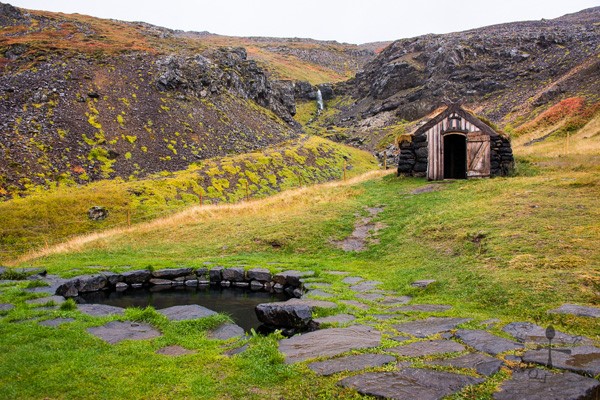 Photo: Guðrúnarlaug natural baths
The pool is free of charge and open all year. The surroundings of Guðrúnarlaug are very beautiful and it's just a 2-minute walk from the camping site at Laugar.
To go there, turn from ring-road 1 onto road 60 for Búðardalur village. Drive for 16 km and turn left on side-road 589. Drive for 3 km to Hotel Edda. Up in a hill there is Guðrúnarlaug hot tub.
Drangses hot tubs
In the center of the small town of Drangsnes in the Westfjords, you will find three different hot tubs. These tubs have free entry and you can relax at any time!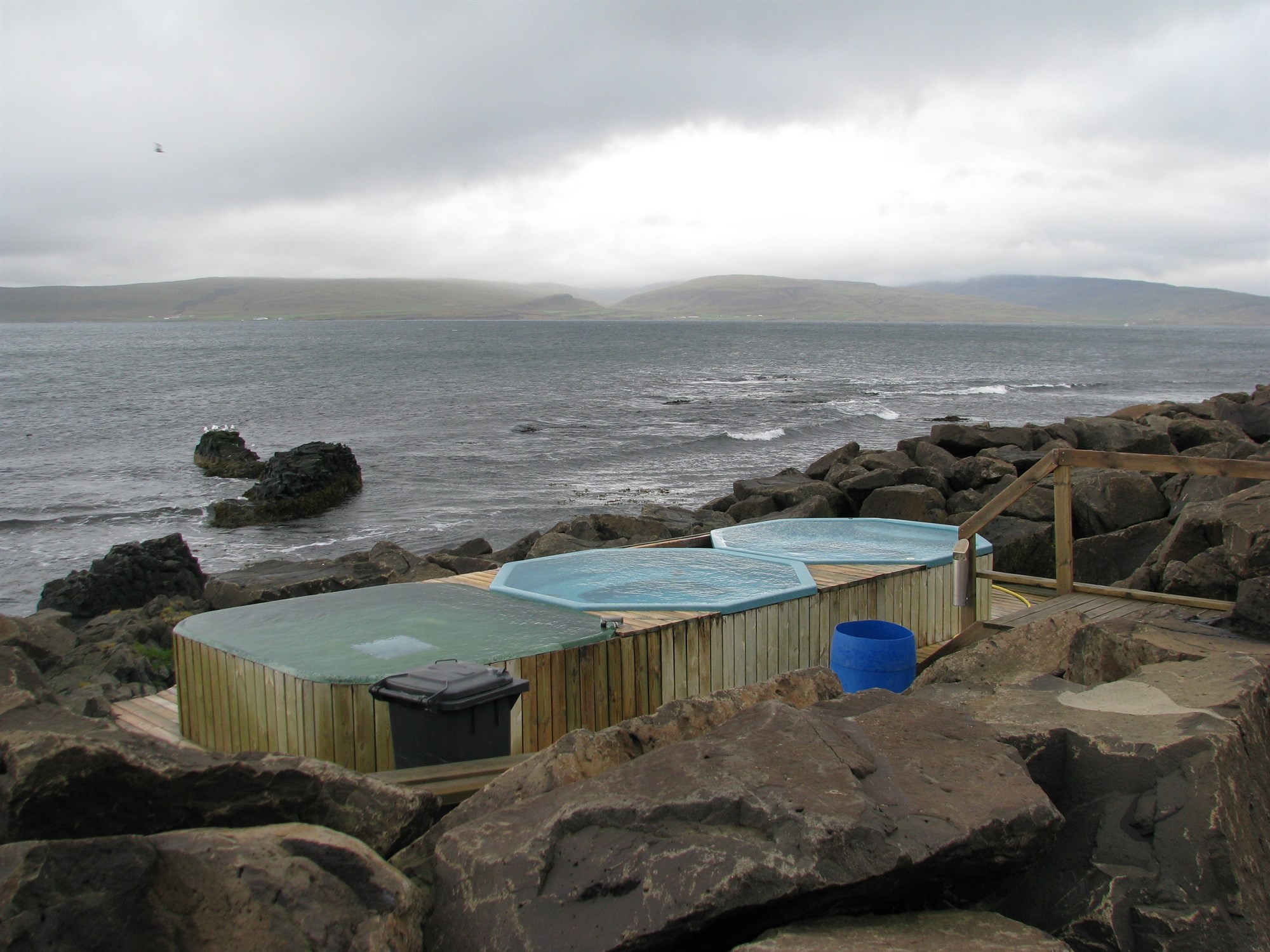 Photo: Drangses hot tubs in Iceland
The temperature varies from one hot tub to the next between 38°C to 42°C. This is a great place to relax while drinking a beer! But if you get too hot, you can just cool off in the sea and enjoy this unique experience!
The pots are used all year by locals and visitors. Even after a new swimming pool was built in town, the attraction of the hot natural pot doesn't decrease.
When is the best time to go to hot springs?
Although the summer is the busiest time, it's also the best time to stop by any heated pool. Winter months can cause public pools to close early, and with the days being shorter, it's better for you to experience a heated pool during the longer, warmer months of Summer.
But if you prefer cooler seasons to visit Iceland, natural hot pools are a great way to enjoy the northern lights without any tourists to bother you! It is also the best time to save money! Indeed, airfare and accommodation rates in Iceland are cheaper during the winter months.
If you're hoping for a combination of lower costs and better weather, go during the shoulder season: mid-May through mid-June or September through mid-October.
Happy times in the hot waters of Iceland!
Another interesting post in our blog