Hot springs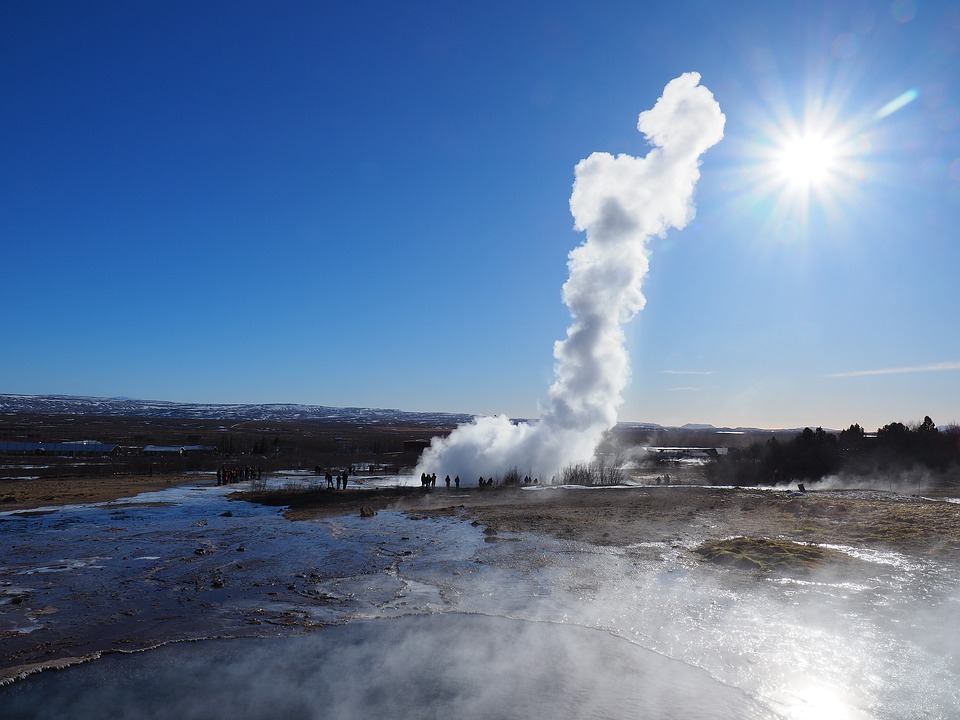 You probably think that because our country is named Iceland, that all there is to do is freeze and constantly try to stay warm. Nay! This is a common misconception that we are going to clear up once and for all. While it can get freezing cold here, we do have our warm seasons, and there's definitely a lot of outdoorsy things to explore!
Iceland is actually known for its natural hot springs due to the volcanic activity we experience. In this guide, we're going to hop in our Kuku Camper Van and show you some of the best hot pools are, and both some popular and not-so-popular destinations can be found!
What is a naturally heated pool?
A heated pool can be a body of water that is heated from underground thermal sources, caused by volcanic action. Which means technically, there's a chance that you could blow up any minute… But trust us - it's worth the explosion! Just kidding. We've actually never heard of anyone soaking it up in a hot pool and then blowing up from a random volcano, so we're pretty sure that won't happen. But in case you did explode from a spontaneous eruption and tried suing us later - we must disclose that there is a 99.9999999% chance that it could happen!
Why are thermally heated pools so popular?
Well, my friend, let me explain it to you this way - have you ever had a puppy snuggle with 100% of you all at once? If not, you'll know what it's like when you soak in one of our many heated pools. Imagine coming to Iceland and hiking for hours without stopping. Your back hurts, your legs are sore, your feet swollen and you have to go to the bathroom. What's the solution? Drive your Kuku camper van to the nearest heated pool and relieve your aching bones and joints, that's the solution! Except for going to the bathroom… you'll need to figure that one out on your own. But really, nothing is more relaxing than soaking it up in a natural, outdoor hot tub. You won't be disappointed with your experience!
Best places to find thermally heated pools and hot springs
Thankfully, Iceland has an endless amount of heated pools you can enjoy. The question you have to ask is, are you looking for something more secluded and John Snowish? Or are you fine with sharing the waters with others? Either way, here are our top heated pools to take your Kuku Camper Van in!
Myvatn Nature Baths
This place is located near the small Icelandic town of Reykjahlíð, and it is directly off of Route 1, so if you're traveling the Golden Circle, this would make a great stop on your road trip! Myvatn nature baths are not your out-of-the-way hidden pools and are very popular for tourists to visit. They offer several perks such as beers and wines that you can purchase with your bracelet, beauty products for sale, a cafe to buy coffee and lunch, and you can also rent towels if you forgot to bring one. If you're looking for a heated pool with a more civilized touch to it, this one's for you!
Viti Crater Lake, Askja
If your adventurous part of you is looking to hike somewhere more secluded from the crowds of tourists, this one will be up your alley! If you're driving east Route 1 from the town of Reykjahlíð, you'll travel until you reach Route F88 and turn right, then keep going until you reach route F910 and turn right, and keep going until you get to the Vikraborgir Car Park, where you'll be able to park your Kuku camper van and hike from there. The hike to Viti Crater lake can take anywhere from 20-45 minutes, depending on your pace, so be sure to bring your camera and use this as an opportunity to grab some pictures of the scenic views!
The Secret Lagoon, Flúðir
Located in the small village of Flúðir, the secret lagoon has a more secluded, intimate feeling to it that you won't find at more popular places such as the Blue Lagoon. The reason we love it so much is that it is open to the public, and you can book reservations online if you want. So if you're looking for something more civilized but don't feel like trekking the mountains to get to it, the Secret Lagoon is the place for you!
The Reykjadalur Valley hot springs
The Reykjadalur Valley is located outside of the small town of Hveragerði, and offers a warm, bubbling thermally heated stream that you can hike to and visit. Unlike the Viti Crater Lake, this hot spring is easier to access using trails and bridges. One reason you'll enjoy this is that while you'll find tourists here, you won't find as many people enjoying the springs as compared to most public places. Most people you'll find here are hiking with their mountain gear and taking pictures. So if you're looking for something easily accessible, yet not so busy compared to other public heated pools, this one will offer you both a relaxing and remote experience!
The hot springs of Landmannalaugar
The Landmannalaugar area is located in the natural reserve of Friðland að Fjallabaki, which is just off of Route F208. If the last two places we talked about weren't remote enough for you, then you're in luck. The only tourists you'll find here are a few hikers here and there! Most visitors come here for the majestic scenes that were created hundreds of years ago when the last volcano erupted. Since then, hikers and outdoor enthusiasts can plan on doing day-hikes where they can hike 3-4 hours to find multiple hot springs to enjoy.
When are the best seasons in Iceland to visit the heated pools?
Although the summer is the busiest time, it's also the best time to stop by any heated pool. Winter months can cause public pools to close early, and with the days being shorter, it's better for you to experience a heated pool during the longer, warmer months of Summer.