The Golden Circle : The perfect trip for a short stay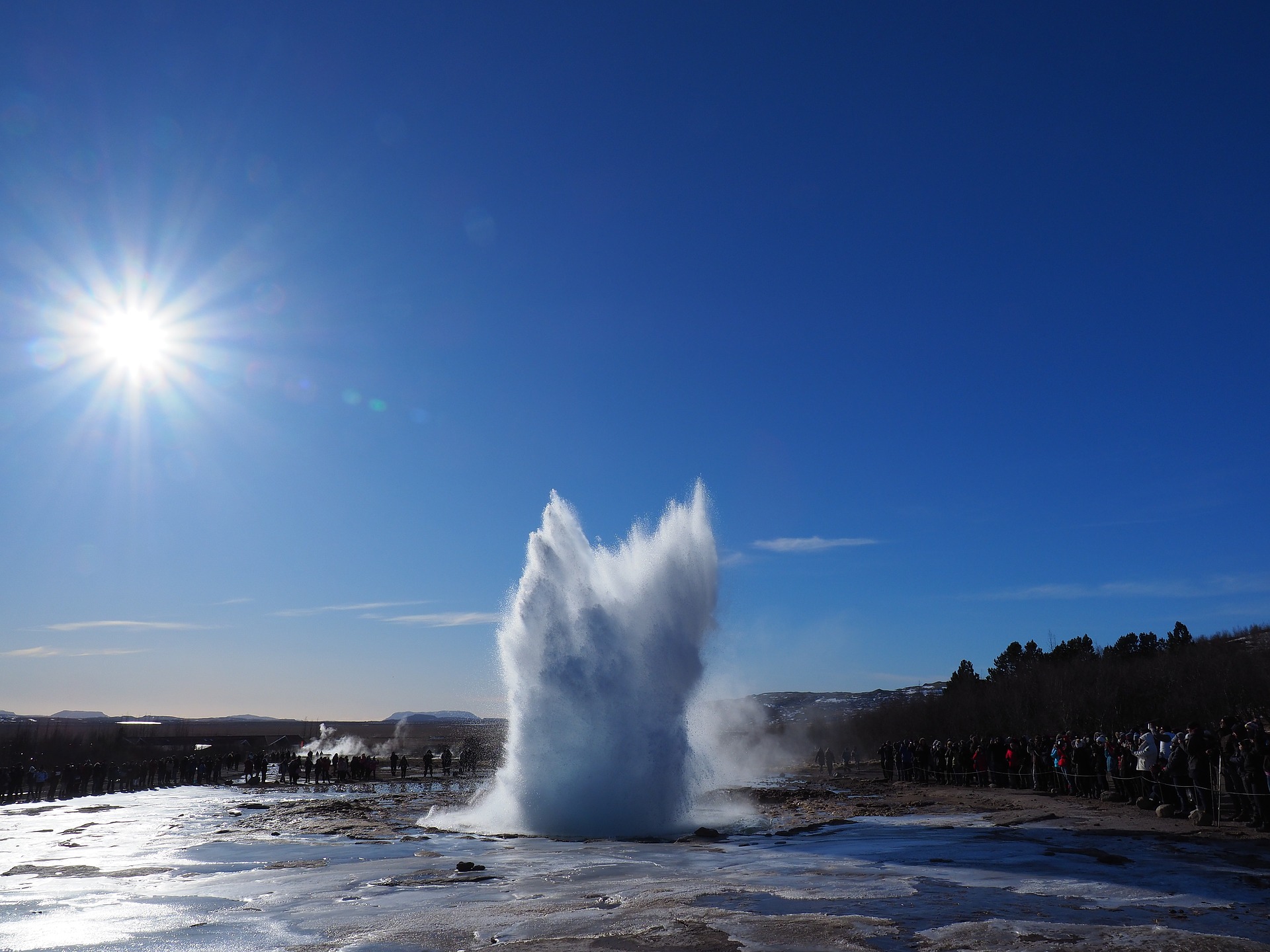 ---
---
This amazing tour will allow you to discover the most important sites of Iceland in just one weekend. So if you have only one day or two available to visit around Reykjavik, then, the Golden Circle is for you. But if you are in Iceland for a longer stay, then this is the perfect way to start your trip!
WHAT IS THE GOLDEN CIRCLE?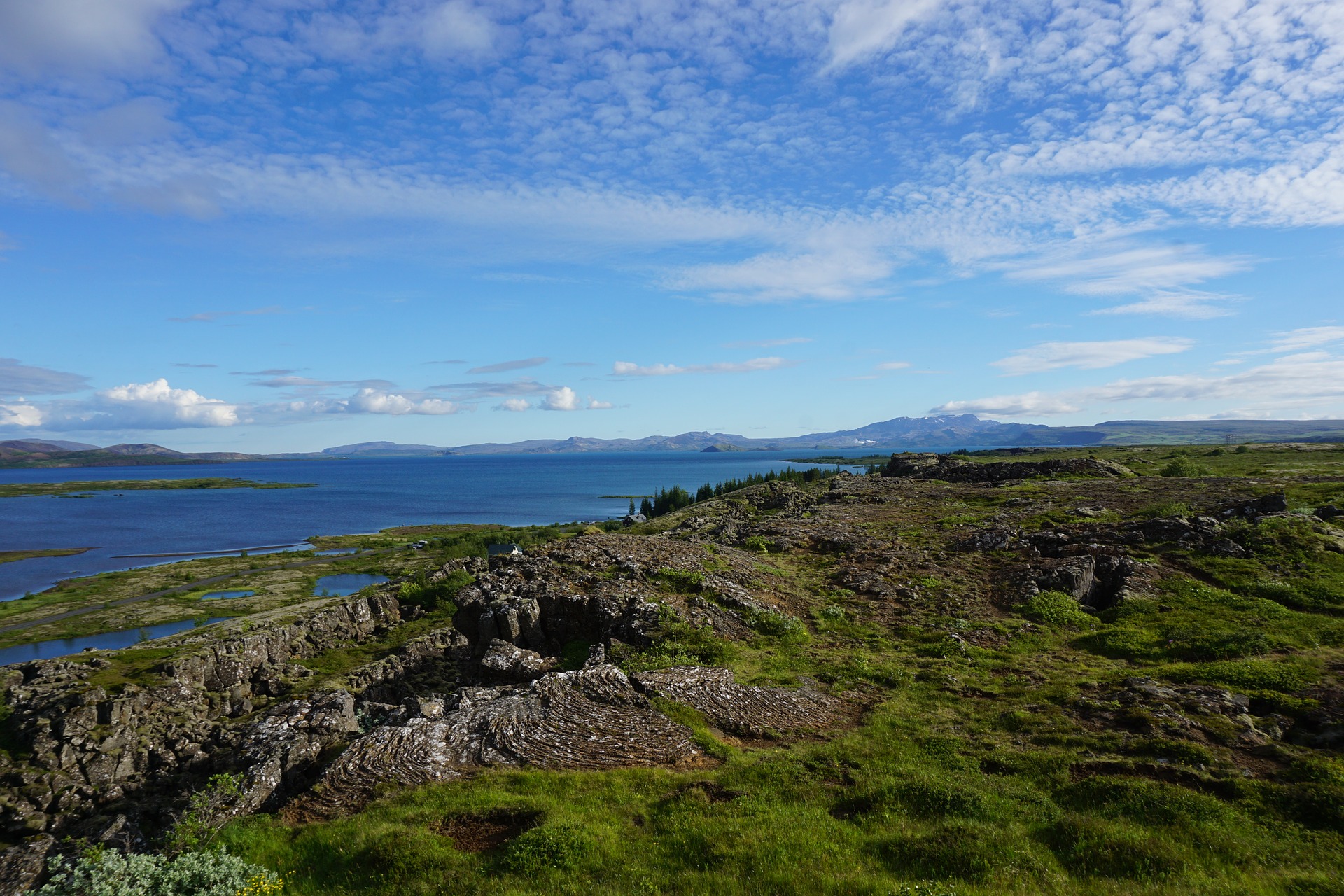 Photo: Lake þingvallavatn in Thingvellir National Park
The Golden Circle is a tour where you can find some of the most stunning and popular places in Iceland:
Thingvellir National Park
Geysir geothermal area
Gullfoss waterfall
We at Kuku Campers love this area because it's the best introduction to our country!
Is the Blue Lagoon included in the tour?
No, the Blue Lagoon is not part of the golden circle. But we recommend adding it to your schedule at the start or end of your trip!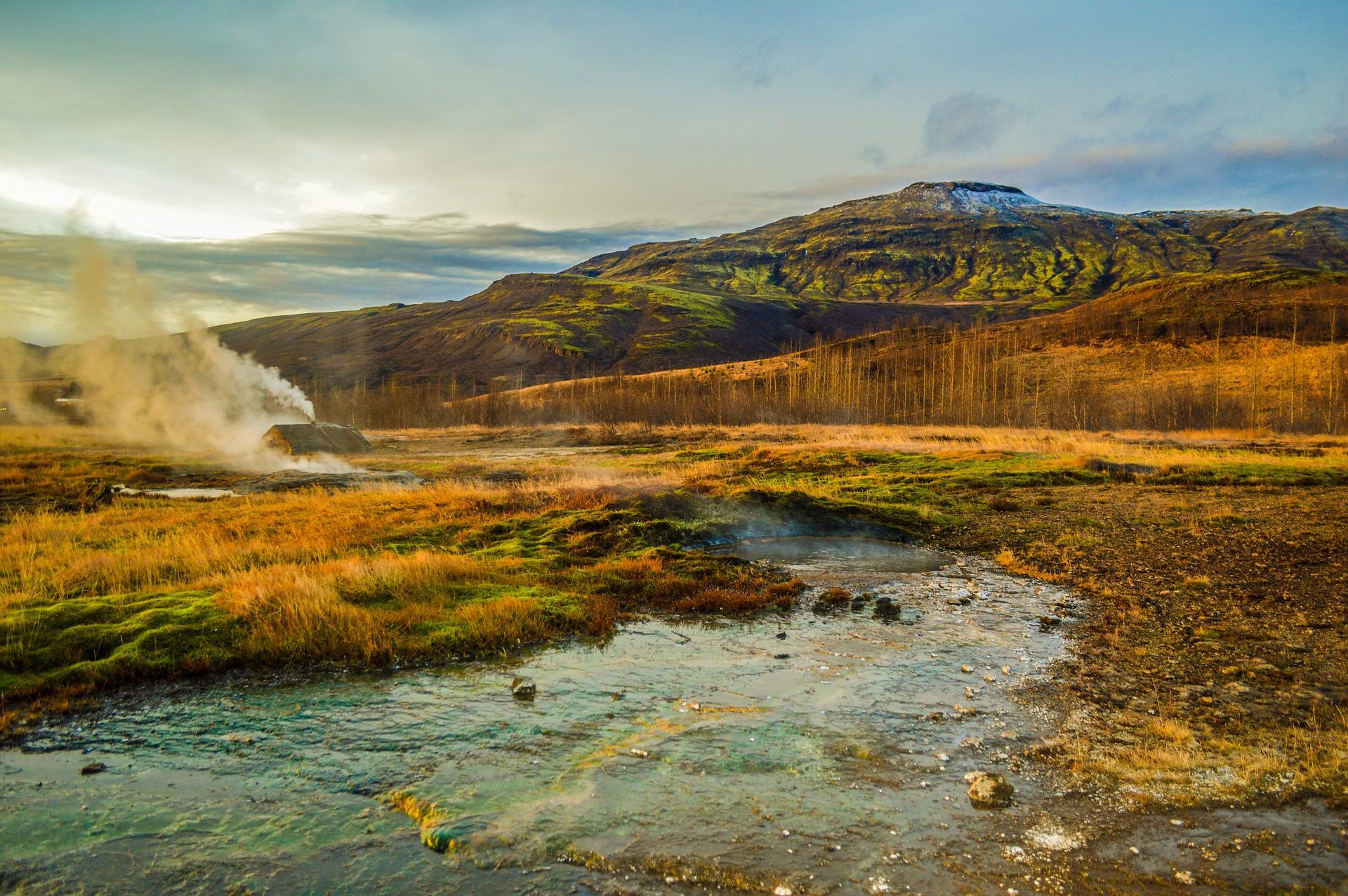 Photo: Geysir is one of the three spots in the most famous tour of Iceland
The geology of these places is unique and will amaze you for sure. And we know that this is what you want when you come to visit Iceland. You want to see something new, natural landscapes and phenomenons. You want the "wow effect", but not on a guided tour! 
The Golden Circle will give you all of that, so…
And, there is also a lot of other places and activities that'll surely make your trip memorable.
Coming for a trip in Iceland without visiting those places is a huge shame. So if you don't want to be cursed by Odin, follow this guide and plan your day trip right now!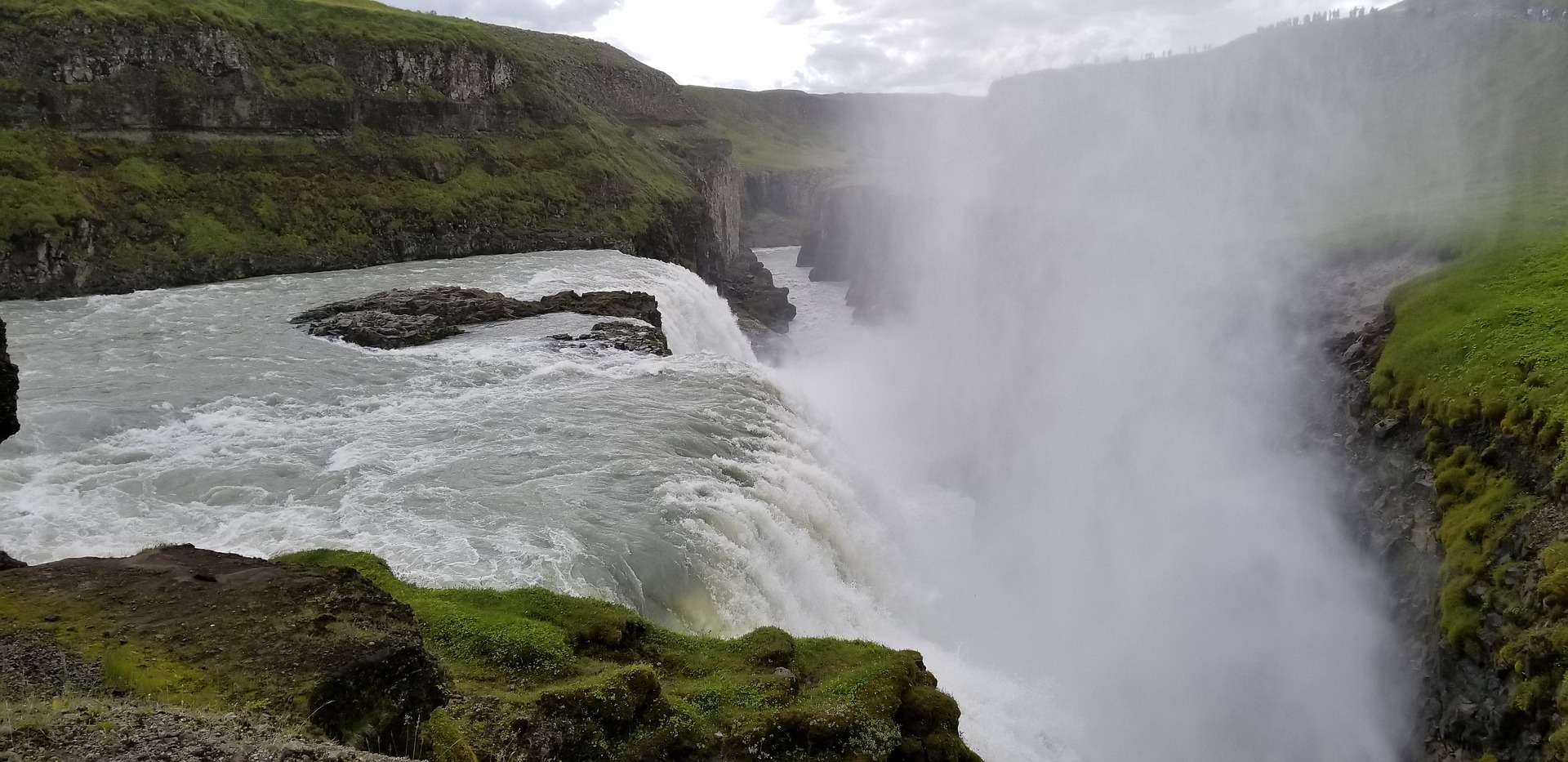 Photo: Gullfoss, or the "Golden Falls"
Are you ready to see something you never saw before?
HOW LONG IS THE DRIVE?
The route is not that long. With its 230 km, you will need approximately 3 hours to drive the Golden Circle. Making it perfect for day tours or as a start for a longer stay!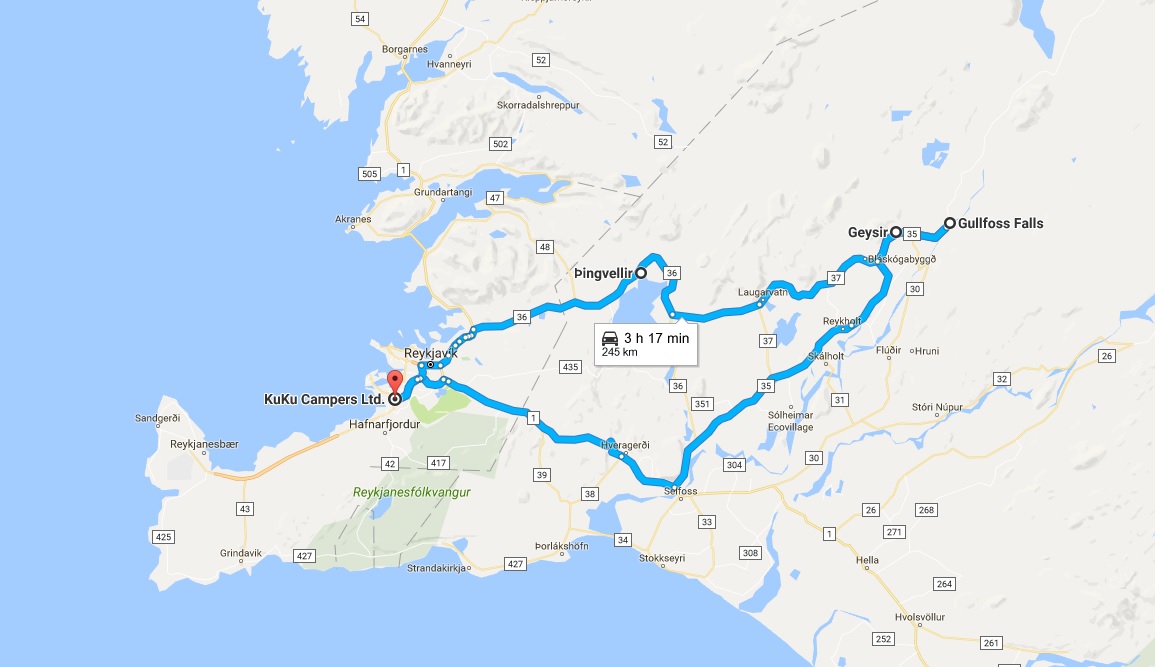 Picture: Without stops, the Golden Circle route can be done in a bit more than 3 hours
This allows you to take your time and enjoy each spot as much as possible. And it makes this tour the perfect trip for a stopover between Europe and America for example.
---
Pro tip:
If you have one extra day to spend in Iceland, we recommend you to visit the town of Vik,this place is just amazing and you'll find a lot of high interest places on your way.
---
GOLDEN CIRCLE MAP
To start with we'd like to share with you a map where you can find the best routes. And the three main attractions are really easy to access!
Here's our stunning map:
Map: Golden Circle Iceland Map
So as we said before the three main spots are the National Park, Geysir and Gullfoss, but there is plenty of other places to go including: 
Fontana Geothermal Baths
Kerid Crater
The Secret Lagoon

Friðheimar farm
ÞINGVELLIR NATIONAL PARK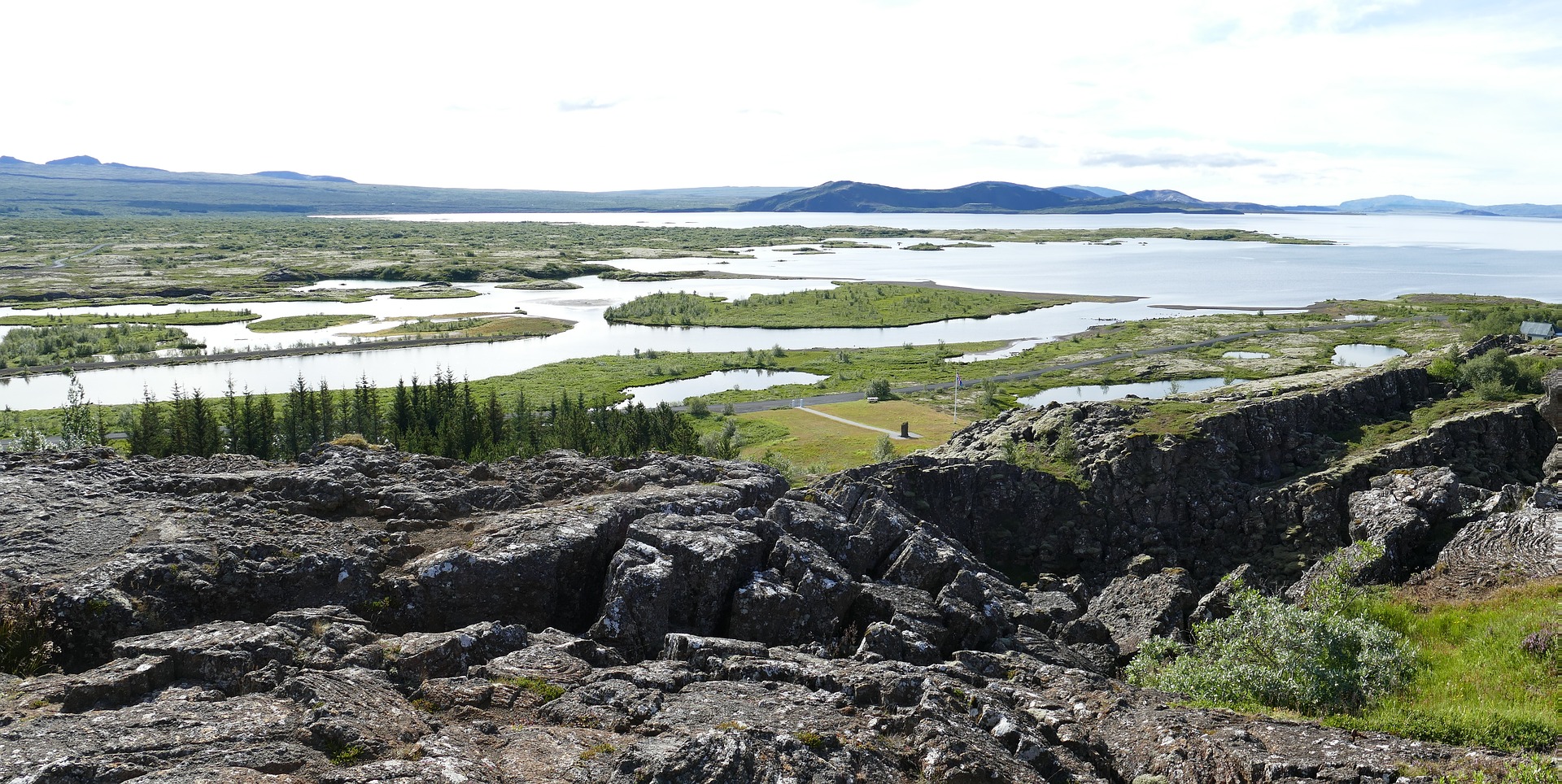 Photo: Overview of the National Park of Thingvellir
This site, designated a UNESCO World Heritage Site, presents an interest from from many points of view. Situated by the largest lake in the country, the þingvallavatn, it is pleasant to take a walk.
What makes Thingvellir National Park so interesting is among others its history. This place is known as being the first place of the oldest representative parliament still ongoing today: the Icelandic "Althingi". This is the Icelandic word for parliament.
This parliament gathered the different clans of the island in the 9th century.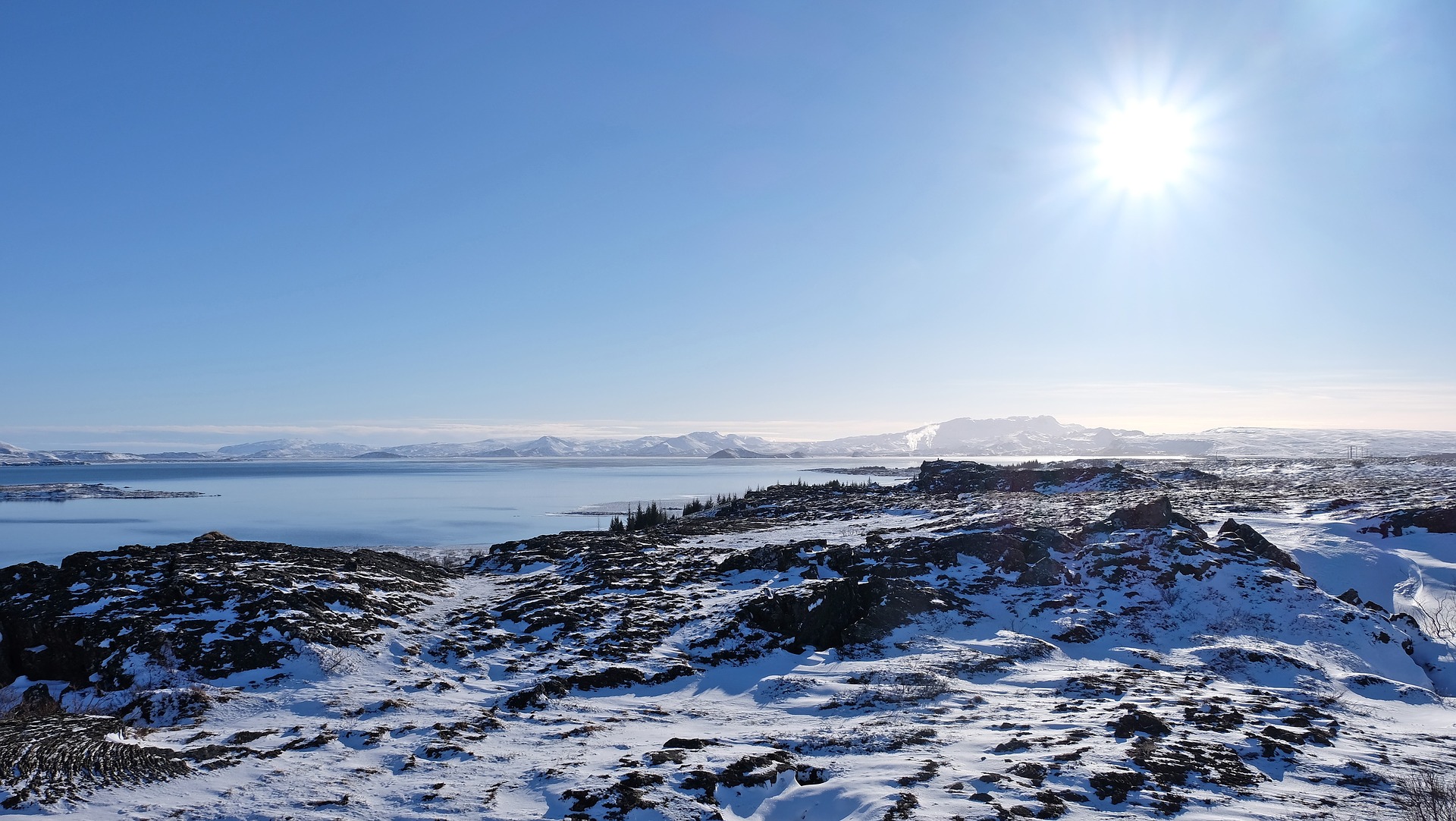 Photo: The national park in winter
Today, the representatives no longer gather in this national park.. could be fun though. The Althingi is now located in Reykjavik, the capital city of Iceland.
This vast green plain around the lake allows you to have beautiful walks. You will enjoy the scenery, the atmosphere and have your feet between two continents.
Almannagjá
Within the park you will discover Almannagjá rift, a huge rift caused by the drift of the two continents.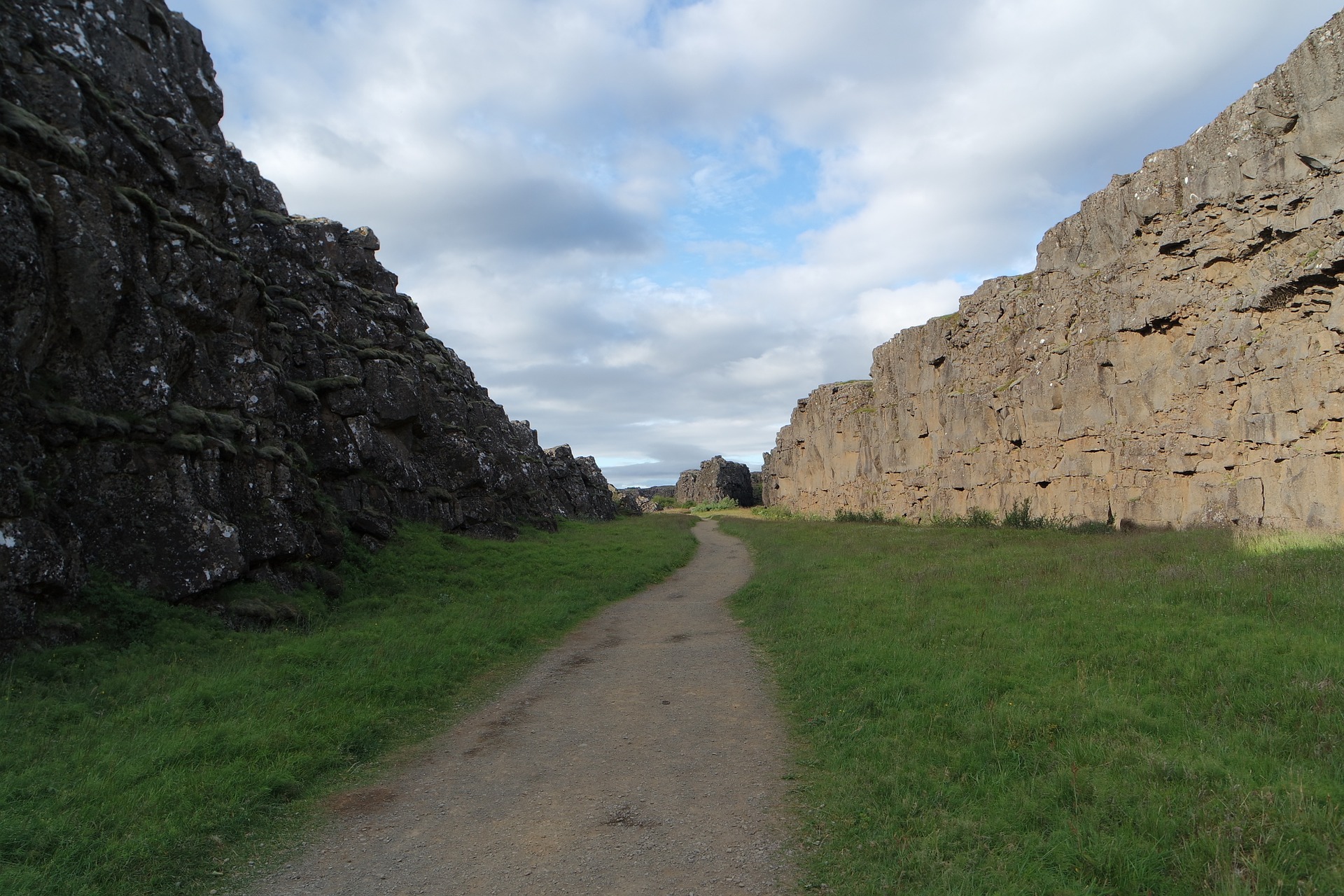 Photo: You can have a walk in Almannagjá rift
This place is the original site of the Alþing, the oldest still ongoing parliament of the world. You will find there a rock called "Lögberg" or "Law rock" (as you can see in the picture below). This is the exact place where the Althing was born.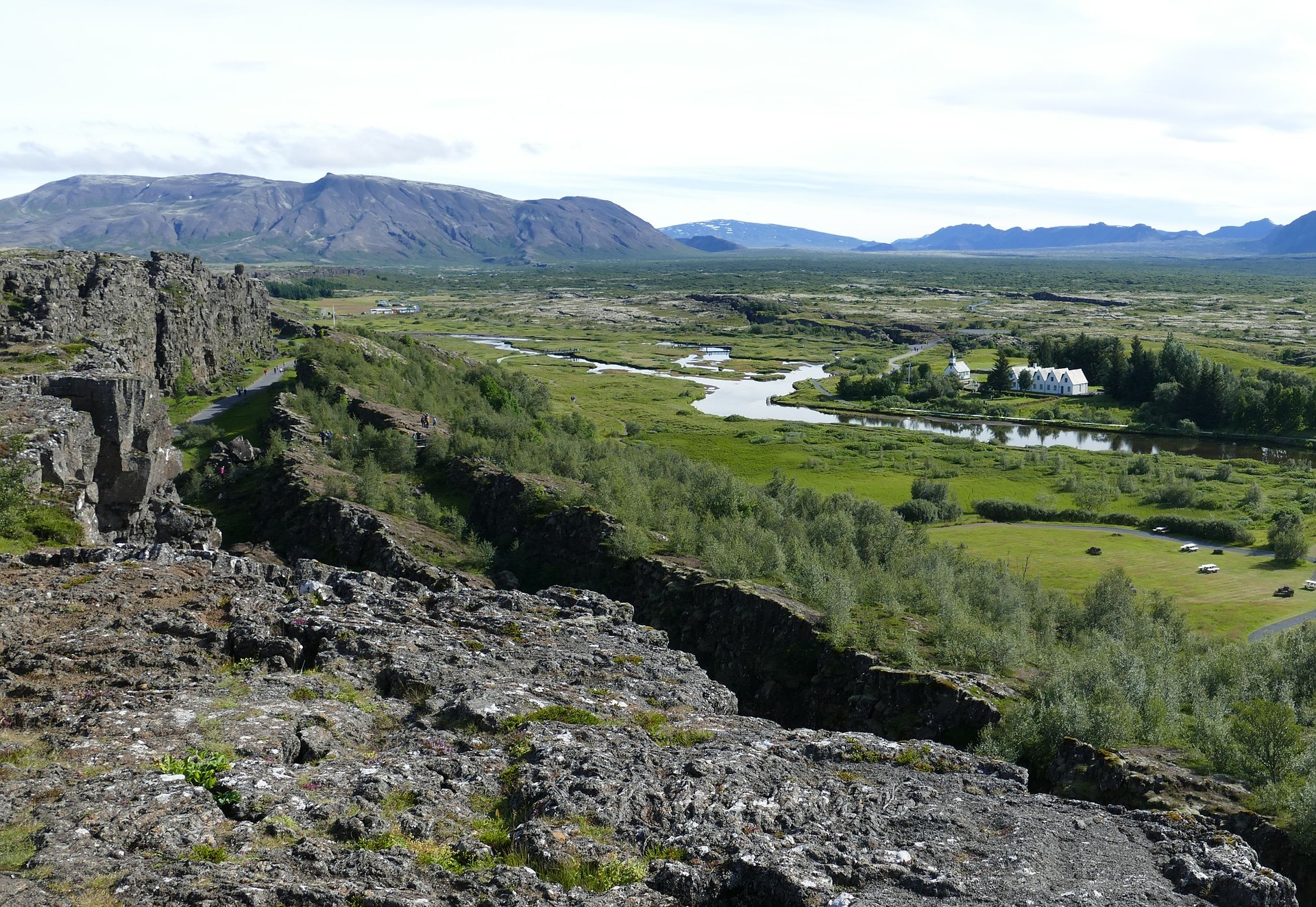 Photo: This is where stood the oldest still ongoing parliament in the world
This place was chosen for its acoustic qualities. Because it was possible to be heard clearly by thousands of people during the annual gathering.
Diving and snorkeling at Silfra
Another really interesting rift is Silfra, formed by the still oving american and eurasian tectonic plates. But don't worry, the rift is increasing its size by only 2 cm (0.79 in.) per year.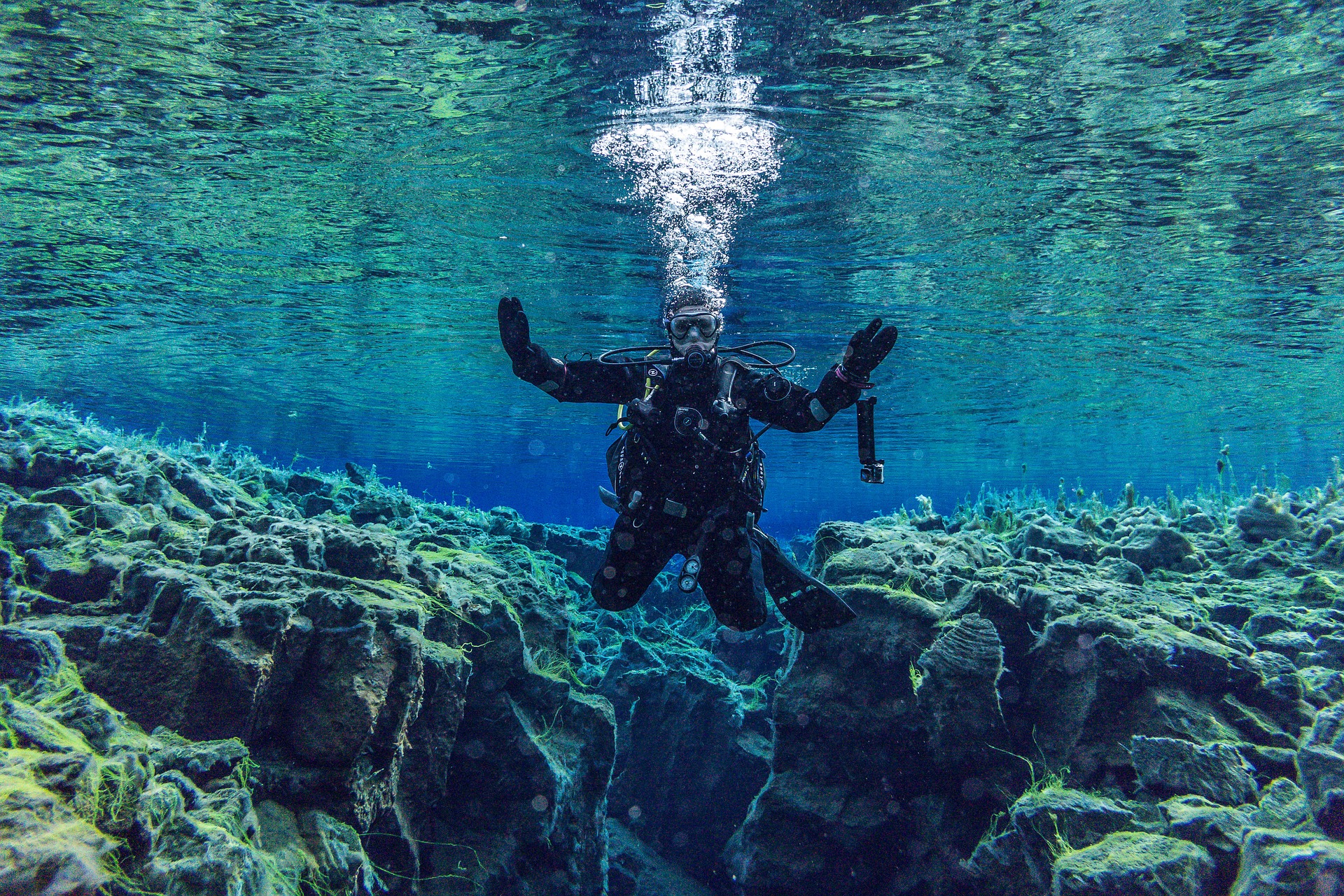 Photo: Enjoy a dive at Silfra
This is the most famous place for diving and snorkeling in Iceland. These crystal-clear waters will offer you an incredible experience. 
The water there is so transparent that you can actually see up to 100 meters away!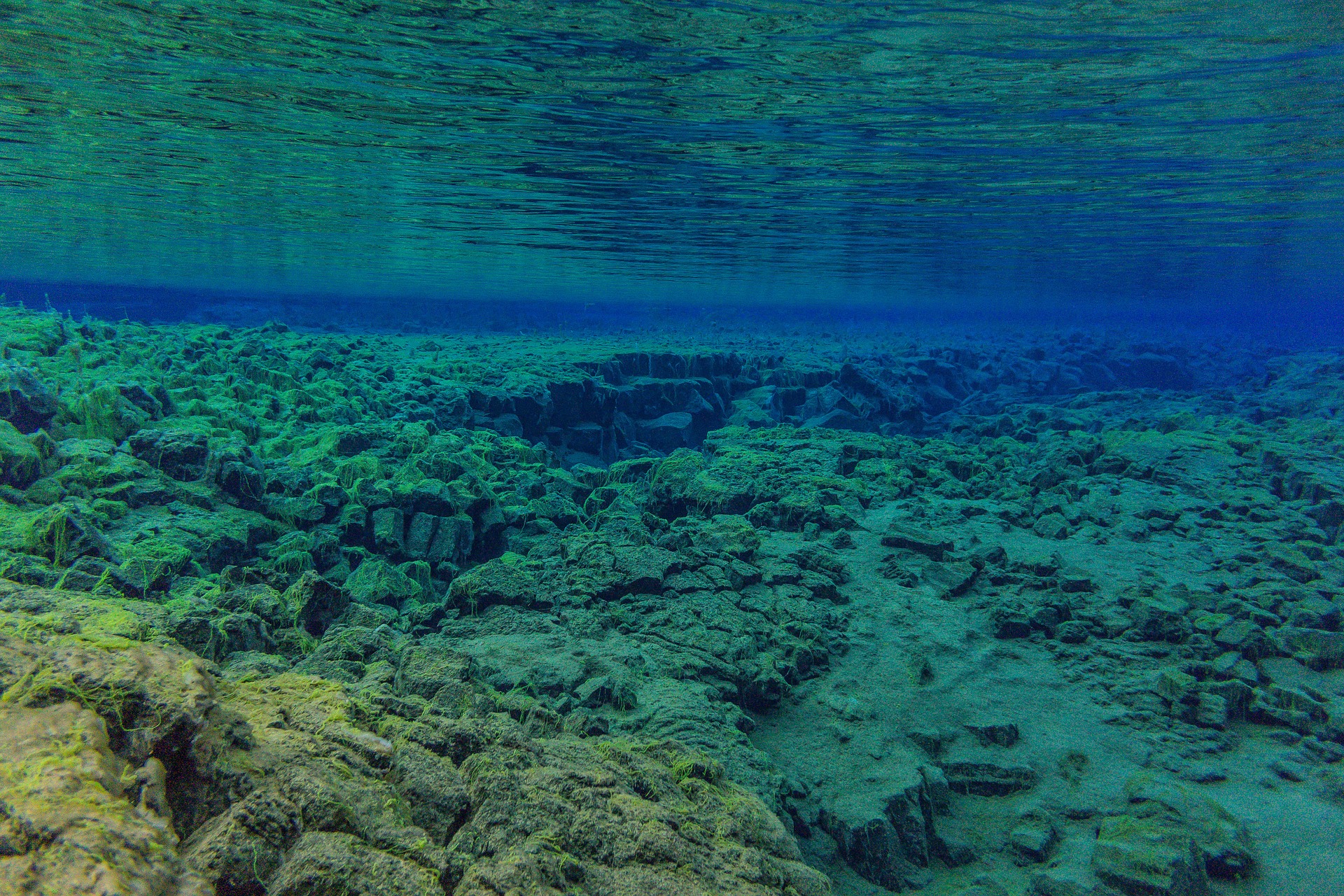 Photo: The visibility while in the water is incredible!
Why is the water so clear? 
It's because it is filtered by porous lava rock for almost a hundred years before reaching the rift. The water comes from Langjökull glacier, which is located around 60 kilometers north.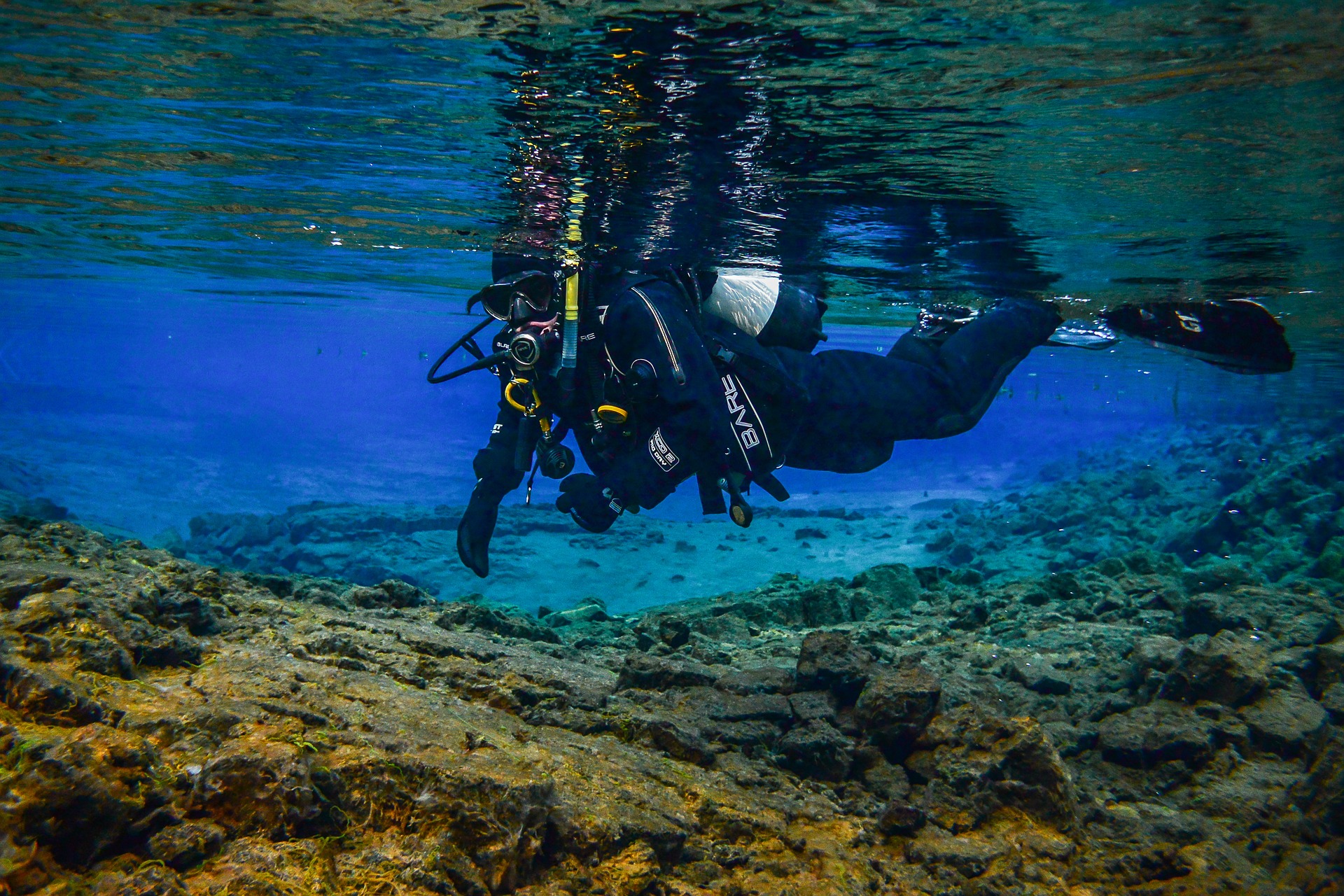 Photo: You will feel like flying in the water of Silfra
Once you are on site, you will find several certified companies which offer small group diving and snorkeling tours. The price for a snorkeling tour is from €80 and it will cost you around €175 for a diving tour. 
Other interesting spots in Thingvellir National Park
Peningagjá
Peningagjá is another water filled rift where people throw a coin for luck.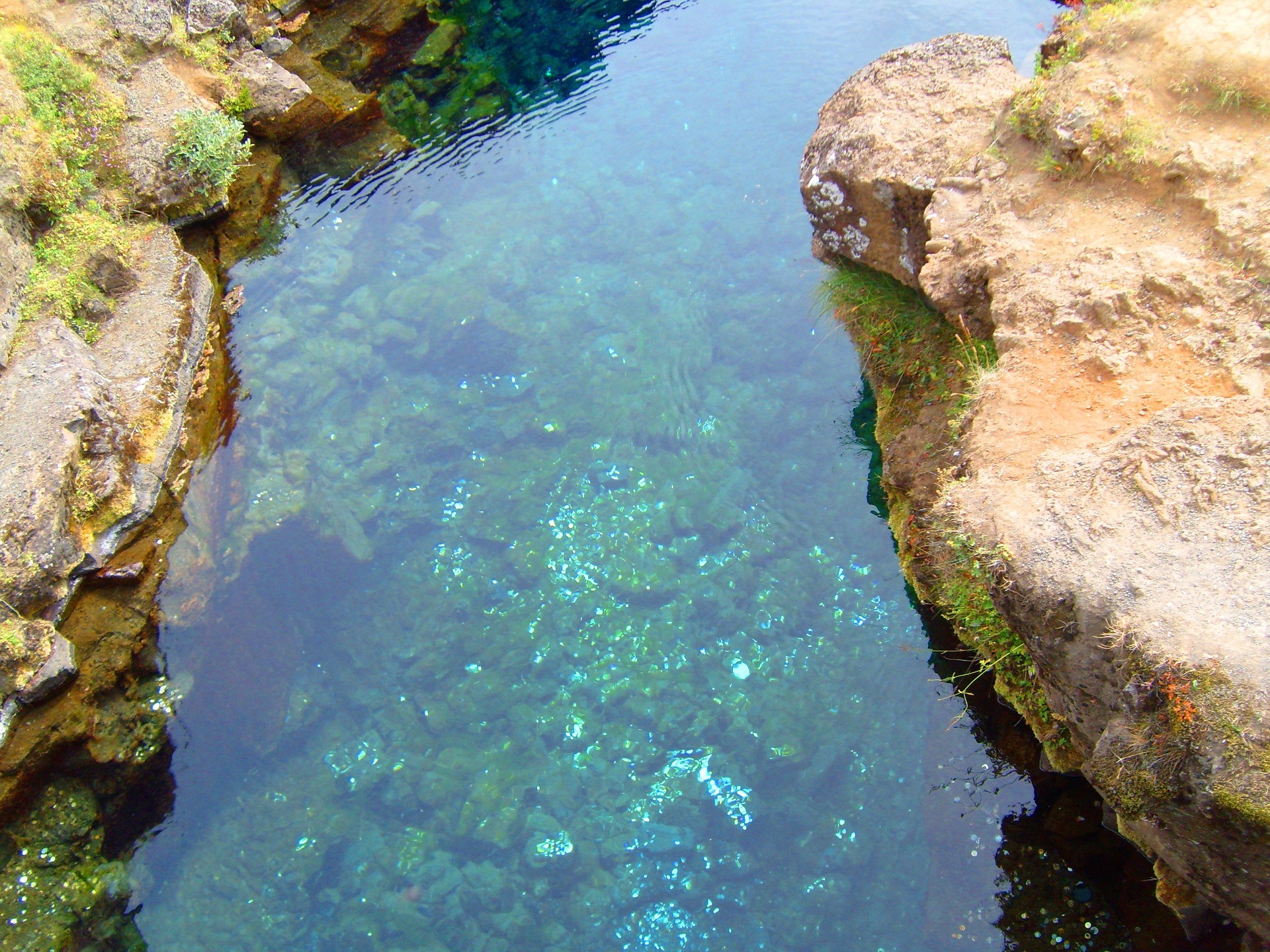 Photo: Toss a coin in Peningagjá for luck
Öxarárfoss
This waterfall is around 2 km away from the car park. It is so nice to have a walk there enjoying the surroundings!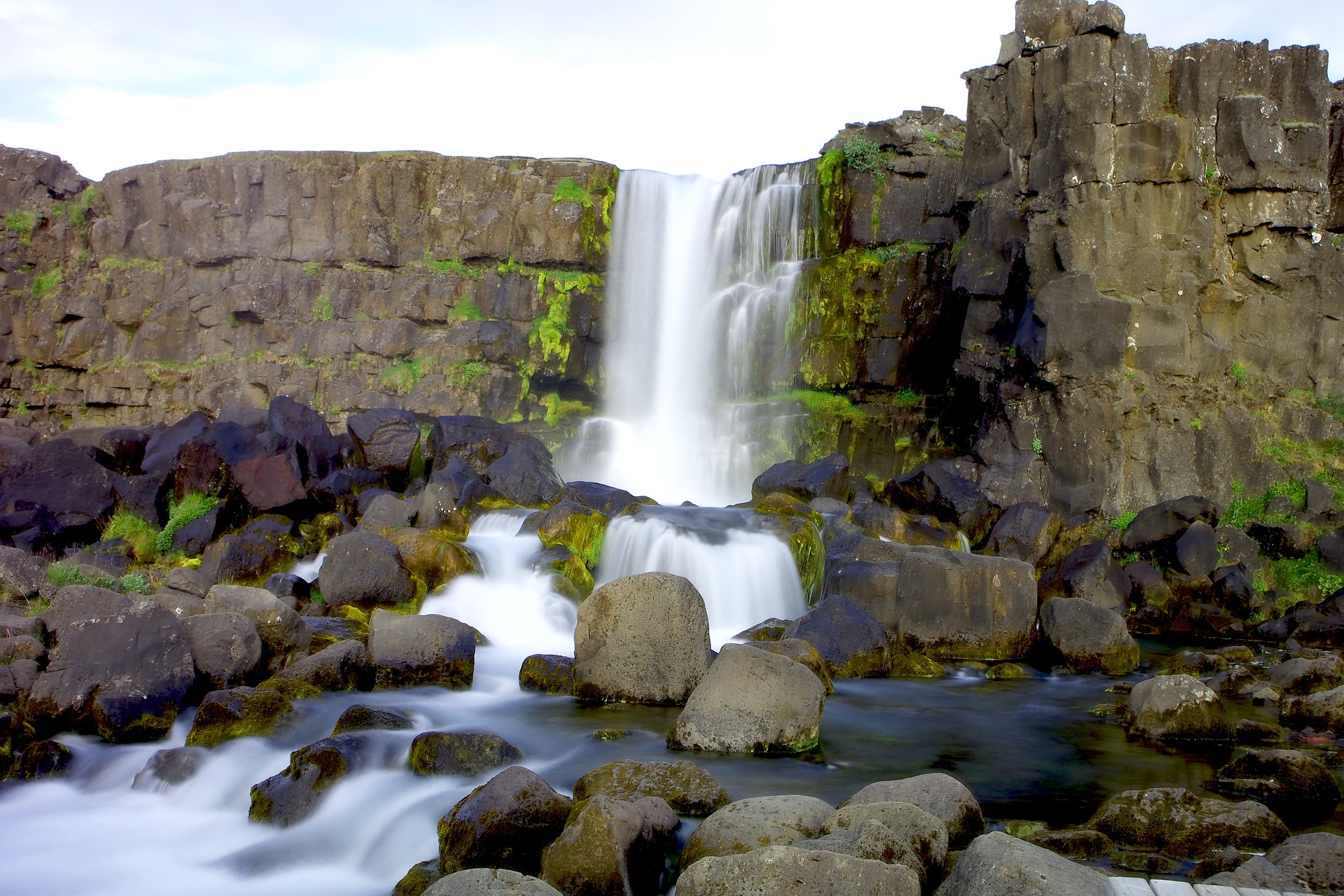 Photo: Öxarárfoss at Thingvellir
---
Pro tips:
You can enjoy an overview of the park from an observation platform
Don't miss the snorkeling in Silfra, breathtaking experience guaranteed (haha)
Don't forget to pay for the car park!! 
---
If you want full information about this park, you can visit their official website: thingvellir.is.
The National Park of Thingvellir is so incredible that you could spend days just in this area. But this is only the first stop of your journey! Next stop: Geysir and its incredible geyser.
GEYSIR GEOTHERMAL FIELD
It is one of the smallest high temperature areas in Iceland, but probably the most interesting one!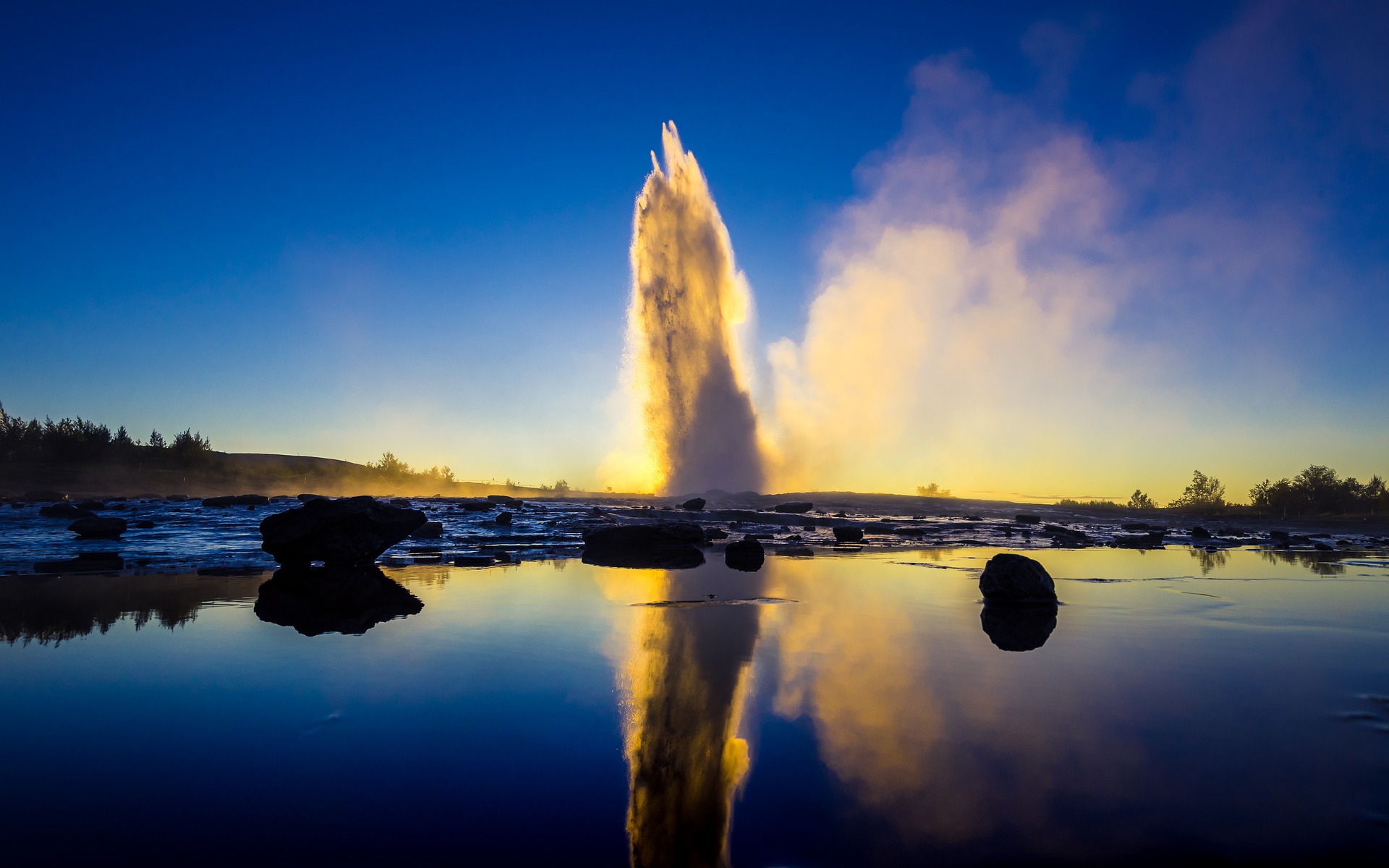 Photo: Strokkur is the most popular spot in the Haukadalur Valley
Particularly well-known for its hot springs, boiling water, and geysers, it is located in the Haukadalur valley. In the middle of green vegetation and flowers, you will have the good luck to attend a rare geothermal event.
The most famous are Geysir and Strokkur. Geysir has been inactive for several years but is now active since the earthquake in 2000.
Strokkur
Strokkur is one of the most powerful and spectacular geysers. It erupts every 4 to 8 minutes ans reach a height ranging from 20 to 25 meters. It is nicknamed "the Fantastic Geysir" because it is the one to erupt most regularly.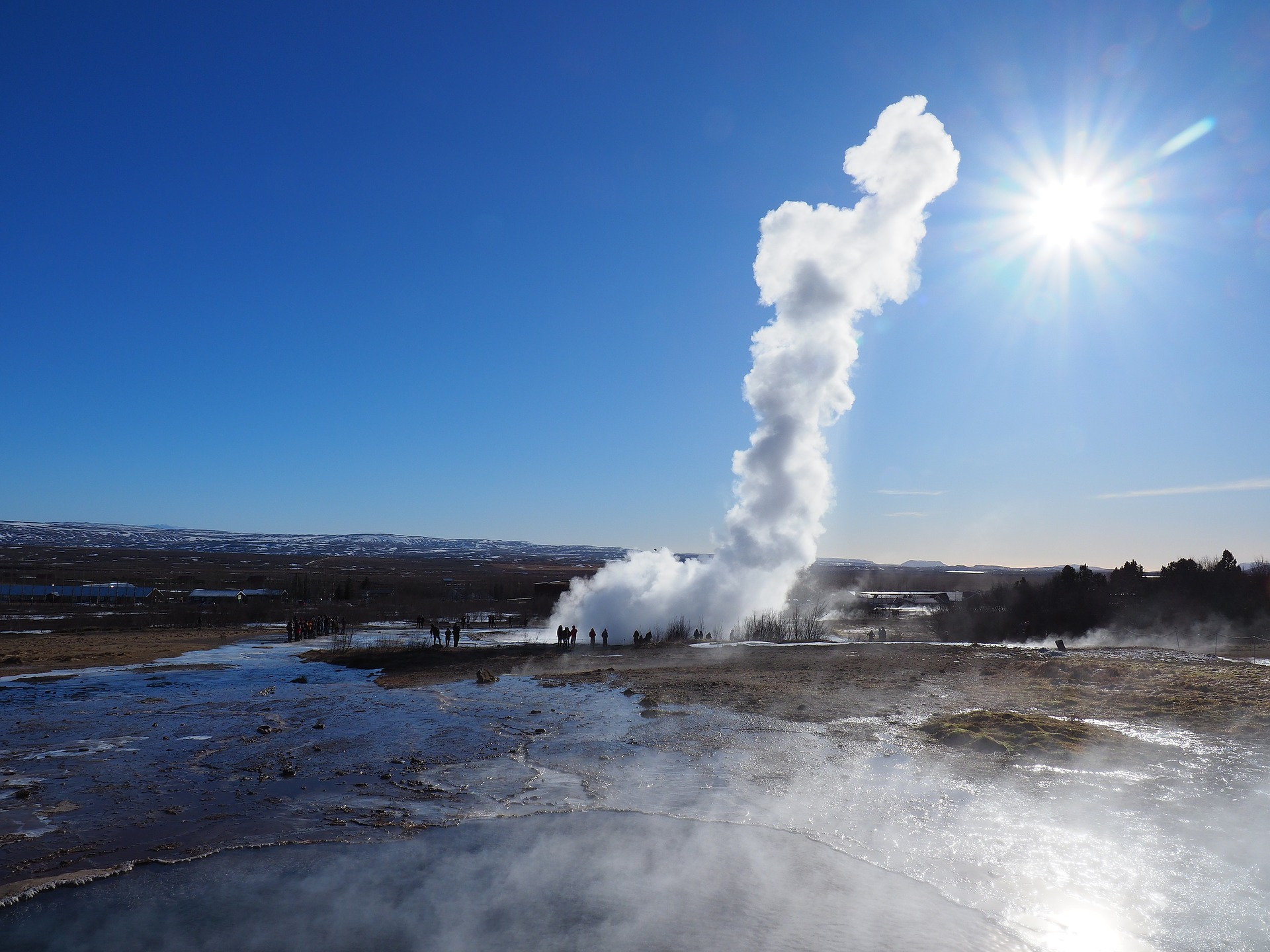 Photo: Strokkur erupts every four to eight minutes!
It is the main attraction of the Haukadalur Valley. And Geysir can erupt at heights of up to 80 meters (in very rare occasions).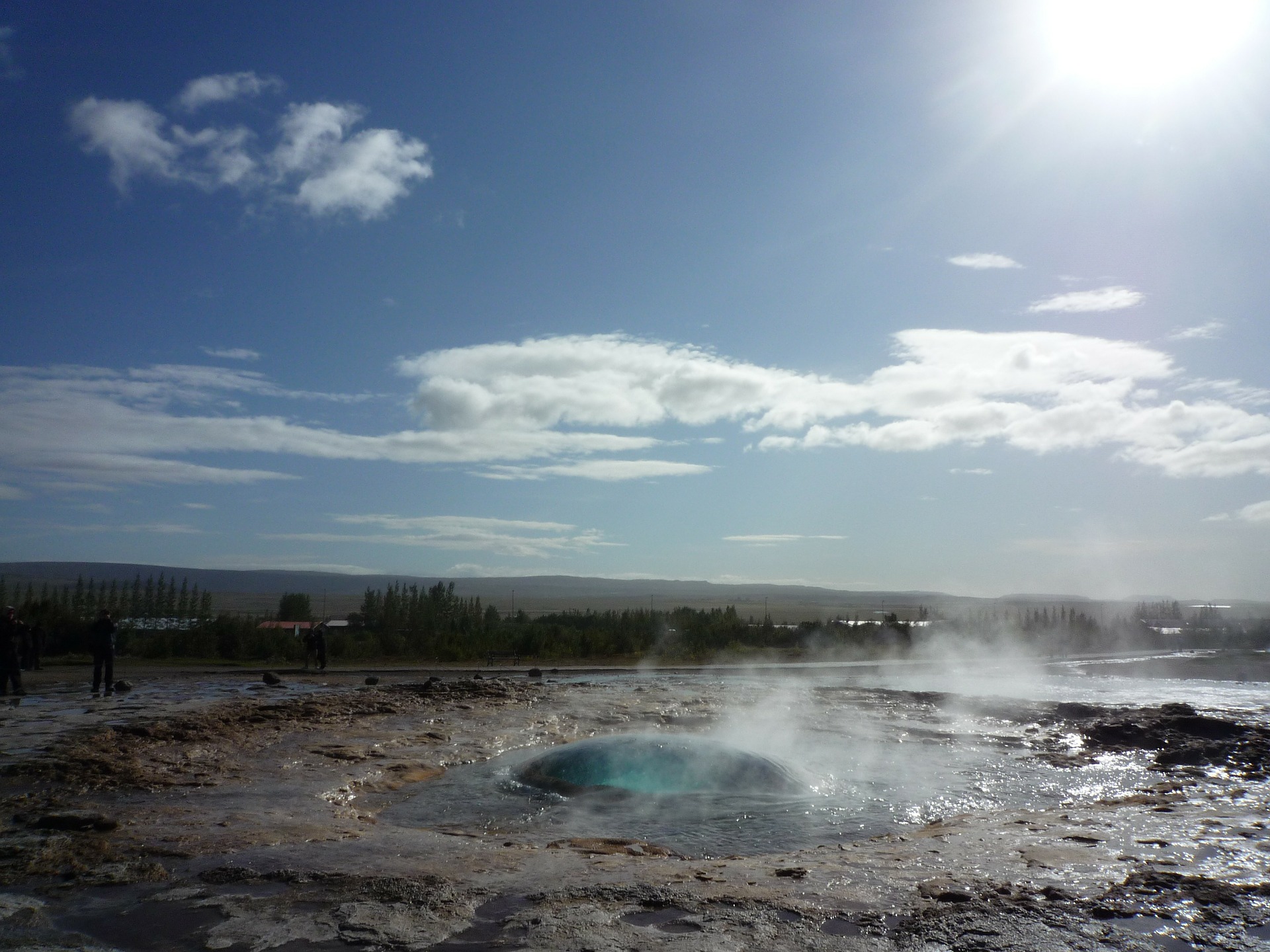 Photo: You can see a "bubble" forming right before the eruption
Just look for yourself in this video and see how this eruption is incredible: 
Haukadalur valley
The Haukadalur valley also has many other features that are worth the visit!  
Hot springs and other small geysers are located all around. The soil itself is naturally colored by elements such as copper (green), sulfur (yellow), and iron (red).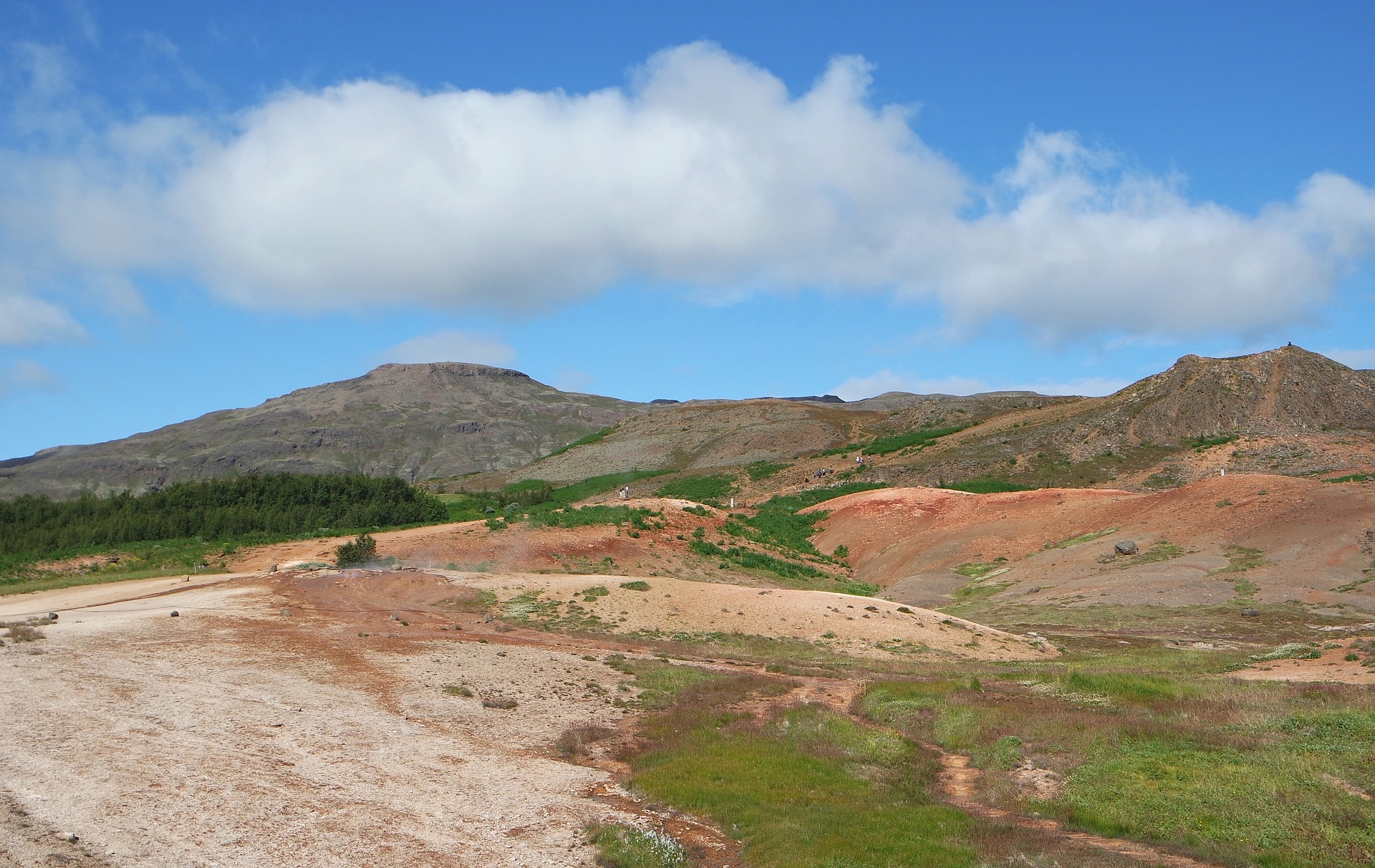 Photo: The Haukadalur valley in Iceland
The criteria for a successful eruption
Active geysers like Strokkur are rare in the world. And a certain number of criteria have to be merged together for a successful eruption!
Photo: Strokkur when not erupting
The first important thing is the natural presence of a hot spring. The magma must be close to the surface for the stones to be hot enough to heat the water. Since Iceland is located between two tectonic plates, this is the case most of the time.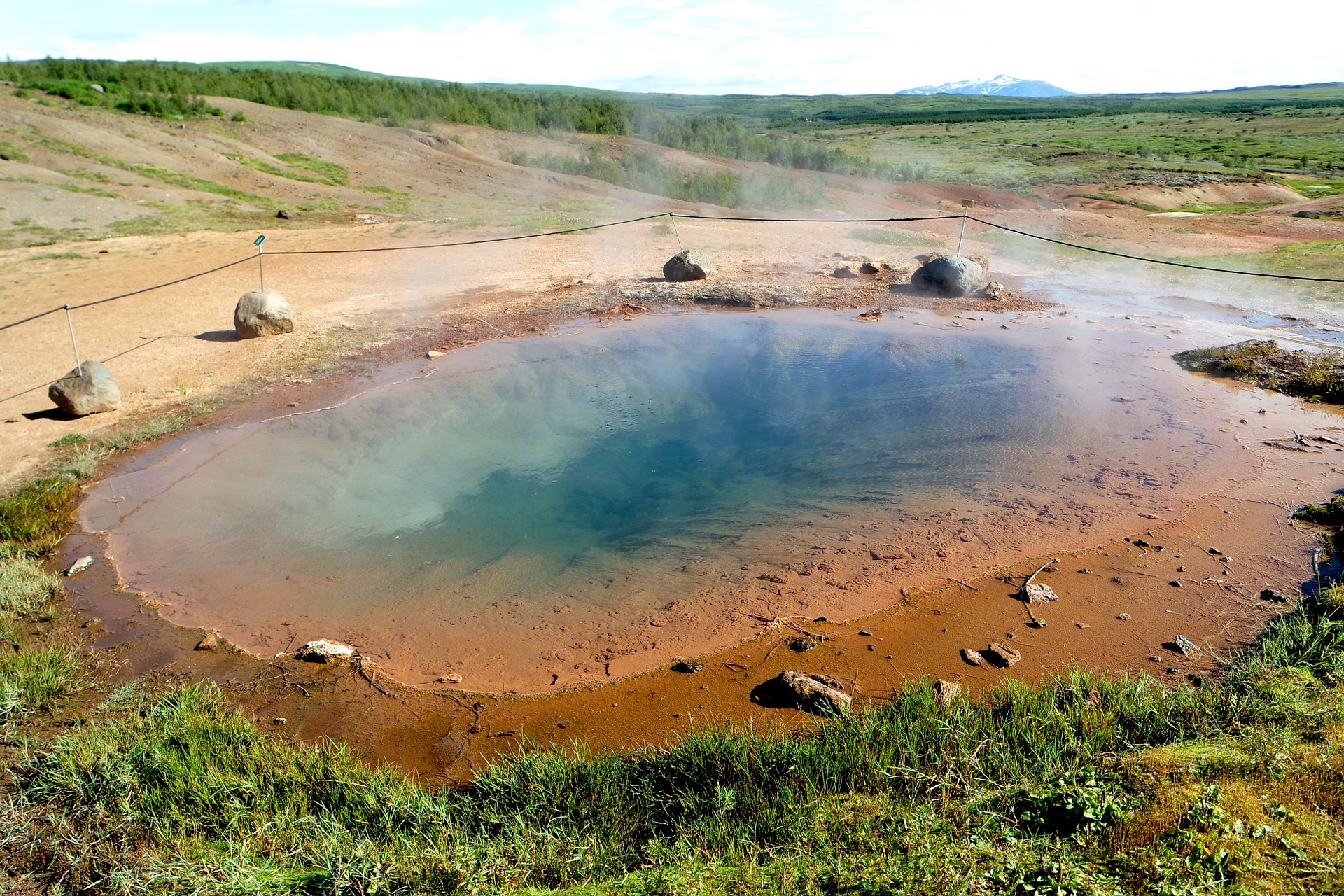 Photo: The magma creates a lot of hot springs at Geysir Iceland
A groundwater source is also needed. In the case of Strokkur, this source comes from the second largest glacier in the country: Langjökull. The glacier melt water infiltrates into the porous lava rock and travels underground in all directions.
Finally, to create a Geyser, it is necessary to have a complex natural system that allows a geyser to erupt. Above the intense heat source, there must be a space for the flowing water to collect like a reservoir.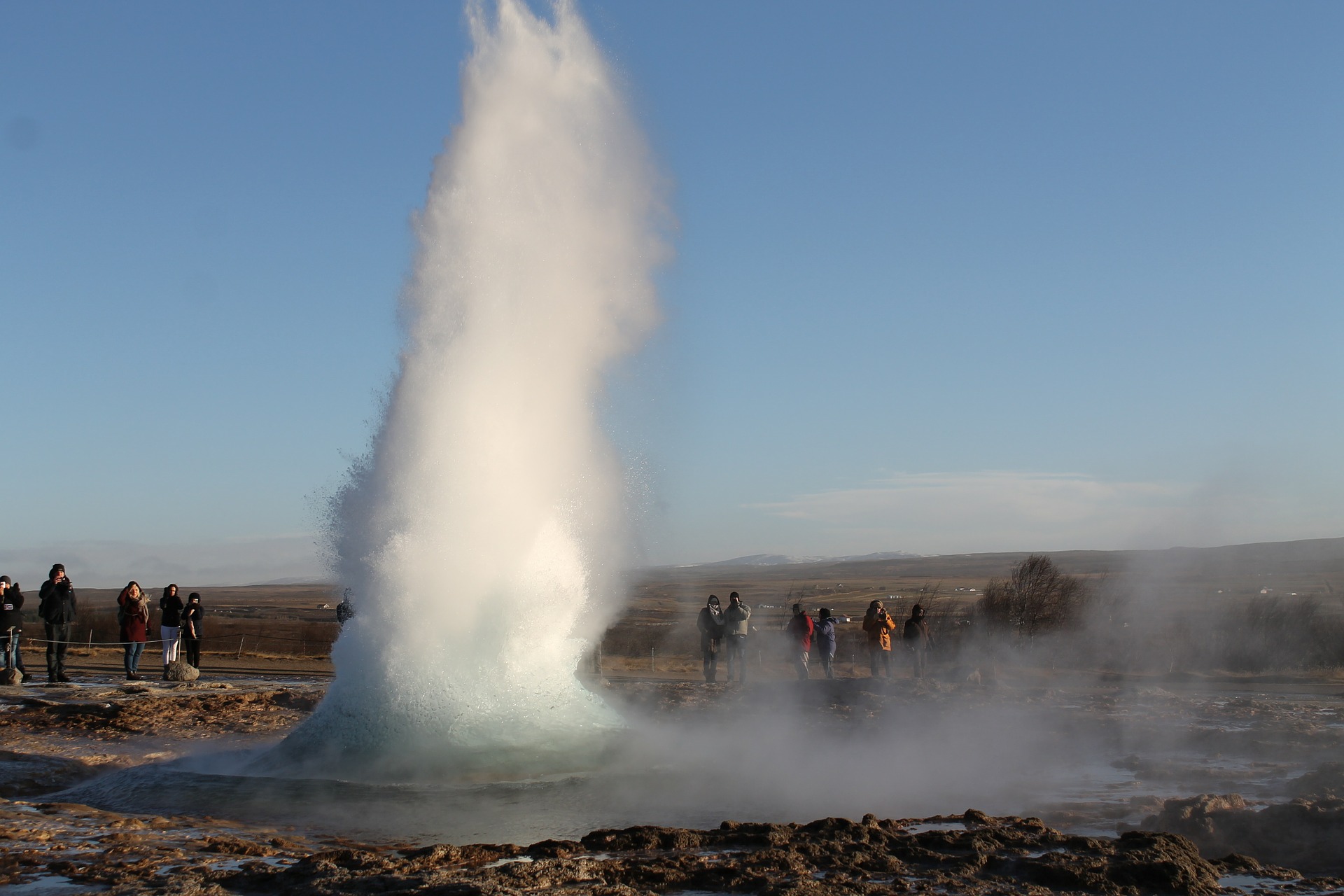 Photo: Eruption of Strokkur at Geysir
From this basin, there must be a conduit for the exhaust of gases. This pipe must be lined with silica so that boiling and rising water cannot escape before the eruption.
Once the gas can't be held anymore, it goes rapidly to the surface. The result is the one we know!
VISIT GULLFOSS WATERFALL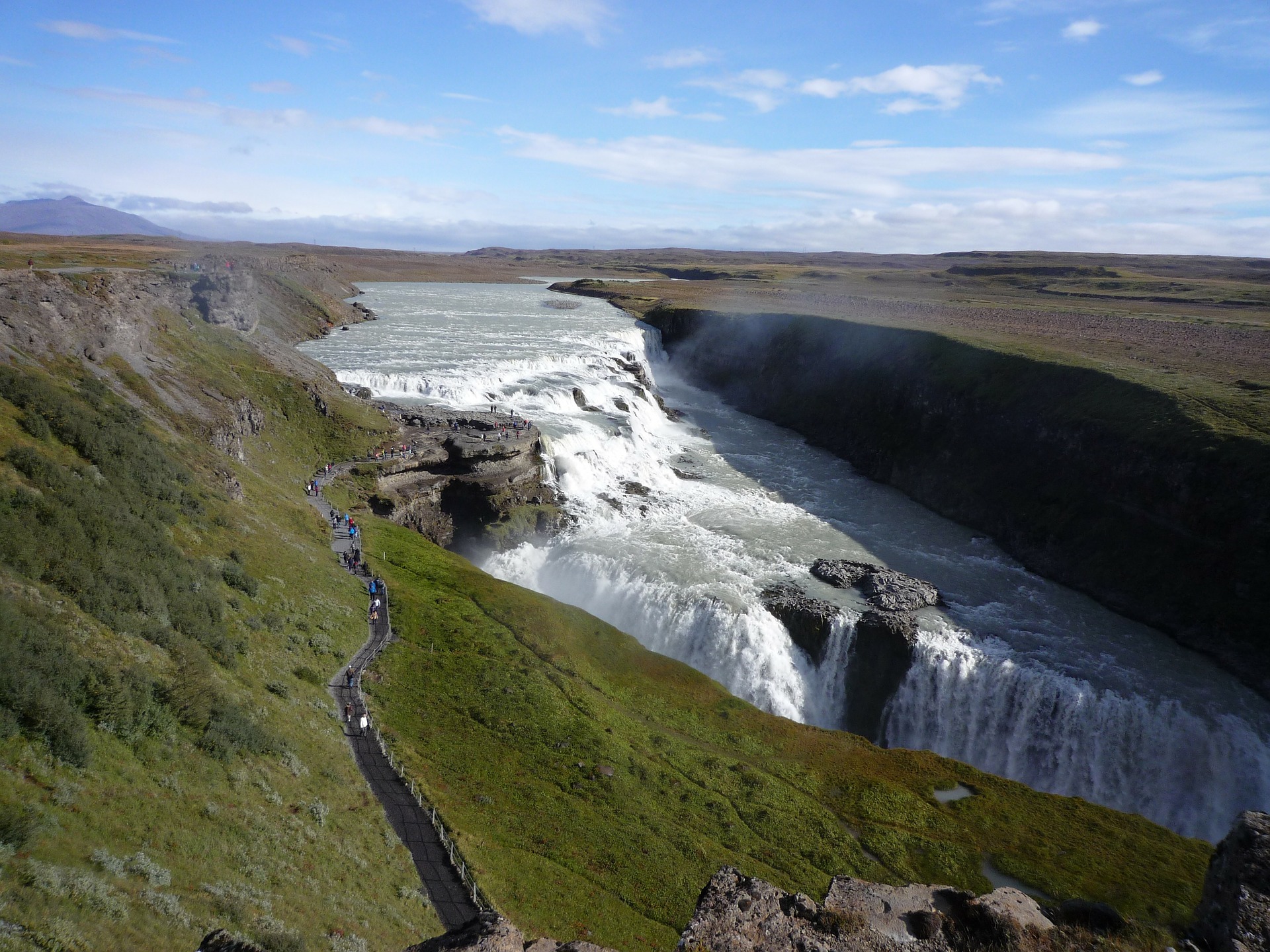 Photo: Gullfoss Iceland
Gullfoss is not the highest waterfall in Iceland but is probably one of the most impressive! Considered as the most famous waterfall in Iceland, Gullfoss is certainly also the most beautiful.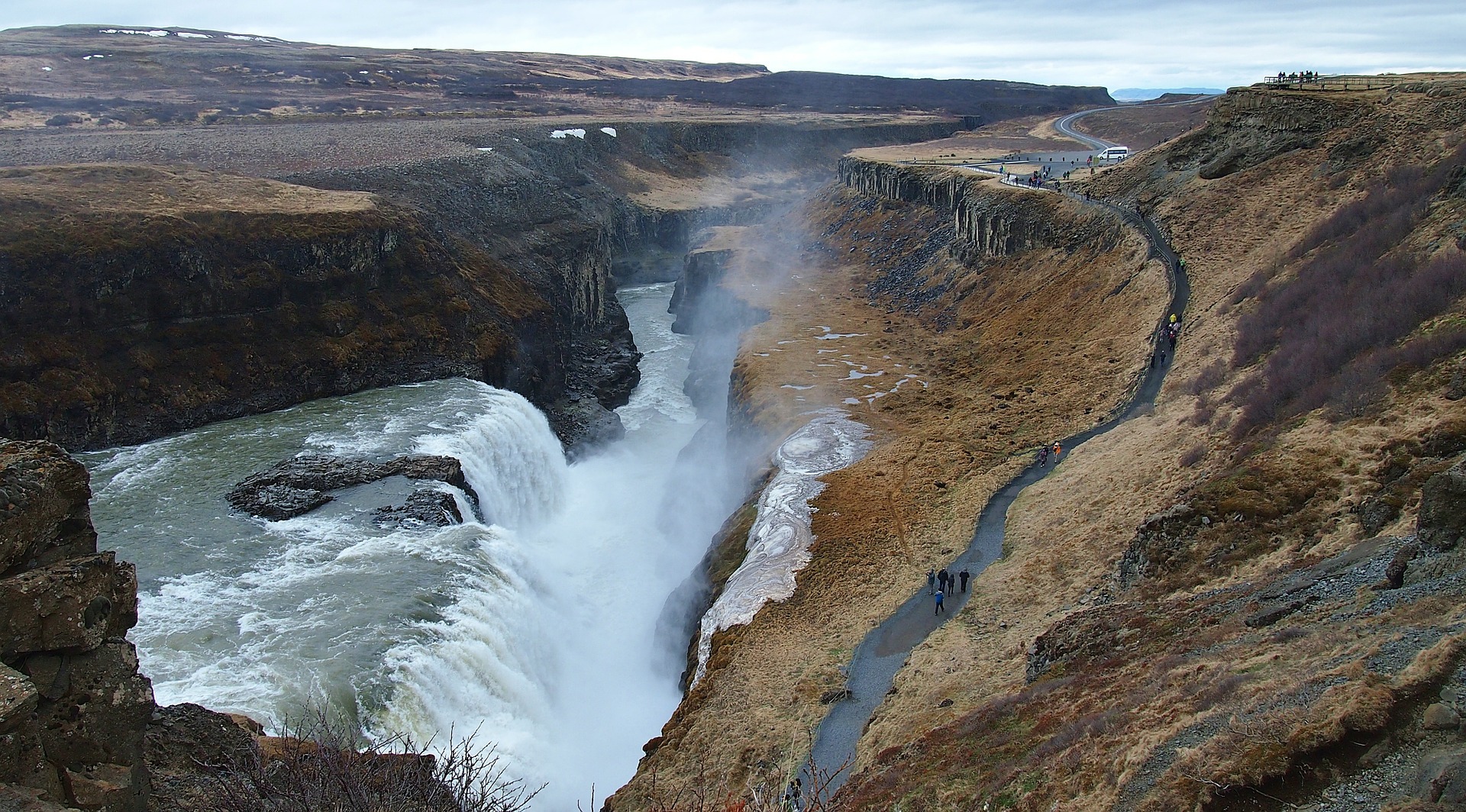 Photo: Gullfoss is probably the most beautiful waterfall in Iceland
High of 32 meters, this powerful waterfall, getting its water from the same glacier as Strokkur : Langjokull. Gullfoss means the "Golden Fall" in Icelandic which also gave the name of the Golden Circle.
Must see waterfall in Iceland, it is not to be missed and might leave you speechless.
 
Gullfoss water flow
On average, the water flow is around 110 m3 per second. During floods, it can fill nearly 50 Olympic swimming pools in one minute. The floods are so intense that they can fill the gorge to the top, which is 32 meters high.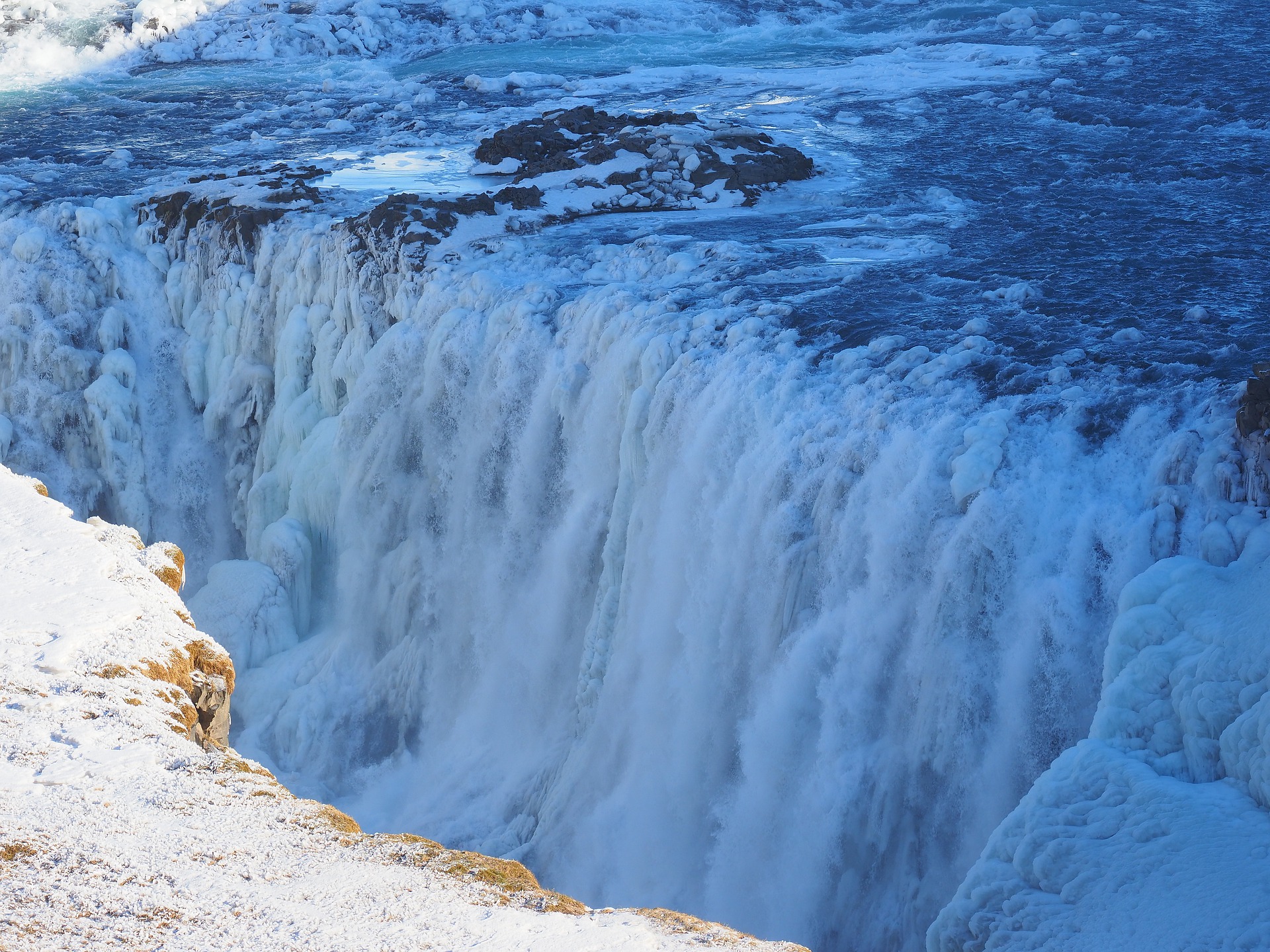 Photo: Gullfoss has one of the biggest water flow of Iceland
Sigriður and her fight to protect Gullfoss
The tourism of this incredible waterfall dates to 1875 and its access was rather difficult.
Sigriður, who is an important figure in the myth surrounding the waterfall, often guided visitors to it. She, and her sisters, built the first path down to the waterfall.
When she heard that Gullfoss was going to be hired by certain foreign investors to generate electricity, she sued them. And she even threatened to throw herself into the waterfall. Fortunately, investors did not pay the rent and the property was recovered. So it was sold to the Icelandic government to protect the waterfall as we know it today.
IS IT POSSIBLE TO CAMP IN THE GOLDEN CIRCLE? 
Yes, you can camp in the Golden Circle! Even if you can do it in one day, you know now that there are plenty of things to do here.
So that would be a good idea to spend a night or two in this area. Just to discover as many things you can.
Here is the list of campsites you can find:
Þingvellir - Nyrðri Leirar
Þingvellir - Syðri Leirar
Tjaldstæðið Laugarvatni
Uthlid Campsite
Camping Geysir
You will find in these campsites every facilit you need: toilets, showers, sinks, etc.
DO YOUR OWN GOLDEN CIRCLE TOUR IN ICELAND WITH YOUR KUKU CAMPERVAN!
When you come to Iceland you want freedom, we know that. You want to be able to go wherever, whenever you want. And not be part of touristic Golden Circle tours, in a crowded bus.
That's why the best for your trip is a Kuku campervan my friends!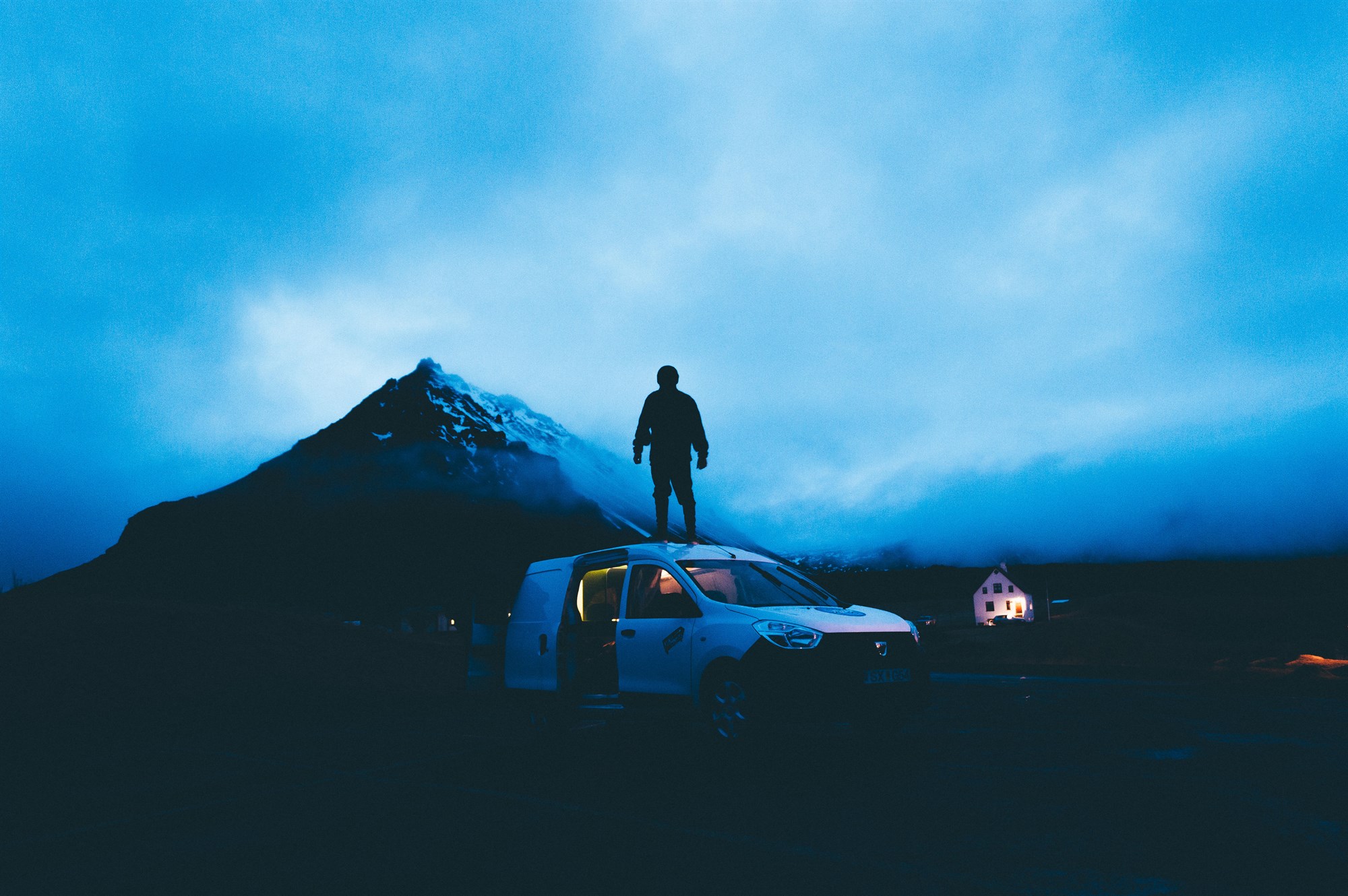 Photo: This picture is awesome but please don't stand up on our vans!!
We rent FWD and 4x4 that will give you a unique, incredible experience during your trip around the Golden Circle!