The geothermal waters of Blue Lagoon in Iceland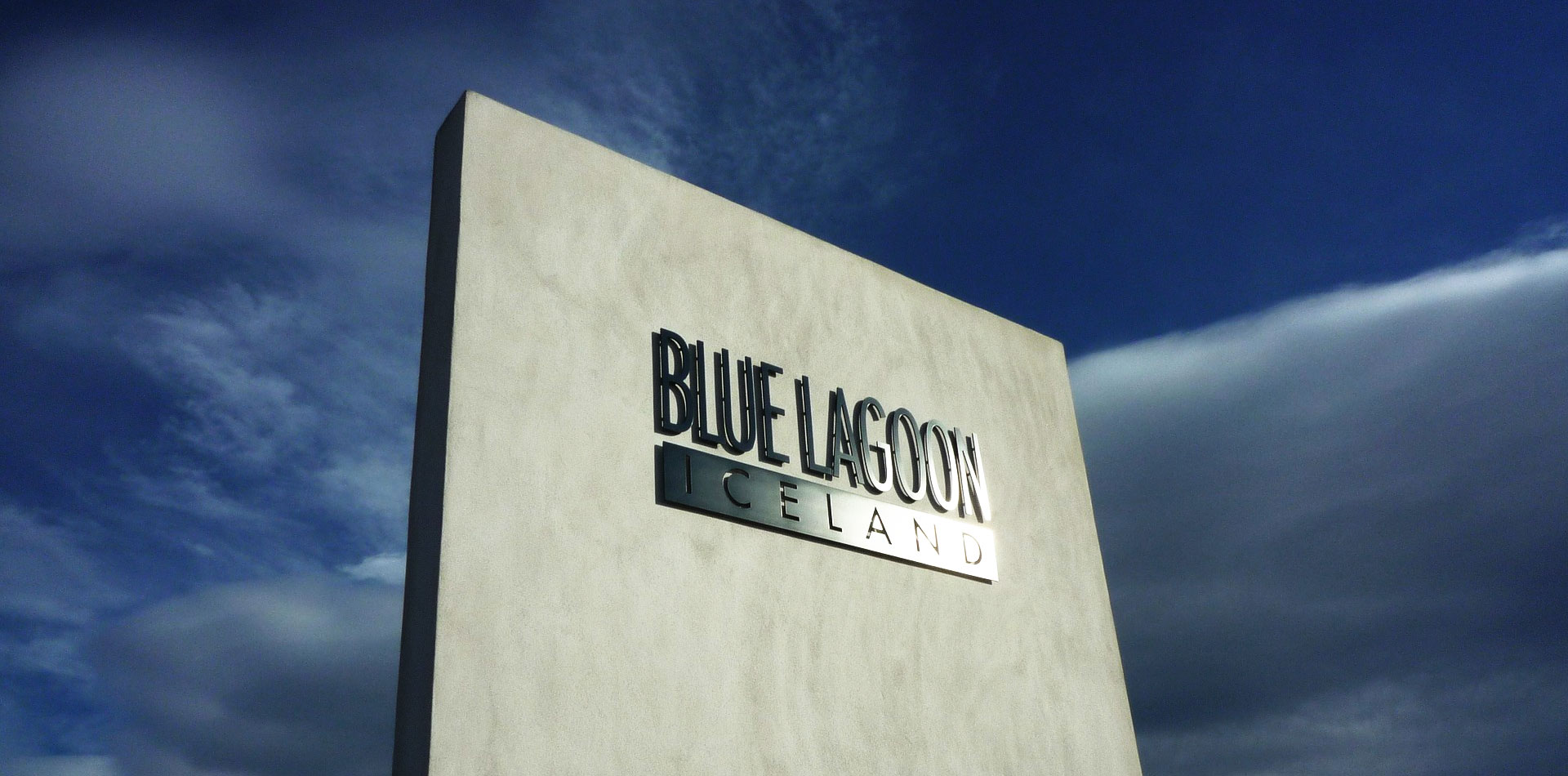 Visit the lagoon
---
---
When visiting Iceland, the land of lava fields, relaxing at Blue Lagoon in Iceland is a must.
At Kuku Campers, we're all about helping you experience everything amazing that Iceland has to offer. Both urban and rural.
In this article, you'll be hopping on your Kuku Camper Van and heading about 40 minutes southwest from Reykjavík to the most relaxing place on earth.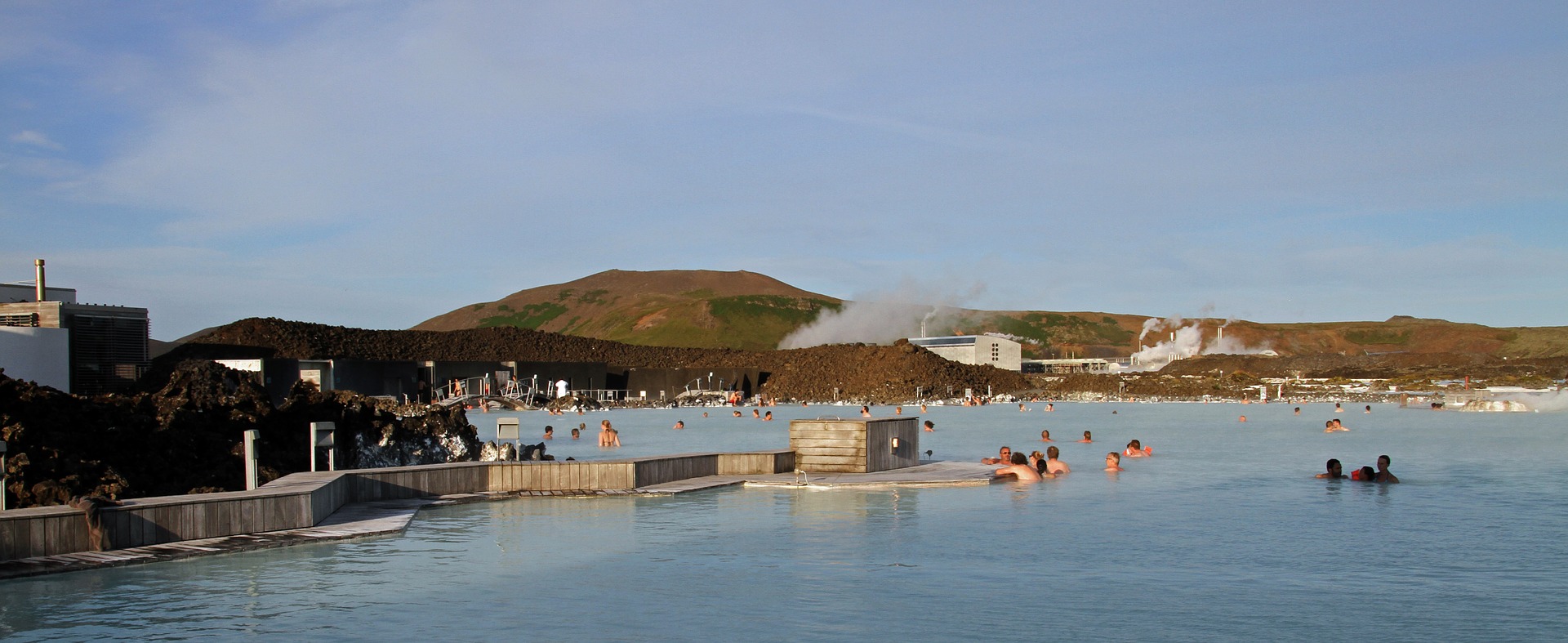 Now we know what you may be thinking. "I came here to explore waterfalls and climb mountains. Why would I want to float around in milky blue curacao lagoon waters!?"
My friend, when you experience what it's like to soak for hours in one of the most comfortably heated pools in the world... You will never want to leave!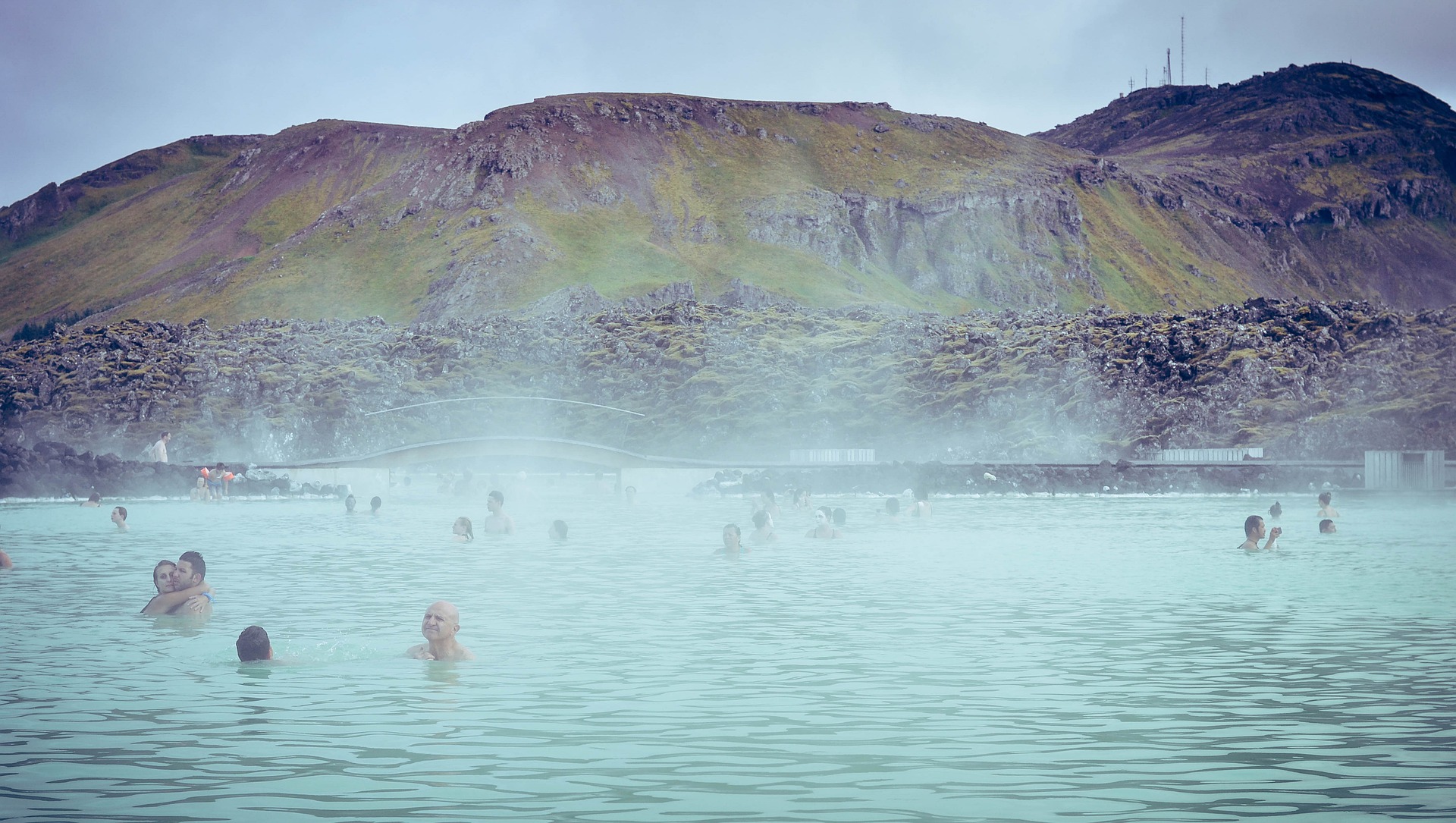 Plus, but did you know that the lagoon has more Google reviews than the Great Wall of China? You probably didn't. Because no where on the internet will you find this fact except here on Kuku Campers
See for yourself here:
Blue Lagoon google reviews.​ At 17,736 reviews, and a 4.5 star rating
Great Wall of China reviews.​ At 13,453 reviews, and a 4.2 star rating
Our guess is that tourists would rather enjoy themselves by soaking up the mineral rich water... Than hike a wall where thousands of slaves died building something that didn't keep the bad guys out any way!
What is the Blue Lagoon?
The most famous spa in Iceland
The Lagoon is one of the best attractions in Iceland, and in many bucket lists! You can believe me when I say that it's not just a simple swimming pool.
It is a large body of geothermal seawater rich with minerals that is naturally heated by the volcanic landscape it sits on.
The water temperature consistently stays heated at over 100 degrees Fahrenheit (38 degrees Celsius). So it's like soaking in the world's largest nature bath.
If you'd like to know more about hot springs, we wrote a full article about that: best hot springs in Iceland!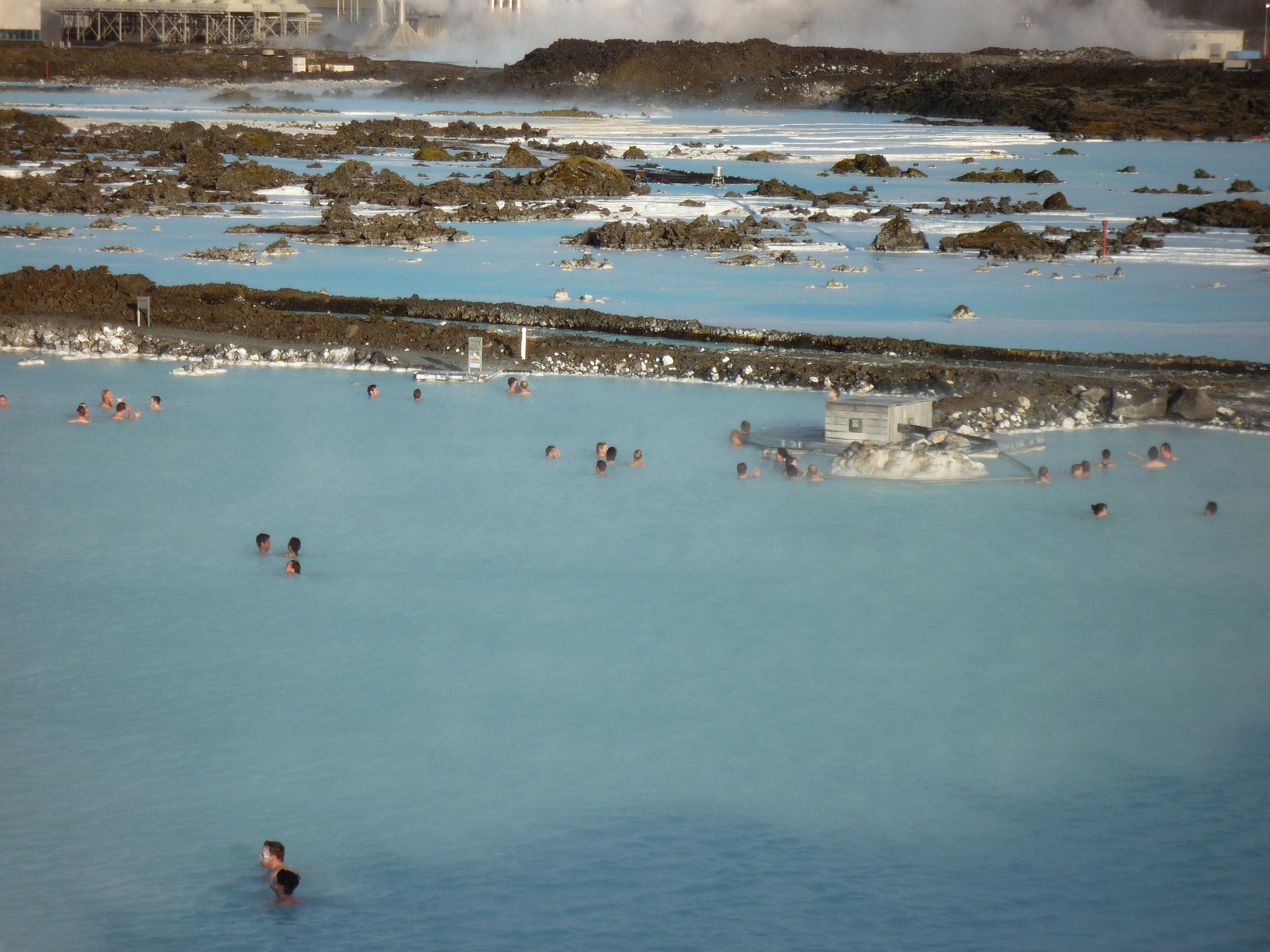 History of the lagoon
This will probably surprise you because Blue Lagoon was actually... An accident! It was created when the power plant of Svartsengi started to produce hot water in 1976.
---
---
But the naturally hot water of the area is a mix of spring and sea water... That's why it can't be used directly for houses. Fresh water is pumped nearby the plant and is heated up by the hot water. It is then released in the nature.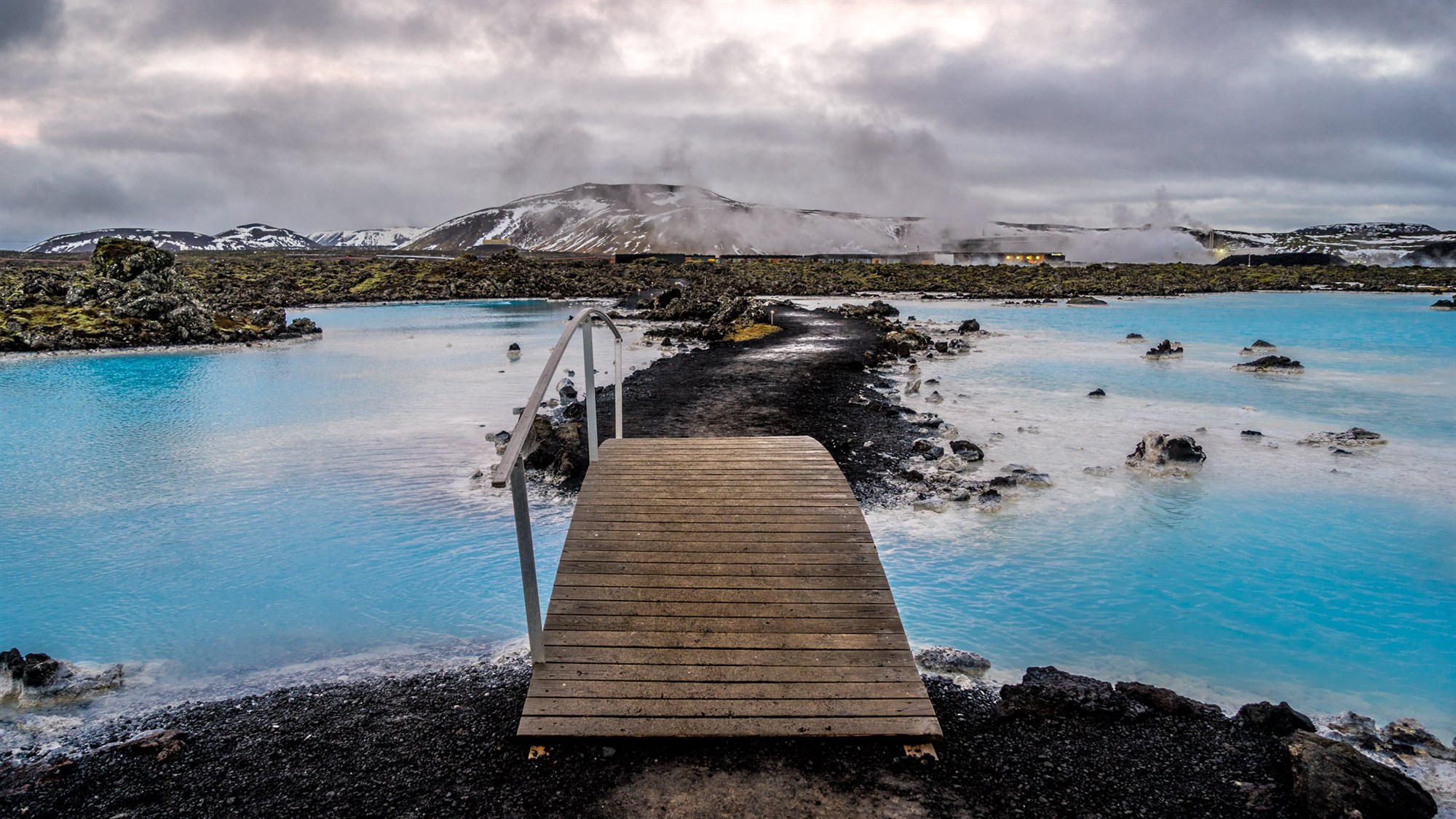 Photo: Giuseppe Milo - "The Blue Lagoon - Iceland" - Flickr - No changes were made
Engineers thought that the porous land around the plant would absorb the water. But the silica which is present in the water filled the wholes and created this magnificent lagoon.
The first who ever tried to bath in the water is Valur Margeirsson. He suffered from psoriasis and hoped that the water would help. It helped indeed! He was the first who called this place "Blue Lagoon".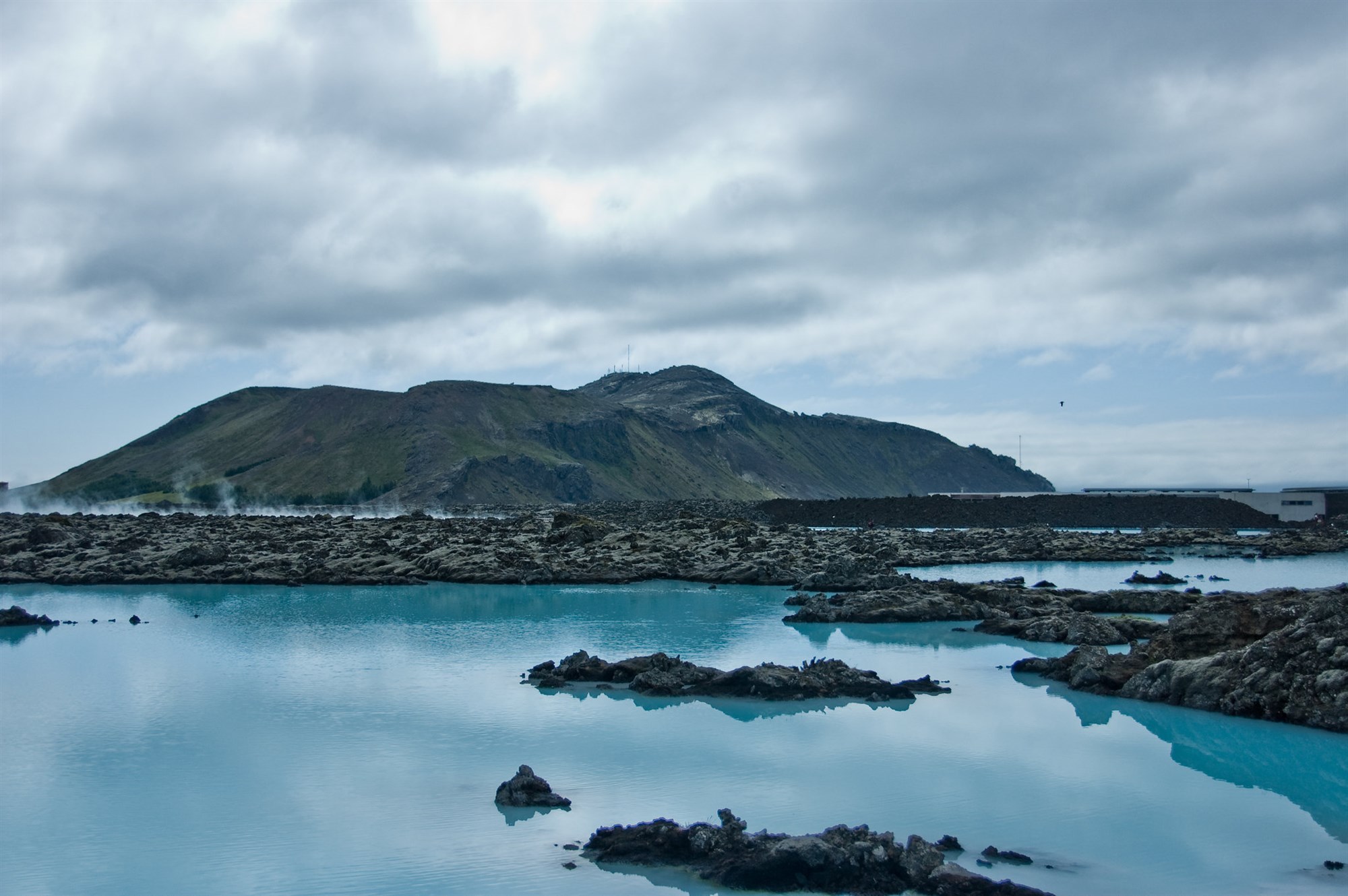 Photo: Audrey - Blue Lagoon waters - Flickr - No changes were made
Since, the lagoon became more and more popular, first for those who suffered from psorirasis. And then for everyone who wanted to relax in incredibly colored hot water.
A lot for work was done to make the experience even better: restaurants, changing rooms, and hotels have been built!! Making this place an high quality spa. With everything you need to relax completely.
Why do so many people visit this place?
Blue lagoon is not a tropical island, however these heated waters have many powers to offer for those who soak in them.
There are few benefits to relaxing in geothermal spa. The milky blue waters contain high levels of silica. And it's a substance that our bodies love and need to be healthy.
In fact, silica is so important to ensuring healthy skin nurturing that it is sold in body lotions. These waters offer natural silicone that settles at the bottom of the waters. It can be used by guests to rub on their bodies or as a face mask.
This natural mineral can be more efficient than industrial skin care products, so don't hesitate!!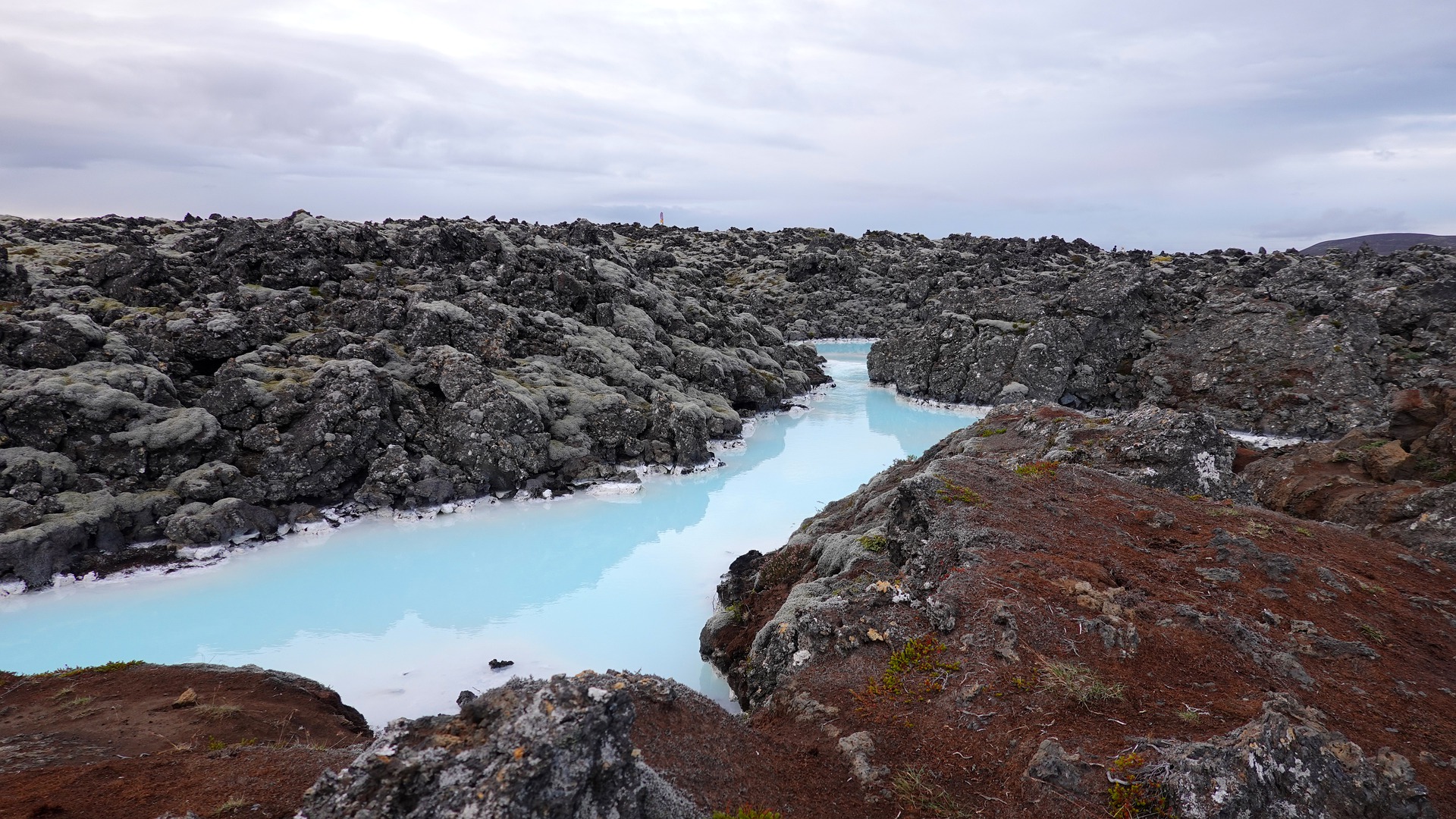 Relaxing for your bones 
The water is heated to a comfortable temperature of 37-39 degrees. It allows people with aching bones to relieve their tension and loosen up any hurting nerves.
If you are an avid hiker and explorer, chances are you may suffer from back pains, knee pains or other joint pains from time to time.
If so, you need to kick back in the white and blue water for a couple of hours or more. You really won't want to leave after you've soaked in the water for a few minutes.

Soothing for your brain 
This is especially true for explorers who are traveling from other countries to Iceland.
Leading up to your vacation, you have been stressing out about plane tickets. Packing the right clothes, having enough in your budget. The list goes on.
Now that you're here in Iceland, it's time to let those anxious emotions slide off. You're here to rejuvenate, so don't waste any time!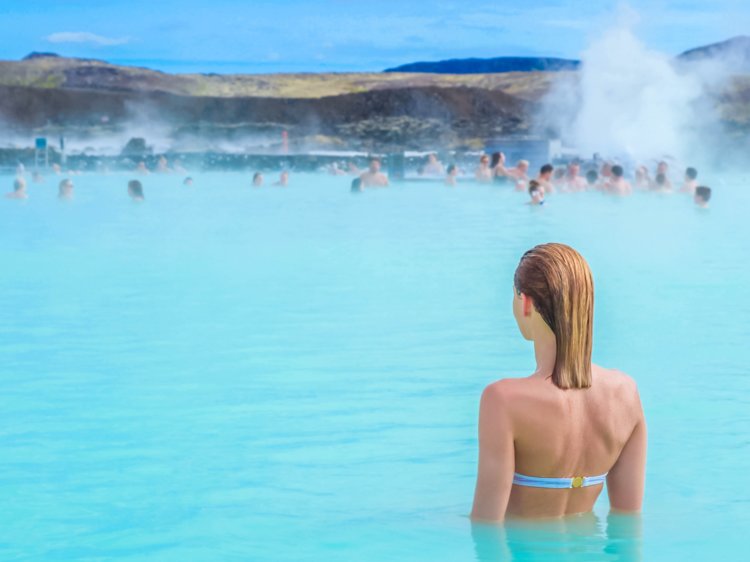 Photo : Iceland lagoon - People bathing in the hot waters

Bookings, prices and opening hours
Bookings
Pre booking is required for the lagoon. Before arriving, be sure you book your tickets online or at the box office.
Also remember to check the opening hours! You can do so by visiting their website at bluelagoon.com
Prices 
The prices will vary depending on amenities you look for. The basic entry ticket will provide you with entrance to the pool. And also a silica mud mask, one towel and one drink in their famous in water bar.
Premium package would have additional features. Like bathrobe, slippers and most importantly a table reservation at Lava restaurant. 
Blue Lagoon offer
Option
Price
Included 

Comfort

from around 40€

Entrance 
Silica mud mask
Use of towel
1 drink of your choice

Premium 

from around 60€

Entrance
1 drink of your choice   
Silica mud mask
Use of towel and bathrobe
Second mask of your choice
Slippers
Table reservation at the Lava Restaurant            
1 glass of sparkling wine if dining at the restaurant

Retreat Spa

from around 490€

Entrance
Retreat Lagoon     

A drink of your choice

Skin Care Amenities

Private Changing Room

Retreat Spa
The Ritual
Opening hours 
2020 schedule
| | |
| --- | --- |
| January 1 to March 22 | 8:00 - 11:00 |
| March 23 to May 26 | Closed |
| May 27 to June 4 | 8:00 - 11:00 |
| June 5 to August 23 | 8:00 - 23:00 |
| August 24 to December 31 | 8:00 - 11:00 |
---
Related articles: 
---

Where is it? 
Is Blue Lagoon in Reykjavik? 
Many people visiting Iceland is convinced this place is in Reykjavik City. It is actually in Grindavik, on the Reykjanes peninsula. Which is around 20 minutes drive from the international airport.
The lagoon is right next to the geothermal power plant of Svartsengi, which takes its water from. This station produces hot water and electricity. 
Many tourists choose to ride the bus there, but you can easily drive there from Reykjavík in your Kuku Camper van within 40 minutes.
Your experience at the Blue Lagoon
Arrival and checking in
When you arrive, you will scan your blue lagoon tickets at the front desk with a receptionist.
You'll have the option to pay for extra items such as swimwear (in case you forgot yours at home), bath towel, robe, flip flops, etc.
You'll receive a cool bracelet that securely clips onto your wrist. Always make sure to keep it on you. After checking in, you can go to the locker rooms and shower rooms.
In order to provide a safe hygienic experience, the facility does ask each person to shower without a bathing suit. Some private showers are here for that no worries. :)
Body wash, shampoo and hair conditioner are provided without any extra cost to you.

During your visit in the waters
Once you've showered and dressed in your bathing suite, you can go and step out into the lagoon hot water. And then begin to wash away those worries and aches!
While in the waters, there are a number of extra items you can enjoy.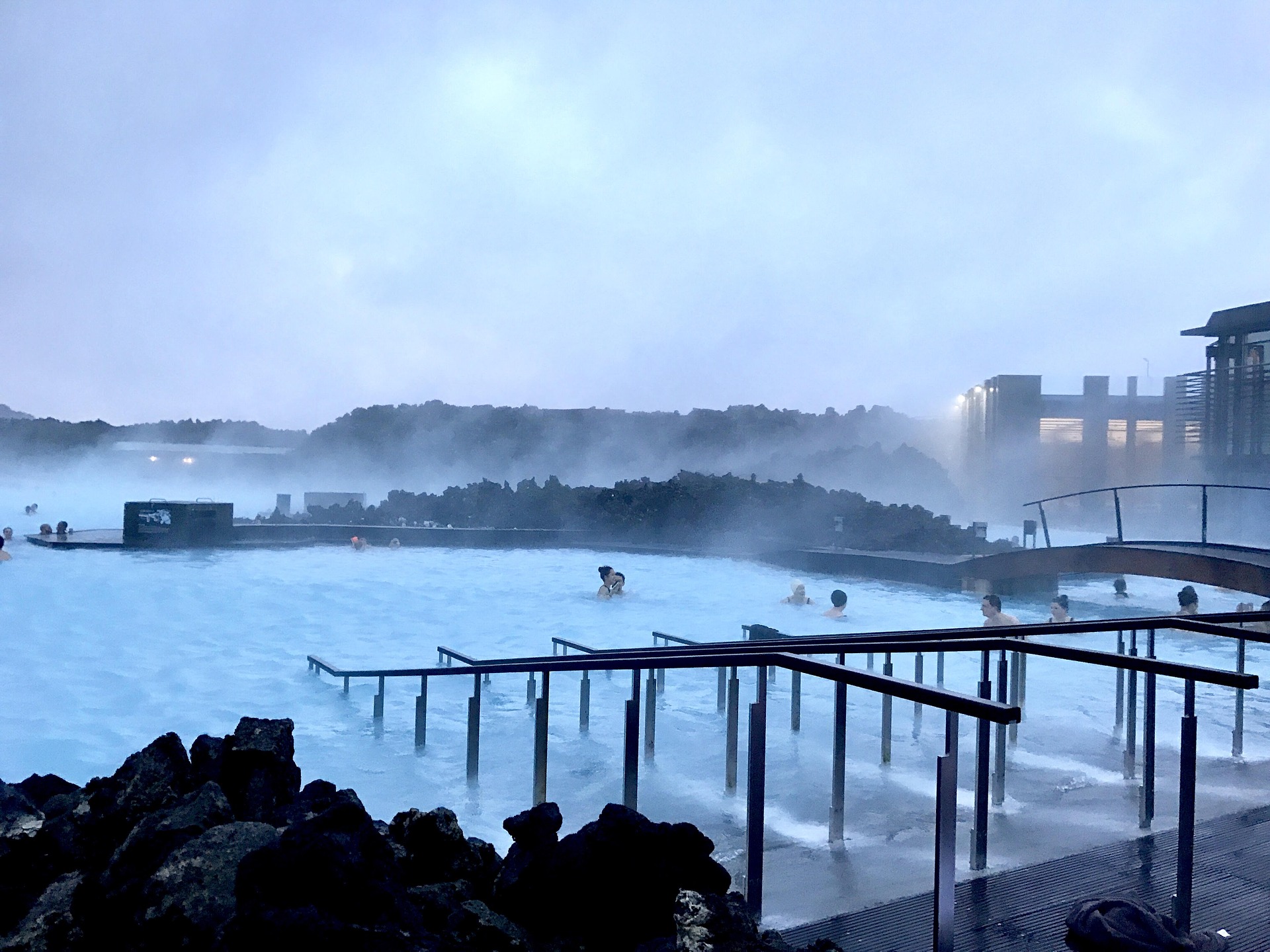 You can pay to have a special massage right in the lagoons waters. Or, you can also step away to the sauna or steam room for a bit.
Stationed alongside the pool, you'll find little wooden boxes with silica mud mask and body cream to apply. This helps add more nutrition to your skin.
After you've let it sit for 20 minutes, you can rinse it off, leaving your skin with a smooth feel!
Everything about this place is to make you feel comfortable without you ever having to leave the water. That's why they also offer a wet bar in them amazing geothermal waters. You can simply swim up and order a beer to enjoy.
Remember the bracelet you checked in with? You scan it at the bar every time you purchase a drink. It acts as a convenient tab that you can easily pay for later when you are checking out.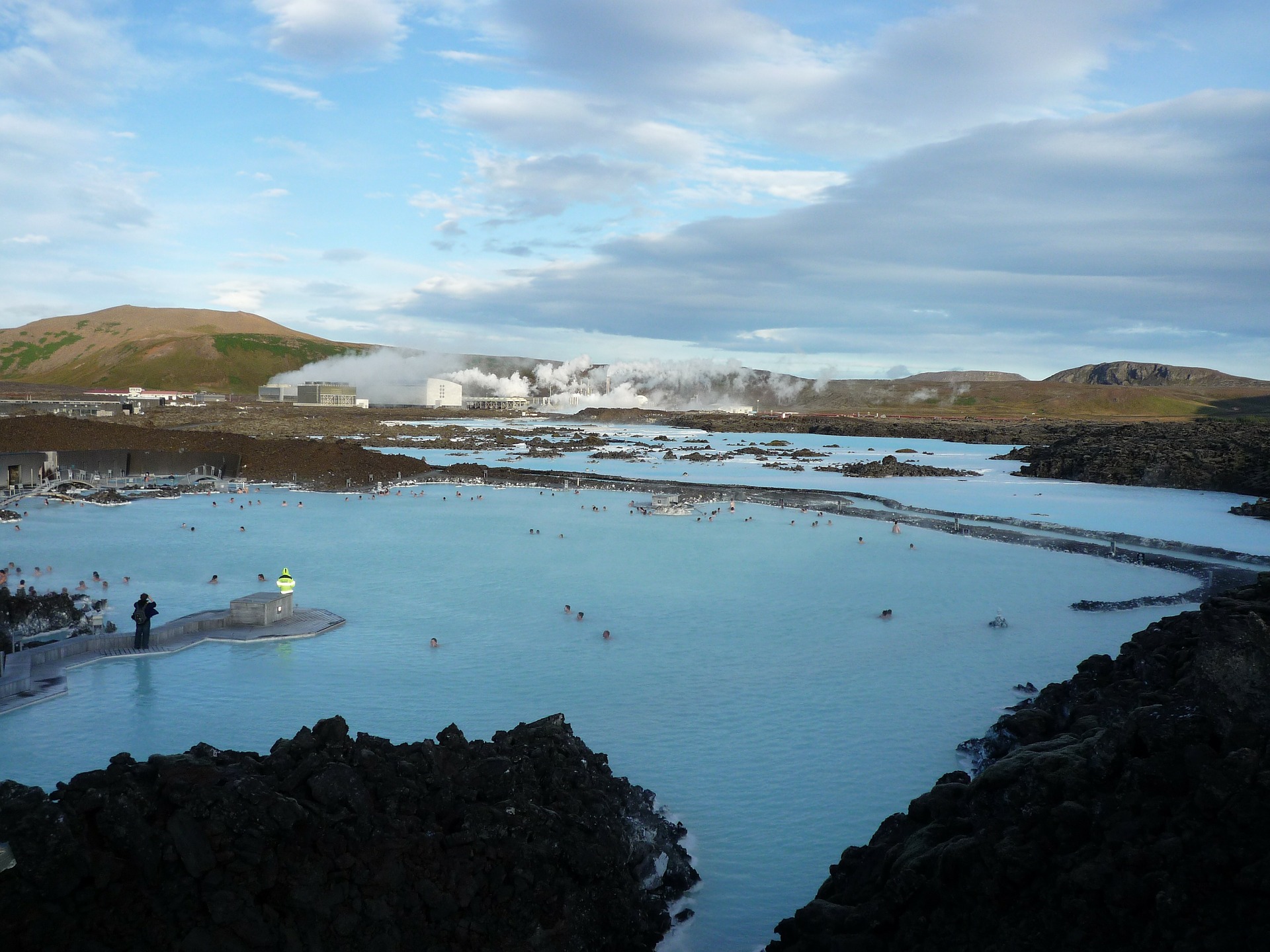 Check out process
When you're ready to call it a day, you'll check out at the front desk. You will turn your bracelet in and pay for any accrued purchases.
Extra services
In water massage
What is more relaxing than a normal massage? An in water massage of course! During this relaxing time you will just be laying on a floating mattress. While being gently massaged.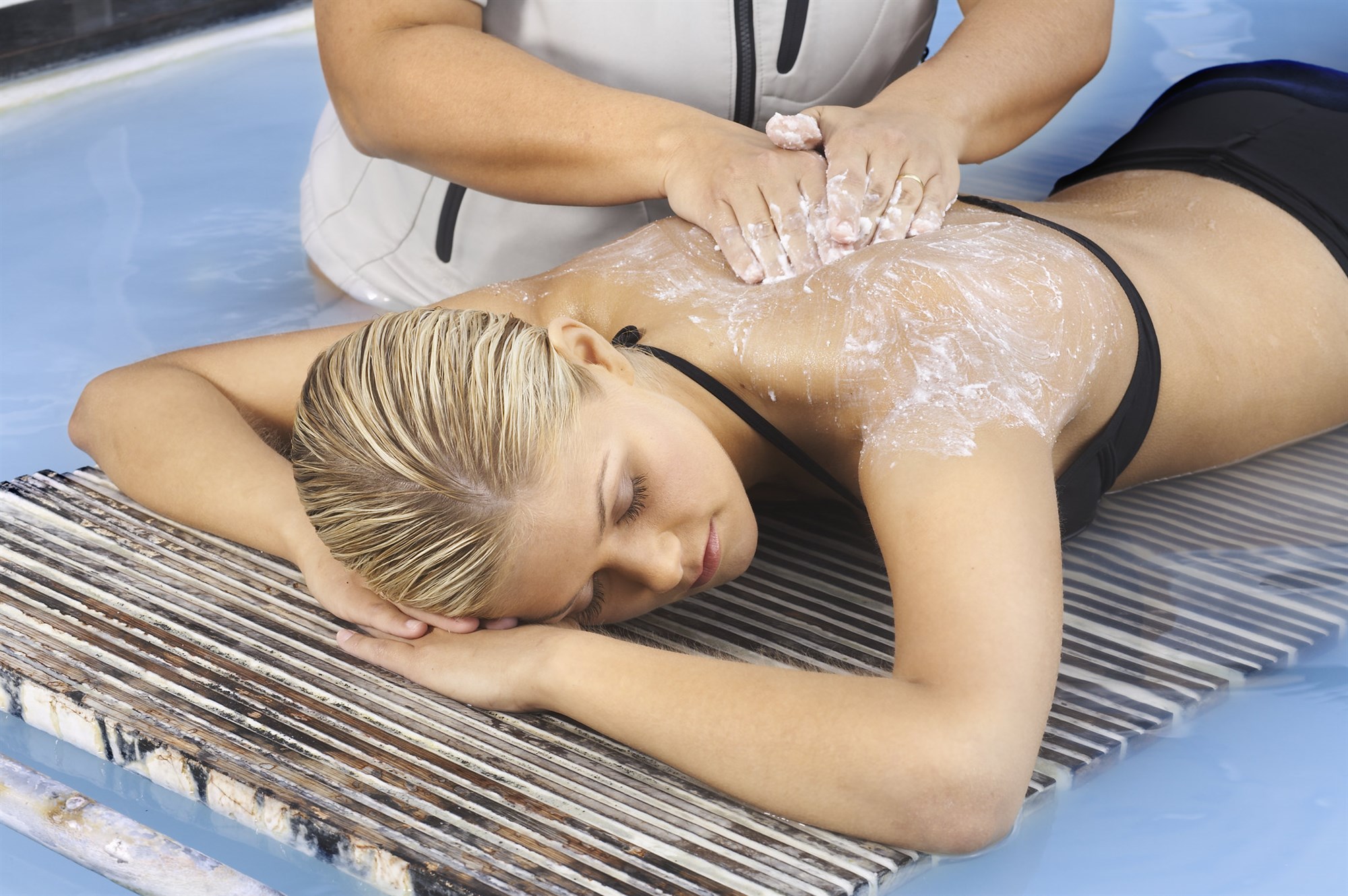 Photo: Relax even more by having an in water massage at Blue Lagoon
After this, you will be so relaxed and away from any stress that nothing could annoy you for months!
Prices are from €71, that is for a 30 minute massage. If you want to make it longer, you can choose the 60 minute massage for €101 or the 120 minutes massage for €179. That is up to you!

Normal massage
Another option is the normal massage, in a subterranean massage suite. The place is really cosy and relaxing. Release all the tension of your body during this utterly unique experience, surrounded by the lava field.

The blue Lagoon Ritual
Another unique experience in the spa. You will feel the natural wonders of Icelandic geology, silica, algae and minerals. You will cover your body with these natural products through three rooms... One for each type of skin care.
All of them have their own benefits and you get out of this experience brand new!
Best time to go to blue lagoon
Depending on whether you're coming in Winter or in Summer, you won't live the same things, that's for sure!
In summer you will enjoy the lagoon under a bright sky and never ending days. It is so great to enjoy the midnight sun while relaxing in hot waters.
In winter, it is possible that you will see northern lights, adding some magic to your bath!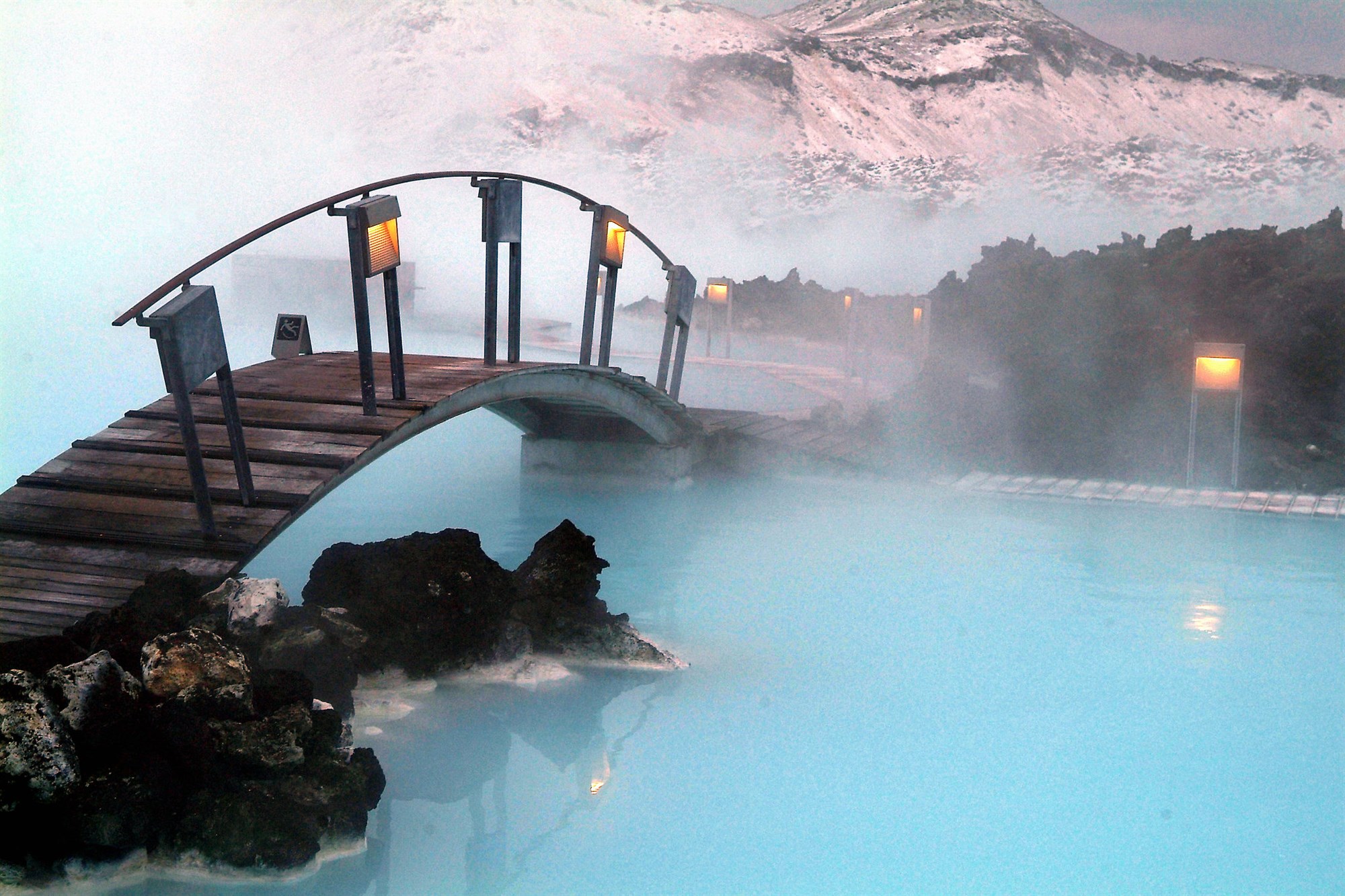 Photo: Greenland Travel - Blue Lagoon Iceland - Flickr - No changes were made
So the best time to go there depends on what you want to see, but it will always be something memorable. :)
Also, if you want to avoid crowds, think about coming in winter. Also, coming around the opening or closing time is wise. This is when the lagoon is less visited, allowing you to spend a more quiet, peaceful time.
After the treatment in magical waters
If you're hungry and have extra cash, you can stop at the Lava Restaurant or Moss Restaurant. Their food is amazing, but it comes with a price!
Lava Restaurant
Want to have a nice meal with an amazing view on the lagoon? Try the Lava Restaurant!
They serve traditional Icelandic food. Even if the menu is always evolving, there is often langoustine, lamb, cod, beef... But also a vegan menu!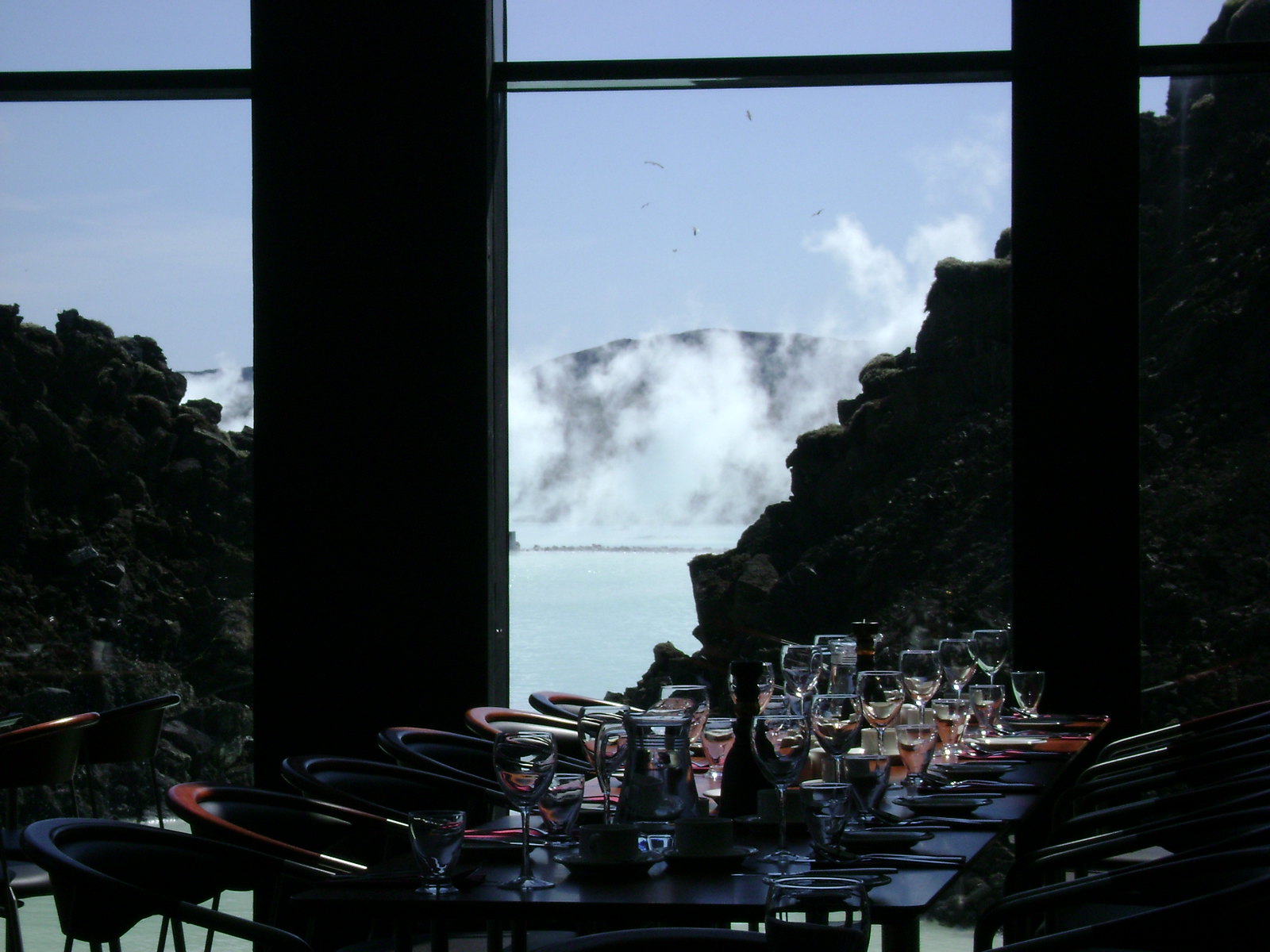 Photo: Luc Van Braekel - Lava Restaurant at Blue Lagoon - Flickr - No changes were made
---
Kuku tip
Choose the 4-course menu made by the Blue Lagoon chefs! And let yourself go into Icelandic tastes.
---
Moss Restaurant
This restaurant is no less amazing than the Lava Restaurant. The ingredients come from farmers in Iceland.
The place is so relaxing, and you'll have a view on the moss-covered lava around the restaurant.
For those who want a something new, you can sit at the chef's table. Where you will see the teams making right before your eyes 7 dishes that both your eyes and taste buds will love!
Blue Lagoon Cafe
If you'd settle for just a good authentic cup of Icelandic coffee or a snack, you can do a quick visit to the Blue Lagoon Cafe.
Blue Lagoon may be in danger
As we said before, the lagoon is situated in Grindavik. It is a really active area, and this is also why it is here. Without volcanic activity, you couldn't enjoy these warm waters. The heat has to come from somewhere!
But everything comes at a price!
On late January 2020, an bigger earthquake took place in the Grindavik area. Earthquakes like this here are not really common.
In fact there is more and more magma in the underground of the Reykjanes peninsula. This caused thousands of small earthquakes only in 2020. The danger is therefore that this leads to an eruption.
The authorities then put Grindavik area in a yellow alert. There's no need to cancel your bookings to Blue Lagoon, no worries. But the activity is being watched very closely.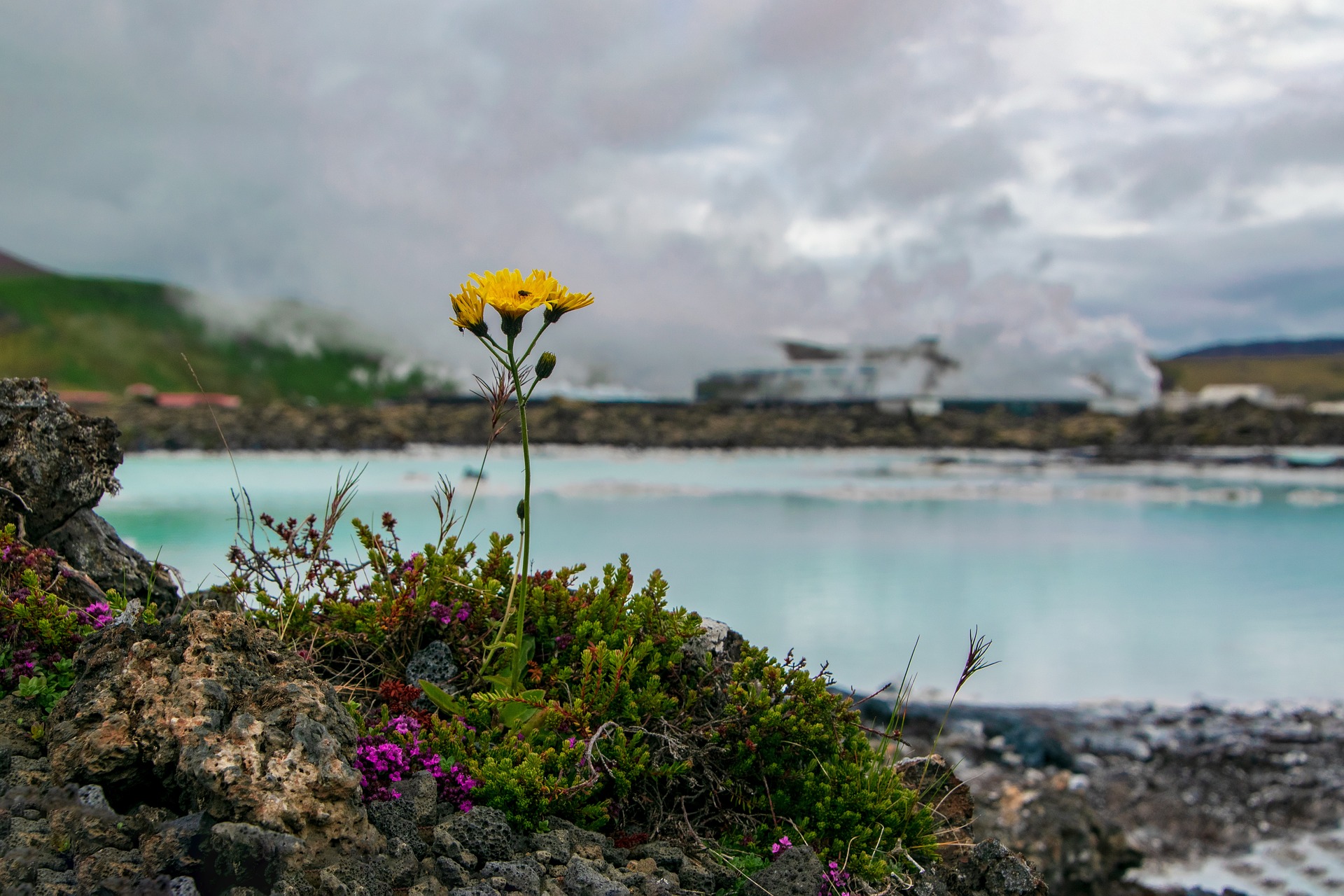 If the volcanoes erupt, then it could destroy both the lagoon and the international airport of Keflavik. The last one happened approximatively 800 years ago.
But no worries, we are far from this at the moment. Plus, we would have signs of a possible eruption before it happens. That would let enough time to the people to leave.
FAQ
How long can I stay?
You can spend as much time as you want! But to fully enjoy the experience, people usually spend 4 hours. 2 hours by soothing in the water and 2 hours by snacking at Blue Café or dining at lava restaurant.

Can I take my phone in the pool?
You are welcome to bring a camera and take photos during your experience.
However, we would recommend you to enjoy the lagoon without your phone. If you want some shots, you can grab it from the locker room.

Can I see the northern lights from the lagoon?
Yes you can, some people have already experienced Northern Lights while taking a nice, relaxing bath in the lagoon. But I won't lie to you, you'll need a tiny bit of luck!


Can I take my kids with me to the lagoon?
Yes, and if they are between 2 years old and 13 years old, it will be free for them! Please notice that children under 8 years old must wear floaties. You also have to always keep a eye on them, because the lagoon can be up to 4.7ft. (1,4 meters) deep!
Babies under 2 years old cannot enter the water. Their skin cannot really handle this water because it's high in minerals.

Do I have to bre-book? 
Yes, definitely. Blue Lagoon is fully booked (or almost) all around the year. The best is to book a few weeks in advance, or even a few months if you plan to come in the most busy months (From June to August).
The best way to go to the Blue Lagoon - Kuku advice!
We at Kuku Campers think that the best way to travel in Iceland is with campervans. And we know our shit! We've been renting campers for almost 10 years and we're are now n°1 in Iceland!! Yeeehaa!
Don't book a guided Blue Lagoon tour and rent a Kuku campervan instead. Because what you want is freedom and to feel like Brooke Shields and Christopher Atkins in the movie "The Blue Lagoon"!!
That's why the best way to experience the lagoon is definitely with a Kuku campervan! So check our categories now!
Why us?? 
We offer free mileage, so you don't have to stress about doing extra miles
We offer the biggest range of camper categories: whatever you might want, we have it!
Free extra driver for you guys (only if you are Kuku like us)! 
All of that for the best price in Iceland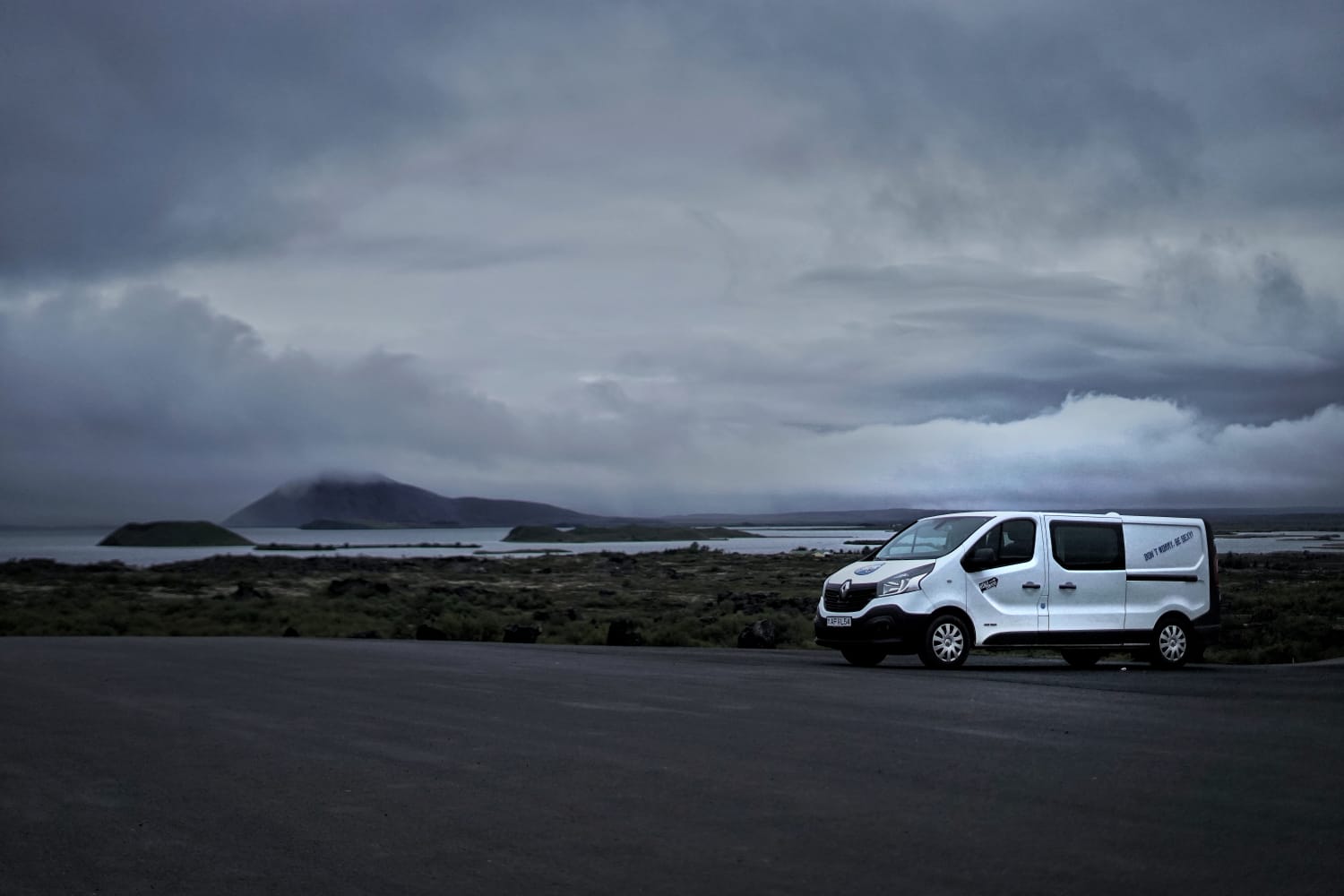 Photo: Kuku Campers - B Campervan
Also, contact us by email or phone if you have any question. Our amazing staff will help you to plan your trip. And help you to choose the best "hotel on wheels" for you!
The Iceland Blue Lagoon is definitely something you want to experience. And now is time to visit this unique place! So take your flight tickets, rent a Kuku Campervan and enjoy what Iceland has to offer!!
Happy travels in Iceland! 
Another interesting post in our blog