The geothermal waters of Blue Lagoon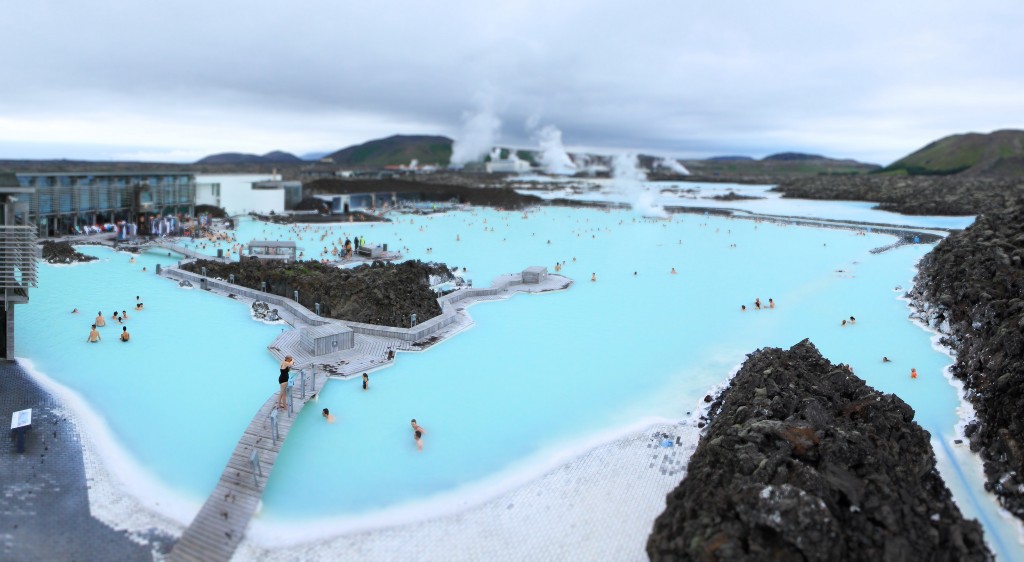 Visit the Blue Lagoon
When visiting Iceland, the land of lava fields. Relaxing at the Blue Lagoon Reykjavik is a must. At Kuku Campers, we're all about helping you experience everything amazing that Iceland has to offer, both urban and rural. In this article, you'll be hopping on your Kuku Camper van and heading about 40 minutes southwest from Reykjavík to the most relaxing place on earth - The Blue Lagoon!  
Now we know what you may be thinking. "I came here to explore waterfalls and climb mountains - why would I want to float around in milky blue curacao lagoon waters!?"  My friend, when you experience what it's like to soak for hours in one of the most comfortably heated pools in the world, you will never want to leave!  
Plus, you probably didn't know this because nowhere on the internet will you find this fact except here on Kuku Campers, but did you know the Blue Lagoon in Iceland has more Google reviews than the Great Wall of China? See for yourself here: 
Blue Lagoon google reviews. ​ At 17,736 reviews, and a 4.5 star rating
Great Wall of China reviews. ​ At 13,453 reviews, and a 4.2 star rating
Our guess is that tourists would rather enjoy themselves by soaking up the mineral rich water than hike a wall where thousands of slaves died building something that didn't keep the bad guys out any way!   
Okay, you're curious now - what is the Blue Lagoon?
The Blue Lagoon is a large body of geothermal seawater rich with minerals that is naturally heated by the volcanic landscape it sits on. The water temperature consistently stays heated at over 100 degrees Fahrenheit (38 degree Celsius), so it's like soaking in the world's largest hot tub.
Why do so many people visit the Blue lagoon?
Blue lagoon is not a tropical island however these heated waters have many powers to offer for those who soak in them.
There are few benefits to relaxing in geothermal spa. The milky blue waters contain high levels of silica - a substance that our bodies love and need to be healthy. In fact, silica is so important to ensuring healthy skin nurturing, that it is sold in body lotions and packets in processed, less organic ways. At the Blue Lagoon, these waters offer natural silicone that settles at the bottom of the waters and can be used by guests to rub on their bodies or as a face mask.      

Relaxing for your bones
Because the water is heated to a comfortable temperature of 37-39 degrees, it allows people with aching bones to relieve their tension and loosen up any hurting nerves. If you are an avid hiker and explorer, chances are you may suffer from back pains, knee pains or other joint pains from time to time. If so, you need to kick back in the Blue Lagoon for a couple of hours or more (you really won't want to leave after you've soaked in the water for a few minutes).    
Soothing for your brain     
This is especially true for explorers who are traveling from other countries to Iceland.  Leading up to your vacation, you have been stressing out about plane tickets, packing the right clothes, having enough in your budget - the list goes on. Now that you're here in Iceland, it's time to let those anxious emotions slide off and it's time to visit Blue Lagoon. You're here to rejuvenate - so don't waste any time!    
What you can expect during your visit
Pre booking is required for the lagoon. Before arriving, be sure you book your Blue Lagoon Iceland tickets online or at the box office. Also remember to check blue lagoon hours! You can do so by visiting the Blue Lagoons website at bluelagoon.com
The Blue Lagoon Iceland prices will vary depending on amenities you look for. The basic entry ticket will provide you with entrance to blue lagoon, Silca mud mask, one towel and one drink in their famous in water bar. Premium package would have additional features like bathrobe, slippers and most importantly, table reservation at Lava restaurant.
How to get to The Blue Lagoon
Many people visiting Iceland is convinced blue lagoon is in Reykjavik, however it is located in Grindavik. Which is around 20minutes drive from Keflavik International airport. Many tourists choose to ride blue lagoon bus there, either from the airport or the city of Reykjavik.  But you can easily drive there from our office in your Kuku Camper Van within 40 minutes.    
Arrival and checking in
When you arrive, you will scan your blue lagoon tickets at the front desk with a receptionist where you will have  the option to pay for extra items such as swimwear (in case you forgot yours at home)  bath towel, robe, flip flops, etc.  
You will receive a cool bracelet that securely clips onto your wrist. Always make sure to keep it on you. After checking in, you can go to blue lagoon locker rooms and shower rooms.
In order to provide a safe hygienic experience, the facility does ask each person to shower without a bathing suit. You can use one of the many private shower stalls available before entering the lagoon waters. Body wash, shampoo and hair conditioner are provided without any extra cost to you.  
During your visit in Geothermal waters 
Once you've showered and dressed in your bathing suite, you can go and step out into the lagoon warm waters and began to wash away those worries and aches!
While in the waters, there are a number of extra items you can enjoy. You can pay to have a special massage right in the lagoons waters, or you can also step away to the sauna or steam room for a bit.    
Stationed alongside the pool, you'll find little wooden boxes with silica mud mask and body cream to apply. This helps add more nutrition to your skin, and after you've let it sit for 20 minutes, you can rinse it off, leaving your skin with a smooth feel!  
Everything about the Blue Lagoon is to make you feel comfortable without you ever having to leave the water. That's why they also offer a wet bar in them amazing geothermal waters. You can simply swim up and order a beer or ask for blue lagoon cocktail to enjoy.
Remember the bracelet you checked in with? You scan it at the bar every time you purchase a drink. It acts as a convenient tab that you can easily pay for later when you are checking out.   
Check out process   
When you're ready to call it a day, you'll check out at the front desk, turn your bracelet in and pay for any accrued purchases.
After the spa treatment
If you're hungry and have loads of extra cash, and want to enjoy some contemporary Icelandic food before heading out,  you can stop at the Lava Restaurant or Moss Restaurant (their food is amazing, but be warned, it comes with a price!) Or if you'd settle for just a good authentic cup of Icelandic coffee, you can stop at the Blue Lagoon Cafe.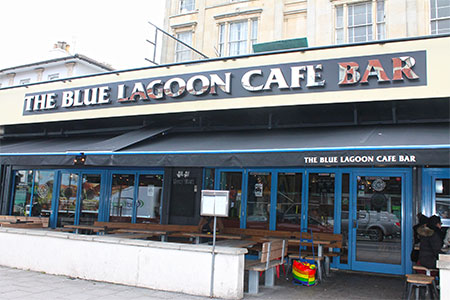 How long can I spend at Blue Lagoon ?
You can spend as much time as you want! But to enjoy the Blue Lagoon experience, people usually spend 4 hours. 2 hours by soothing in the water and 2 hours by snacking at Blue Café or dining at lava restaurant.
Can I take my phone in the Blue Lagoon ?
 You're welcome to bring a camera and take photos during your blue lagoon experience. However, we would recommend you to enjoy the Blue Lagoon without your phone and then if you want some shots, you can grab it from the locker room.