The town of Vik in Iceland: What to see and do?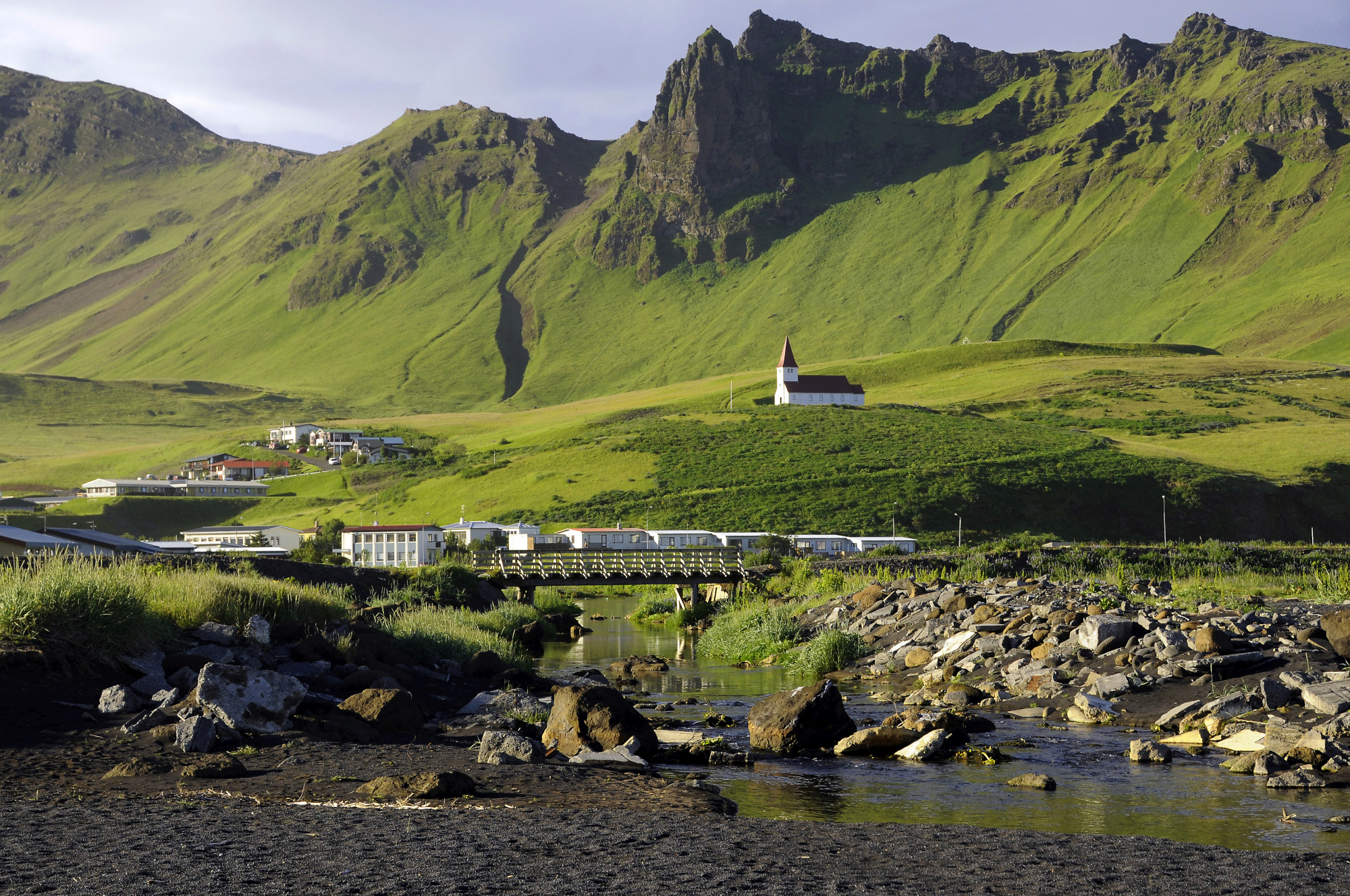 Welcome to Vik!
---
---
Vik, a small town located on the south shore of Iceland, is an utterly beautiful place to visit. With its gorgeous ocean views and iconic black sand beaches, there is plenty to do and see in Vik to help you get in touch with nature- as well as interact with the town! 
Here's a guide of some things to see and do during your stay in the charming town of Vik. 
Vik map
To make things easier for you, we created a map listing all the things we're talking about, here it is:
Facts about Vik
The full name of the town is Vík í Mýrdal, it means: "The bay of the valley of the swamp".
There is no other town in the surrounding 70km
The latest number of inhabitants we know is 318 (2016).
It is a good place to meet puffins
People would gather at the church in case of an eruption of the near volcano Katla. This is the safest pace to go in this case.
Where is Vik, and how to get there?
Vik is located on the south coast of Iceland, in a remote area. If you go there you will realize that there is nothing around but farms. This place is really important for people living in the south because it gives them access to public services, grocery store, restaurants, and so on.
The town is also really easy to access, it is a 2.5-hour drive from Reykjavik to Vik along the ring road.
What to do in Vik?
Vik Church (Vikurkirkja)
If you're planning on hitting the black sand beach of Reynisfjara, you don't want to miss heading up the hill to check out the church of Vik. This quaint little church has a stunning vantage point over the beach, as well as over the town of Vik itself. It is a great spot to stop for pictures and soak in your surroundings.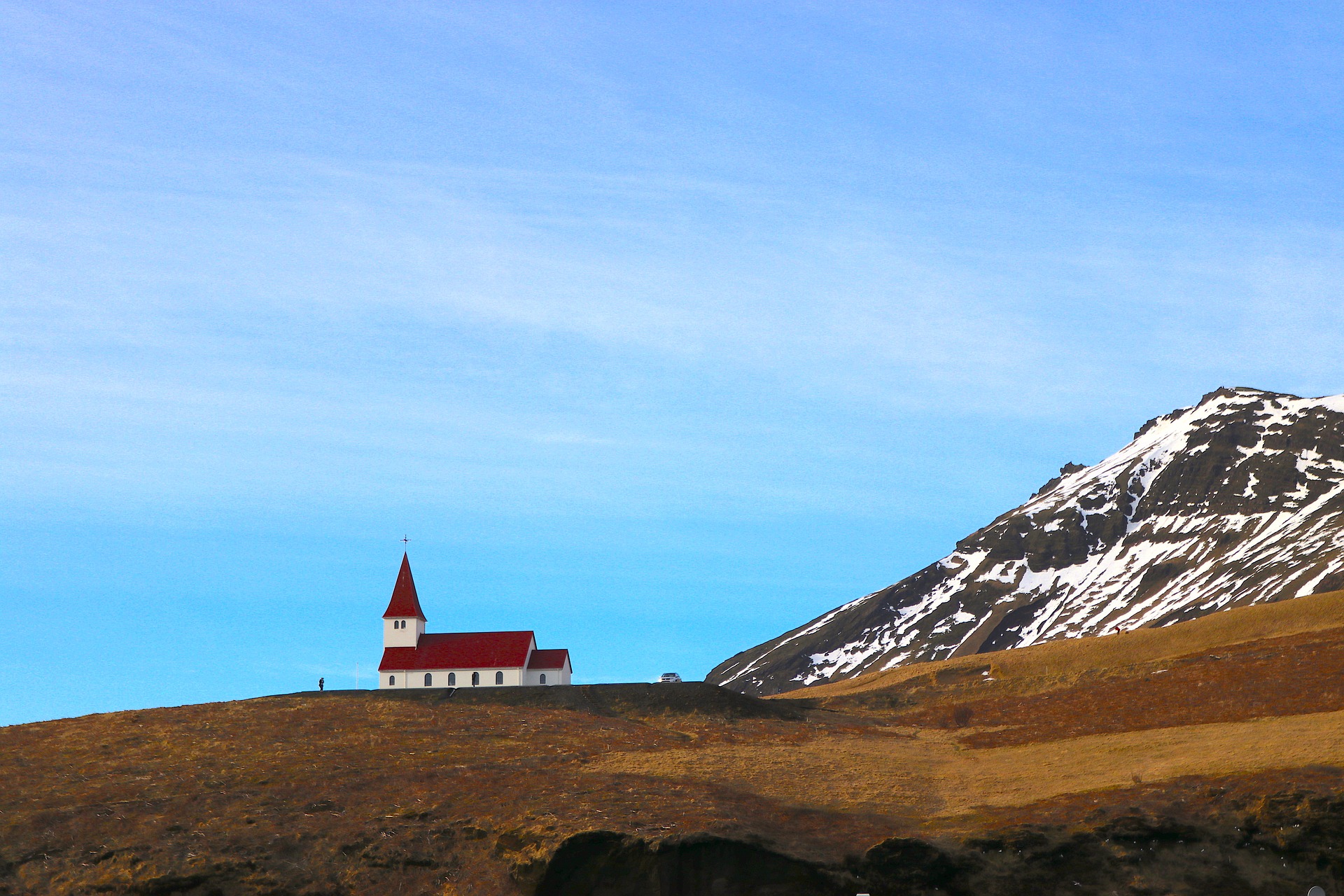 In a similar vein, the mountain known as Reynisfjall also borders the beach, and offers gorgeous views of its own. About 1000 feet tall at its highest point, the mountain gets you a closer look at Reynisdrangar, a pair of enormous basalt stacks that used to be connected to the mountain.
Along with the beach of Reynisfjara, these stacks are one of the most popular sites in all of Iceland. 
Icelandic Lava Show 
Located in the heart of Vik, the Icelandic Lava show is one of the biggest attractions in Vik, Iceland. They offer you the one-of-a-kind experience of seeing lava up close. For around $37, 45-minute show, you get to watch lava flow, hear it sizzle, and learn about volcanoes.
Here's the full price list (in June 2020):
Adults

4900 ISK

€33

$37

Children (from 2 to 12 years old)

2900 ISK

€20

$22

Infants (under 2 years old)
No charge

You may even get the chance to touch cooling lava! A Q&A session is held at the end of the show, and true stories of escaping lava flows are told, making the experience both exhilarating and educational. Truly a unique experience not offered anywhere else, this is a must-see if you're in Vik, and it's pretty cheap, too.   
Skaftfellingur Museum 
A boating museum located in Vik, it displays a 100-year-old ship while giving the history of naval navigation and boating by the Icelandic people. The full ship is on display, which was in operation from 1918 to 1974. Its engine and working parts are displayed and described in great detail. Beyond this, you can also read up on the 112 marine accidents - shipwrecks - that have occurred on the South Icelandic shore over the years. 
The public swimming pool
Like many towns and villages in Iceland, Vik has its own swimming pool, Sundlaugin! It's almost a religion in Iceland. If you're worried about being cold, don't worry. The swimming pool is naturally heated by a nearby hot spring.
Address: Mánabraut, Vík, Iceland
Restaurants in Vik Iceland
Vik is the perfect place for a lunch stay. You will find there some delicious places where you can discover the traditional gastronomy of Iceland or just having a nice burger, it's all up to you!
The Soup Company
This restaurant stands in the same building as the Icelandic Lava Show. And what a better experience that to enjoy a nice meal after the show, the opposite can be done too! They serve different kind of soups, such as the creamy mushroom soup, the tropical chicken soup or the mysterious "Red Hot Lava Soup" (To lift this mystery, you know what to do..!). They also serve salads and nacho bowls. Prices are not that high and varies from around 9€ ($10.50) to 16€ ($18)
Smidjan Brugghus
This place on its own is a full experience. This is a bar/restaurant AND brewery, which makes it different and particularly interesting for beer amateurs. You can see from the restaurant the brewery machines and see how they make their beer.
They brew seven kinds of beer that will please for sure the finest taste buds. We believe that you cannot find as local beer anywhere else in the world! For eating, you can order their burgers that will come with nice French fries with prices from €17 ($19) to €23 ($26).
Sudur Vik
This restaurant will make you feel like home, it is full of charm and will give you a nice view of the town and the surrounding landscape. The owners there try to source as much local products as they can, from fish to ice cream, including rhubarb (You can taste there the traditional Icelandic Rhubarb Porridge).
But this restaurant is basically known for its pizzas, which are believed to best the best in town, and even in the country! This is a pleasant place for a stopover, that will take you back it time with its decoration and will give you for sure a wonderful experience.
Things to do Near Vik Iceland
Black Sand Beach 
The Reynisfjara black sand beach is considered the premier black sand beach in all of Iceland! With its iconic rock formations and crashing waves, the beach makes for quite the spectacle. Even better, it's only about a 15-minute drive from Vik!
You can always go and visit the beach on your own, but there are various trip packages you can order while you're in town. For example, you can rent horses and ride on horseback down to the shore for about $100 (€88).
There are also day trips that revolve around touring the various beaches of the south coast, including Reynisfjara, but of course, that depends on what you want to do with your day.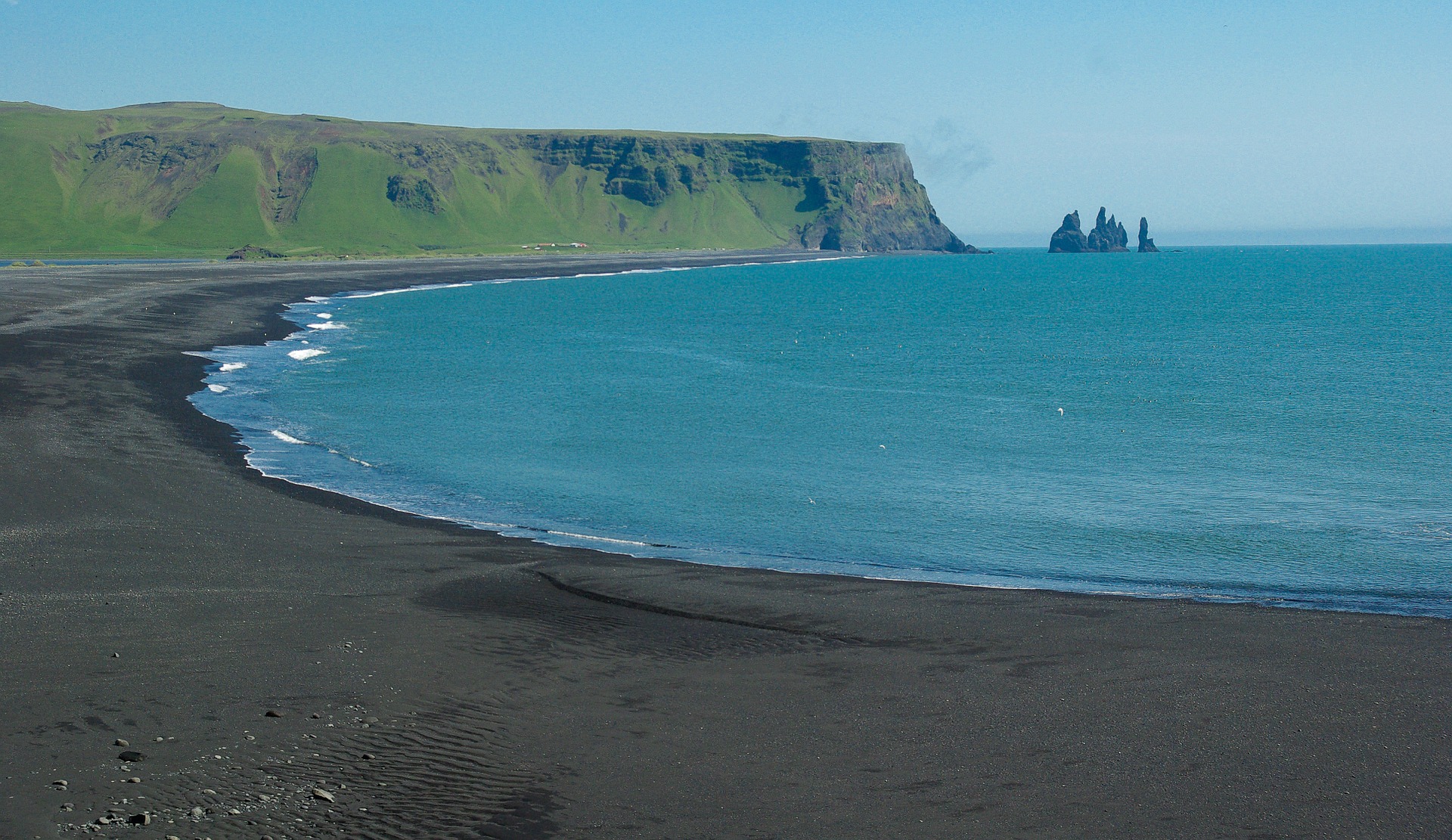 Beware of the weather if you go down to the beach, though. Winds are particularly strong, and waves can suddenly grow to massive sizes before crashing into the shore, so the Icelandic government advises you to not turn your back on the shore, and keep a distance of about 100 feet (30 meters) from the shore at all times.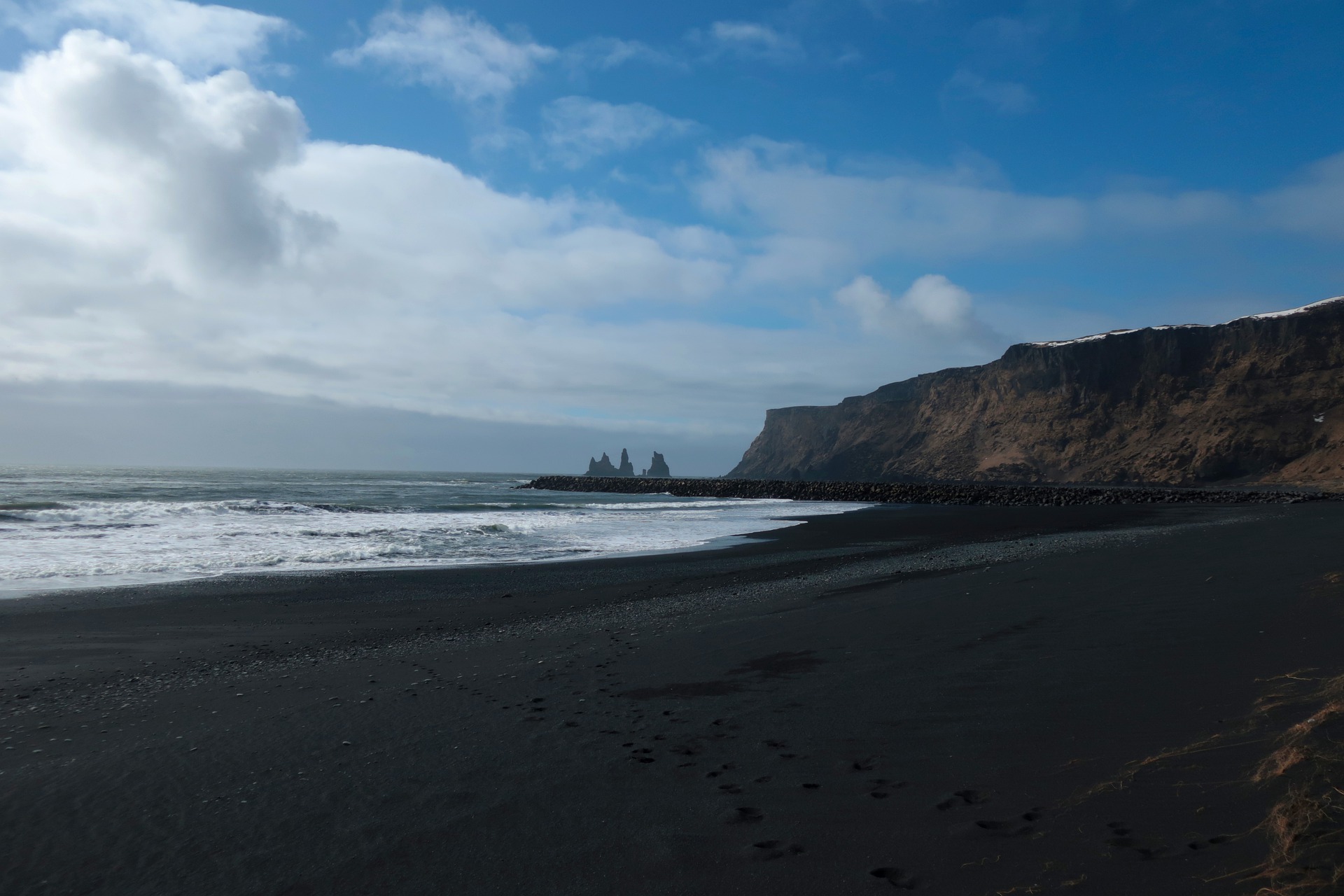 Meet the puffins in Dyrholaey
Not far from Vik is the cliff of Dyrholaey, which is famous for its puffins. If like us you adore these little creatures, go for the cliff!!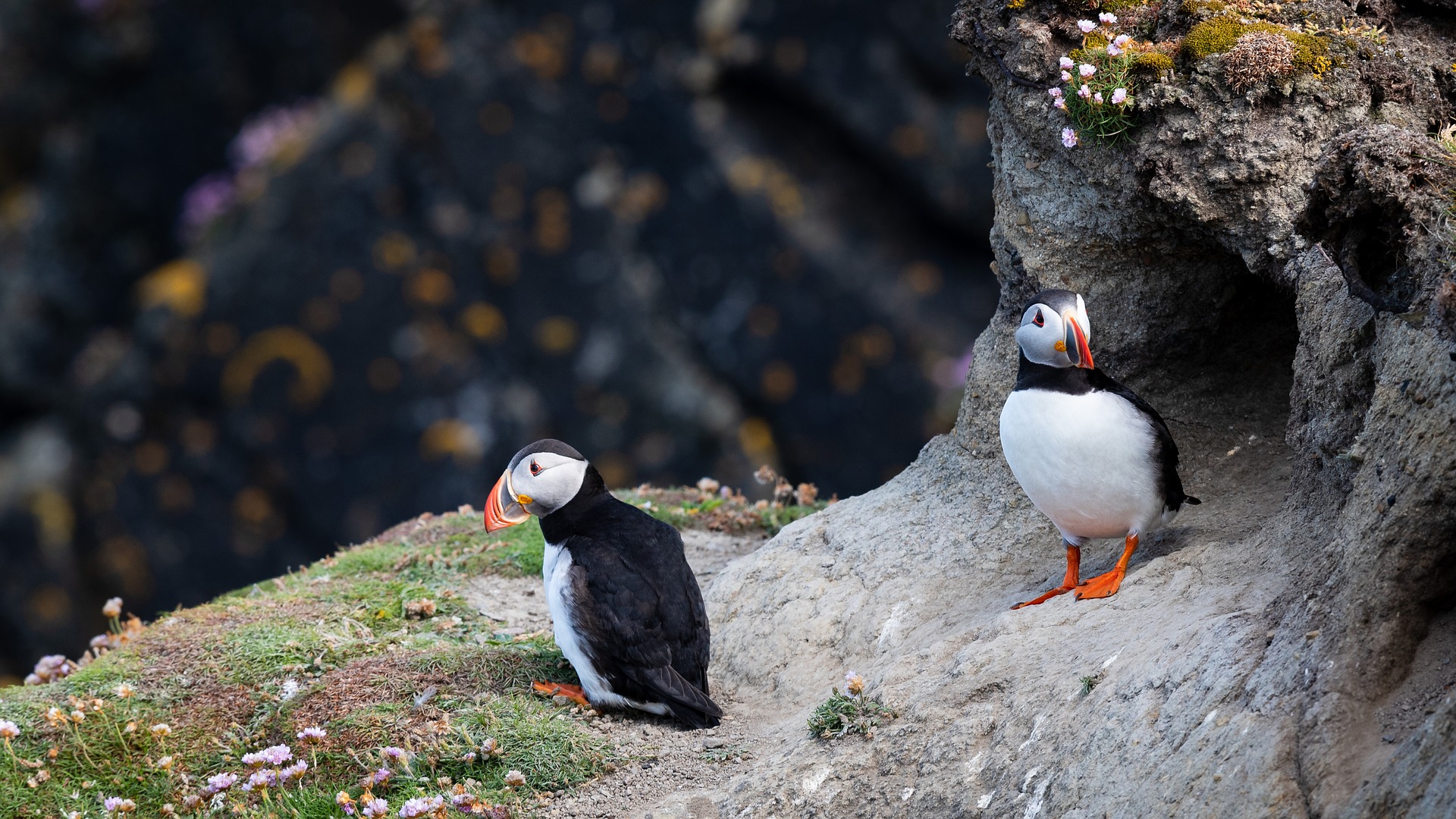 Photo: Atlantic puffins in Iceland
They especially like to nest on these cliffs during the summer. But Dyrholaey is not the only place to go and marvel at these little birds. We invite you to read our full article on puffins in Iceland.
Hjorleifshofdi 
This is an enormous rock overlooking the beach, some ways up the road from Vik. It is said that the first settler of Iceland, Hjorleifur Hrodmarsson, died on this very rock, and his remains are buried on top of it in pagan ritualistic fashion. The rock has also been used in the past as farming site high above the ocean, and you can visit the old farmstead that still stands on the rock to this day.
You can visit the Viking grave and farmstead while you're there, and the hike is not too strenuous to get there. On top of that, you get views of the surrounding beaches, glaciers, and basalt columns that only Iceland can offer.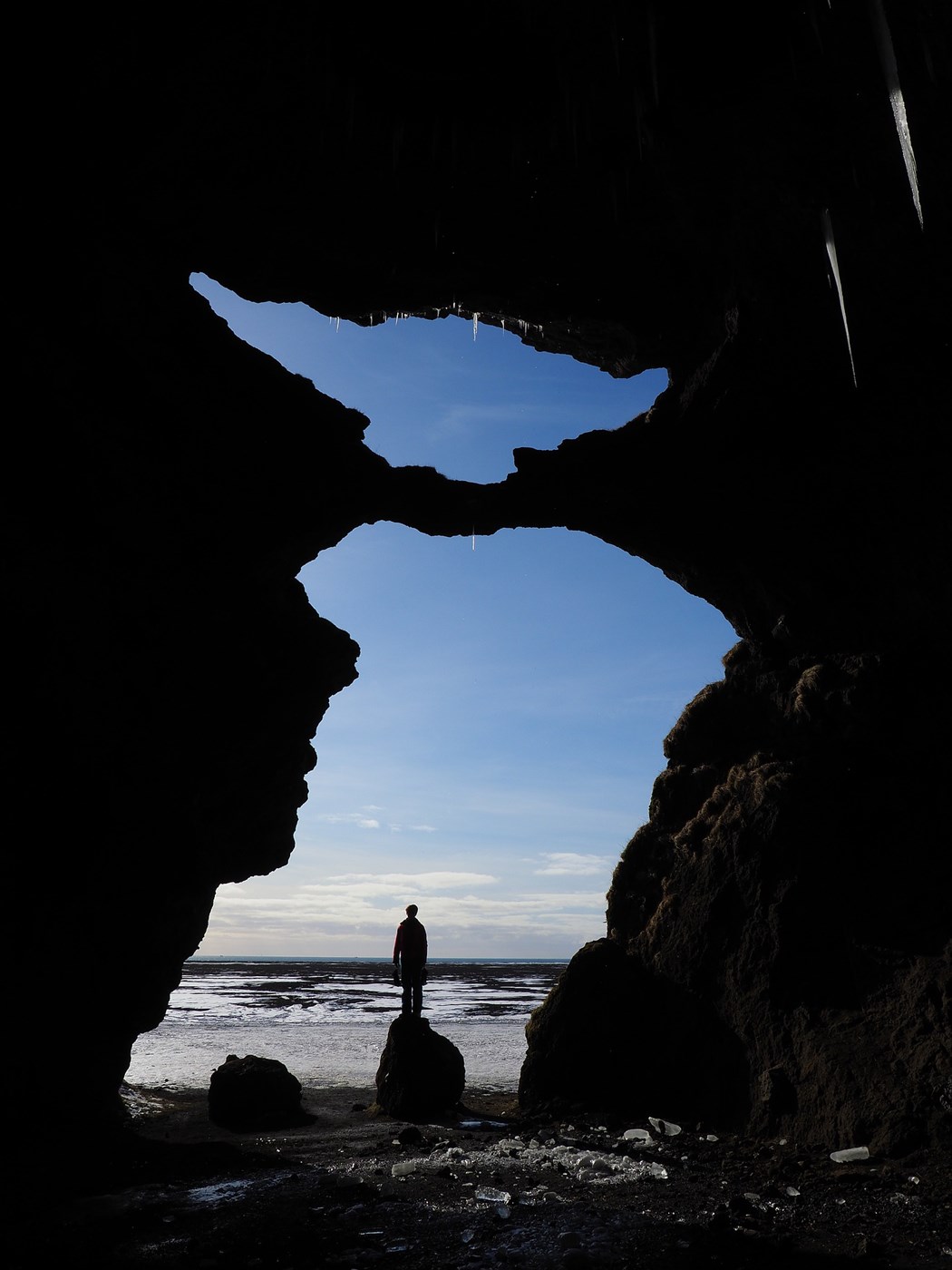 Voyages Friendship Statue 
Recommended for a 30-minute trip to the city center, this statue represents the burying of the hatchet between two fishing rivals, Iceland and the United Kingdom. The cod-fishing wars that took place between these two nations were eased through economic partnership and understanding.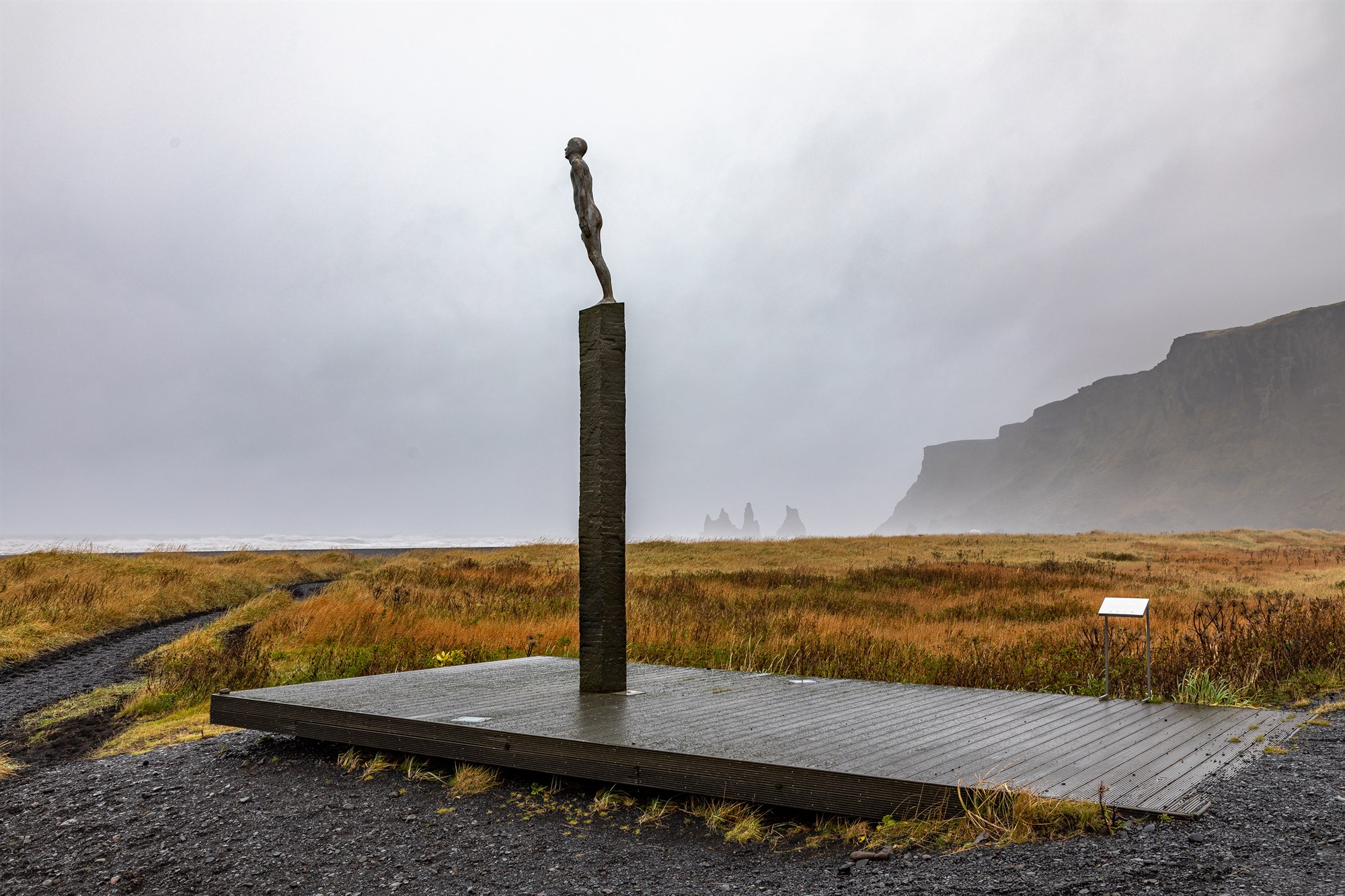 Its sister statue, which it faces, is across the sea in the city of Hull, in East Yorkshire, England.
Solheimasandur Plane Wreck 
The wreckage of a plane crash can be found along a black sand beach Westward of Vik, up the Ring Road. It may take some time to get the wreckage site, as you cannot drive along the black sand, but it is well worth it for some interesting history as well as unique views. The wreckage of the plane along the pristine black sand is an odd juxtaposition, and one that you won't get to see anywhere else.
The plane itself crashed at this site in the 1970's, and while no one was killed in the crash, the wreckage was never cleared. You can walk right up to it, and even climb on top of it.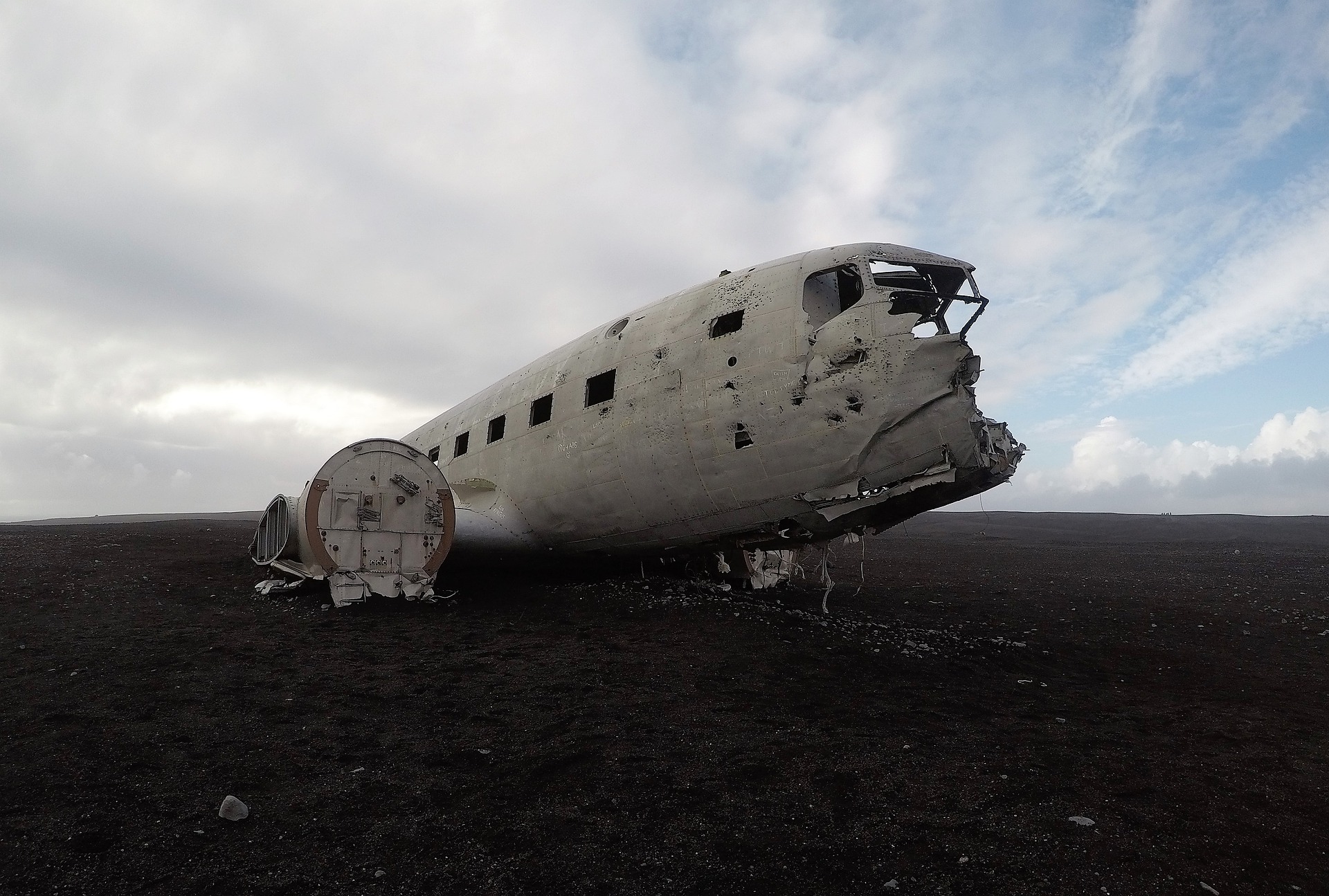 WHAT'S THE WEATHER LIKE IN VIK?
Vik in Iceland weather
Due to its location, Vik can be very, very windy, and wet also. But the surrounding mountains also protect this little town form bad winds from the north.
You can follow the weather forecast for Vik in this page.
Temperatures
During the coldest part of the year (January), the average low temperature is -1.1°C and the average high is 3.3°C. Added to the wind, you can trust me when I say that you can feel really cold, but not if you take with you the proper equipment!
The warmest month is July with average low temperature of 9.4°C and average high of 14.4°C. Anyways, it would be warm enough for you from May to July.
Wind
The windiest month would be March, and July is the less windy one. But we advise you to always have windbreakers with you to feel even more comfy!
Rain
If you do not like the rain, they you should probably avoid visiting Vik during September, this is the rainiest month of the year. But from May to July, you should be all ok, I mean it can rain, but way less often than in September!
Where to spend the night in Vik?
After a busy day in and around Vik, you'll want a good night's sleep. You will find in this village a multitude of hotels. We tell you right away, they are all too expensive, but still of good quality, we must admit.
But at Kuku, we rent campervans. And we're not the type to go and settle in a cozy hotel which, in addition to emptying our wallet, will make us lazy!
If you are more like us, you can spend the night at the campsite nearby.
They have classic camping pitches, with showers and toilets, WiFi, washing machine. In other words, everything you need!
For more information: Camping Ground Vik Iceland
Have fun and visit Vik
You can find more information about day trips and tours through the various trip packages offered by the city. Offers include waterfall tours, day hikes, and much more.
Happy travels!