Puffins in Iceland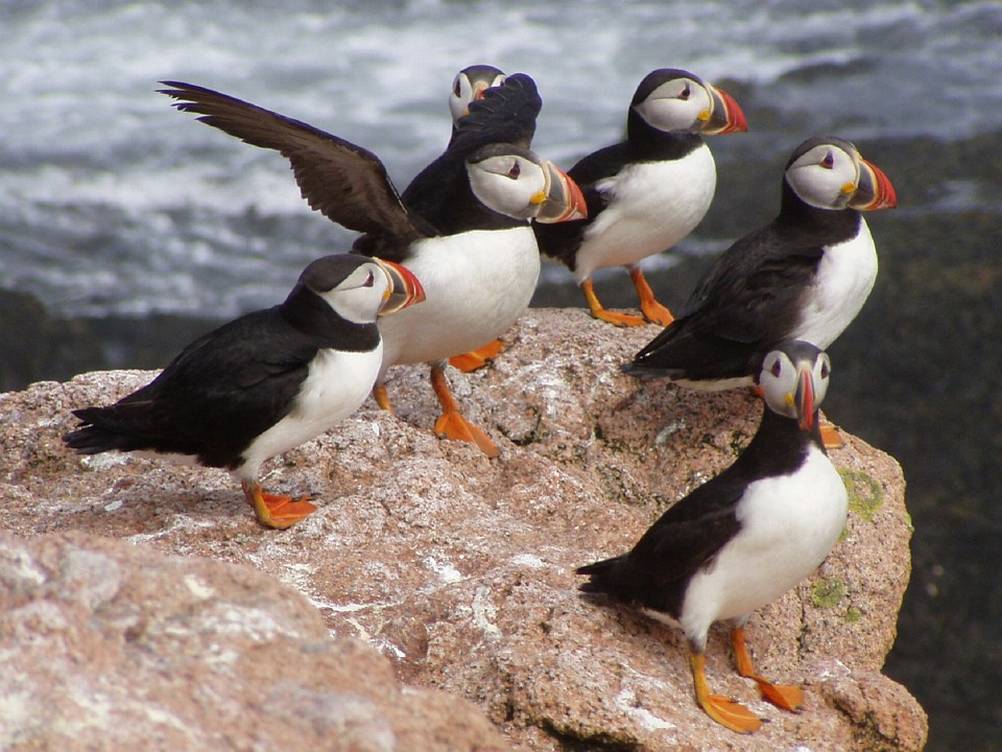 ---
---
People already know how incredible Iceland looks, waterfalls, landscapes, lava caves, hot springs, and so on. But our wildlife is as exciting as the land: whales, arctic foxes, grey seals, horses, sheep, and… Puffins of course!
Today, we're giving you the best secrets of this little bird, so emblematic of Iceland.
What are they? Where do they live? How to spot them? Just grab a cup of coffee and chill while reading this article, or simply scroll down to watch the pictures!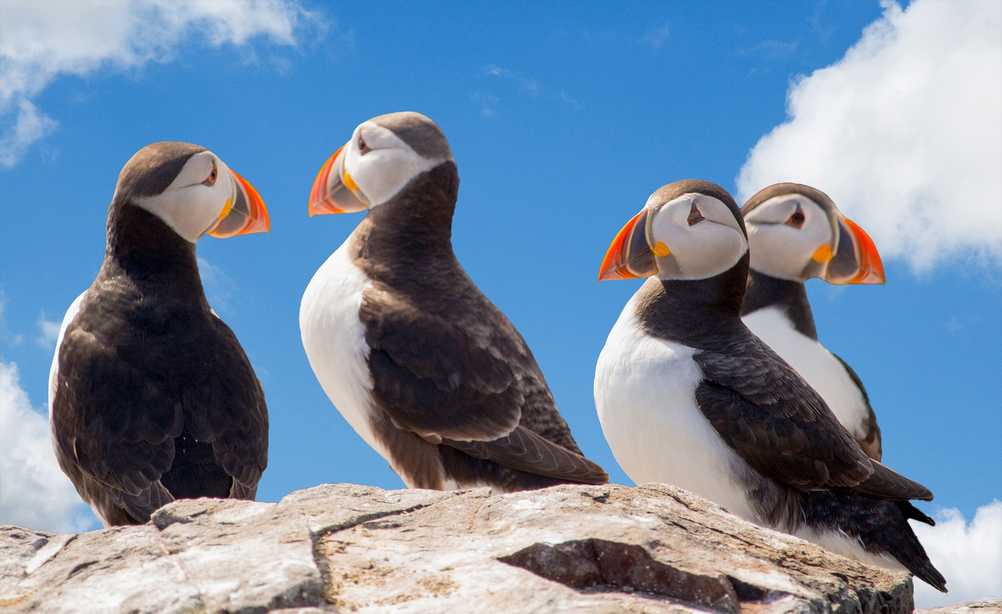 Photo: The Atlantic puffin (Fratercula Arctica), the most common species in Iceland
PUFFINS SIGHTSEEING MAP
As they nest along cliffs, Iceland is the perfect place for them and there are many spots around the country.
Here is a map on which you can see every spot in Iceland: 
Kuku's favorite spots to see puffins in Iceland
As we said, there are no best spots to see puffins in Iceland. Each place is unique and will offer you completely different scenery. Some are more popular, some are more secret and far away from everything, but none is better than another!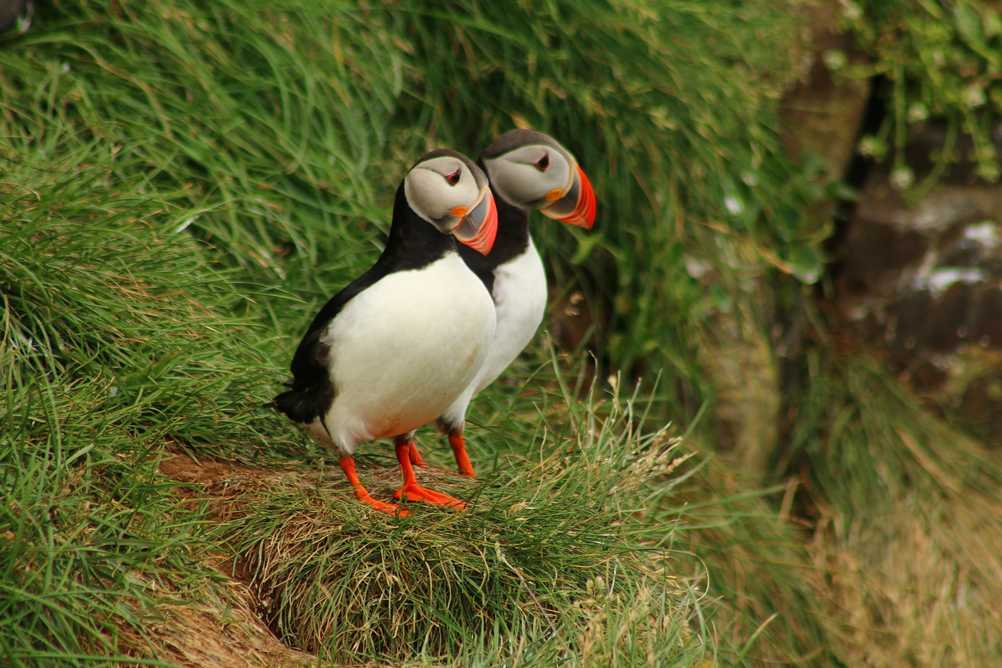 Photo: Puffin couple observing the sea
That's why we'll only make you discover our favorites puffins spots here, starting with our top 4:
Westman Islands

Borgarfjörður Eystri

Grímsey

Látrabjarg cliffs
These places are known for the numerous birds living here (and not only puffins!). You definitely should think about these places to maximize your chances to see these creatures.
Westman Islands
On the island of Heimaey, the main island, you will find the largest puffin colony in the world. This colony hosts 50% of Iceland's population and one-fifth of the world's puffin population! That's definitely your best bet if you want to see a whole flock of them!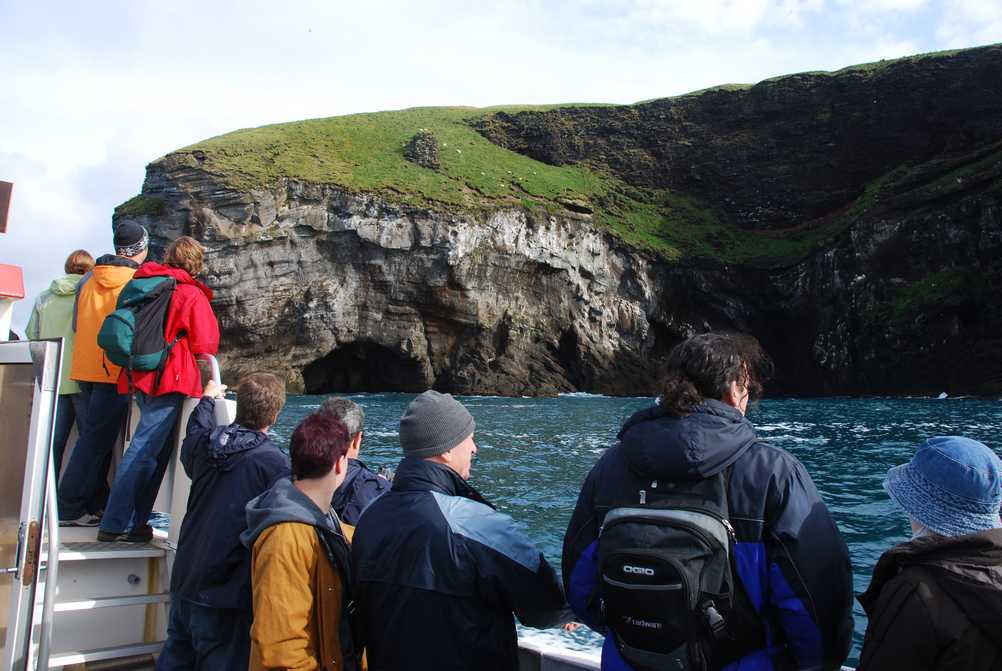 Photo: Vestman - Flicker - No changes were made
If you are lucky you will even see pufflings, the real name for baby puffins. They are sometimes abandoned or lost too far from the shore, so the kids of the island like to take them back to their colony.
You will find on the main island some boat tours that will take you to visit the other islands around. You will also be able to see Surtsey, a new island created by an eruption in 1963.
Unfortunately, only scientists are allowed to get close to Surtsey, but no worries, you'll be able to see it from afar!
But the birds are not the only attraction of the islands, here are some things you can do:
Visit Eldfell volcano
Visit Eldheimar Museum
Go to the pool
Try Slippurinn Restaurant
Enjoy an ice cream at "Joy"!
To reach the island, you can take a plane from Reykjavik. The flight lasts 20 minutes and it is the fastest and more convenient way to go there!
You can also take a ferry from the mainland that leaves from Landeyjahöfn (you can take your camper on the ferry also). Once you're on the island you can just walk to the cliffs and see the birds. Or, you can just take walk around the Island to enjoy this incredible place.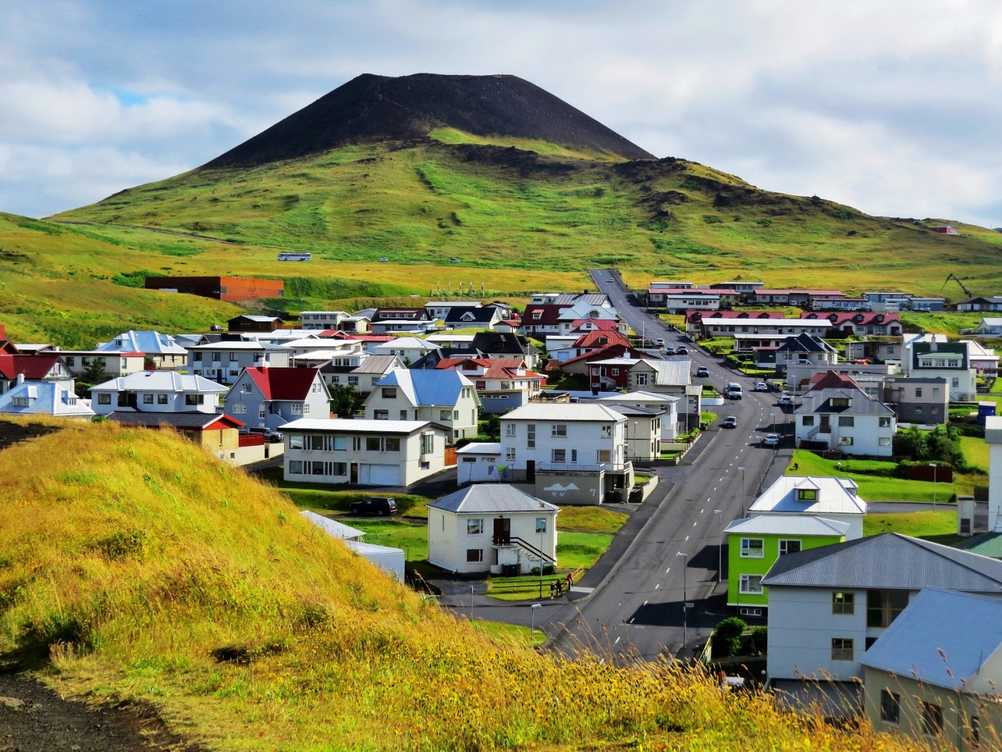 Photo: moonjazz - Iceland's Vestmannaeyjar the town that held back an erupting lava flow - Flickr - No changes were made
Borgarfjörður eystri
Borgarfjordur is located in the very east of the country, in an almost inhabited fjord. "Almost" because it is actually a small fishing village settled by the coast. We count around 100 inhabitants in this picturesque town.
But first of all, you will find there thousands of puffins, around 10.000 pairs... but not only puffins!
You will also find, for example:
Fulmars
Kittiwakes
Common Eider
Ducks
Moorland Birds
Geese
Divers

It sometimes happens that people are able to see 20 different species at the same time there!
See for yourself how beautiful this place is in this video:

This is probably the safest place to see puffins in Iceland.
Gateways and viewing platforms have been built so travelers can enjoy the birds without having to fear any accidents.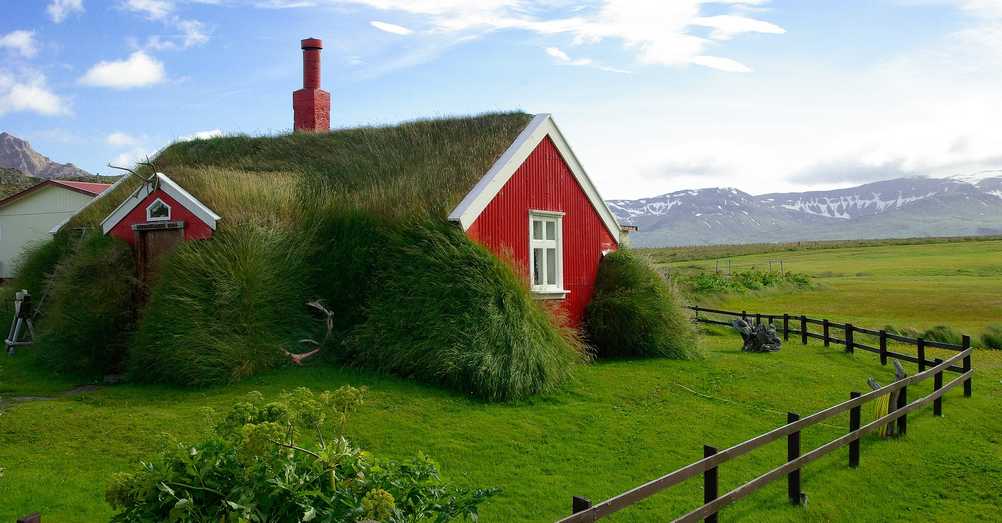 Photo: Lindarbakki is one of the last standing turf houses in Iceland
You can also visit Lindarbakki's turf house. This small, beautiful little house is a famous attraction in the Borgarfjordur area. It is owned by an old woman who only lives here during summer.
We love this place because it's a part of Icelandic heritage.
Grímsey 

Island

This island is the northernmost point in Iceland. The arctic circle passes through this island, which means you can cross the arctic there! Inhabited by around 100 people and one million seabirds, this place is definitely worth the detour.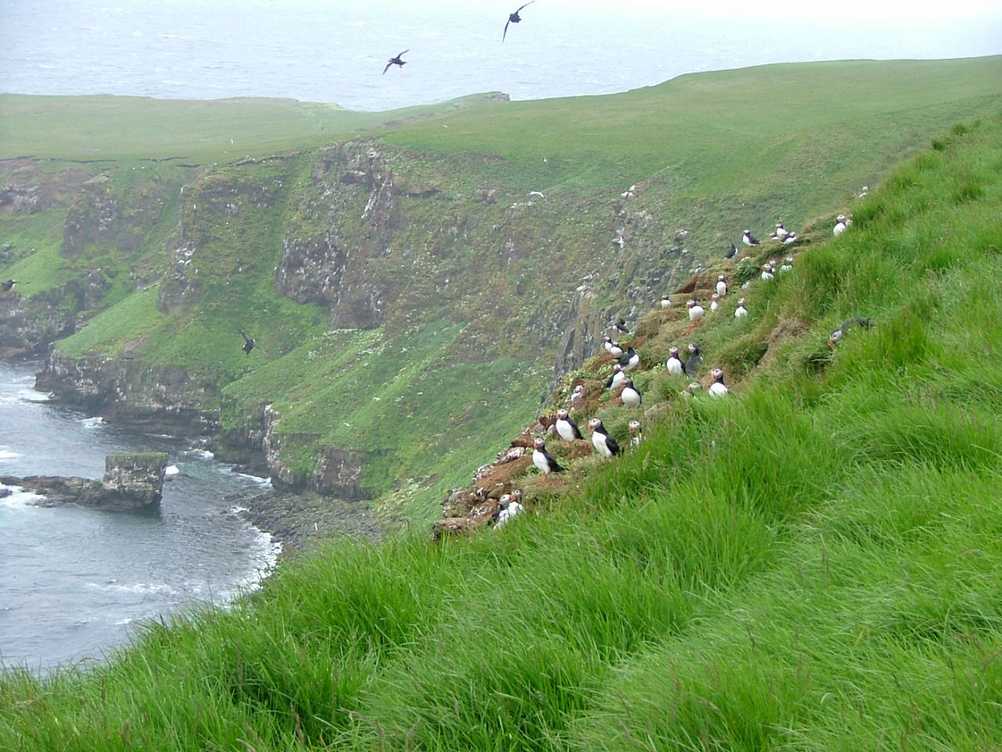 Photo: puffin11k - Puffins Grimsey - Flickr - No changes were made
Once you're there, you'll be amazed at how far away you are from everything.
You will find puffins all around the island, even a 5-minute walk from the ferry terminal. But the best is to walk to the western side of the island, where you will find the largest colony.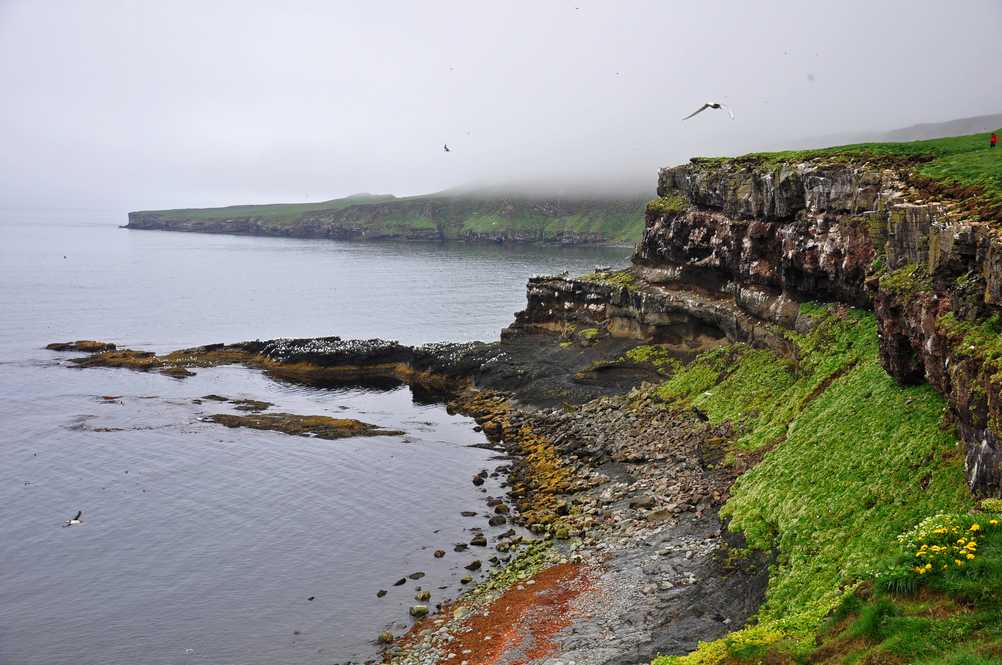 Photo: Jennifer Boyer - Grímsey - Flickr - No changes were made
Other things to see on Grimsey Island:
The small wooden church
Arctic circle markers
The lighthouse
The art gallery
The swimming pool
How to get there?
You can take ferries from Dalvik, the sail will last for about 3 hours. Boats leave Dalvik harbor at 9 am and return at 2 pm, 4 pm, or 5 pm. Price is 3500 ISK (around €22 or $26) from Dalvik to Grimsey, and the same price for the return.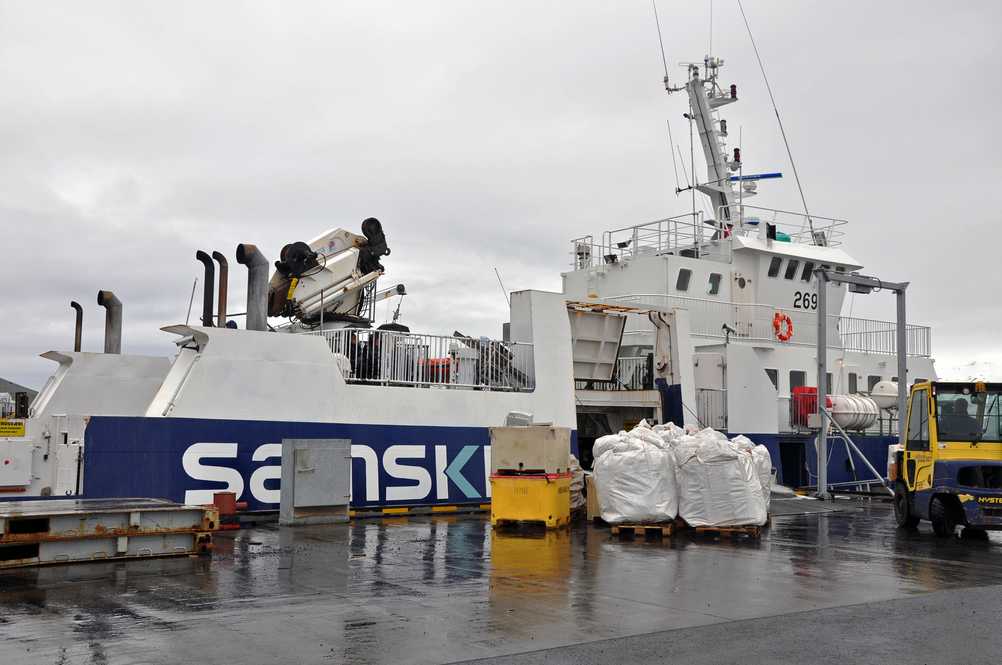 Photo: Jennifer Boyer - my ferry from Dalvík to Grímsey - Flickr - No changes were made
So, this island is perfect for a day tour. But if you want to spend the night on the Island, you can stay at Guesthouse Gullsól.
But if you're seasick or don't want to be annoyed by people vomiting in the boat (yes yes it happens), you can go by plane. Flights depart from Akureyri and you'll be on the Island in 30mins, impressive huh?
Or you can try swimming, those who tried never came back... (kidding, nobody tried).
Látrabjarg cliff
Situated in the Westfjords, this cliff is 14 km long and more than 400 meters high. This place is also known as being the westernmost point of Europe, and the largest seabird cliff of Iceland, hosting a large puffin colony.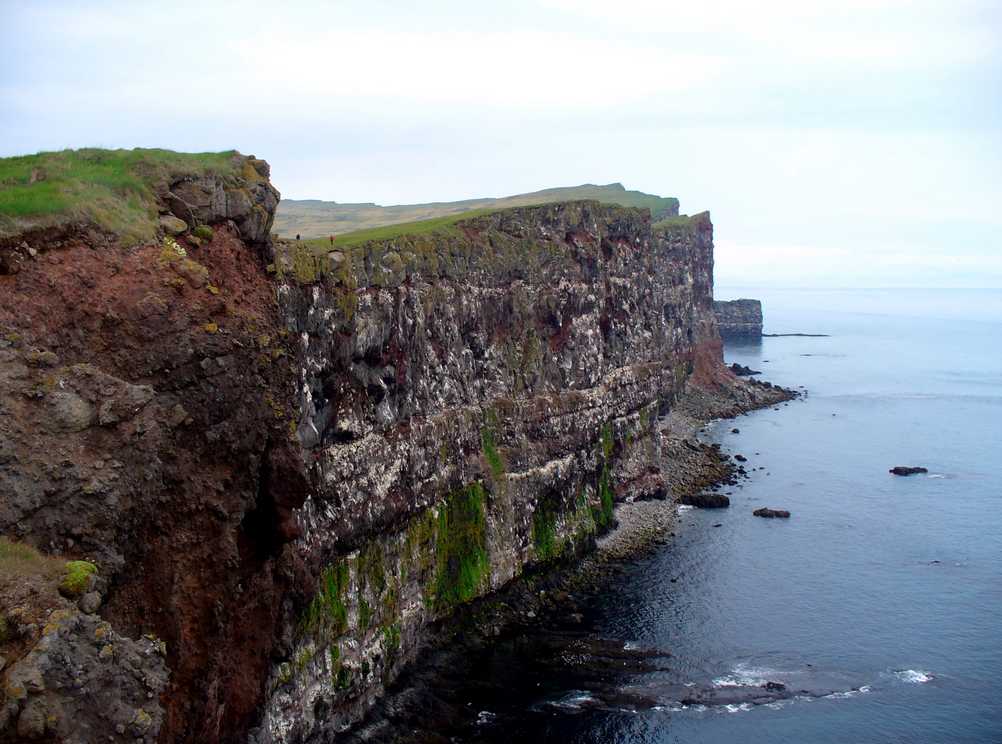 Photo: Látrabjarg - Richard Gould - Flickr - No changes were made
If you go there, you will not only be able to see puffins but also many other species such as guillemots, northern gannets, or razorbills for example.
Once you are here, you will find sometimes a white line on the ground that you shouldn't cross. This is to keep people from going too close to the void and falling, but not only. When birds are nesting during the summer season, they dig burrows, where they lay their eggs. If you walk on them you could destroy their nest and break the eggs!
How to get there?
This place is really far away from everything. And the road conditions may be really bad, be really careful and drive slowly to not destroy the campervan, especially on road 612!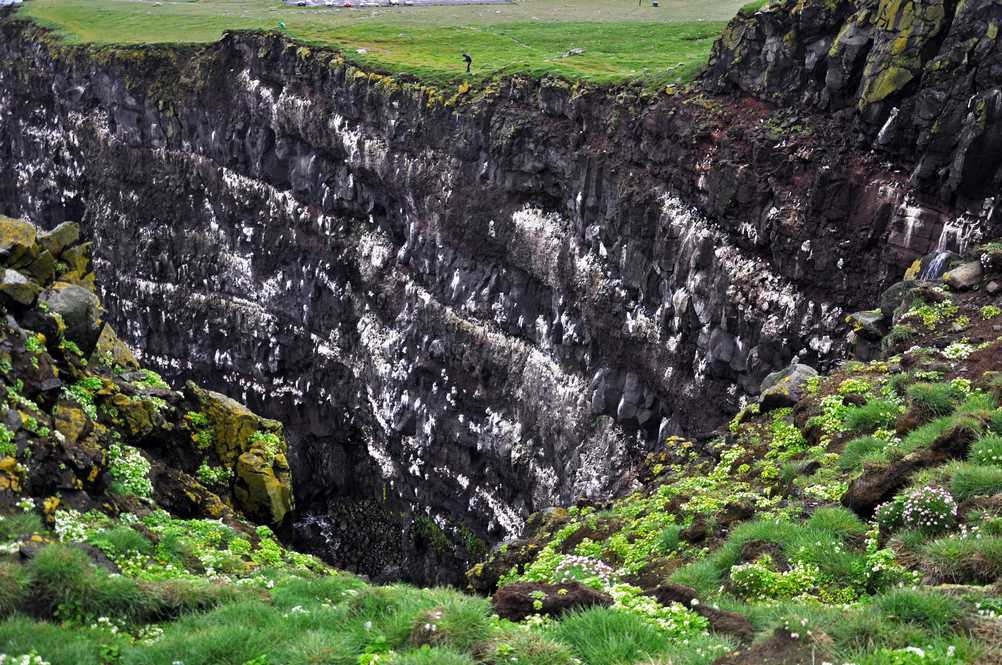 Photo: Látrabjarg - Jennifer Boyer - Flickr - No changes were made
You can go to this place if you're doing a long trip in Iceland with a 4x4 campervan for example. But if you're in Iceland for a short stay, no worries, there are puffins sighting spots not very far from Reykjavik!
Other interesting spots
As you could see on our maps, there is a lot of good spots to see the birds in Iceland. These are our favorite ones, for many reasons. They have all something in common, a lot of birds live there each summer!
Reykjavik
Can I see the birds from Reykjavik?
Yes! You can see their fluffy version in all of the tourist shops in downtown Reykjavik, in the form of a teddy bear! But apart from them, you can see them for real on two islands named Akurey and Lundey that host those beautiful birds.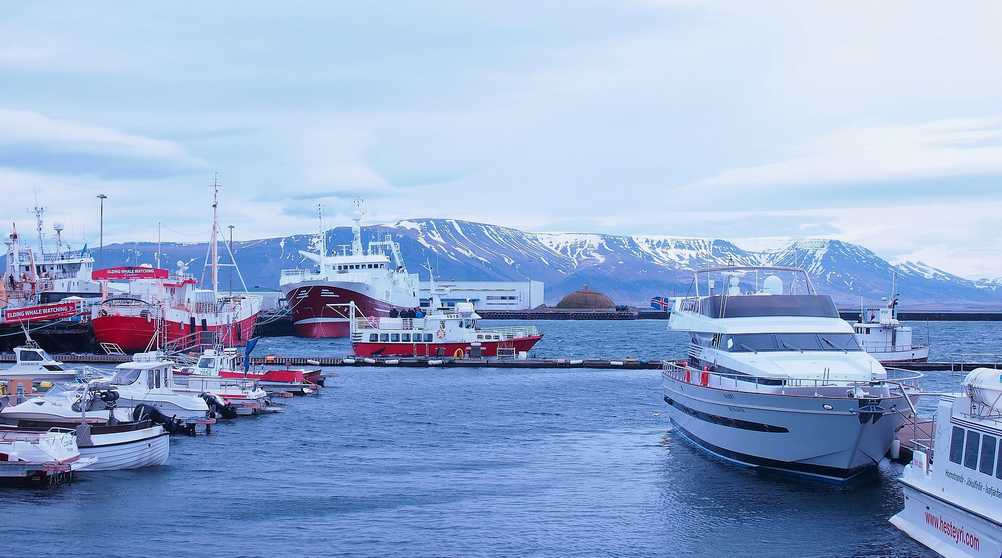 Photo: Sightseeing tours are available from Reykjavik's harbor
They are easily accessible with boat tours, you can find those tours with departures from Reykjavik.
There, you will also be able to see other species such as seagulls, black guillemots, arctic terns, or cormorants for example. It's all-in-one!
You can check for example: 
Mr. Puffin 
Special Tours
Elding
These bird-watching tours can also be combined with a whale-watching tour. As whales also like to live in the bays around Reykjavik. If you want to know more about that, I strongly advise you to read our article about whales and whale watching in Iceland!
Dyrhólaey
This is a really good spot to meet these birds because it is not that far from Reykjavik and Keflavik Airport.
Plus, there are other famous spots to see nearby: The black sand beach of Reynisfjara and the plane wreck of Solheimasandur, but also Seljanlandsfoss and Skogafoss that you will find on the road while driving to Dyrholaey.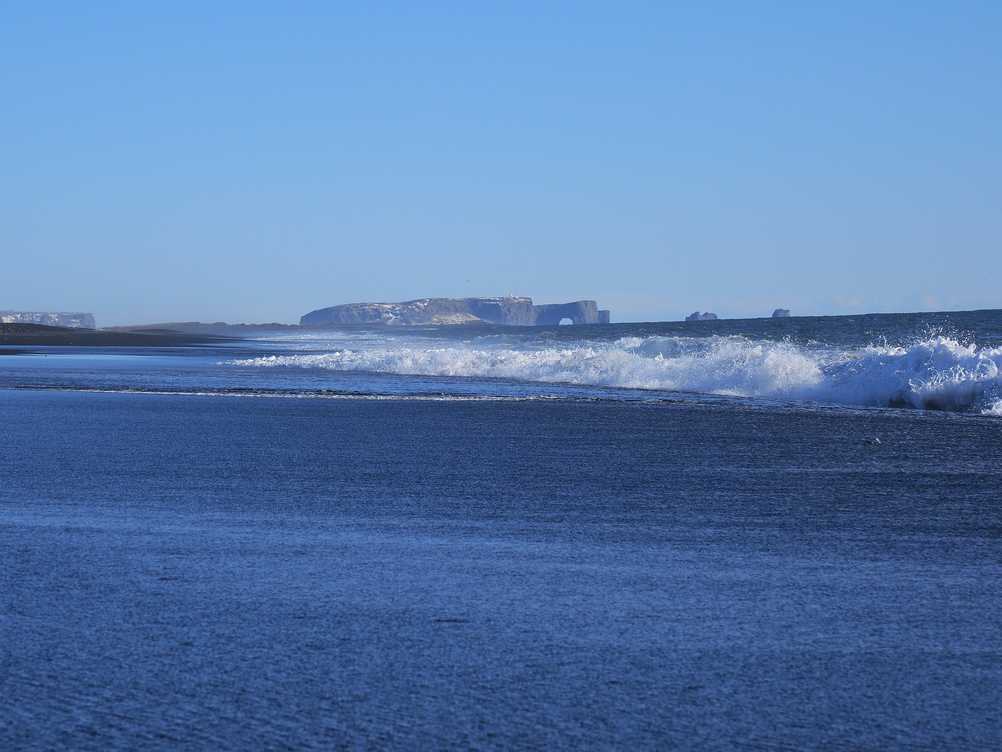 Photo: The cliff of Dyrholaey seen from afar, on Solheimasandur beach
You can easily plan a one-day tour and go to Solheimasandur, Reynisfjara beach, and Dyrholaey. After that, you can spend the night at the campsite in Vik. 
What we like the most about this place is that it is really accessible. Plus, you will see a lot of birds in the summertime, and the place itself is just amazing.
Is there a lot of birds at Dyrholaey?
Yes, thousands of them during the summer season!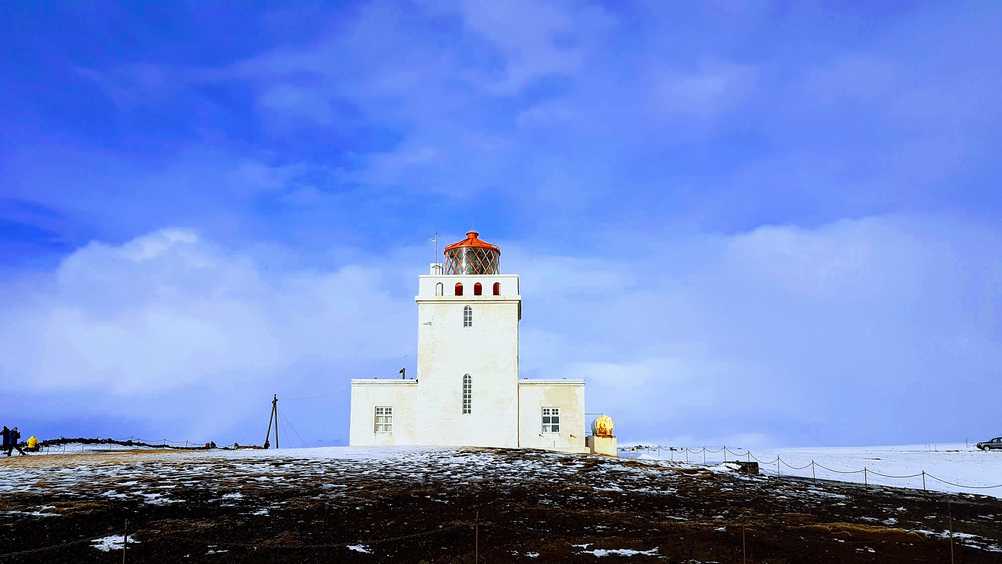 Photo: Enjoy also the lighthouse of Dyrholaey
How to go there?
From Reykjavik, take route 1 towards the south and drive for around 2h30mins. Then, before arriving in Vik, take a right on Road 218. Drive for another 10mins and you'll be at Dyrholaey!
Hornbjarg
Hornbjarg is an enormous cliff situated in the Hornstrandir Nature Reserve, in the Westfjords. It is also one of the best places to see puffins. 
It is also a good spot to see guillemots, golden plover, and many other species that also nest there.
You can also see a lot of arctic foxes due to their unique flora and fauna.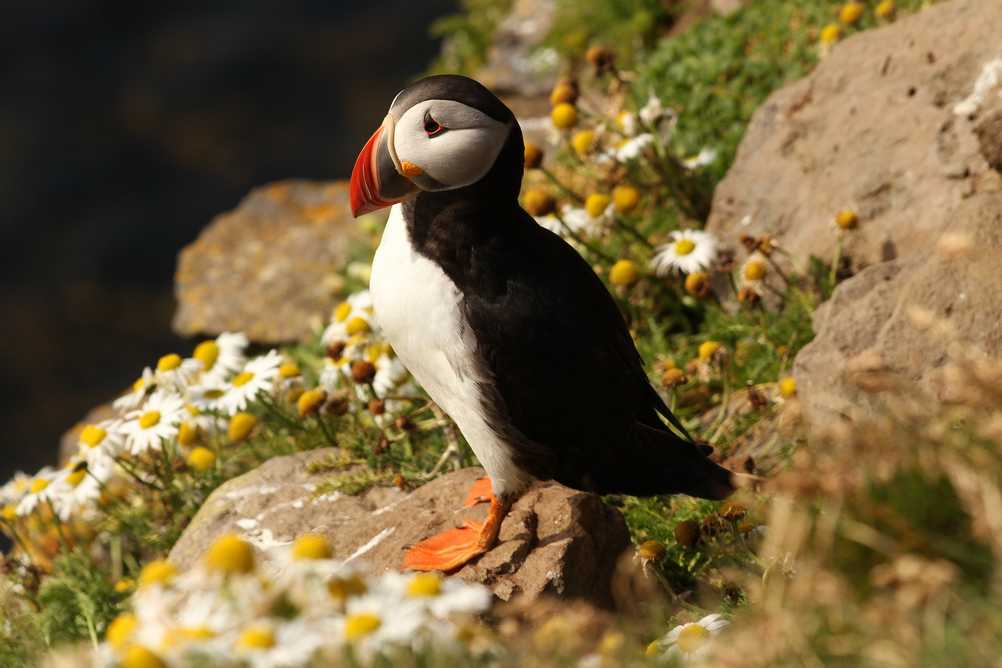 Photo: Atlantic Puffin on an Icelandic cliff
Be careful with this cliff: 
Indeed, these cliffs are famous for their atypical shape but it is also very dangerous to walk along the cliff so there are a lot of spots where you are not allowed to walk.  
How to get there? 
Due to the extreme weather conditions in this area during wintertime, you can only go there during summertime and is easily accessible by boat from the nice city of Ísafjörður located in the North of the Westfjords. You can go to this city in an FDW car during summertime.
---
You may also like:
---
Tjörnes peninsula
This peninsula is part of the Diamond Circle and is known for its rock formations. But is also a really nice place to see puffins!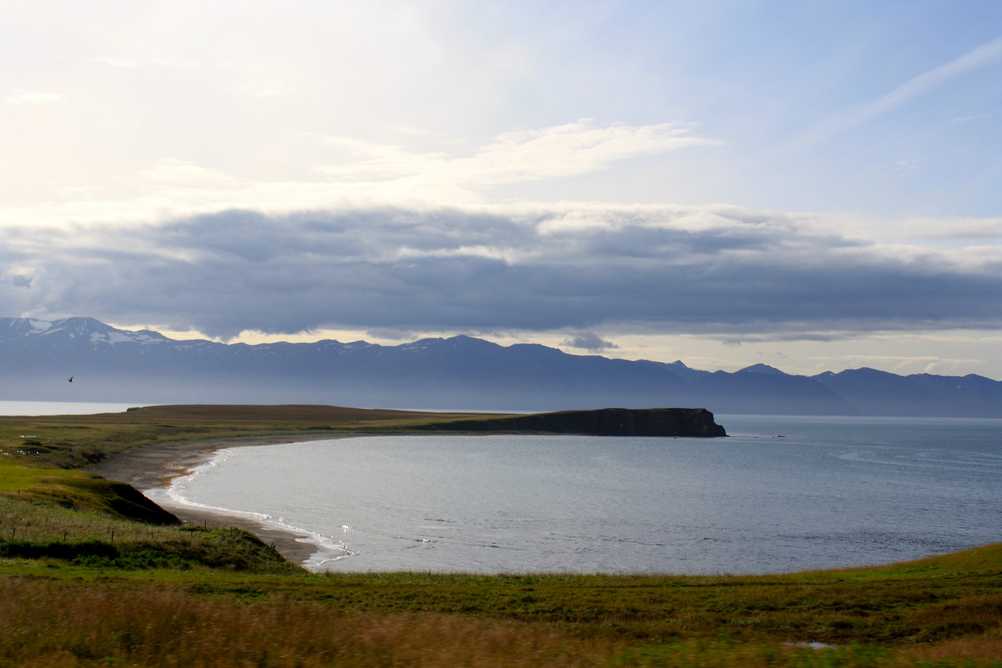 Photo: Michael Voelker - Halbinsel Tjörnes - Flickr - No changes were made
These are the two main spots of the peninsula:
Voladalstorfa
Hringsbjarg
At this second spot, you will find an observation deck to enjoy the surroundings. From this spot, you should be able to see puffins in a safe way! A few years before, there was just a cliff, and people used to walk very close to the edge.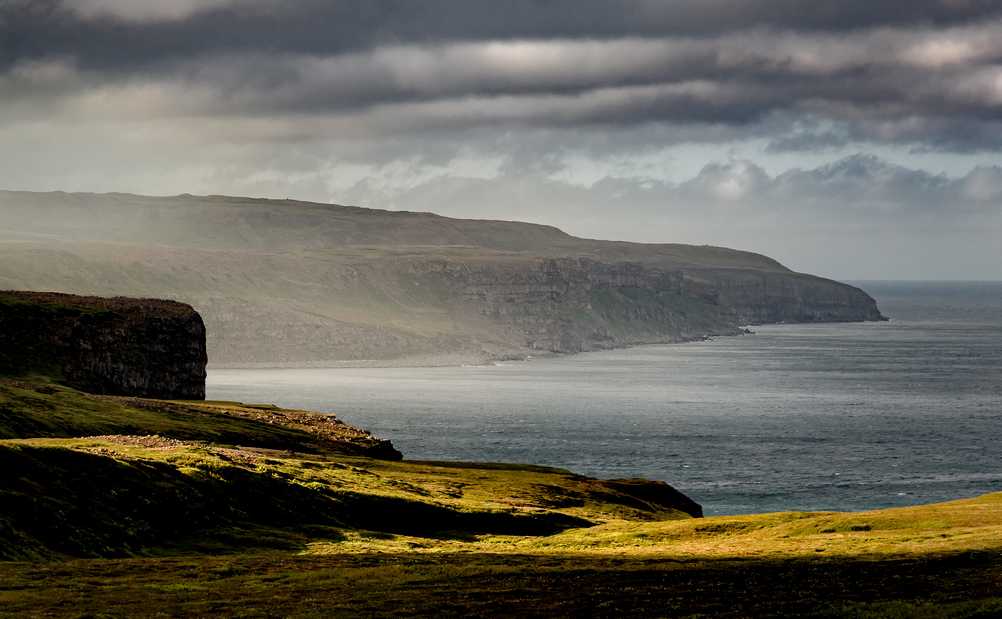 Photo: Bernd Thaller - Iceland's northwest - Flickr - No changes were made
Be careful though, there are no such things everywhere on this peninsula, so be careful and do not walk too close to the void. You could destroy the tunnels made by the puffins and (first of all) you could fall!
This peninsula is a remote area and the perfect place if you want to avoid crowded touristic places.
How to get there?
If you're coming from the north, you'll reach the Tjornes peninsula by leaving road 1 for road 85 (turn left). Drive for 1 hour on this road and you'll be on site. You can stop at Husavik on your way, this picturesque village is simply awesome and known as being Europe's whale watching the capital city.
If you're coming from the east, you will take road 87 by turning right from road 1. At this point puffins, spots are also a 1-hour drive away.
Papey Island
This small island is located in east Iceland and is not inhabited anymore. It is the home of several bird species, including puffins.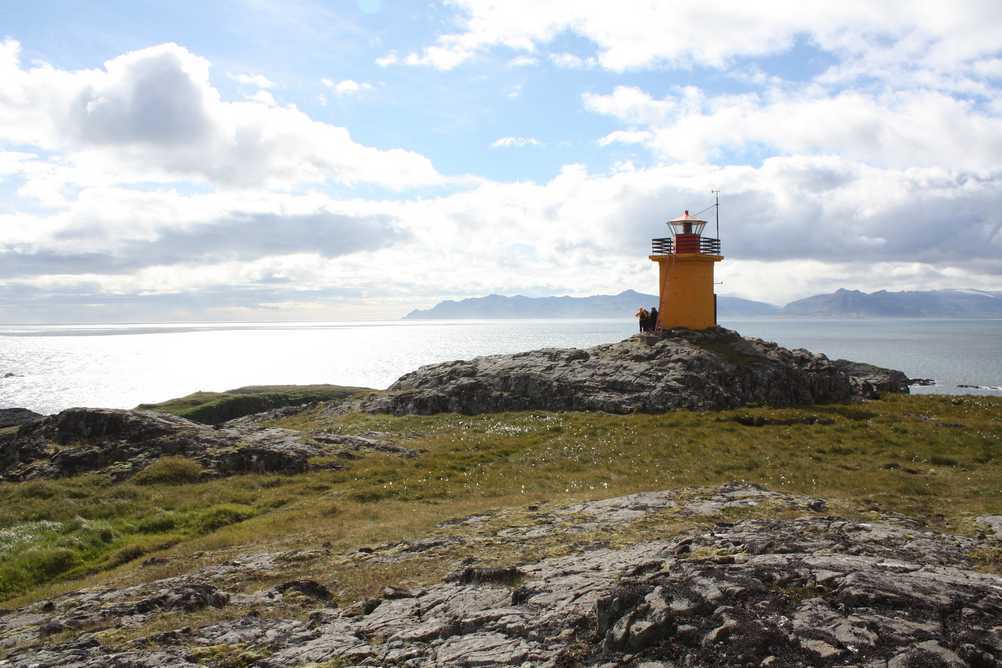 Because of its location and small size - only 2 kilometers square - this place is perfect for those who like to go off the beaten paths. So if you want to discover other things than the most famous sites, you should consider doing a stop there. You will enjoy there a beautiful lighthouse and a picturesque black church - the oldest wooden church in Iceland by the way! 
You can go to this place by boat, with daily departures from Djúpivogur at 13:00 from June to August. 
Skrúður Island
This place is like Papey Island: a remote, not too touristic place.
Located in East Iceland, the island is known for its steep cliffs. That's exactly what puffins love for nesting. The particularity of the place is that puffins here do not dig nests, they just lay their egg in a cave, directly on the ground. 
As for Papey, you will find several bird species here, such as kittiwakes, fulmars, etc.
In the olden times, farmers used to go to the island to grab some eggs and catch birds to eat. While sailors used it as a shelter and fishing base.
Breiðafjörður
There are a lot of tiny islands in Breiðafjörður where puffins like to come during summer, especially on Hafnarhólmur, Þórishólmur, and Steinaklettar.
This large fjord is located between the Snæfellsnes peninsula and the west fjords. Some tour departs from Stykkishólmur, in the north of the Snæfellsnes peninsula. 

WHAT ARE PUFFINS?
Puffins birds are incredible, unique birds from the auk family (and cousins with the horned puffin and the tufted puffin), they are very famous in Iceland and all over the world. They are quite small with an average height of 10 inches (18cm) and weigh around 500 grams.
Many people like them because they are cute and funny, due to their colors and their way of walking. 
Their plumage is black on their back and white on the front. Their beak is very colorful which makes them easily recognizable.
That is even why they are nicknamed "sea parrots" or "clowns of the sea".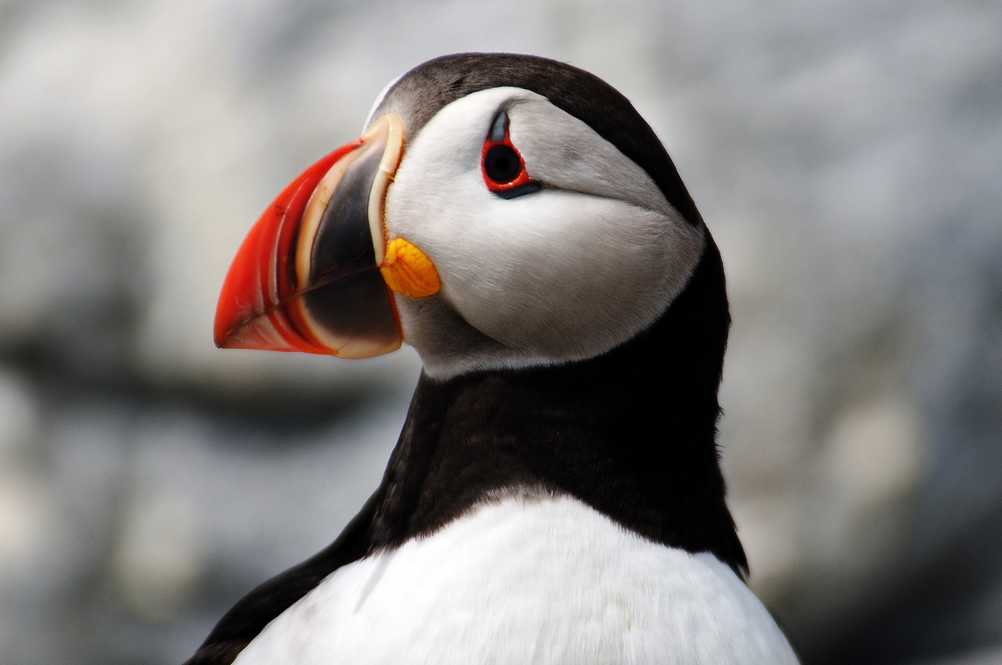 Photo: Because of their bright-colored beak they are also called "sea parrots"
There are a few different species but the most common in Iceland is the Atlantic Puffin.
Those birds are monogamous and come back to the same place each year for breeding.
Can they fly?
Puffins vs penguins:
Even if they look like penguins, puffins can fly. And they are actually pretty fast! We have recorded speeds of 88 km/h, quite impressive for a little bird of 18 cm, isn't it?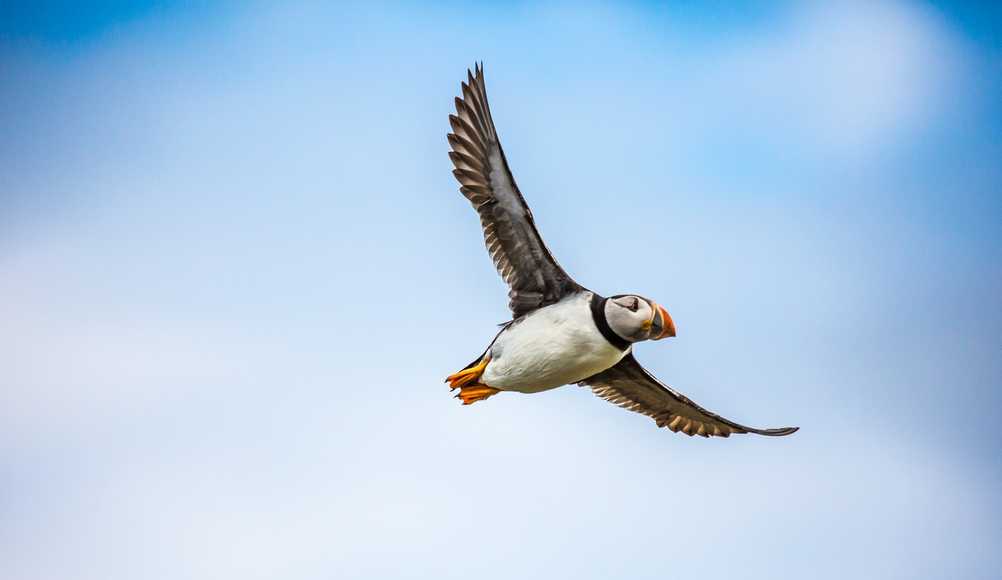 Photo: Flying puffin in Iceland
What do they eat?
Their diet is very simple: fish. Puffins are really good fishers and can stay underwater between 20 and 30 seconds. They also can dive up to 60 meters in depth.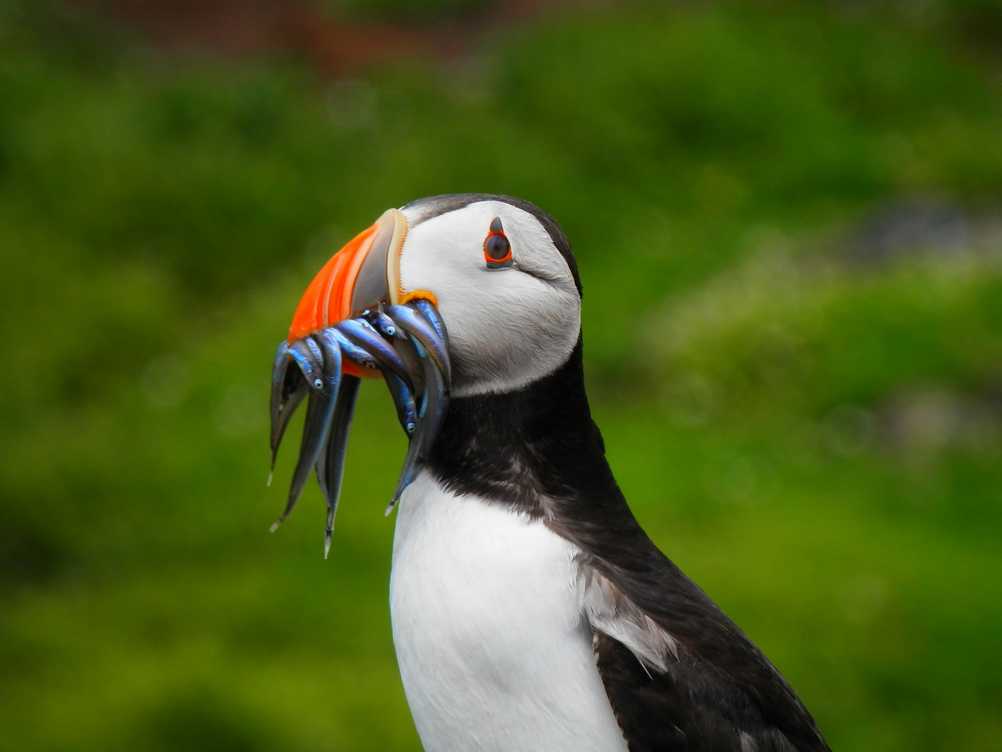 Photo: Puffin with a dozen of sand eels in its beak
They use their wings to propel them and their feet to turn. Their favorite meals are herring, hake, sand eels, or capelin, but it really depends on what they find where they are.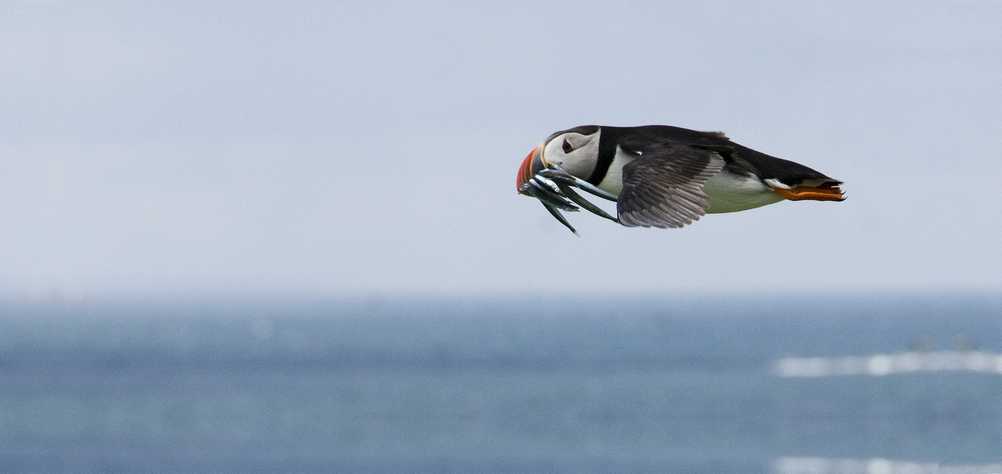 Photo: Flying bird with fish in its beak
WHERE DO THEY LIVE?
The Arctic puffin can be found in the northern hemisphere, especially in Iceland.
Yes yes, 60% of the world's Atlantic Puffins live on our island, that's more than 6 million individuals! Iceland is definitely the place to see these wonderful creatures.
That is more than 16 times the population of Iceland!
You can also find some in North America, for example in St. John's, Newfoundland, and Labrador.
Puffin habitat
They spend most of their time alone in the open ocean, especially in the North Atlantic Ocean, where they fish and grow.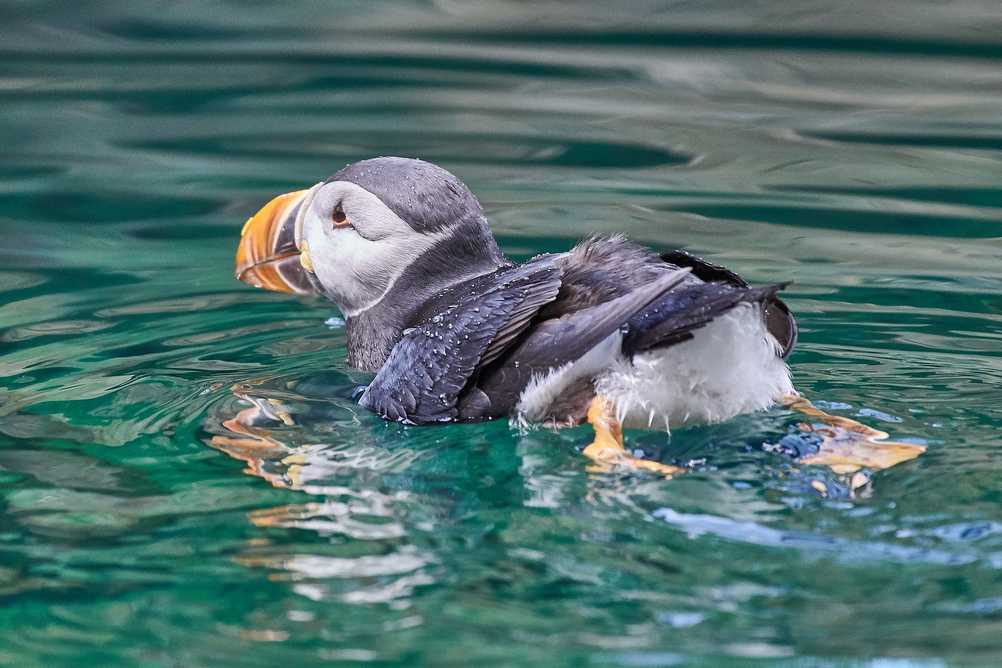 Photo: Look at this bird bathing in the ocean
When they get tired, they just land on the sea, rocked by the waves. No one really knows exactly where they are when they're not on land. 
As said before they live alone and are very widely spread in the ocean.
But when the breeding season is coming back, they start to gather.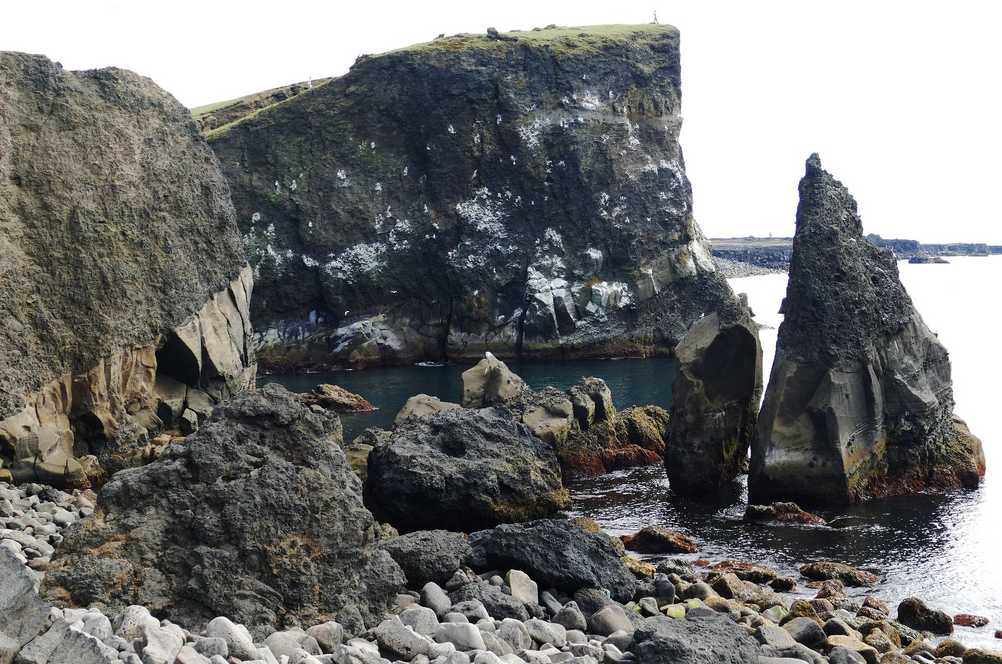 Photo: Perfect cliff for Icelandic birds
Their favorite gathering spots are islands and cliffs, this is where puffins breed.
They dig their nests and lay their eggs, and go get small fish from time to time.
Cliffs are the perfect place for them because they protect them from predators, and are perfect places to take off from.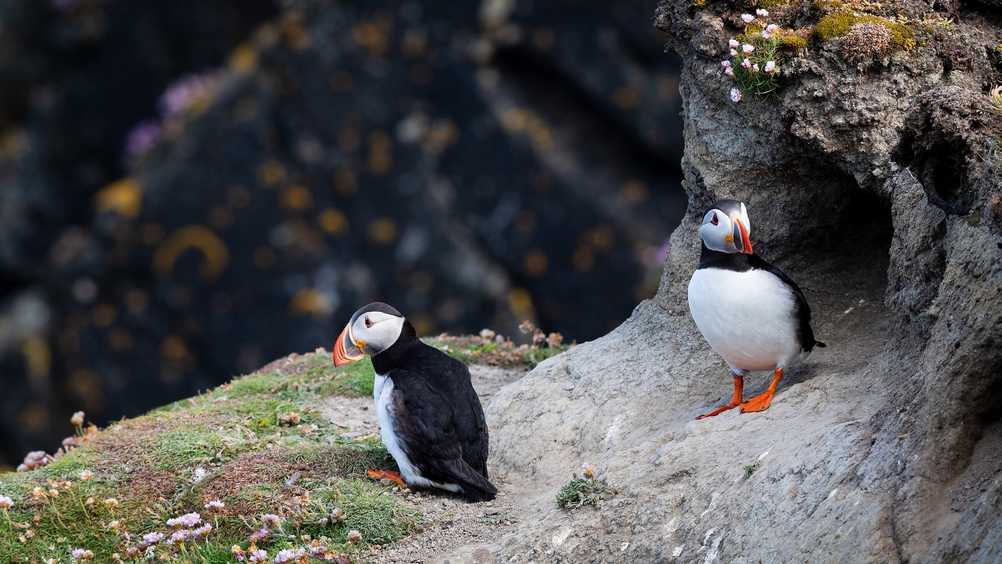 Photo: Two puffins resting on their nesting spot in Iceland
Then take care of their eggs and pufflings until they are able to live on their own. After that, they go back to the shore, and we do not see them until the next season. 
WHEN TO SEE THEM?
You can see puffins in summer, during their breeding season, which is from late April to late August.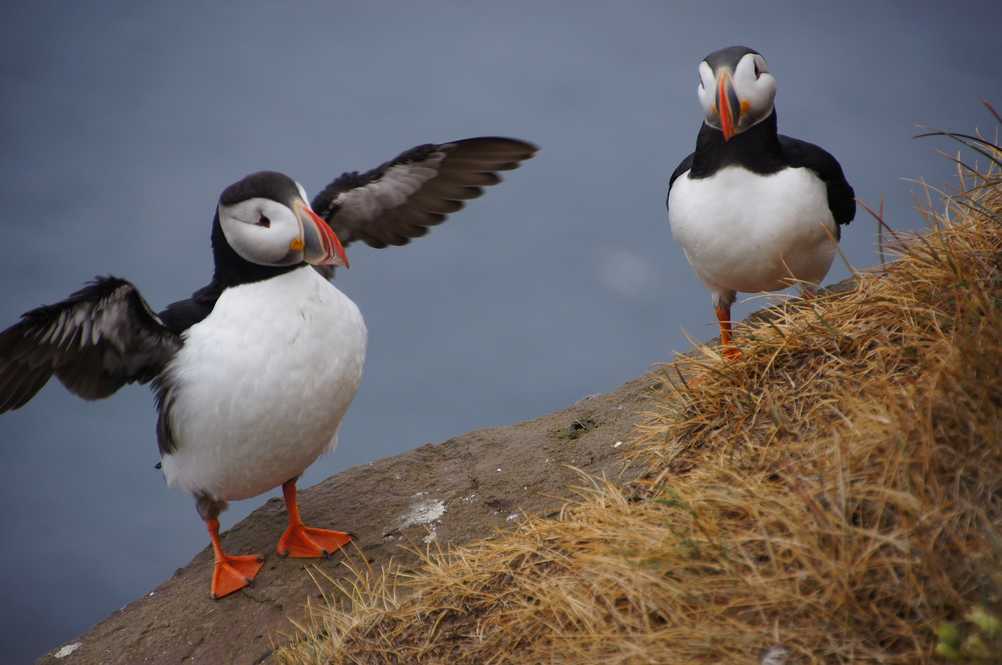 Photo: Two birds on an Icelandic cliff
However, if you want to maximize your chances to see the birds, you better go in the evening. It is that time that they are home.
RESPONSIBLE WATCHING
Puffins are maybe as cute as fragile, so please be really careful when you go to see them.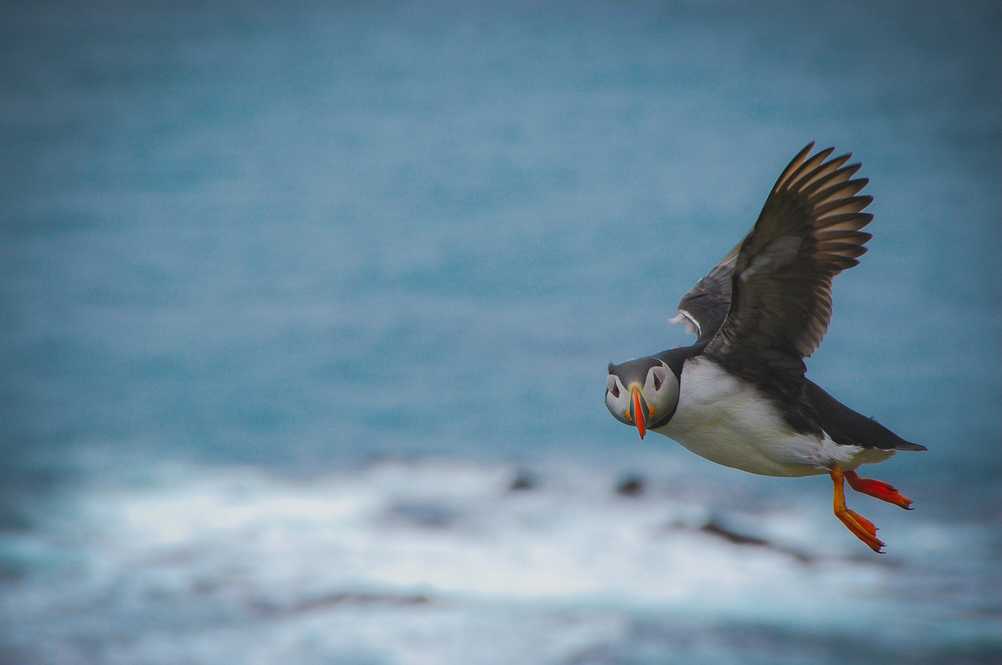 Photo: Big Puffin is watching you!
There are simple rules that you have to follow to protect the birds, and yourself:
Don't feed them to avoid making them dependent on humans
They are really good at fishing, there's no need to feed them even if we know that it is very tempting. Please don't for the good of the birds.
These birds live most of the time at sea, and their feather is made in a way that it deflects water, and touching them ruins it. 
Please touch them only if they are lost or in danger.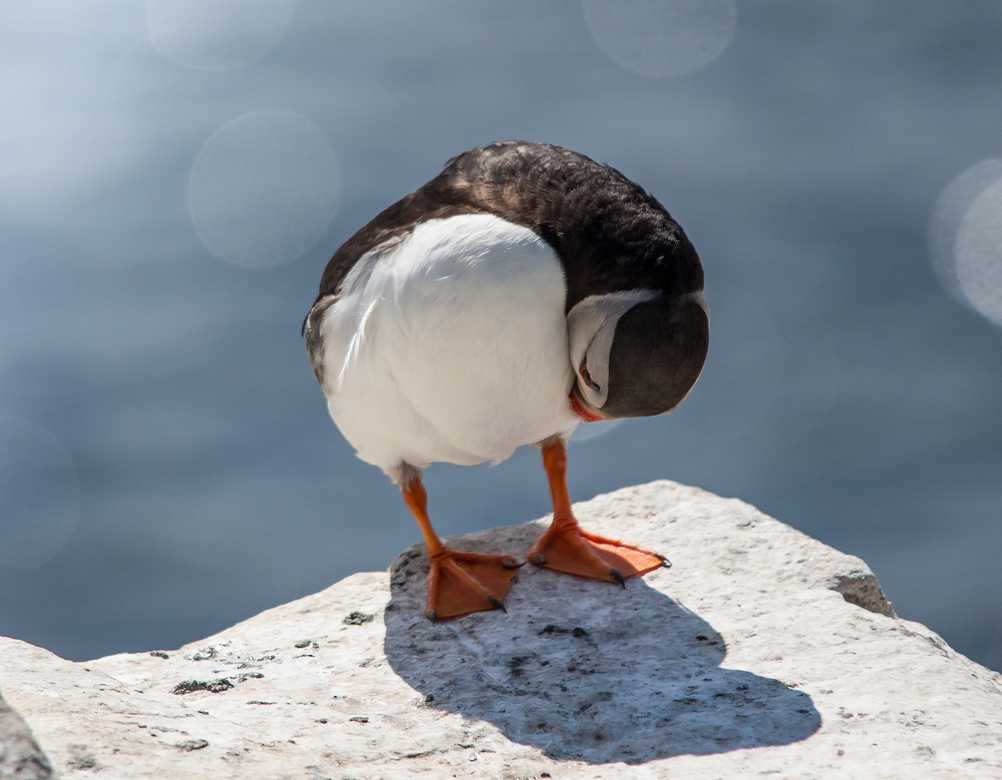 Photo: See this little guy taking care of its plumes
Don't walk too close to the void
As we said before, these creatures dig their nest up the cliffs so please avoid walking too close to the void. You could destroy their nests and the eggs that are inside. 
And you could even fall down also, and you do not want that to happen, do you!
ARE PUFFINS ENDANGERED?
Unfortunately, puffins are considered a "vulnerable" species by the IUCN red list. According to the last recordings, their number is going down.
So we have to be careful; they are threatened by human activities, oil spills, avian diseases, and so on. And also by the fact that the female lays a single egg per year.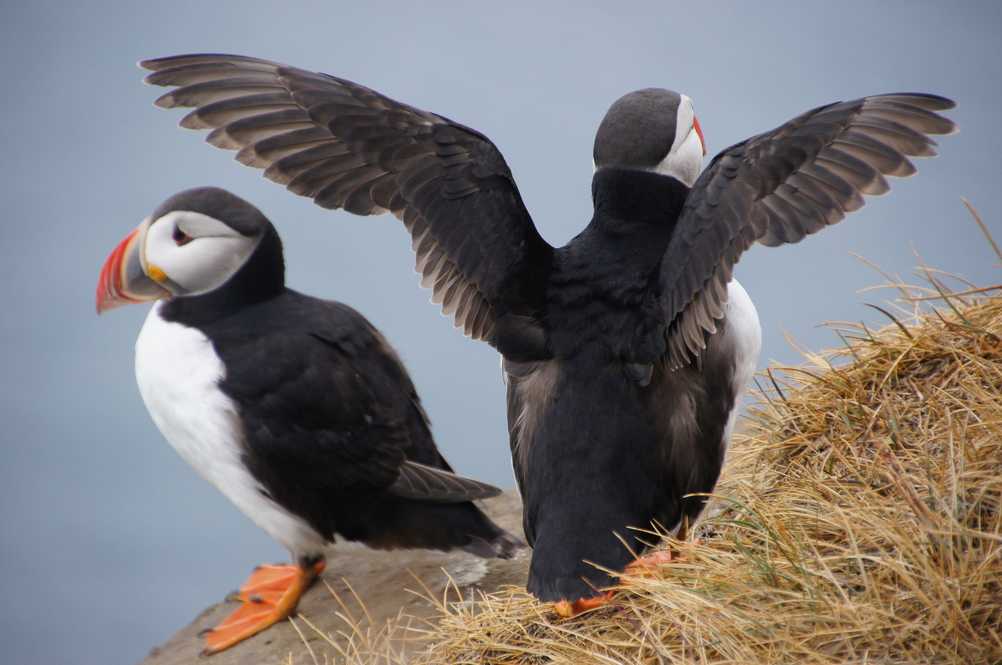 Photo: Puffins are vulnerable but not endangered yet
Also, these birds are still hunted nowadays, even if this activity is slowly going down. 
But, this doesn't mean that they have been endangered yet. As long as they protect them and their habitat, we should succeed in keeping an acceptable number of individuals. 
PRO TIPS
Remember to:  
Plan your trip accordingly to the other things you want to do, for that, you can see the other maps we made for your trip planning.
Take binoculars with you to see them better.
Be really careful with the birds, protect them as much as possible. These are really resentful creatures so cover your head if you annoy them! 
Enjoy the experience!
Hire a Kuku Campervan and take your friends or family to the best sightseeing spots of Iceland.
We offer the best campers for the best price!
If you are an adventurer and want to see all of Iceland by your own means, then our campers are the best solution for you. You can go wherever,  whenever you want, that's how we like to travel in Iceland (and we know our stuff)!!
Check out our prices and availability now, and discover our wonderful camper categories!
Happy travel to Iceland!