The Diamond Circle in Iceland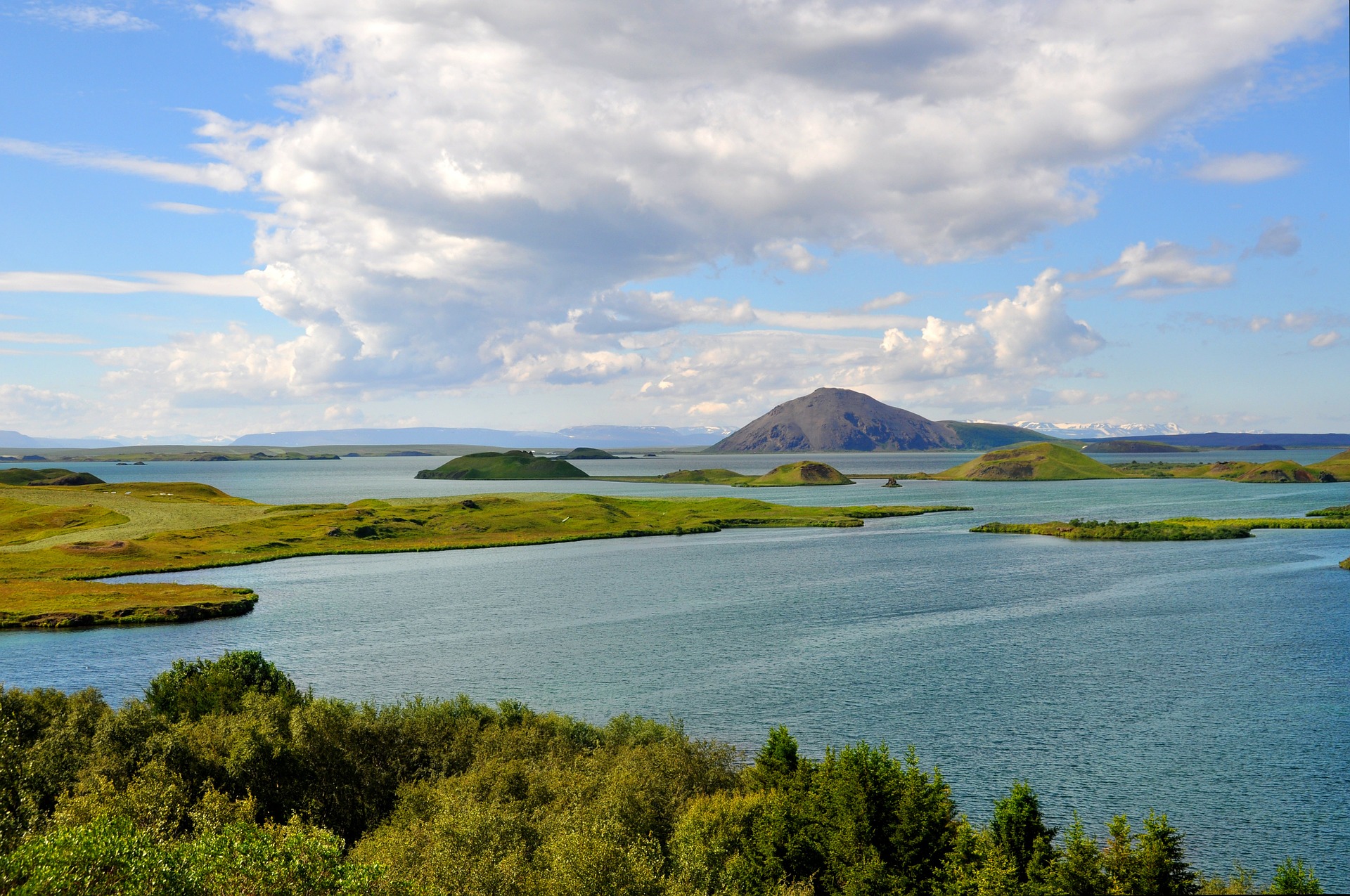 THE DIAMOND CIRCLE TOUR IN ICELAND
---
---
You probably knew about the Golden Circle in South Iceland, but did you know that there is a brand new circle tour in North Iceland? Today you will discover the Diamond Circle!
This new 2020 route will take you and your KuKu campervan to the most incredible spots in North Iceland. On the route, you will encounter waterfalls, hot springs, lakes, picturesque towns... and so on!
WHAT IS THE DIAMOND CIRCLE? 
This new tour is a trip highlighting the most stunning sights in north Iceland. It is here to make your trip planning easier, by gathering the best that you can expect from the north of our island.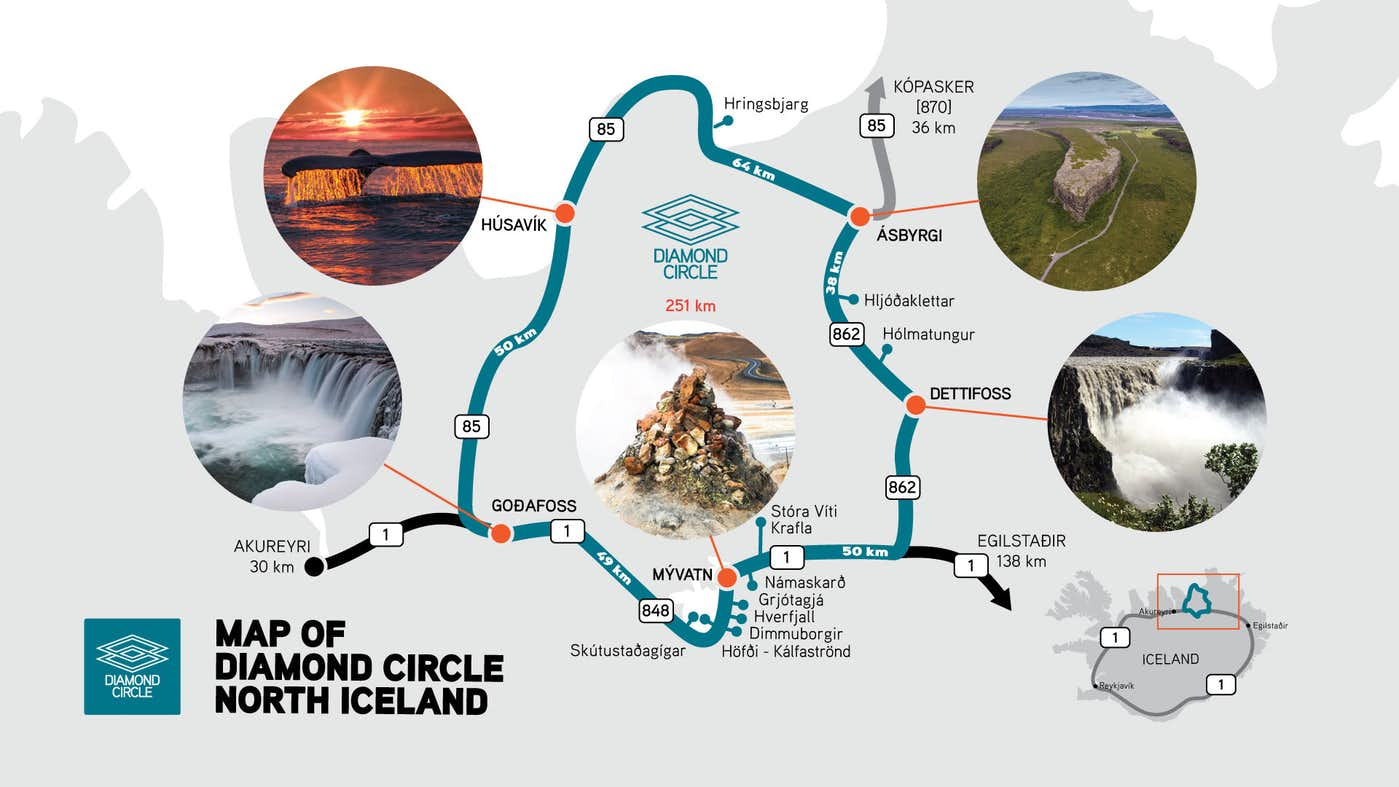 Photo: The Diamond Circle route in Iceland
NEW ROAD TRIP 2020
This route was opened on September 6th, 2020, with newly built roads that connect the sites together. The length of the road is around 250km, and it can be done in 1 or 2 days. So it's perfect if you're on a short stay in Iceland and want to visit some gems in north Iceland in your KuKu Campervan.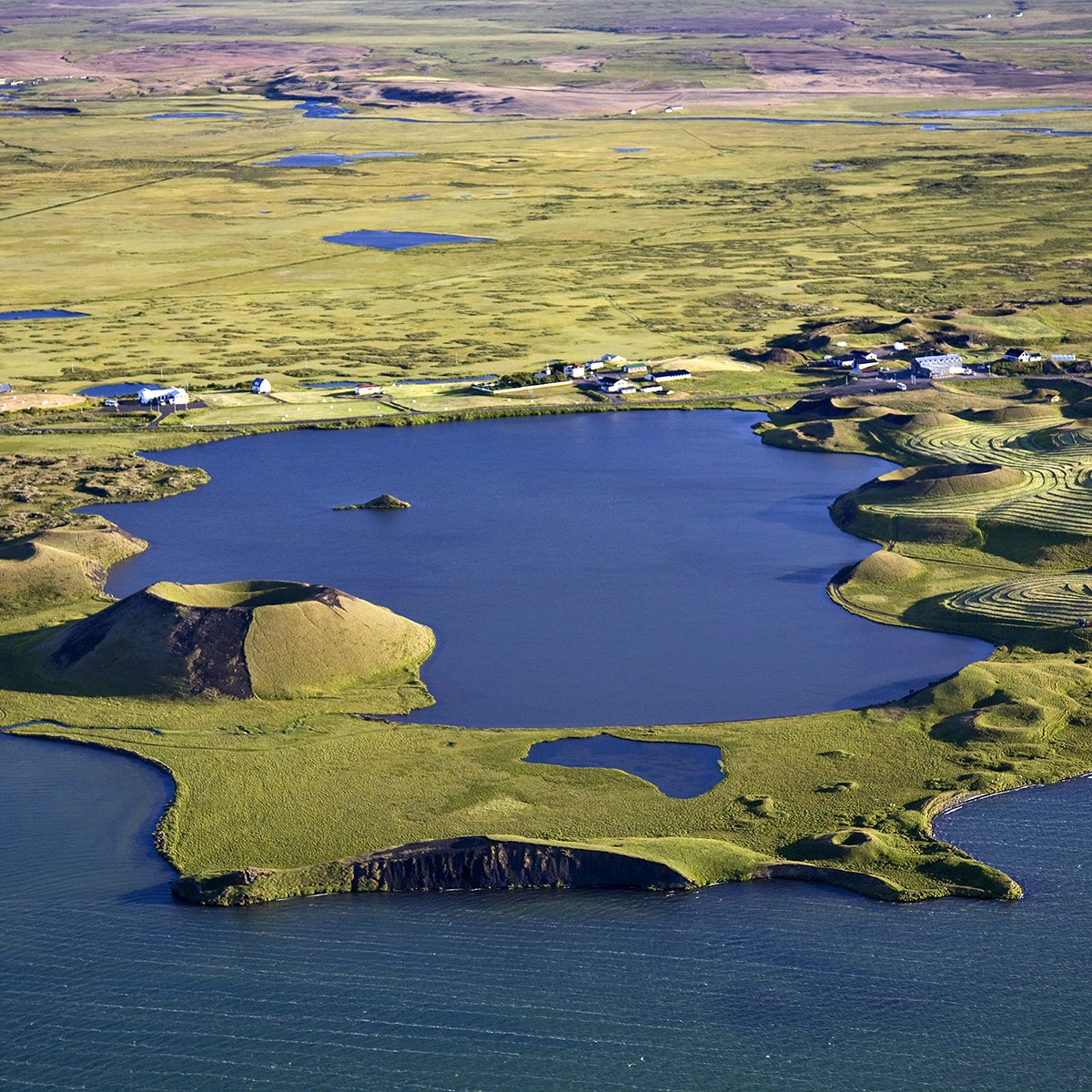 Photo: Lake Myvatn, one of the main spots of the circle
But if you have more time, you definitely want to stay longer in this amazing natural area and drive around with your campervan. 
These are the 5 key spots: 
Godafoss
Lake Myvatn
Dettifoss 
Asbyrgi
Husavik
These are the most picturesque places you can visit in North Iceland. Knowing there is so much to see in Iceland, this circle was coined to make it easier for you to plan your visit to Iceland with your KuKu campervan. 
That's why we decided to feature the Diamond Circle. We will present you with all of these amazing spots. What to expect, how to go there (with the KuKu campervan of course), and what to do.
But that's not it, we will also tell you all the side spots of this circuit. We don't do things halfway in Iceland!
So let's not delay further - an experience of a lifetime awaits! 
DIAMOND CIRCLE MAP
Let's start with the most important thing, a proper map! In red are the 5 main spots of the circuit, in green are the side sites:

THE 5 MAIN SPOTS 
GODAFOSS
Our first spot will be the Godafoss waterfall, which means "waterfall of the gods". This is for sure one of the best waterfalls in Iceland.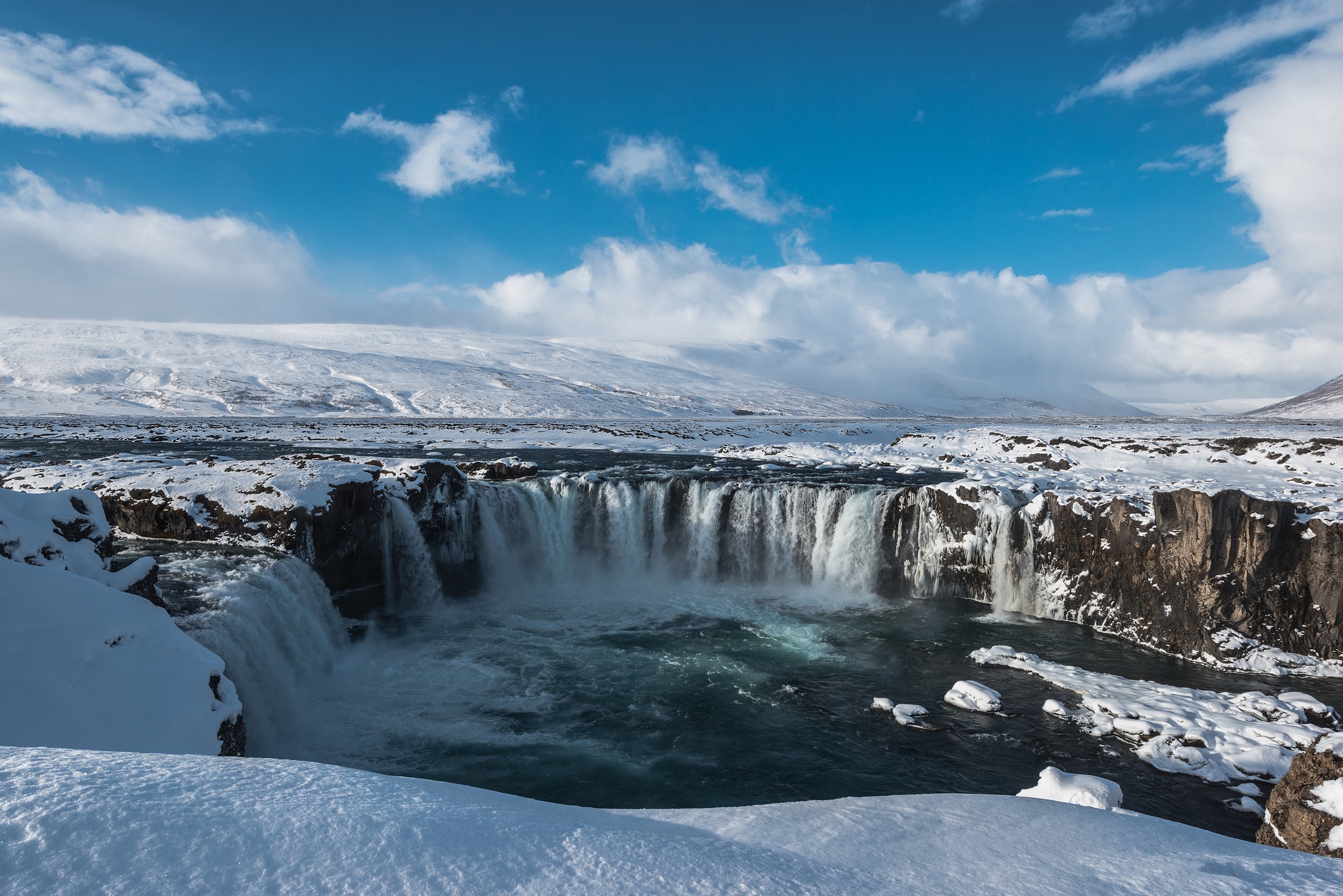 Photo: The Godafoss waterfall takes its water for the glacial river Skjálfandafljót
This half-circle-shaped waterfall is the closest spot to Akureyri, the biggest city in north Iceland. The waterfall is not that high, only around 12 meters high, but it is truly amazing. 
You can enjoy it from both sides, and some observation decks were built 1 or 2 years ago. Especially for the official opening of the Diamond Circle route. These new facilities allow people to enjoy the falls in a safe way.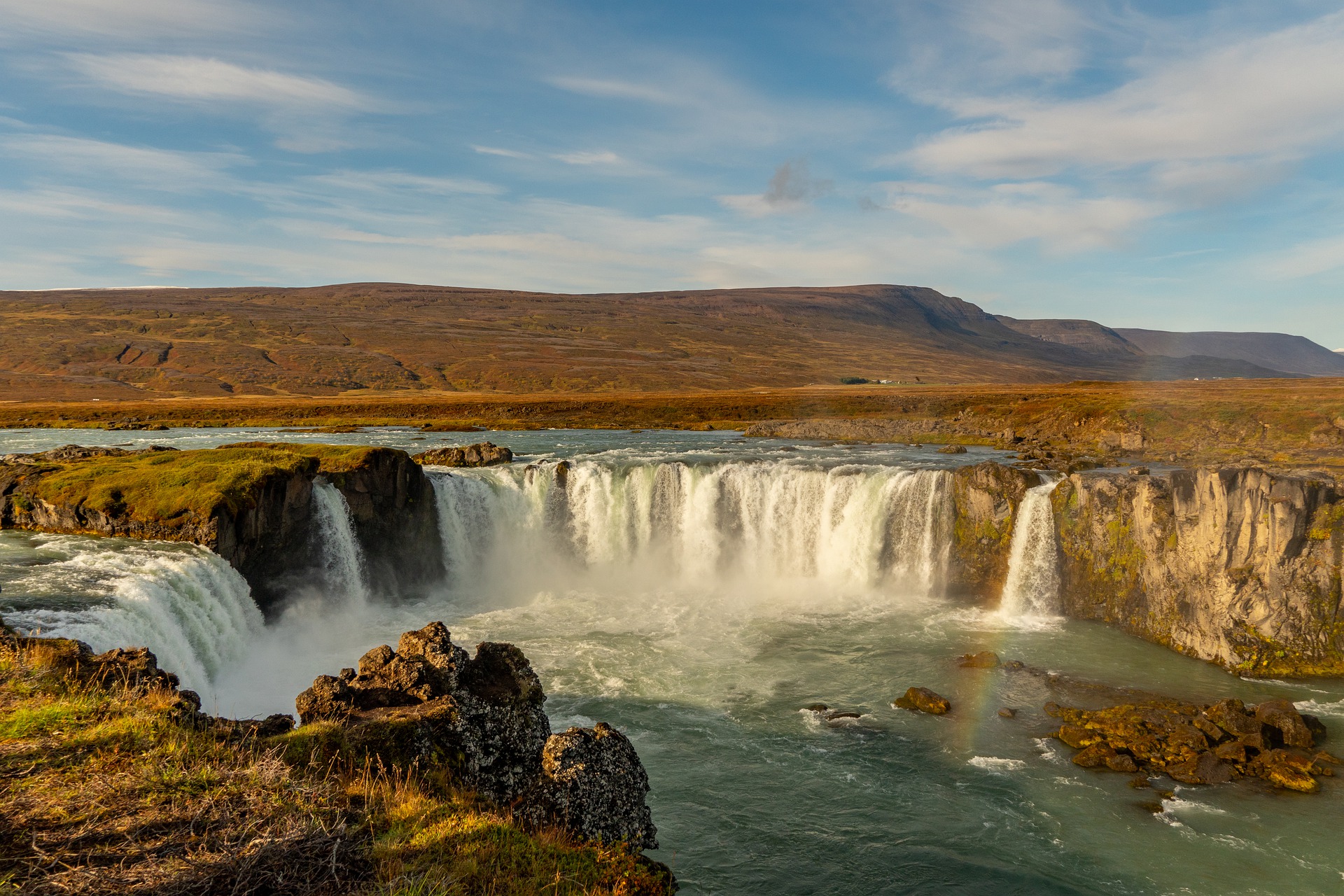 Photo: Godafoss in autumn is just amazing
The legend says that this waterfall was named Godafoss when Iceland converted to Christianism. Þorgeir Ljósvetningagoði Þorkelsson, a lawmaker, decided to throw the idols of the old Norse gods in the waters. From that day, this waterfall became the waterfall of the gods.
When you are here, be sure to do the walk from one side to the other one. This is the best way to fully appreciate the beauty of this place.
LAKE MYVATN
Mývatn is probably the place you will spend most of your time. The ecology of the lake area is extremely diverse and interesting and there are so many things to do that it could be a tour just by itself.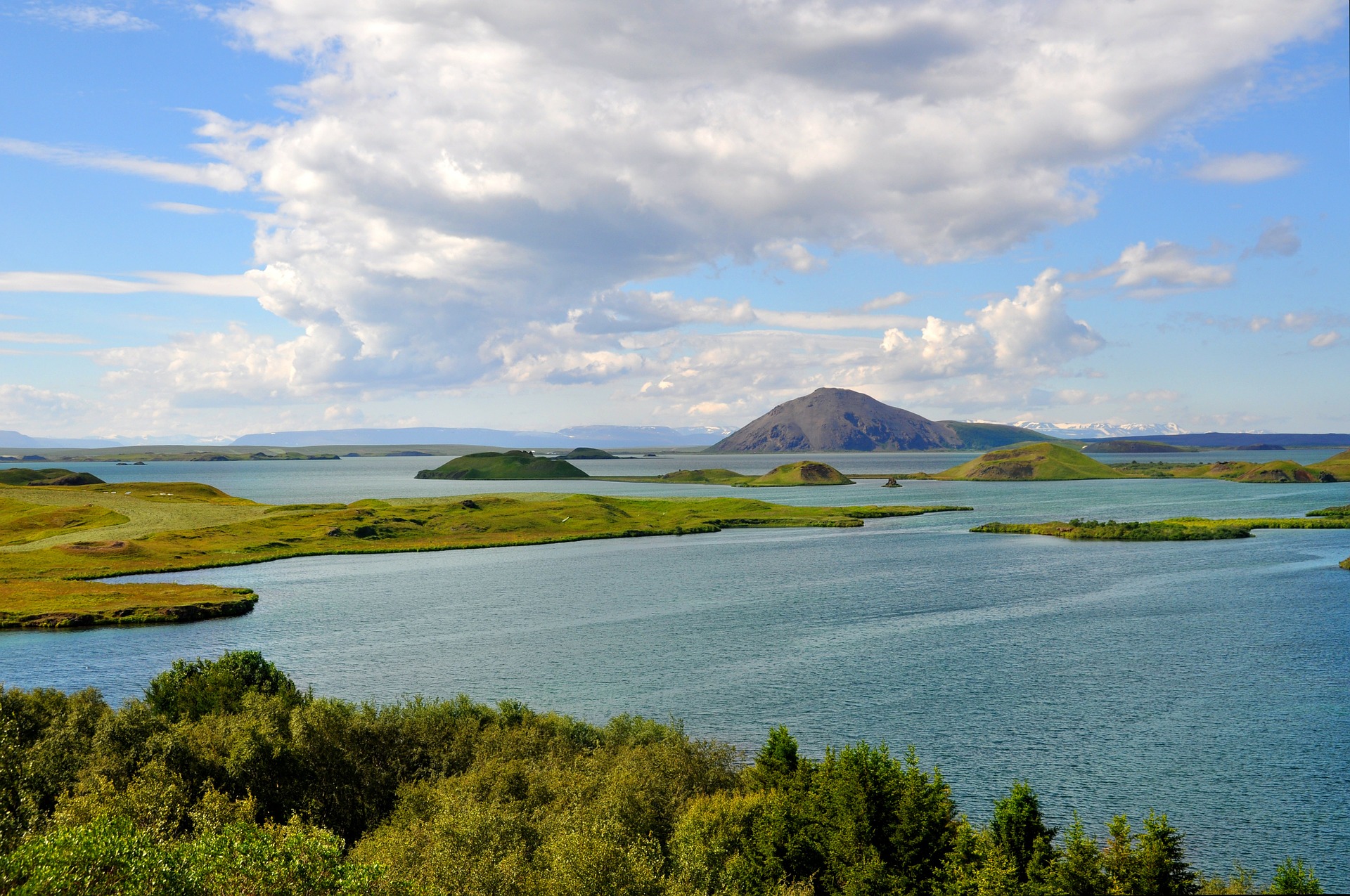 Photo: Myvatn is one of the most famous lakes in Iceland! 
After spending a good time contemplating the waterfall, it's now time to enjoy the fauna, flora... And do some activities around Lake Mývatn.
This lake was created by an eruption around 2300 years ago. It is rich in minerals and can take on a greenish or brownish tinge in the summer due to blue-green algae that are the basis of the food chain of the lake. There is also a prolific growth and abundance of freshwater seaweed, as well as the lake being the home of the famous Mývatn arctic char. 
On and around the lake there is also varied birdlife, as the lake is the habitat of many kinds of lake and marsh birds. Much of Mývatn's fame can be credited to that during summer, more different species of ducks gather on and around the lake than anywhere else in the world. 
There are so many places of interest around the area, we are talking about them later in this article. But there's for sure one activity you shouldn't miss: The Mývatn Nature Baths.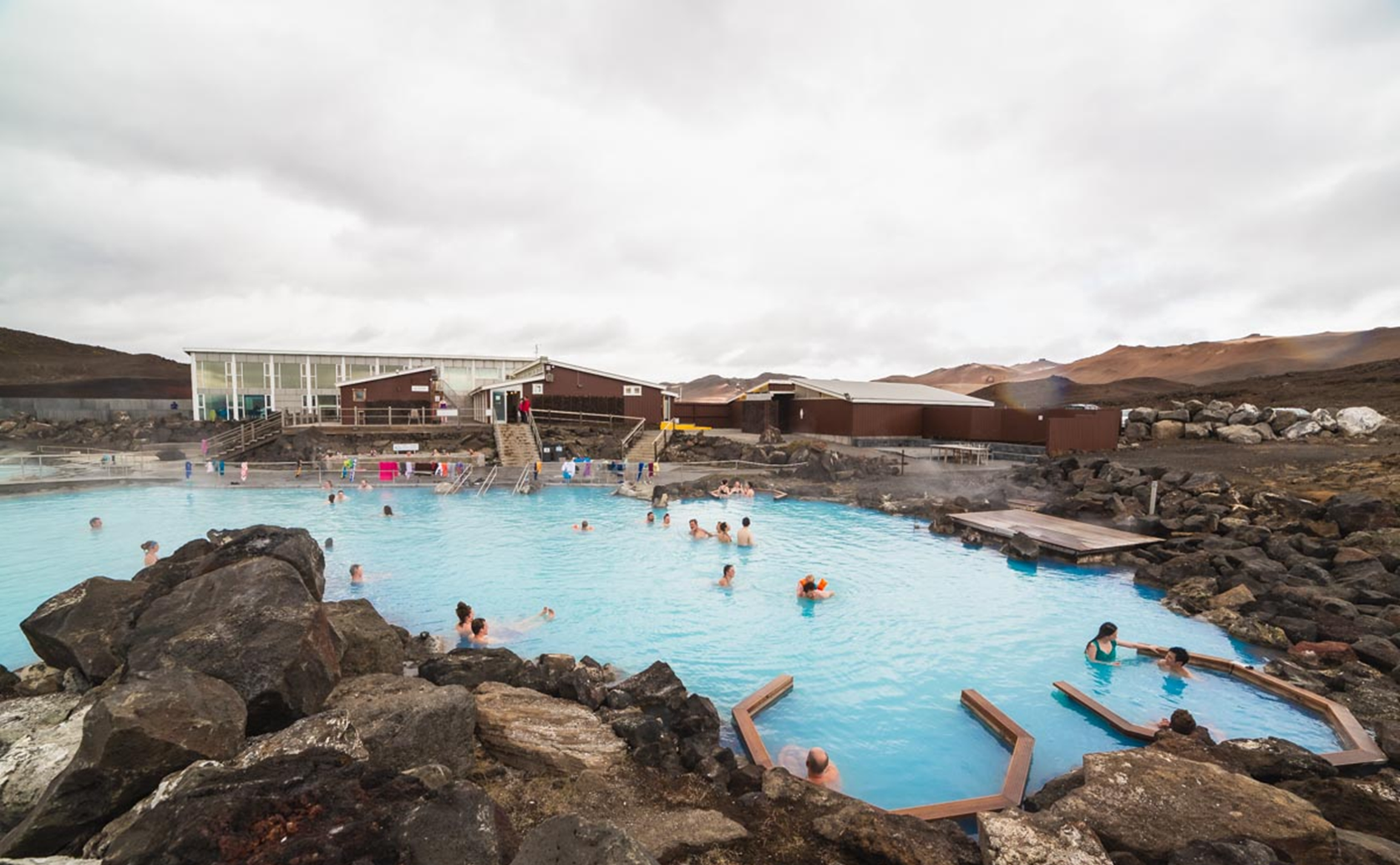 Photo: Myvatn Nature Baths is not to miss when visiting the lake. 
For those who want to enjoy a "Blue Lagoon like" hot spring, but don't like too crowded or touristic places, then this place is just perfect. 
These baths are also less expensive than Blue Lagoon: 
| | |
| --- | --- |
| Adult ticket |  5700 ISK / $42 / €36 |
| Teenagers from 13 to 15 years |  2700 ISK / $20 / €17 |
| Handicapped, seniors, students | 3700 ISK / $27.5 / €23 |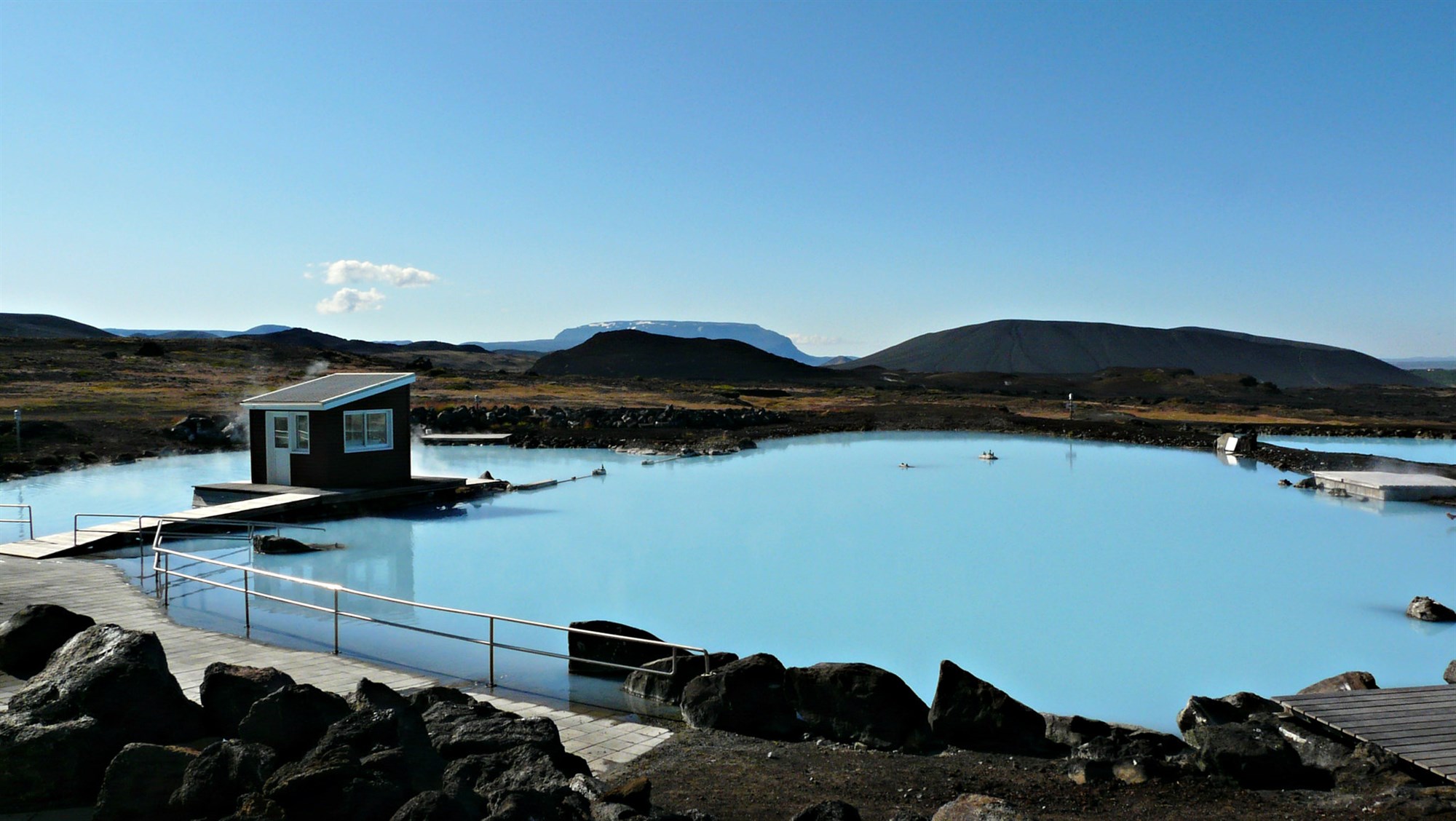 Photo: MindsEye_PJ - Mývatn nature baths - Flickr - No changes were made
DETTIFOSS WATERFALL
Dettifoss is the most powerful waterfall in Iceland, so powerful that you will actually hear it before you see it.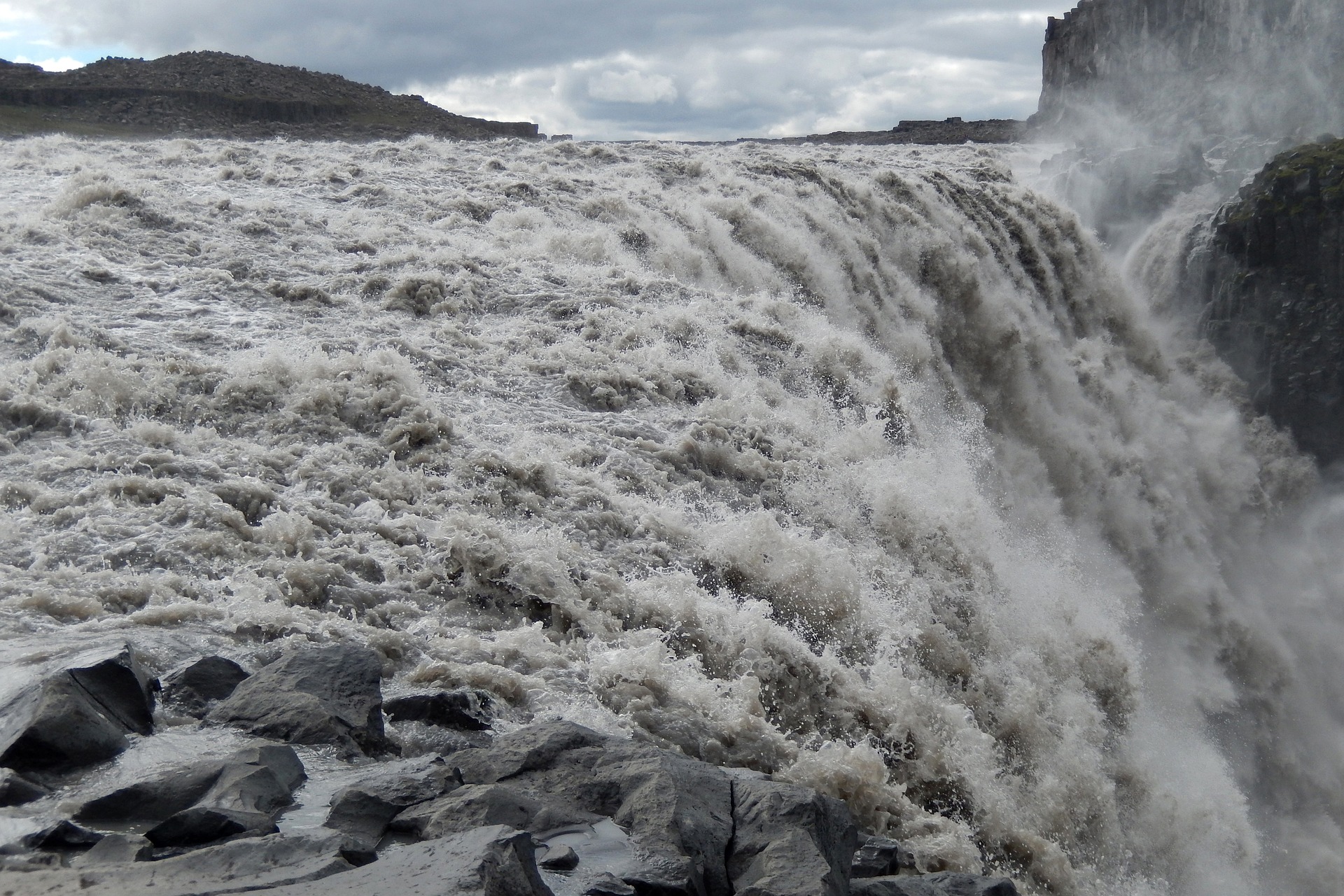 Photo: See the power of Dettifoss in north Iceland
It is located in Vatnajökull National Park and is impressive by its size, 100 meters wide and 44 meters high. It takes its water from the river Jökulsá á Fjöllum.
There are two ways to access the waterfall with your campervan, making the waterfall visitable from both the east bank and the west bank. One is from the west by Road 862, a paved road. The other is by Road 864, which is a gravel road. But don't worry, Road 864 is not an F-Road so you can drive this one with an FWD.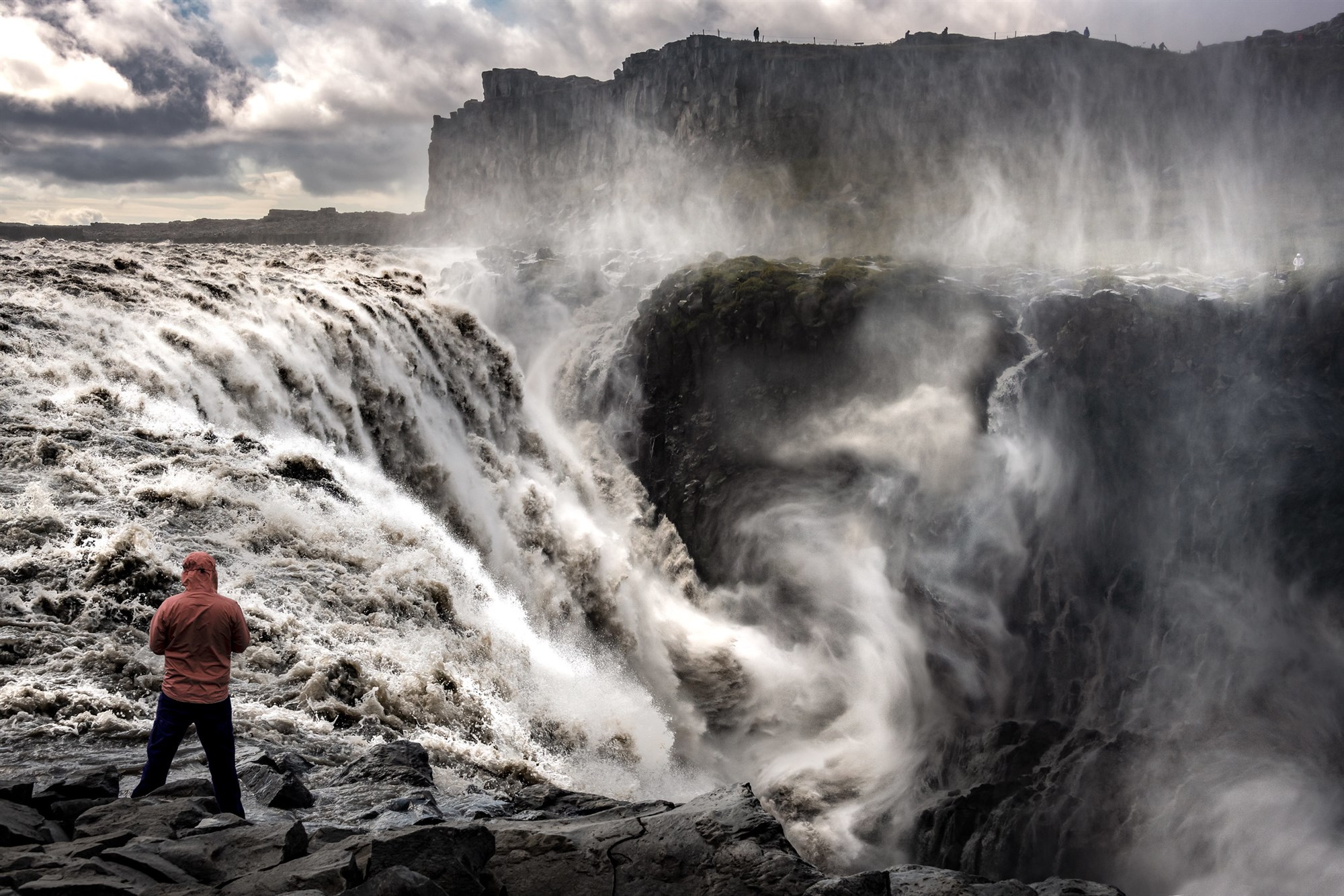 Photo: Bernd Thaller - Dettifoss - Flickr - No changes have been made
Once you parked the campervan, you will walk along paths surrounded by rocks. The walk to the waterfall takes about 10 minutes if you are on the west side of the canyon. It will be a bit less if you parked the van on the east side.
Anyway, from whichever side you will see this place, you will feel how powerful Icelandic nature is. But also incredibly beautiful! 
ÁSBYRGI
The Ásbyrgi canyon is one of these places that will leave you speechless. This horseshoe-shaped woodland of birch trees is also called the "Shelter of the Gods".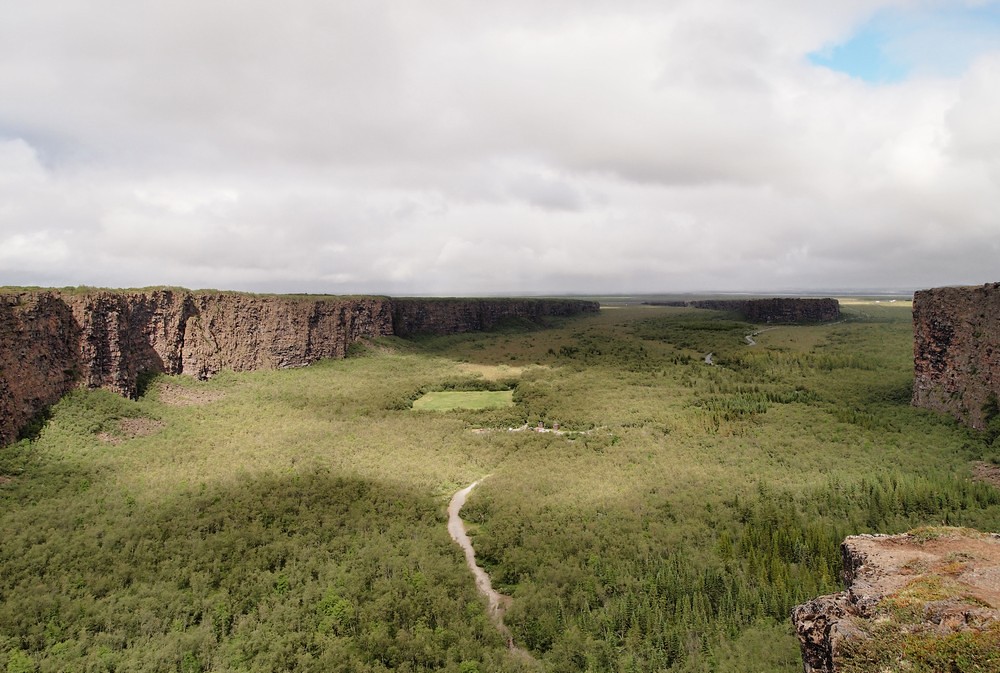 Photo: pavel karafiát - Ásbyrgi - Flickr - No changes were made
In the center of the canyon stands Eyjan or "The Island". A hiking trail of 7km goes all around and is probably the best way to discover the place.
According to Norse mythology, this canyon was formed when Sleipnir, Odin's eight-legged mythical flying horse, slipped one of his feet on the ground here. 
Icelandic folklore also states that this place is the capital of hidden people, the elves. Some people said that they've seen buildings and homes made by the elves there.
These stories add even more charm to this place. And the best thing to do here is a nice and quiet hike in the woods.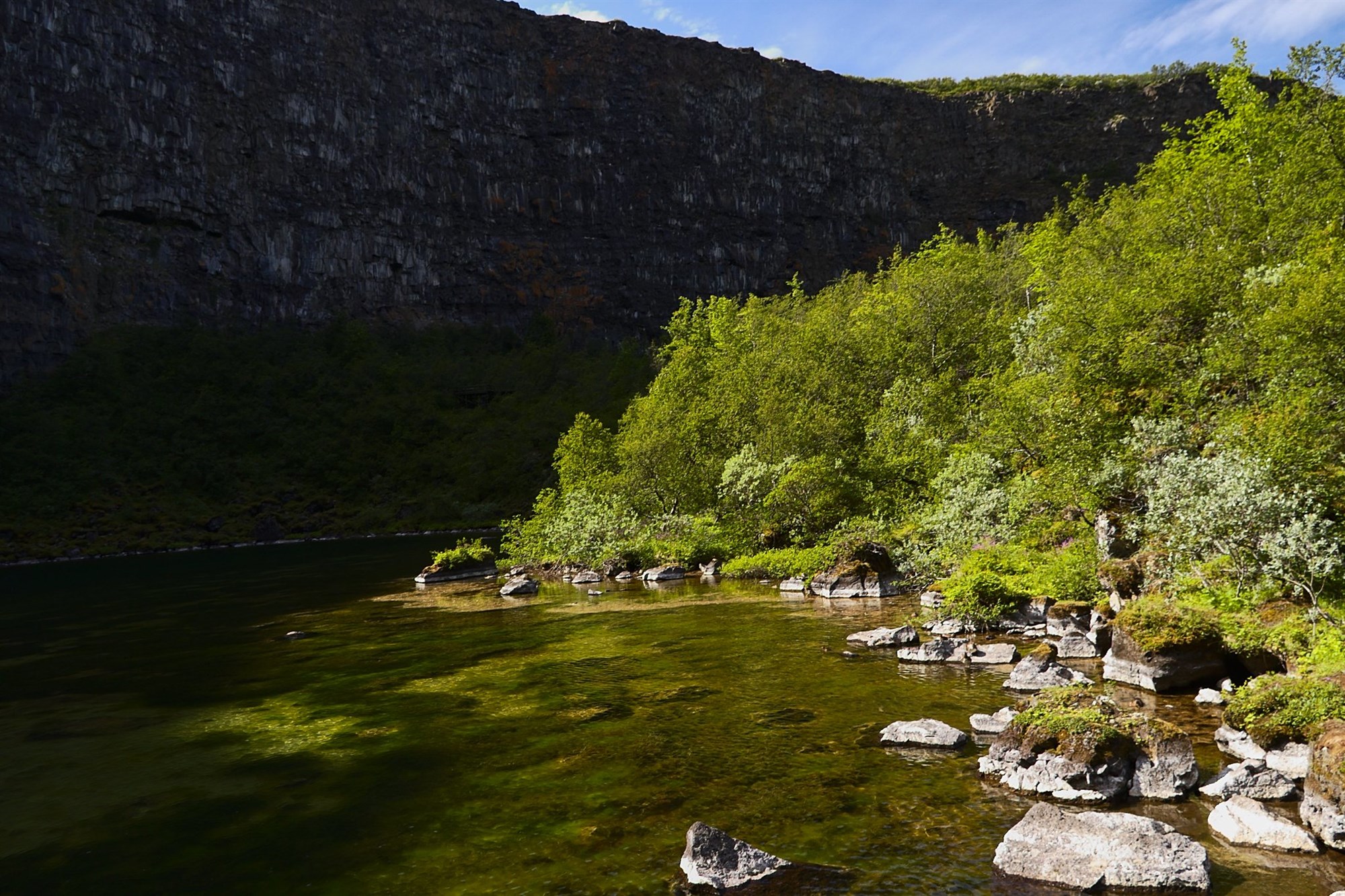 Photo: Rob Oo - Ásbyrgi - Flickr - No changes were made
You will love walking between the trees as the place is really peaceful and full of life!
Anywhere you will be, you will see the cliffs that can be up to 100 meters high. This gives you a unique experience, in a truly unique place. 
This is the penultimate main spot of your journey. And now, we're heading to the village of Husavik, our last place. 
HUSAVIK
This town is for many the most beautiful town in Iceland. The old harbor is amazing and the town is known for being the whale watching capital of Iceland. No wonder it was chosen as one of the locations in the movie; Eurovision Song Contest: the story of Fire Saga. Which made a big hit with the Icelandic people, who really love the Eurovision competition (even if they are not willing to admit it).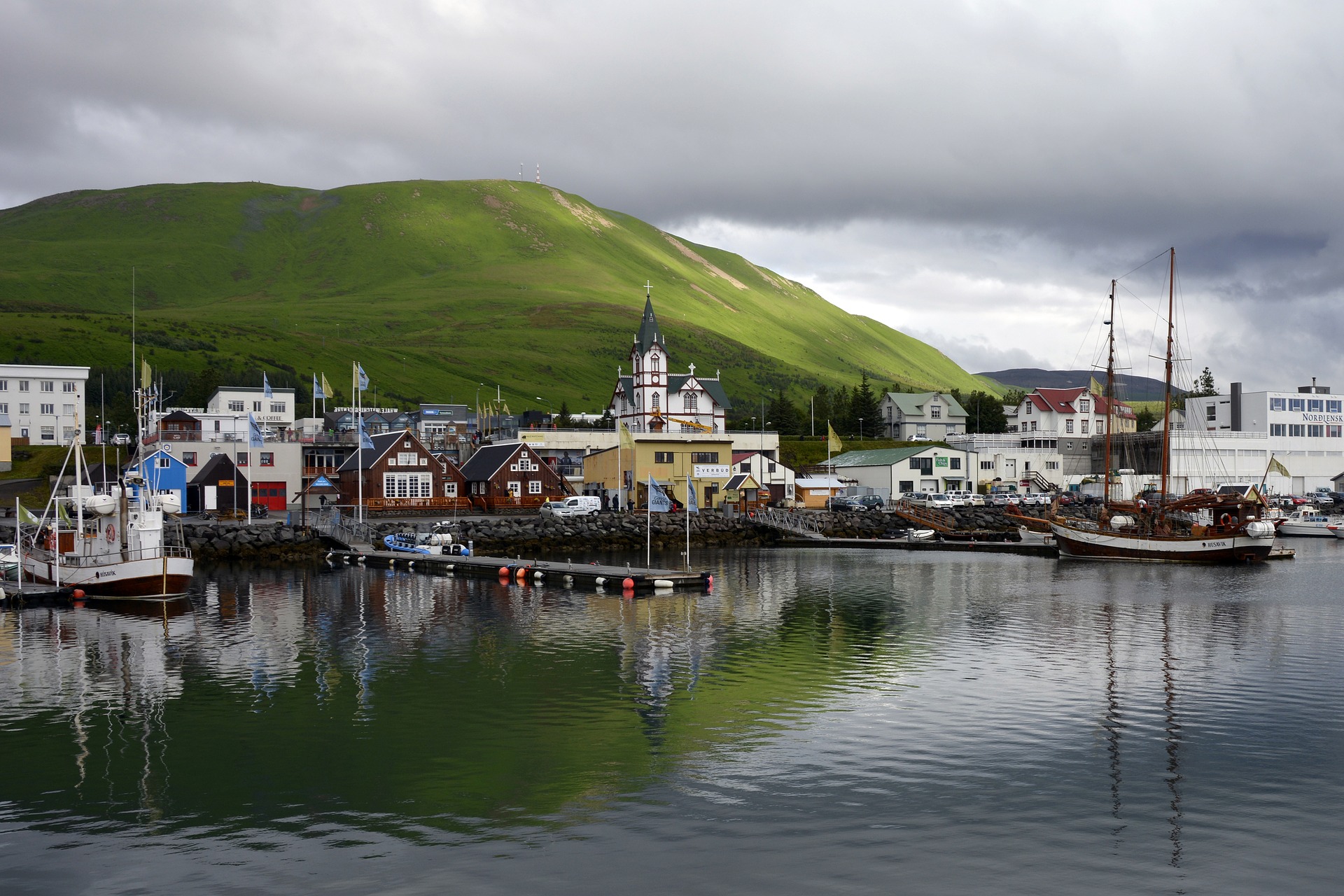 Photo: The picturesque harbor of Husavik
Despite the small size of the town, there are tons to say about this place. 
First: whale watching, three companies offer whale watching tours out of Húsavík: 
North Sailing
Gentle Giants
Husavik Adventures
North Sailing owns an amazing traditional wooden boat and will take you to Skjálfandi. It's a bay where there is a lot of whales of different species, especially during summer.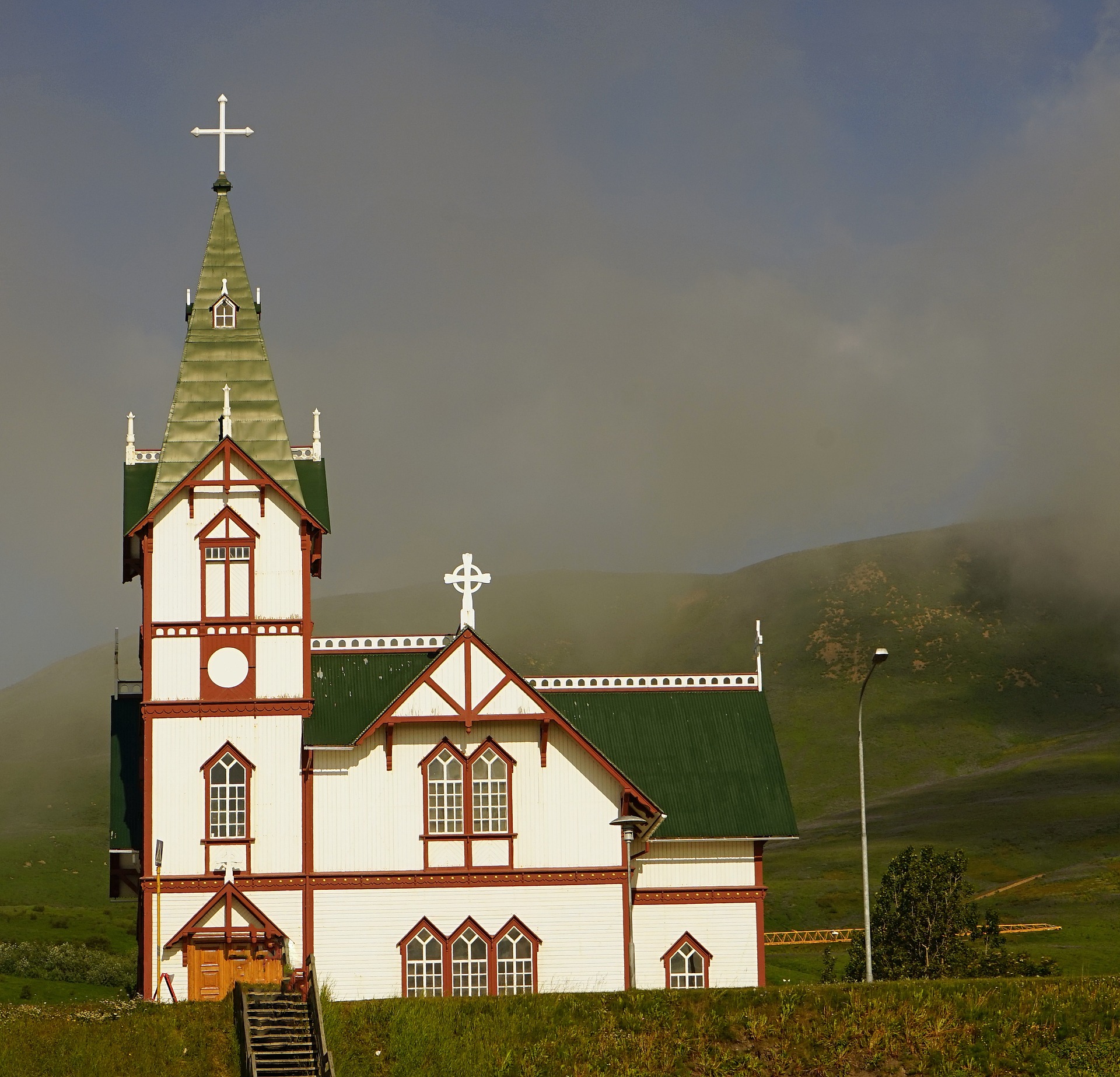 Photo: Built-in 1907, the Husavik church is unique in Iceland
This town deserves a full article, but here are some things you have to do in Husavik: 
Do a whale watching tour
Visit the Whale Museum
Visit the Exploration Museum (highly recommended)
Stop and eat at Gamli Baukur Restaurant. Especially after your whale watching tour
Visit Jaja Ding Dong bar
Enjoy the northern lights in winter
SIDES SPOTS OF THE DIAMOND CIRCLE
Besides the main spots of the tour, there are also a few places that we wanted to share with you because they're also not to miss. 
Most of them are around Lake Myvatn, that's why we mentioned that this area is where you will spend most of your time driving your campervan around. 

DIMMUBORGIR
Located really close to Lake Myvatn, Dimmuborgir was created by a volcanic eruption around 2300 years ago.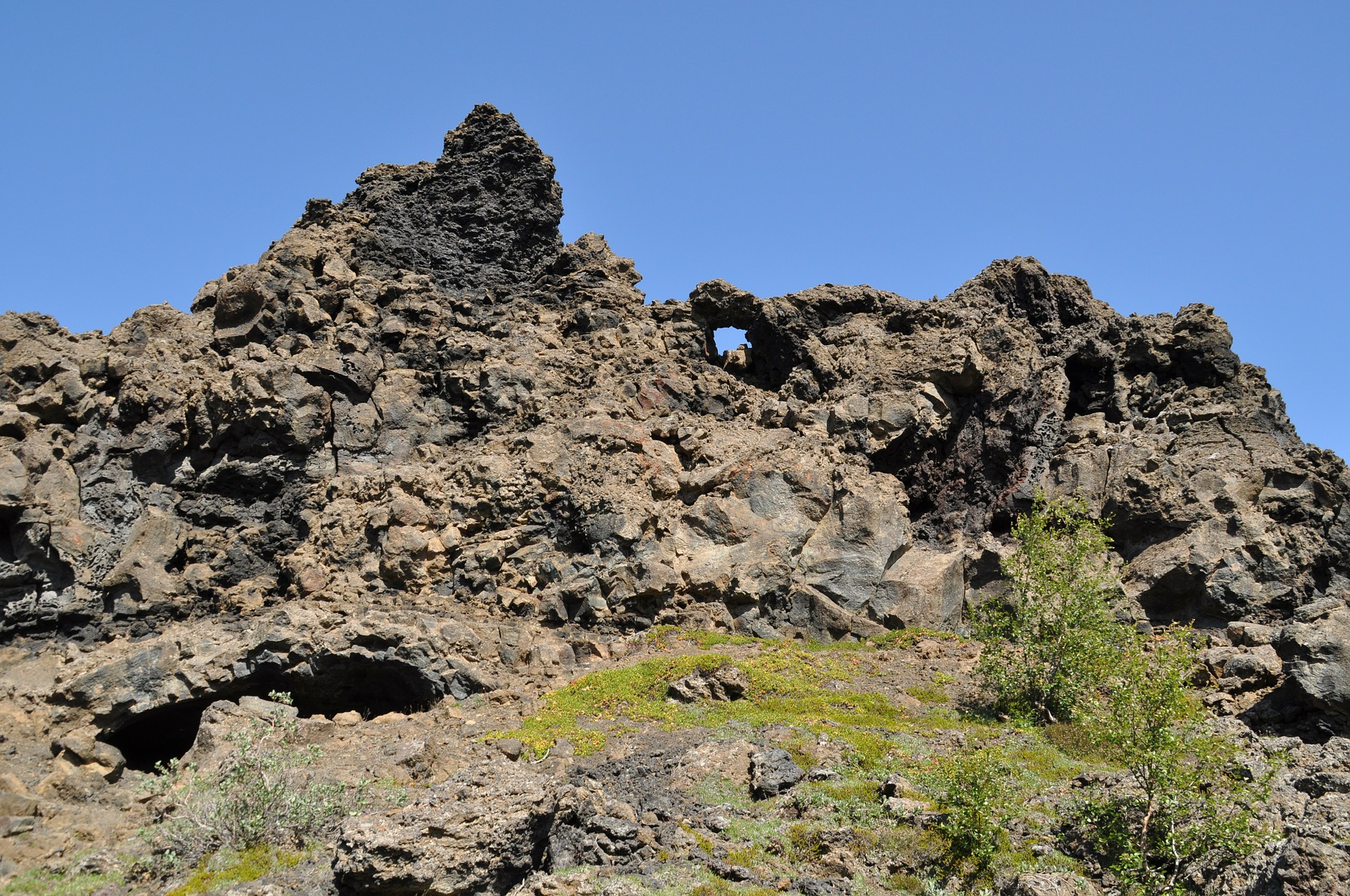 Photo: Lava creating amazing shapes at Dimmuborgir
Dimmuborgir means "Black Castles" in Icelandic, because of the shapes created by the lava.
You will enjoy here rock towers and tunnels all around you, some are open on both ends so don't hesitate to walk in!
Be careful not to get lost though because a lot of formations look the same. But as long as you follow the path, you won't get into any problems.
There are several paths actually, so you'll have the choice whether you want to stay here for a long time or just for a short walk. 

HVERFJALL
Next to Lake Myvatn is a large crater that you don't want to miss: Hverfjall.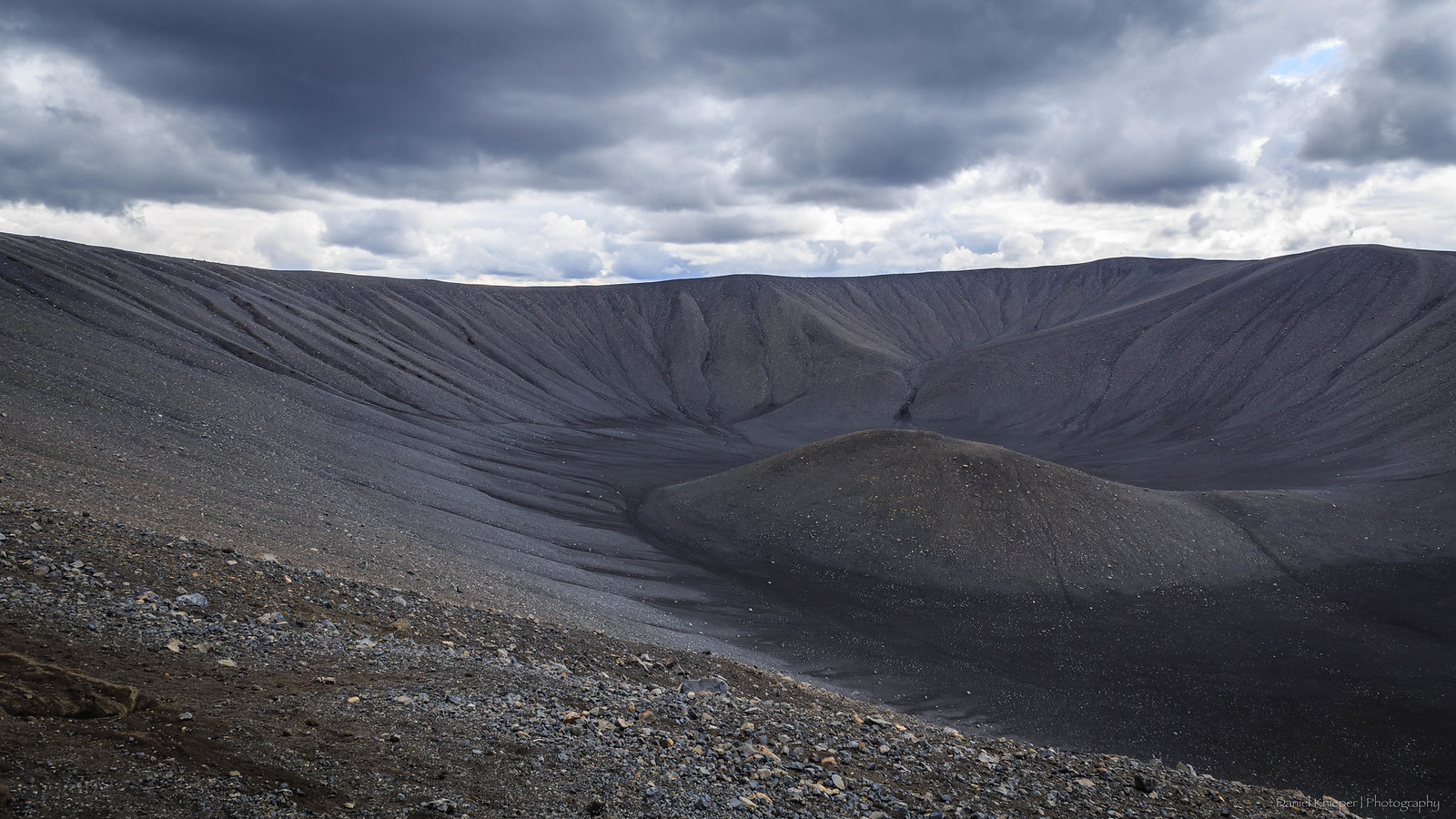 Photo: Daniel Knieper - Vulcano Hverfjall - Flicker - No changes have been made
Hverfjall was created around 2500 years ago and is impressive by its size. The diameter is 1km and it is possible to walk all around the crater!
To go up the rim, you'll find two paths, one from the northwest, the other one from the south. Be careful though, in order to protect this natural spot, it is forbidden to go to the crater by any other way than walking, so don't try to go with your KuKu campervan ;)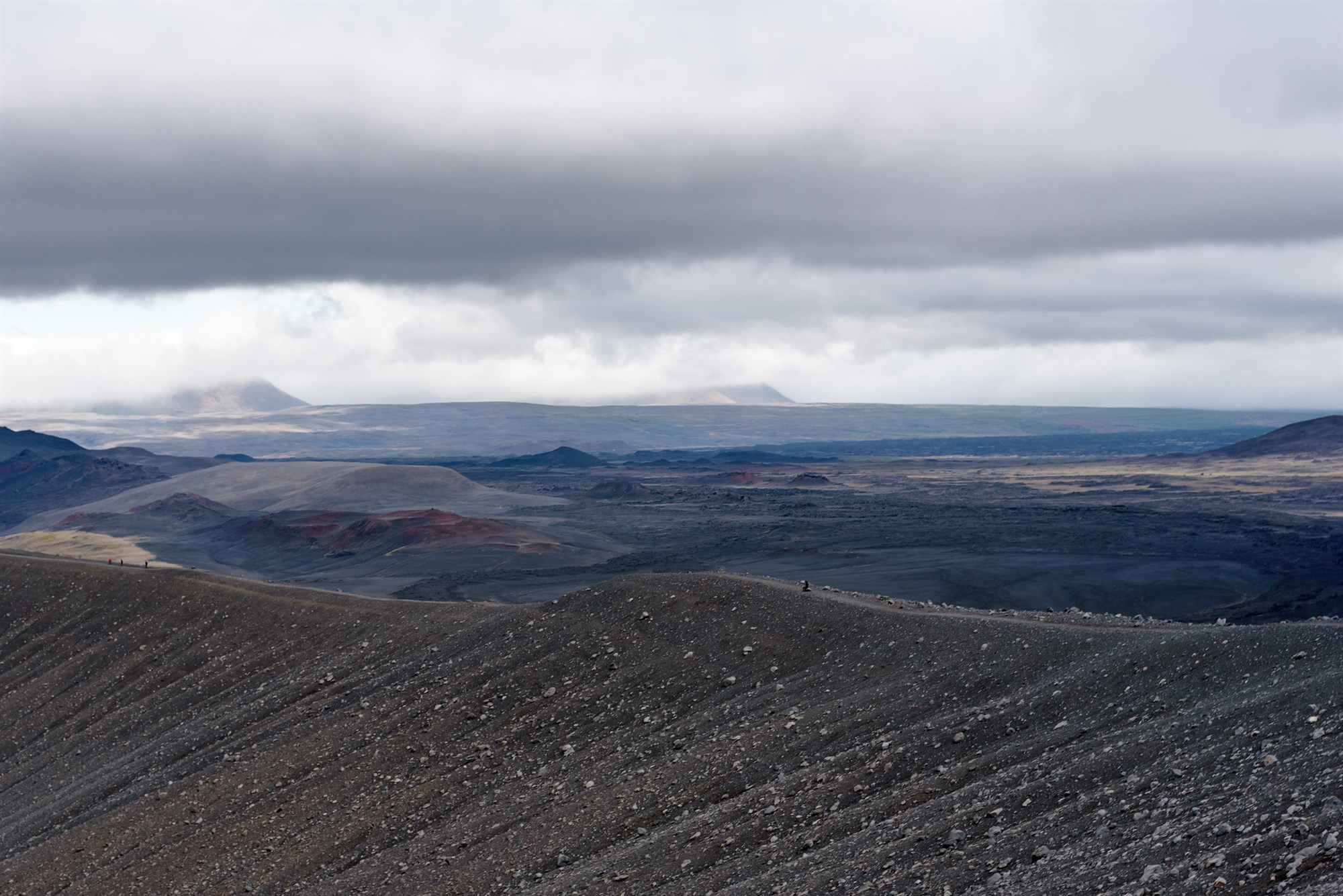 Photo: brookpeterson - Hverfjall rim - Flickr - No changes were made
Once you're up there, you will have a breathtaking view of the surroundings, and on Lake Myvatn!
It will take more or less 10 mins to go up, and walking around is the most popular activity here. So be sure to have nice hiking shoes, warm clothes, and a windbreaker... Because it can be very windy up there!

GRJOTAGJA
This cave is one of these hidden places you will love for sure. Close to lake Myvatn, again, getting in the cave will make you feel like going to another world.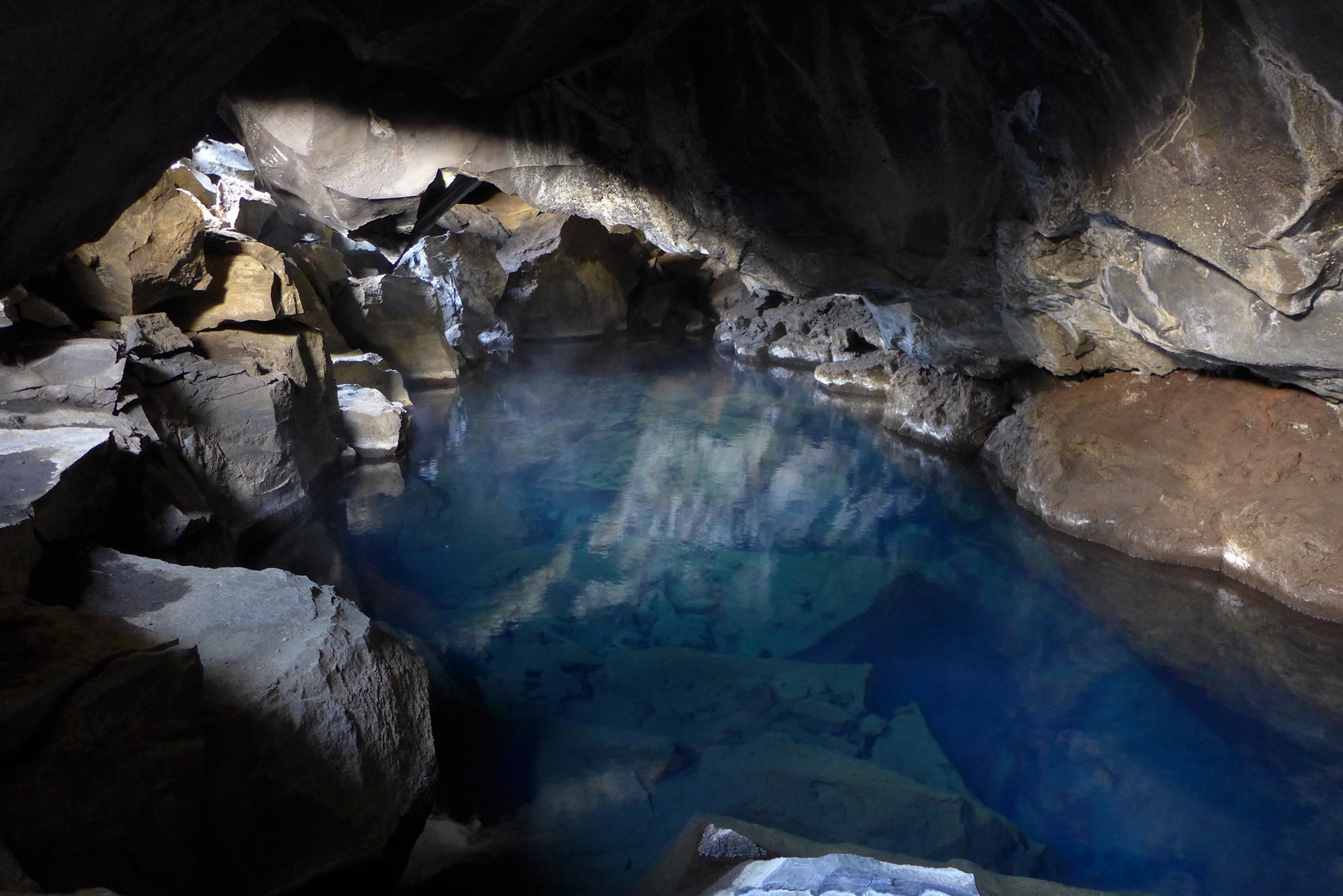 Photo: Sebastian Werner - Grjótagjá - Flickr - No changes have been made 
As you can see, Grjotagja is a cave filled with water. It is an incredible place to visit. You can enjoy the peacefulness of this place but also the incredibly transparent water.
By the way, this water is naturally hot, but it's unfortunately forbidden to take a bath in it. This is because the area is still very active, and water can become really hot without notice and can harm you if you're in.
But this takes nothing from the beauty of the place, so when you're around Lake Myvatn, do make a quick stop at Grjotagja cave!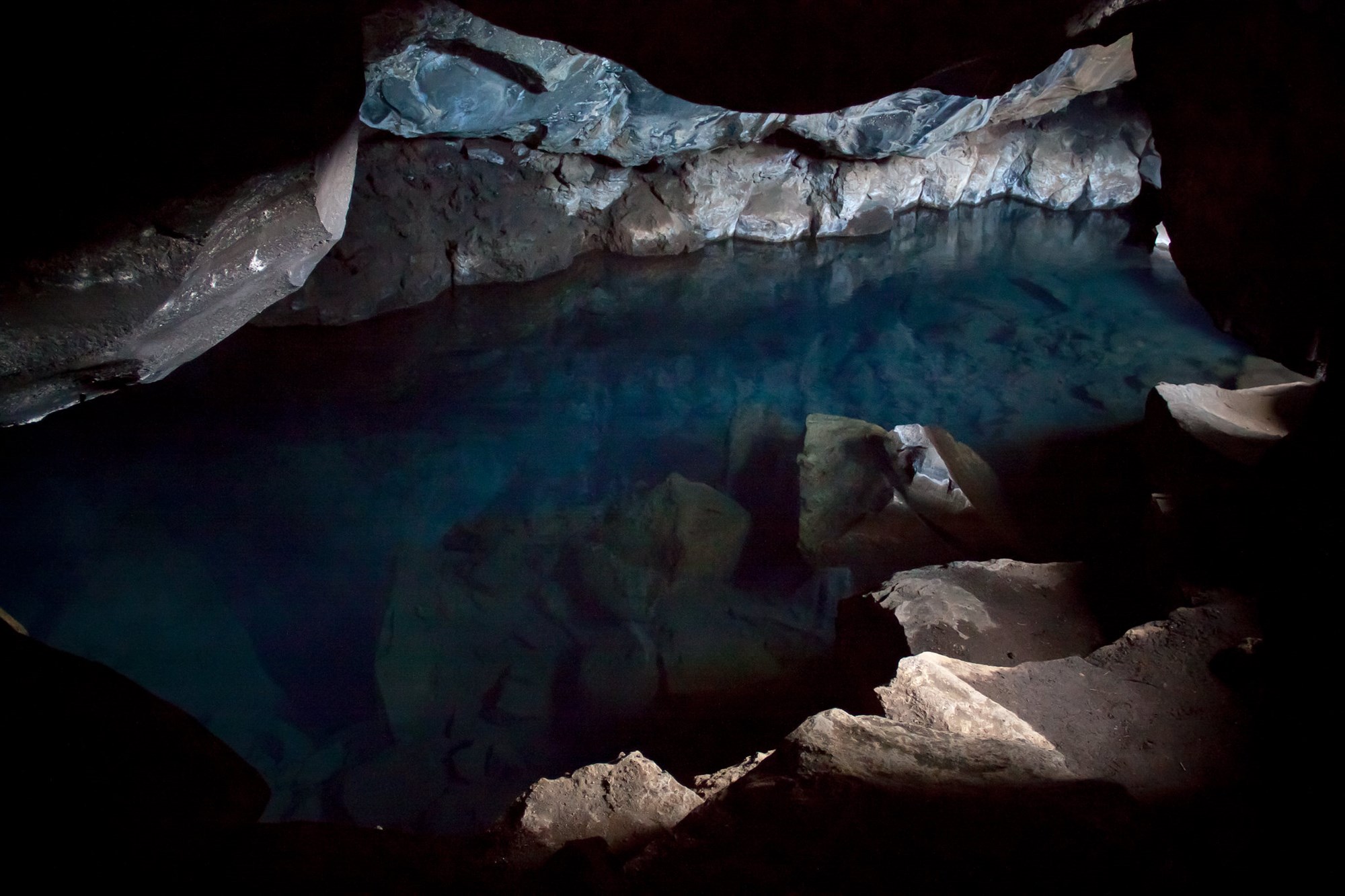 Photo: Julien Chatelain - Grjótagjá - Flickr - No changes have been made
This place is also known for being where Jon Snow and Ygrit have sex in Game of Thrones. Wanna have proof? Read our article about the Game Of Thrones filming locations in Iceland!

HVERIR
Hverir is a geothermal field, and probably the most stinky place in Iceland.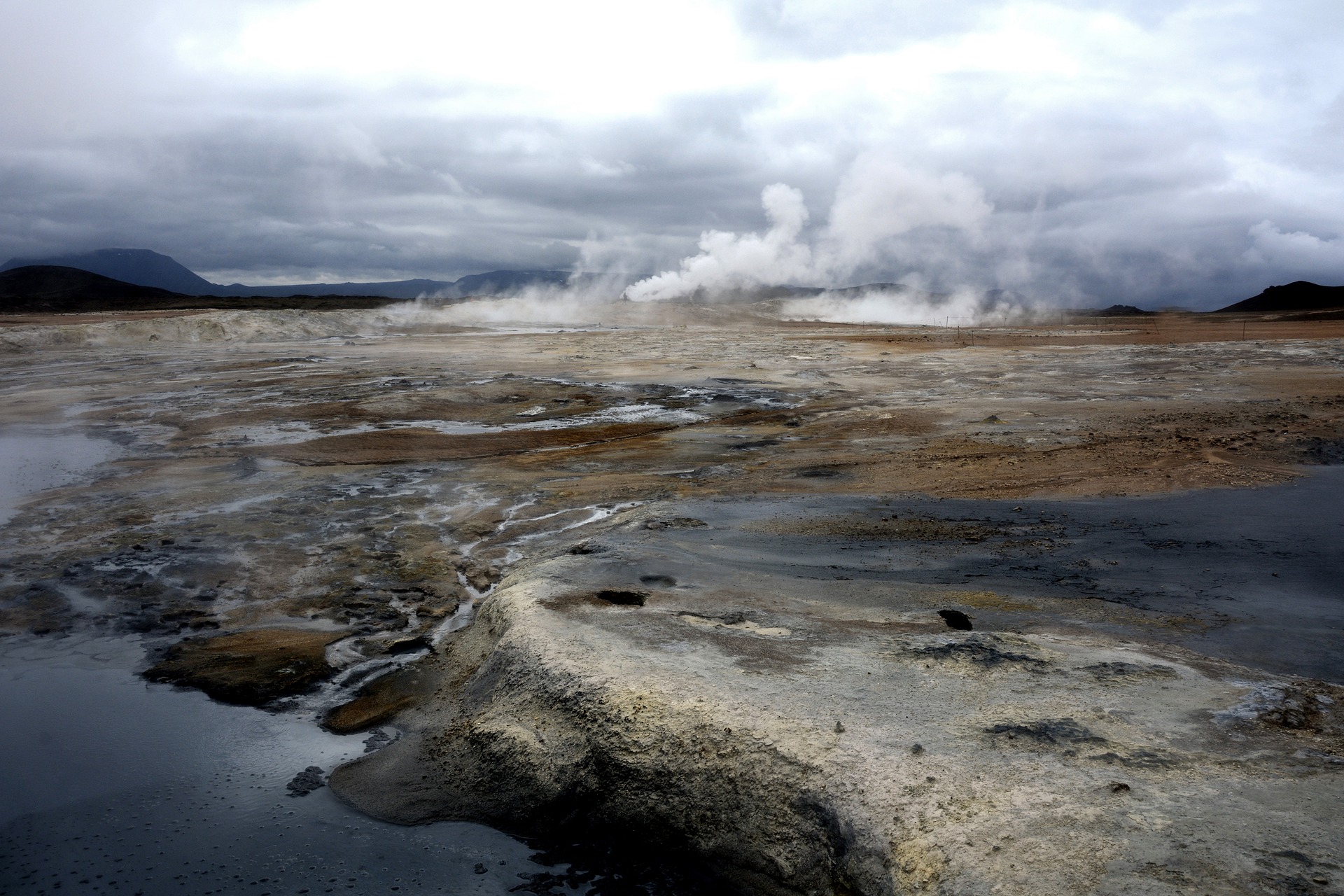 Photo: Hverir is the most incredible geothermal field in Iceland
It is composed of many smoking fumaroles that will make you feel like you are on another planet. 
You won't need to walk a lot to reach them, as the car park is just next to the area. So you won't miss it as you can easily see it from your campervan on Route 1.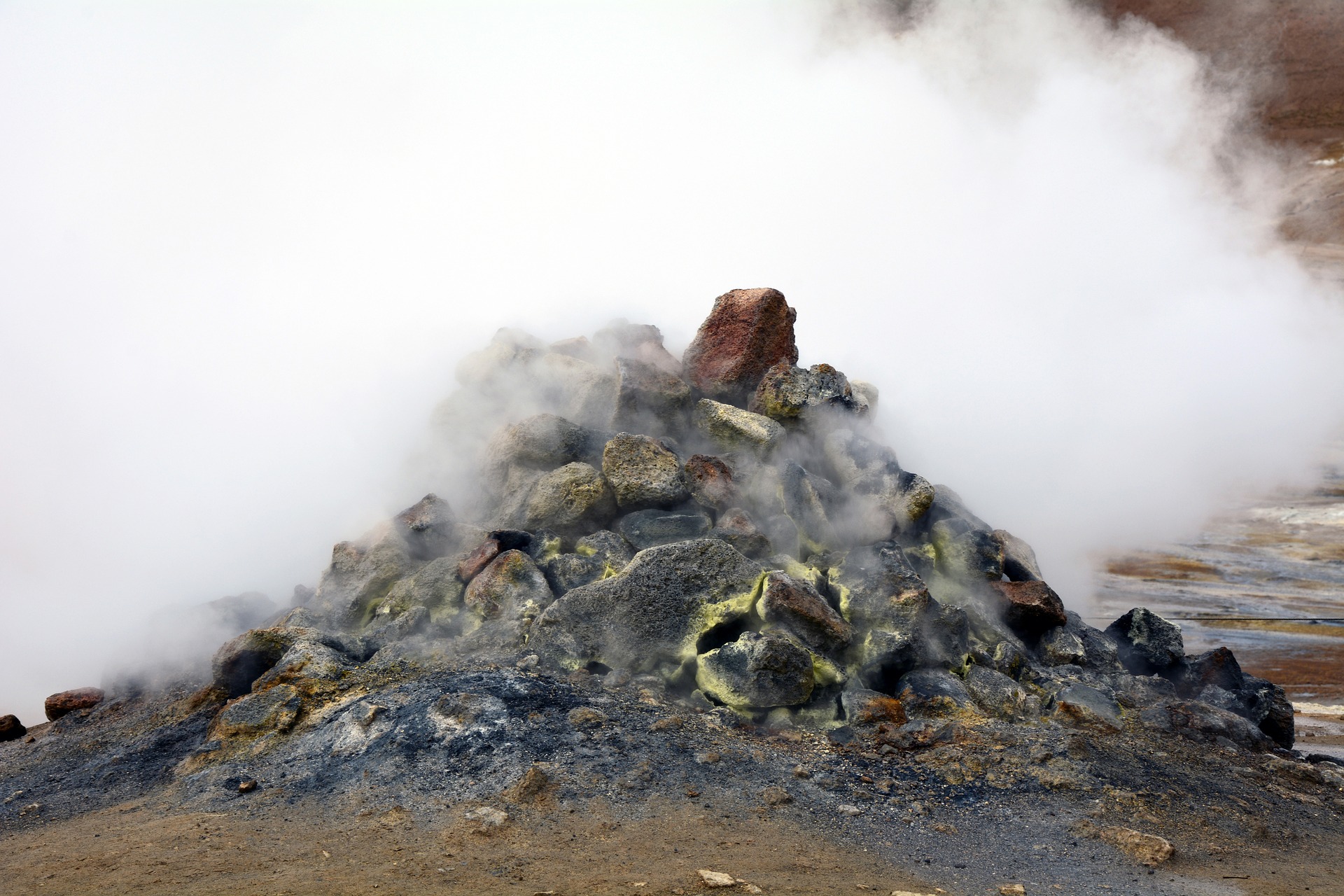 Photo: Thanks to the smoke, Hverir is easy to spot
These fumaroles are caused by the magma chamber which stands around 3km below. When the water goes deeper, it gets warmed and goes up to the surface, taking with it hydrogen sulfide, which is the reason for the smell of rotten eggs. 
But don't be scared of that, the place will offer you a unique show and incredible colors that will make you forget all about the smell! 

KRAFLA
Now we are heading a bit more north of Lake Myvatn to visit a beautiful crater lake, the Viti crater.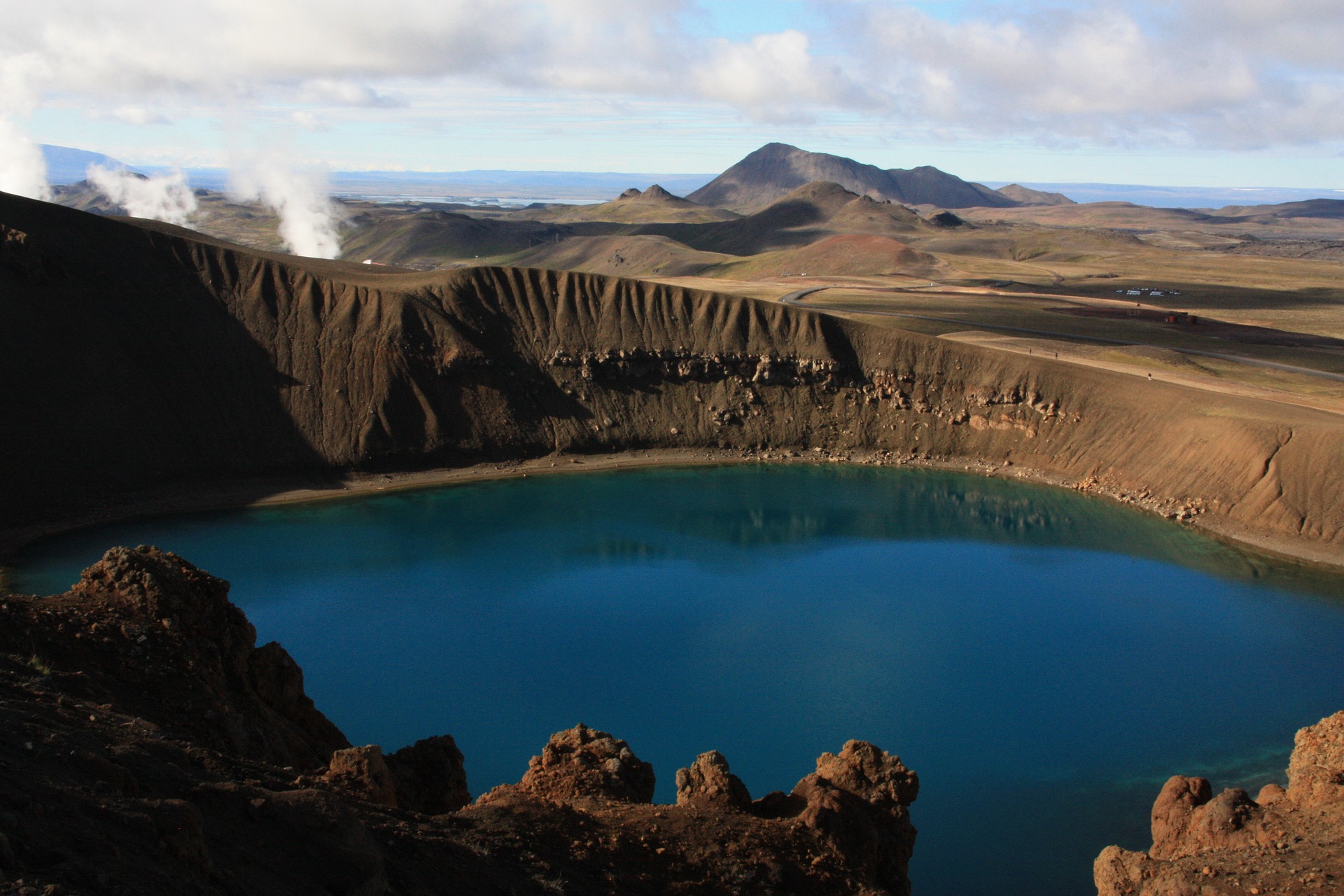 Photo: The small lake makes Viti crater unique and incredibly beautiful
This crater is a part of the Krafla caldera, the most active volcanic area in north Iceland. 
It is way smaller than Hverfjall, with a diameter of 300 m, it is possible to walk around it in 15 to 20 minutes.
The surrounding landscapes are truly amazing and you will enjoy the surrounding mountains. You will also have a really nice view of the Krafla power plant.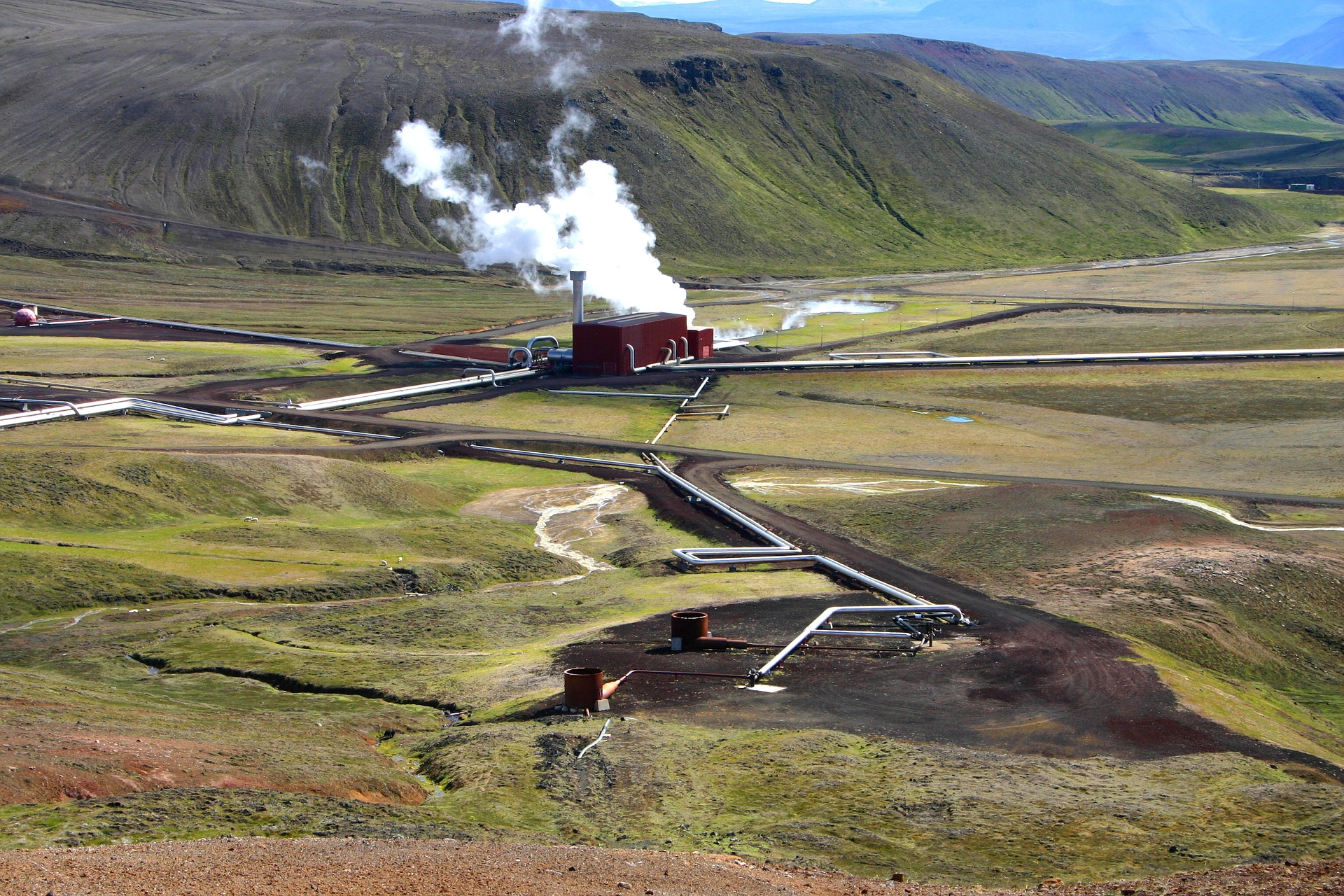 Photo: Krafla power plant in North Iceland
This power plant is the largest geothermal plant in Iceland and reminds us how active this area is. It is taking power directly from the ground to produce electricity.

HLJODAKLETTAR
Also called the "Echo Rocks", this place is composed of naturally shaped rock formations.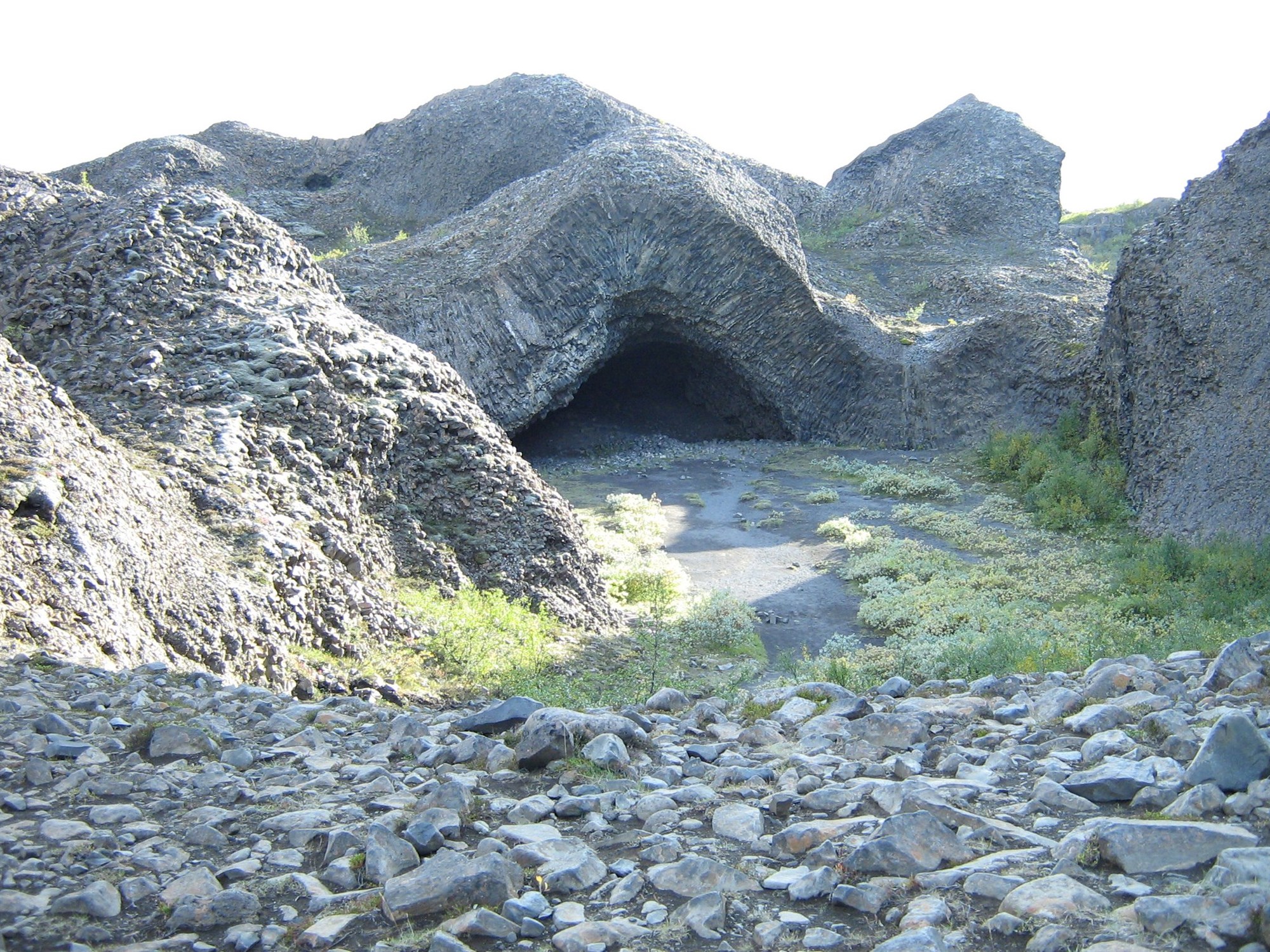 Photo : Bernello / CC BY-SA (creativecommons.org/licenses/by-sa/4.0)
The one you can see in the picture is called "Kastali", or "the castle" in Icelandic. It is really pleasant to walk around and see how nature can create such beautiful shapes! 
This "castle" is made with thousands of basalt columns, making you think that it is handmade, but it is not! 
Be careful though, Hljóðaklettar can be reached only via Road 862 (one of the roads to Dettifoss) which is closed during wintertime so don't go at this time with your KuKu campervan. 

TJÖRNES
Located in the northern part of Iceland, the Tjörnes peninsula is mostly known for its birds watching spots.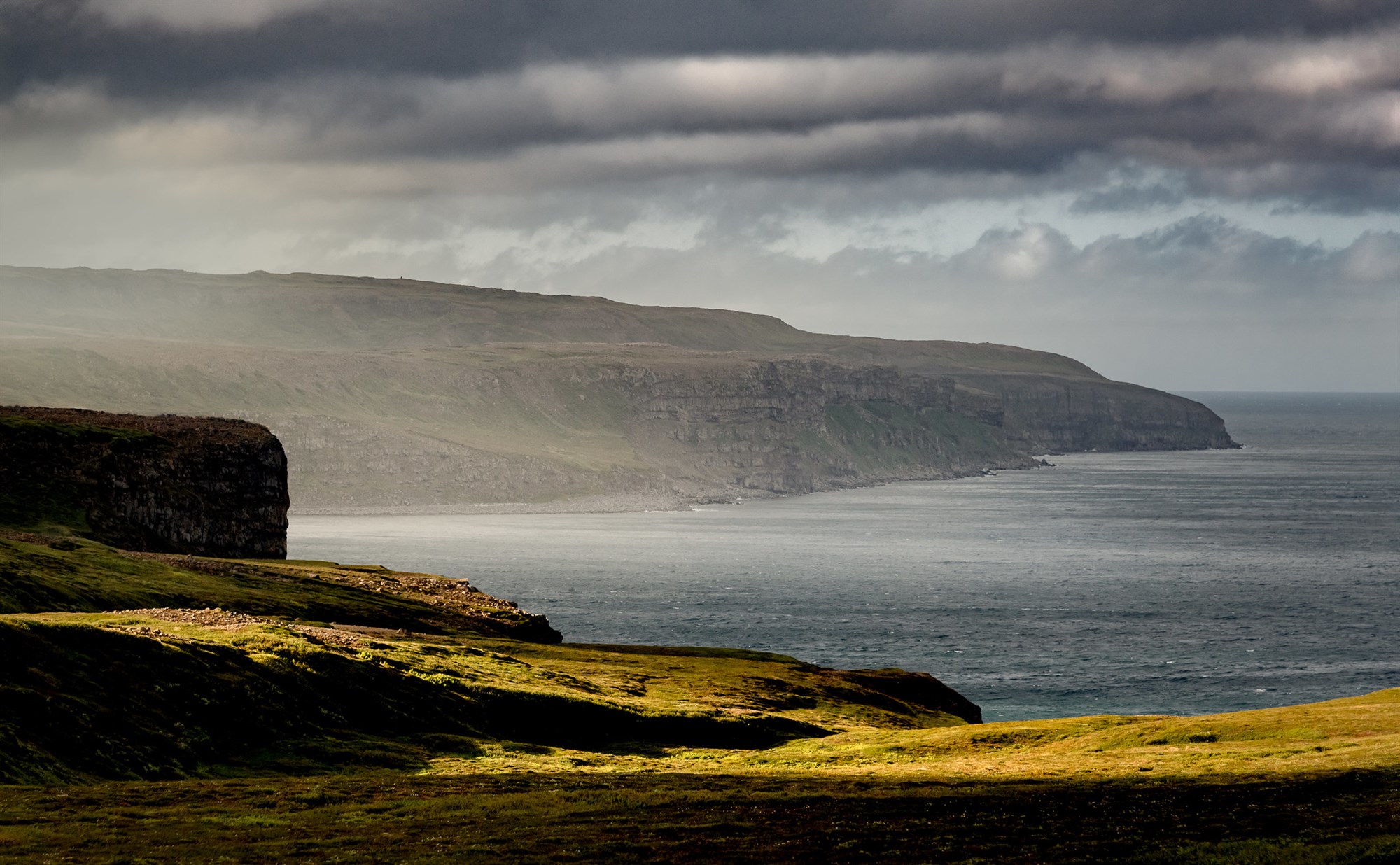 Photo: Bernd Thaller - Iceland's North Coast - Flickr - No changes have been made
A lot of puffins stay here to breed during summer, before heading out to sea in winter. The most famous spot is Hringsbjarg's cliff. An observation deck has been built here allowing visitors to see the birds safely.
But this is not the case everywhere in the peninsula, so we highly advise you to be cautious when walking on the cliffs.
If you want to discover more, you can read our article about puffins in Iceland.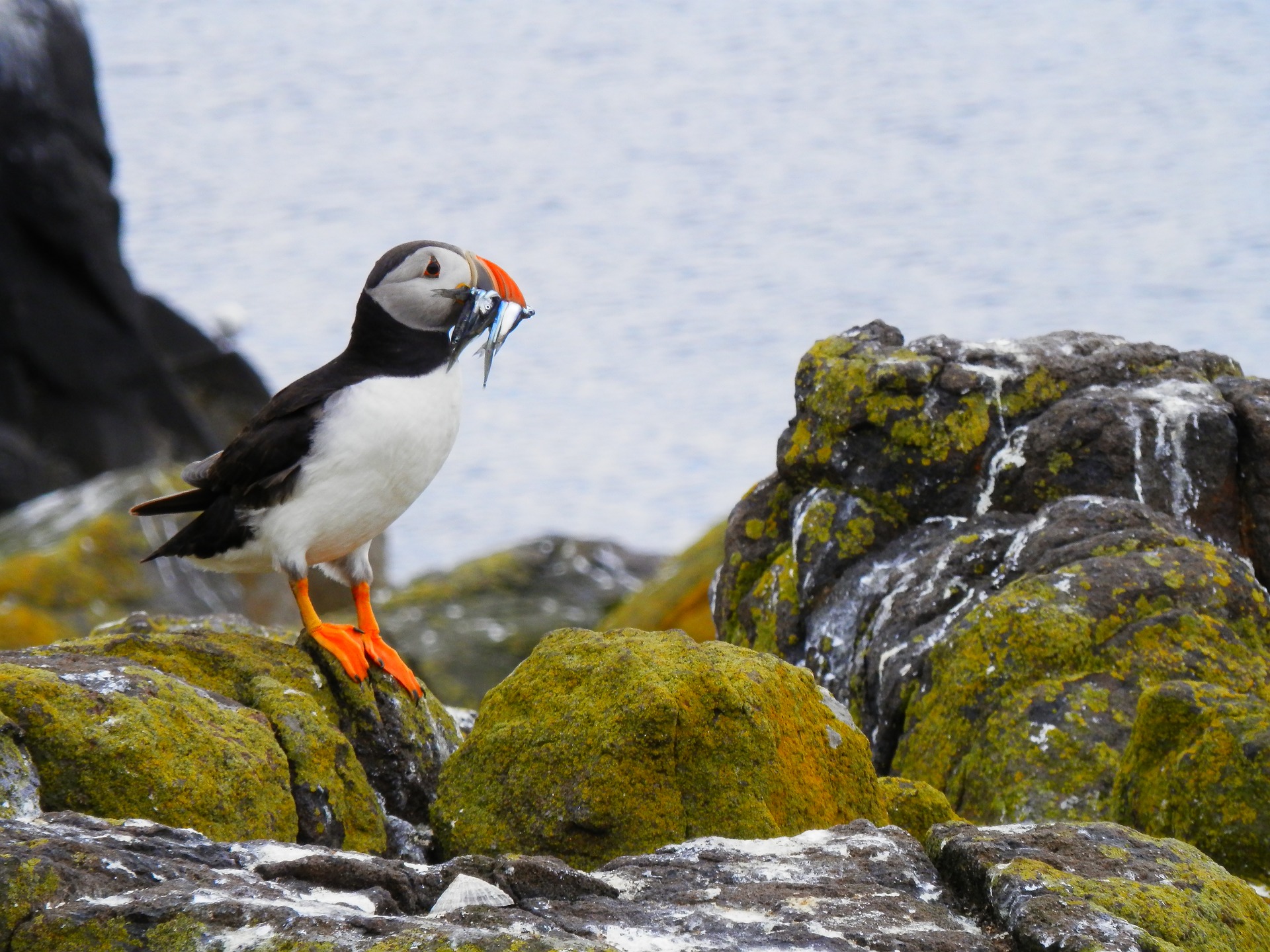 Photo: The Tjörnes peninsula is one of the best puffin spots in Iceland
Coming to this peninsula is also a great way to experience the north coast of Iceland. When looking out at sea, it is incredible to realize that the next land mass in the north is the Arctic.

BONUS LOCATION: THE CITY OF AKUREYRI
We know Akureyri is not part of the Diamond Circle, but believe us, this city is worth the detour. It can also be considered at the starting point of the tour.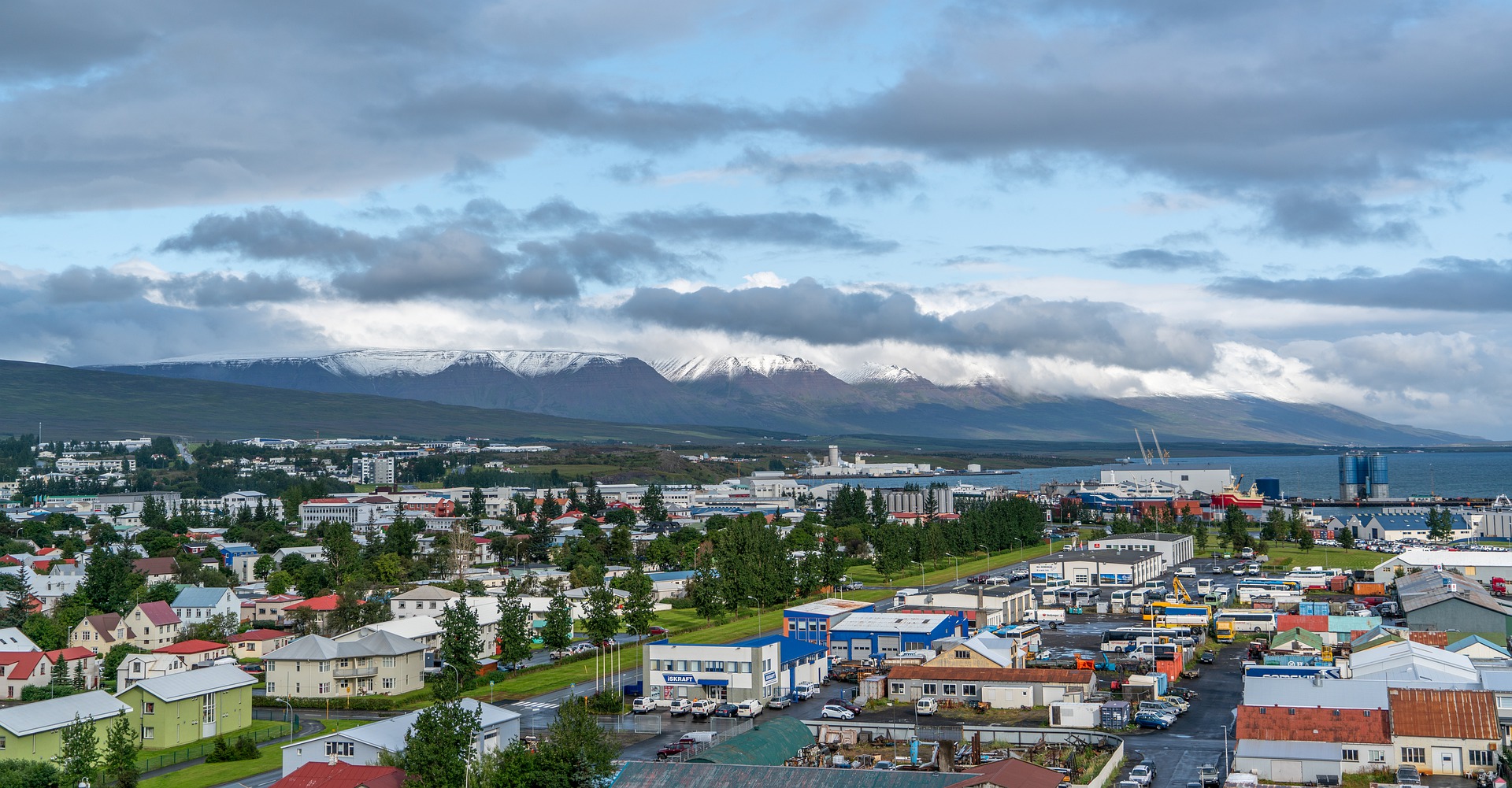 Photo: Akureyri is one of the best cities in Iceland
Akureyri is the second biggest city outside the Reykjavik area. It is inhabited by around 19 000 people and is nicknamed the Capital of North Iceland. 
There is plenty of things to do here, but one thing you shouldn't miss for sure is its church: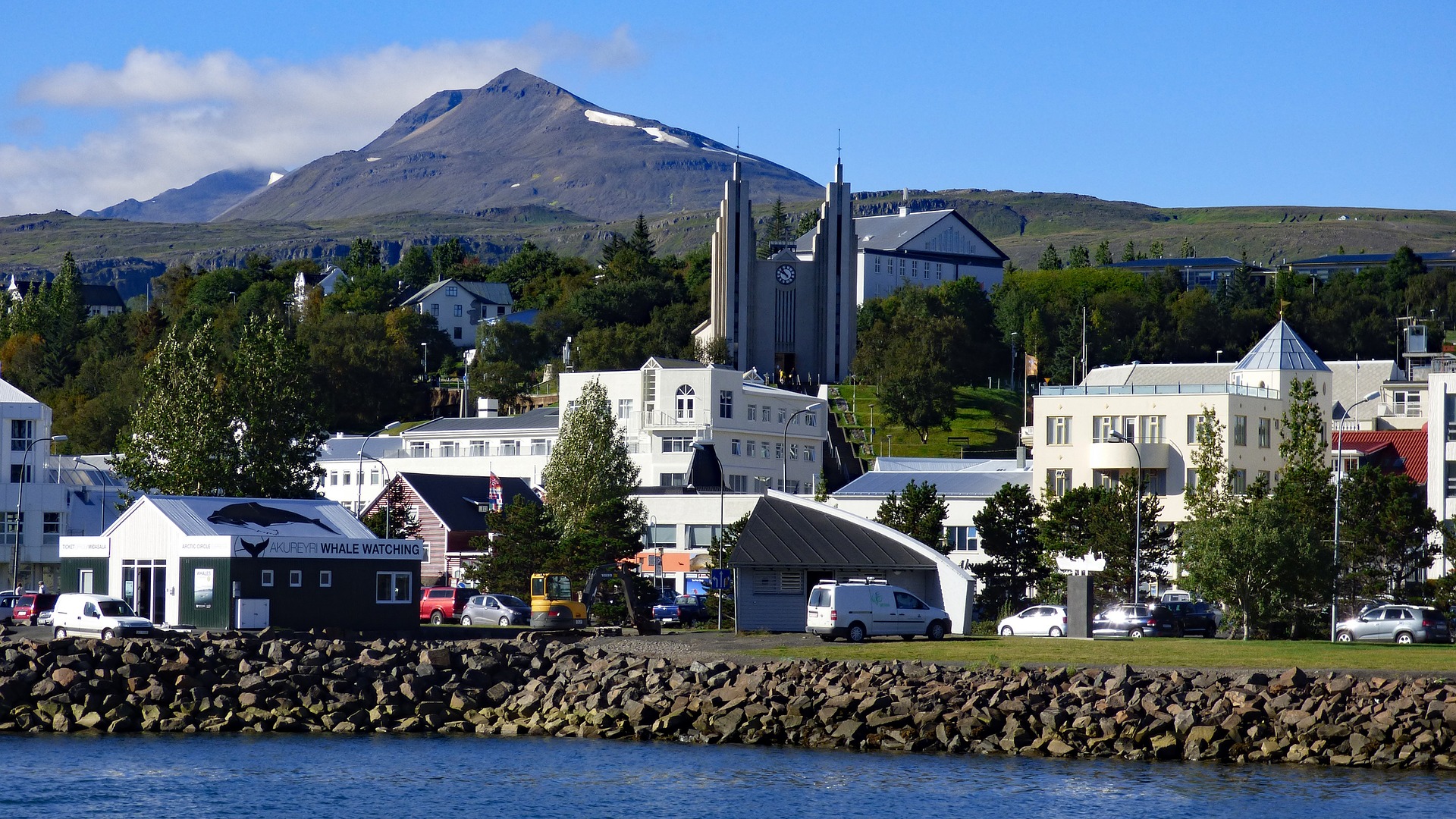 Photo: Akureyrarkirkja is standing proudly above Akureyri
Finished in 1940, this Lutheran church has a unique architecture, one that you probably have never seen before. 
Churches are very important to Icelanders. And Lutheranism, one official religion in Iceland, is still very strong with about 60% of the nation registered in the National Church of Iceland.
Activities in Akureyri:
Visit the Arctic Botanical Gardens (Lystigarðurinn) 
Go to the Akureyri swimming pool
Go whale watching
Take a beer bath at Bjórböðin
Visit the Laufás turf houses
Visit the church
Go horseback riding
Have a beer in the main street
Visit the Christmas Garden (know locally as the Christmas house)
Have icecream at Brynja
You will probably not have enough time to do everything. But that's not a problem, because your experience in Akureyri will be memorable. No matter what you will do there. 
DIAMOND CIRCLE VS GOLDEN CIRCLE IN ICELAND
What are the differences between those two tours? 
There are more places to visit in the Diamond circle, and some activities (whale watching for example) last for a few hours.
The Golden Circle can be done in 1 or 2 days, but count 3 to 5 days to do the full diamond circle driving a campervan.
The Diamond Circle is more diverse
There are more diverse things to do on the Diamond circle. You will discover waterfalls, rock formations, birds, whales, towns, volcanoes, lakes, incredible landscapes, and so on. This is why you have to do this tour in Iceland. 
They are far away from each other
The Golden Circle is located in South-West Iceland, making it easy to reach from the capital area. Unfortunately, it will take you at least 4h30 of van driving to reach the starting point of the Diamond circle (if we consider Akureyri as the starting point). 
The Diamond Circle is made for a longer stay
You already get it from the previous points... The two tours are not made for the same kind of travel in Iceland. The Golden Circle is perfect for a short stay, it's a shot of Iceland for a weekend. For a stop over for example. 
The Diamond Circle is better for longer stays. It's perfect for those adventurers who want to deeply discover the land of fire and ice. Or are perhaps returning to Iceland and have already seen what the Golden Circle has to offer, and are coming back to see more of Iceland.
CAMPING AROUND THE DIAMOND CIRCLE
We can't cover Diamond Circle without telling you where to camp on the way!
Here is the list of campsites where you can stop for your nights during your amazing journey: 
Laugar Camping:

Laugavöllur

, Laugar, Iceland
Lifsmotun camping: Hjallavegur St, Laugar, Iceland
Hlid campsite: Hraunbrún 660, Reykjahlíð, Iceland
Ásbyrgi campground: Ásbyrgi, 671 Kópasker, Iceland
Vesturdalur campground: Ásbyrgi, 671 Kópasker, Iceland
Camping 66.12 NORTH: Mánárbakki 641, Húsavík, Iceland
VISIT THE DIAMOND CIRCLE WITH YOUR KUKU CAMPERVAN!
We believe that the best way to discover North Iceland is with a campervan. You will have the freedom to choose the spots where you will visit and how long you stay there, all depending on the weather and your interests. 
You don't want to be part of a guided tour where somebody else will choose your next stop for you, when to eat, where to sleep, etc.
You want the real adventure, and most of all, you want to experience the nature of Iceland. And the best way to do that is definitely with a Kuku campervan.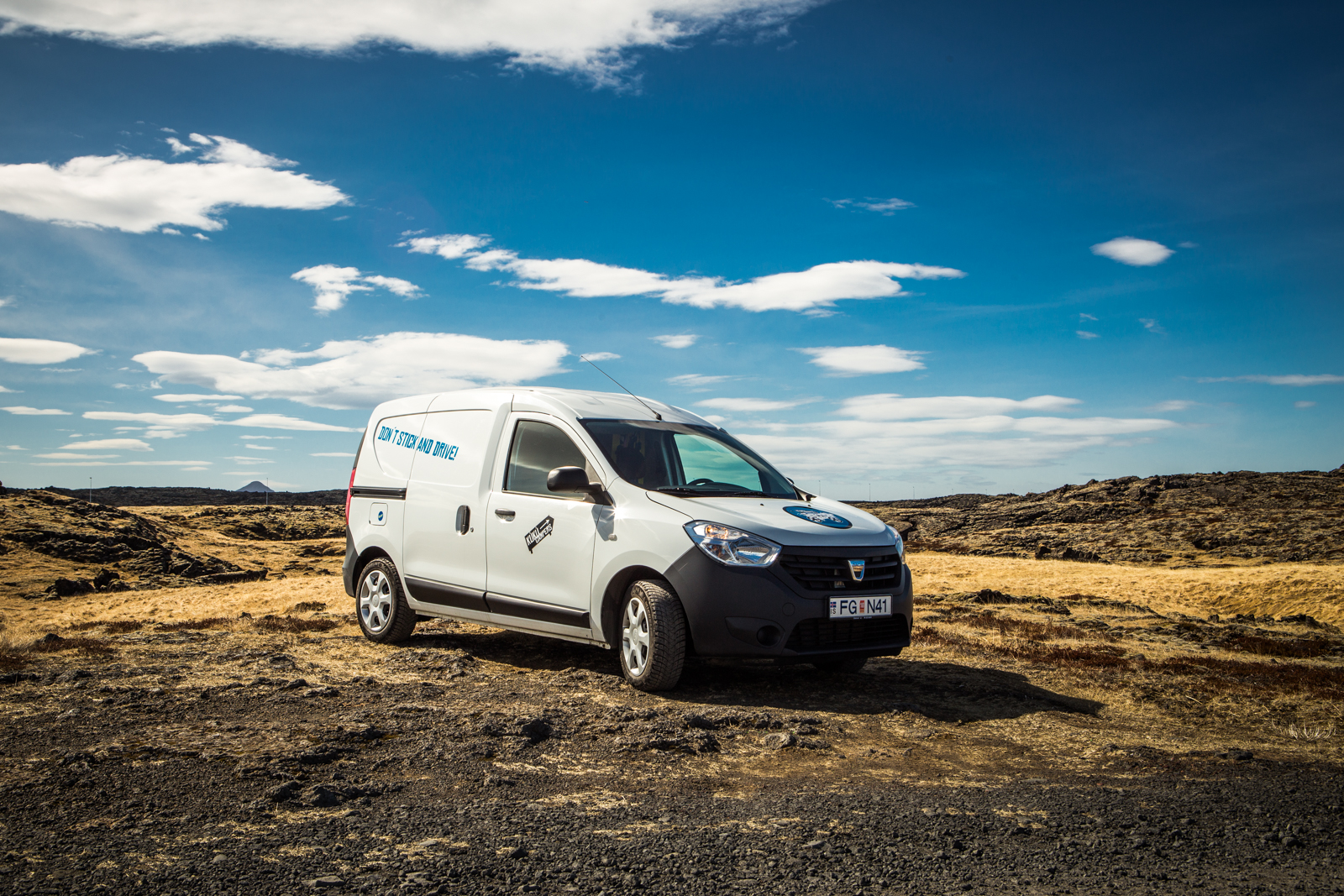 Photo: Diamond circle Iceland self-drive - A Category Kuku campervan
But "Why would I choose you?", you might say?
Well, that's the simple part: 
We offer the largest choice of campervans in Iceland
We offer unlimited mileage, be as free as a horse and go wherever you want!
Extra driver for free: just because you are sexy
Get the big experience of Iceland without spending all of your big bucks
All of that for the best price you can ever get
So just check our availability NOW and pack your bags because soon you'll be travelling in Iceland my friends!