The most beautiful waterfalls in Iceland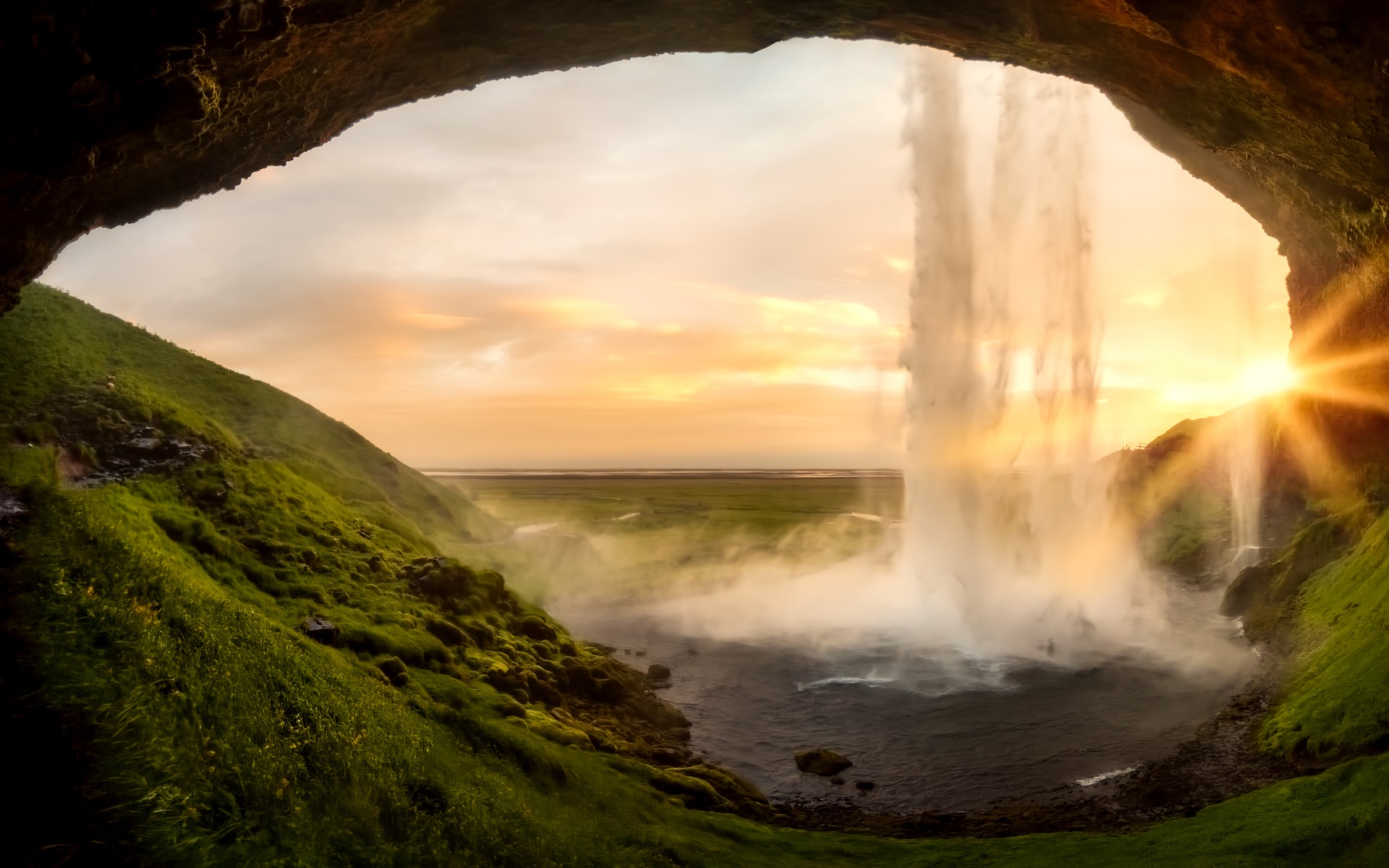 Discover the best Icelandic waterfalls
Iceland is probably most famous for its stunning and out-of-this-world waterfalls, which is why at KuKu we decided to introduce you to the most famous of them. This list will guide you to the must-see waterfalls of the island of fire and ice, if it's your first time in Iceland, you must start with the basics!
If you already visited the main touristic spots of Iceland, you should consider moving up to the next level by reading our out-off-the beaten-path Icelandic itinerary right here !
Before we get started, a little note about the best way for you to discover all the waterfalls that Iceland is hiding:
Road tripping in Iceland is the best way to experience the amazing waterfalls that are scattered around Iceland. By choosing to travel in a campervan, you have total freedom to move as you wish, and to do things at your own pace! Believe us, you don't want to spend your money on guided day tours. What you want to do is to discover Iceland by yourself. You want to go wherever you want, whenever you want - with the unexpected side of the trip that eventually makes your holiday unforgettable! 
To fully appreciate your campervan road trip make sure you:
Plan ahead and create a (non-exhaustive) list of the places you want to visit.
Learn about access to the waterfalls, are they easy to access? Do they require a hike to get there? So you will know how many beers to pack! (We'lle cover that in this guide)
Consider renting a 4x4 rather than a passenger vehicle if you want to admire the falls only accessible through the famous F-roads. 
Get the right equipment, hiking boots, rain jacket, waterproof clothes, and oh yah rain jacket! And do put on a sweater like mama always tells you to!
And finally, book a KuKu campervan!
KuKu Campers is the largest van rental in Iceland, with more than 300 vehicles for rent, and 14 different categories of campers, you will find your perfect travel buddy for sure. So what are you waiting for? Get your own campervan for cheap now with the largest and sexiest rental company of the country ! 

---
Oftentimes, other natural sites or activities are near the waterfalls we will mention, so don't hesitate to browse our blog to discover them!
---
Now the most beautiful waterfalls in Iceland!
Iceland is full of treasures, and our waterfalls are definitely one of them.
As you are planning your trip, it can be hard to decide which waterfalls to visit, especially in a country that has literally hundreds of waterfalls to choose from! 
To make your life easier, we have chosen a handful of the most beautiful waterfalls in Iceland. Each one is unique and will offer you something new, breathtaking, and memorable. They really are incredibly beautiful, and some of them are even TV superstars now (Check our list of Game Of Throne locations in Iceland).
You will notice that most of their name ends with "foss", which simply means "waterfall" in Icelandic.
The Gullfoss waterfall translates into "golden falls", is a part of the "Golden Circle" sightseeing route. This route consists of three stunning locations, the site of Geysir and its famous geyser, Thingvellir National Park, and Gullfoss. If you want to read more about the golden circle you can check out our Golden Circle guide.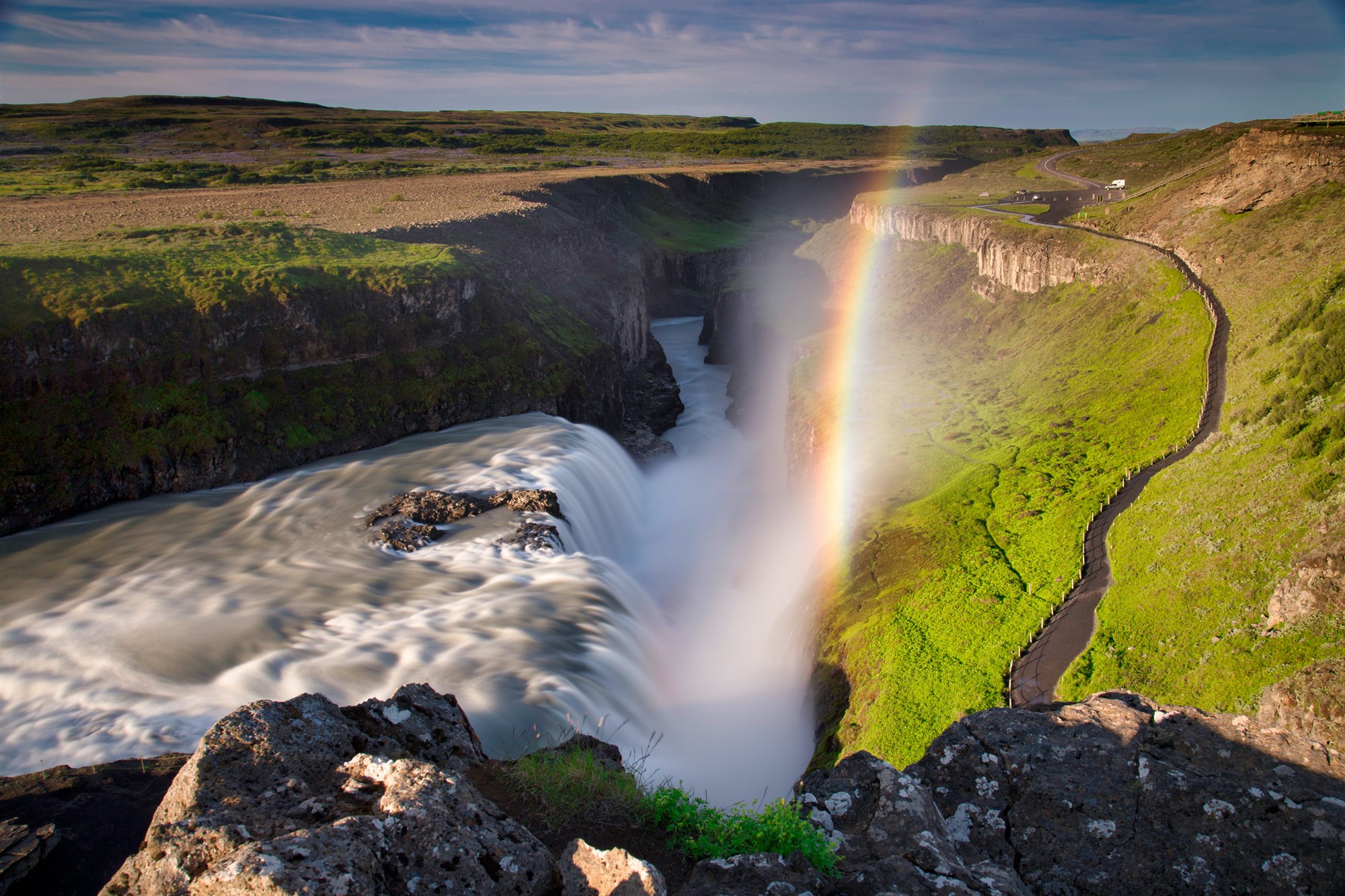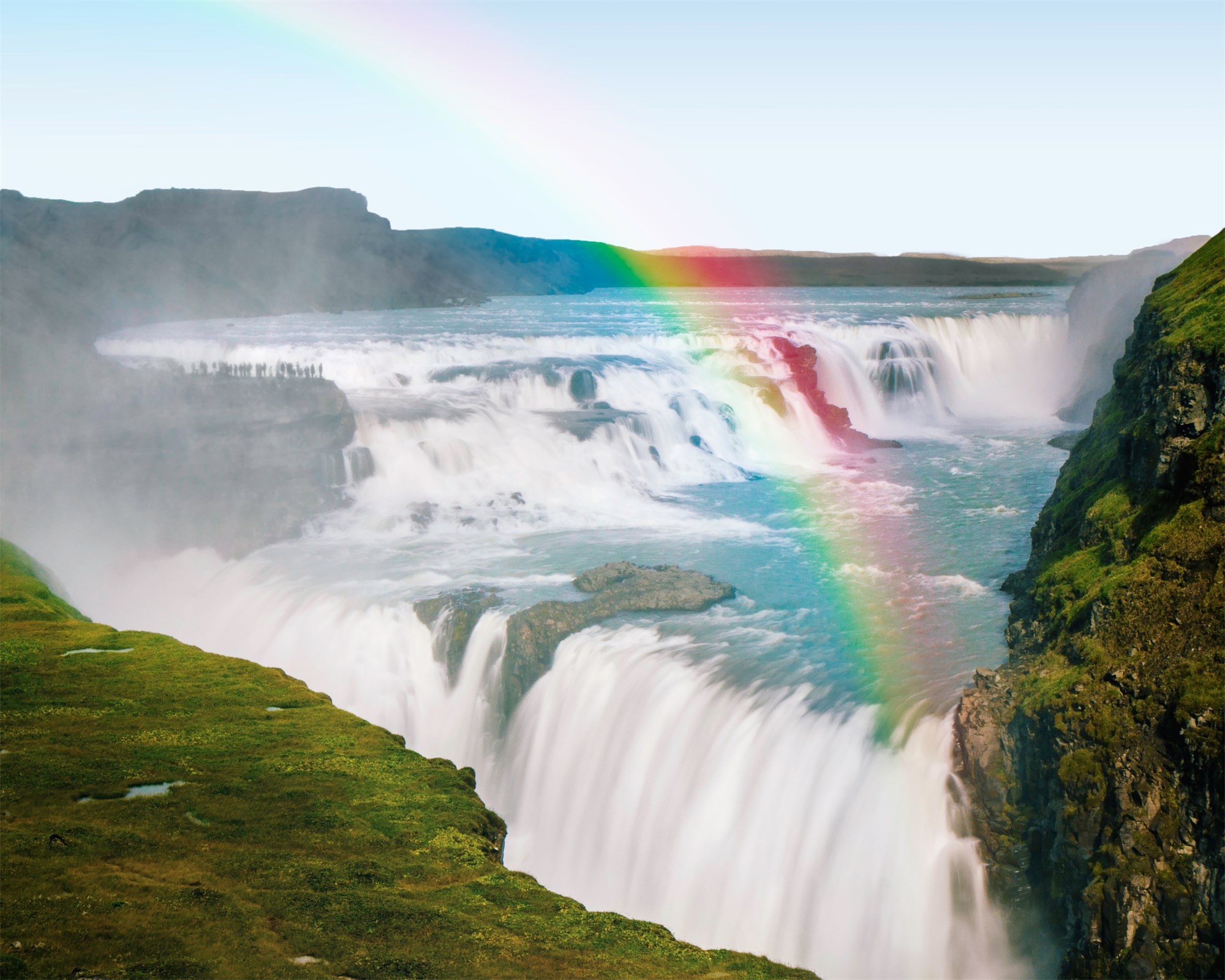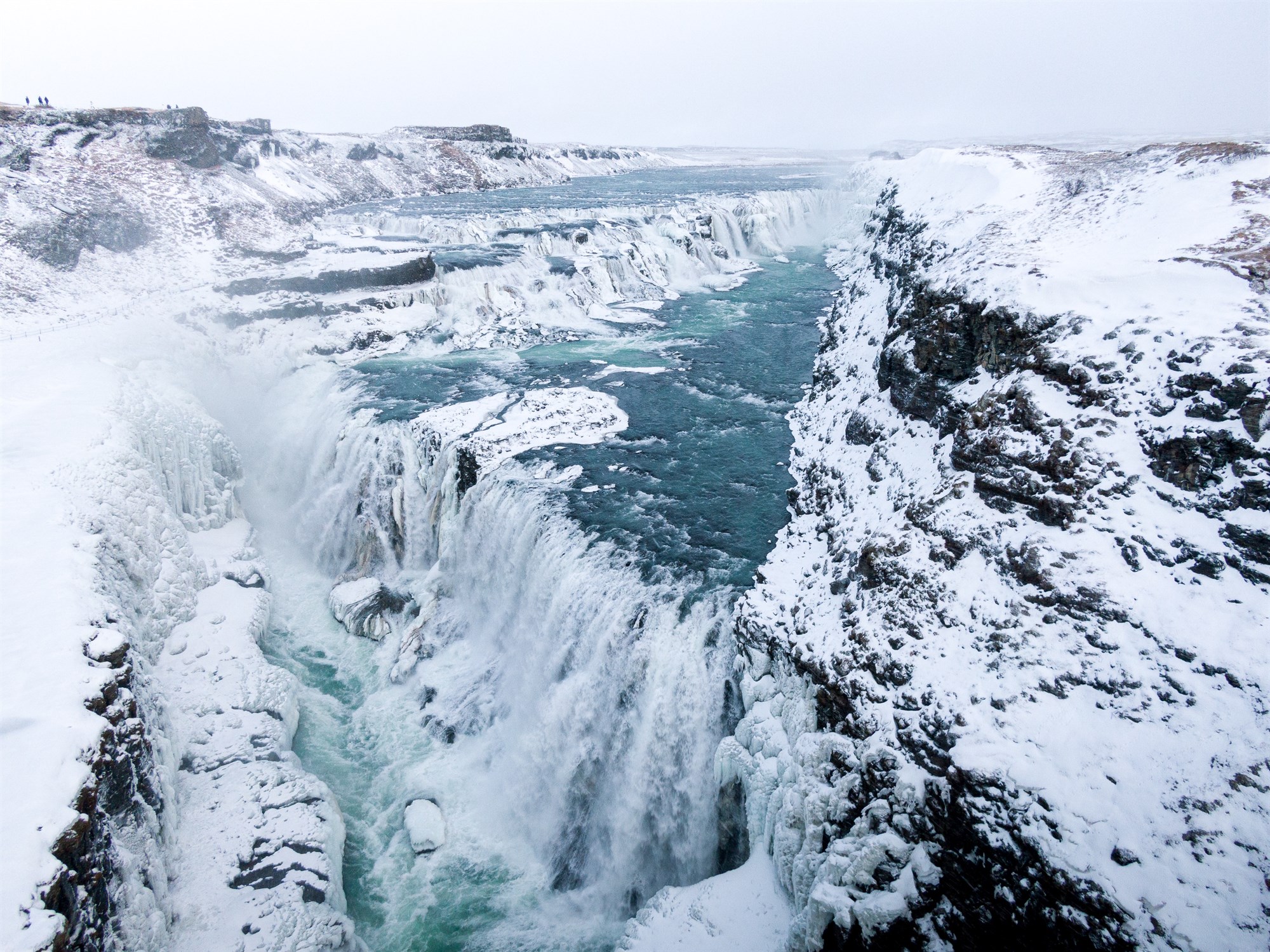 Gullfoss takes its water from the Hvítá River and will surprise you with its beauty, in winter, it blends perfectly with the snowy landscape.
In summer, the water spray in the air can create a magnificent rainbow. And by magnificent, we mean wonderland vibes, truly.
Less than two hours from the capital city, Gullfoss is a must for your trip to Iceland.
Dimensions: from a height of 32 meters to 70 meters wide, in its two stages. 
How to get there: From Reykjavik, take road 1 towards the south, until you reach route 35 where you will take a left. Drive for another 1 hour on road 35 until arriving at Gullfoss! 
→ Háifoss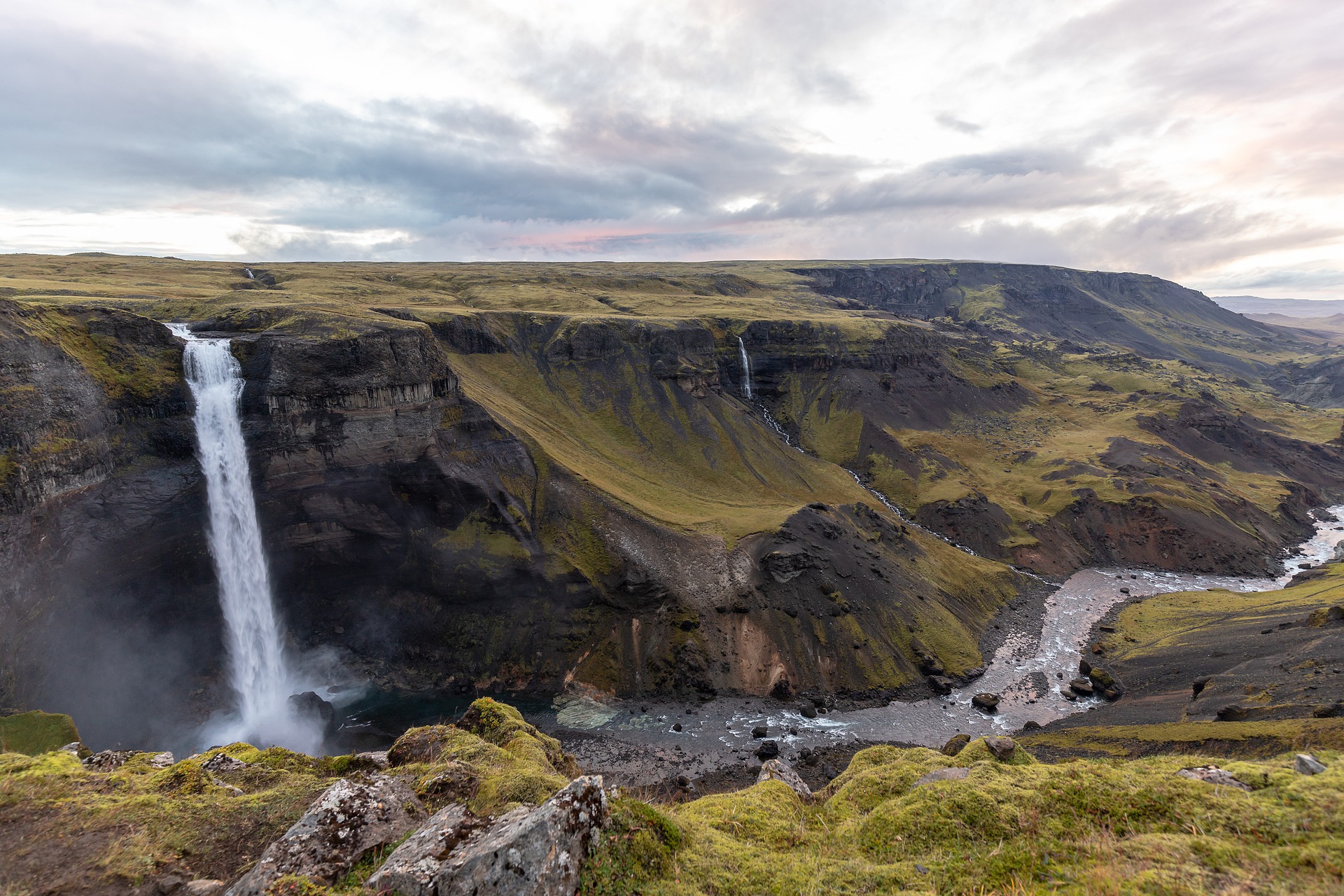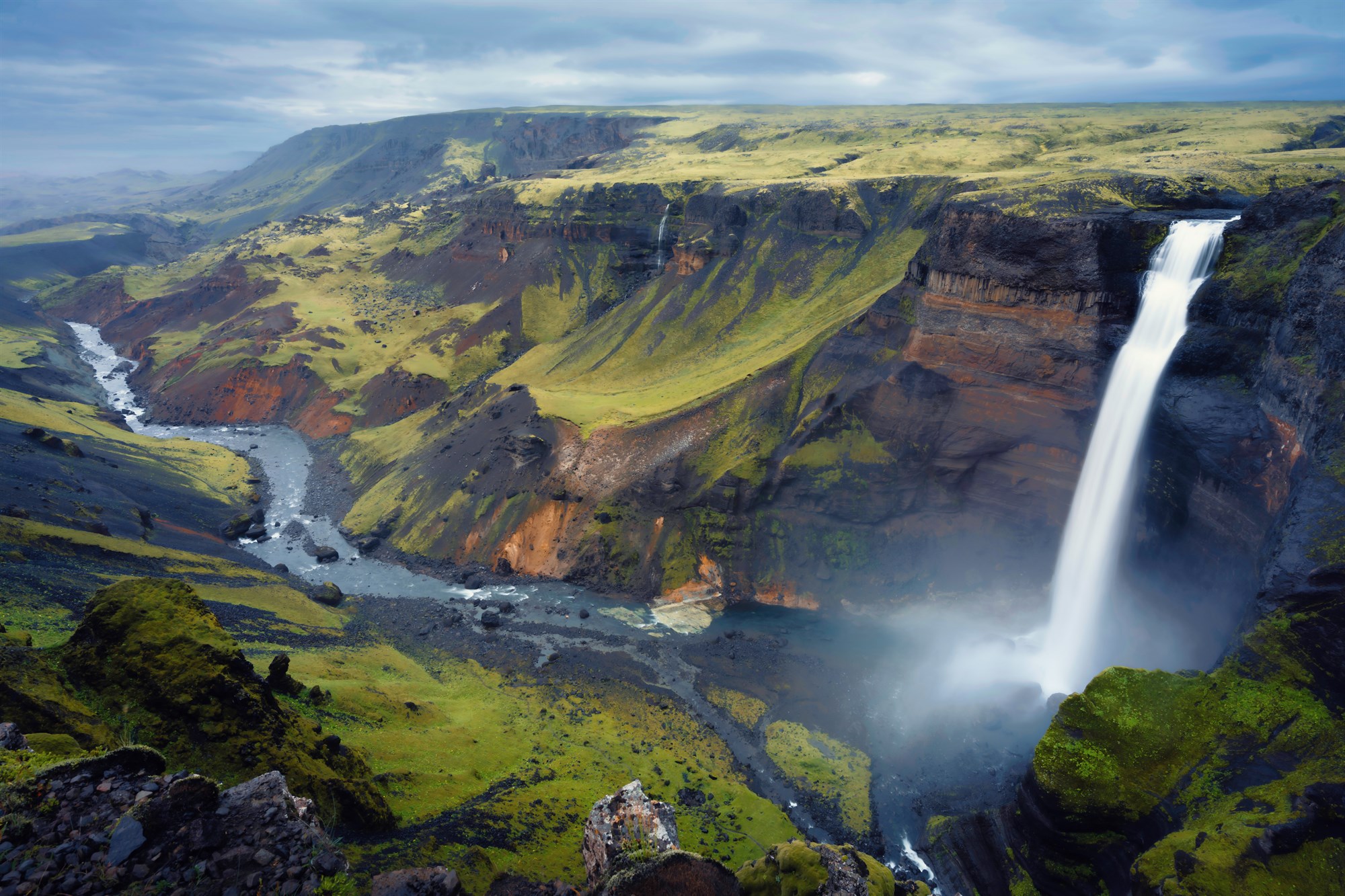 Háifoss is one of the highest waterfalls in the land of ice and fire. The waters of the Fossá River crash below making a huge noise. And it is not for nothing that we gave this name to this place since in English Haifoss means "high waterfall".
The fall is located in a volcanic region, it is close to the Hekla volcano, you can read more about it in our article about volcanoes in Iceland. We strongly recommend that you visit both sites when you are in the region.
Dimensions: Haifoss waterfall is 122 meters high, making it the third tallest in Iceland, behind Glymur and Morsárfoss.
How to get there: Please note, you will need a 4x4 to access this site. Haifoss is not the easiest beauty to access, in fact, you will have to exit route 1 after Selfoss (the town of Selfoss this time), take a left on route 30 (if you arrive by the north), then right on route 32, then route 332, it is an F-road, on which only 4x4s are allowed to practice!
→ Seljalandsfoss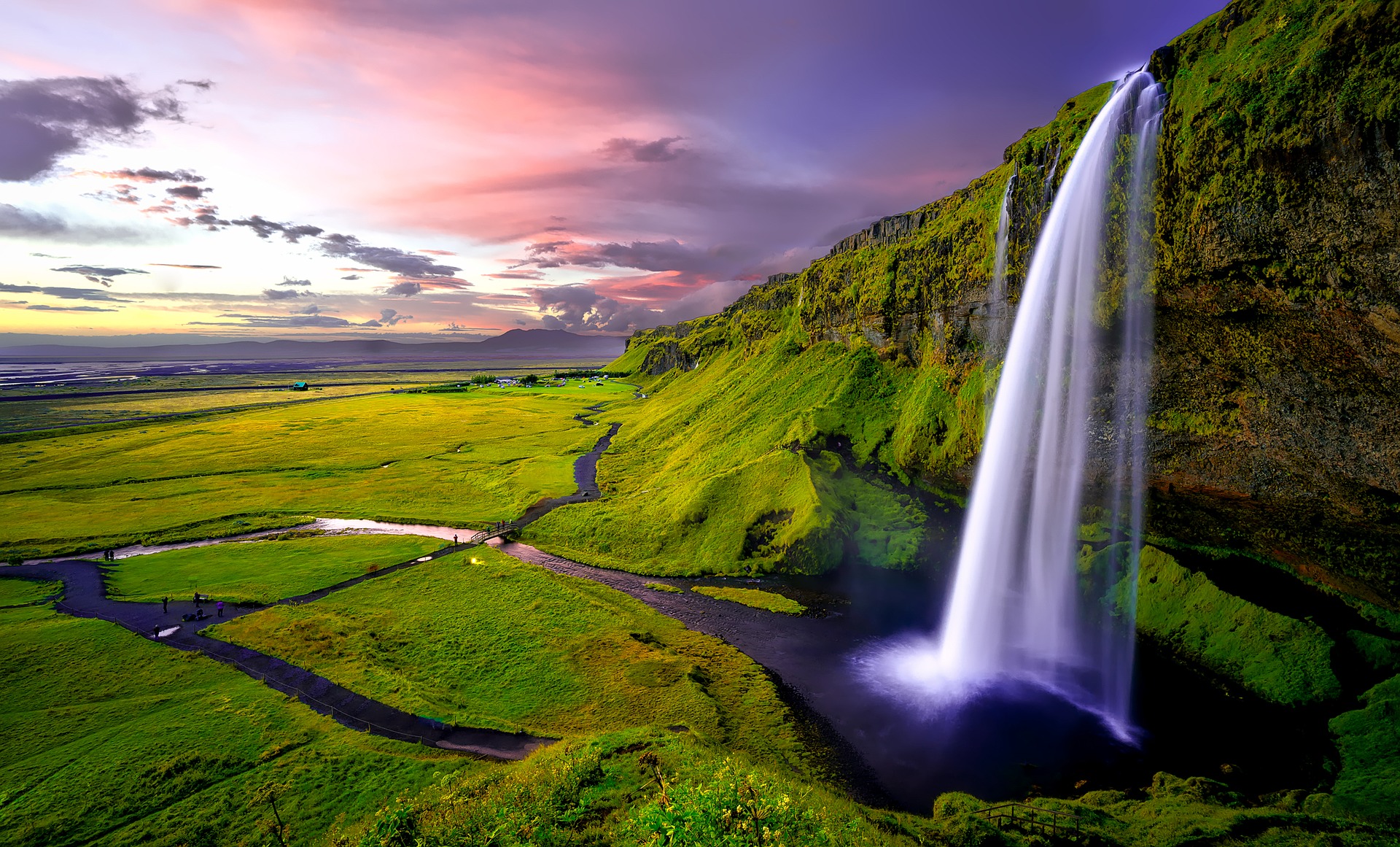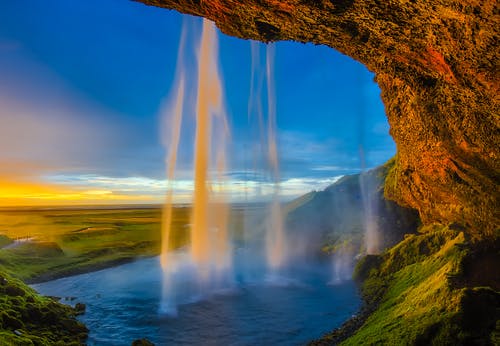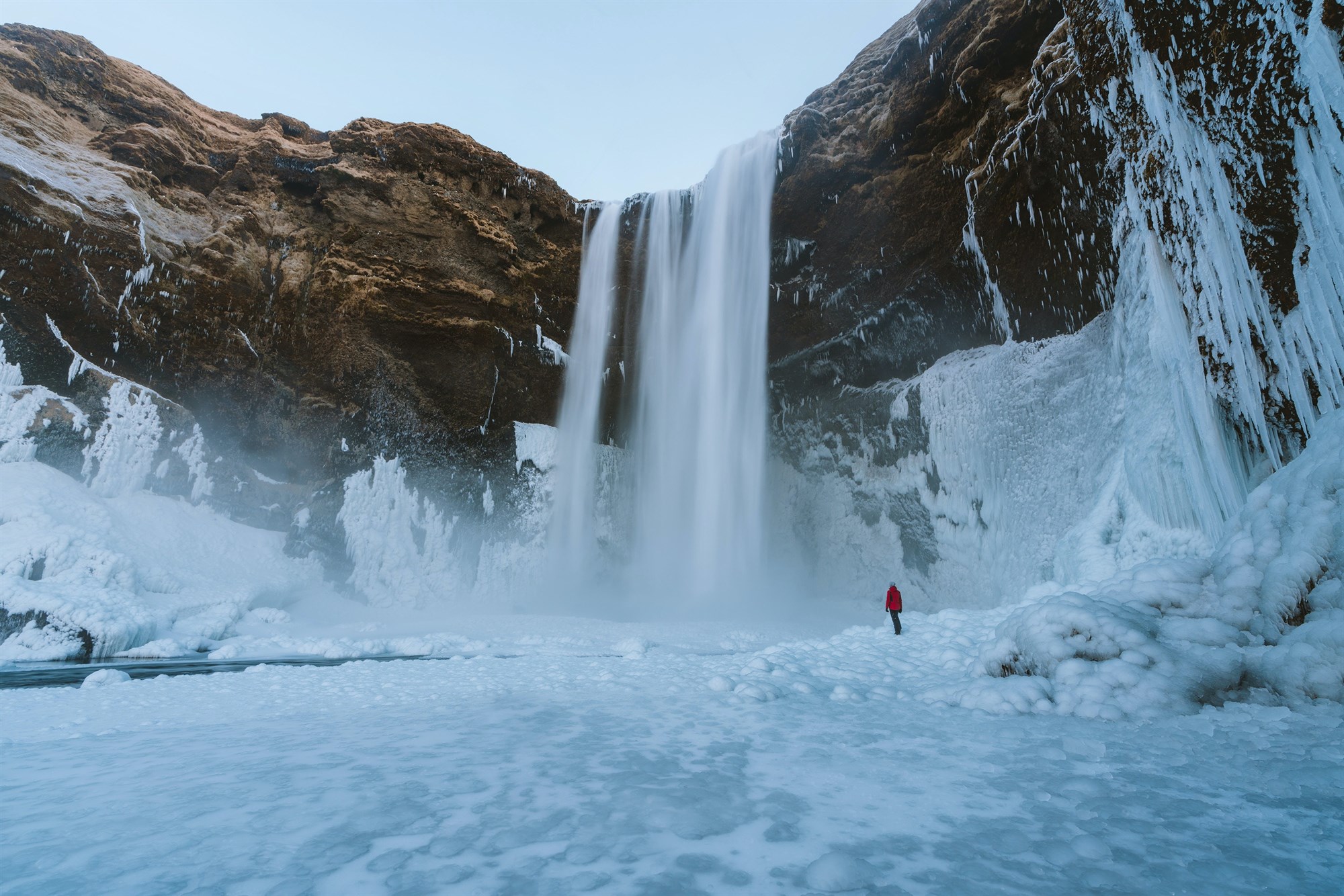 Seljalandsfoss Waterfall is probably the most reknown in the country. It is just 1h45min's drive from Reykjavik. This majestic place is the perfect example of what Iceland can offer in terms of beauty.
What is so amazing about this place is that you can walk behind the waterfall, thanks to a small path that goes around and behind it. It gives you a unique view of the falling water and the landscape behind it.
Be careful when visiting Seljalandsfoss, going behind the waterfall guarantees you get soaked. So bring waterproof clothes and consider yourself warned!!
During sunny days the water changes color and turns yellow and orange. A striking show that you absolutely must see!
Dimensions: 65 meters high
How to get there: Seljalandsfoss is just off the Ring Road (Route 1), so close as a matter of fact you will not be able to miss it when driving Route 1. It is 22 km southeast of Hvolsvöllur. 
If you do a bit of research online, you may find incredible pictures of Seljalandfoss surrounded with northern lights, simply majestic.
→ Skógafoss
The Skogafoss waterfall is taking its water flow from Skógá river and is situated on the road to Vik. It's a great place to stop your campervan and take a few shots. This waterfall is impressive because of its beauty and strength.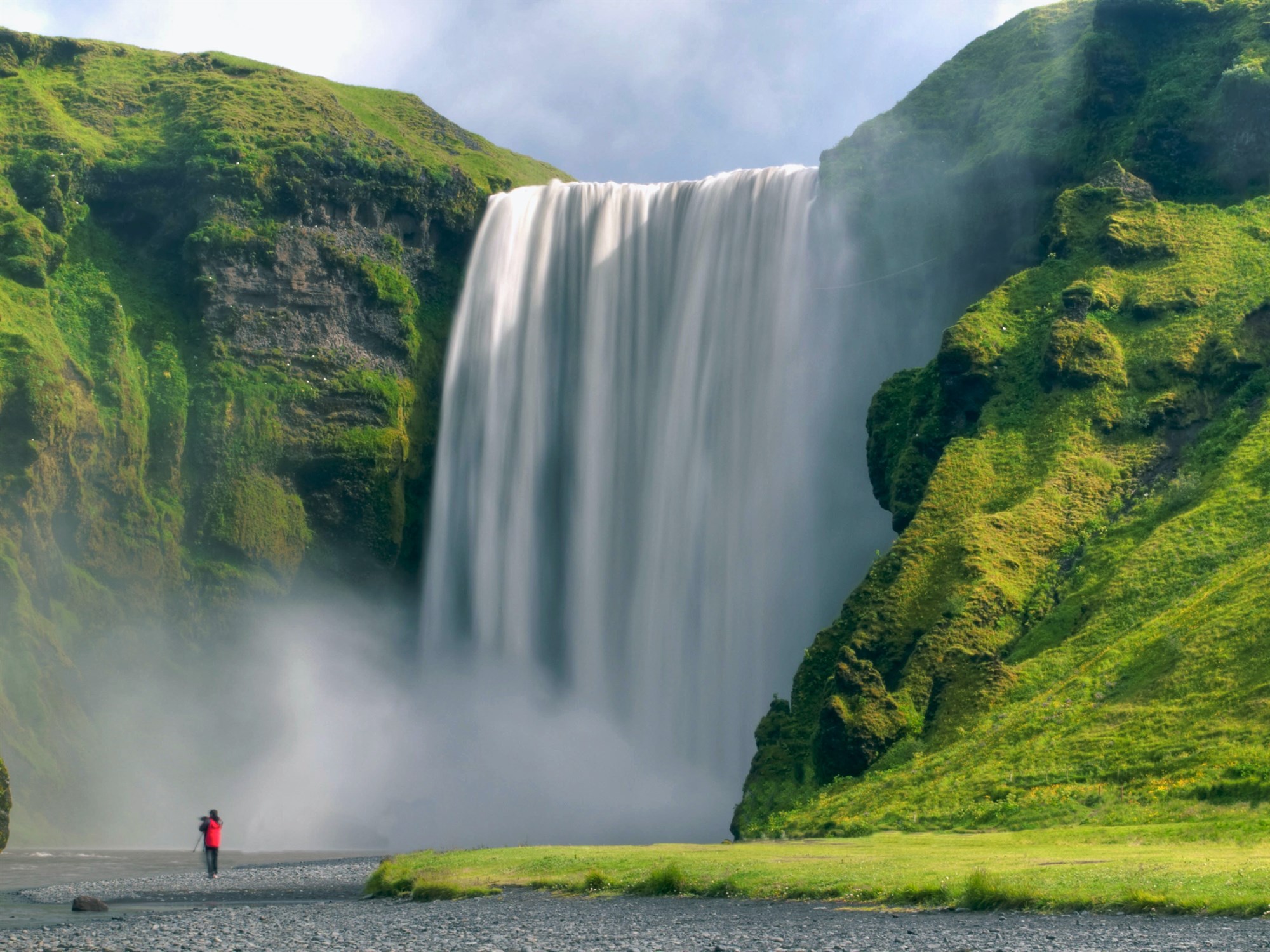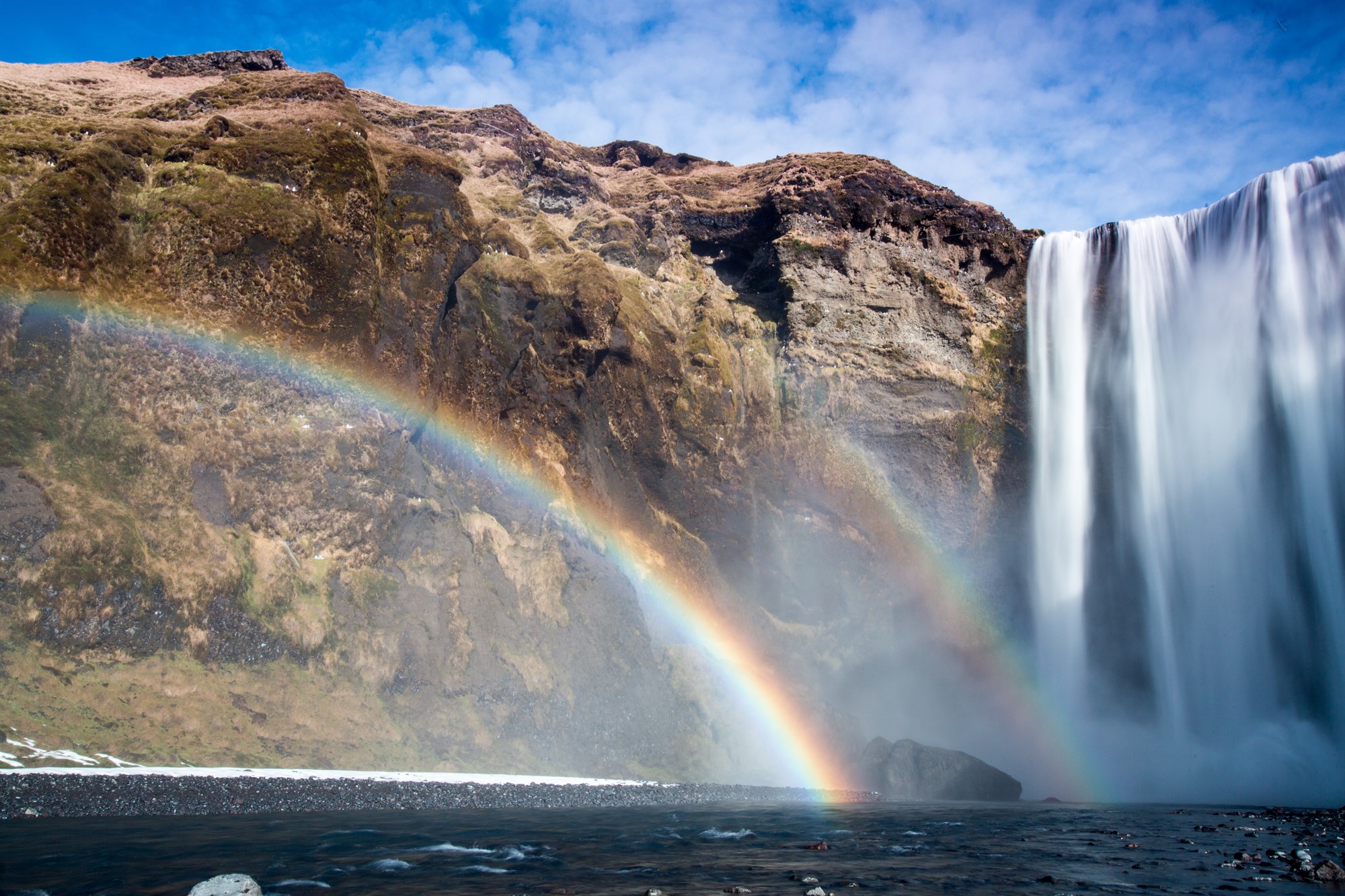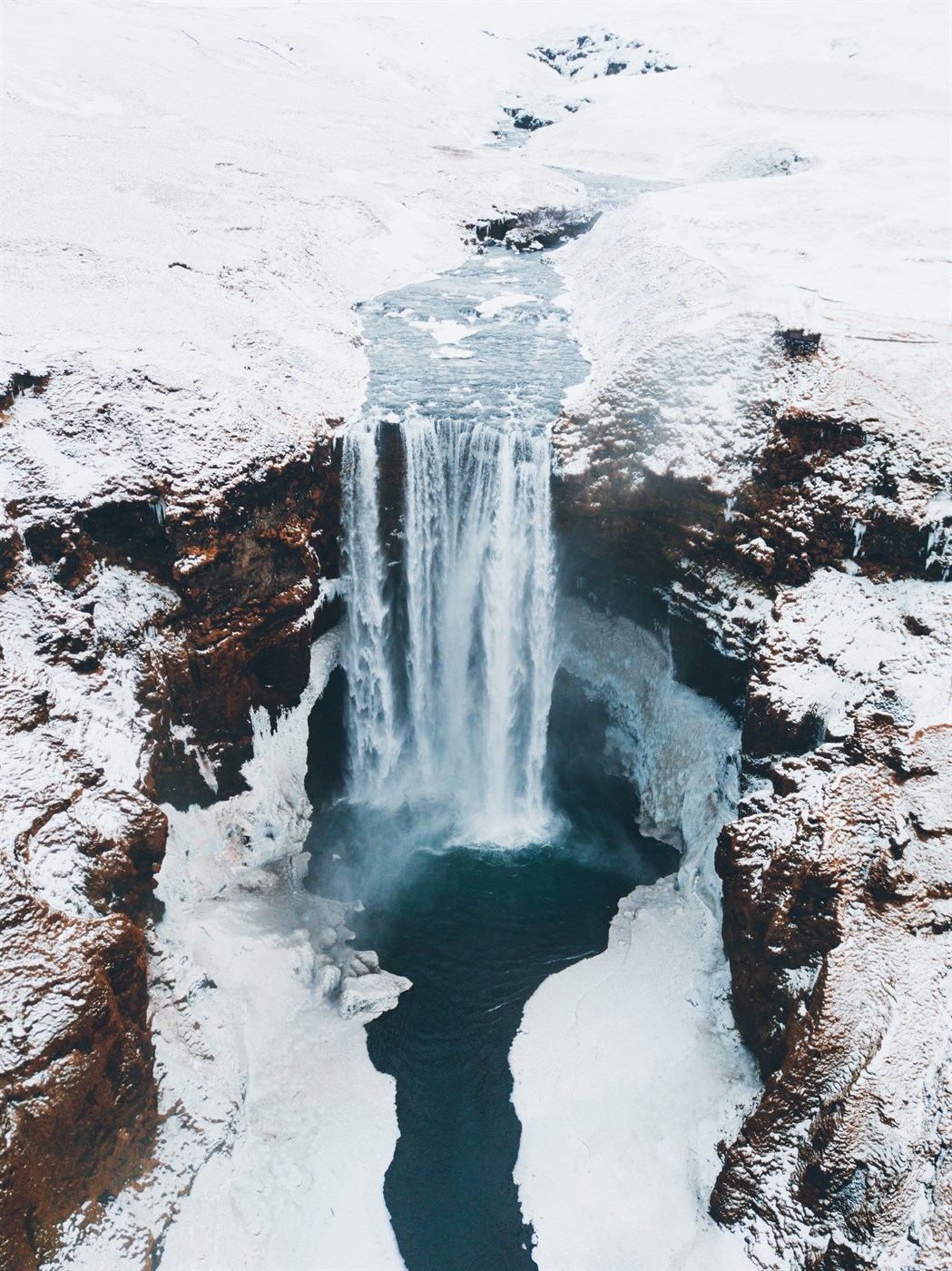 The legend says that a chest full of gold and treasures is hidden behind the waterfall. The story goes that three men once tried to retrieve the chest, and managed to get a hold of a ring on the side of the chest. But once they tried to pull the chest from underneath the waterfall, they jerked the ring off from the chest - but the chest itself still remains under Skógafoss. That ring later served as a handle on the church door at Skógar, and now is on display at Skógar museum. It is said that the rest of the treasure is still there. (pssst! more of Icelandic legends here!)
It is a must to visit Skógafoss during your road trip in Iceland. It's a very good stop for picnics and stretching your legs between the Golden Circle and Vik.
If you wish, you can take a small path on the side of the waterfall. From up there you will have a breathtaking view of the water falling below. 
There is a campsite right in front of the waterfall, which makes it one of our favorite campsites to park your campervan in during your road trip in Iceland! Imagine yourself waking up right here... with this view.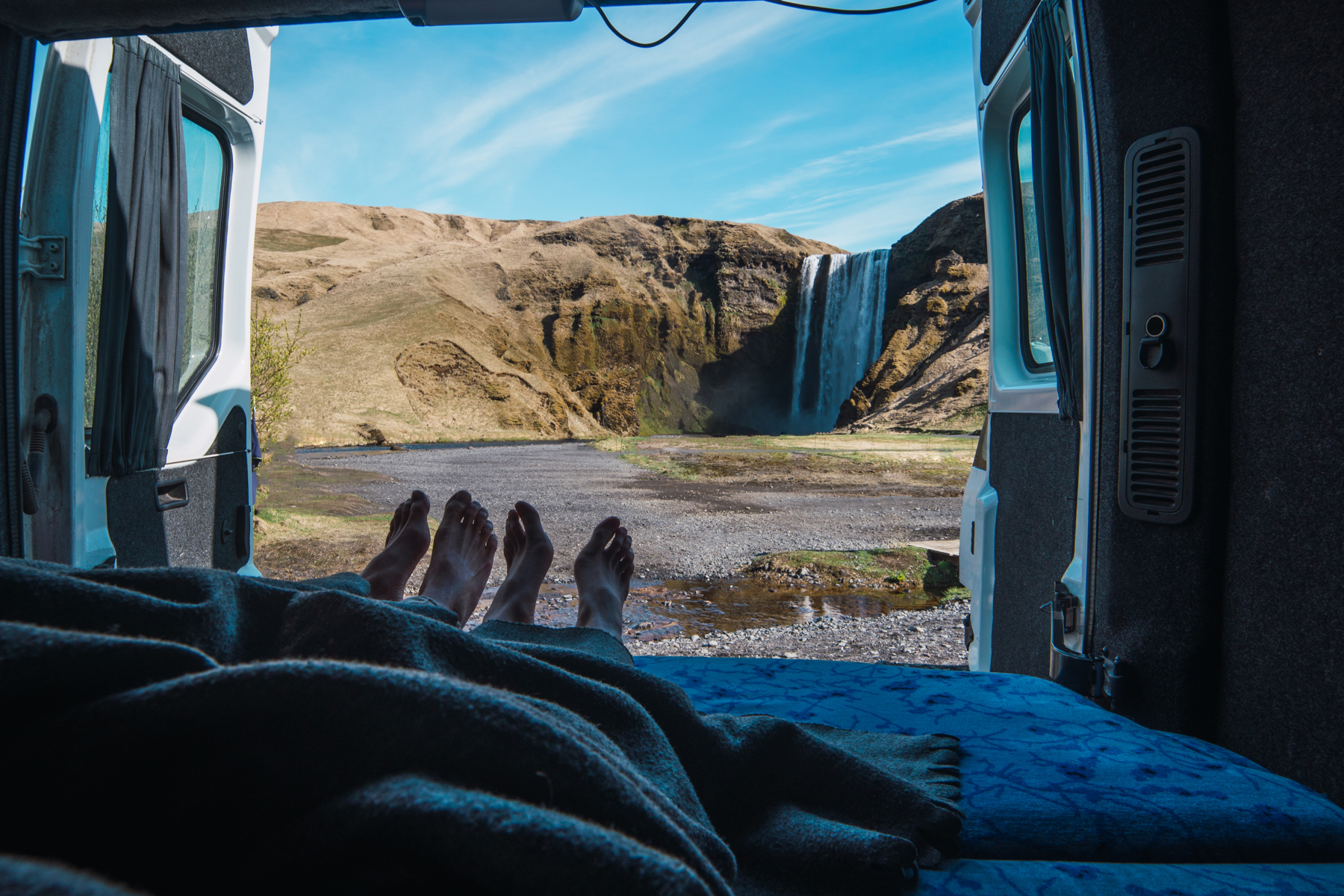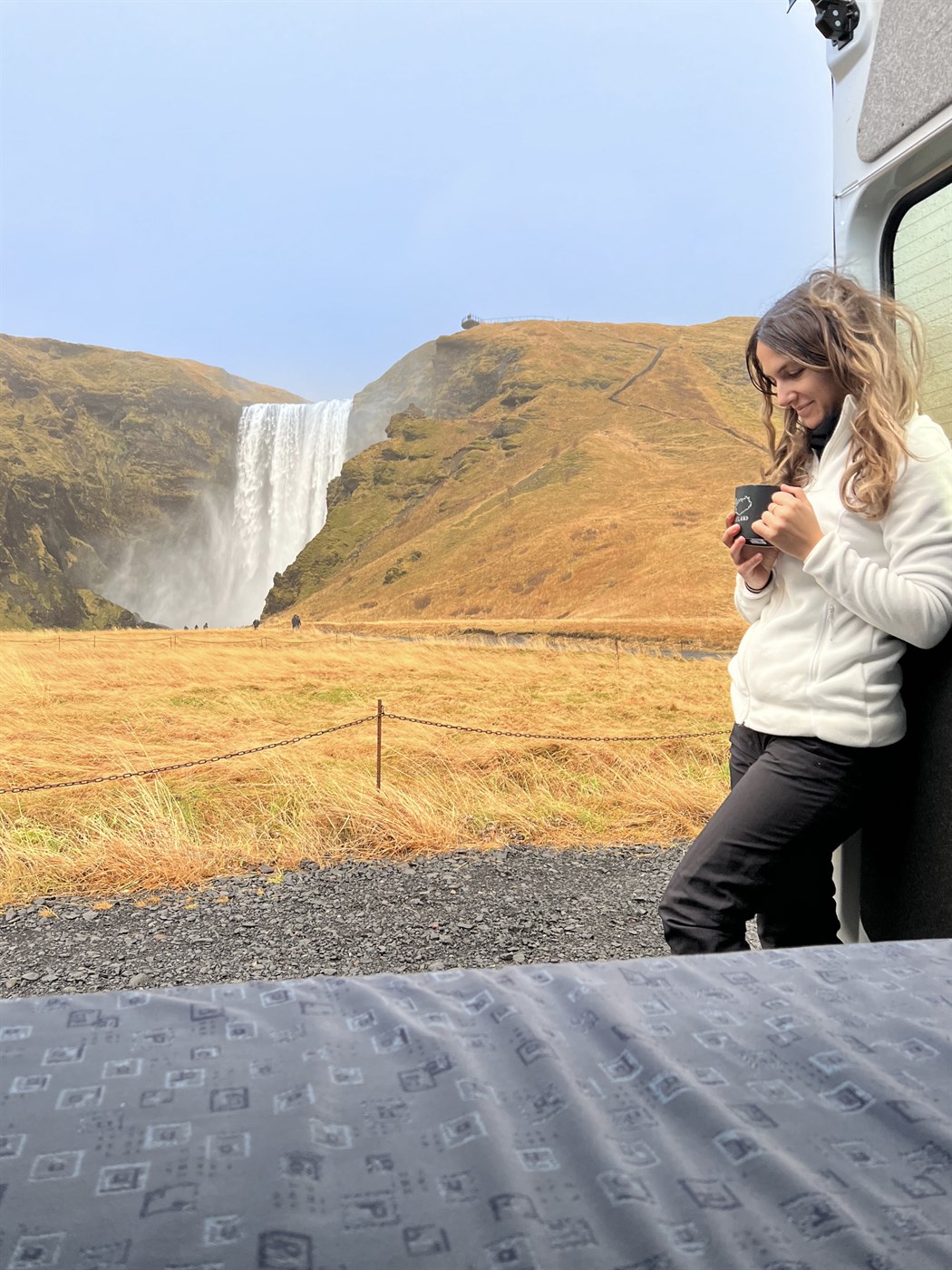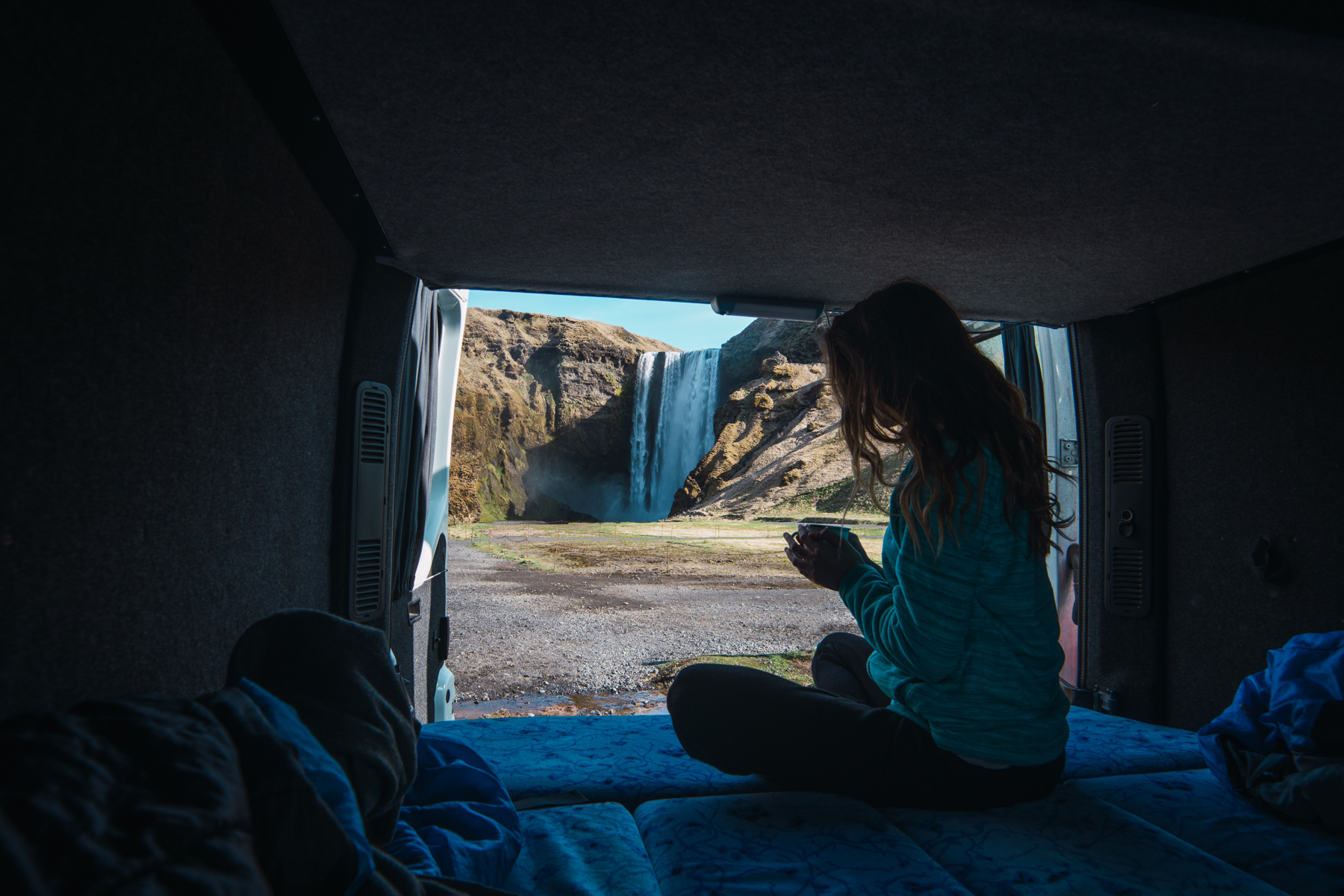 Dimensions: 60 meters high and 25 meters wide
How to get there: To get there, take Route 1 south, signs will tell you which exit to take. Once you get close you will see the cascades on your left in the distance. Guaranteed thrills and excitement when they appear before your eyes!
→ Svartifoss
Svartifoss, situated in the Skaftafell national park, is particularly incredible and unique for its stunning basalt columns, which we might believe were made by human hands. So impressive as a matter of a fact, that it inspired the design of the famous Hallgrímskirkja church in Reykjavík. Do you see the similarity?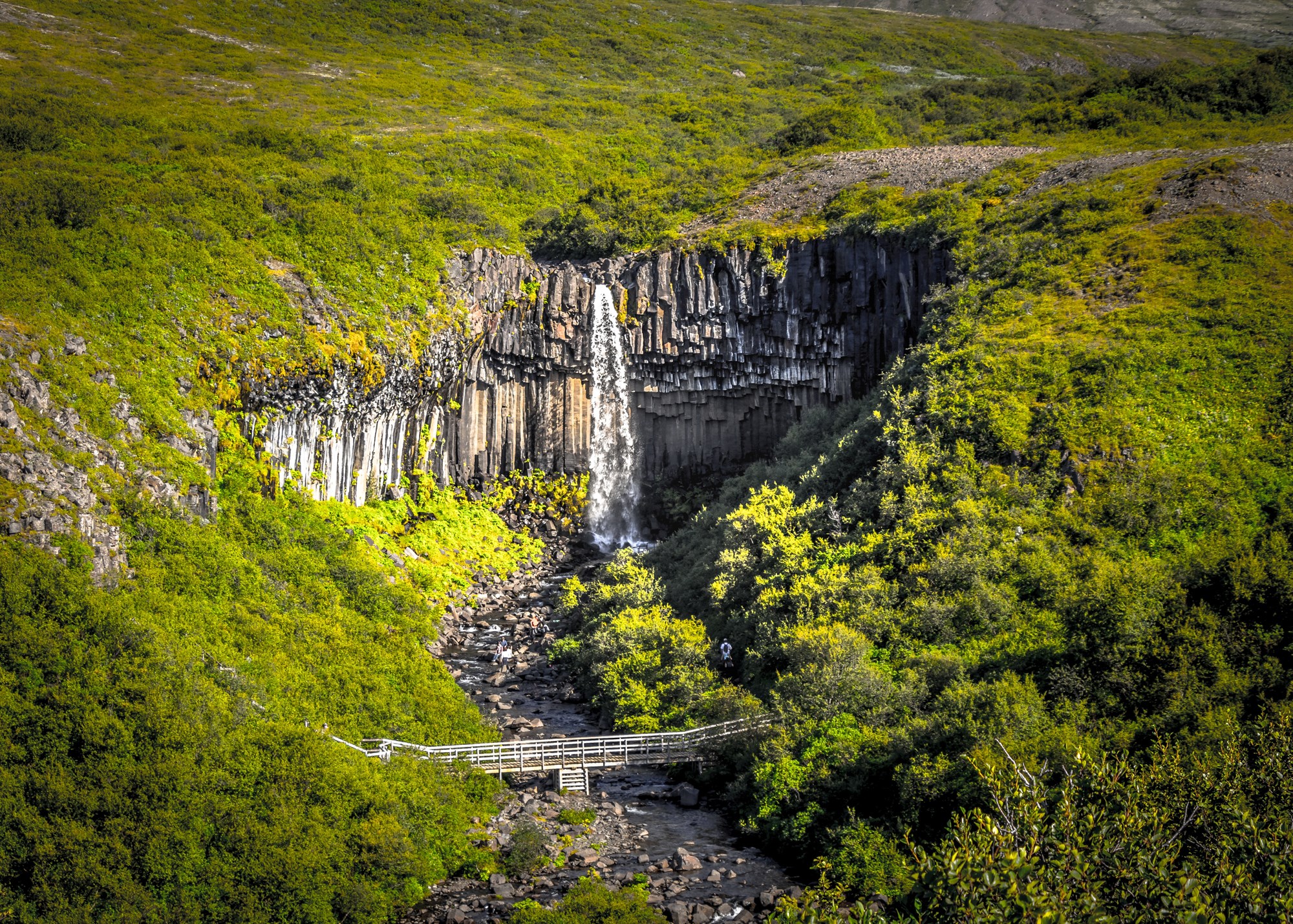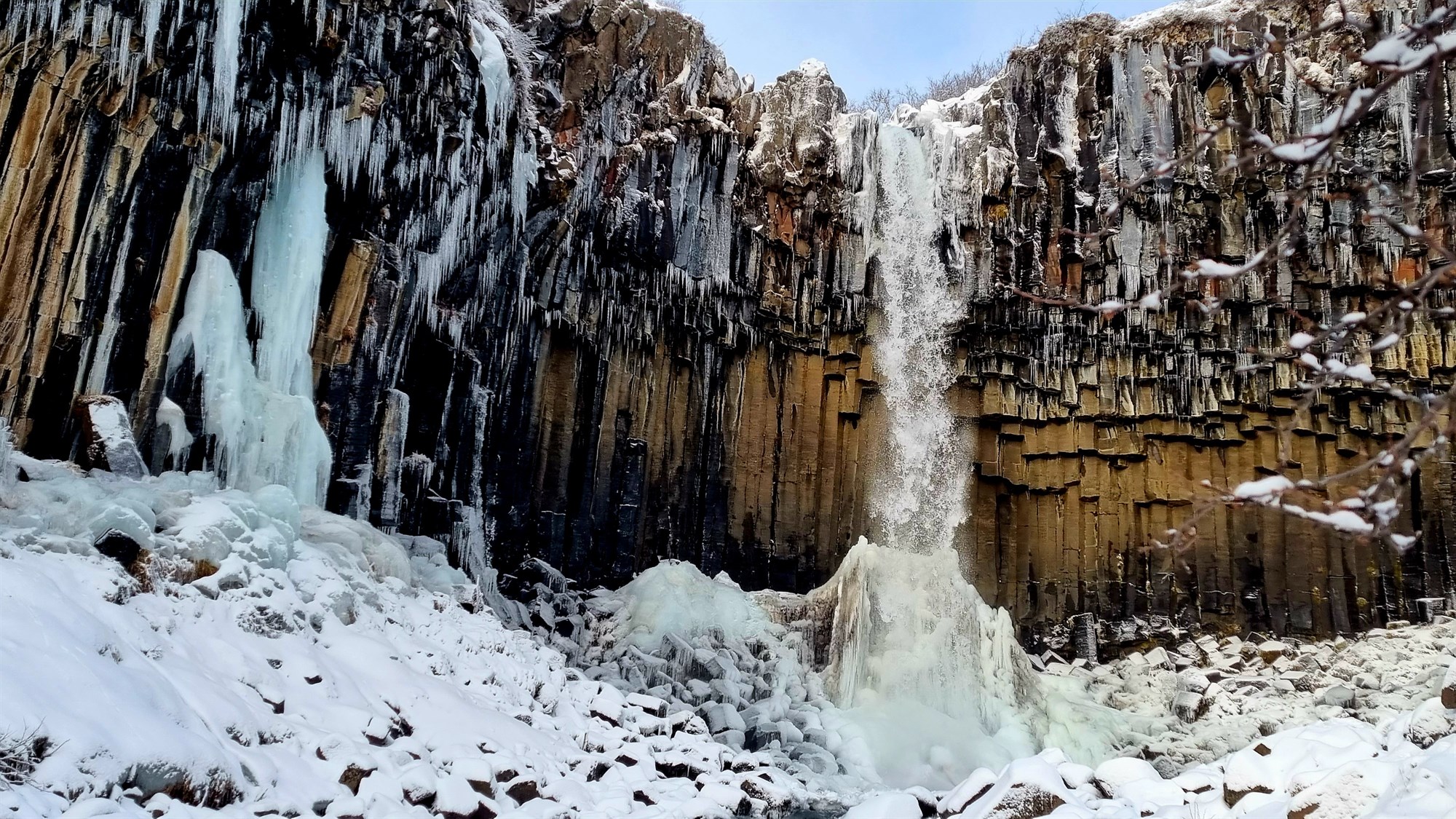 This basalt organ hexagon shape is completely natural, these columns form when the lava cools down quickly. The water, with time, has made its way to create a waterfall here, making this place of unparalleled beauty.
This is a must for your tour of Iceland's cascades, the surrounding scenery is magnificent, and by its location, you will be close to a whole host of other activities to do in Vatnajökull National Park. Hint hint: Glacier walks and ice cave visits…
Dimensions: 12 meters high, the Svartifoss waterfall is not impressive because of its height, but by the geological formations that surround it. We have proof that it is not the size that counts!
How to get there: the site is located near the south coast of Iceland next to the Vatnajökull glacier, in the Vatnajökull National Park. From Route 1, take route 998 and drive for 10 minutes to reach a small car park, you will end the journey via a steep path and with a view of the surrounding landscapes.
---
East Iceland
→ Hengifoss
Hengifoss is one of the most known landmarks in East Iceland, it is a short and easy drive from Egilsstaðir and is the third tallest waterfall in the country. It is a 3 km hike to the waterfall that takes about 45 minutes, not too difficult and on the hike, you can see the smaller waterfall Litlanesfoss. Hengifoss is a very picturesque waterfall and you can see layers of Tertiary lava strata that yield a reddish color in the cliffs around the waterfall.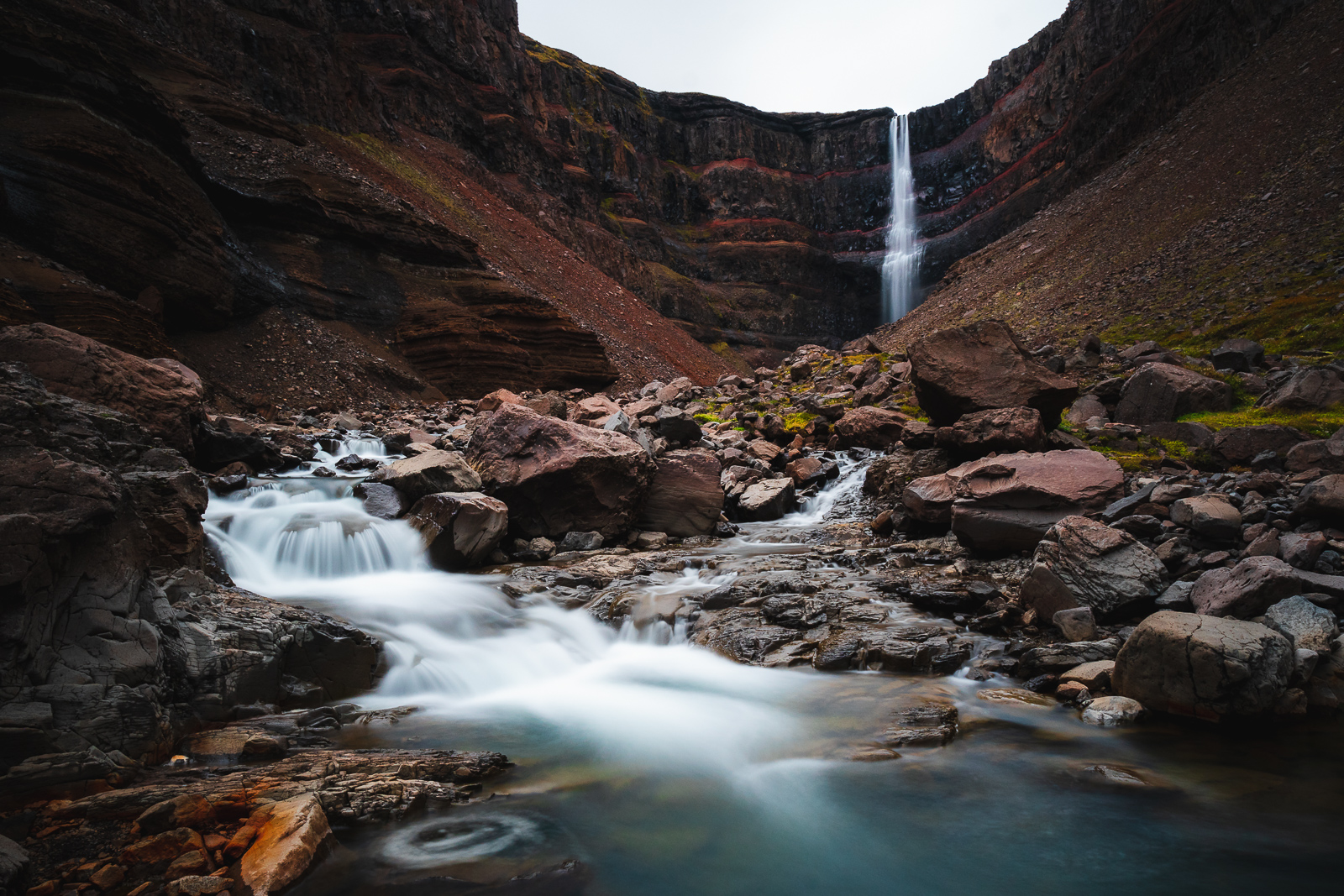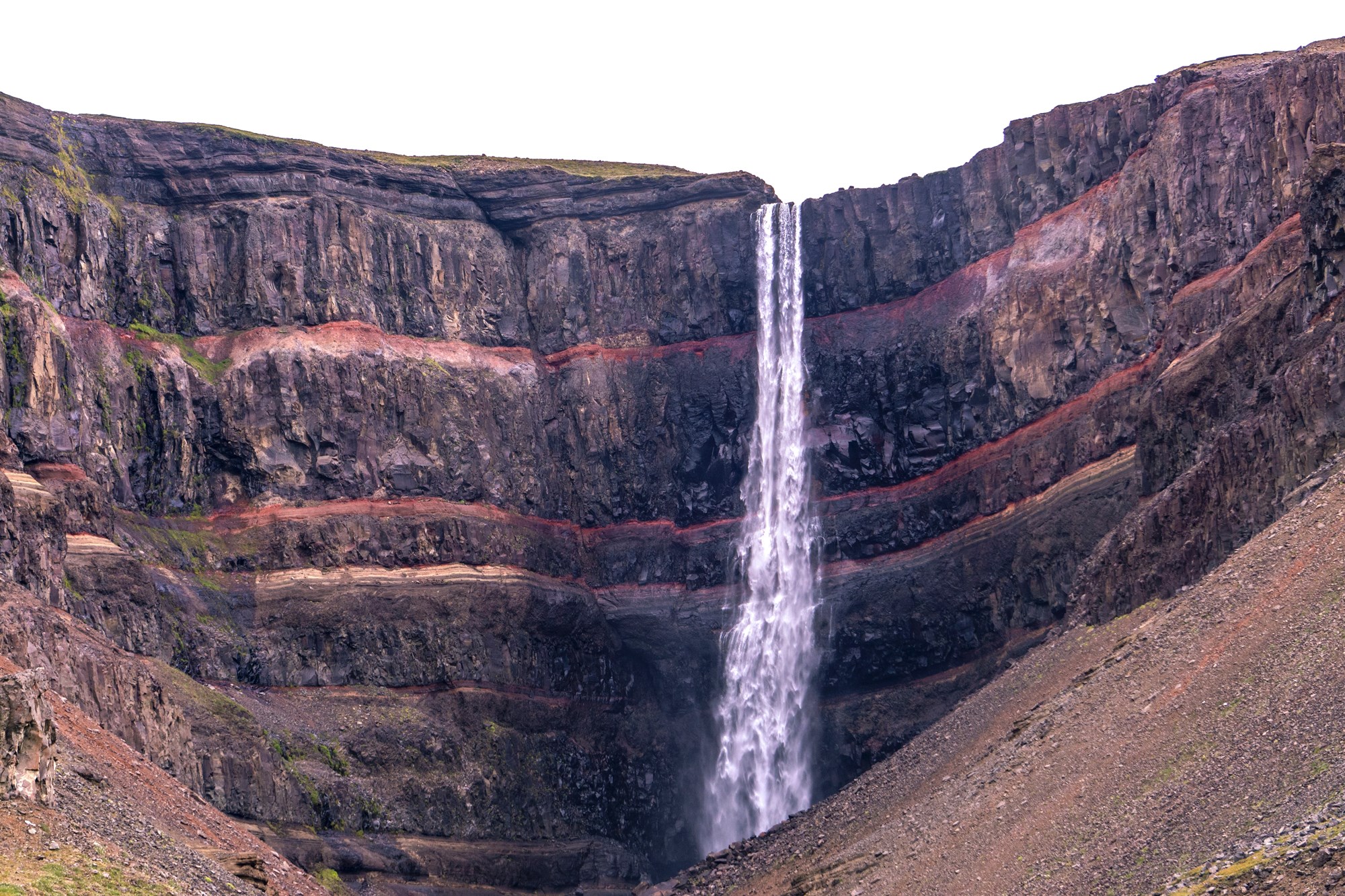 Dimensions: 128 meters high, and the third tallest in Iceland.
How to get there: the waterfall is located about 35 km southwest of Egilsstaðir, from Egilsstaðir, take route 95 and then turn into route 931 to the carpark. You can walk along either side of the river, but the most popular trail is from the carpark. 
---
North Iceland
→ Dettifoss
Dettifoss waterfall is also a must-see. Located in the north of Iceland, in Jökulsárgljúfur canyon, its flow is estimated at 200m3 per second. Making it the second most powerful waterfall in Europe, just after the Rhine Falls (Switzerland).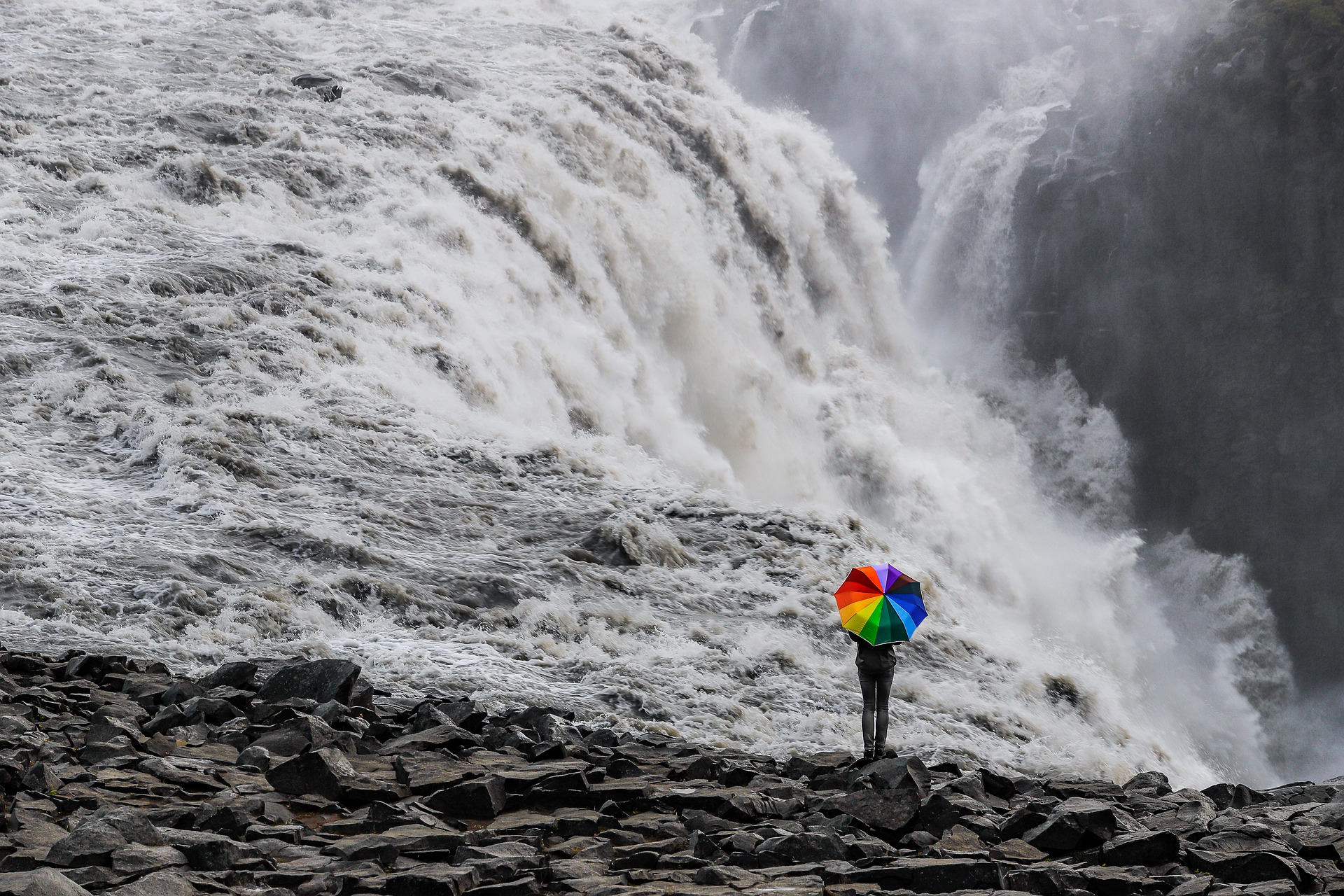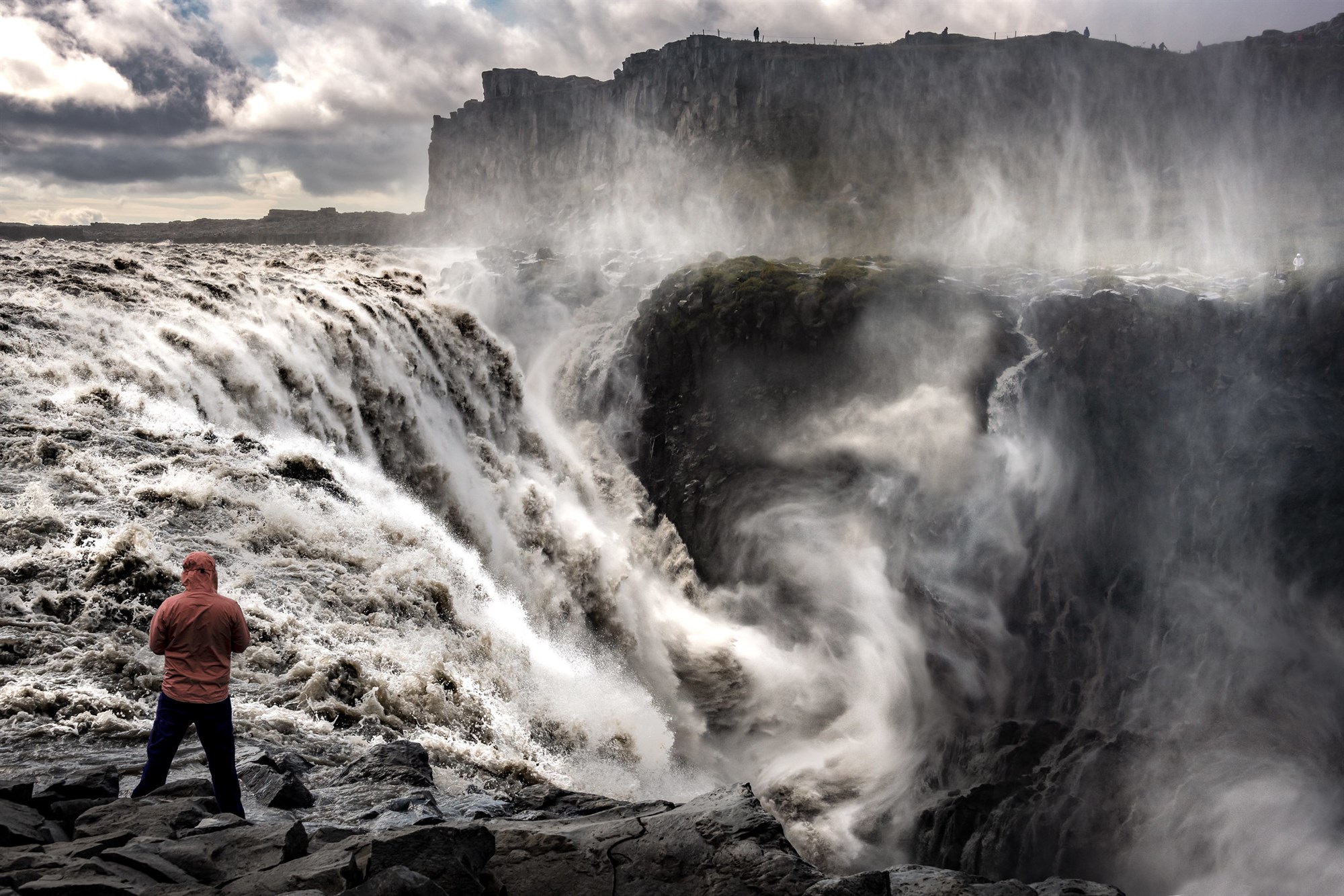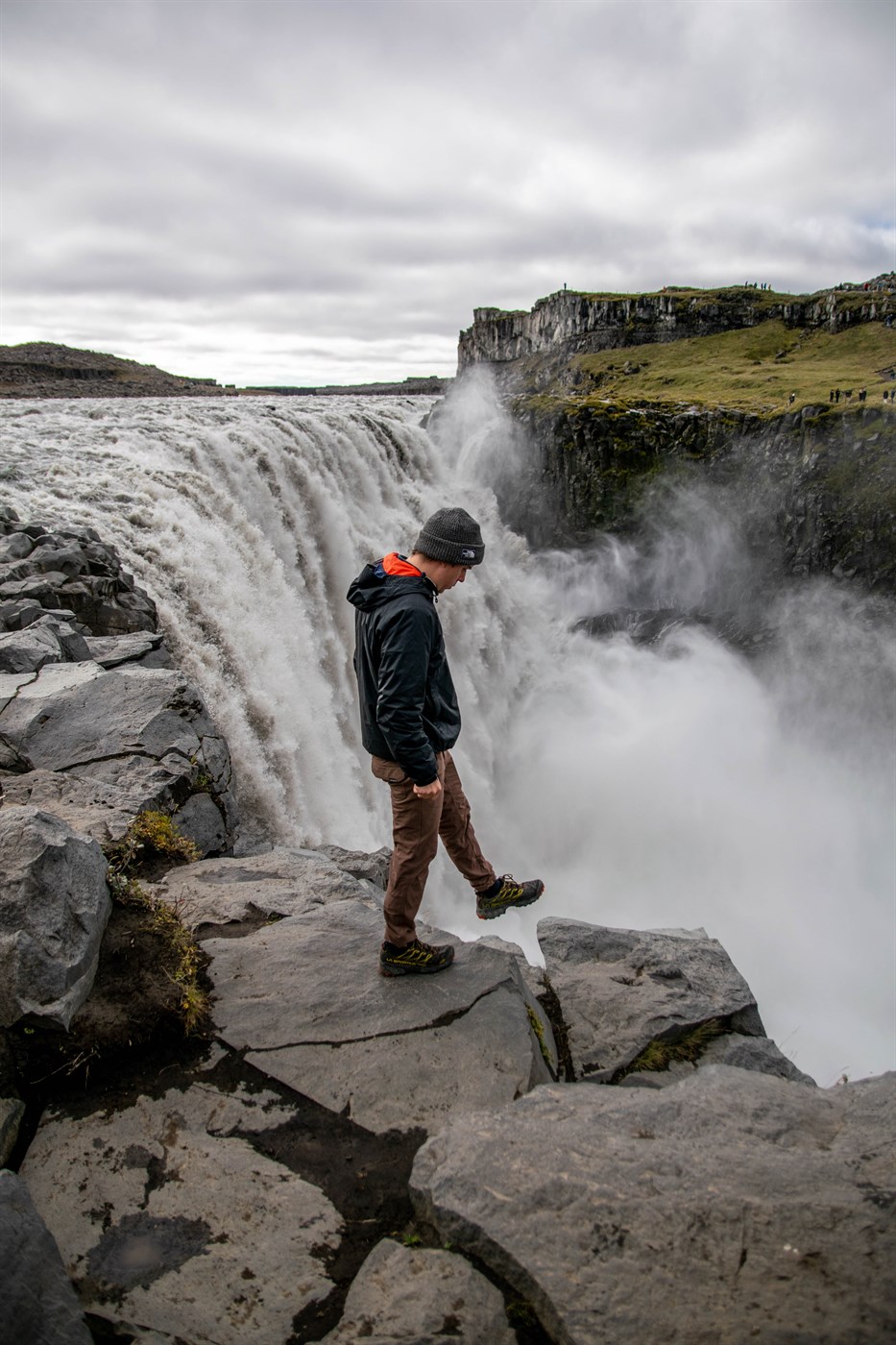 It is located in a remote region, about 2 hours driving east of Akureyri. This makes it a perfect site for a break in the middle of Icelandic nature.
We strongly recommend you to stroll on the side of the waterfall, to enjoy the surrounding landscapes. Even seen from afar, Dettifoss impresses with its gigantic size.
Dimensions: 44 meters high and 100 meters wide
How to get there: You can access it either to the east with road 862 or to the west with road 864. However, no bridge to cross from one side to the other. If you want to admire the waterfall on both sides, you'll have to take a loooong ride from one side to the other! (halfway check out Asbyrgi canyon ;) )
---
*Northern Route*: Dettifoss is part of the new Diamond Circle in North Iceland
---
→ Selfoss
Don't confuse this waterfall with the city of the same name, since the two are really far from each other, and have nothing in common!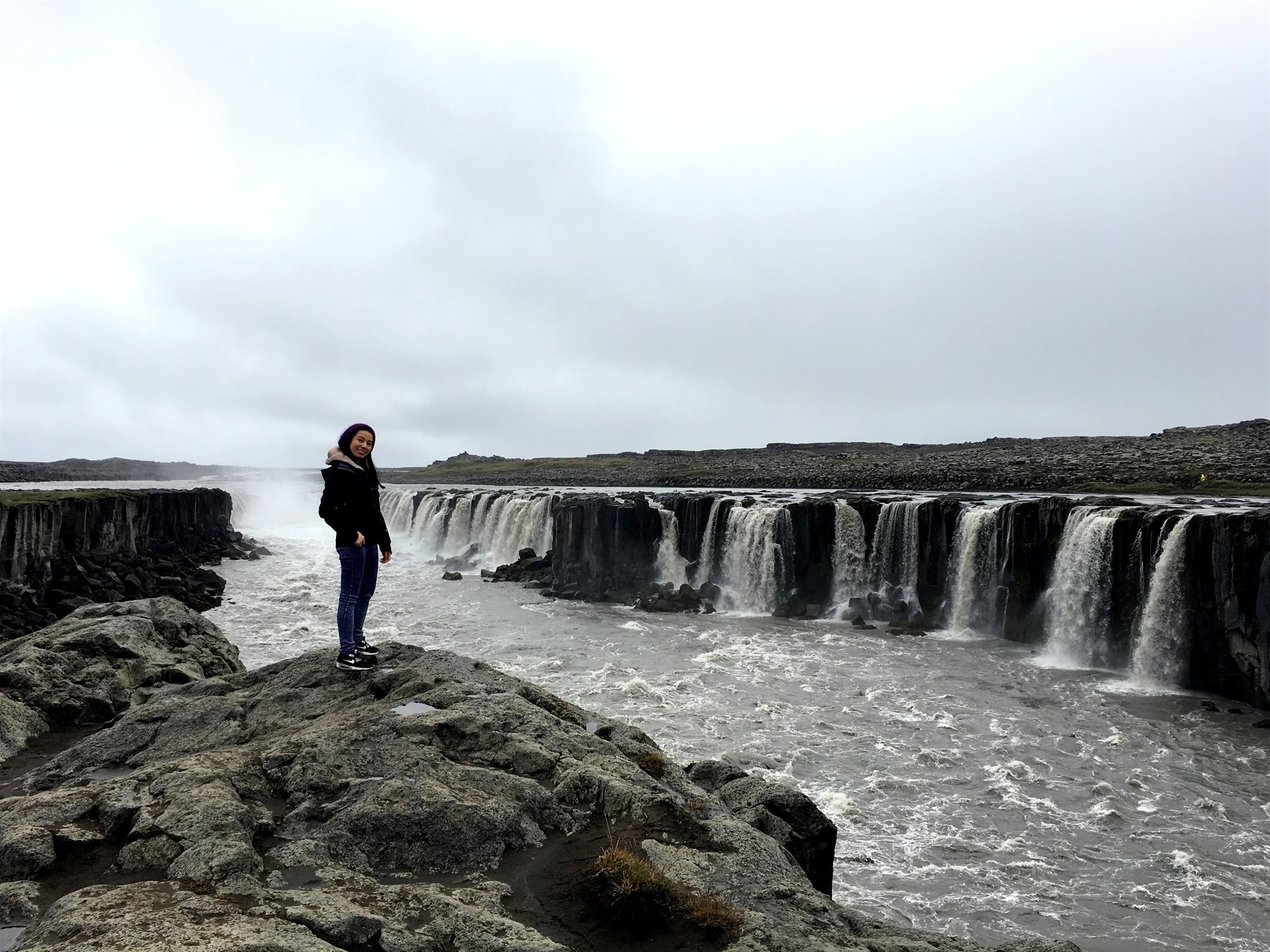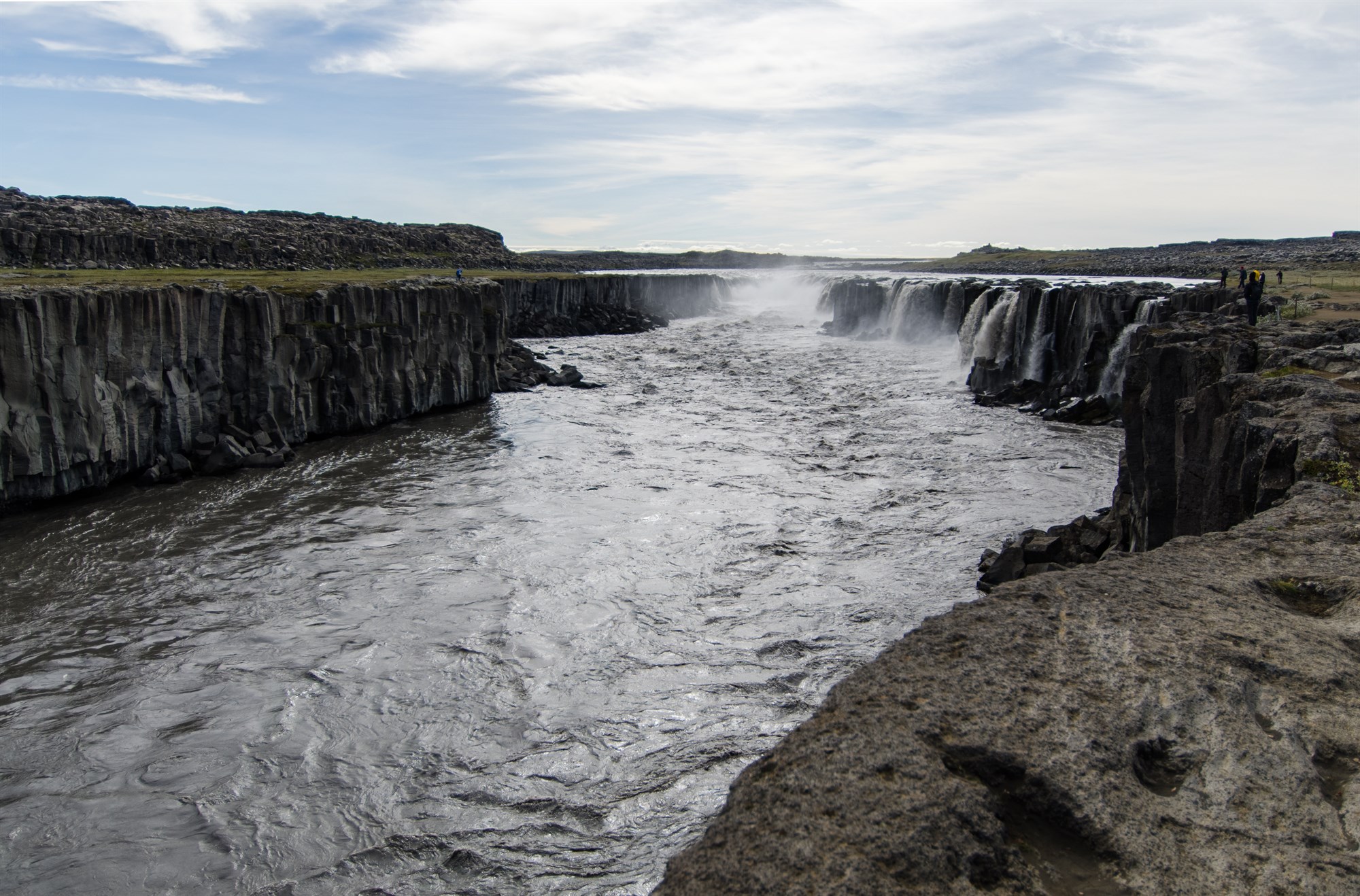 Selfoss waterfall is located in the north of the island, just a stone's throw from Dettifoss. It's a great way to kill two birds with one stone because the two sites are less than a kilometer apart, so it's easy to connect the two on foot!
The town of Selfoss is in the southwest of the country, less than an hour from Reykjavik. These two places are opposite, so be careful not to go in the wrong direction.
Dimensions: Selfoss in Iceland is between 10 and 11 meters high and a hundred meters wide.
How to get there: exit Route 1 in the north of the country by taking Route 864, drive the campervan for 30 minutes and you have arrived in Selfoss! Both Dettifoss and Selfoss are near lake Mývatn, we really do encourage you to soak into the nature baths there.
→ Goðafoss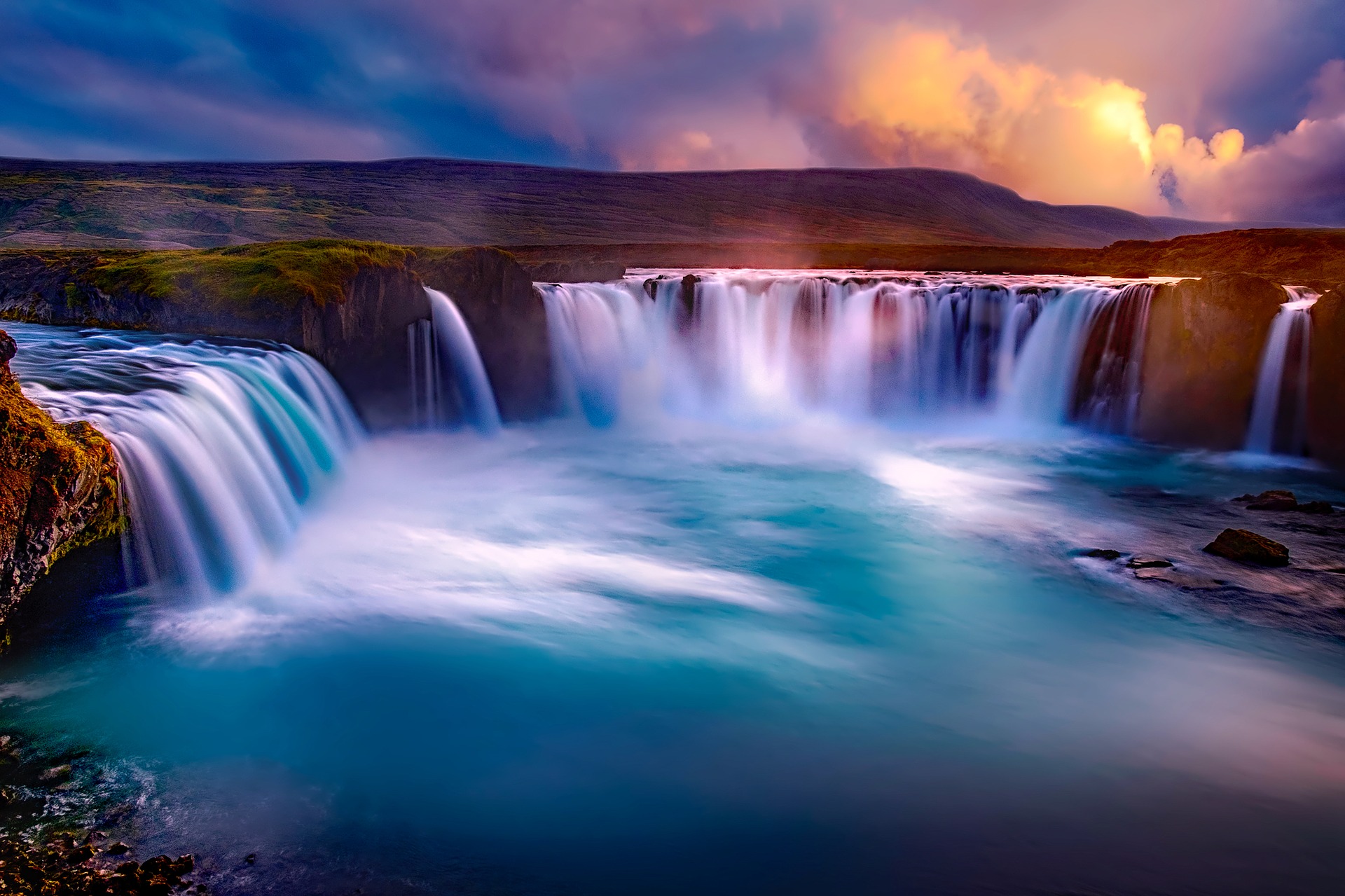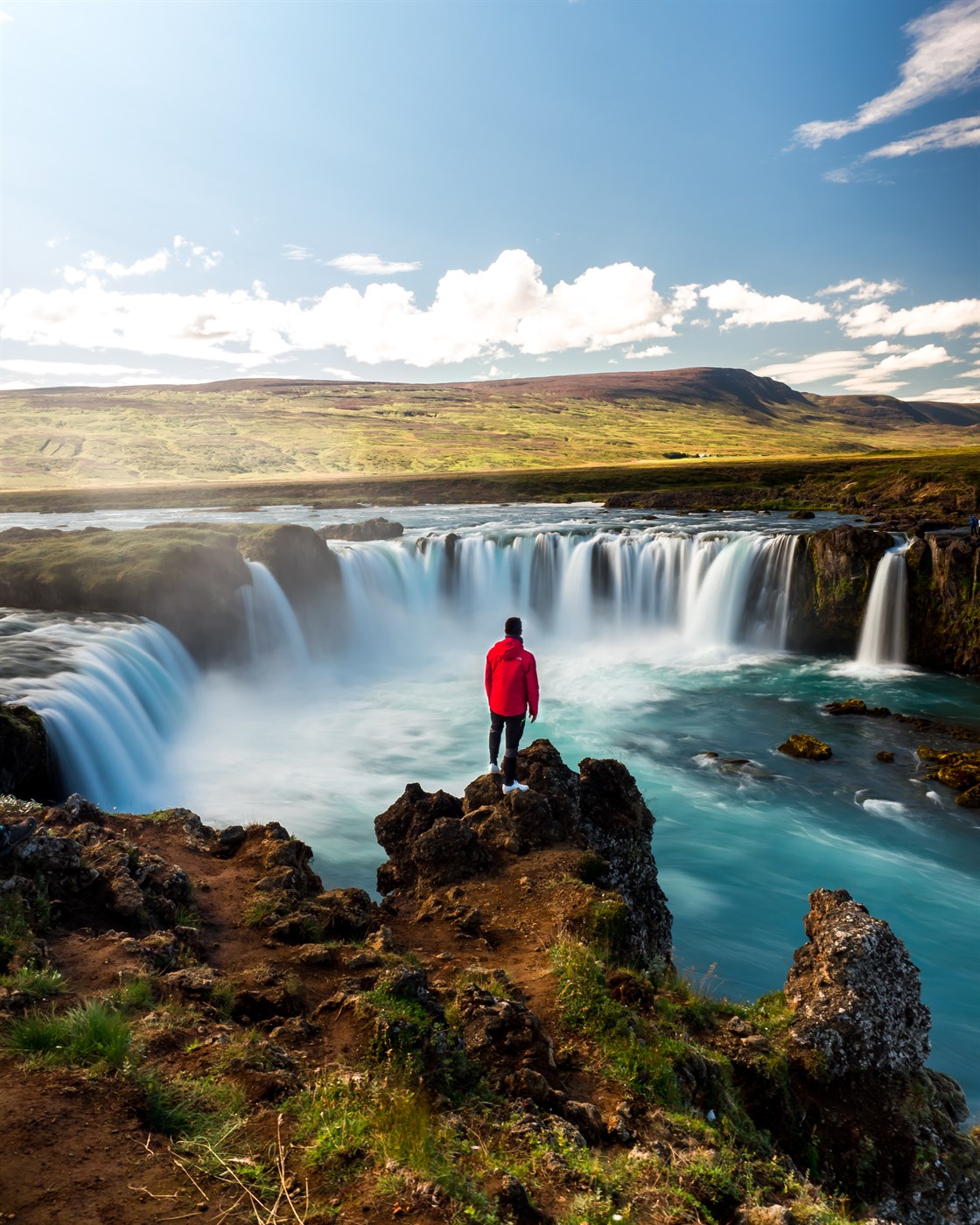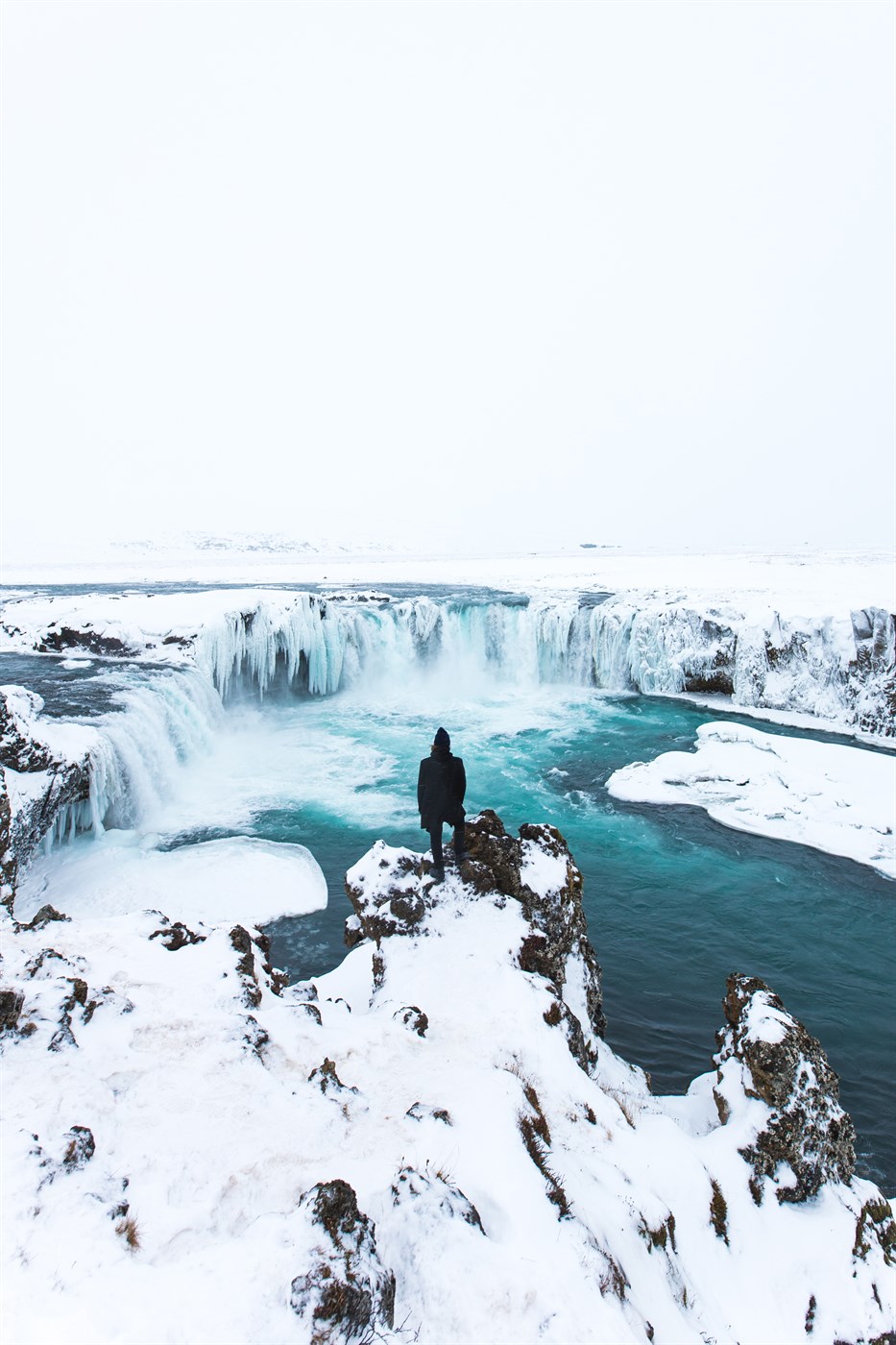 Goðafoss, literally the waterfall of the gods, takes its name from Icelander's conversion to Christianity in the 11th century when Þorgeir Ljósvetningagoði Þorkelsson, a lawmaker, threw the idols of the ancient Norse gods into the waters.
The Goðafoss waterfall, taking its flow from the Skjálfandafljót river, is not very high but its semi-circular shape makes it unique. This waterfall is also a part of the Diamond Circle. 
Dimensions: 12 meters high
How to get there: Goðafoss in Iceland is very easy to get to, located on Route 1 between Lake Mývatn and the town of Akureyri in the north of the country. When you arrive, park in the car park and follow the small path along the river.
---
Westfjords 
→ Dynjandi
Dynjandi, the name meaning 'thunderous', is a series of seven waterfalls in the Westfjords and the largest of its kind in the region with the water cascading about 200 meters in total over a series of tiered cliffs. The largest of the seven is usually referred to as Dynjandi or Fjallsfoss is truly a beautiful sight and looks like a beautiful bridal veil - no wonder he is called a jewel of the Westfjords. You might even have this beauty all to yourself, as the Westfjords, is by far the least visited area of the country.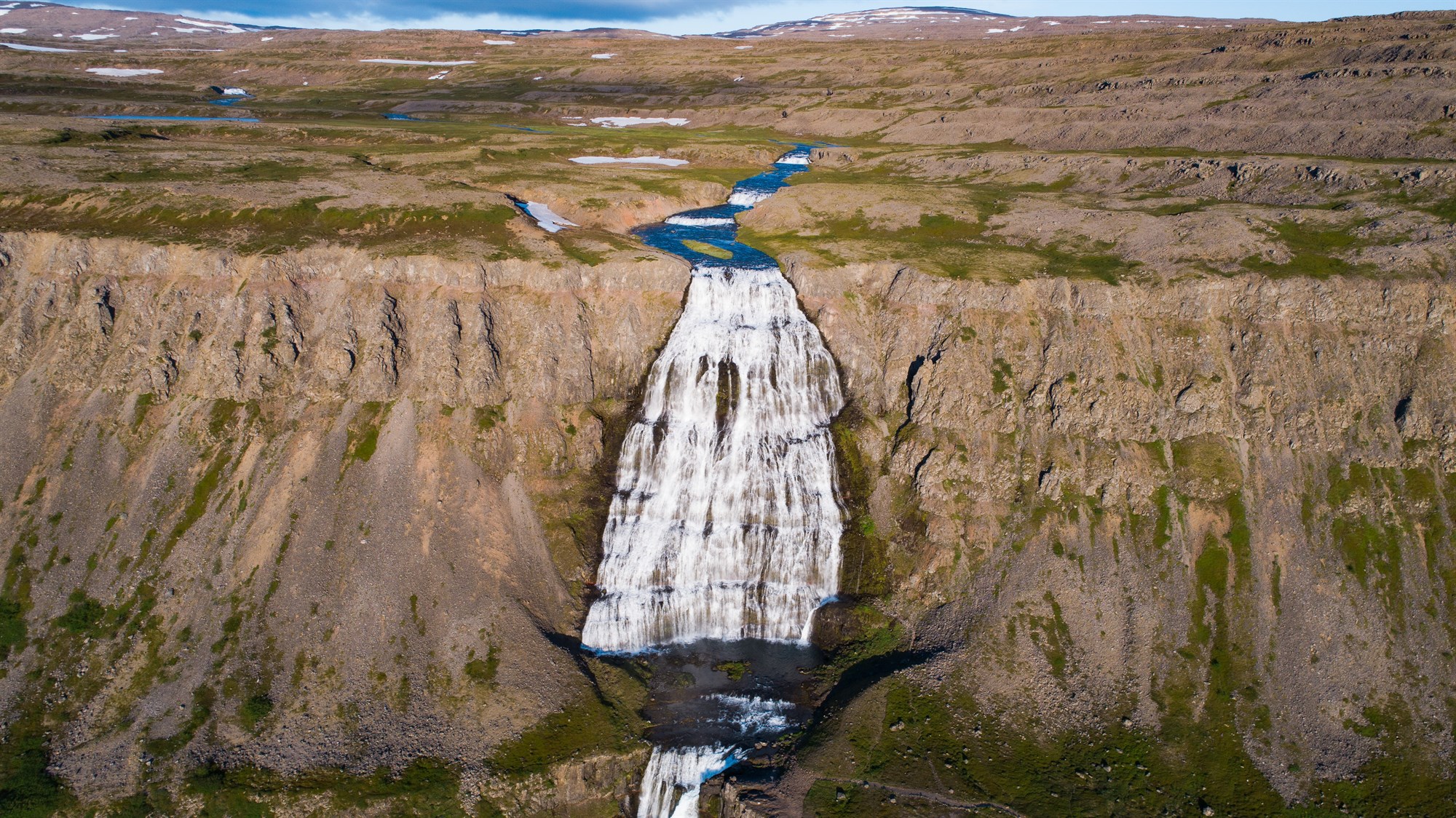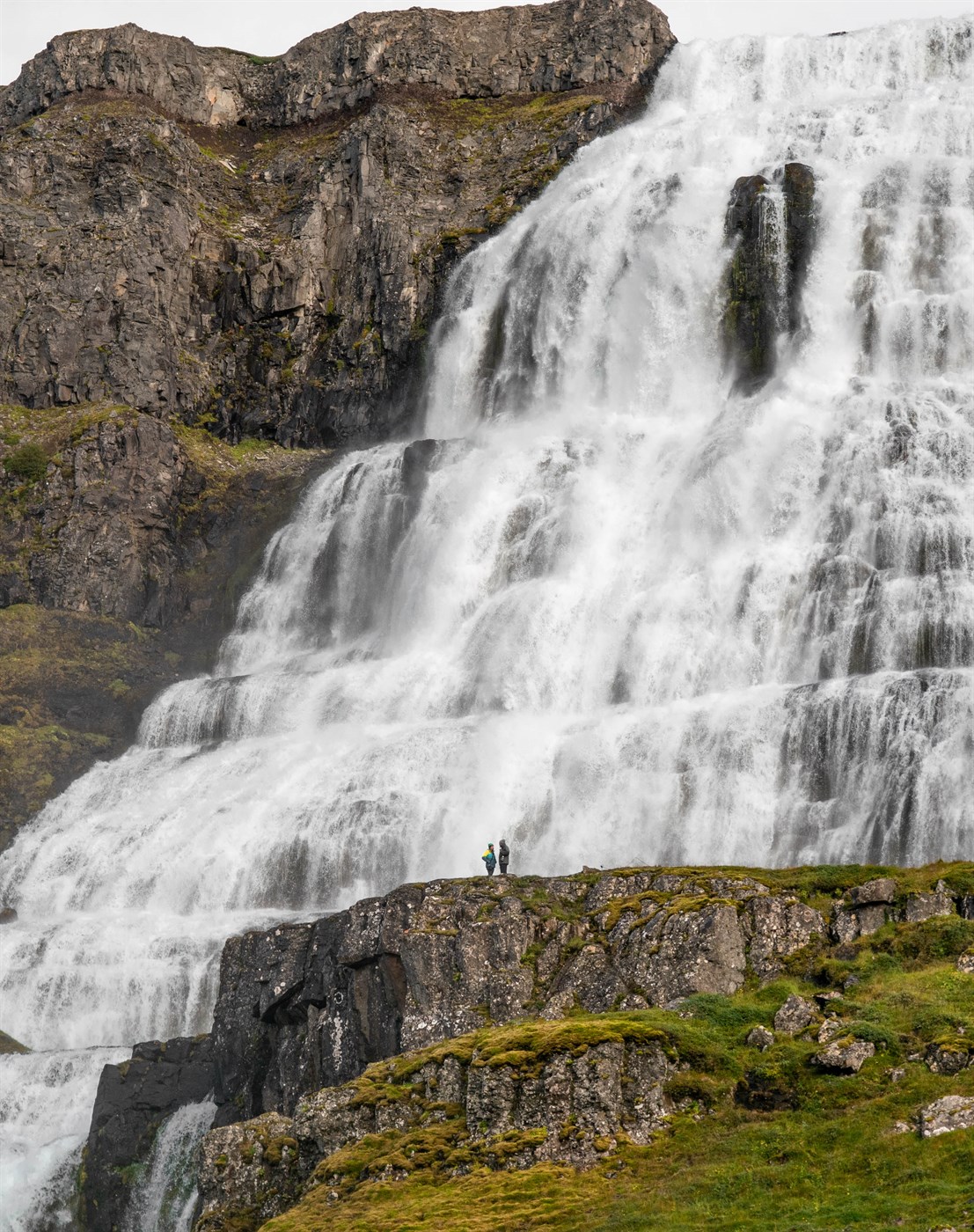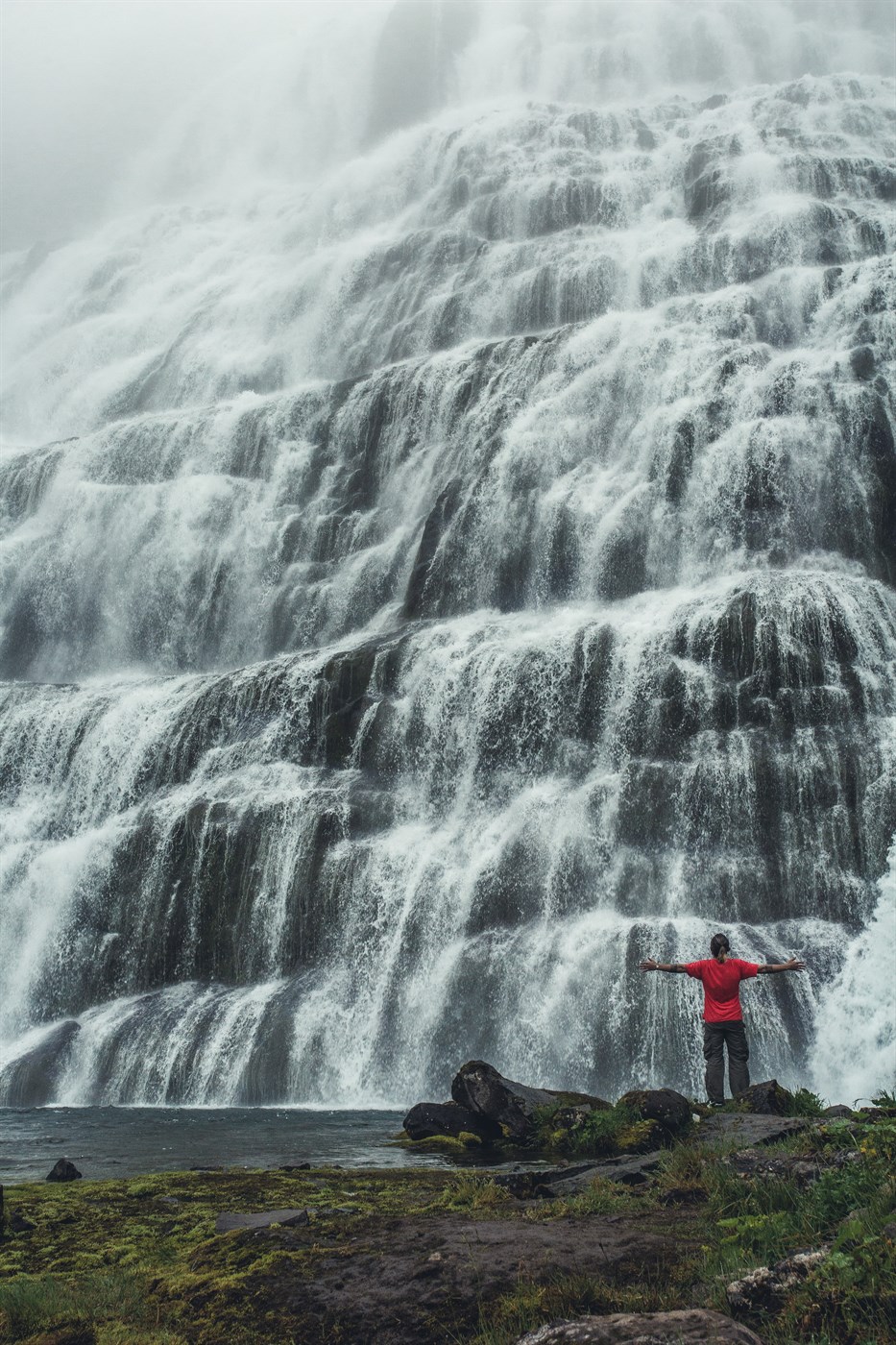 Dimensions: 100 meters tall, 30 meters wide at the top, and 60 meters wide at the bottom. 
How to get there: Dynjandi is about 60 km south of Ísafjörður. It is easy to reach in summer, and the area has facilities like restrooms and a big parking lot. Hiking to the waterfall takes only about 15 minutes from the parking lot, as in 1996 there was a rocky path built to the top of the waterfall. The road to Dynjandi is closed in winter, usually from late October to the end of April or the beginning of May. 
---
West Iceland
→ Glymur
Glymur waterfall is located in the west of Iceland, not far from Lake Hvalvatn and just over an hour's drive from Reykjavik. It is the second tallest chute in the country, with a height of 190 meters, just behind Morsarfoss, which is 230 meters high.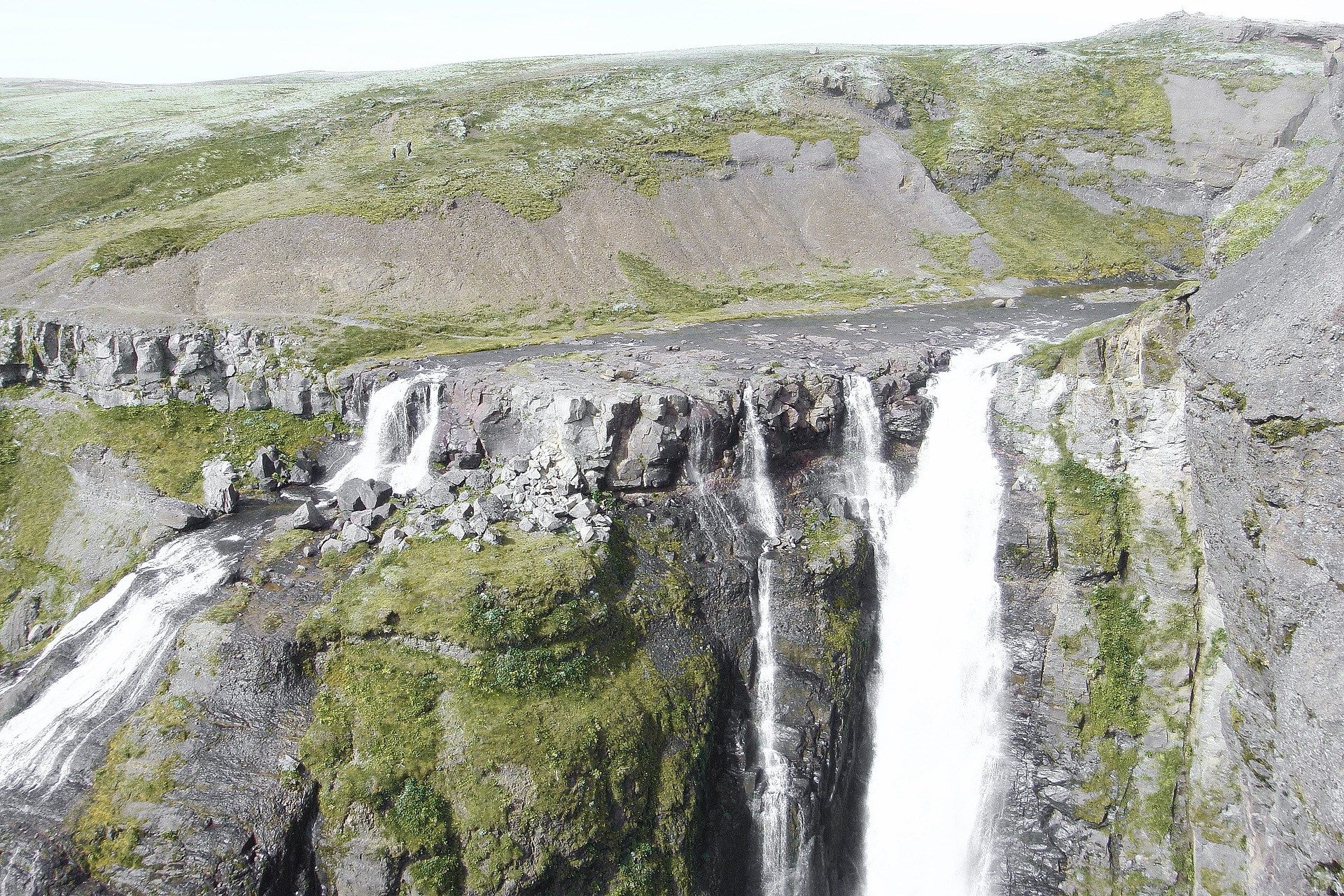 Here again, paths around the waterfall allow you to stroll while breathing in the fresh Icelandic air.
This little hike is simply magical, with crossings of rivers and paths surrounded by shrubs, the walk to get to the falls is perhaps as great as seeing the fall itself!
In this video you can have an overview of what it looks like:
Incredible isn't it?
Dimensions: this cascade is 190 meters high; it is the second tallest in the country.
How to get there: Glymur is located in the west of the country, from route 1, take route 47 and leave your car in Botnsá, from where a hike begins which is not the easiest. What to expect? Passage through a cave, crossing rivers, and a precipice-shaped path, be well equipped before embarking on this hike, about 3 hours round trip.
→ Hraunfossar
Hraunfossar is made up of a multitude of small waterfalls, located in the west of the country.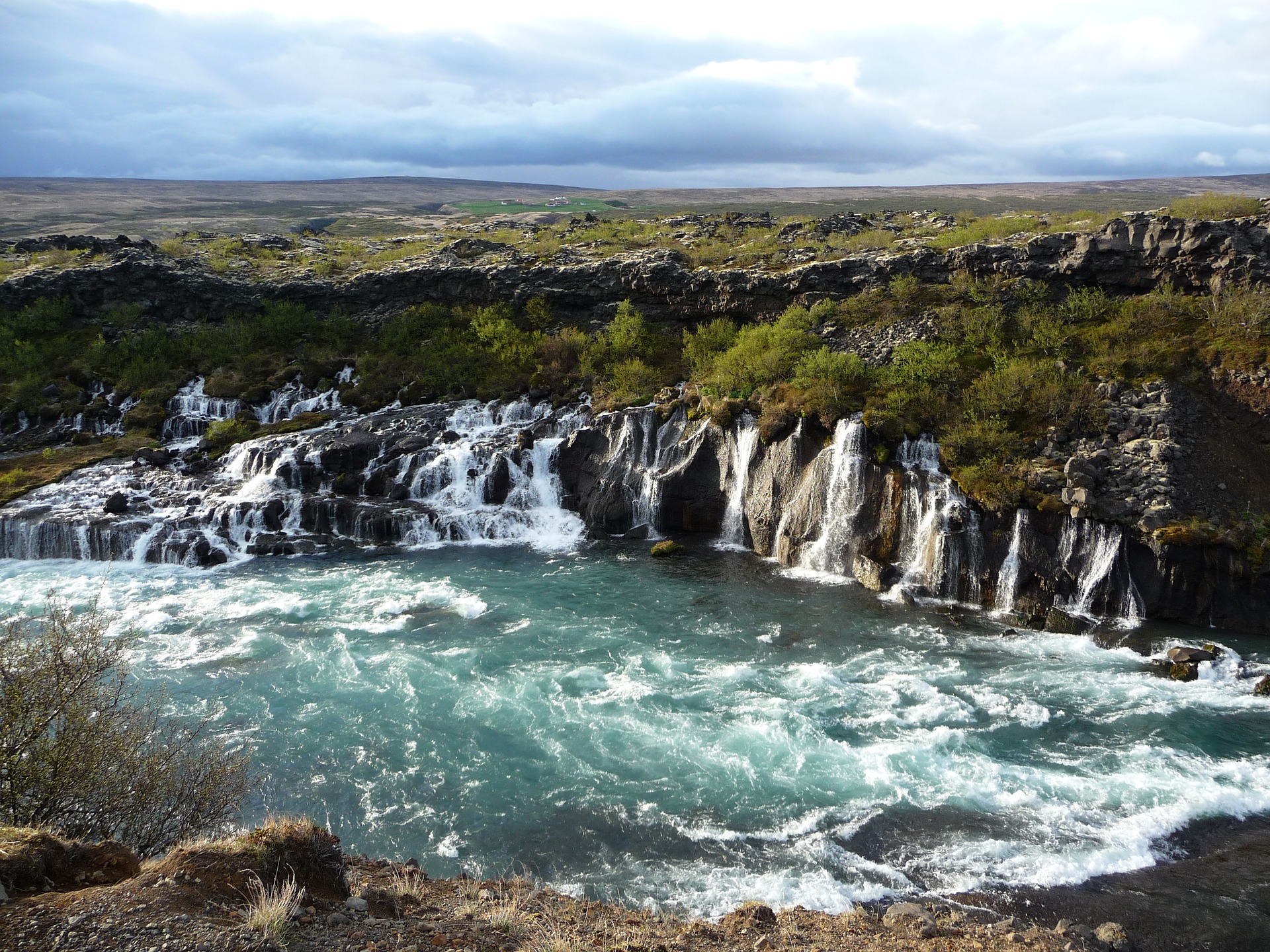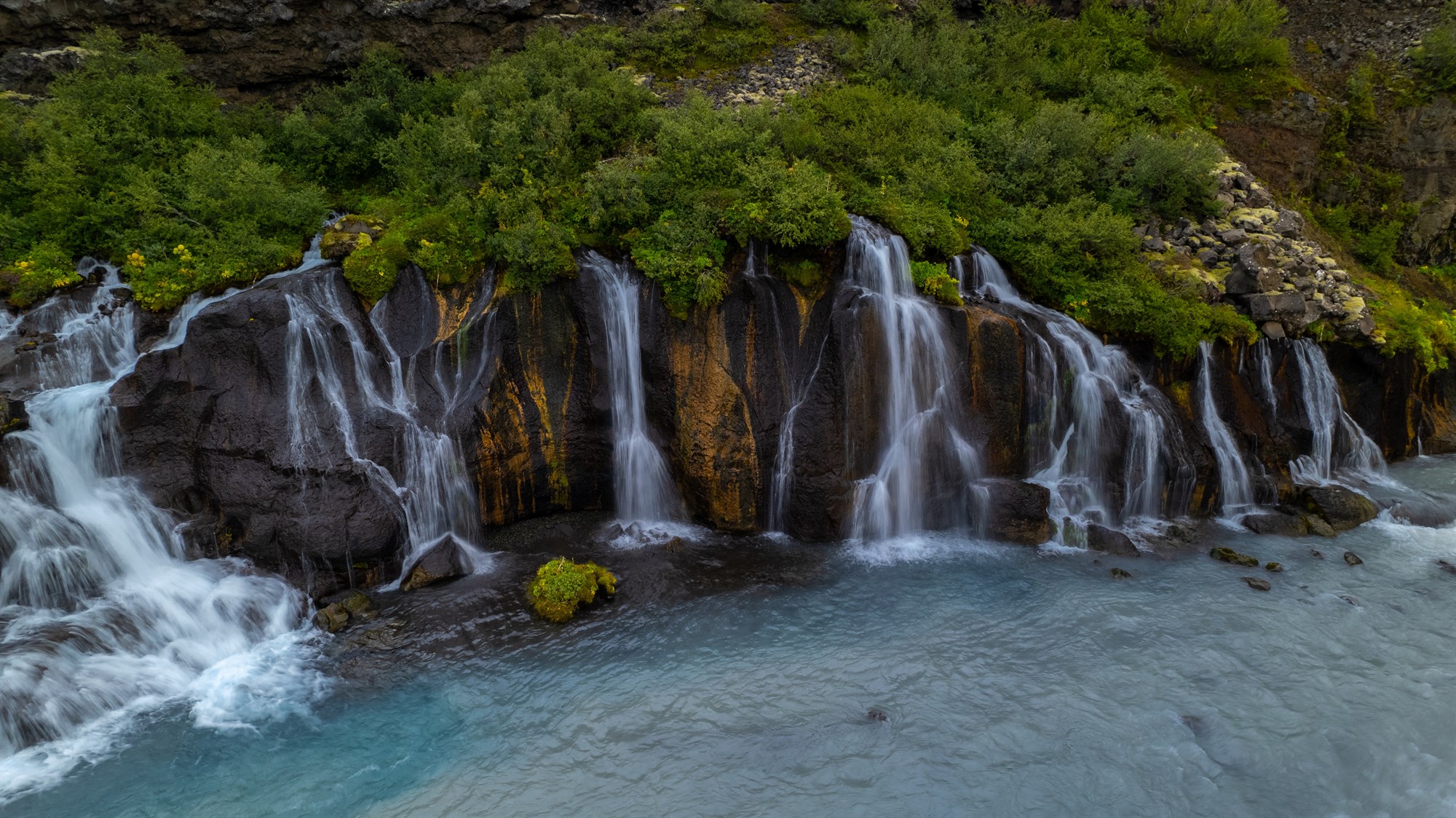 The waters of these falls flow along a lava field, which is where their name come from, Hraunfossar means "lava falls", the original volcano of these lava flows is also just below the Langjökull glacier.
According to Icelandic folklore, the cellars formed in lava are inhabited by trolls. If you want to check, you know what you have to do!
But there's also another story, it is said that two children fell from a stone arch while crossing the river at Barnafossar, upstream of Hraunfossar. Their mother, devastated, decided to have the arch destroyed, making every other kid unable to cross the river again.
Dimensions: the water flows for about 1.5 km, the falls can go up to almost 16m high in some places.
How to get there: Hraunfossar waterfall is quite far from Route 1. From Reykjavik, the drive takes about 1 hour and 40 minutes, take Route 1 north until you reach Route 50 which you will take by turning right. Finally, take Route 518 until finally arriving at a parking lot. From the parking lot you can also walk to another waterfall: Barnafossar, so again this is really two birds with one stone. 
---
Other
breathtaking

waterfalls around the island
| | | | | | |
| --- | --- | --- | --- | --- | --- |
| | Aldeyjarfoss | Faxi | Gjarfoss | Ófærufoss | Barnafoss |
| Location | Northern top of the Central Highlands | on the Golden Circle | Gjain Valley | Highlands | West Iceland, Highlands |
| Car | F-roads -> 4x4 car | normal car | normal car | 4x4 car | 4x4 car |
| Characteristics | | | | | |
Best campsites next to a waterfall
Whether you want to take a short hike from your campsite or if you want to fall asleep to the quiet roar of waterfalls adjacent to your campsite, we have made a shortlist of the best campsites that feature waterfalls on their grounds.
Camping Faxi, South Iceland
Faxi campground is located 10 km from Geysir, which is one of the three main attractions on the Golden Circle. The campsite itself is by Faxi waterfall and offers amazing views over the waterfall and the river Tungufljót. 
Hamragarðar Campground, South Iceland
Hamragarðar Campground is without a doubt one of the more beautiful campsites in Iceland. It is situated under Eyjafjallajökull and between the waterfalls Seljalandsfoss and Gljúfrarbúi. From the campsite, you can walk to both waterfalls via the path at the rear of the campground.
Skógar Campground, South Iceland
Skógar campground is located about 150 km southeast of Reykjavík and makes the perfect place to camp on your first or second night in Iceland if you start with the Golden Circle and head south. The campsite itself is located 500 meters away from Skógafoss waterfall, so you can enjoy listening to cascading water as you snuggle up for the night in your KuKu campervan.
Kleifar Campground, South Iceland
If you are looking for the hidden gem of a campsite, Kleifar is your bet. The campsite is located at Geirlandsvegur, 2,5 km from Kirkjubæjarklaustur, conveniently located between Vík and Jökulsárlón (glacial lagoon). It is a relatively small campsite, with stunning surroundings, with a small mountain backdrop, with a beautiful waterfall; Stjórnarfoss running through a small canyon, at the rear of the campsite and on a good day the water from the waterfall can become warm enough to take a dip.
Skaftafell Campground, South Iceland
Skaftafell Campground is located in Vatnajökull National Park and is the campsite located only a short walk from Svartifoss, the waterfall that was the inspiration for Hallgrímskirkja church. You will find various hiking paths within Skaftafell, at all difficulty levels. We highly recommend park visitors to join park rangers on short walks around the park from mid-June to mid-August, as the rangers are highly knowledgeable about the area, vegetation, and history.
Tungudalur Campground, Westfjords
Tungudalur campground is the camping for Ísafjörður, the biggest town in the Westfjords. The campsite itself is situated about 1 km outside of town and is one of the more picturesque campsites in Iceland as Bunárfoss waterfall divides the campground into two areas.