The 10 most famous Waterfalls in Iceland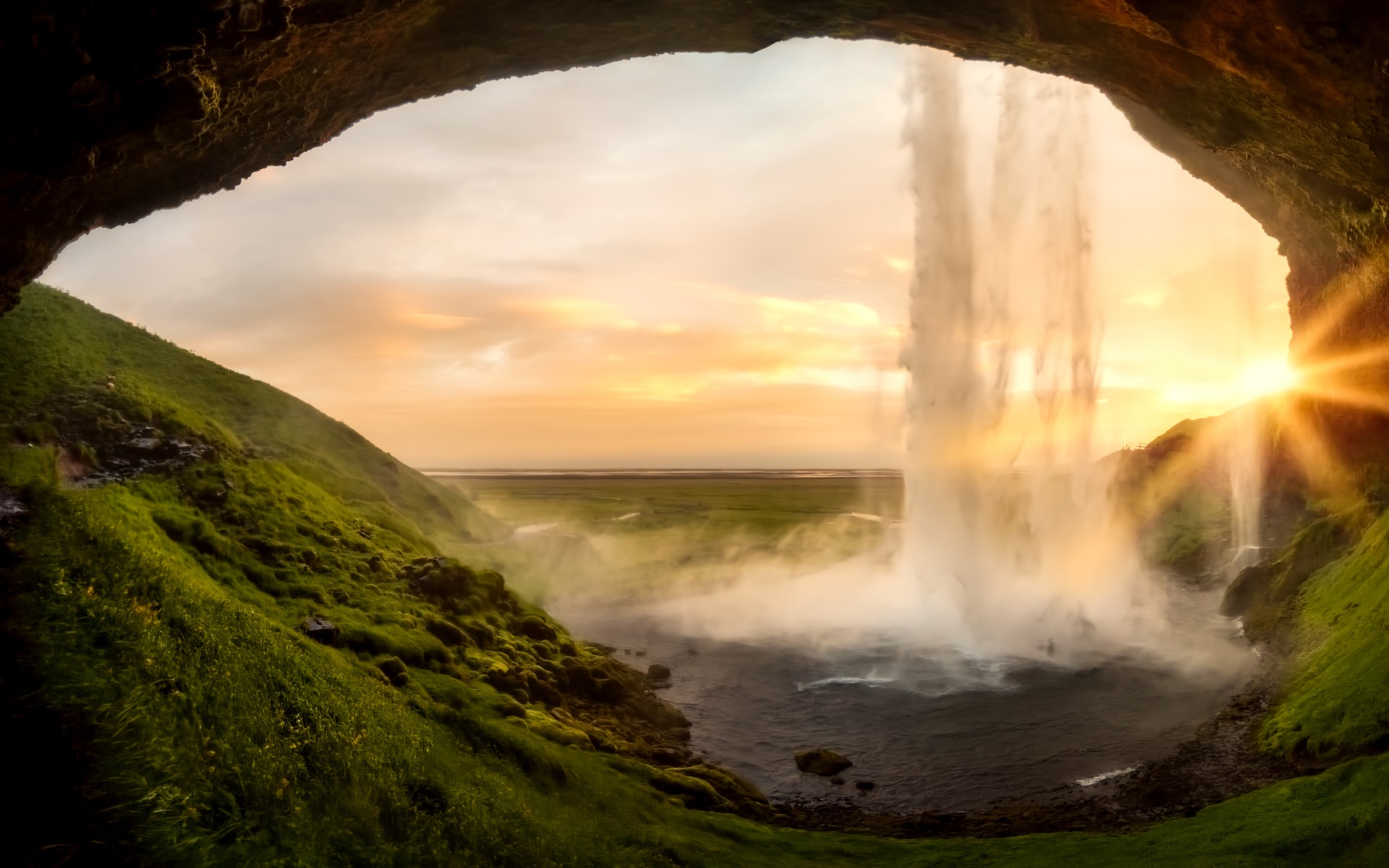 The best waterfalls in Iceland!
Iceland is full of treasures, and the waterfalls are one of them. They have even been coveted in the past by foreign investors wanting to us the power of these falls in order to produce energy. Hopefully they couldn't do that thanks to a certain Sigríður Tómasdóttir, but that's another story...
If you are planning a trip for a few days and you do not know which waterfall to visit, here is a handy guide to the most beautiful waterfalls in Iceland. Each one is unique and will offer you something new, breathtaking and memorable, just follow the guide!
You may have already noticed that most of them ended with "foss", it simply means "waterfall" in Icelandic.
Here are our top 10 waterfalls that you can come and admire in our little island:
This top is not necessarily in order or out of order, we know from experience that everyone has their own favorite waterfall. We can do a lot of things to make you have a good stay in Iceland, but for tastes and colors, there is nothing we can do!
Which ones to visit? Where to find them? Keep on reading, learn and then discover the wonderful waterfalls land of ice and fire has to offer – or something like that
Iceland Waterfalls Map
To make things easier, here is a map that will help you to locate the differents cascades and have an overview of their spread in the country. As you can see many of them are situated in the eastside of the country, which make them easily accessible from the capital city of Reykjavik. 
Gullfoss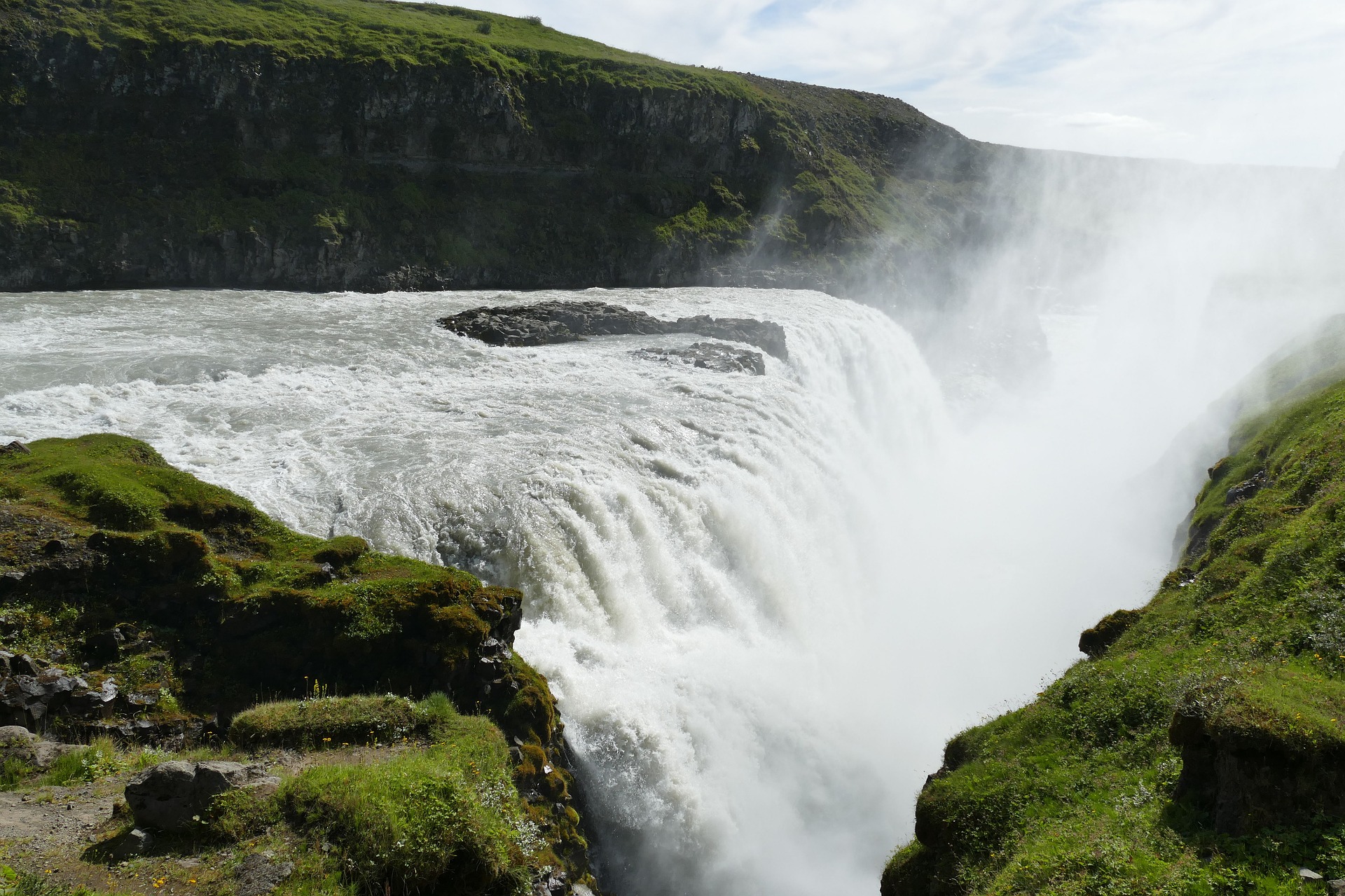 Photo: Gullfoss in Summer
The Gullfoss waterfall, also called the "golden falls", is part of what is called the "Golden Circle", an area formed by the site of Geysir and its famous geyser, Thingvellir National Park and Gullfoss. We talk about the golden circle in more detail in this article.
This fall take its water from the Hvítá River and will surprise you with its beauty, in winter, it blends perfectly with the snowy landscape. In summer, the water suspended in the air can create a magnificent rainbow. And by magnificent, I mean the most awesome rainbow you will ever see
Less than two hours from the capital city, Gullfoss is a must for your trip to Iceland.
Dimensions: from a height of 32 meters to 70 meters wide, just that!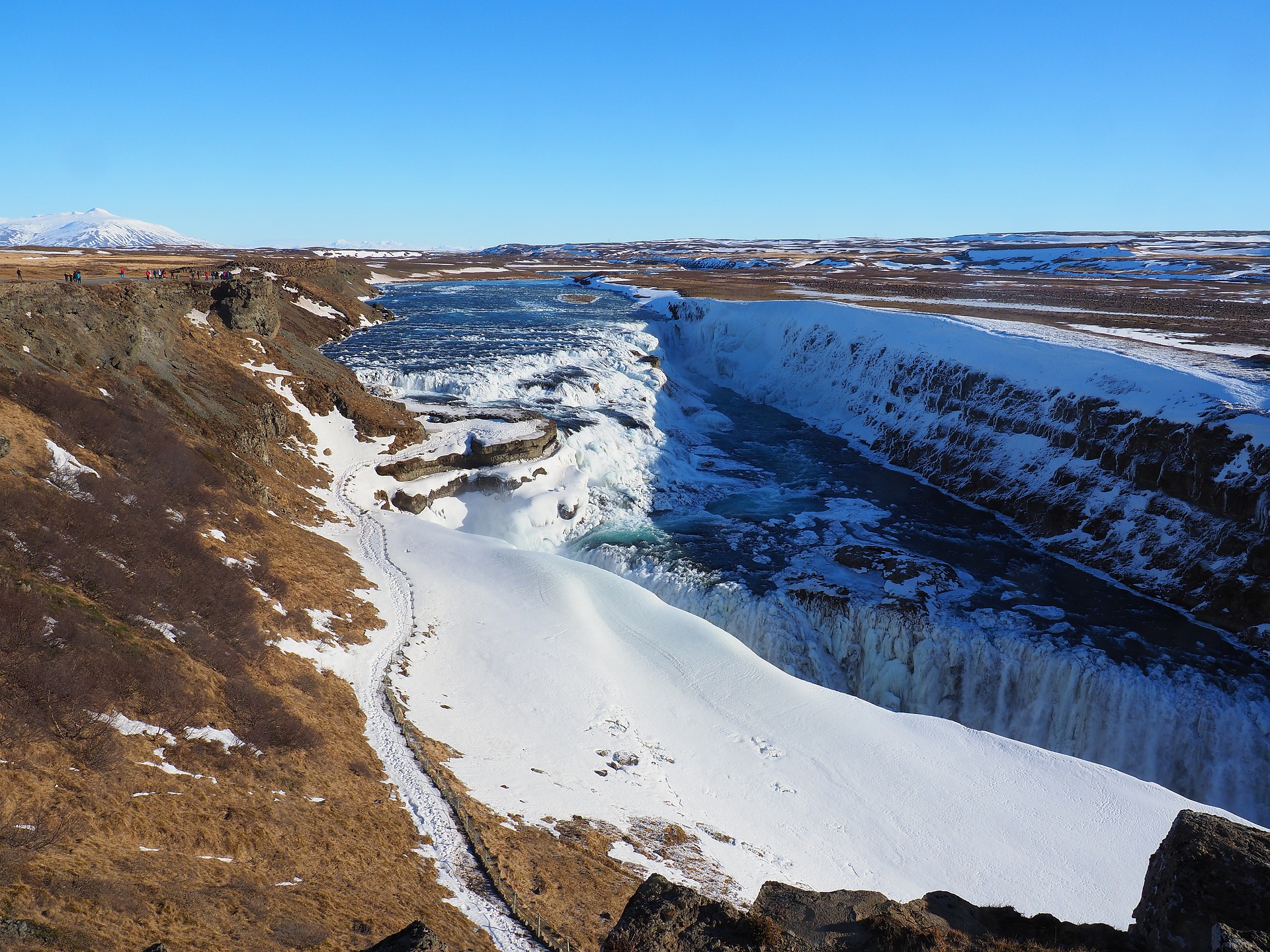 Photo: Gullfoss in Winter
How to get there: From Reykjavik, take road 1 towards south, until you reach route 35 where you will take a left, drive for another 1 hour on road 35 until arriving to Gullfoss! 
Skogafoss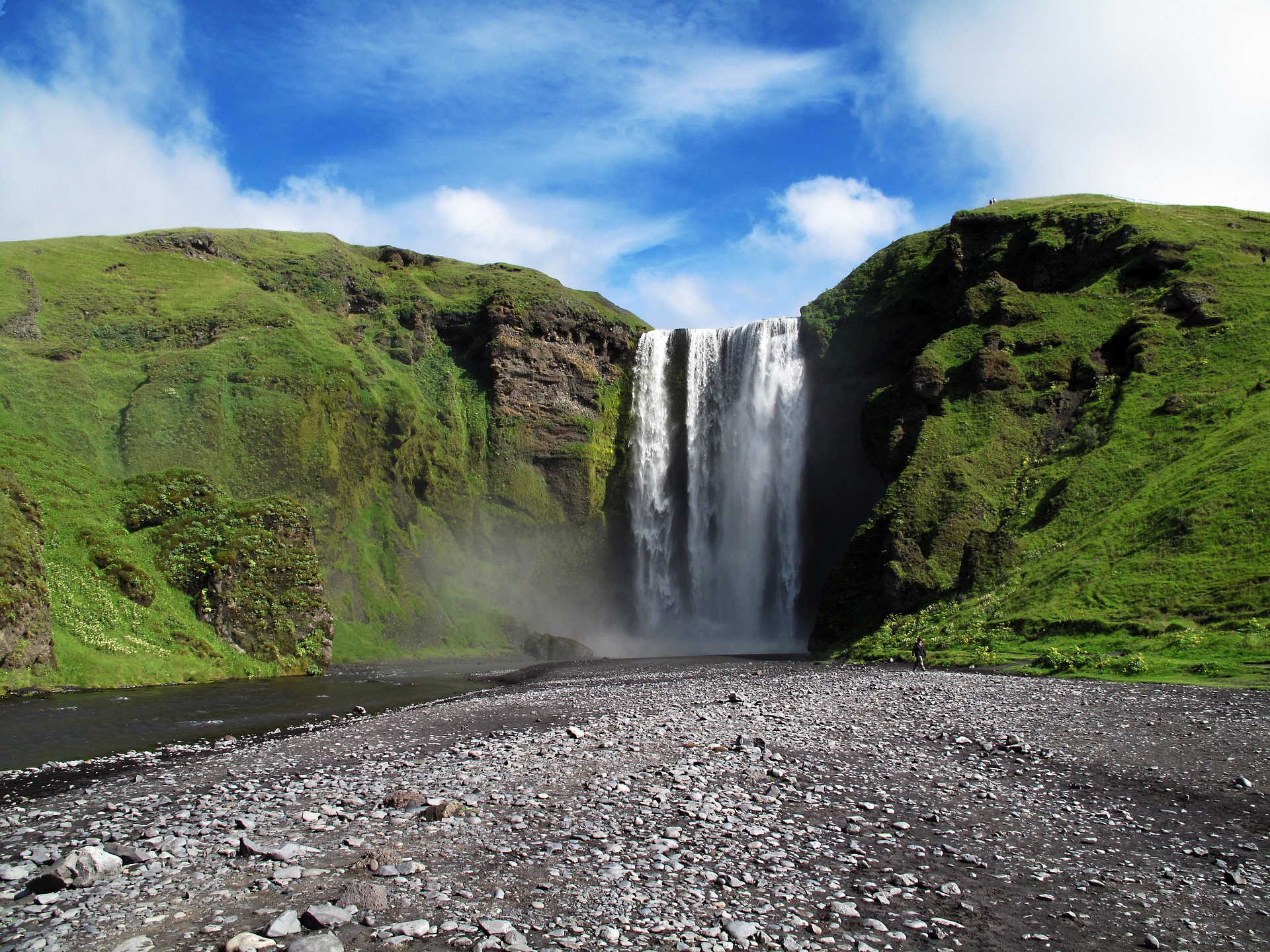 Photo: Skogafoss off road 1
The Skogafoss waterfall is taking its waterflow from Skógá river and is situated on the road to Vik in the south of the country. It's a great place to stop and take a few shoots. This place is impressive because of its beauty and strength, 
The legend says that a chest full of gold coins would be hidden there, and that a child would have found it a few days later, being able to take only a handful with him, it is said that the rest of the treasure is still there. (pssst! more of Icelandic legends here!)
It is a must to visit Skogafoss during your road trip in Iceland, and a very good stop for stop overs and picnics between the Golden Circle and Vik.
If you wish, you can take a small path on the side of the waterfall, from up there you will have a breathtaking view of the water falling below. This track then continues to Landmannalaugar, a geologically very active site!
Dimensions: 60 meters high and 25 meters wide
How to get there: To get there, take Route 1 south, signs will tell you which exit to take, once you get close you will see the cascades on your left in the distance. Guaranteed thrills and excitement when they appear before your eyes, this time for real!
Seljalandsfoss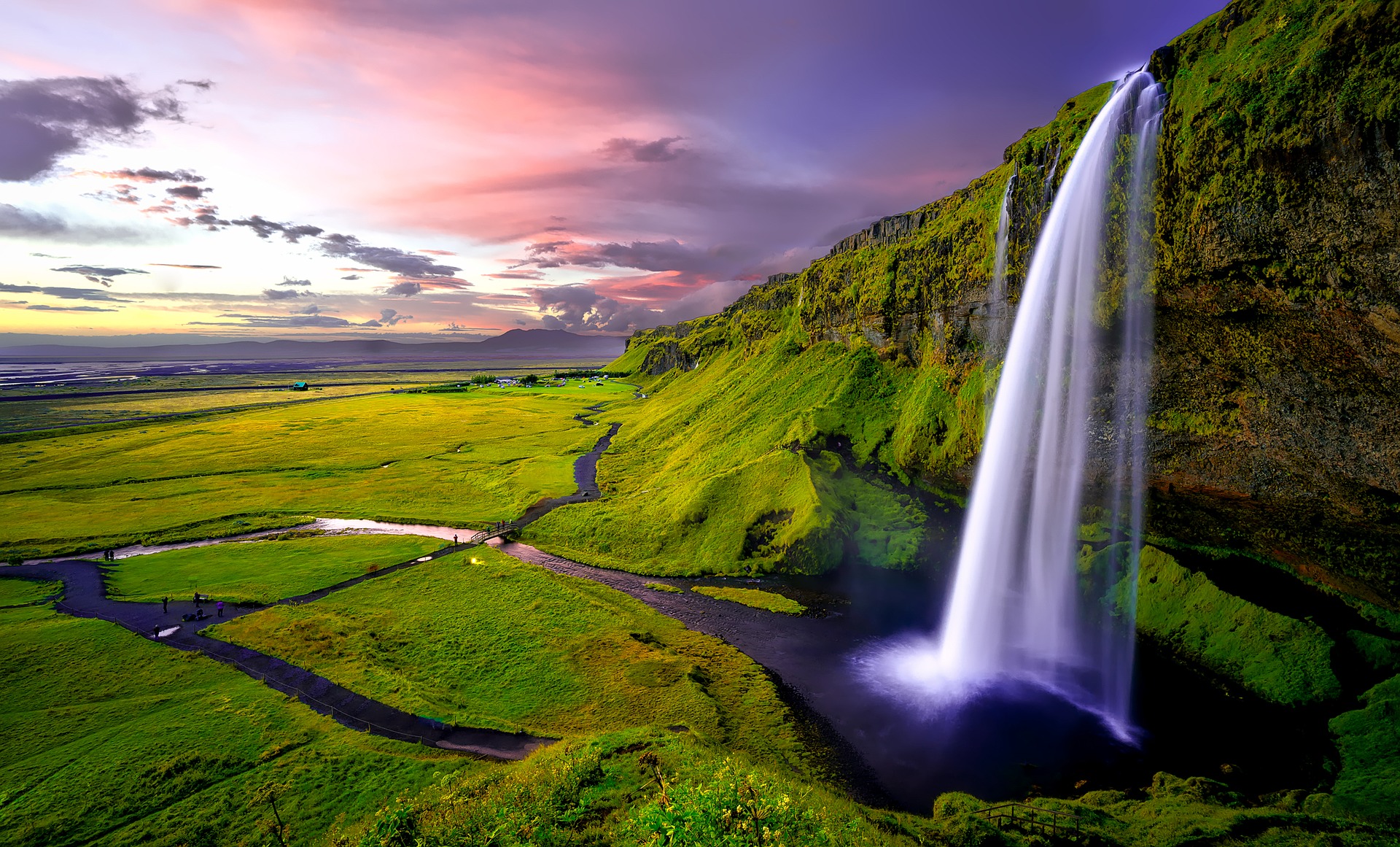 Photo: Seljalandsfoss during the sunset
Seljalandsfoss Waterfall is probably the most known in the country, just 1 hour and 45 minutes' drive from Reykjavik, this majestic place is the perfect example of what Iceland can offer in terms of beauty.
What is so good about this place is that you can walk behind the falling water, thanks to a small path that goes around, giving you a unique view of the falling water and the landscape behind.
Be careful when visiting Seljalandsfoss, going behind the waterfall guarantees you getting soaked, so bring waterproof clothes and consider yourself warned.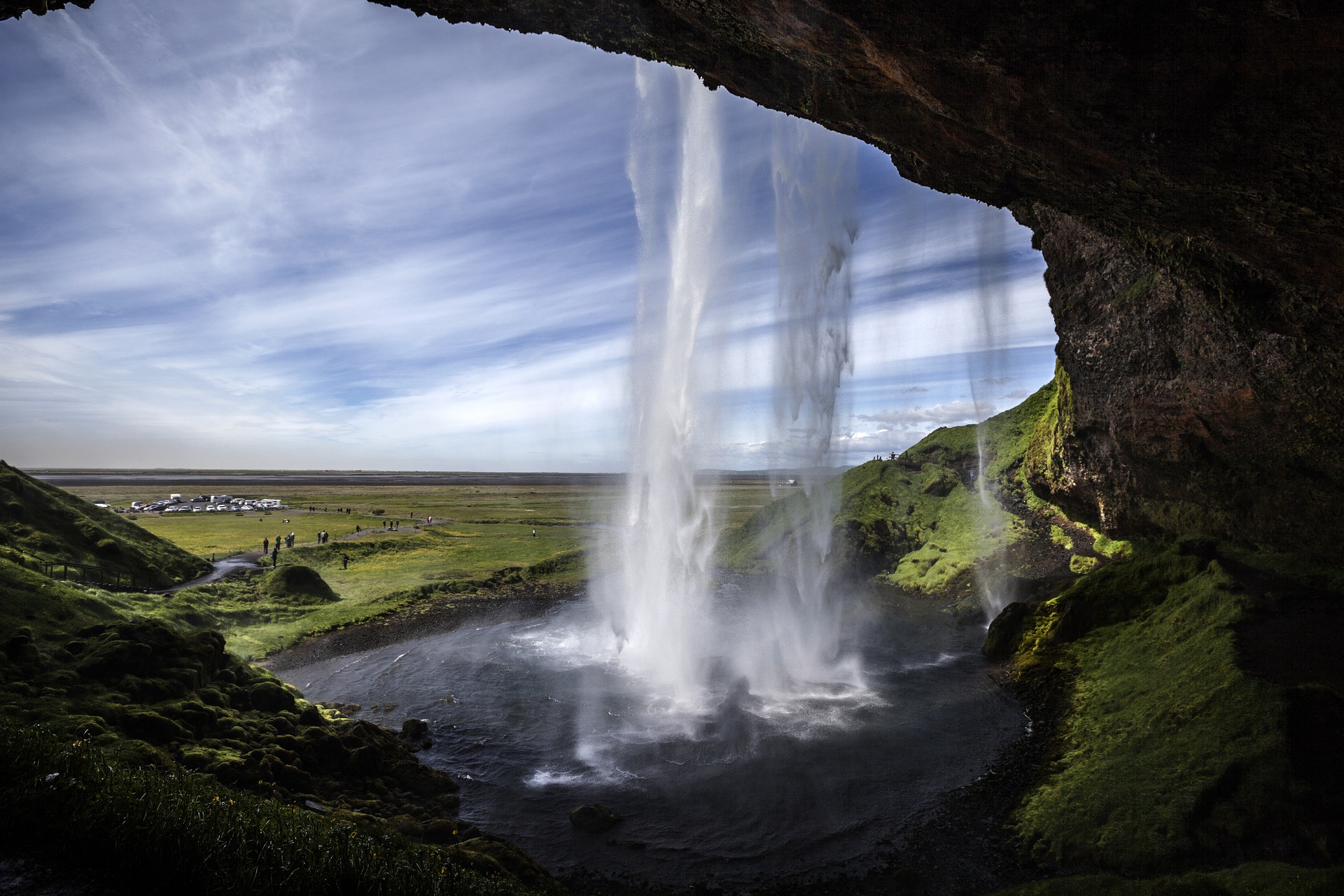 Photo: Seljalandsfoss from behind the fall
During sunny days the water changes color and turn yellow and orange, a striking spectacle that you absolutely must attend!
Dimensions: 65 meters high
How to get there: While you drive on Route 1 towards south, you will see a thin white net in the distance, it's Seljalandsfoss! You're almost there, just cross the big bridge and turn left right after, on road 249. The closer you get, the more you can admire this magnificent site, just off the Ring Road (Route 1).
If you do a bit of research on internet, you may find incredible pictures of Seljalandfoss surrounded with northern lights, simply majestic.
Dettifoss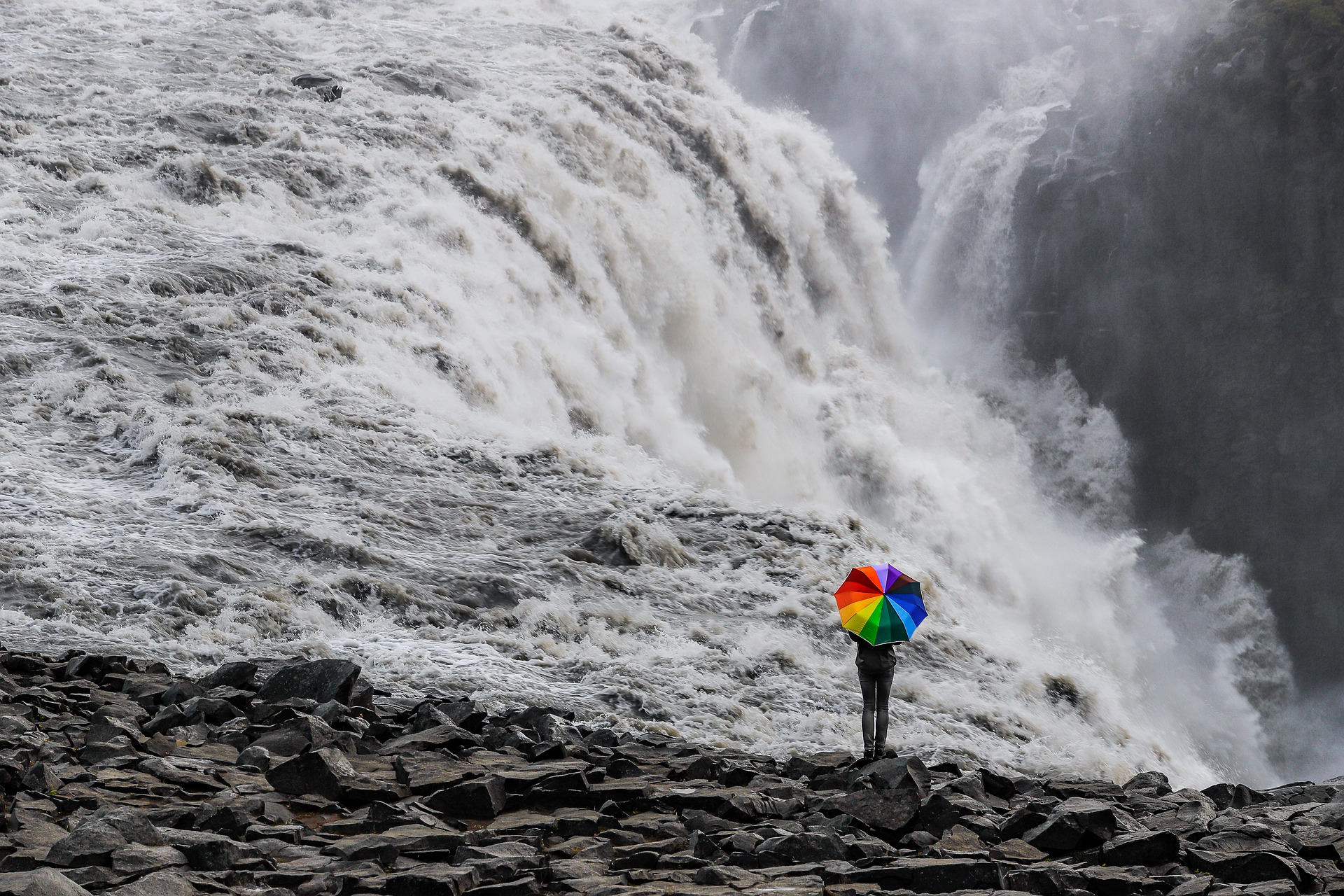 Photo: The powerful Dettifoss
Dettifoss waterfall is also a must-see. Located in the north of the country, in the Jökulsárgljúfur canyon, its flow is estimated at 200m3 per second, making it one the most powerful waterfall in Europe, just after the Rhine Falls (Switzerland).
It is located in a remote region, about 40 minutes from Route 1. This makes it a perfect site for a break in the middle of Icelandic nature.
We strongly invite you to stroll on the site of the waterfall, to also enjoy the surrounding landscapes. Even seen from afar, Dettifoss impresses with its gigantic size.
Interesting fact, near Dettifoss you can find Selfoss, which is also very, and we're talking about it later on.
Dimensions: 44 meters high and 100 meters wide
How to get there: You can access it either to the east with road 862 or to the west with road 864. However, no bridge to cross from one side to the other, if you want to admire the waterfall on both sides, you'll have to take a loooong ride from one side to the other! (halfway check out Asbyrgi canyon ;) )
Selfoss
This waterfall is not to be confused with the city of the same name, since the two are not in the same place!
Selfoss waterfall is in the north of the island, just a stone's throw from another one we're talking about in this top, Dettifoss. It's a great way to kill two birds with one stone because the two sites are less than a kilometer apart, so it's easy to connect the two on foot!
The town of Selfoss is in the southwest of the country, less than an hour from Reykjavik. These two places are opposite, so be careful not to go in the wrong direction.
Dimensions: Selfoss in Iceland is between 10 and 11 meters high and a hundred meters wide.
How to get there: exit Route 1 in the north of the country by taking Route 864, drive 30 minutes and you have arrived in Selfoss!
Both Dettifoss and Selfoss are near to lake mývatn, we really do encourage you to soak into the nature baths there.
Godafoss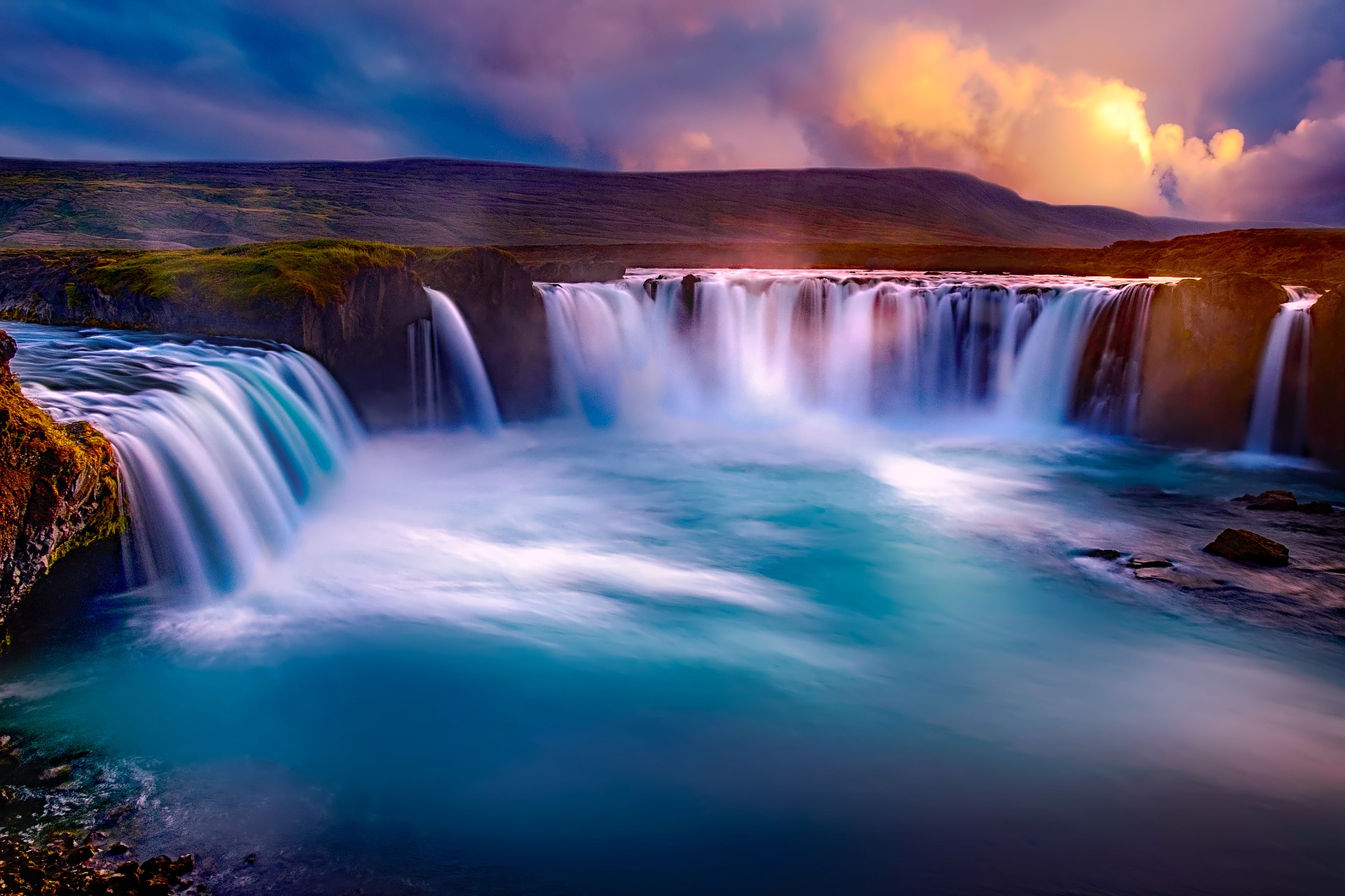 Photo: Goðafoss waterfall , "the fall of the gods", during Summer
Godafoss, literally the waterfall of the gods, takes its name from Icelanders conversion to Christianity in the 11th century when Þorgeir Ljósvetningagoði Þorkelsson, a lawmaker, threw the idols of the ancient norse gods into the waters.
The Godafoss waterfall, taking its flow from the Skjálfandafljót river, is not very high but its semi-circular shape makes it unique.
Dimensions: 12 meters high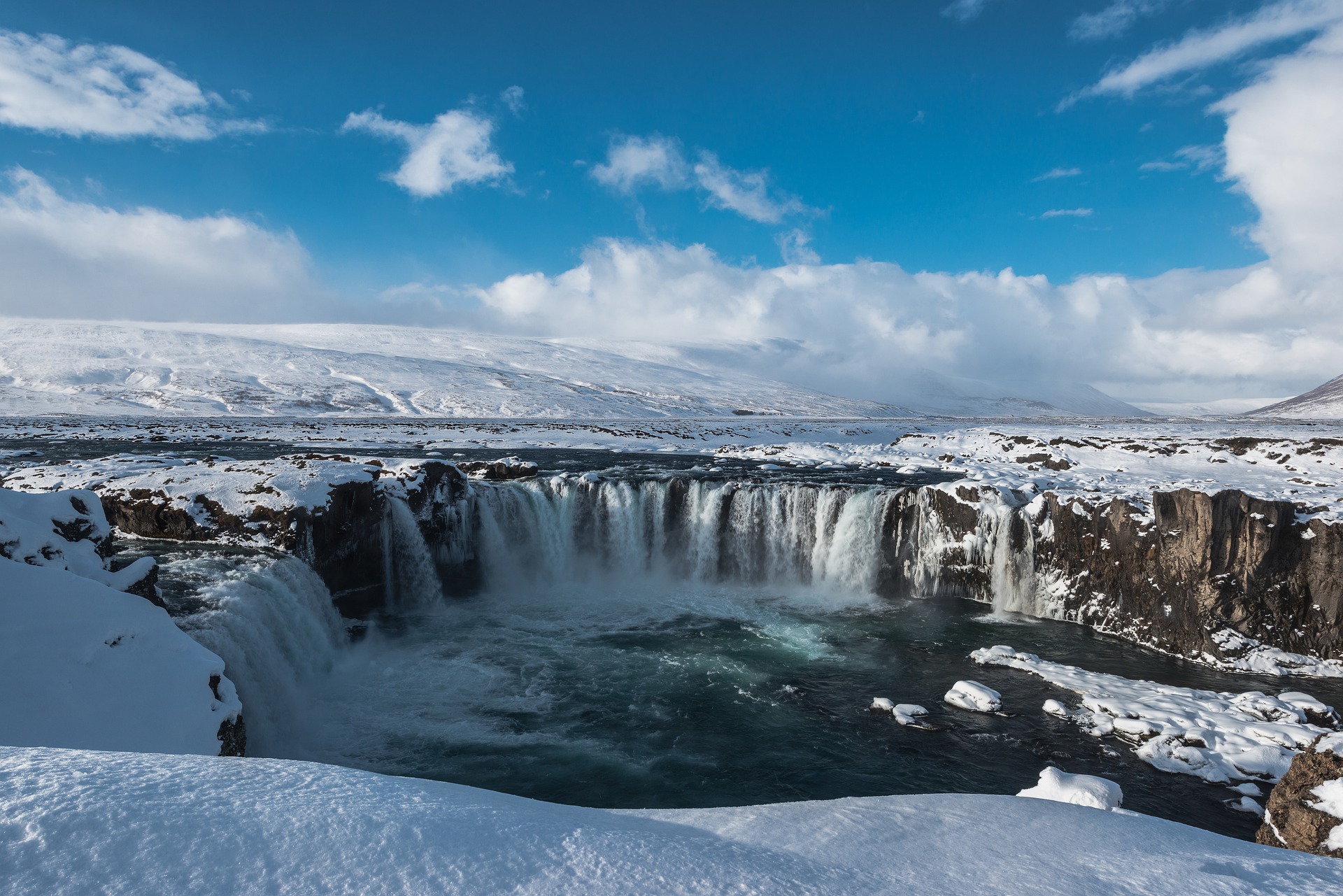 Photo: Godafoss during Winter
How to get there: Godafoss in Iceland is very easy to get to, located on Route 1 between Lake Myvatn and the small town of Akureyri in the north of the country. When you arrive, park in the car park and follow the small path along the river.
Glymur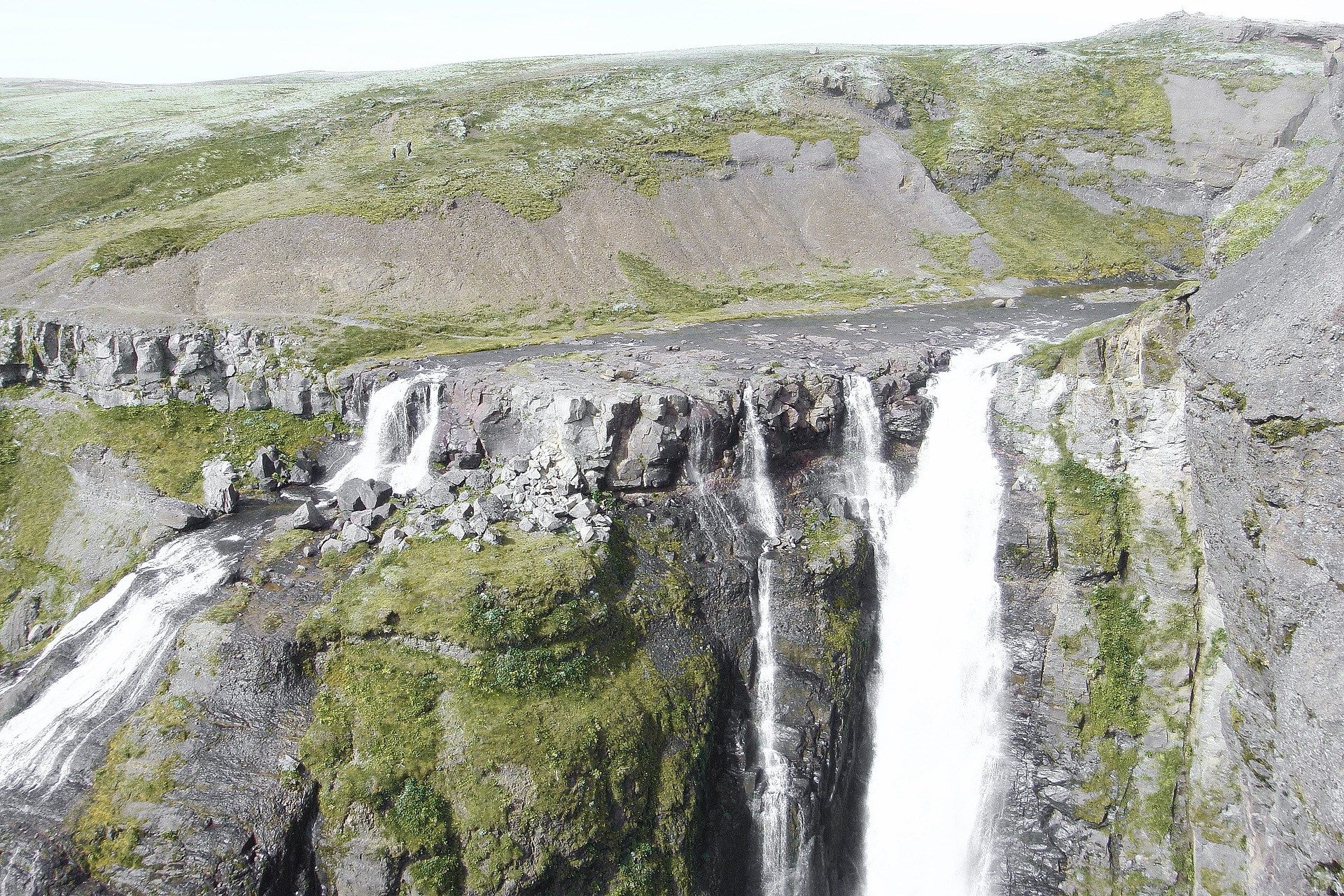 Photo : Glymur
Glymur waterfall, located in the east of the country, not far from Lake Hvalvatn and just over an hour's drive from Reykjavik. It is the second tallest chute in the country, with a height of 190 meters, just behind Morsarfoss, which is 230 meters high.
Here again, paths around the waterfall allow you to stroll while breathing in the fresh Icelandic air.
This little hike is simply magical, with crossings of rivers and paths surrounded by shrubs, the walk to get to the falls is perhaps as great as seeing the fall itself!
Dimensions: this cascade is 190 meters high; it is the second tallest in the country.
How to get there: Glymur is located in the west of the country, from route 1 take route 47 and leave your car in Botnsa, from where a hike begins which is not the easiest. What to expect? Passage through a cave, crossing rivers and a precipice-shaped path, be well equipped before embarking on this hike, about 3 hours round trip.
Svartifoss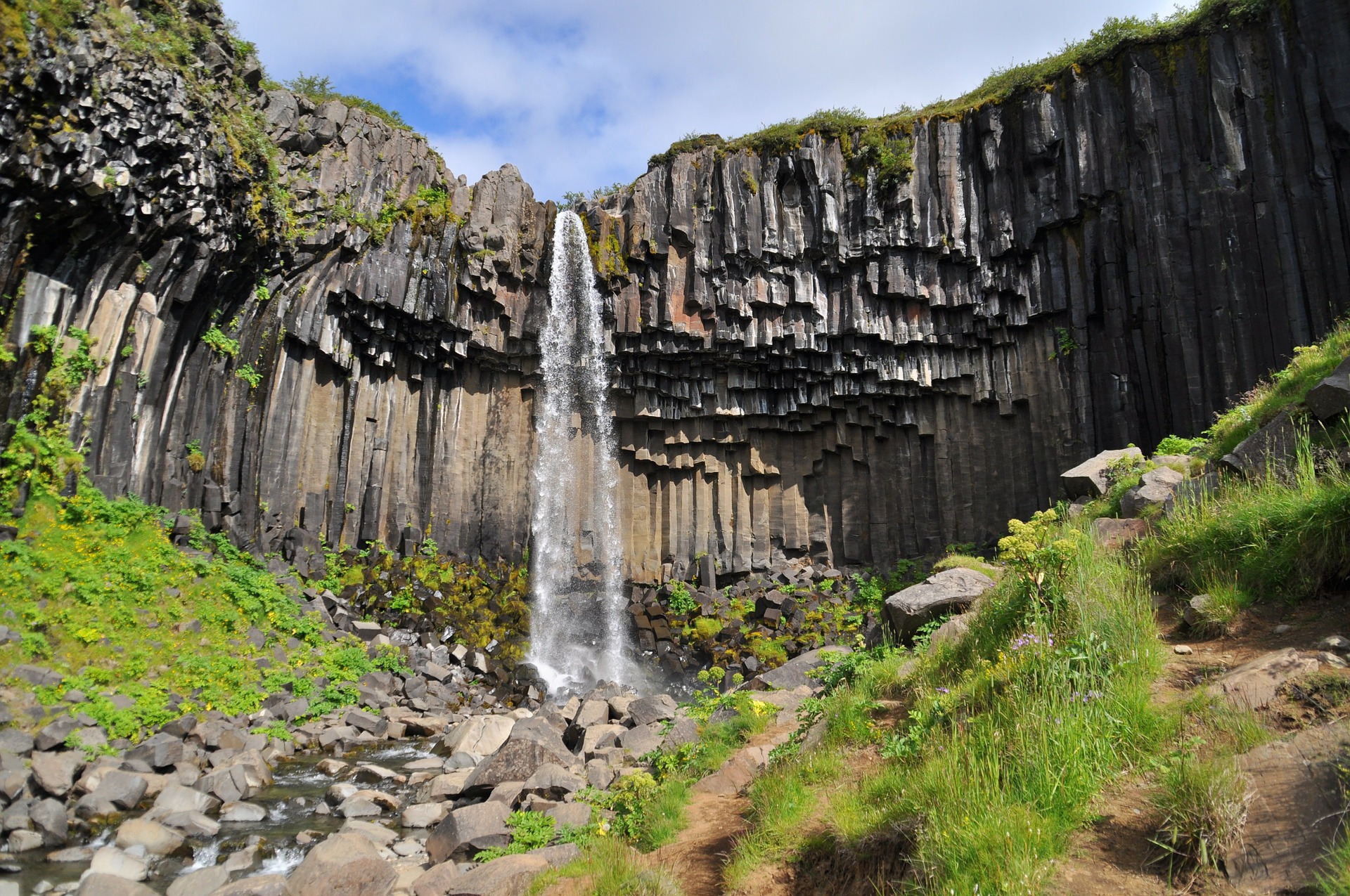 Photo: Svartifoss and its basalt columns
Sarvtifoss, situated in the Skaftafell national park, is particularly incredible, and unique. We can admire all around the fall basalt columns, which we might believe were made by human hands.
This basalt organ hexagon shape is completely natural, and these columns form when the lava cools down quickly. The water, with time has made its way to create a waterfall here, making this place of unparalleled beauty. Give it another go in writing, in explaining how it was shaped.
This is a must for your tour of Iceland's cascades, the surrounding scenery is magnificent, and by its location, you will be close to a whole host of other activities to do in Vatnajökull National Park. Hint hint: Glacier walks and ice cave visits…
Dimensions: 12 meters high, the Svartifoss waterfall is not impressive because of its height, but by the geological formations that surround it. We have a proof that it is not the size that counts!
How to get there: the site is located in the south of the country, in the Vatnajökull National Park. From route 1, take route 998 and drive for 10 minutes to reach a small car park, you will end the journey via a steep path and with a view of the surrounding landscapes.
Hraunfossar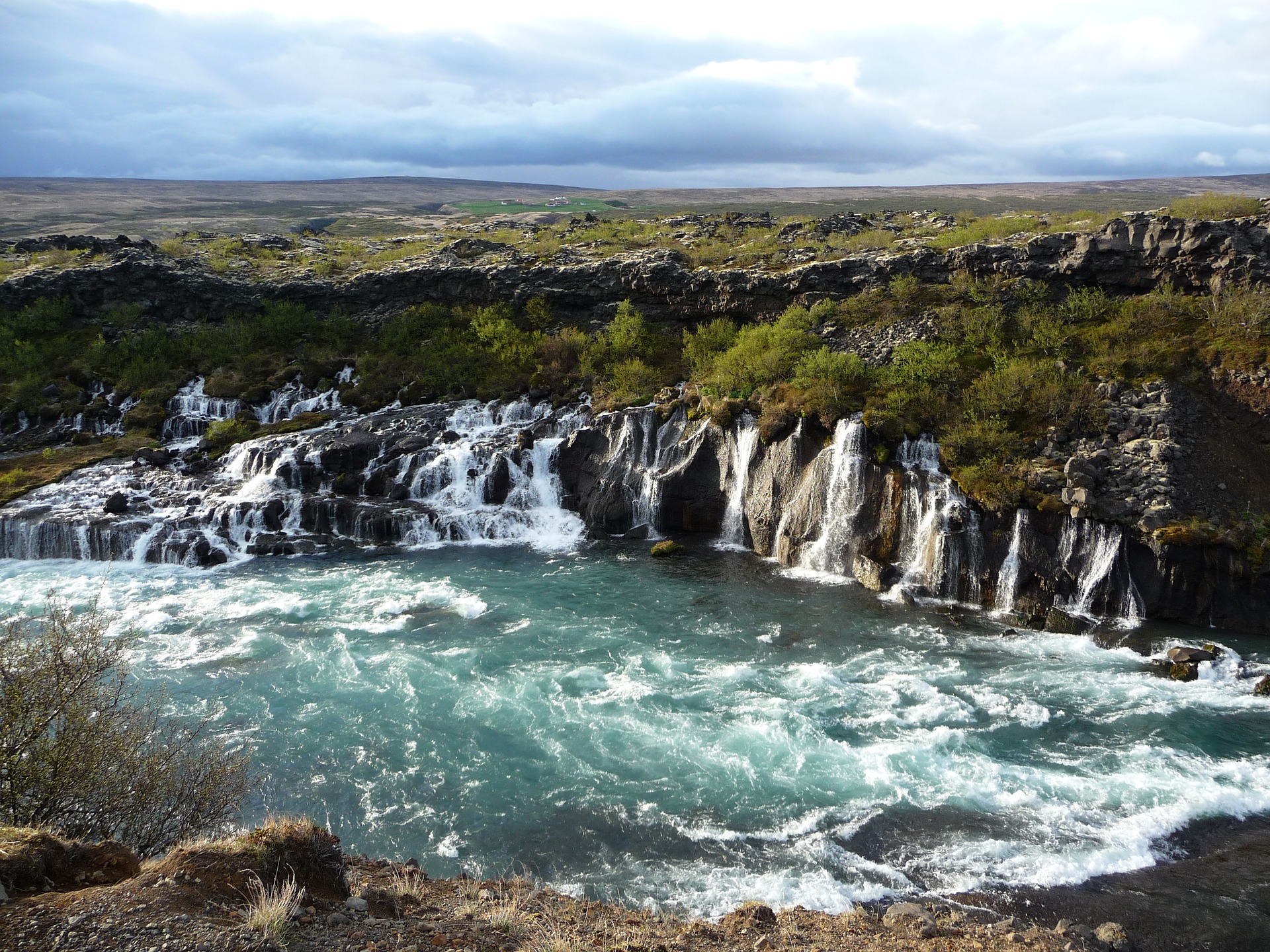 Photo: Hraunfossar, the "lava falls"
The waters of these falls flow along a lava field, which is where they get their name. Hraunfossar means "lava falls", because the site has been very active in the past, the original volcano of these lava flows is also just below the Langjökull glacier.
According to Icelandic folklore, the cellars formed in lava are inhabited by trolls. If you want to check you know what you have to do!
But there's also another story, it is said that two children fell from a stone arch while crossing the river at Barnafossar, uptsream of Hraunfossar . Their mother, devastated, decided to have the arch destroyed, making every other kids unable to cross the river again.
Dimensions: the water flows for about 1.5 km, the falls can go up to almost 16m high in some places.
How to get there: Hraunfossar waterfall is quite far from Highway 1. From Reykjavik, take Highway 1 north until you reach Highway 50 which you will take by turning right. Finally, take Route 518 until finally arriving on site.
Haifoss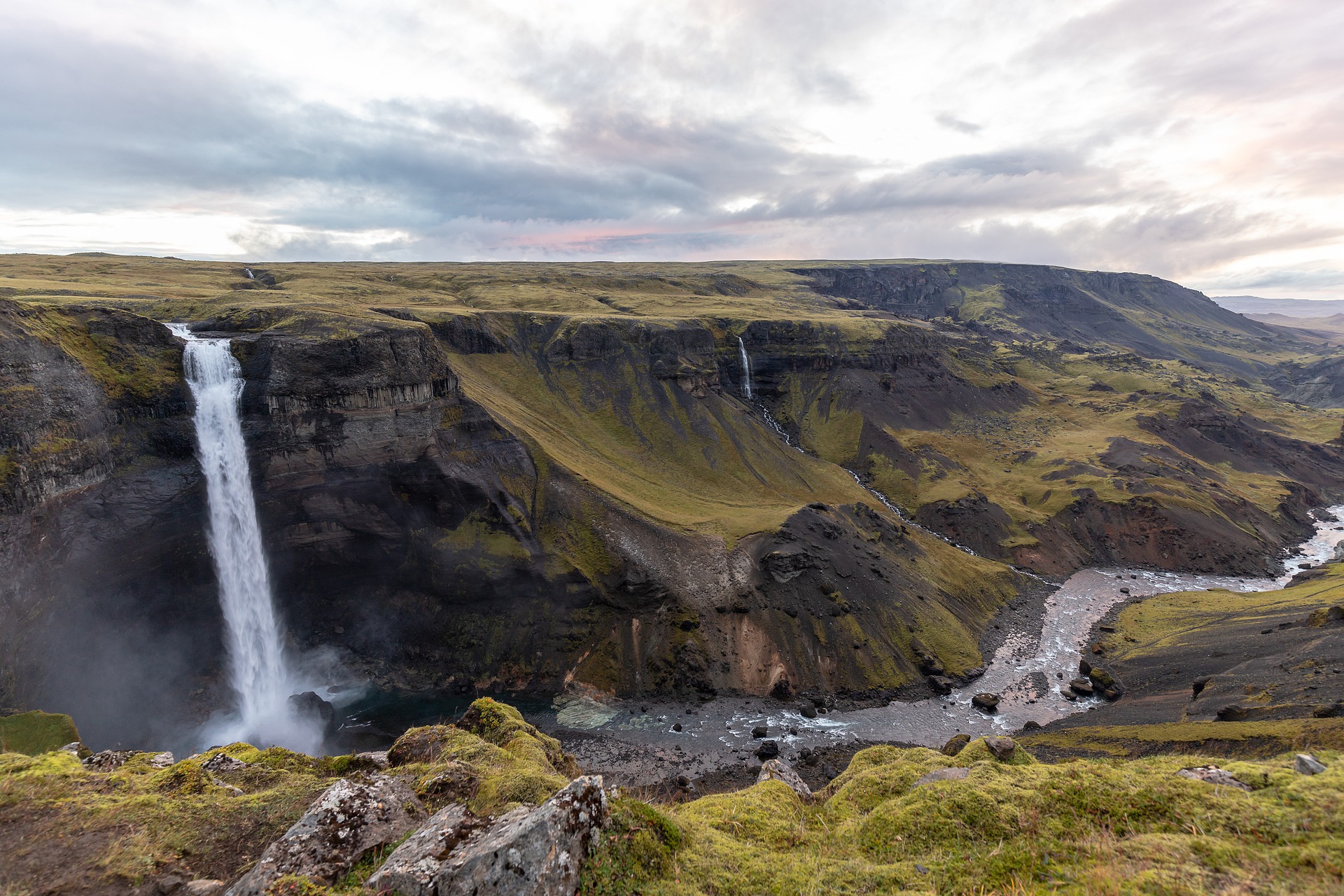 Photo: Haifoss, third highest waterfall in Iceland
Haifoss is one of the highest of the land of ice and fire. The waters of the Fossá River crash below making huge noise. And it is not for nothing that we gave this name to this place since in english Haifoss means "high waterfall".
The fall is located in a volcanic region, it is close to the Hekla volcano, you can read more about it in Kuku Volcano article.  We strongly recommend that you visit both sites when you are in the region.
Dimensions: Haifoss waterfall is 122 meters high, making it the third tallest in Iceland, behind Glymur and Morsárfoss.
How to get there: Please note, you will need a 4x4 to access this site. Haifoss is not the easiest beauty to access, in fact you will have to exit route 1 after Selfoss (the town of Selfoss this time), taking a left on route 30 (if you arrive by the north), then right on route 32, then route 332, it is a f route, on which only 4x4s are allowed to practice!
Discover the waterfalls with your van Kuku Campers
Traveling by camper in Iceland is the best way to experience Icelandic chutes. You have total freedom to move as you wish, and to do things at your own pace!
To fully appreciate your trip and your waterfalls tour make sure you:
Find and choose the places you want to visit beforehand
Learn about access to these falls, are they easy to access? Do they require a hike to get there? So you will knowhow many beers and snack to pack!
Consider renting a 4x4 rather than a passenger vehicle if you want to admire the falls only accessible by famous F roads. 
Get the right equipment, like rain jacket, waterproof clothes and oh yah rain jacket! And a sweater like mama always tells us to.
Now you know everything about the best waterfalls, you have to know more about Iceland in general to be a real expert of our small but incredible country, all you have to do is to click here, take your plane ticket and hire your Kuku Campers van!