Ultimate guide for whale watching in Iceland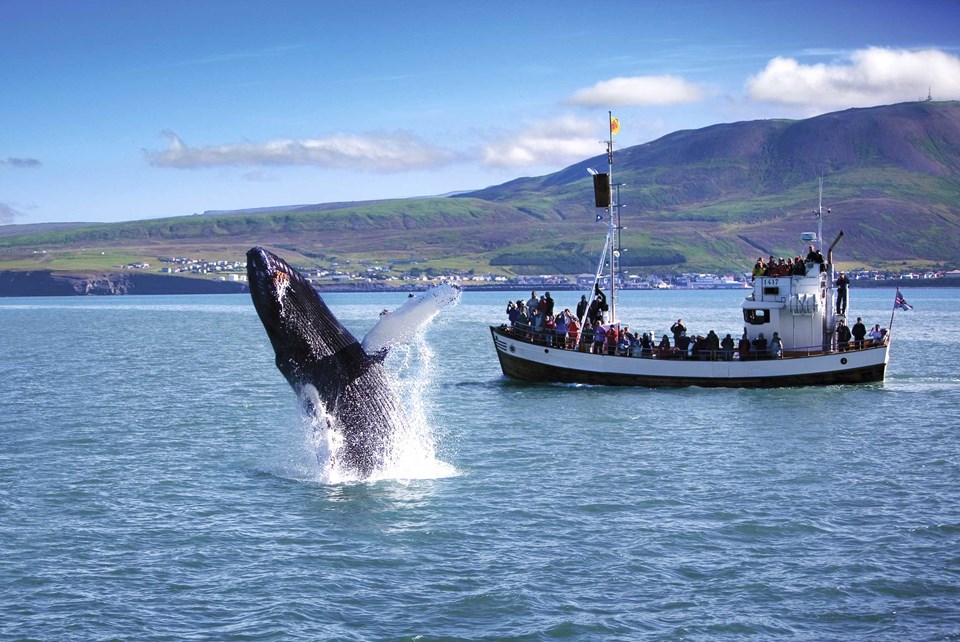 ---
---
There are many places where one can sail a boat and get a glimpse of these beautiful creatures of the sea in Iceland.
Our country is known as being one of the greatest places to go whale watching in the world, do you know why? Thanks to the shallow water rich in nutrients the Icelandic seas are perfect for whales to feed all over the year. Many species enjoy the bays and the cold waters of Iceland, to the delight of tourist.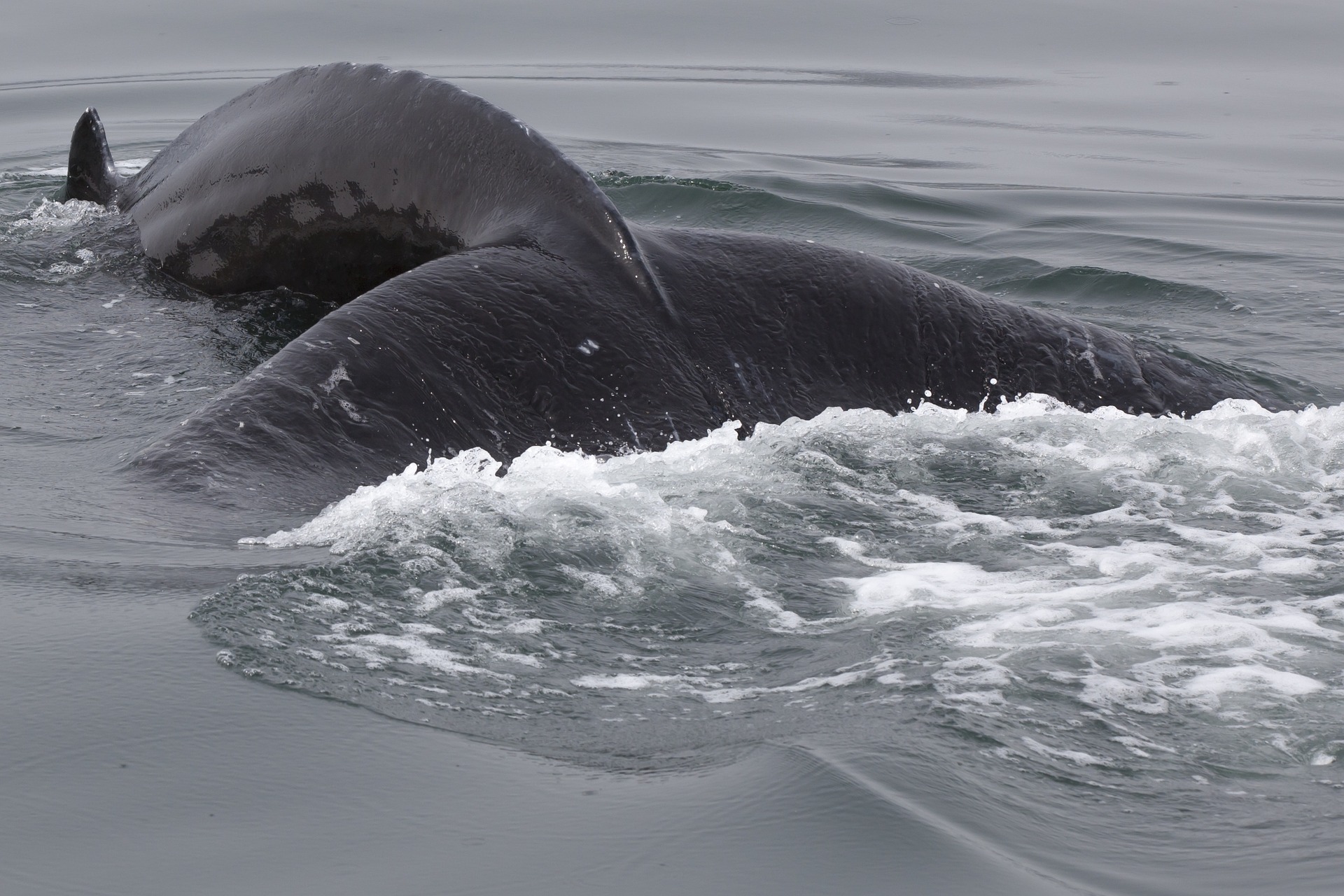 Photo: The tail of a Humpback whale, a common species in Iceland
In Iceland whale watching is a must, this breathtaking experience will leave you speechless and make you want to protect those majestic endangered creatures.
In this article you will find all what you need to know about the observation of whales in Iceland. When to do it, where to find them, is it expensive? Just keep on reading my friend!
Today Kuku Campers is taking you for an unforgettable day tour, and one of the best experiences of Iceland.
Whales in Iceland
You are probably wondering what kind of whales you can see in Iceland. There are many different species you can meet here, here are the most common ones that you are more likely to meet!
The Orca Whale (Killer Whales)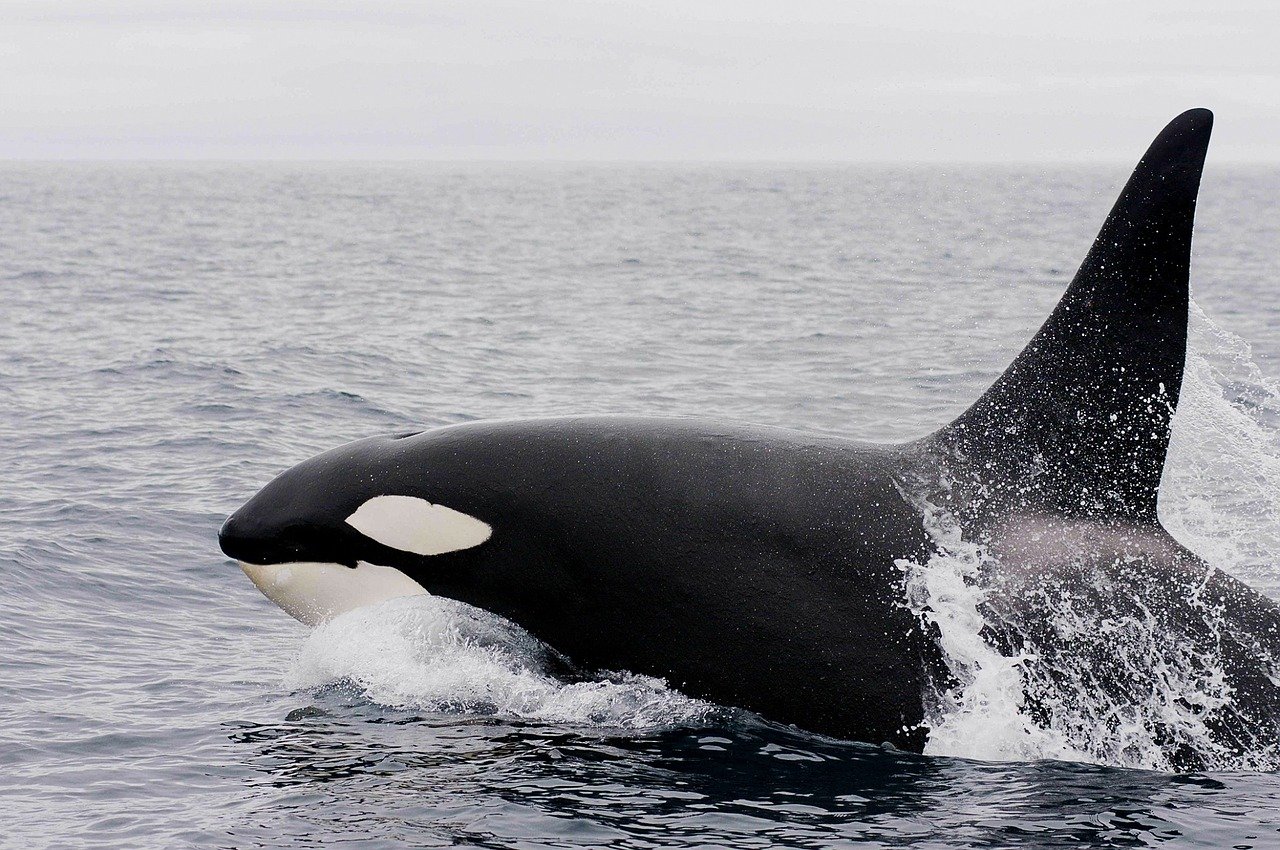 Photo: An Orca Whale breaching
These distinctive creatures, who are relatives of the dolphin family, are quickly recognizable from their outer black skin and white spots.
They are a part of a group called toothed whales because they have... teeth!
We can not really consider it as a whale because it belongs to the oceanic dolphin family, so it is like seeing 2 in 1! It is the biggest species which measures between 6 and 8 meters for a male.
They usually eat fish, but they can hunt for seals and others small species of dolphins sometimes. Don't worry they will not attack you, despite their bad reputation they are really sociable creatures.
Don't be too intimidated if you are watching at the edge of the boat and several suddenly jump out of nowhere, just yards away from where you stand!   
Humpback whales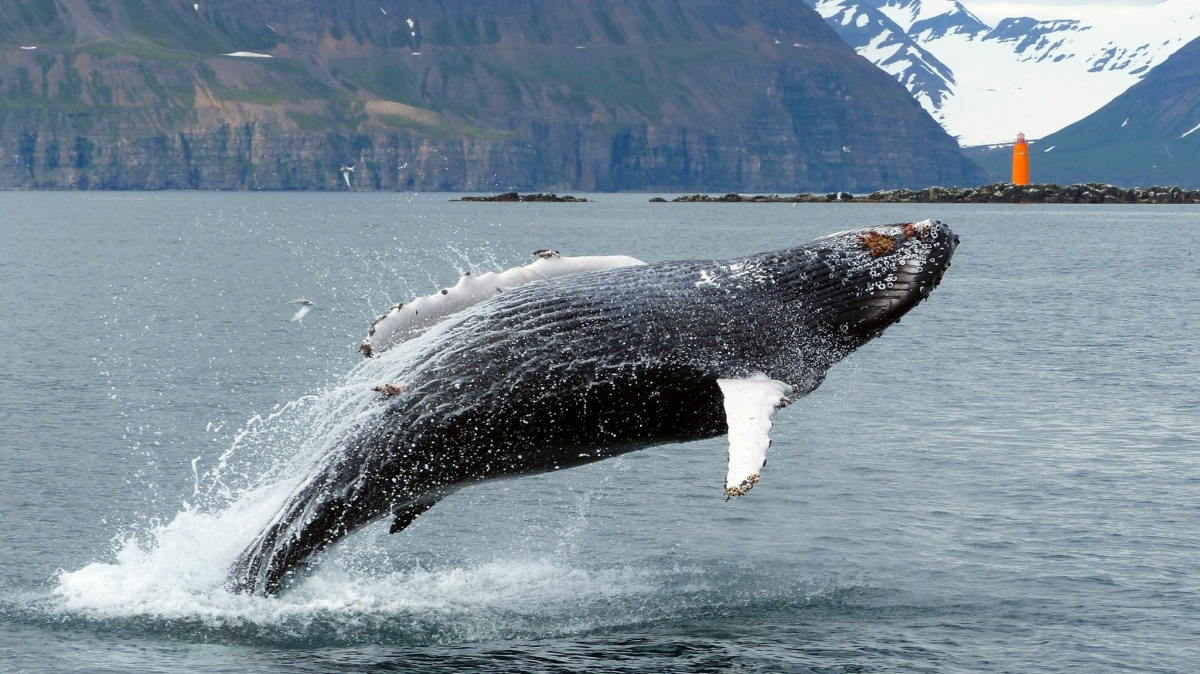 Photo: A humpback whale crashing on the water as a way to communicate with distant mammals
Humpback whales are common throughout the globe in every ocean and the Icelandic shores are no different! They are very large and can grow in size of up to 50 feet in length and weigh on average 50 tons.
They really like to feed in polar water and breeding in the warmer tropical or subtropical waters. This whale has no teeth but something we call "baleen" which looks like a comb and they use them as a filter for eating krill. They mainly eat krill, as they belong to the baleen whale group. A krill is a small crustacean that looks like a shrimp, but they can also eat small fish.
They are easily recognizable by their bumps on the back of their body, and as you have already guessed, this is why we call them "Humpback Whales".
Blue Whales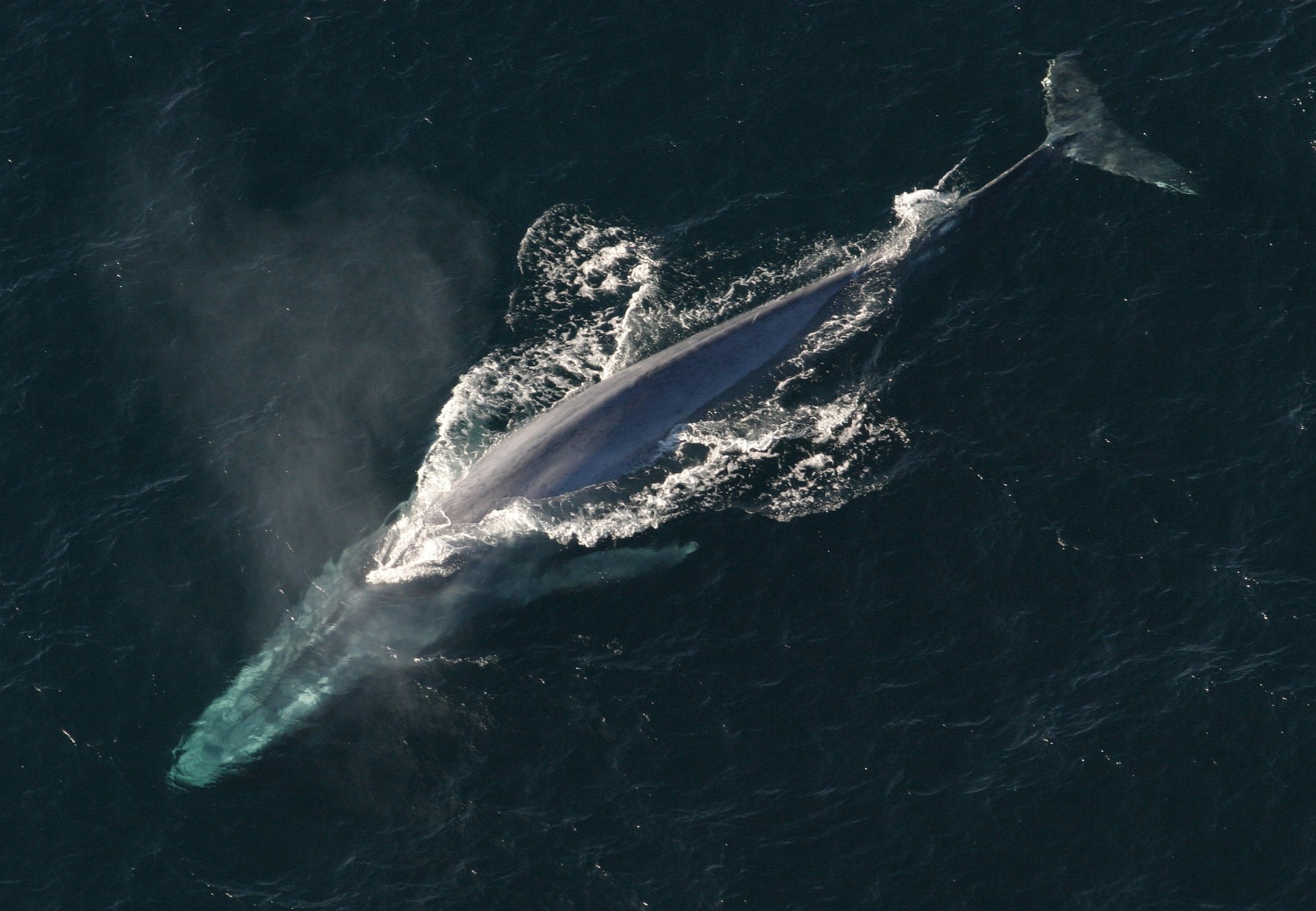 Photo: Blue whale breathing in before going back under the sea
You may have heard that blue whales are the largest mammal known to exist on the planet - but no one fully understands these facts until they see it with their own eyes, the feeling of thrill and awe will pass your body when you will see the creature calmly swim near the small boat.
If you are lucky, you can see during your tour a blue whale breaching and believe me that is a truly majestic spectacle.
Blue whales are beautiful creatures that carry many natural resources that at one time were highly sourced, whale oil and baleen were two commodities that were highly sought after in Europe and the United States. Unfortunately, it almost drove these beautiful creatures extinct due to their high demand. 
Thanks to more and more whaling prohibition laws, these awesome creatures have been able to slowly repopulate.
Fin whales
This is the second largest animal on the planet, just behind blue whale. Fin whales are actually pretty similar to them, with a size of around 62ft (19 meters) and weigh on average 48 tons.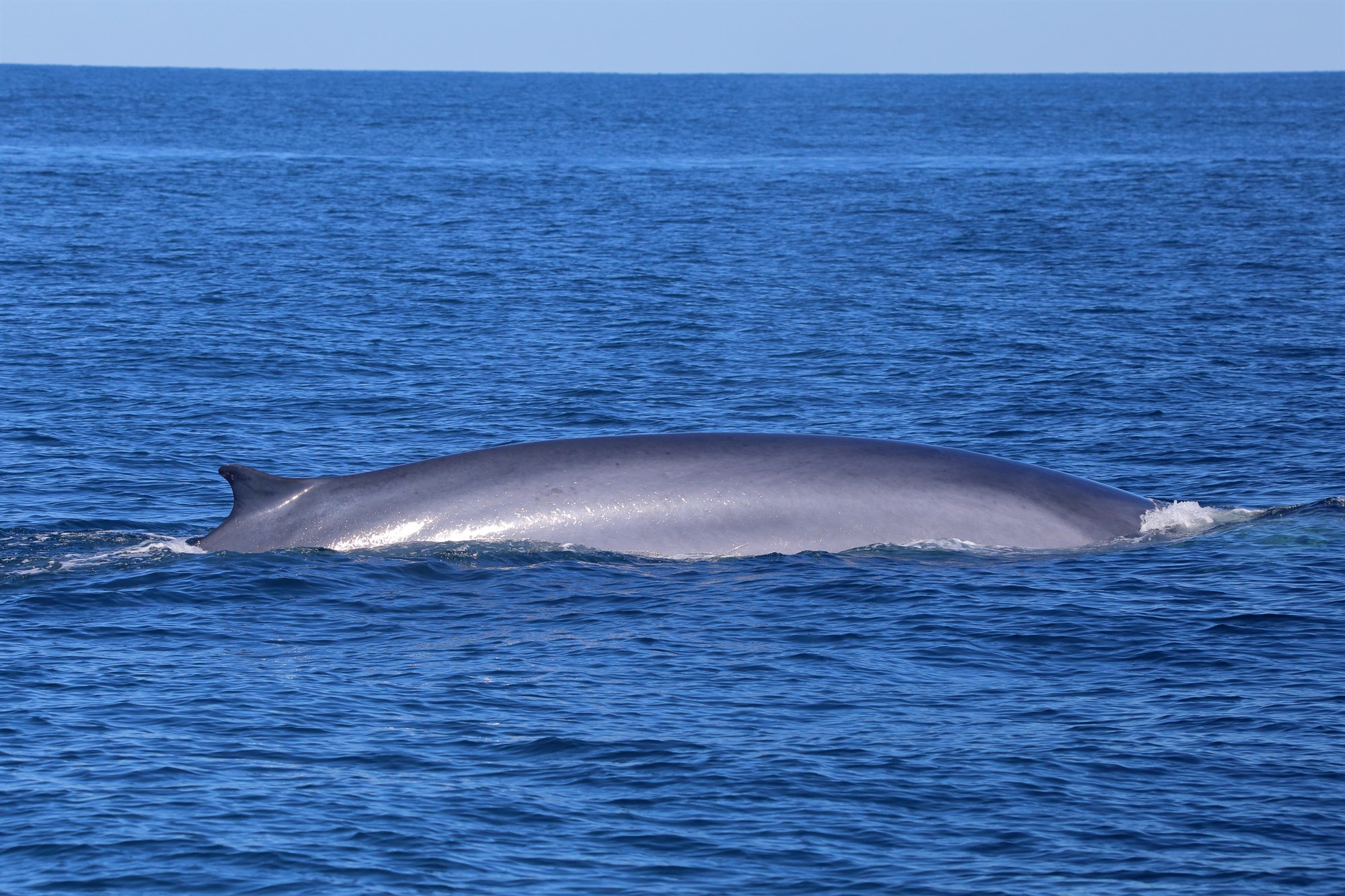 Photo: Scott Heron – Fin Whale – Flickr
This species also can be found in all oceans, and they like to spend their time feeding in the bays of Iceland which are full of nutrients.
Their diet is not as strict as Pamela Andersons… they will be fully satisfied with krill and copepods, but they can also feed on small fish such as capelin, herring, mackerel or whiting. You see, the key is to vary the food!
If you see one you will probably think it is a blue whale, to be sure just check their back. If you see a pronounced ridge and a small dorsal fin that means it is a fin whale, got it?
Minke Whales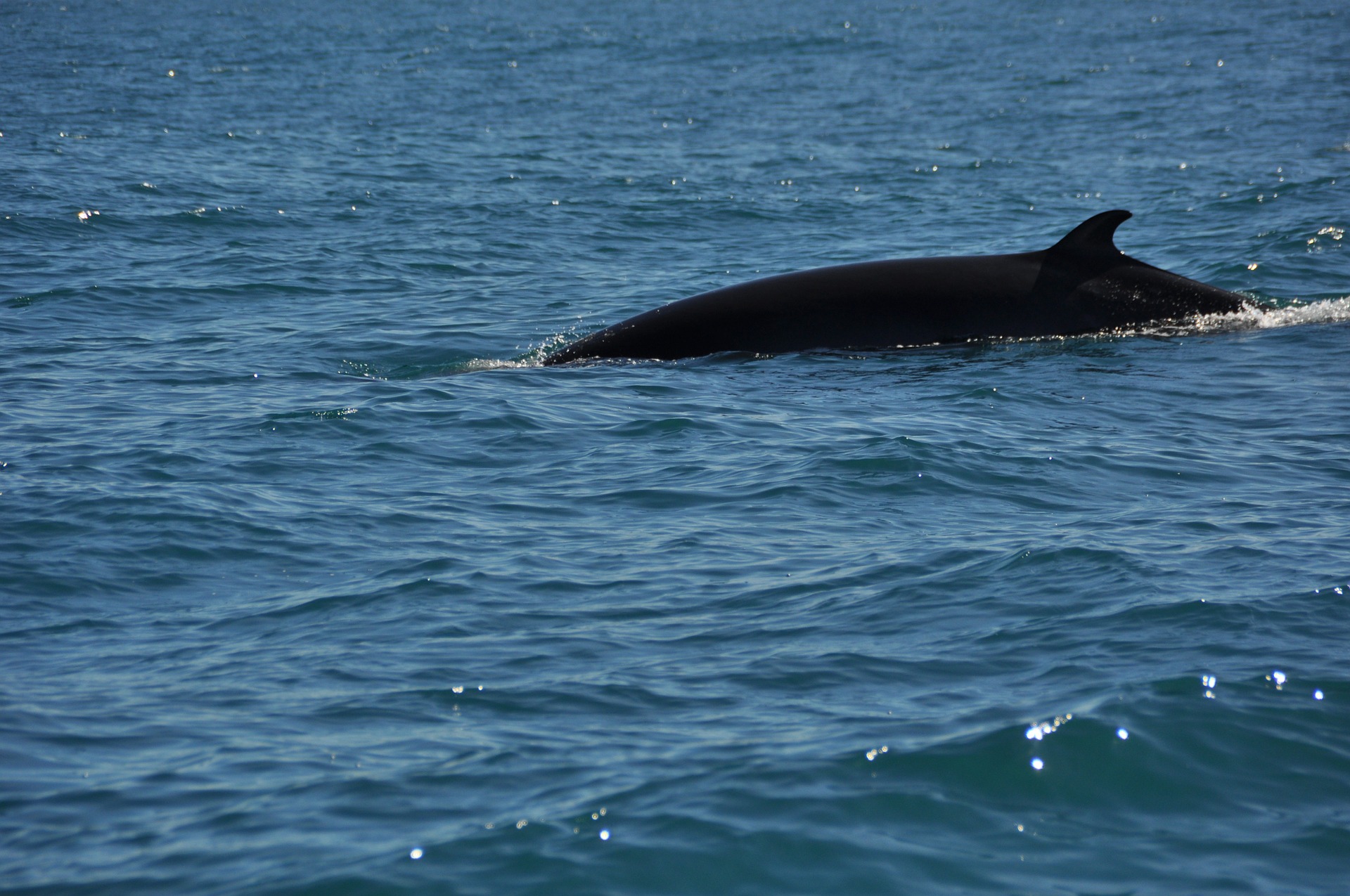 Photo: A minke whale showing its back
This is the most common whale in Icelandic seas, Minke Whales, also called lesser rorqual, are numerous in the Iceland shore during spring and summer. But most of them leave for lower latitudes in winter.
They also are pretty small compared to others whale breeds even if their length can up to 10 meters, and weigh from 5 to 7 tons.
They usually avoid contact with boats and are difficult to approach, but some individuals can be very curious and just follow your boat. Despite of that Minke Whales are often seen because of the great number of individuals living here.
Harbour Porpoises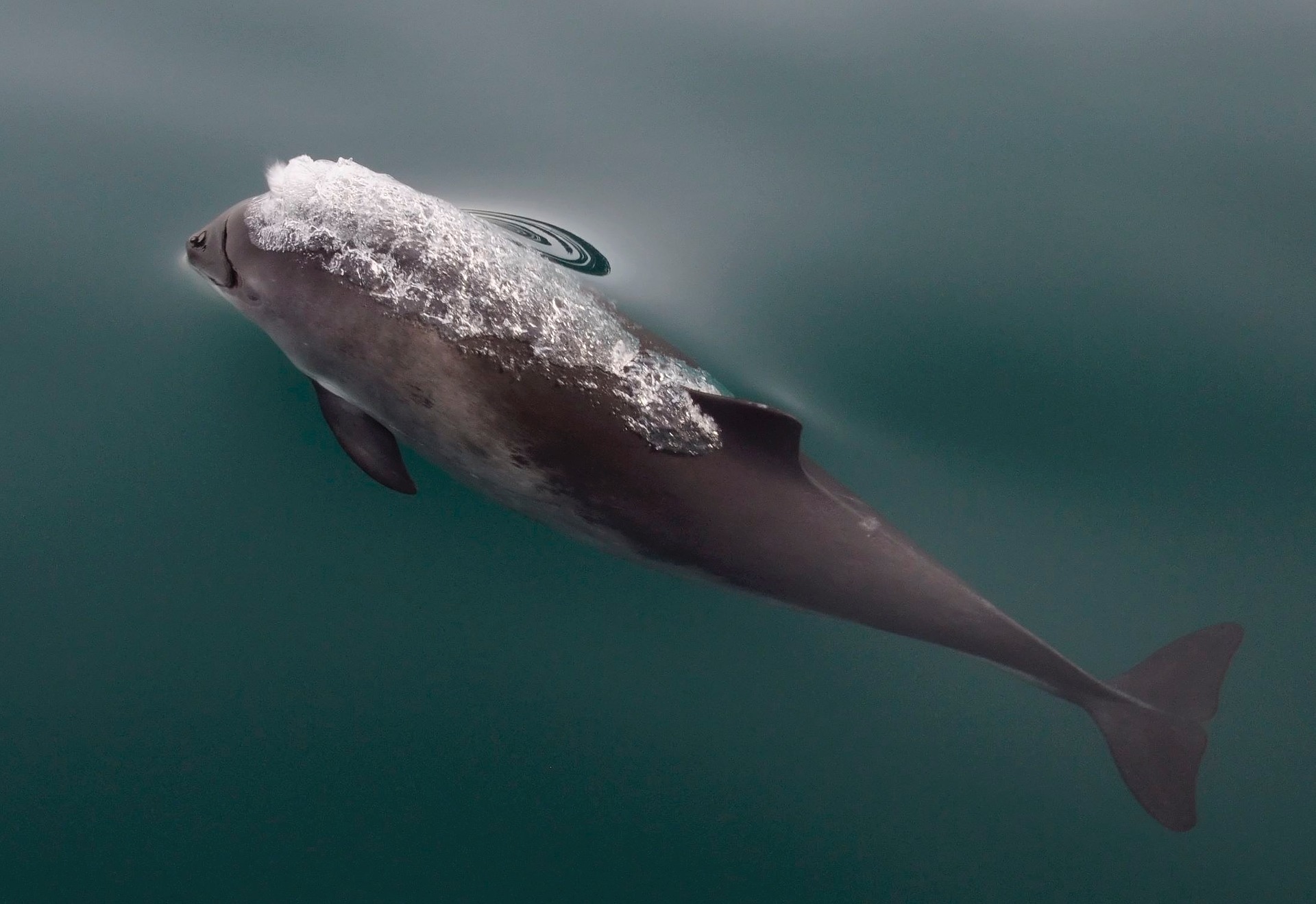 Photo: A harbour porpoise exhaling, creating bubbles on the surface
This species is one of the smallest marine mammals, they can grow up to a little bit less than 2 meters, they are very common in the Reykjavik area and eat small fishes such as herring, hake or codfishes.
Disclaimer: Harbour porpoises are not whales, we just had to talk to you about it because it is very common to see them during a whale watching tour in Iceland.
They really enjoy living by the coasts, that is where they got their name and they live most of the time alone, but sometimes in small groups too. They are bit shy as Minke Whales are, but you should see them above the surface often enough.
Where to go?
You can go for it all around the country, and you can find excursions from many cities or towns of Iceland. But the most popular ones are definitely Akureyri, Reykjavik and Husavik. This last one is probably the best place for whale watching in Iceland.
Whatever your departure point is you will surely be able to encounter all the species aforementioned, especially humpback and minke whales, fin whales and blues whales that are living on each coast of the country. You wanted a great show? You won't be disappointed.
But these are not the only one species you can see, with a bit of luck you'll be able to admire sperm whales, gray whales. and with extreme luck a North Atlantic Right Whale!
Whale watching Akureyri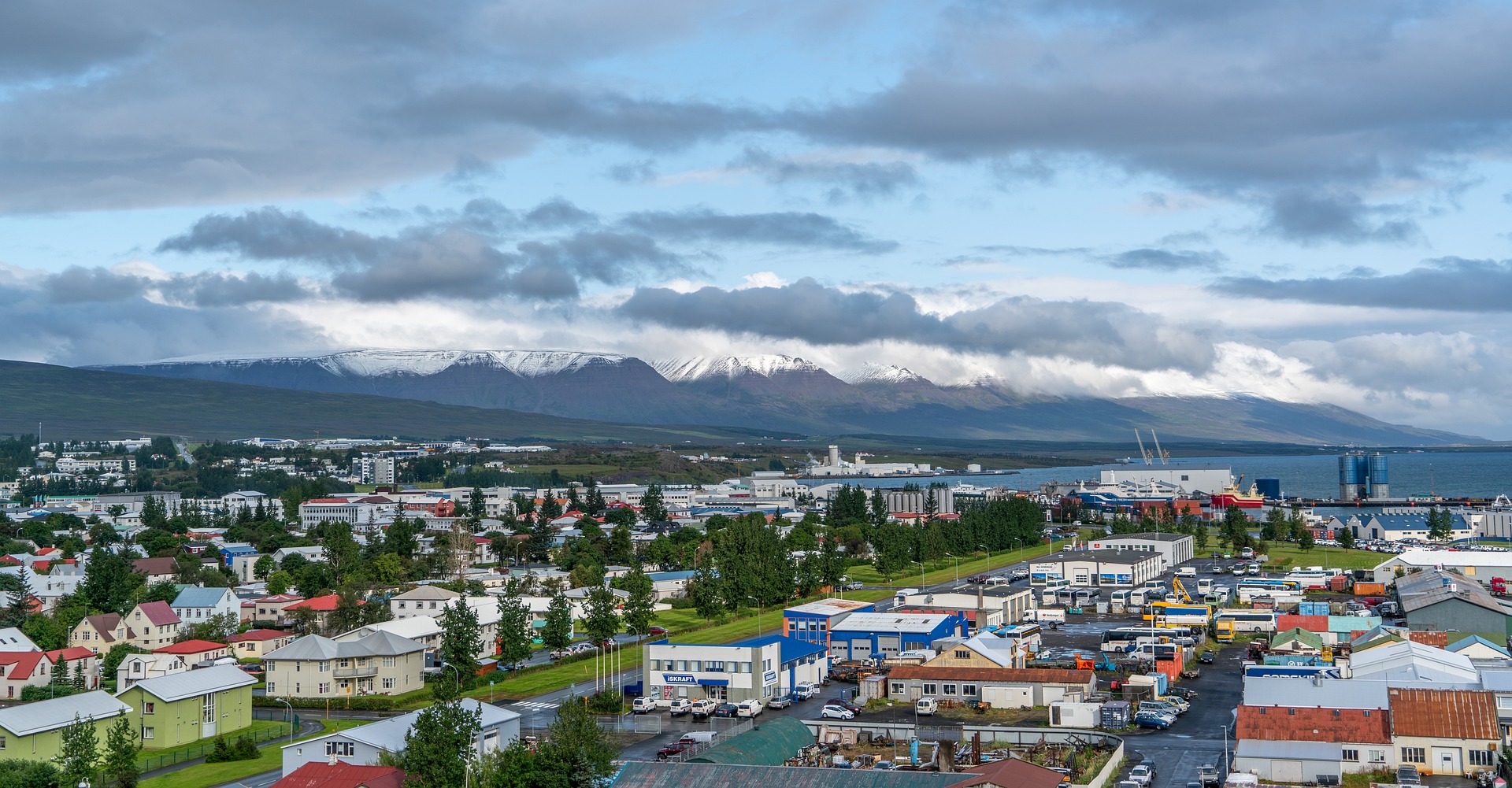 Photo: The town of Akureyri
Akureyri is the second largest city of the country, inhabited by approximately 18 000 people. It is an awesome place to see whales in Iceland.
Located in the north of the country, Akureyri is a good starting point for an excursion because the bay there is well protected from strong winds and waves, the sea is therefore most of the time very calm; it is perfect for families, kids and seasick people.
You should also choose Akureyri because of the many activities you can do in the town after your tour, here are some ideas that you could like:
Akureyri Art Museum
Akureyi Church (Akureyrakirkja)
Akureyri botanical garden
Icelandic Aviation museum
Akureyri Museum (Minjasafnið á Akureyri)
People coming in Iceland really want to do as much things as possible, to leave the country full of nice memories and Akureyri is really good for that thanks to all the things you can do the same day of your watching tour.

Reykjavik whale watching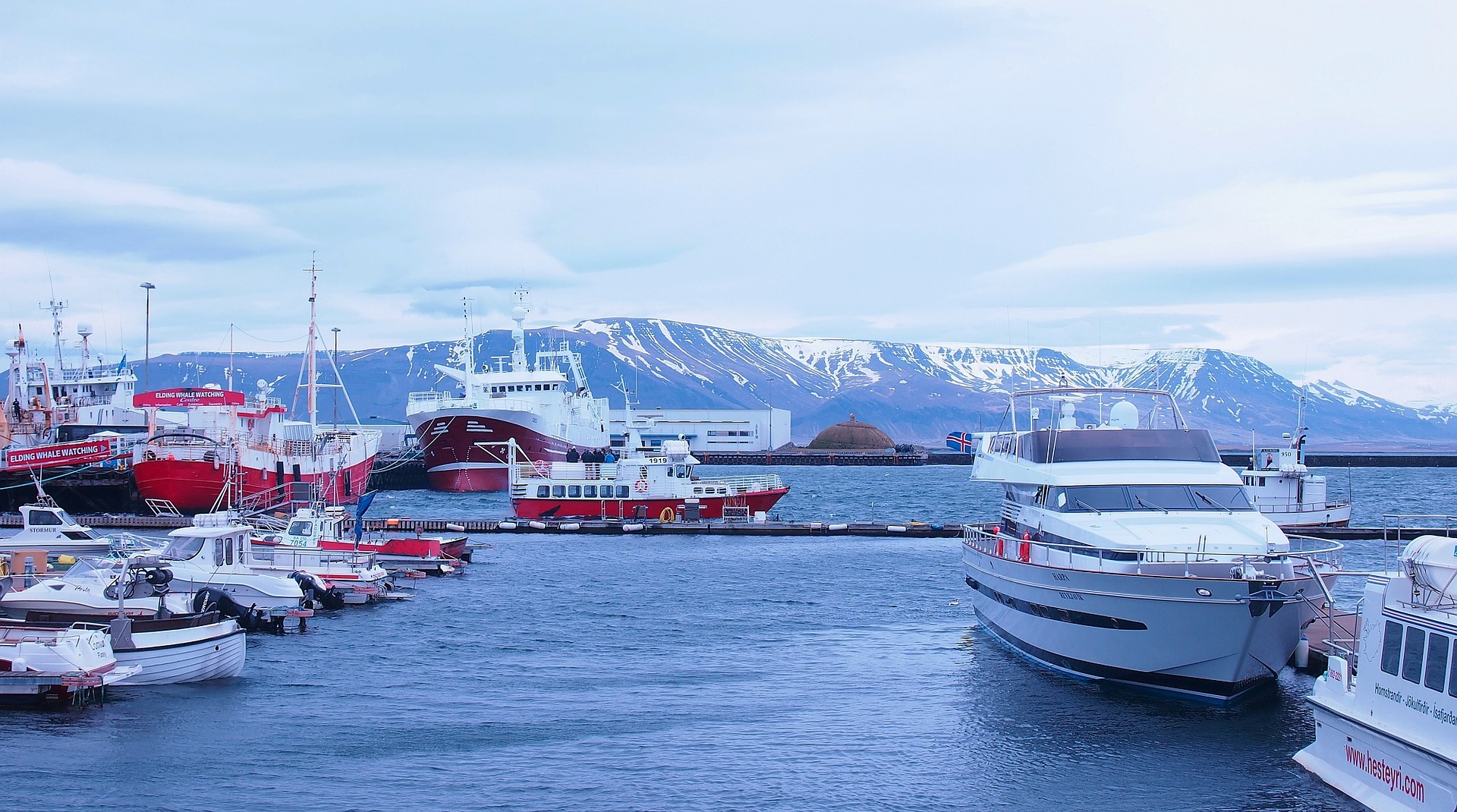 Photo: Reykjavik marina
Yes yes, you can go from Reykjavik, some companies offer tours departing from the old harbor of the capital city and take you to the bay called Faxaflói right between the Reykjanes Peninsula and the Snæfellsnes Peninsula.
It is very convenient for people in a short stay or even during a stop over in Reykjavik, and you shall have a really nice view of Reykjavik and its famous church, Hallgrimskirkja all along the tour.
In Reykjavik some species are more likely to be seen, such as minke whales, humpback whales, white-beaked dolphins and porpoises, you can easily book whale watching tours in Reykjavik on internet, but you can also go directly to their reception, located in the harbor.

Husavik whale watching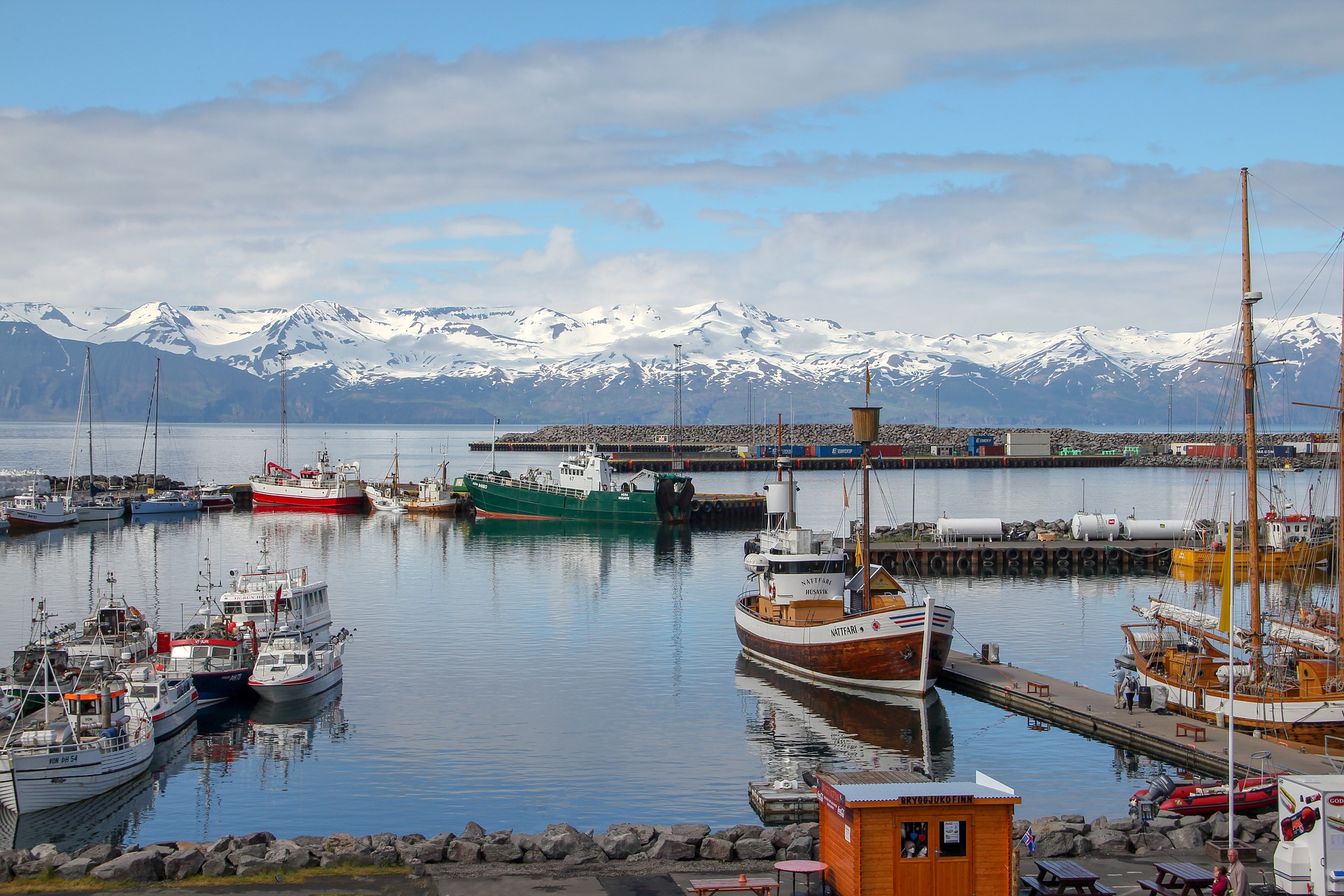 Photo: The old harbor of Husavik
Husavik is known as being the capital of Europe for whale watching, located just off the far north side of Iceland.
Looking for the best whale watching in Iceland? Keep on reading my friend because it is in Husavik that you'll find it!
You can reach Husavik easily from the capital city of Reykjavík in your Kuku Camper van, the 5-and-a-half-hour drive is well worth the travel on North Route 1, where you will have opportunities to drive bridges crossing the Atlantic bay while soaking in the lush green vegetation of the mountains and fields. 
Husavik is the port to a great deal of Iceland's fishing, as well as other species such as puffin birds and gulls, who also enjoy fishing in these waters that team with an abundance of all types of fish. When you visit the town of Husavik, you can check in with your Kuku Camper van at the Husavik Campground, which offers parking for camper vans, and also offers public restrooms.
From there, you are just minutes walking distance away to the bay where you can catch a tour with the North Sailing company. North Sailing offers what they call "Eco-Friendly" tours, a concept inspired by the mission to be more responsible and conservative to the human interaction between the marine animals. 
Doing a whale watching tour in Husavik in one of the best things you can do during your Diamond Circle tour!

After coming back to the shore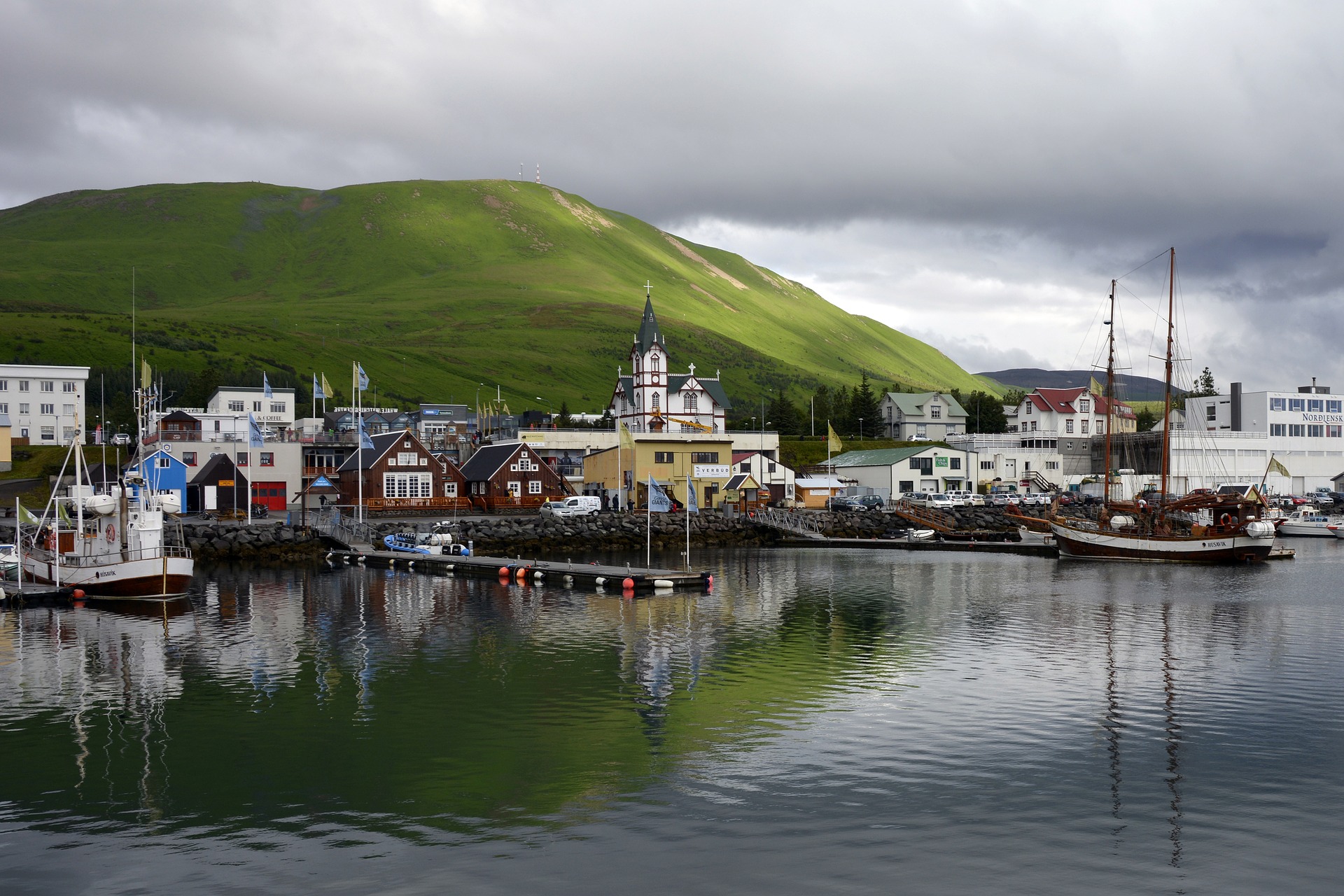 Photo: The town of Husavik seen from the harbor
With the rest of the day to yourself, you will have lots of opportunity to visit the Whale Museum in Husavik, a non-profit organization where you can learn more about these amazing animals of the sea. What their diet looks like, how you can tell how old a whale is based on their ear wax - lots of cool facts! The great thing is that proceeds help to fund awareness and efforts to keep whales safe and free in their natural habitat. 
You must also dine in at the Gamli Baukur, an Icelandic Restaurant that serves all types of authentic foods. If you have a love for fish, you will be pleased to know that you can order and eat fish that was literally caught fresh from the sea earlier in the day. A rare treat that not many places can boat about!   
By this time, it may be a good idea to walk back to your Kuku Camper Van, just minutes away, and turn in for the night, a good night's sleep is a wise choice. You will want your full rest, because tomorrow is another day for adventure in Iceland!
When to go whale watching?
You are planning a trip in Iceland and you would like to know when is the best time for whale watching?
As it is for northern lights, there is indeed some months in the year when you are more likely to see whales. We can divide the year in two seasons in Iceland, winter and summer. It surely won't be the same experience depending on which season you go.
Summer season:
In fact, you can go to see whales throughout the year, but during summer more whales can be seen in the Icelandic seas.
The main reason that makes summer season more interesting is the weather, during the warmer months there is less wind and obviously warmer temperatures, which will be way more comfortable for you, but will also leave the sea nice and flat so you can spot whales more easily.
But it is also the best season for another reason, directly related to the whale migration. Whales typically spend winter seasons around the equator mainly for breeding, and the summer seasons closer to the poles for feeding.
So during these months there will be more different species in Icelandic seas but also more whales in number.
Winter season:
As we said before, during this season, a great part of individuals is gone for the equator. This is especially true for the biggest species, such as blue whales and humpback whales.
But still you have chances to see some marine mammals in winter. Killer Whales for example can be seen all around the year in Iceland. You will also be able to meet smaller mammals such as harbour porpoises and white-beaked dolphins.
In north Iceland, if you are really lucky, you can stumble up on a beluga that came here by chance. This species does not live in Iceland, but some stories report observations of this also incredible creature.
Winter excursions are really more challenging, as it can be very cold with strong wind and waters. Be sure to be well equipped before going and maybe do not try this if you're easily seasick.
Winter is surely not for weak stomachs! Reading our article about what equipment you should bring would be a good start!
In other words:
We would recommend going to a whale watching tour during summer, you'll have a way more comfortable experience and will be more likely to see whales.
Here you can see which the best months are to go, those in red being the hottest season to see whales in Iceland:
| | | | | | | | | | | | |
| --- | --- | --- | --- | --- | --- | --- | --- | --- | --- | --- | --- |
| Jan. | Feb. | Mar. | Apr. | May | Jun. | Jul. | Aug. | Sep. | Oct. | Nov. | Dec. |
|   |   |   |   |   |   |   |   |   |   |   |   |
Basically, you have more chances to see whales in June, July and August, but still it is good from April to October.
Anyway, this activity is like tossing a coin, you never know what will happen. Nature is full of surprises and you will experience that once you will be on the boat!
Whale watching companies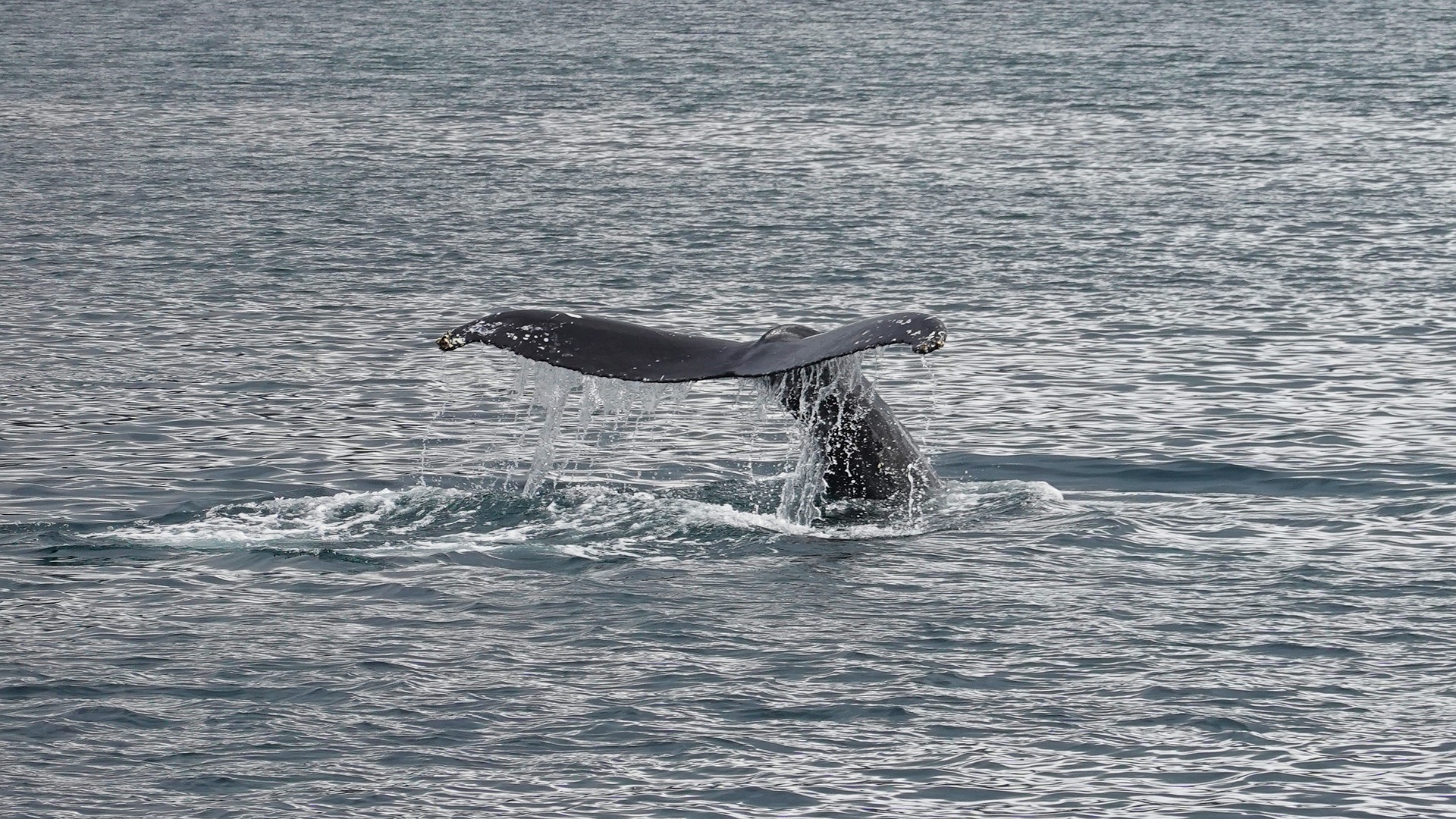 Photo: The tail of a humpback whale
Here are the whales watching companies that you can find across the country, with their prices and sighting rates. Please notice that the prices may vary from season to season.
Also, the sighting rates are given by the tour companies on their websites just in case you feel like blaming me if you do not see anything during your tour!
| | | | | |
| --- | --- | --- | --- | --- |
| Name | Location | Prices | Duration | Chances to see whales |
| Elding Akureyri | Akureyri | from €75 (adult) | 3 hours   | 100% (summer 2016, 2017, 2018) |
| Keli Sea Tours | Akureyri | from €56 | 3 hours | 98% |
| Elding Reykjavik | Reykjavik | from €75 (adult) | 3 hours | 91.40% (summer 2016) |
| Special Tours | Reykjavik | from €70 | 3 - 3.5 hours | |
| Whale Safari | Reykjavik | from €75 | 3 hours | |
| Reykjavik Sailors | Reykjavik | from €62 | 2 - 3.5 hours | |
| Katla  | Reykjavik | from €105 (RIB boat) | 2 hours | |
| Sea Trips Reykjavik | Reykjavik | from €62 | 2.5 – 3 hours | 90% in summer months |
| North Sailing | Húsavík | from €67 | 3 hours | 99.20% (summer 2018) |
| Gentle Giants | Húsavík | from €66 | 3 hours | |
| Húsavík Adventures | Húsavík | from 113€ (RIB boat) | 2 hours | |
| Salka  | Húsavík | from €66 | 3 hours | 98% |
What to do during a whale watching tour?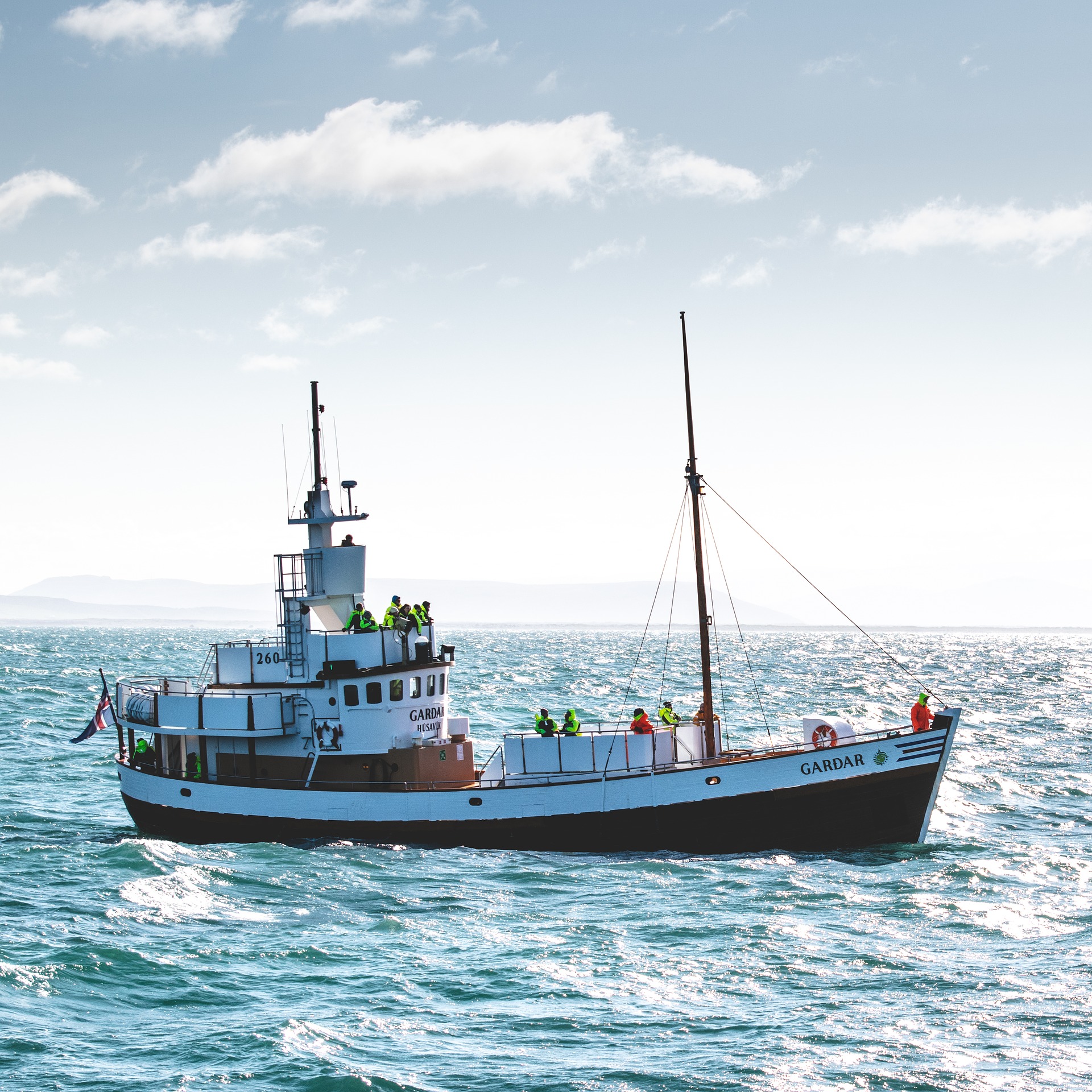 Photo: A boat used for whale observation in Iceland
First, you must arrive at least 30 minutes before going on board. Your guide will give you a short briefing to explain what you will do, and where you will go, how do they find whales, etc...
They will provide you also proper overalls and blankets, and the necessary if you get seasick.
If you've never been whale watching, let me tell you - it is not a show that you sit back and watch, it is an event you experience up close and in person, there is nothing that compares to being a mere few feet away from these glorious mammals of the oceans - these spectacular creatures humble and gracious enough to let humans come close and admire their beauty.
All along the tour your guides will provide you info about whale species and how do they search and find whales. They can even tell you stories and legends from the Icelandic mythology!
What if I do not see any whale?
Sometimes it can happen that despite all your efforts, turning your head left and right during 3 hours hoping to see something coming out from the sea until having a stiff neck... but still, nothing...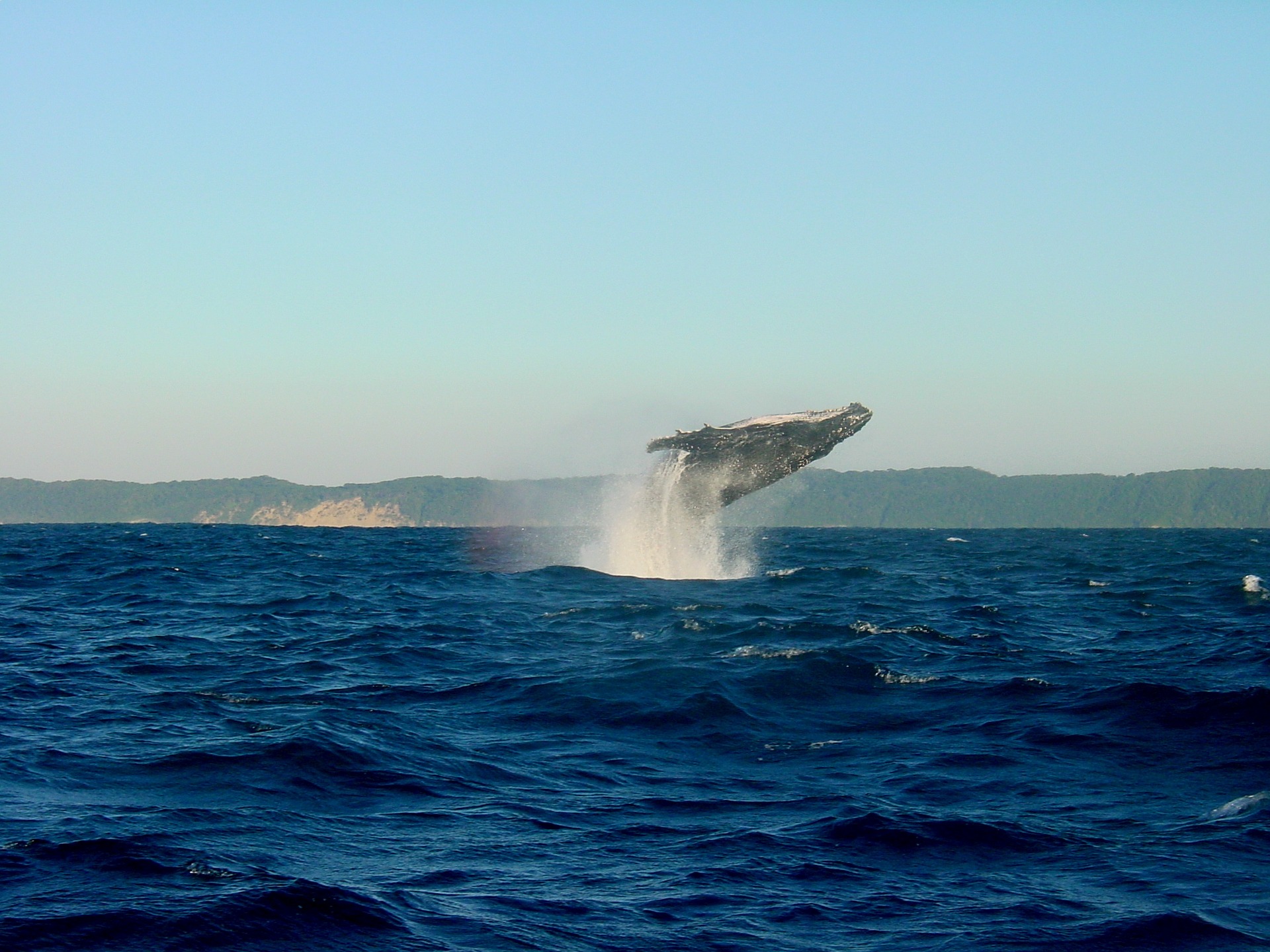 Photo: A humpback whale breaching
What happens in this case?
Well don't panic, most of companies will take you for another tour for free, so you can come back whenever you want to try again!
Unfortunately they don't refund tickets. So if you are in Iceland for a short trip and can not come back for another tour, don't worry the vouchers are valid for a very long time and you can do another tour for free several years after. For some companies, it is valid for life!
If you can actually come back, then we strongly advice you to follow the tips we're giving you here and choose a good date according to the weather and to the season. Always remember, persistence is the key to success. Nature is unpredictable, and that is why whale watching is so exciting!
Whaling in Iceland
Iceland and Icelandic people share a very long story with whales. Historically from whaling and more recently for whale observation. We cannot talk about whales in Iceland without talking about this part of Icelandic history and culture.
Whaling in Iceland takes its roots from very long ago, and the oldest testimonial of hunting whales come from the 12th century. Now this tradition is slowly but surely disappearing while people are getting more and more concerned about those endangered species. Now, there is only one whaling company left in the country.
Only fin whales and minke whales are still hunted in Iceland. Fin whales are exported mostly to Japan, and minke whales are hunted for domestic consumption. 95% of whale meat hunted in Iceland is exported.
So whaling still goes on mainly for exportation, but also for the domestic market. In fact, Icelandic people do not really eat whales and many of them are rather concerned about protecting them. So whales are still hunted to satisfy the tourists demand, mostly.
But there is a lot of restrictions and moratoriums on whaling in the world. Iceland has imposed quotas to protect the species, despite this the hunted ones are worldwide known as endangered species.
Good news: There was no whale hunting in Iceland during summer 2019 and it did not happen since 2003. This is a huge success for whale protectors! It is said that it is because the Icelandic whalers had the authorizations too late in the year, and therefore chose not to hunt this year.
But no matter the reason, the most important is that whales surely spent an awesome year 2019.
So if you're coming in Iceland, do not try minke whale meat and do a whale observation tour instead, we at Kuku Campers think that whales are better alive than cooked with butter.
Weird fact: In Reykjavik, whaling boats are just next to whale watching boats, which creates kind of a contradiction.