I Scream for Icelandic Ice Cream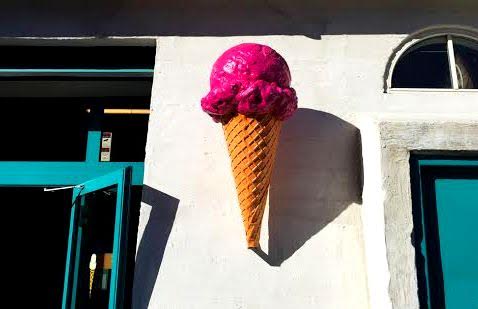 I SCREAM
YOU SCREAM
WE ALL SCREAM
FOR ICELANDIC ICE CREAM
As surprising as it may sound, Icelandic people are fond of ice cream. But not just any ice cream. Icelandic ice cream has nothing to do with all you have before tried. So hurry up, you should add this to your bucket list for your next Iceland trip because ice cream is probably the best food in Iceland!
Want to know what to eat in Iceland? Keep on reading folks!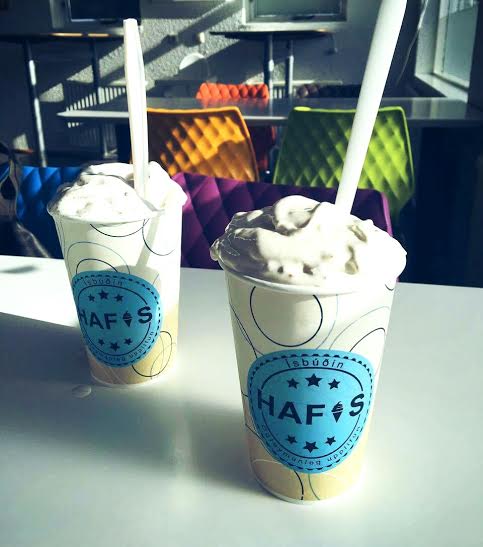 Photo: Hafis in Reykjavik
Where is it possible to find a shop here in Iceland?
Every nook and corner of Reykjavik has its own ice cream shop, so don't worry: you would find your happiness anywhere you are. In order, to spot it easily, your happiness here in Iceland is called ísbúð.
Why ice cream shops are so special in Iceland?
These shops offer here the widest range of ice creams flavors you have never seen before. But ice-cream without toppings are not real ice cream. An infinite choice of candies and chocolates, that you can not even imagine, is waiting for you.
What to get
Gelato
Gelato is a popular frozen dessert of Italian origin. It is generally made with a base of 3.25% milk and sugar. It is generally lower in fat than other styles of ice cream. Gelato typically contains 70% less air and more flavoring than other kinds of frozen desserts, giving it a density and richness that distinguishes it from other frozen dessert.
The traditional flavors of gelato consist of vanilla, chocolate, hazelnut, pistachio, cream (also known as custard), and Stracciatella (gelato with chocolate chunks)  
The new favorite flavors are fruity flavors such as raspberry, strawberry, apple, lemon and pineapple.
Soft serve
Soft serve is a frozen dairy dessert. It is like ice cream but softer and not so dense thanks to air that is introduce during freezing. They are usually served in a cone but you can also try it in a pot with the toping of your choice.  Ice cream with higher air content tastes creamier, smoother, and lighter and appears whiter.
Our kuku advice
One the most renowned Icelandic speciality is called Bragðarefur or the high-class McFlurry in Iceland. Vanilla ice cream is blended up with your three favorite candies and chocolates.
Small pieces of Oreo, Daim and Mars is our favorite combination. What will be yours?
Now you have imagined the ice cream of your dreams, don't waste your time anymore: come and discover a part of the Icelandic culture.
Gas stations
No it is not a joke, you really can buy ice cream in all Icelandic gas stations where you can eat a cone with «dýfa». The ice cream is soaked in a chocolate sauce which hardens in a few seconds. You can also eat it in a pot with fresh fruits sorbet, chocolate sauce or if you are greedy, and we are sure you are, candies. So yummy.
The best ice creams in Reykjavik
Valdís
At Valdis, you will have a wide range of unique flavors that you can try. You have the choice of eating your handmade ice cream in a cone or in a pot. You can also try vegan ice creams! isn't that crazy!
Isbuð Vesturbæjar
Isbuð Vesturbæjar is a very famous glacier chain in Iceland, where you will find a possibility of choice of endless flavors! Choose your favorite flavor and add some delicious garnishes. Yum Yum!

Hafis
Hafís is known for having the most vegan ice cream options in Iceland. Located in Reykjavik suburbs in Hafnarfjörður which is right next to kukucampers by the way! It offers all possible toppings like licorice with Italian ice cream. Vegan Turkish Pepper Ice Cream is particularly popular. It's up to you to test now!
Brynjuís
This ice cream business, originally from northern Iceland, expanded to Reykjavik in 2016. The same artisanal ice cream recipe is used in both locations. You will have the choice between cornet and ice cream pot. You will be able to find the usual Icelandic assortment, with many possible combinations, toppings and sauces but it is only for gourmets!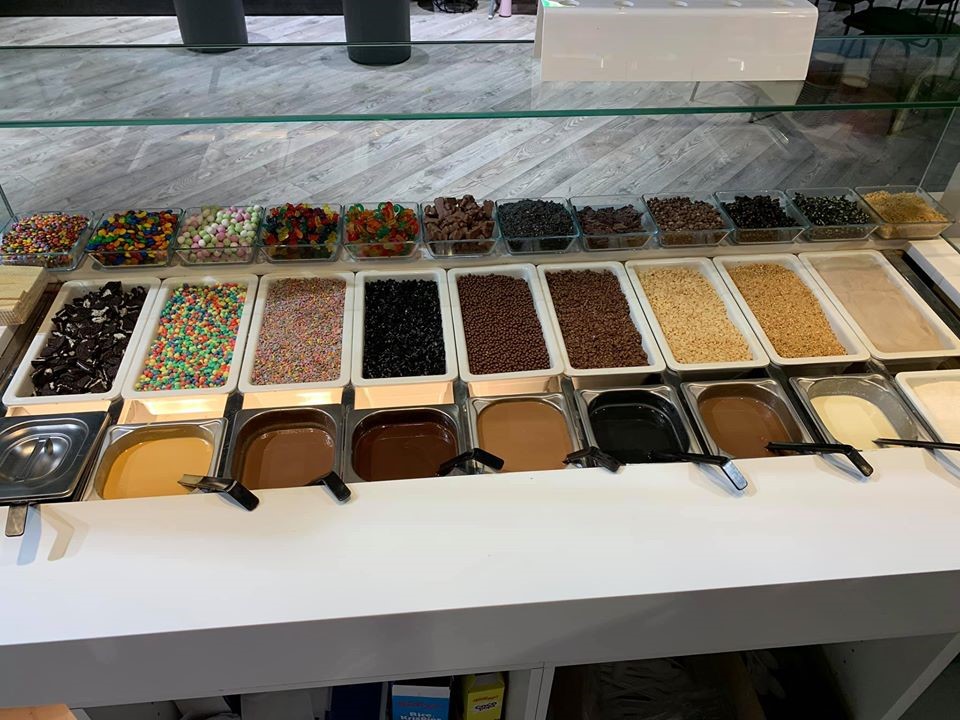 Photo: Brynjuís toping choices 
Joylato
Joylato is a store with an unusual concept. You are curious aren't you? First, you choose the flavour of your dreams in liquid form, your ice cream is then frozen with liquid nitrogen right before your eyes. The show is quite impressive to see believe me!
You can also choose between vegan coconutmilk and regular milk which offers more flavor possibilities.
Menu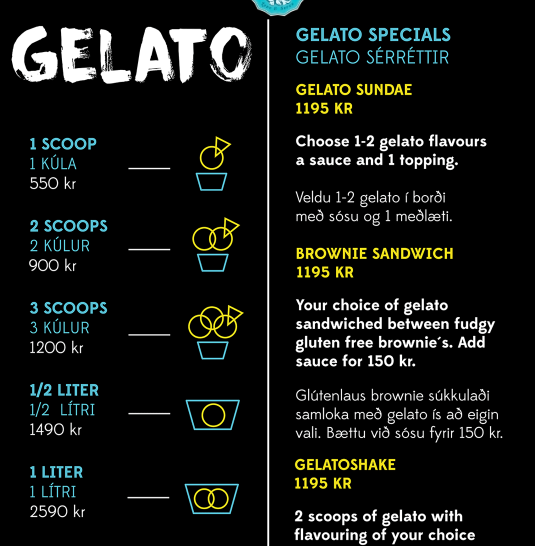 Photo: Joylato's ice cream menu with prices
Yoyo ís
Yoyo ís offers a wide variety of swirled ice cream with flavors such as lemon, vanilla, stracciatella, nutella and blueberry. The toppings are also varied with fruits, sweets and sauces (Dark chocolate and salted caramel are the best!).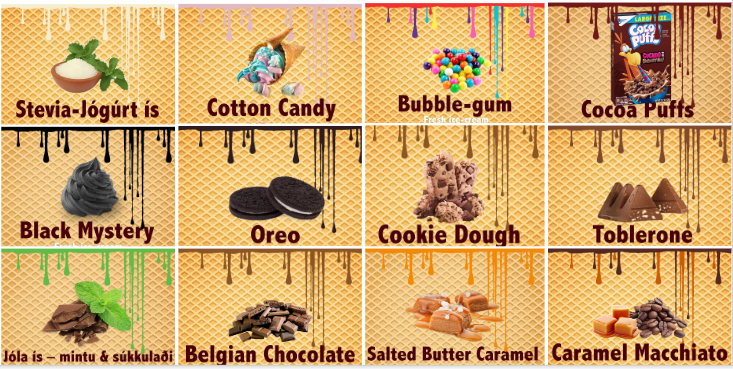 Photo: "Yoyo ís" toppings
Skalli
Skalli is a small restaurant located in the nearby town of Reykjavik, Kopavogur. It offers pizzas, hot dogs, burgers, fish and chips and sandwiches. You can also eat quality ice cream and milkshakes. The service is friendly, it's definitely worth going!
Ísbúðin Laugalæk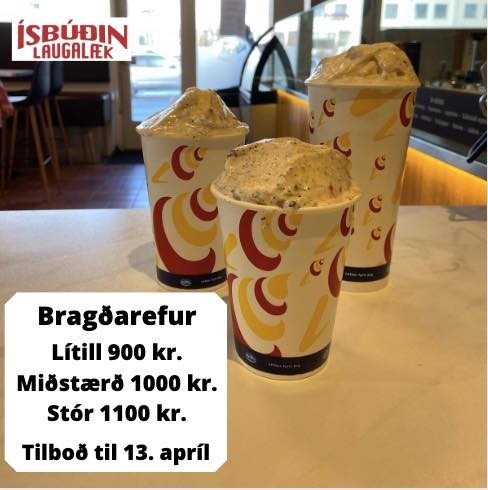 Photo: Ísbúðin Laugalæk offers different ice cream cups
This gourmet ice cream shop and restaurant is near the east pool of Reykjavik and is a popular spot for locals and tourists. It offers differents flavors in a gelato style, and a wide choice of combinations of toppings and sauces. There is also a range of homemade fresh fruit coulis to delight your taste buds.
Erpsstaðir dairy farm
About an hour and forty-five minutes by car from Reykjavik is an shop which is known for its Kjaftæði, which freely translates to "Awesome nonsense ice cream". It doesn't have the same effect in English! It is a very nice place to stop for a nice nonsense ice cream. You can pet the farm animals and learn more about agricultural life in rural Iceland.
 Are you curious about other Icelandic specialties in Reykjavik ? Click here to learn more !