Ten day campervan trip around Iceland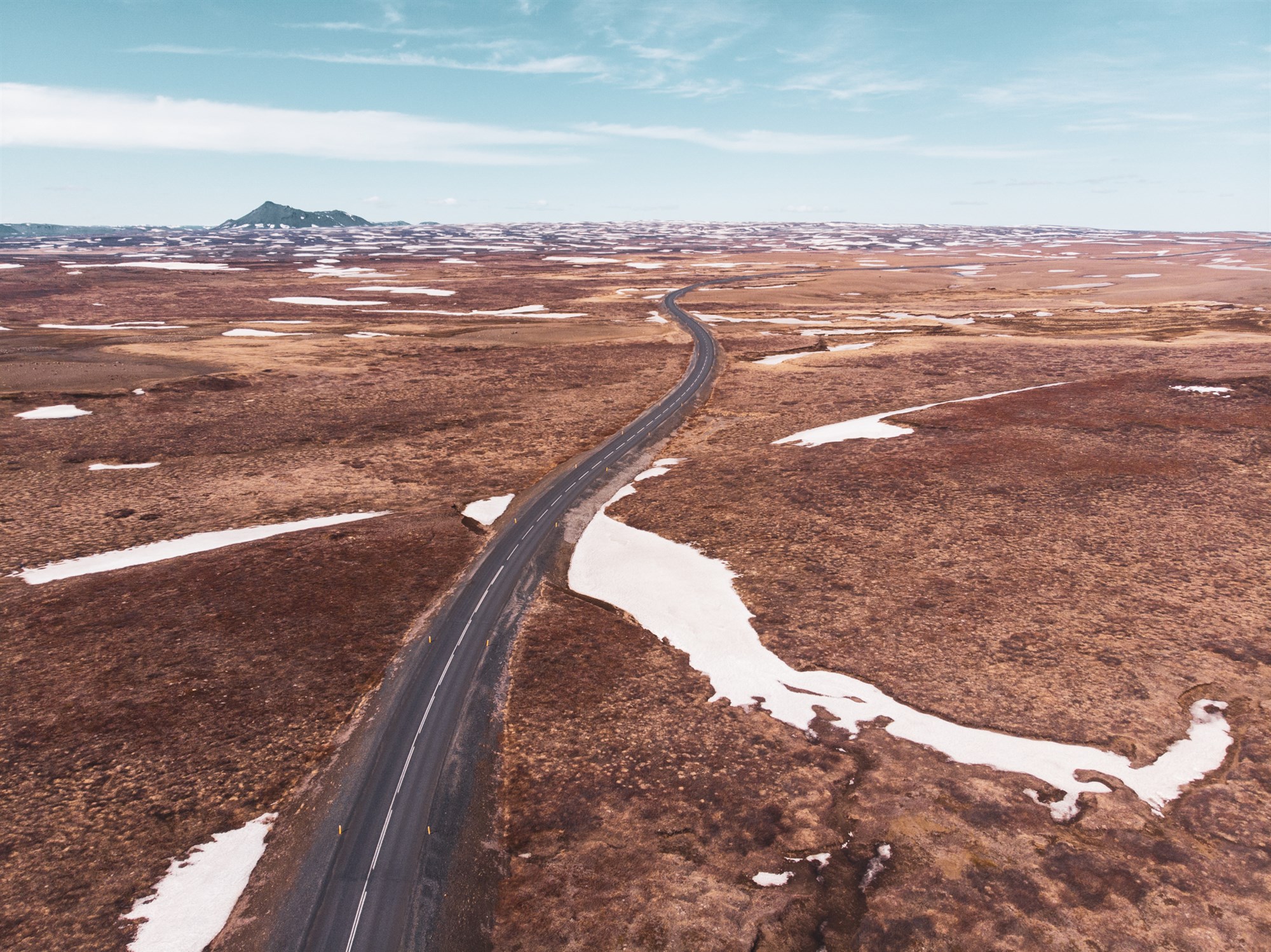 Ready to discover Iceland with you campervan ?
Looking forward to plan your road trip in Iceland but don't know where to start ? Don't worry, be sexy... we got you covered !
In this article you will find the best travel guide to our ultimate 10 days camper itinerary around the Icelandic ring road ans westfjords.

Map for your 10 days on the road 🗺️
First step - Renting your camper van !
Motorhomes and campers are known to be the best way to explore and travel around Iceland with a reasonable budget, so what are you waiting for ? Get your own campervan for cheap now with the largest and sexiest rental company of the country ! 

Day 1 - Heading south
It's a Ring Road campervan trip day! After picking up our Kuku campervan in Keflavik, we stopped at a grocery store to stock up on food for the trip, then we hit the road! We decided to skip the Golden circle and we started driving directly Southwest. If it is your first time in Iceland we highly recommend starting your campervan trip with the Golden circle! But we opted to go a bit more off the beaten track.
Swim at Hrunalaug hot spring
We started with Iceland's favorite pastime - wading in warm, mineral-rich hot springs that soothe both the body and the mind. Hrunalaug hot spring was our obvious first stop. There were three different pools so the visitors could enjoy each pool separately. With the parking lot super close by, with less than 5 minutes walking, perfect for a late evening dip.
Stay at Árhús campsite
This campsite has full WC, showers, dining hall (open 24/7), free WiFi, barbecues, waste disposala dn even a playground for your kids ! The campsite is open during the summer period (from may to september more or less)
Fun fact
To pick our campervan up we were hitchhiking to the office. The first car that was passing stopped and we saw a very kind old Icelandic man there. To our surprise the first sentence we heard from this elegant gentleman was; "Girls, you are idiots". Supposedly we were not in a good place for hitchhiking. But let us say that we have to disagree on that. Did he stop? He did. Mission accomplished. In any case, he was very kind and sincere, it was just a bit of a shock to hear someone being so straight and don't play this diplomatic game, where you have to rehearse everything before you speak. Being a professor of history, we heard some stories about elves and trolls and our start of the trip couldn't be more interesting. 
Don't know what's best : Kuku's free shuttle or old Icelanders' stories ?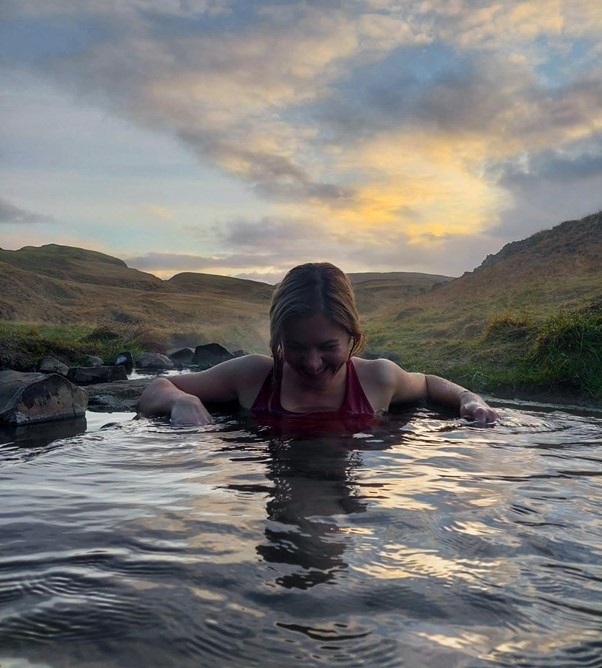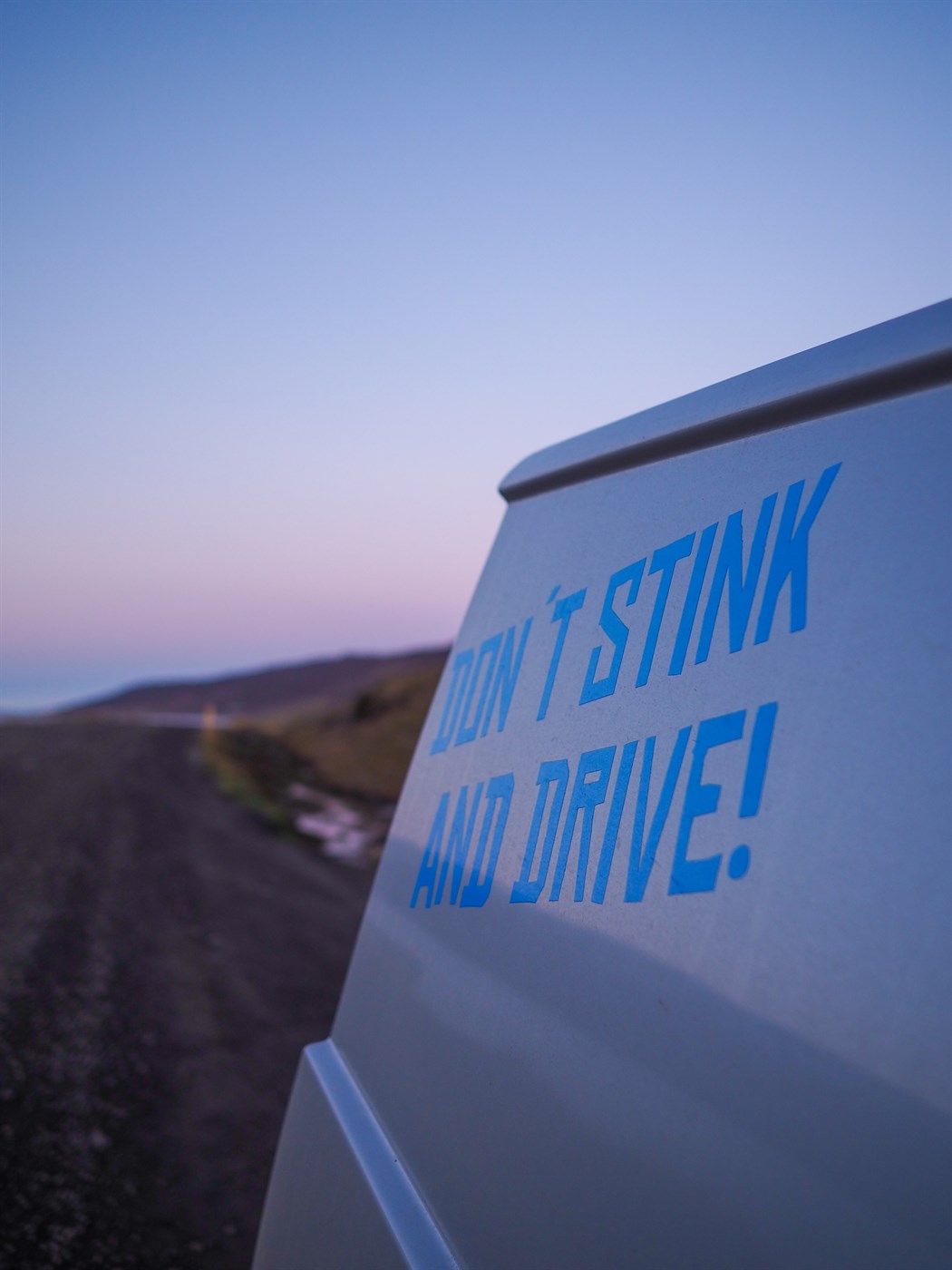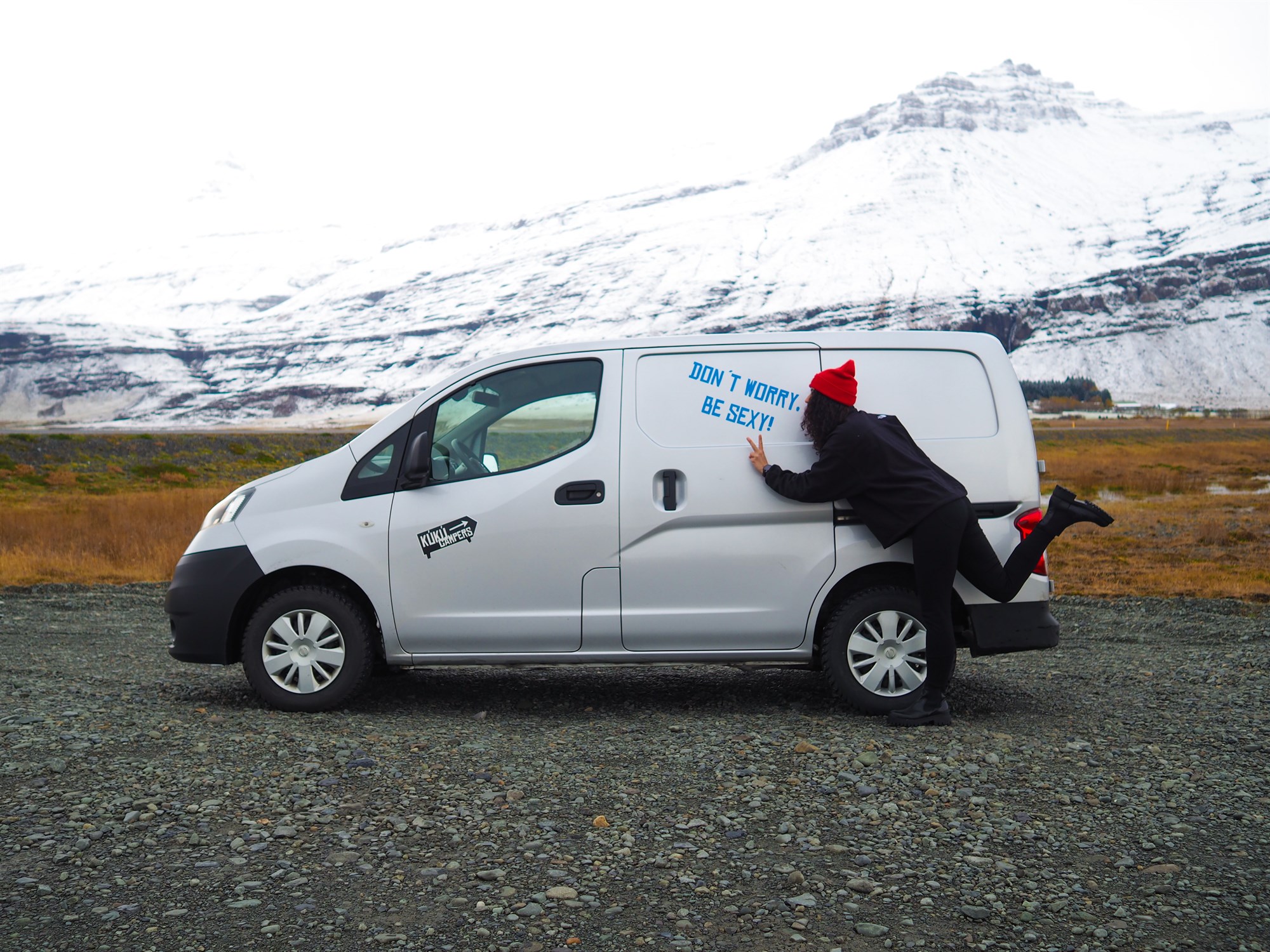 All pictures are from Nikol_Outdoors
---
Discover our other articles...
---
Day 2 - Exploring waterfalls
Stop at Seljalandsfoss waterfall
We woke up before sunrise in order to dodge other tourists and have the waterfall to ourselves. As our campsite was less than 30 minutes drive, we had a great starting point. This waterfall originates from the volcano glacier Eyjafjallajökull, the volcano beneath which caused widespread problems to air traffic across Europe when it erupted in 2010. You can walk into a cave behind the waterfall to take pics of this impressive waterfall.
Stop at Gljufrabui waterfall
The 40 meters tall Gljúfrabúi is hidden behind a cliff and because of its effective 'hiding place' it is overlooked by most travelers, even though thousands of people visit Seljalandsfoss, less than a kilometer away. Those who wish to approach the waterfall run the risk of getting wet, therefore waterproof clothes are a must. With the open sky above, mossy walls, silver mist, and black lava, it's definitely worth visiting.
Stop at Skogafoss waterfall
The terrain leading to the waterfall is flat so it is easy to walk to the base of the waterfall, as long as you're okay with getting soaked. By the way, there is a legend that says that a settler named Þrasi hid a chest of gold behind Skógafoss…so you can try your luck.
The parking lot is massive, so you can always find a spot for your campervan there. Keep in mind that this is one of the most famous waterfalls in Iceland so there are a lot of tourists at any hour. You can also climb the steep staircase to the observational platform next to the waterfall and enjoy the view from above and even hike from there.
Stop at Kvernufoss waterfall
This is a real hidden gem, incredibly beautiful, and easy to reach. You might even have the waterfall all to yourself as we had. It is accessible by taking the steps over the fence and following the trail located at the rear of Skógar Museum, taking approximately twenty minutes. It is partially concealed by moss-coated cliffs of lava rock adding to its visual appeal. You can also walk all the way behind the waterfall and look out through its misty cascade. This place is without any doubt one of our favorites!
Experience with Arkanum - ATV Quad Bike Express
We booked an ATV tour to have some adventure while exploring South Iceland. And we couldn't have done better. Driving through the streams was like no other. The ATV scenery was amazing, a great way to see different areas in the region, enjoy the black sand beach while having the wind in your hair. There was a stop at the famous plane wreck at Sólheimasandur, you really have a feeling you are on another planet. So don't waste money on trips to Mars if you can have it all and much more in Iceland.
Stay at Skaftafell Camping
We arrived super late as our day was filled with activities. The camping offers clean showers, washing machines, restrooms, and sinks for washing the dishes. The campground is spacious so it can be even fun getting along with other campers. That evening it was pouring down rain, so we ended up cooking our dinner inside the KuKu campervan. The campground in Skaftafell is open all year round which is perfect for winter season travelers.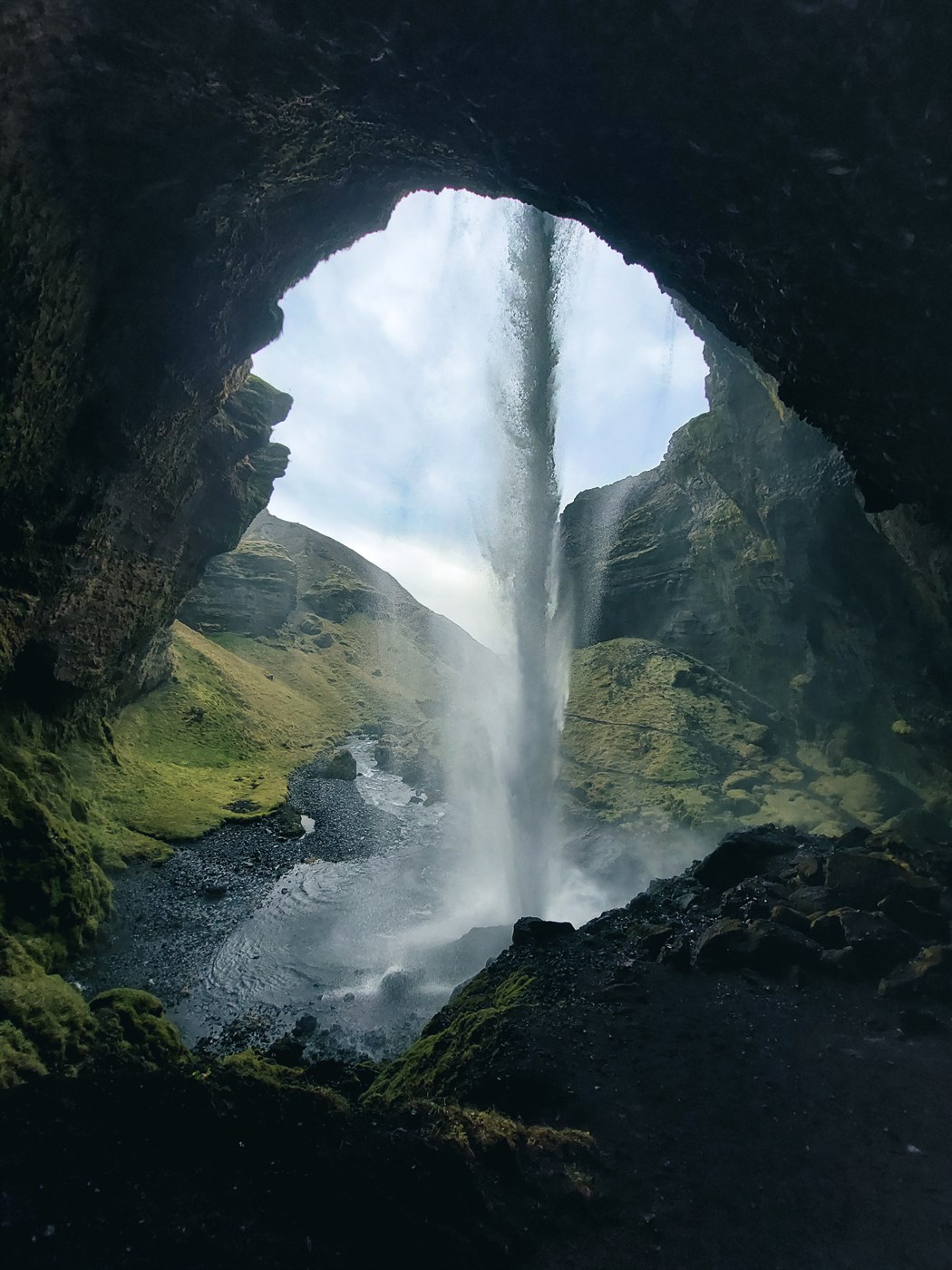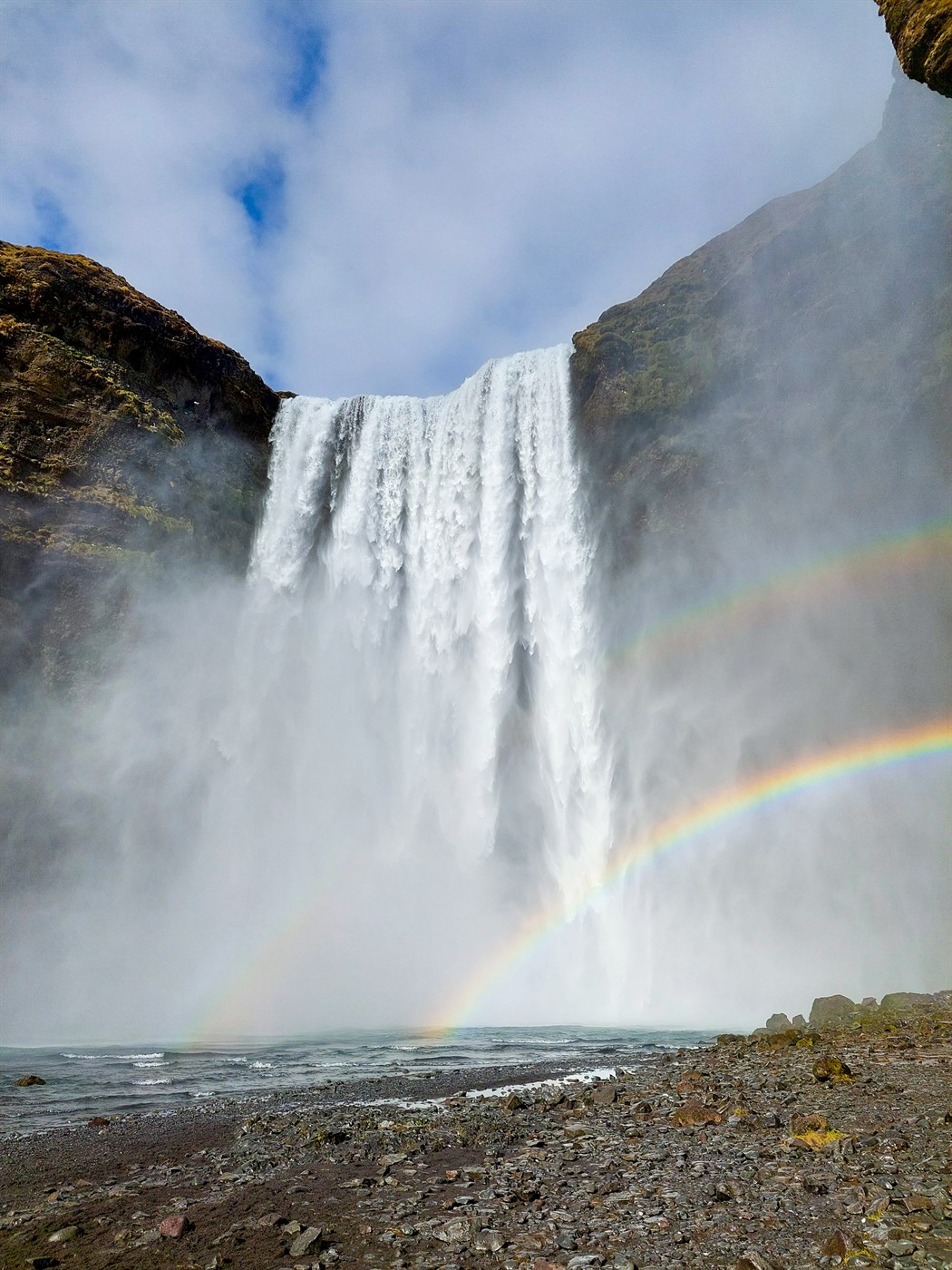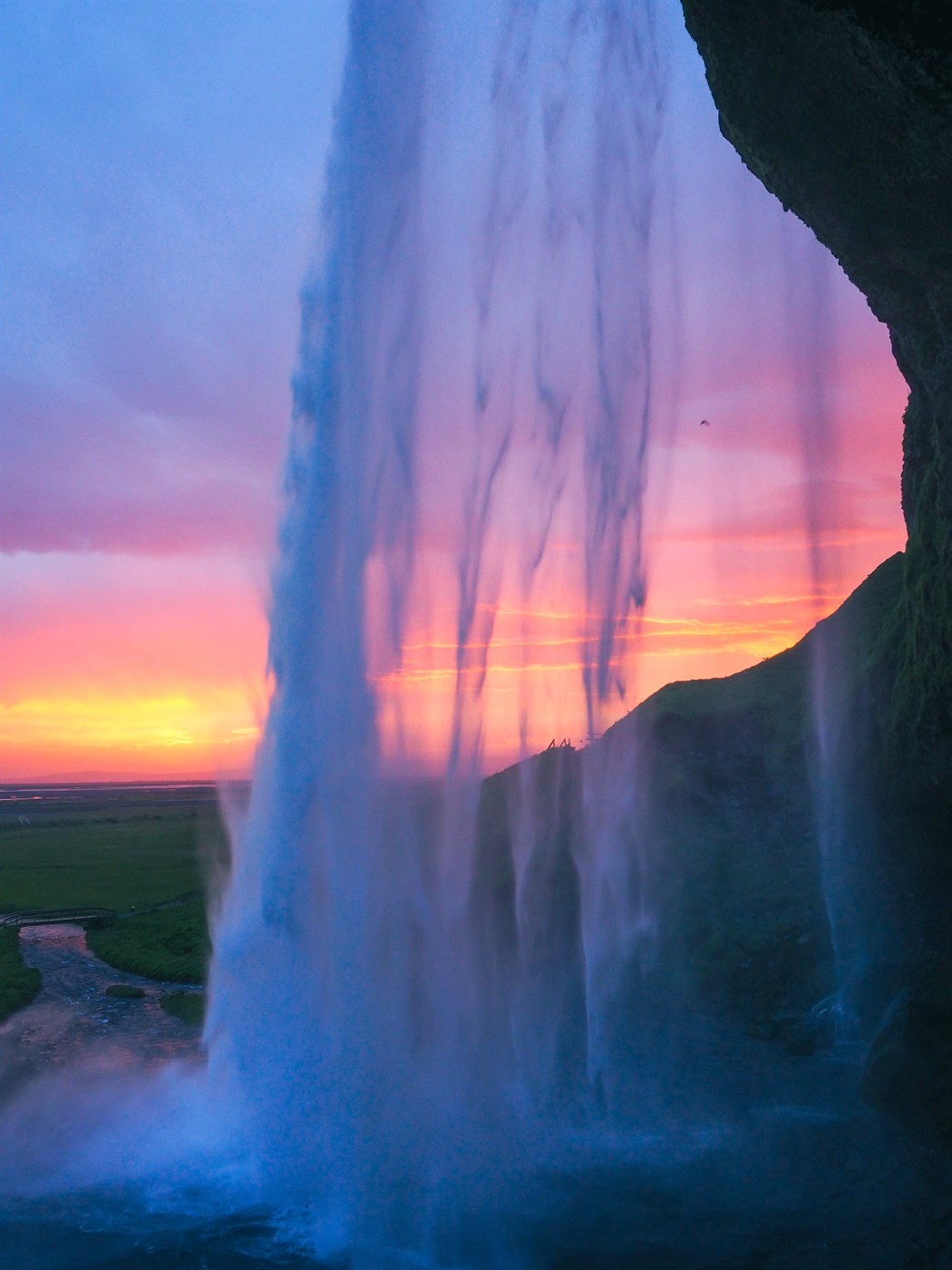 Day 3 - Jökulsárlón and Diamond beach
Stop at Jökulsárlón lagoon
We woke up early in the morning and hit the road with our Kuku campervan. It was misty and snowy, perfect weather to visit Iceland's most famous glacier lagoon. Jökulsárlón is filled with spectacular, glistening blue icebergs drifting out to sea. You'll be wowed by the wondrous ice sculptures as they spin in the changing light; you can also scout for seals in the lagoon and take a boat trip if you fancy. This place is beyond all expectations, no wonder it's a must when in Iceland.
Stop at Diamond Beach.
Just next to Jökulsárlón there is another treasure called Diamond beach. The contrast between white icebergs and the black sand beach is unbelievable. 
Stop at Vestrahorn & Stokksnes
We received a warning note from the Kuku Campers team that a strong wind will rage in the South. We hit the road again with the idea to outsmart the weather, escape from the windy area, and above all protect the van from potential damages. Unfortunately, you cannot outsmart the weather in Iceland. We stopped at Viking coffee to grab a cup of coffee. The farm-owner runs the cafe, and he charges visitors a small fee (800 ISK) to explore his property, including a photogenic Viking village film set and miles of black-sand beaches, where seals laze and the backdrop of Vestrahorn creates superb photos. And we saw a lot! But only in our fantasies. So don't be hard on yourself, sometimes there will be bad weather but have fun anyway! Once again good waterproof clothes are a must.
Swim at Djúpavogskörin thermal bath where a dip into hot water is the perfect cure-all after an entire day of bad weather. 
Stay at Framtid campsite for the night, it is super close to Djúpavogskörin and offers WC, shower, water, hiking trails, playground and even a store.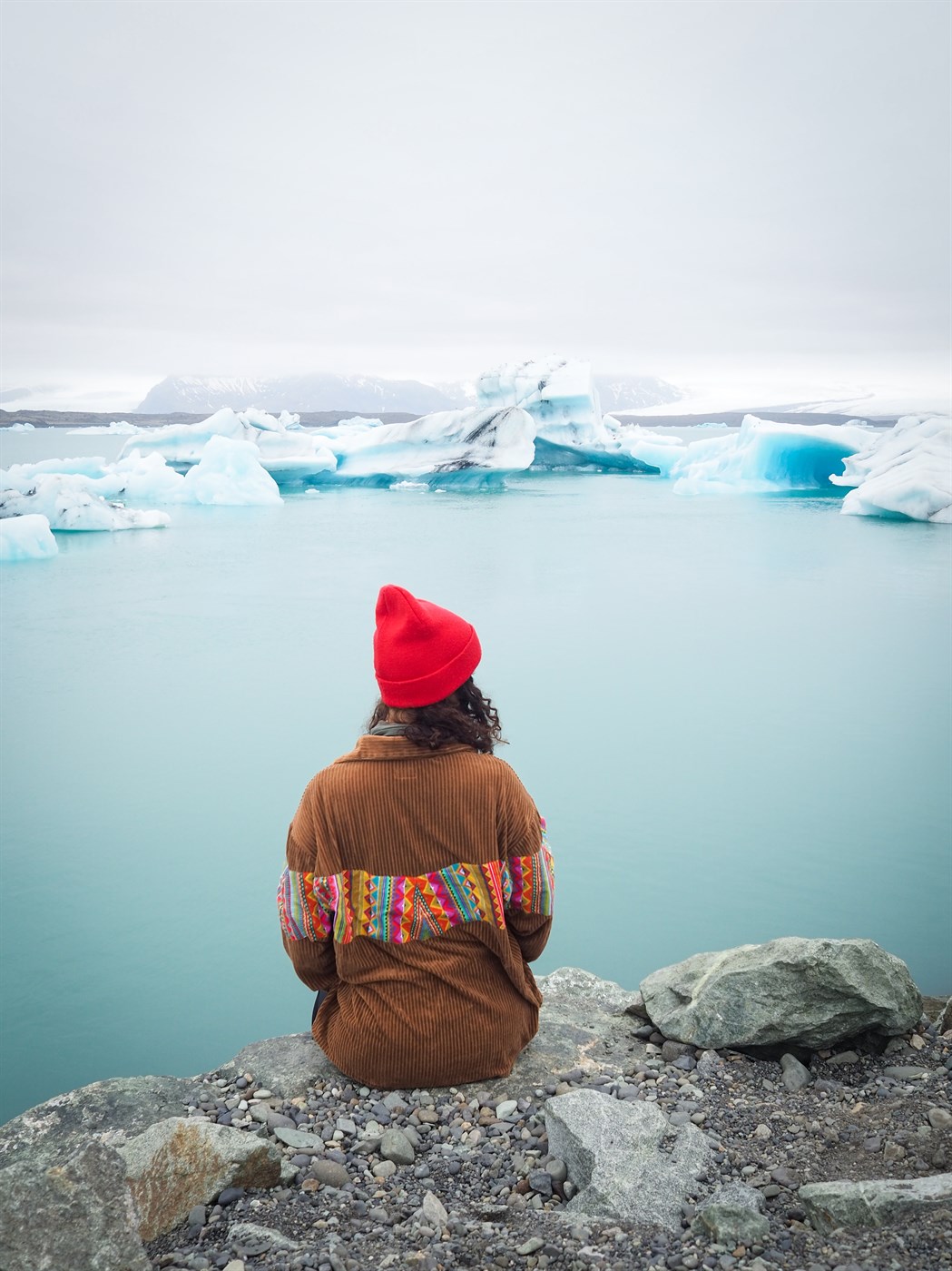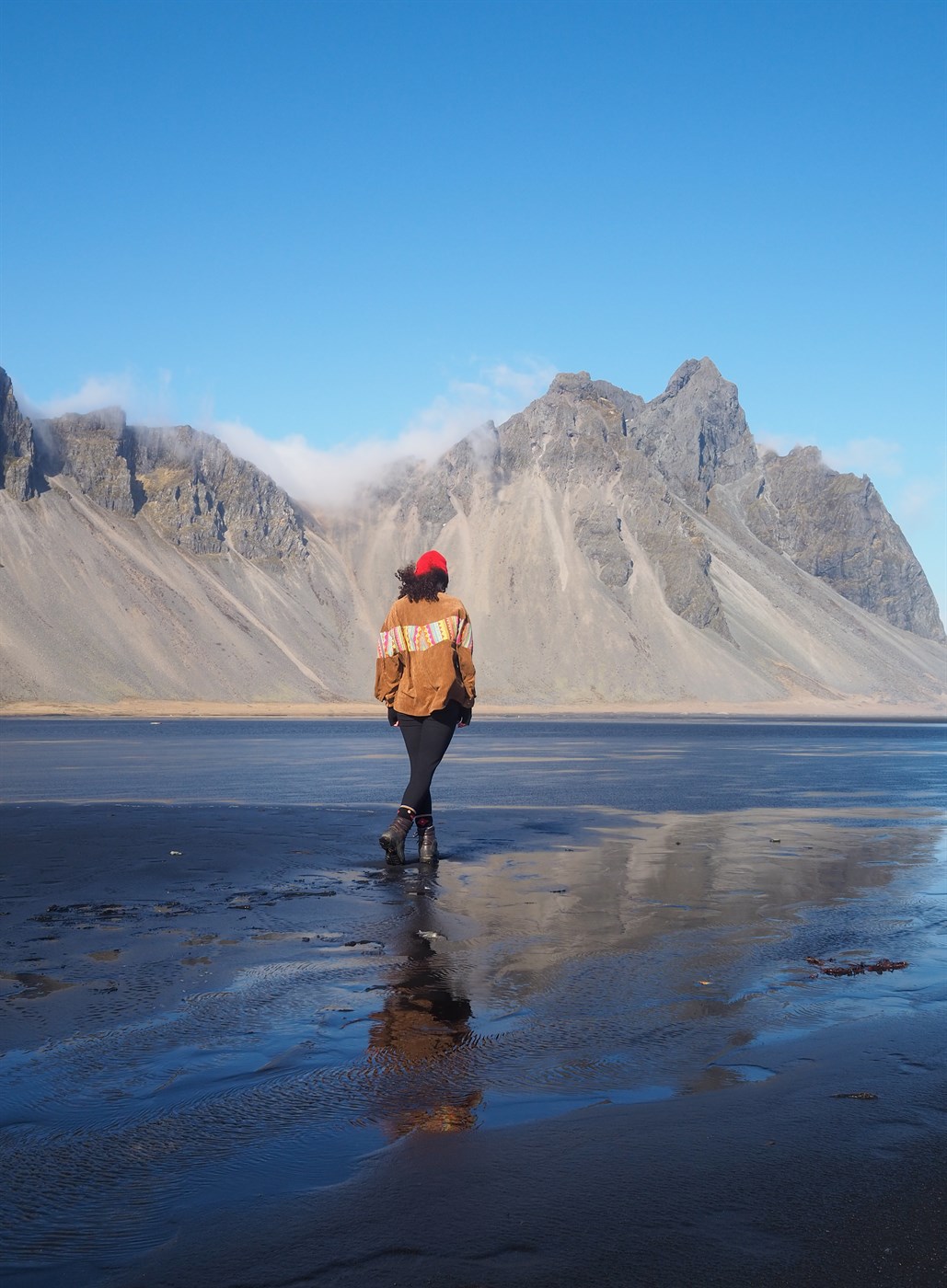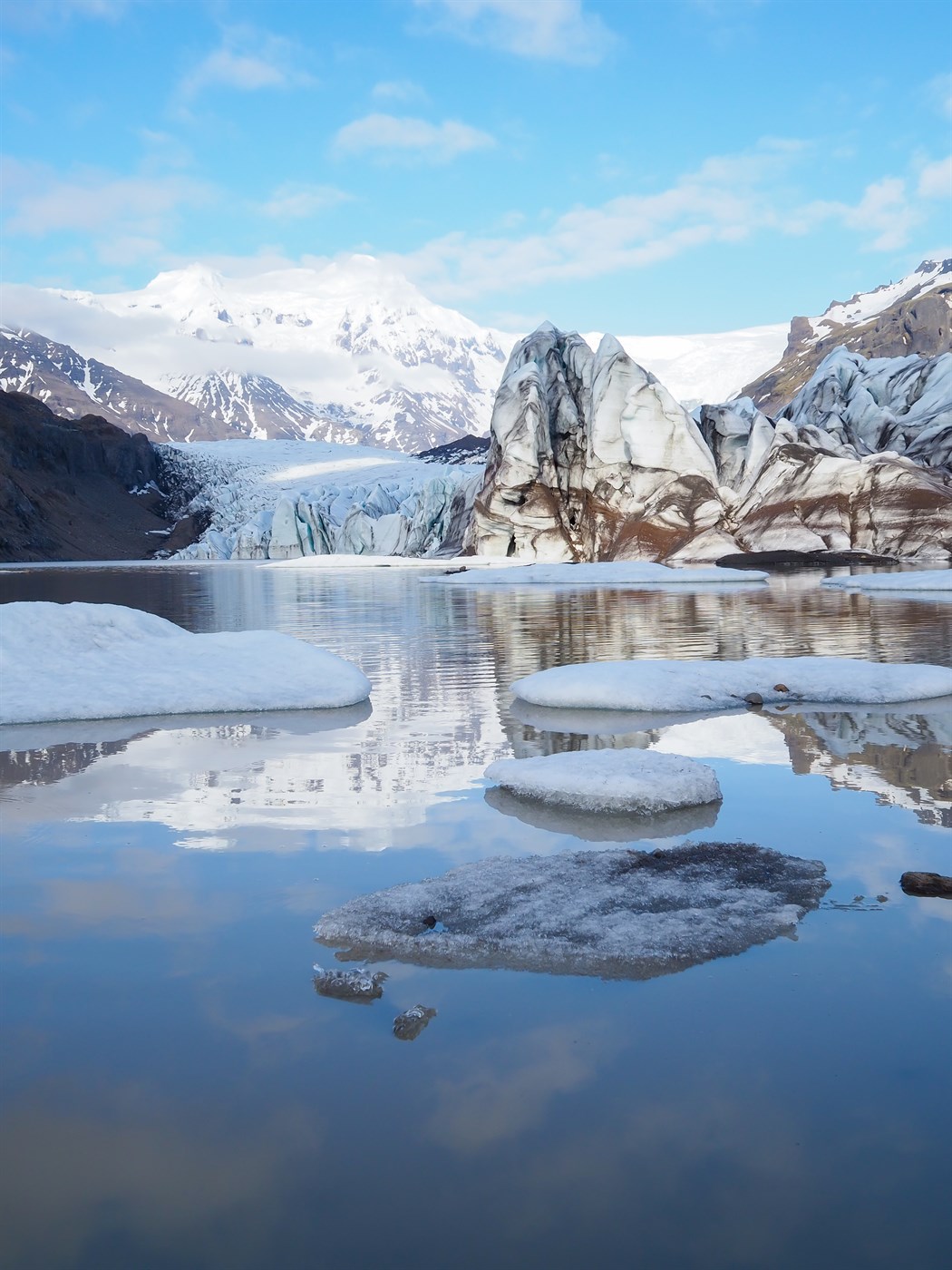 Day 4 - Heading east
Stop at Seyðisfjörður town and Skaftfell Center for Visual Art
If you visit only one town in the Eastfjords, Seyðisfjörður should be it. Made up of multicolored wooden houses and surrounded by snow-capped mountains and cascading waterfalls, obscenely picturesque Seyðisfjörður is the most historically and architecturally interesting town in East Iceland. We stopped at Skaftfell, which is an important meeting point for artists and locals. The art center's activities involve exhibitions and events throughout the year, alongside an international artist residency program so if you are into art, this is your place.
Stop at Gufufoss waterfall
This hidden gem located near the village of Seyðisfjörður looks almost the same as Skógafoss waterfall. The only difference is that it is far more peaceful and smaller. You can find a parking lot, perfect for your campervan, located next to the waterfall so access to the waterfall is very easy.
DO NOT stop at Stuðlagil Canyon FROM THE WEST SIDE
There are two different ways to visit Stuðlagil. The first one is from the west side, where you can see the canyon after a short walk from above, but it is not possible to walk down into the canyon.
The other one is from the east side, where you have to walk about 5 kilometers, but you can walk all the way down to the river. We did both, as by mistake we took the west side the first day. Don't make the same mistake unless you want to. GPS of the parking from the east side is 65,1889934, -15,2510006.
Stay at Camp Egilsstadir
This campground is in the center of town and has hot showers, laundry facilities, indoor and outdoor kitchen. All for 1,500 ISK per person per night. It's a good spot to refresh, but the location is not breathtaking being in the city. Though you can stock up your food and any other essentials in Bonus, that is just a few minutes away. Also, note that Iceland has some of the BEST water in the world, so do refill your bottles at every campsite.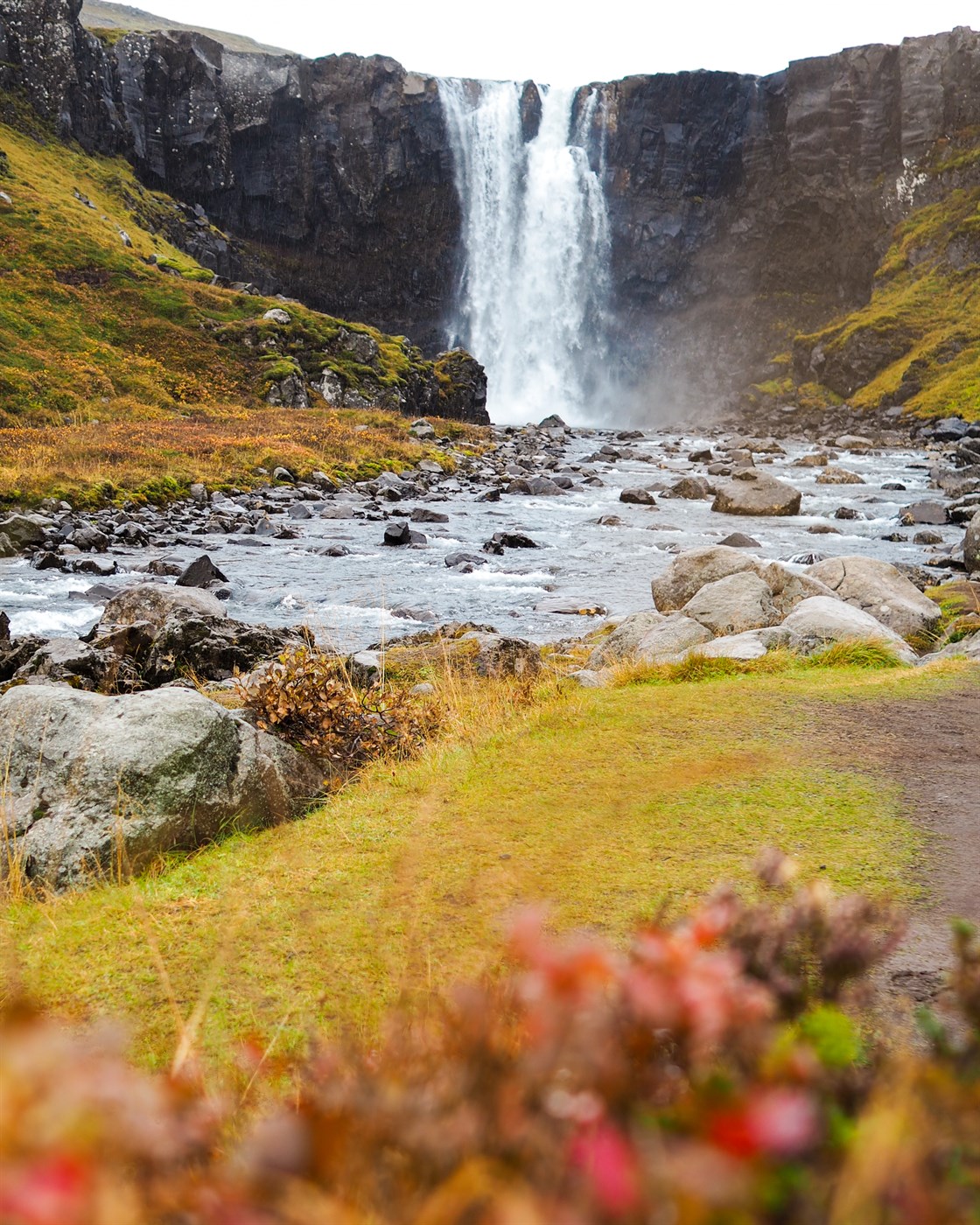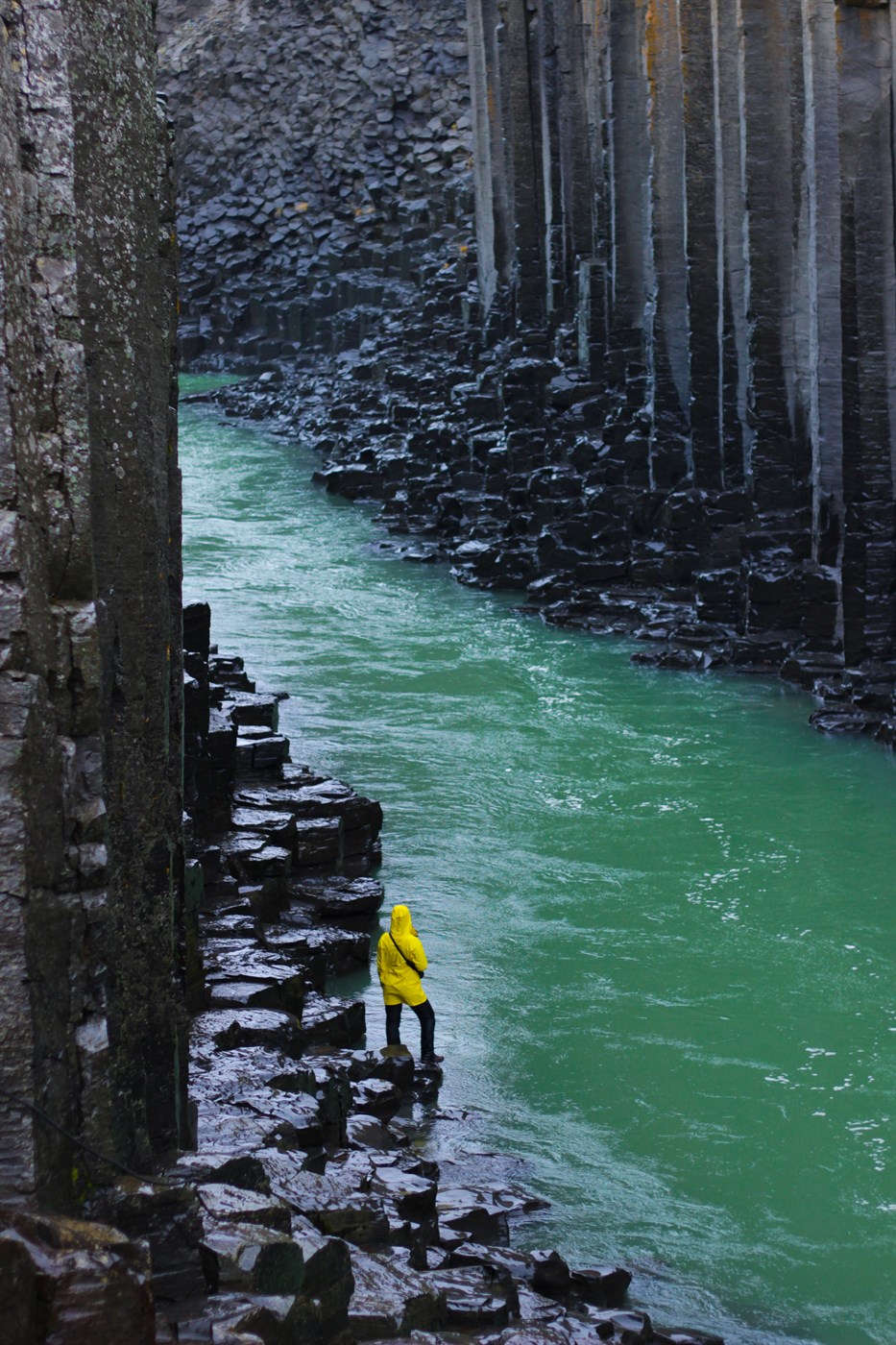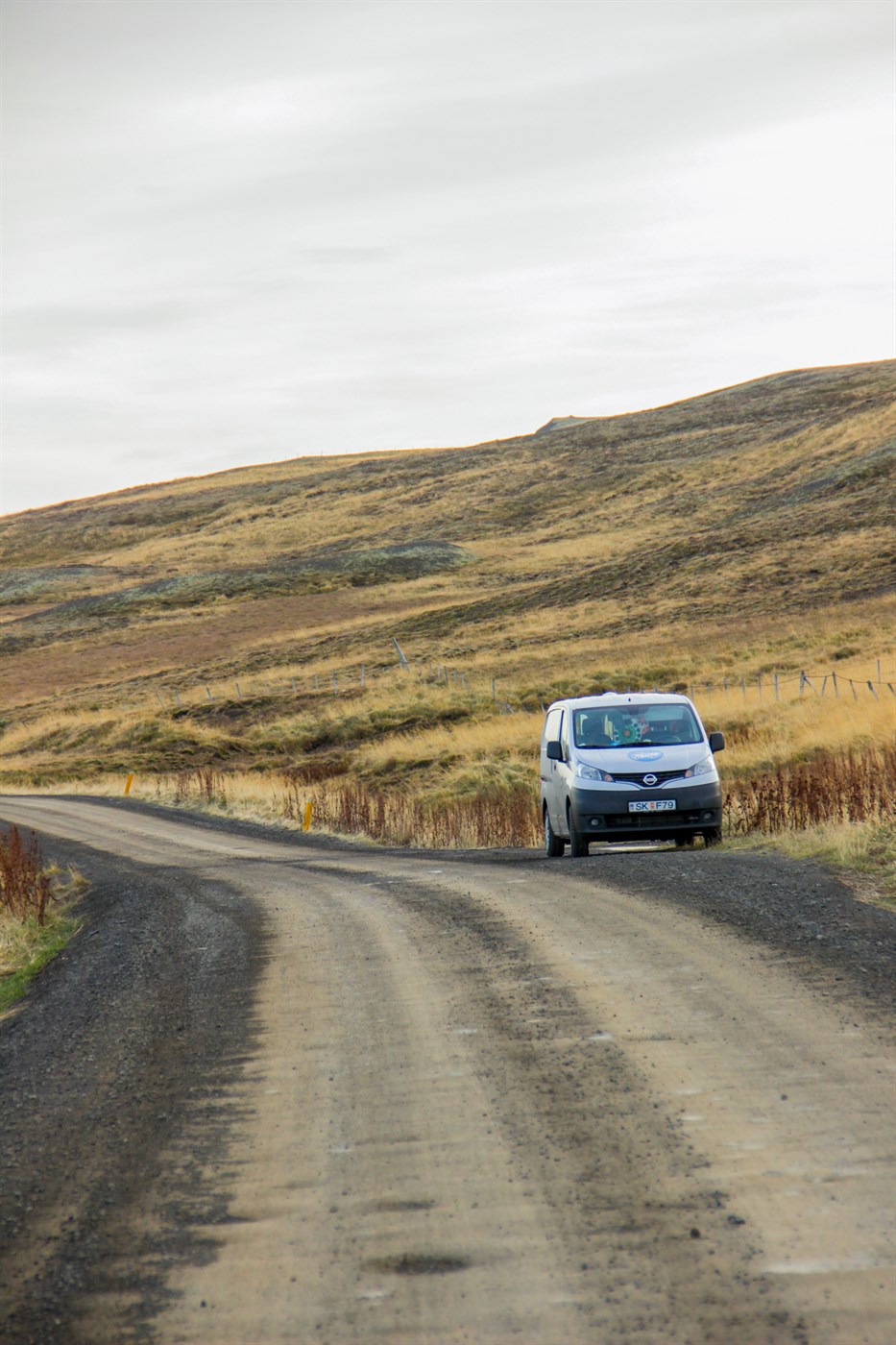 Day 5 - Weather and closed roads
Stop at Stuðlagil Canyon from the east side
We woke up early in the morning and set the correct GPS for Stuðlagil canyon. We parked our Kuku camper in the parking lot before the bridge. We tried to go to the next parking lot but were a bit afraid of unstable terrain and numerous potholes so we decided to leave the Kuku camper safe and do some hiking. We received another weather alert, so we put some stones into our pockets as recommended and carried on with our hike. Stuðlagil canyon was beautiful, the color of the river is different each season. You can expect blue-green color during the summer months, but it changes to brown-grey after the snow melts in the spring.
Stop at Víti
Unfortunately, the road to Dettifoss was closed so we skipped it and went directly to Víti. One of Iceland's most beloved poets, Jonas Hallgrimsson, wrote the poem "Víti" inspired by the crater, so we were super curious to see the masterpiece. Once again the weather hit unexpectedly and we could see nothing but white. Snowstorm covered the landscape and we left the crater in our campervan without seeing it.
Stop at Hverir geothermal spot
Don't worry successful story is coming with the magical, ochre-toned world of Hverir, a lunarlike landscape of mud cauldrons, steaming vents, and radiant mineral deposits. Belching mud pots and the powerful stench of sulfur may not sound tempting, but Hverir's ethereal magic grips every passer-by.
Swim at Mývatn nature baths
Next stop on our trip itinerary is Myvatn, the Disneyland of northern swimming pools, hoping to hear some gossip from all over the world. Once again there is nothing better after a long windy, snowy day than a thermal bath.
Stay at the campsite of Mývatn/Hlíð
The campsite at Mývatn is open during winter and has restrooms, showers, and a kitchen area.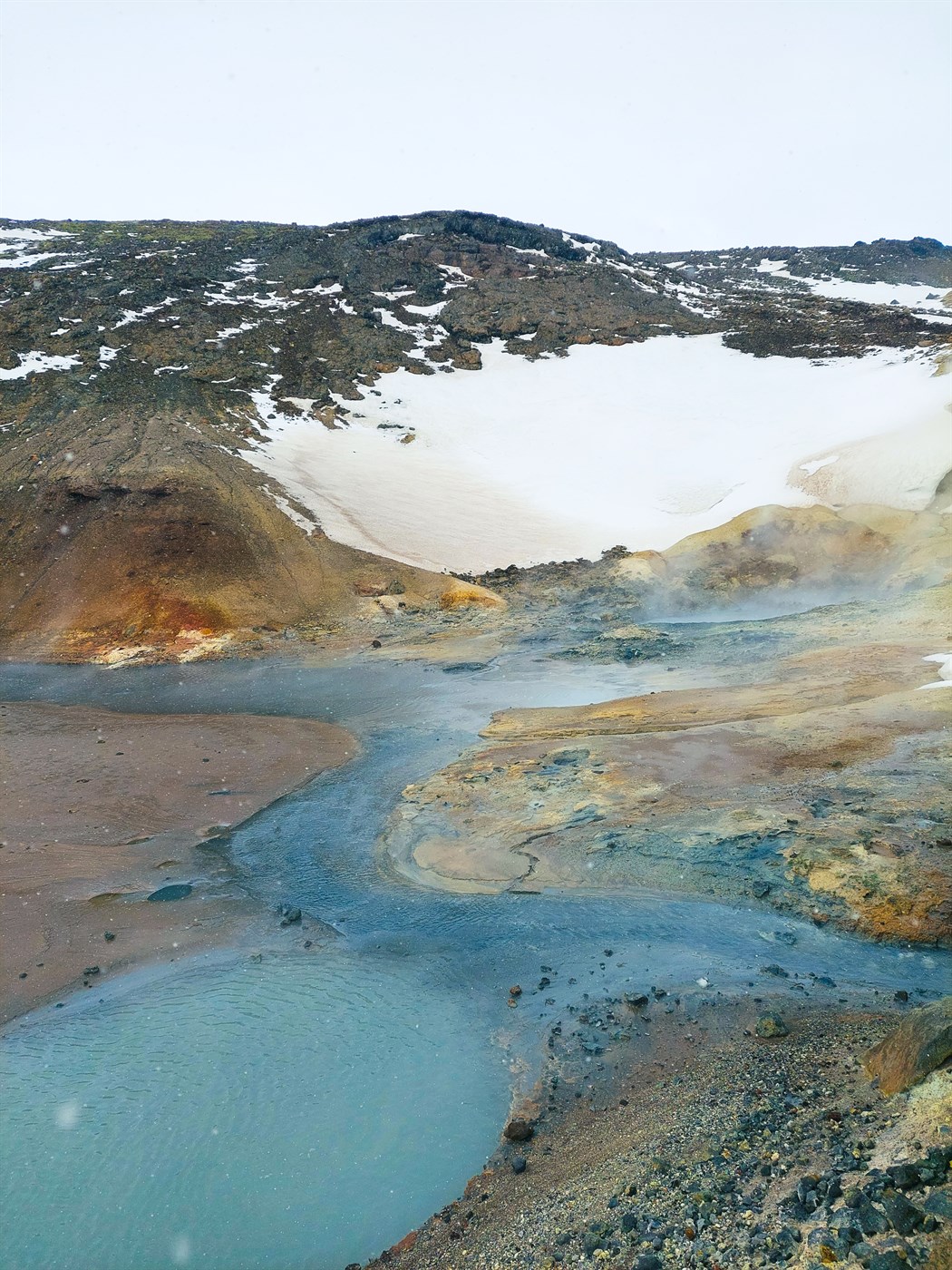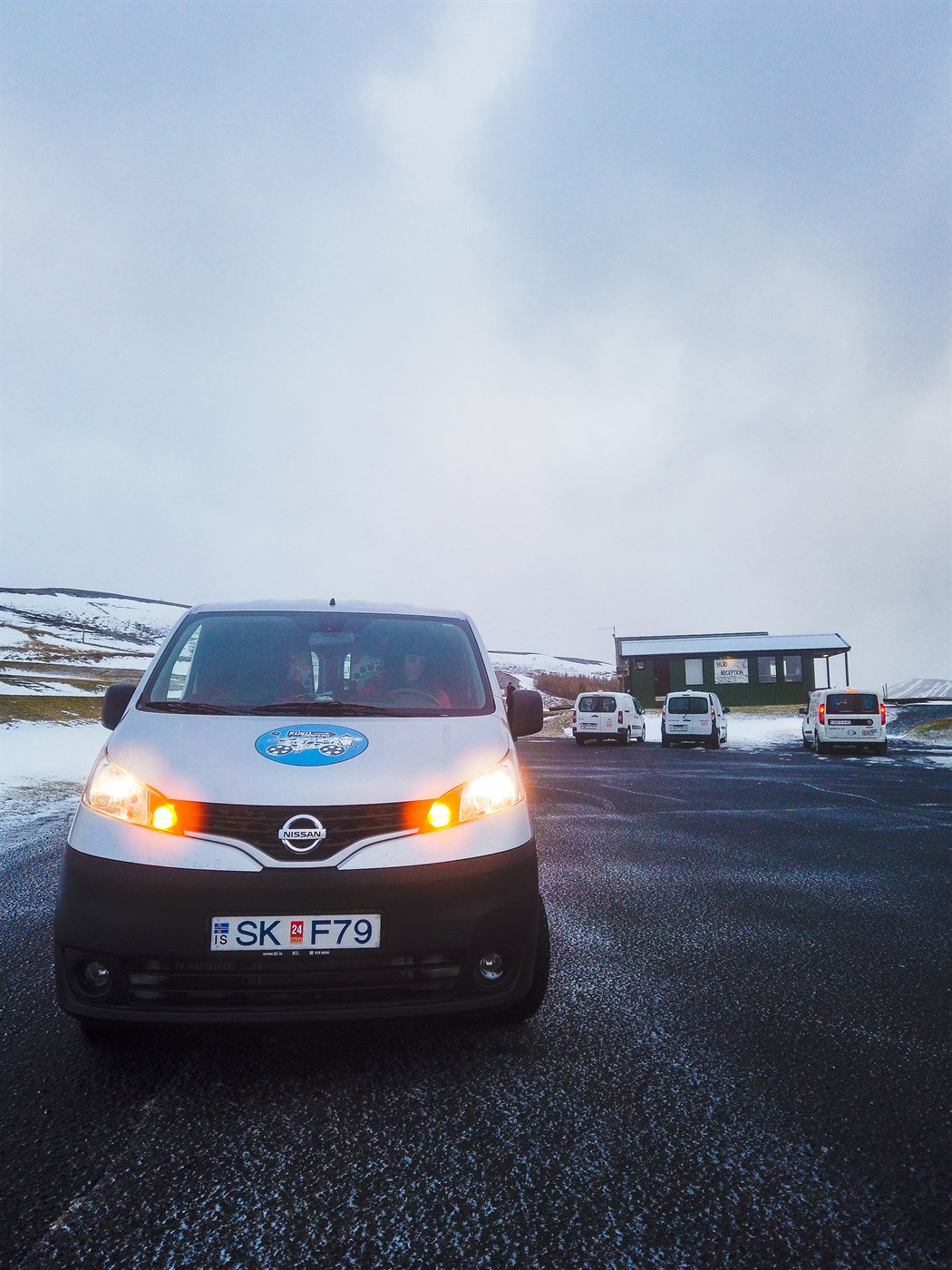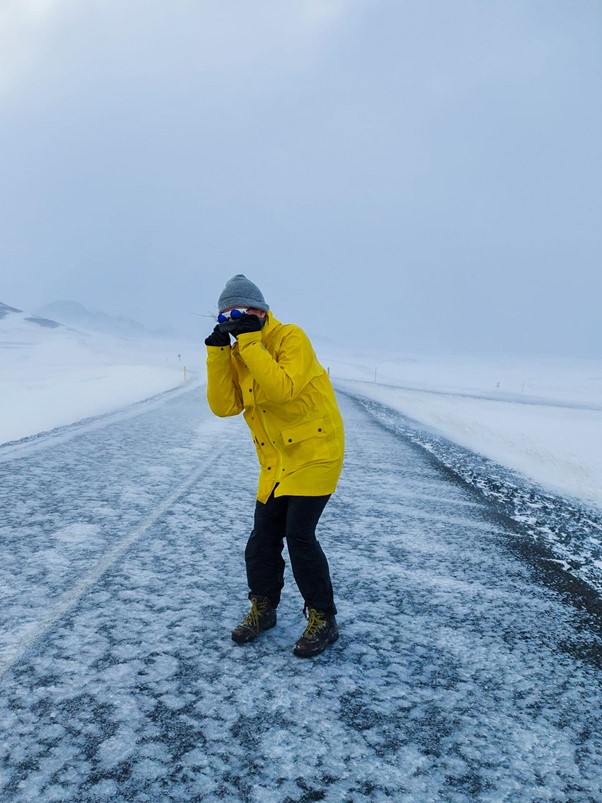 Day 6 - Heading north
Stop at Goðafoss waterfall
Goðafoss waterfall is one of Iceland's most famous waterfalls. According to local legend, when Iceland became a Christian country, all the statues of the Norse gods were thrown into this waterfall and from there derives the name "Waterfall of the Gods."
Shop at Akureyri city
Akureyri stands strong as Iceland's second city but Melbourne, Manchester, or Montreal is not, with only 18.000 residents! With its scenic setting and relaxed atmosphere, it's a natural base for exploring the north with your campervan. We had a lovely walk through the city, a tasty lunch, and stocked up on food for the next few2 days. You can park the van for free for a limited time in the center, just ask at the gas station. Small observation detail, they have red hearts instead of red circles for traffic lights. Super cute!
Stop at Hvítserkur basalt.
Now a few hours of scenic campervan drive was waiting for us. We stopped to look at and take pictures of beautiful Icelandic horses. Hvítserkur rock formation was easy to find, with a well-maintained parking lot, perfect to safely park your campervan. The cliff has a unique resemblance to an elephant or rhino. Legend says that Hvitserkur is a petrified troll. The troll lived in Strandir, east to Hvitserkur, and wanted to tear down the bells at Thingeyrarkirkja church, since the bells bothered it. Fortunately, the troll got caught by daylight, and as we all know trolls turn into stone when the sun hits the sky.
Stay at Illugastadir Camping
A nice little campground at a sheep farm. The owner came around with a CC reader to take the payment. There are no showers, only one toilet, and sinks. Though it's a lovely quiet place, a remote spot with access to a walking trail and seal watching. Be aware it can be pretty windy here, so make sure to hold onto the KuKu Camper doors, as wind damage can happen without a warning!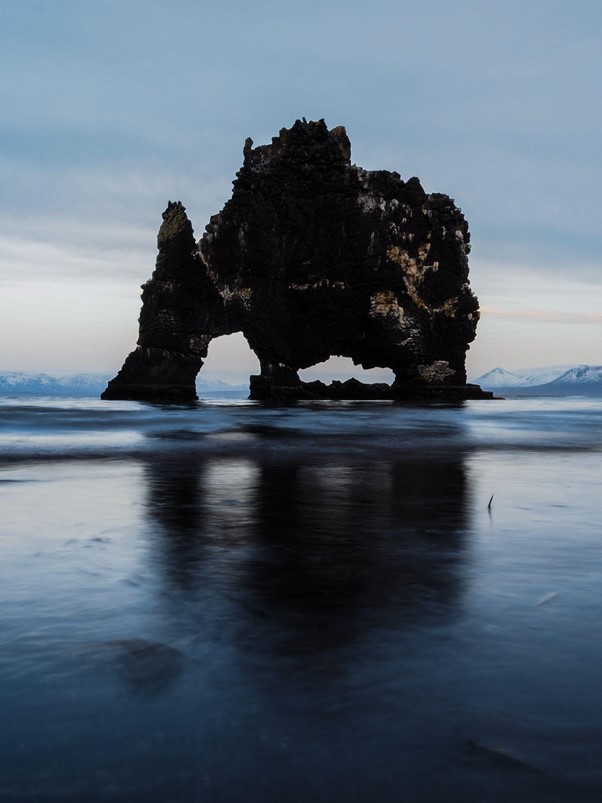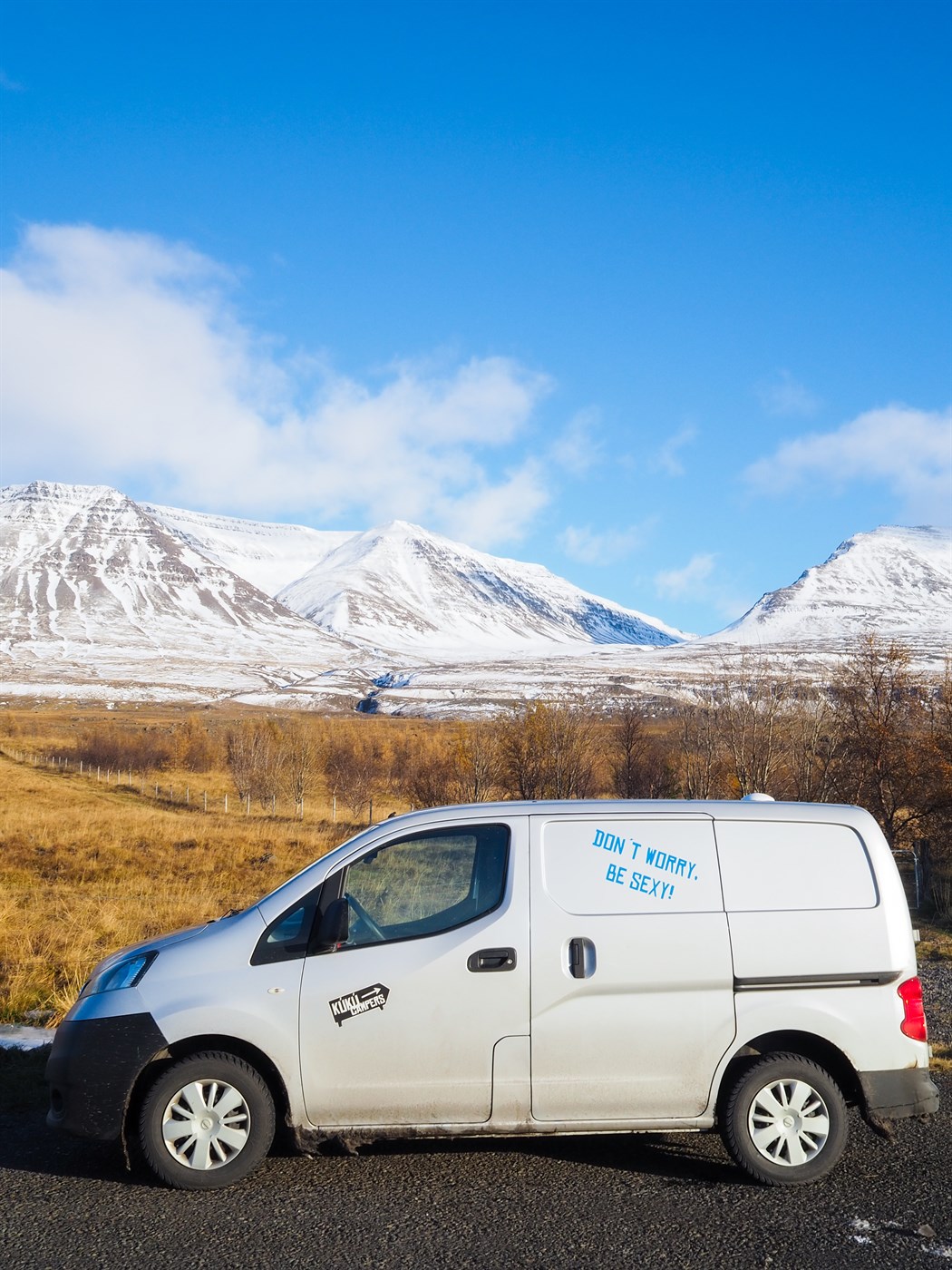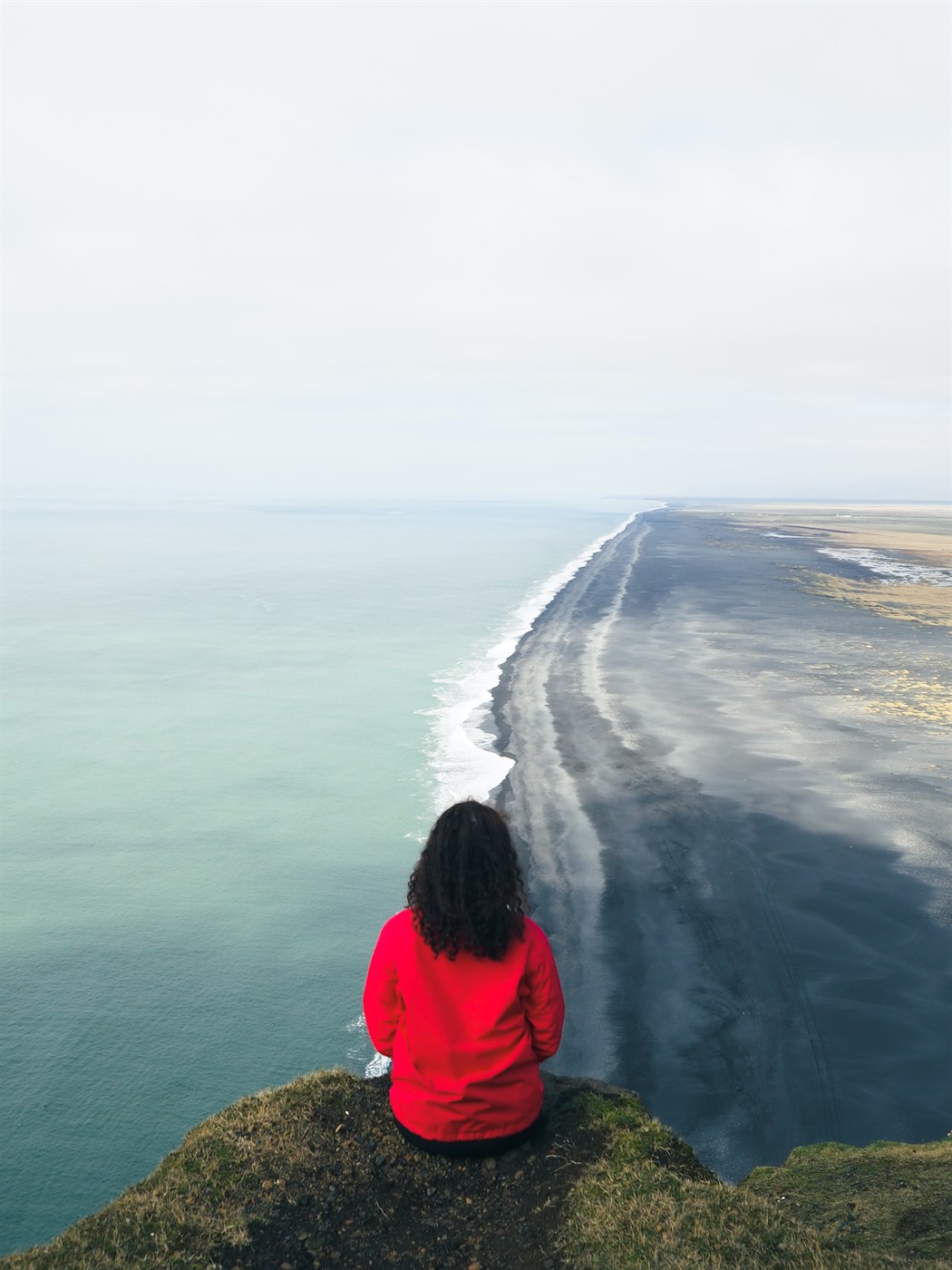 Day 7 - Seal spotting
Stop for Seal watching in Illugastaðir
In the morning we took a 20-minute walk to a popular site for sunbaking seals. This area is super peaceful and there were almost no tourists, so more space for our KuKu Campervan. 
Swim at Hörgshlíðarlaug hot spring.
Definitely our favorite hot pot. Set along the wild shore offers the best relaxation and visual beauty. There is no specific parking lot, but there is a place on the road where two campervans can fit without any problem. This place is a hidden gem and it's really worth going to. 
Stay at Suðavik camping
It was a bit problematic to find open campsites in the North during our autumn trip. Most of the campsites close their doors around October 15th but you won't have any problem finding campsites during summertime. We called this campsite, and we were more than welcome to stay but unfortunately, their services weren't open. Of course, we had enough bottles of water so we could cook a delicious dinner in spite of the facilities being closed. After the meal, the aurora app sent us a notification that we may see northern lights if the sky is clear. Tonight, the sky was clearer than Icelandic water and we saw magnificent dancing Northern lights.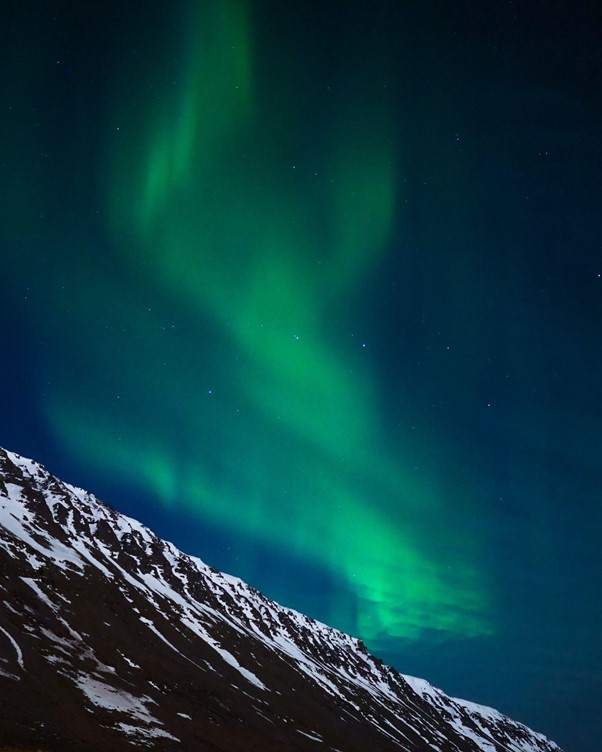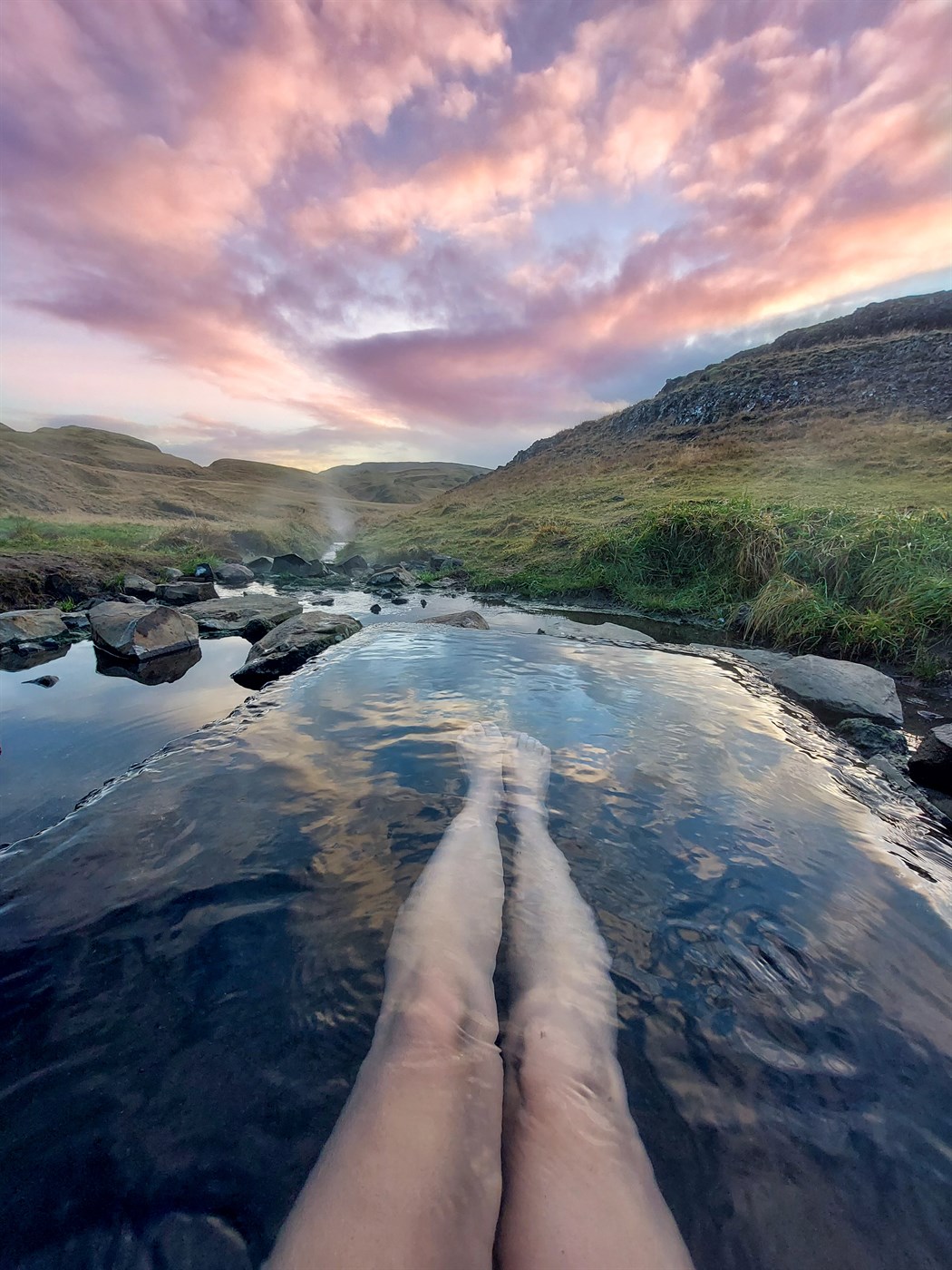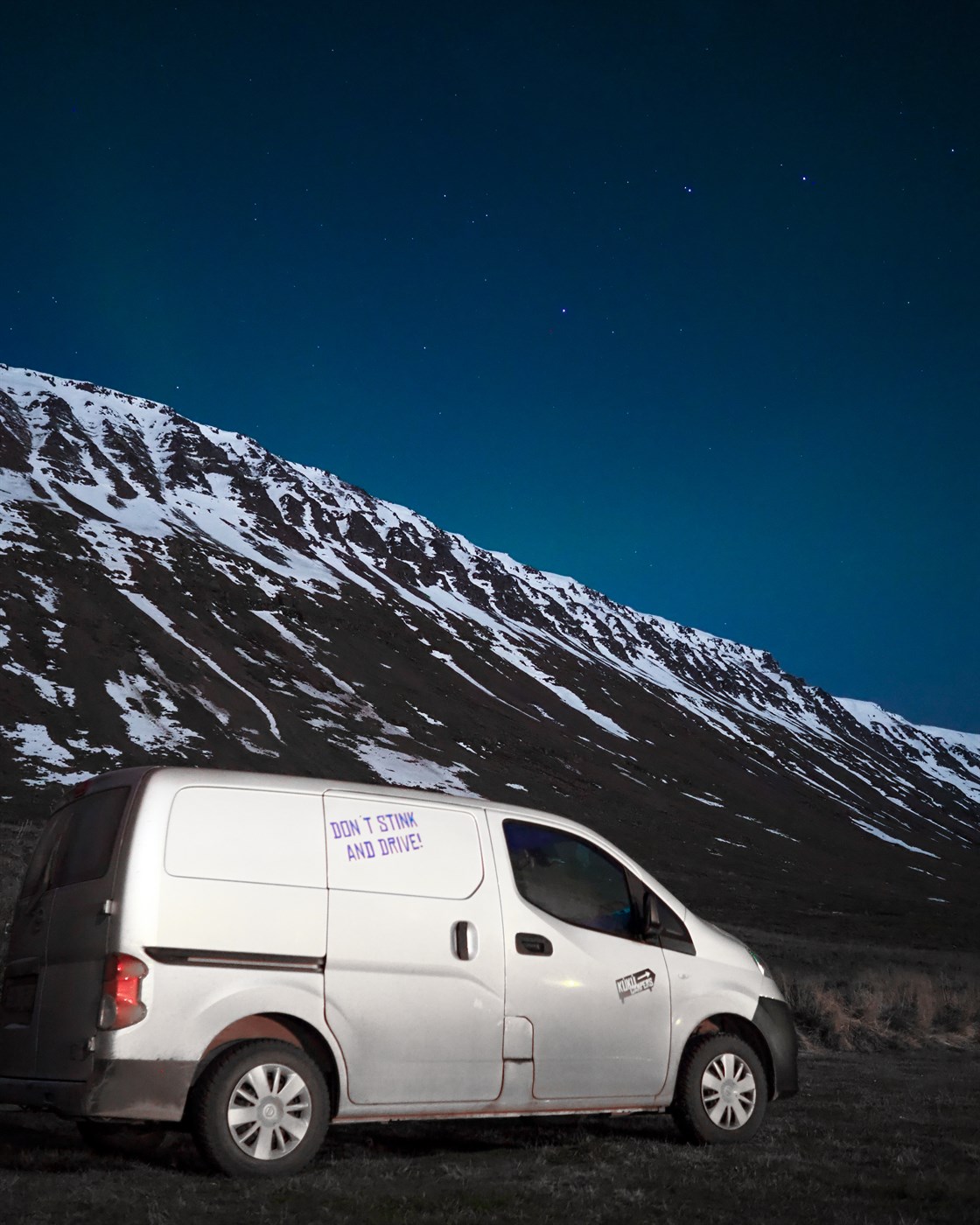 Day 8 - Westfjords
Stop at Ísafjörður town.
If you need to satisfy your desires for a good coffee, this town will fulfill those.
Hike at Troll's seat.
The hike starts from the campervan parking lot located on the east side of the fjord. The trail is short but challenging as it is very steep. It takes approximately 30 minutes to reach the seat which lies 225 meters above the fjord.
Stop at Dynjandi waterfall.
The biggest waterfall in the Westfjords truly deserves to be called the Jewel of the Westfjords. It's massive, beautiful, and majestic. Plus, if you're lucky, you can see Arctic Fox nearby as we did. What a beautiful, unexpected surprise it was!
Swim at Reykjafjarðarlaug Hot Spring.
You can choose from two swimming pools here. One has hot water and the other one close to the shore is colder. If this is not enough there is a natural hot pot with a gravel bottom just one minute walking from the pool. Bring some cash so you can donate, it is free but there is a donation box.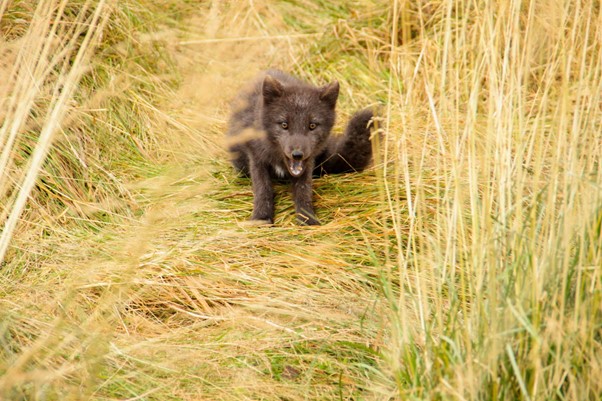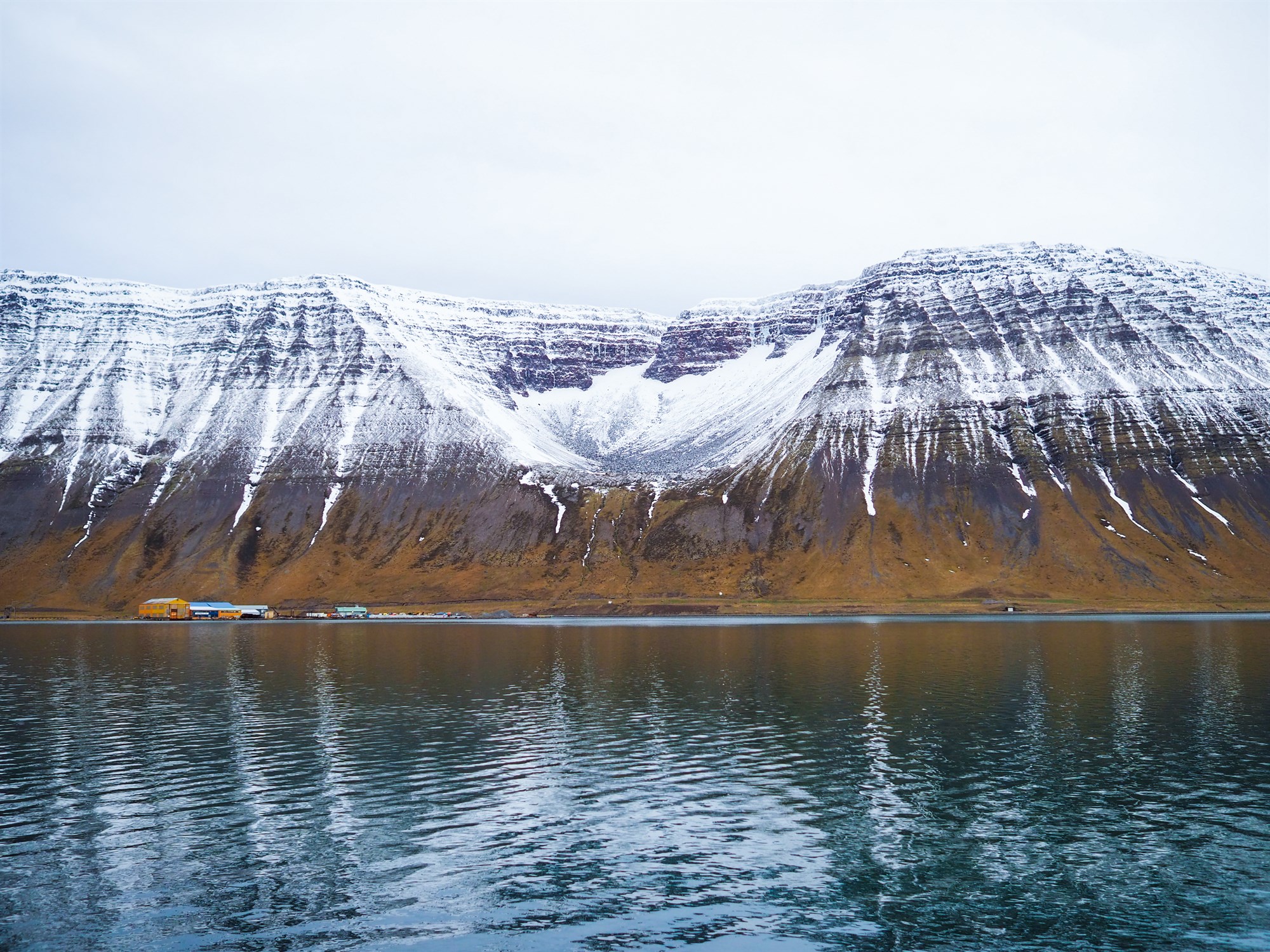 Day 9 - From Westfjords to Snæfellsnes 
Swim at Hellulaug hot spring
We stopped our KuKu Campervan at the geothermal pool which is located right on the beach. It is lovely sitting here with the view of the ocean and Vatnsfjörður fjord. Hellulaug cannot be seen from the road, but there is a parking lot above the pool and a good path down to the sea. The pool is 60 cm deep, and the temperature of the water is about 38 degrees which is perfect. 
Stop at Kirkjufell mountain.
The most photographed mountain in Iceland, one of the top 10 most beautiful mountains in the world, and yet most recognized as being "Arrow Head Mountain" on Game of Thrones. Kirkjufell was located between two glaciers that influenced and shaped the mountain into the form it has right now. The layers of Kirkjufell are in fact the results of many volcanic eruptions. In the afternoon we visited the mountain, dozens of people were coming and leaving, this mountain has obviously become a very popular spot for tourists, but hopefully, we still had a place for our campervan.
Stay at Hellissandur Camping
Finally, we found a campsite that was operating during the winter season. Great campsite, really nice clean bathrooms and showers. We really appreciated the indoor cooking facility; it was really nice to be able to sit indoors out of the wind for a while.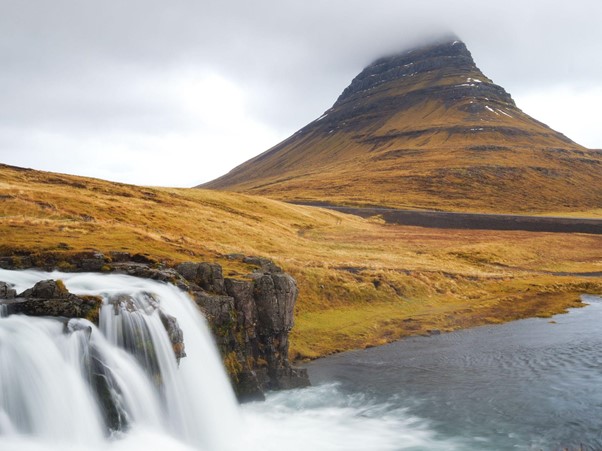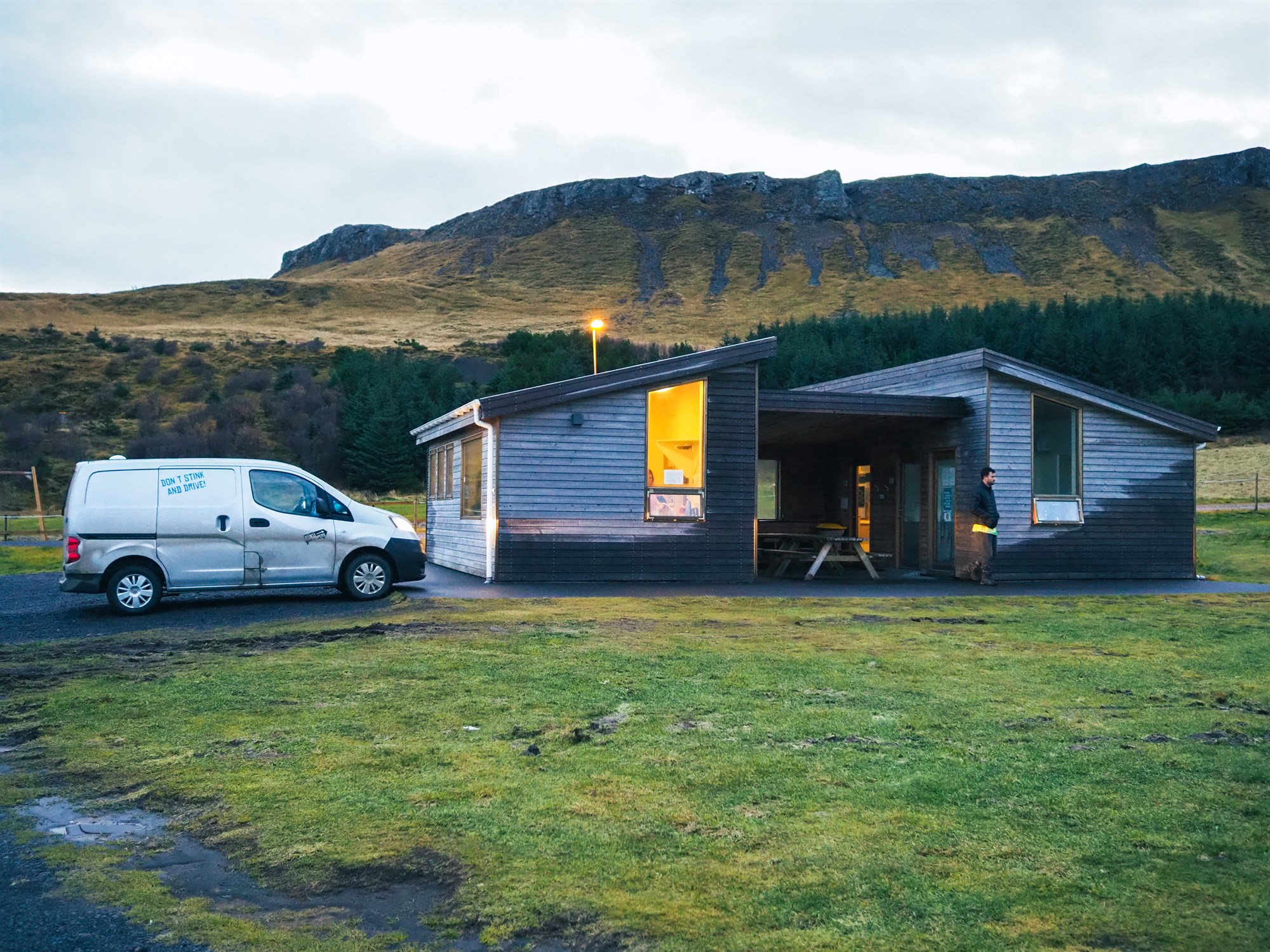 Day 10 - Snæfellsnes peninsula
Stop at Hellissandur street art town.
Do not miss having a walk around Hellissandur. It's really a unique experience. At the beginning of 2018, artists decided to give the town an artsy facelift. Long story short Hellissandur is now the Icelandic capital of street art with over 30 big murals placed in various locations all over the town.
Stop at Svörtuloft lighthouse.
After a bit of bumpy drive with our campervan, we arrived at the bright yellow lighthouse. The rock formations along the edge are spectacular. It's also a great place for bird watching and for taking a deep breath.
Stop at Arnarstapi
This small village is quite busy with tourists coming to experience an authentic small fishing village vibe, as it is so conveniently located only about 2 hours away from the capital. Foodies show up for the fresh fish dishes and photographers for incredible photo opportunities. We visited the big statue of Bárður, half-man half-troll. To pay a tribute to the legend the locals had an enormous stone statue raised at the nature reserve which places quite a strong character in the scene. Walk down to Gatklettur Stone Arch, this place is worth taking out your camera!
Stop at Ytri Tunga for Seal watching
If you want to see seals from a very short distance, walk from the main point and go right. Please note that you are a visitor here, so you should always keep in mind to respect wild animal life.
Stop at Ölkelduvatn Mineral Spring.
If you are traveling around the island, you can make a quick stop, but we wouldn't go out of our way for it. The taste wasn't to our liking, a very metallic and iron-rich flavor.  However, it's interesting to see sparkling/carbonated natural water from a tap. There is a board to show you how many minerals are in the water and an honest box requesting a small donation for the water too.
Hike at Grábrók crater.
Easy hiking on stairs (15-20 min) to reach the top of the crater and enjoy the view of the inside and the second and third craters. Once you are on the top you can walk all around the crater. It shouldn't take more than 1 hour in total to visit this place.
Stay at Mosskogar Camping
The best camping, we stayed in during our road trip. The facilities are very nice and clean, there is an indoor kitchen, and the owner is such a nice person. He was very helpful and welcoming, staying here was definitely worth the money, we would love to come back. No wonder why KuKu Campers mentions them among the best campsites in Iceland.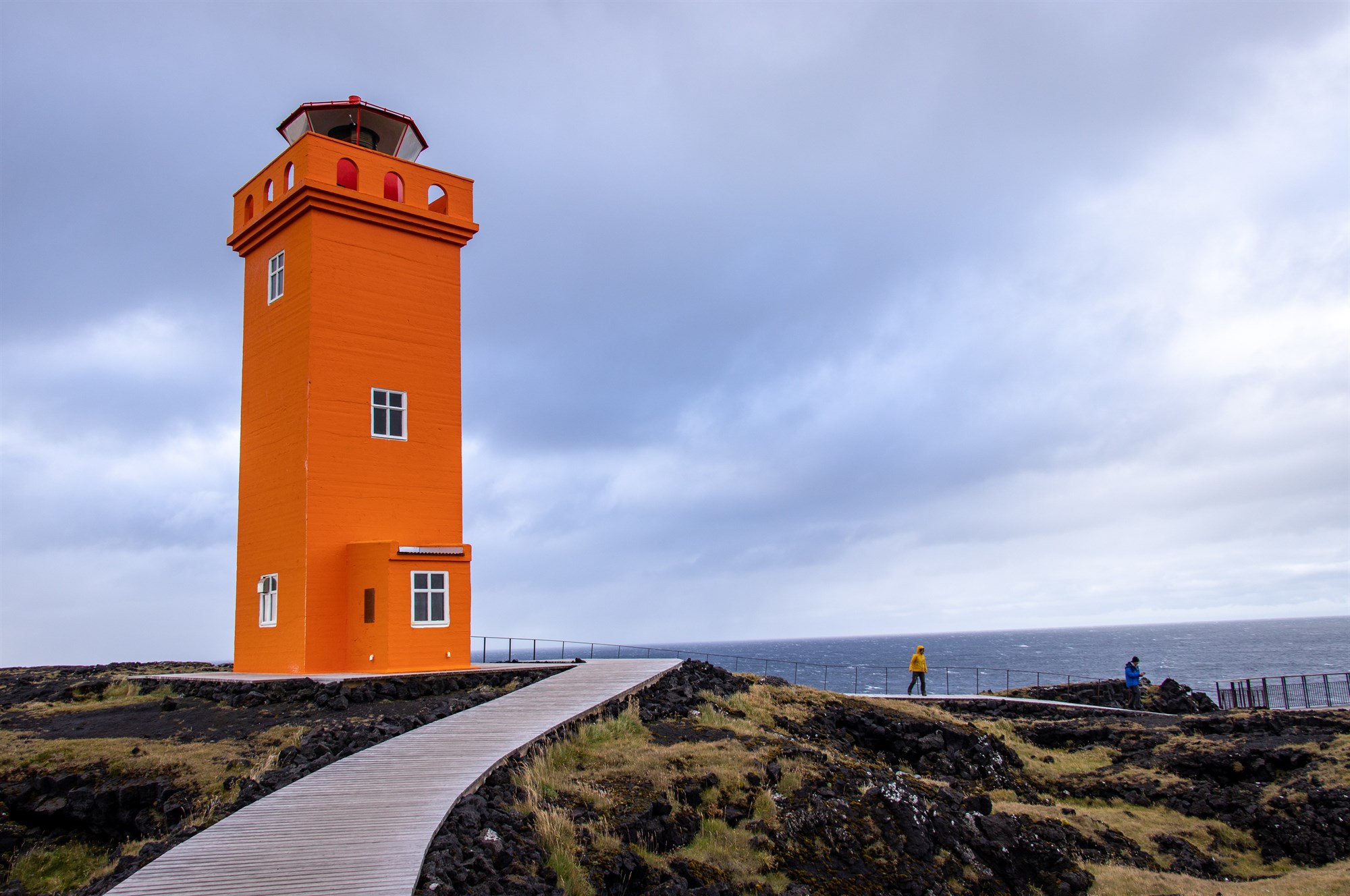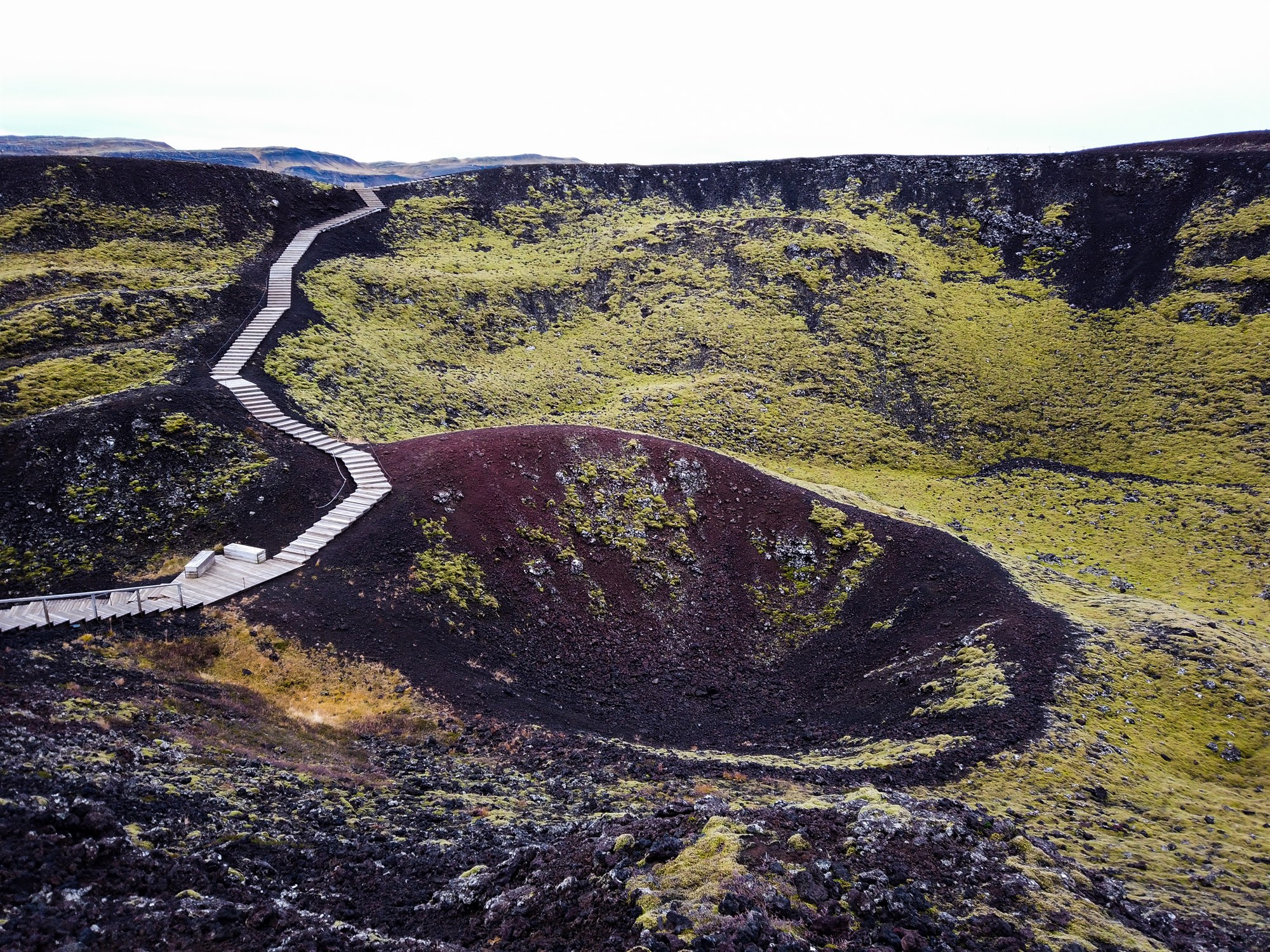 Day 11
Our journey has come to an end. This last and final day is perfect to spend exploring Reykjavik as Mosskógar campsite is located just outside of Reykjavik, and is a mere 15-minute campervan drive from downtown. For tips on what to do in Reykjavik, you can check out KuKu Campers guide to the nations capital.
If we learned anything during our trip around Iceland, it's to keep it flexible. Let the sights (and the weather!) guide your days. Have your list of must-sees as a rough recommendation list and then just go where your KuKu Campervan takes you.
Thanks, Kuku, for this amazing experience and for all the messages you sent us during our trip. Happy to see Iceland next time with you!
It's your turn to hit the road with Kuku !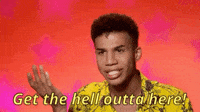 ---
Discover more articles from our blog !
---