The ultimate guide to camping in Iceland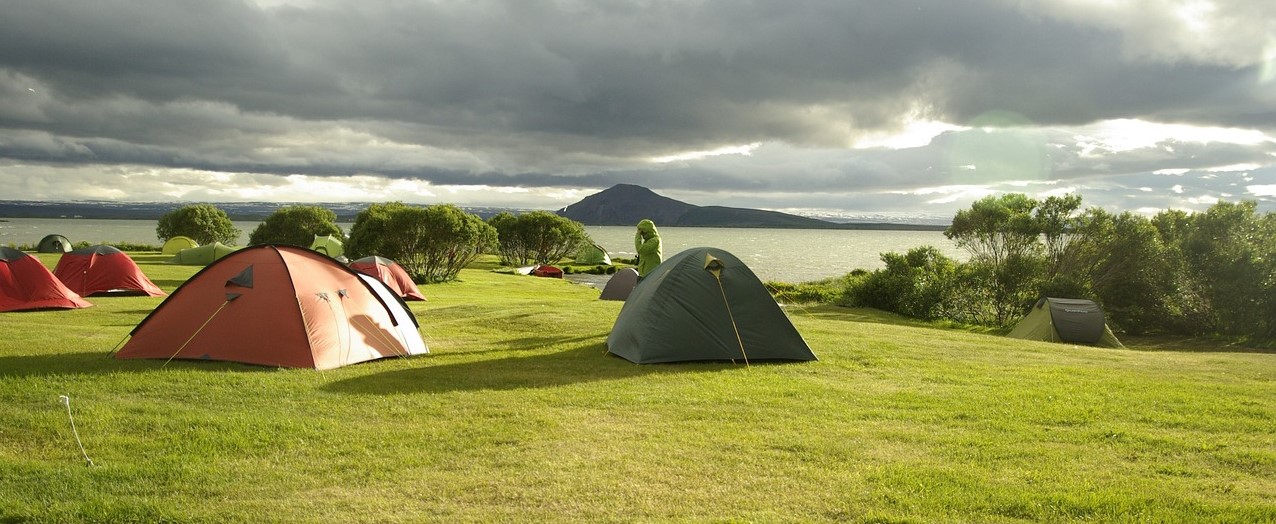 ---
Camping In Iceland: All you need to know
One of the most memorable things you can do in Iceland is camping, especially considering the country's spectacular landscapes. Some of these landscapes include black sand beaches, dramatic cliffs, and vast green fields that instantly triggers this need to enjoy the best of what nature offers. Most people travelling to Iceland spend most of their time indoors, being afraid of the weather, but you can take your experience to the next level by choosing camping.
But hold on a sec. Camping? In ICE-land? 
Don't worry, stay sexy! There are several camping options that you can enjoy on our beautiful island, from the most extreme to the safest options (even for the most cold-sensitive of you, yes yes), we will tell you everything in this ultimate guide. 
So are you considering camping in Iceland these coming holidays? If yes, here are all the things you must know to make the best of your nordic trip.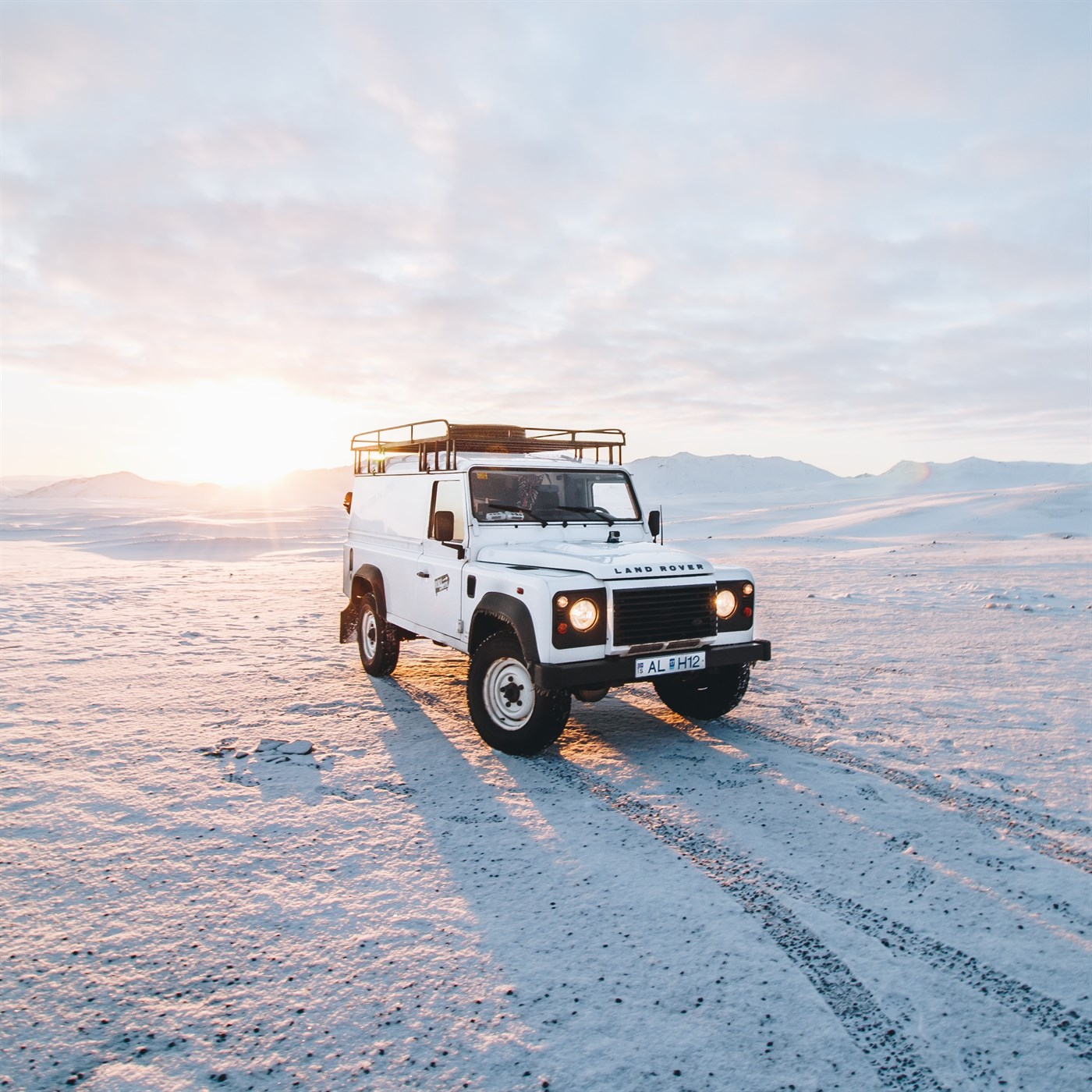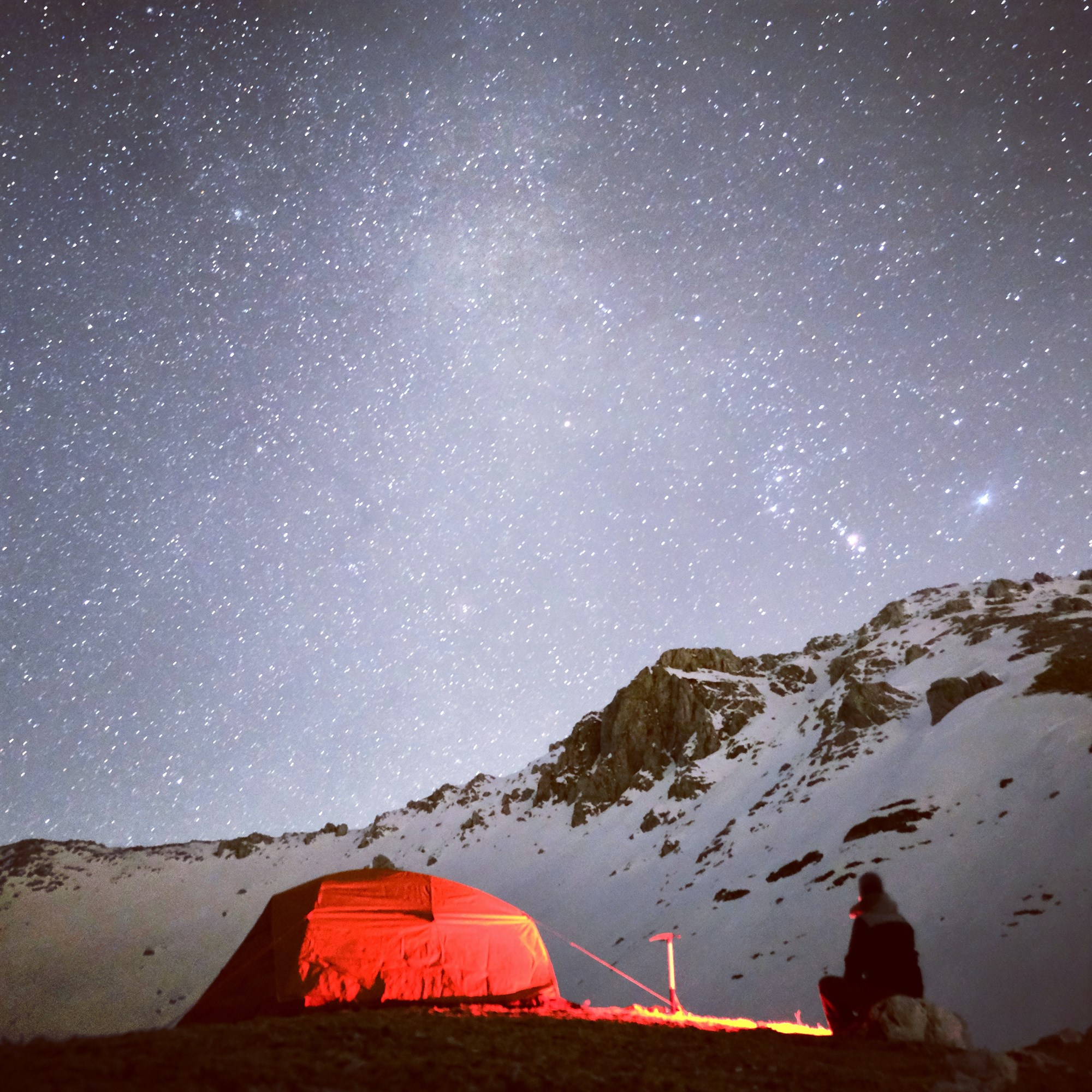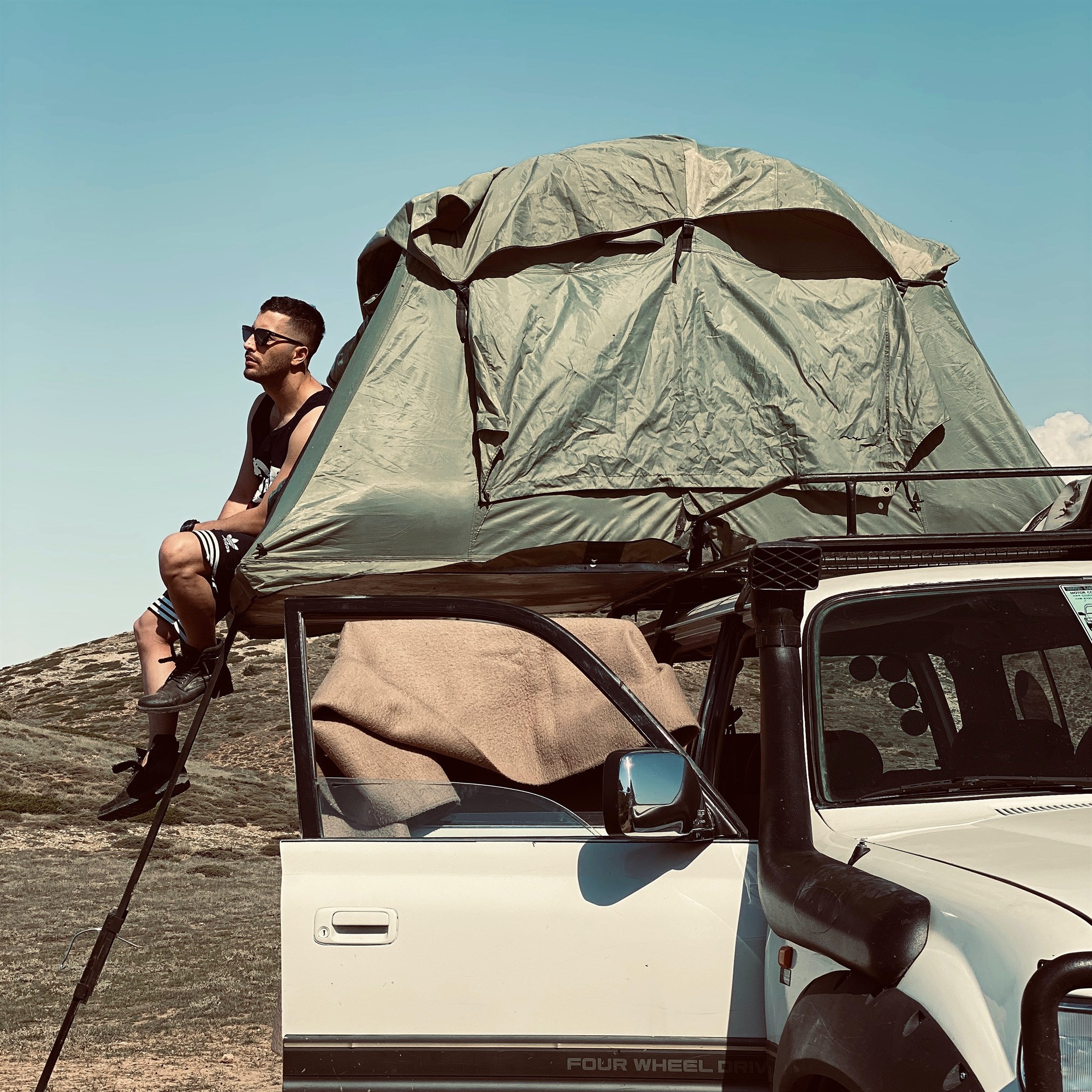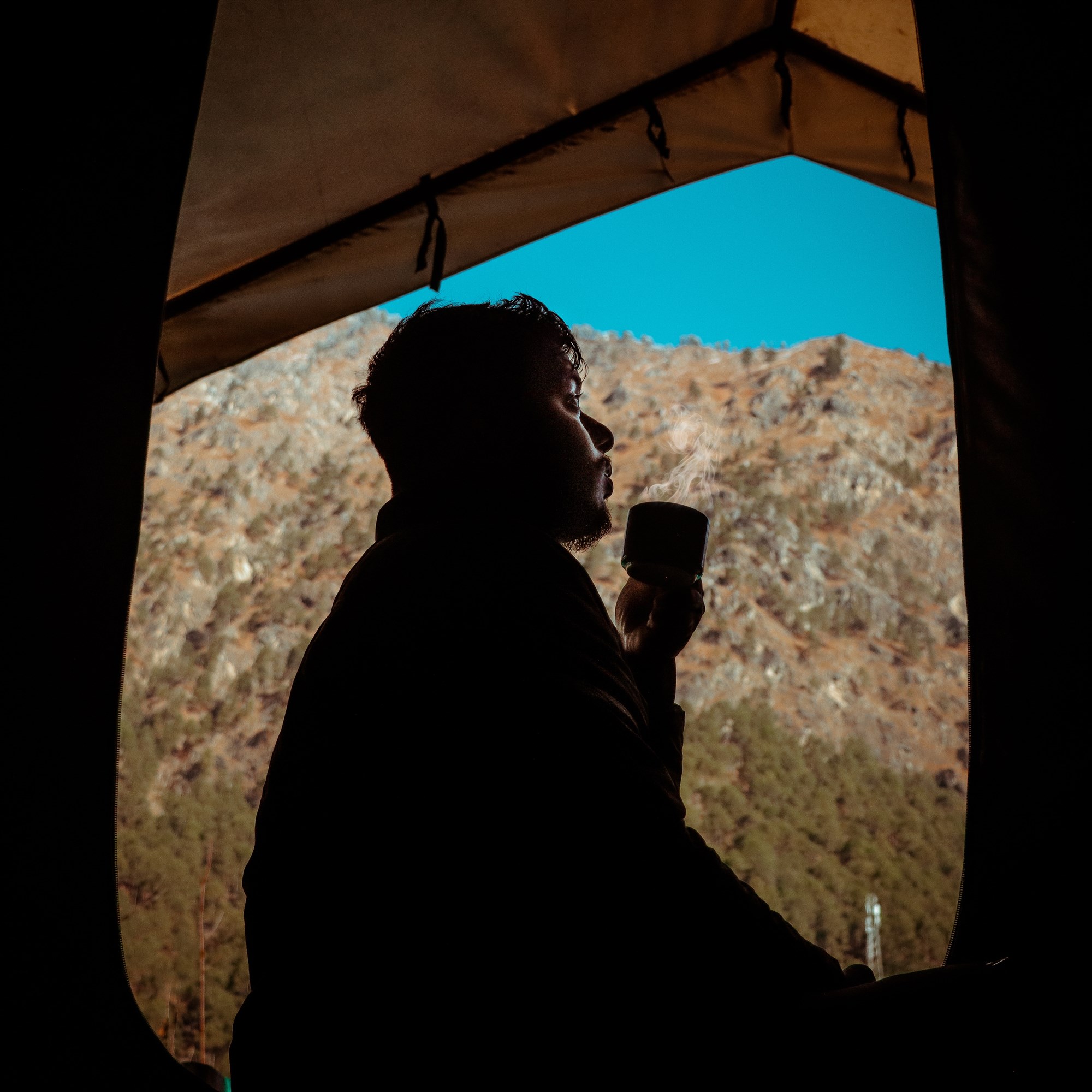 ---
1. Choose the Suitable Type of Camping
Iceland offers vast camping options making it important to choose the camping style that matches your needs the most. Things you must consider include :
The season during which you are visiting, which is just another way to say that you must take the weather into consideration (we will talk about it in the following points)
Your sensitivity to cold weathers
The level of comfort you are seeking
Which places you wish to visit (some roads aren't accesible by 2WD vehicles)
How many people are travelling with you
 We will guide you by giving you information about all the types of camping you can find in Iceland, and believe me there are more than you think!
   → Car Camping 🚘
You can rent and sleep in a car if you're searching for the absolute cheapest option to camp and drive in Iceland. But do note that Iceland's laws prohibits wild camping (you cannot stop on the side of the road and sleep), meaning you will have to park your rental car at a campsite to spend the night. Campsites charge a price for staying on their land for the night, so you must take that spending into consideration. For more information about campsites, keep scrolling, we're coming to it !

The car will protect you from the elements, althought they usually don't have an overnight heater, which means you must be resistant to cold, or avoid this method during the winter season. Another downside can be that you will perhaps not sleep too well during the summer nights, because of the constant daylight Iceland gets during this period.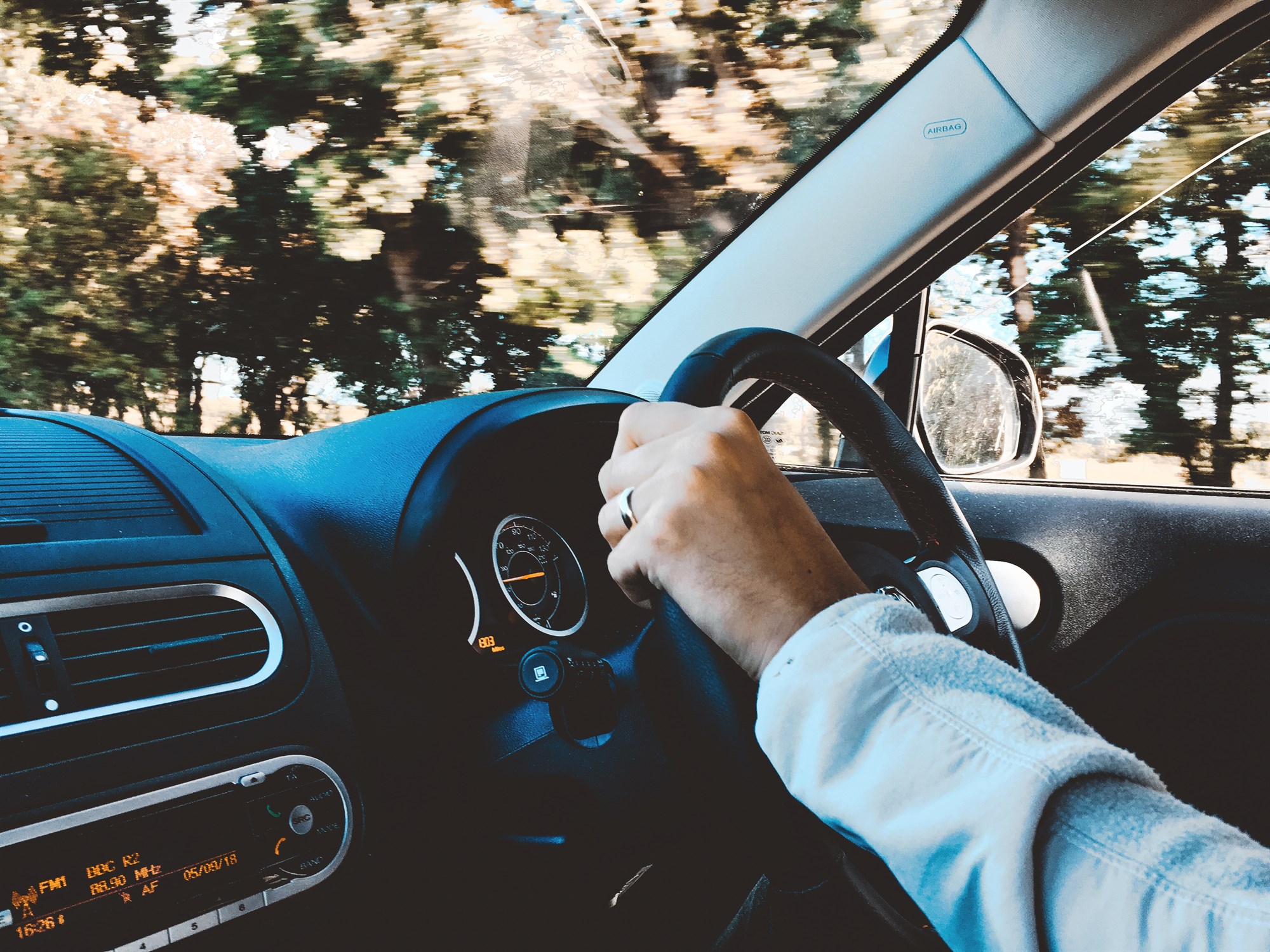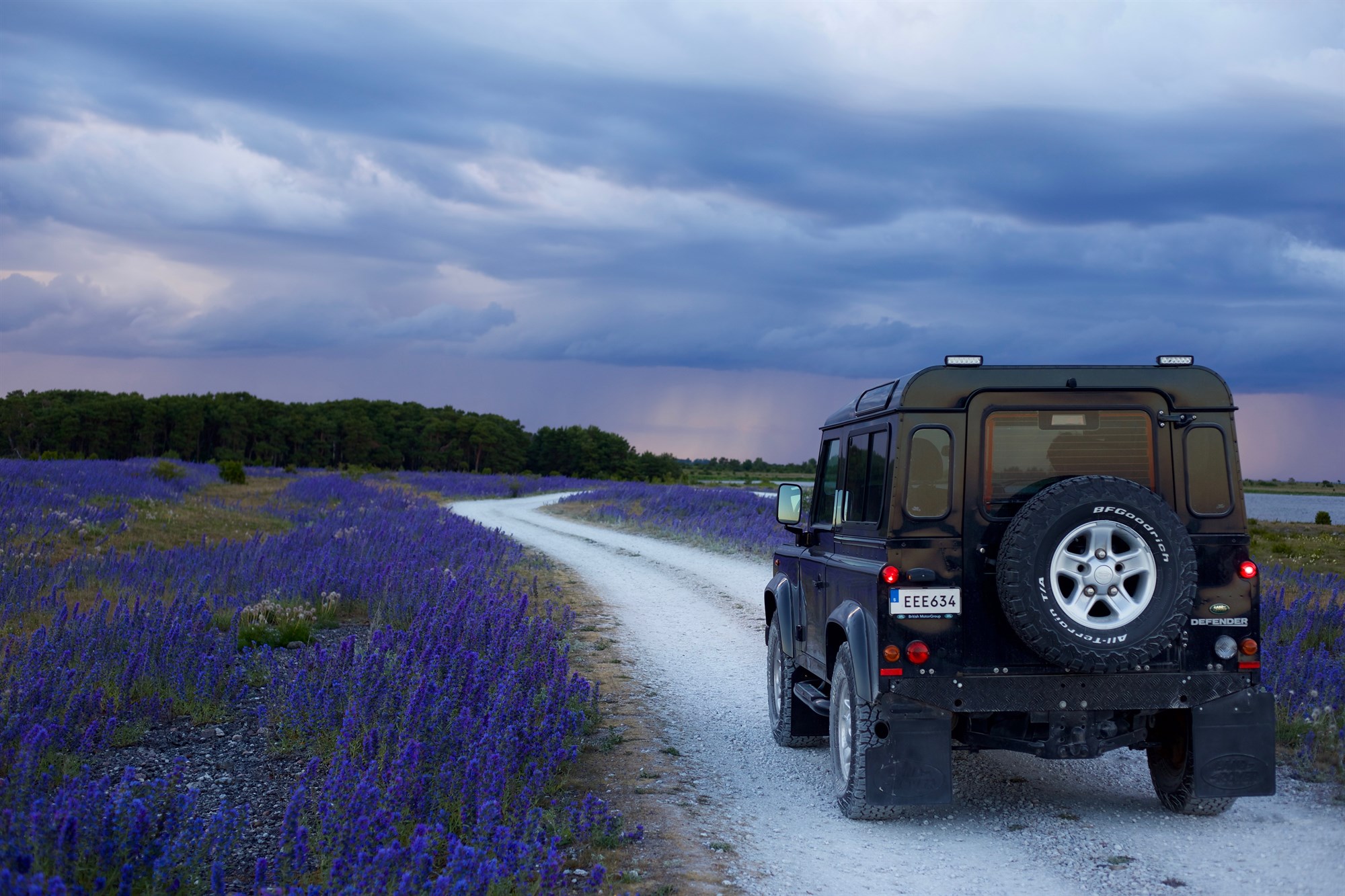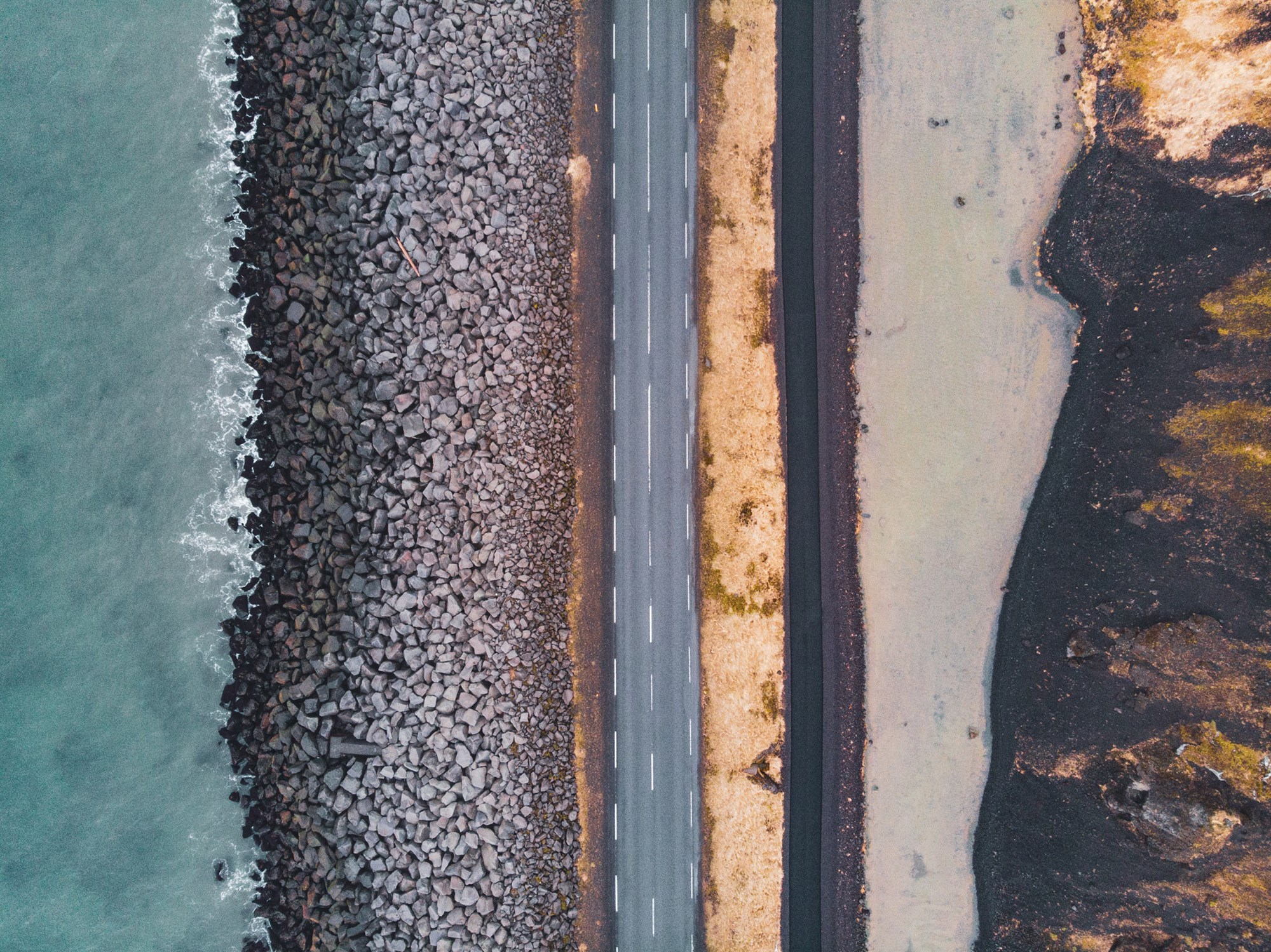 → Tent Camping 🏕️
Iceland offers vast areas for traditional tent camping. Camping in a tent is one of the most affordable options to camp in Iceland, although you're much more likely to be exposed to the weather... The tent can get cold during the night, rain can start to get into the tent, leaving you cold and wet in the morning. So if you choose this option, you must be prepared to face the unpredictable Icelandic weather, which probably will make you feel like Mike Horn sometimes...

The best option to travel around with a tent is to rent a car, that way you can transport all your material and your sexy crew everywhere you want. 
If you prefer something more eco-friendly, and you love to hike, you can choose to take multi-day hike tours, which allows you to walk in the Icelandic highlands with a guide for a few days with your backpack and your tent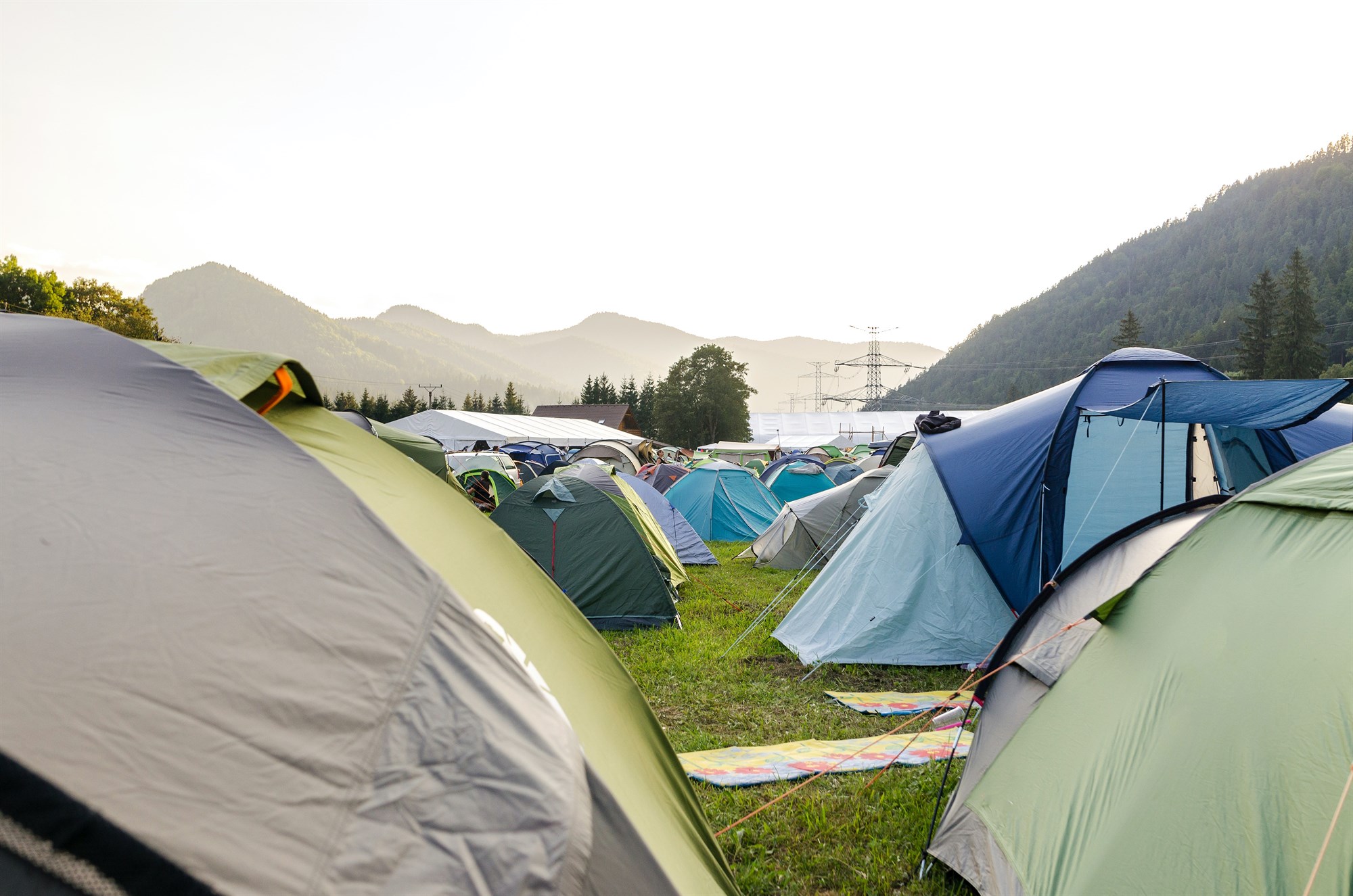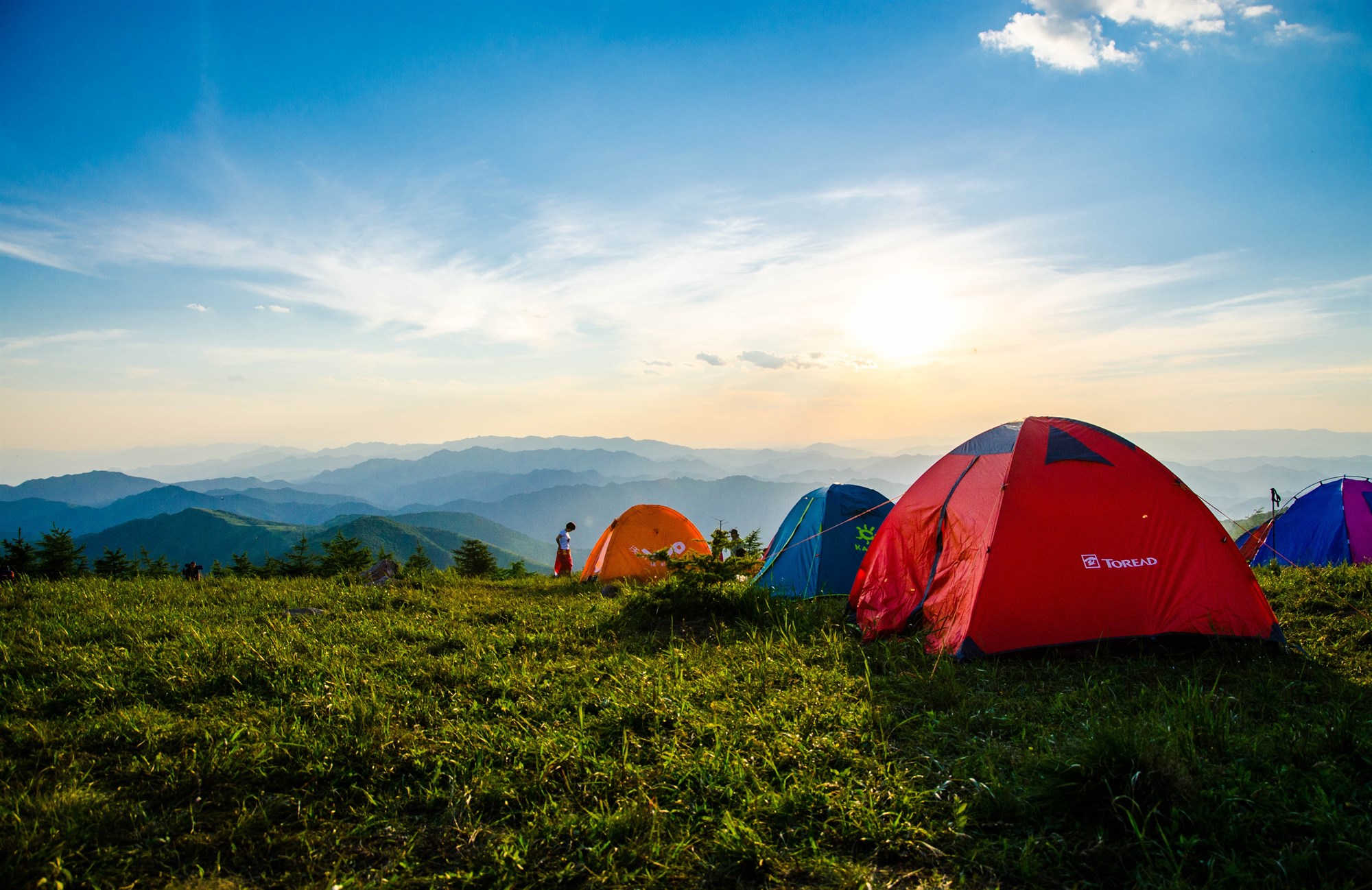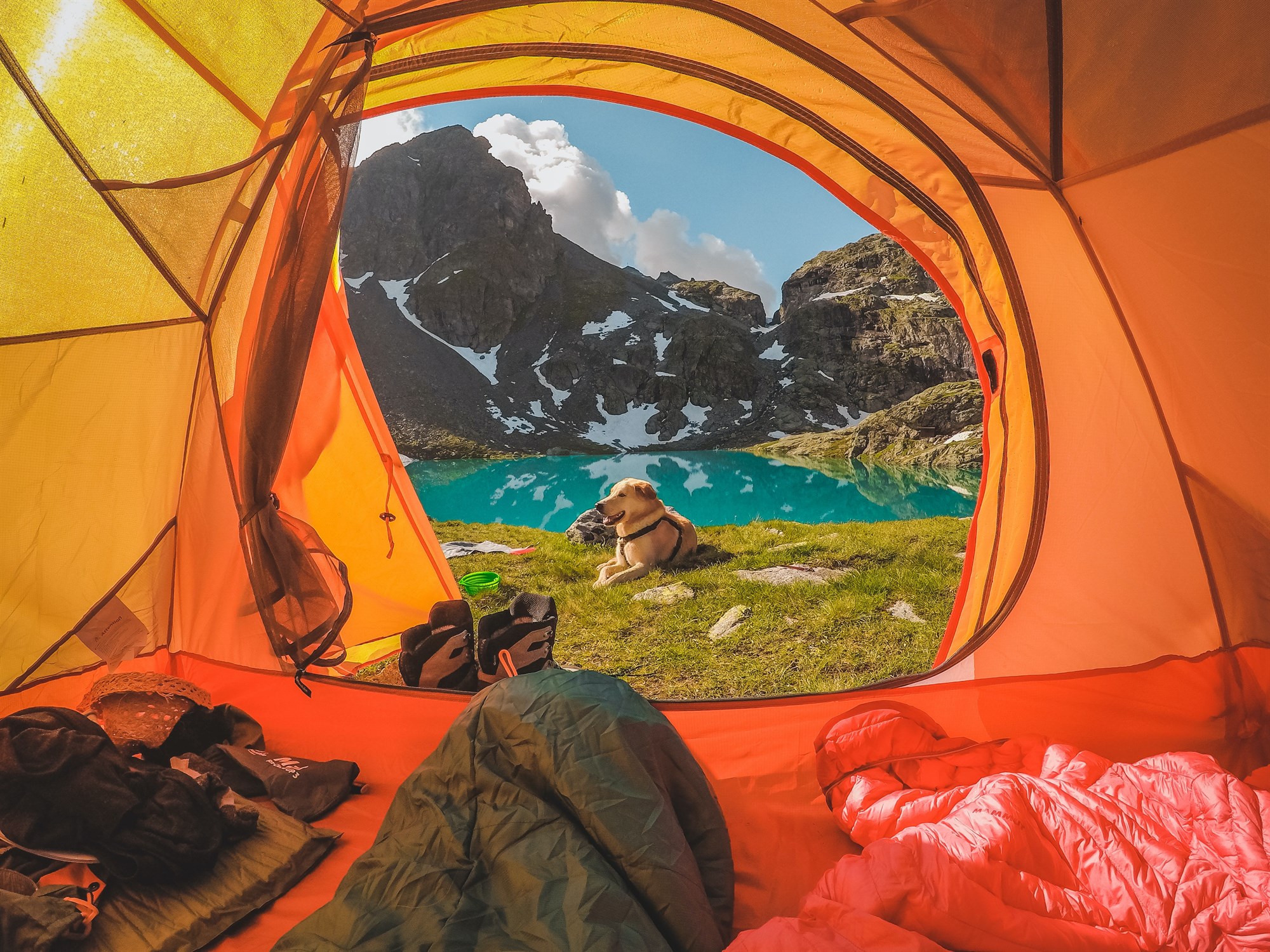 → Glamping 🏕️
Glamping is the next level kind of camping, in fact the name comes a combination of glam and camping! With much more luxurious offers, lots of amenities and an ultimate comfort level, they are of course the most expensive of the options we will present here. 
It is the perfect option if you want to have a camping experience, close to nature, without sacrificing the comfort you could get from a hotel room.

However you must be careful because not every campsite has glamping options, and you usually will have to book them in advance, which requires you to plan your trip in details early enough, meaning you have a bit less freedom to change plans once in Iceland.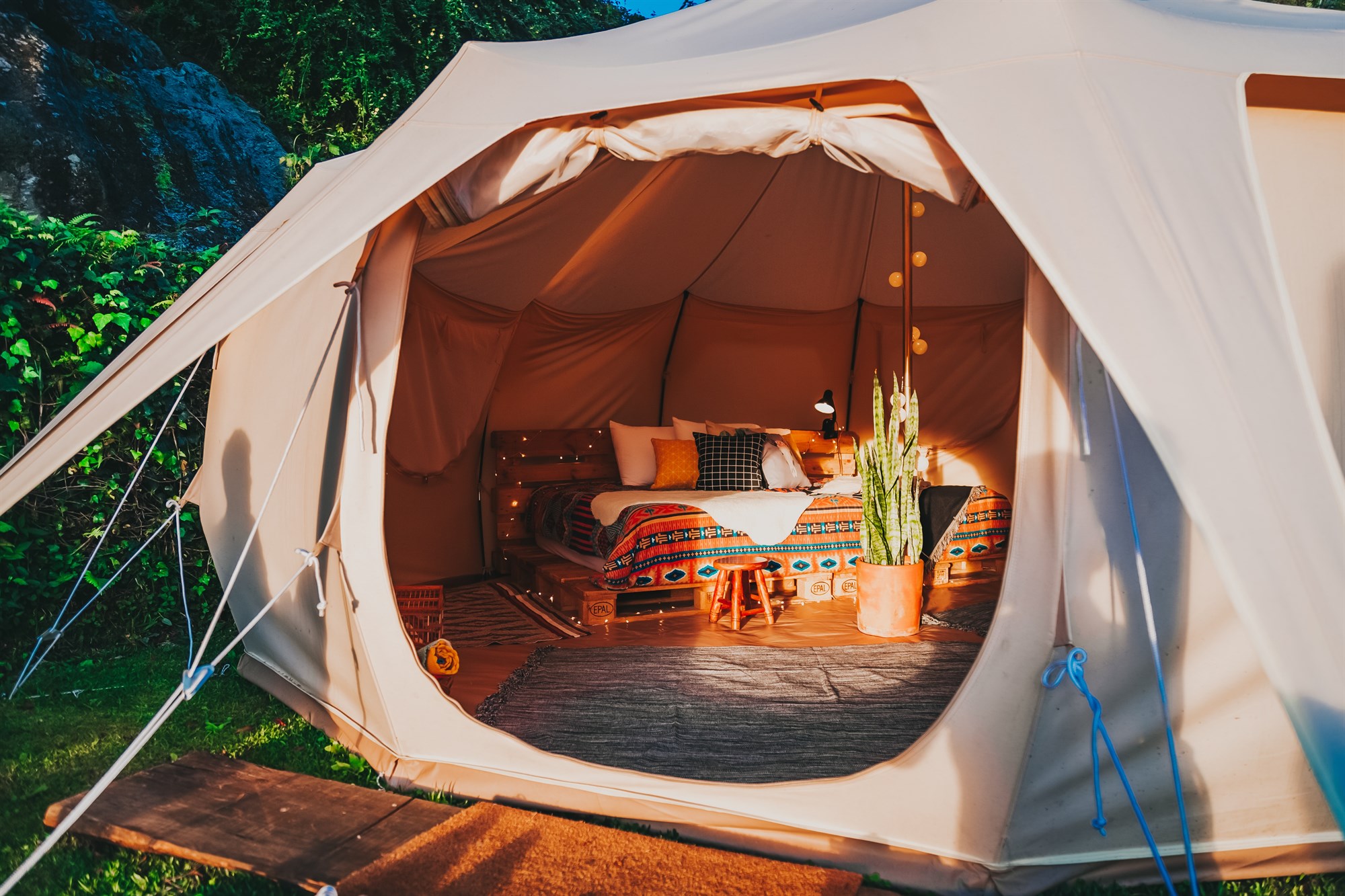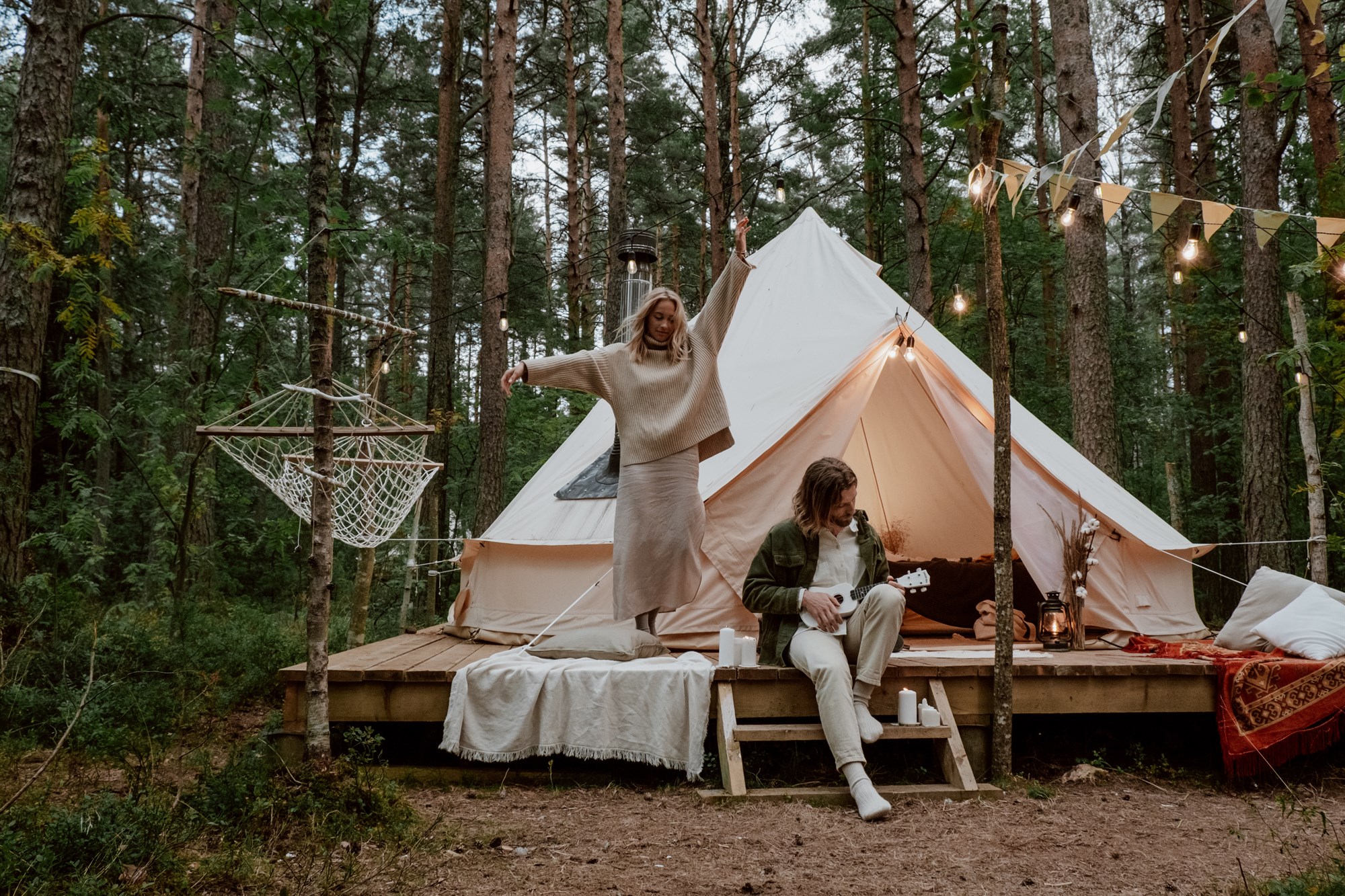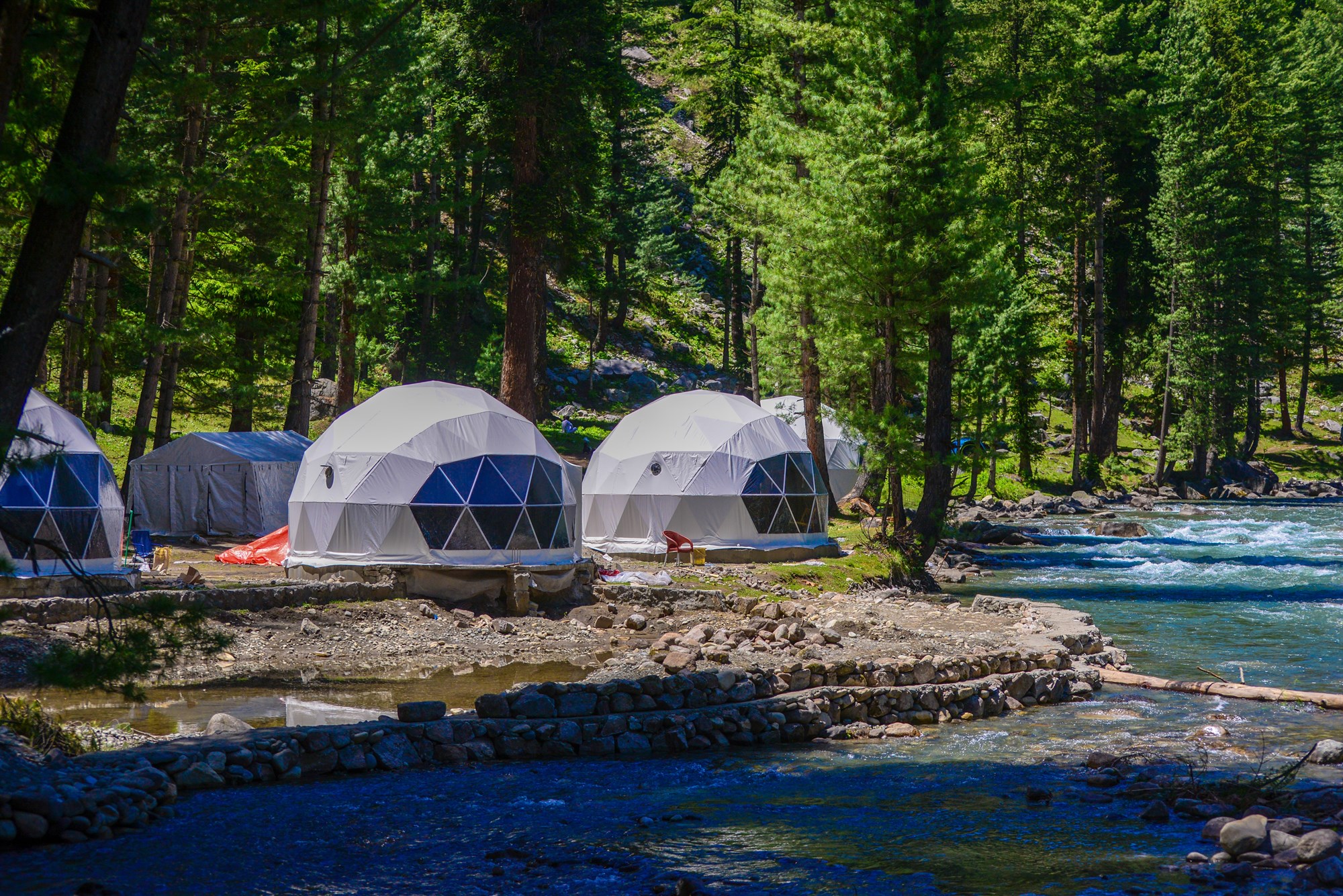 → Car + roof tent camping 
Now that we presented the least to most expensive options, let's find the middle ground options. The first is to rent a car that is equipped with a roof tent. The concept is that the roof tent can be folded and closed so as to be completely invisible when you are travelling during the day, and unfolded at nigh to provide you with a good space to sleep.
It is suited for summer camping adventures mostly, since the roof tent usually doesn't have an overnight heater, which makes it too cold during the winter months.

The good news is : we at Kuku offer this type of rental for your Icelandic trip, for very cheap ! So dont be afraid and check our Dacia Duster with roof tent right now!
   → Campervan Camping 

🚐
Campervan offers the most comfortable and affordable camping option in Iceland, with rental prices fitting several different budgets. Most campervans are equipped with lots of useful things like stove, kitchen utensils, sometimes even a water reserve and you can transform their backs into an instant bed for sleeping.
Campervans are ideal to keep you safe from the weather. According to your sensitivity to cold, you can choose a campervan with overnight heater to spend warm peaceful nights, even during winter times. Renting a camper is probably the best option to visit Iceland in any season, if you want to have the best comfort-price ratio.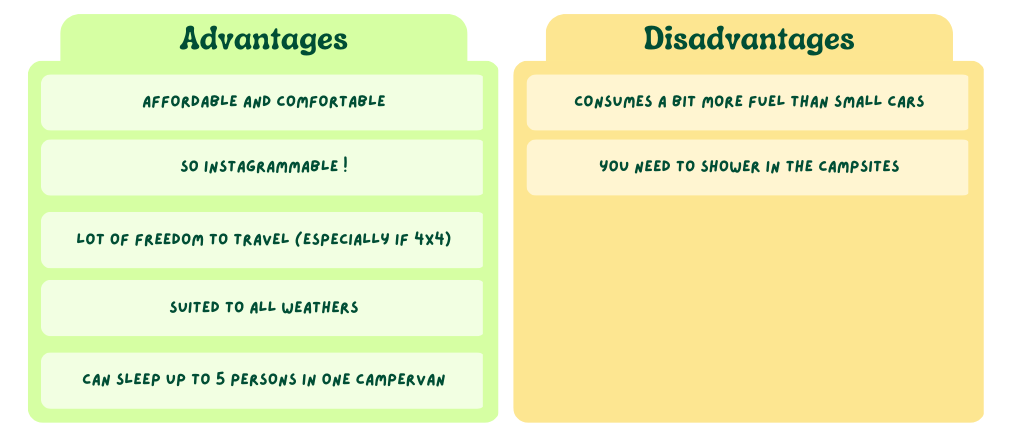 KuKu Campers is the largest van rental in Iceland, with more than 300 vehicles for rent, and 14 different categories of campers, you will find your perfect travel buddy for sure. So what are you waiting for? Get your own campervan for cheap now with the largest and sexiest rental company of the country ! 

---
2. Weather Can Turn Ugly Instantly
Camping in Iceland in winter is a totally doable activity as the country's winters are milder than the country's name suggests. Your first experience camping in Iceland will surely be a memorable one, and you are very likely to want to return to the country of fire and ice. 
You must know that weather can be extremely unpredictable, but you shouldn't be scared. The best thing to do is to prepare for quick and extreme weather changes and dress accordingly in layers. You may experience a hailstorm for five miles and experience calm weather and sun in a few minutes. It can be challenging to predict weather changes, but you can prepare yourself for the unexpected and stay updated about the weather forecast in Iceland here.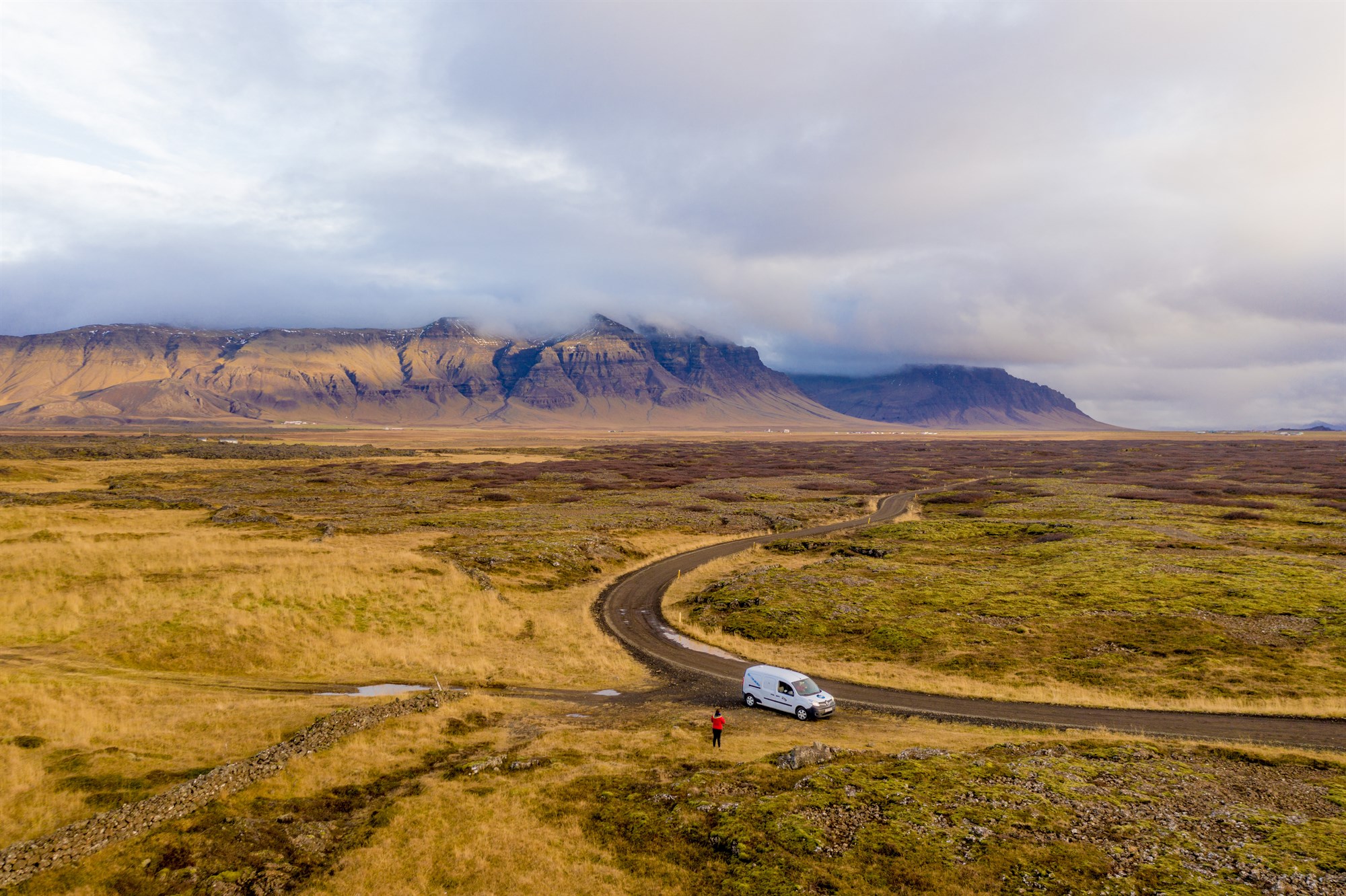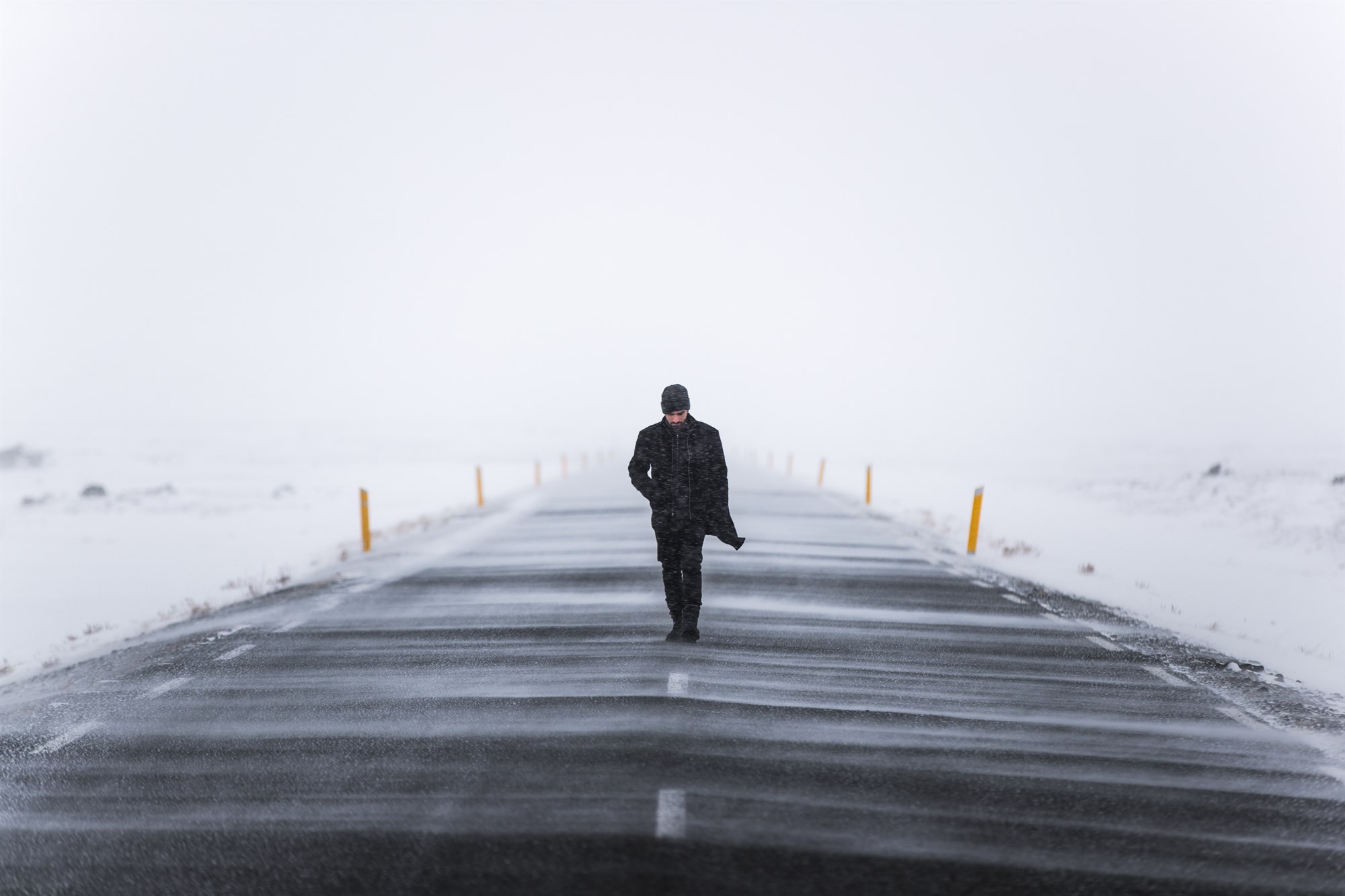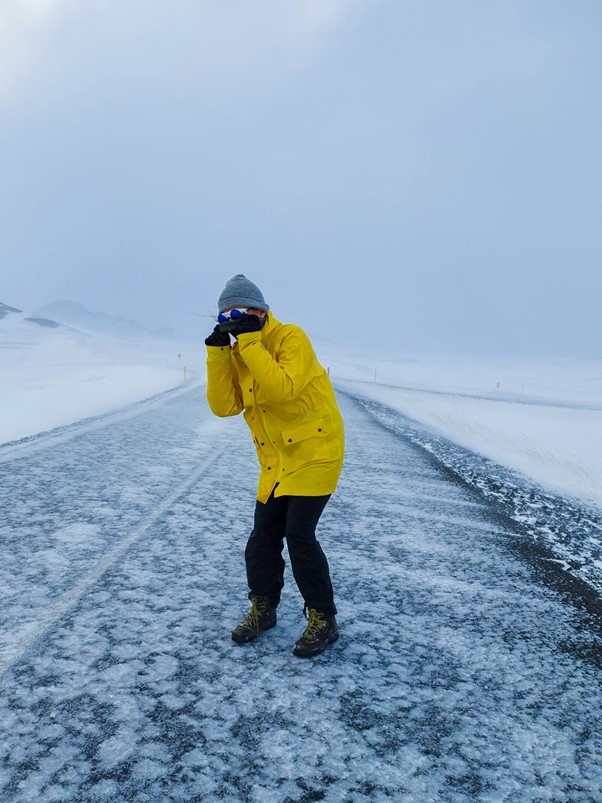 Just a few indications for you to know a little more about the different seasons characteristics:
   → High season (May to August) 🌳🌼☀️
The summer months are considered as the high season because of the weather condition: better weather, more people coming. During these months, temperatures are around 10°C (50°F) to 15°C (59°F), we get a bit more sun and no snow, which makes it easier and safer to visit the island of fire and ice. 
Summer is also the midnight sun season, so if you are a Northern lights chaser, this period is definitely not for you ! 
The constant daylight can be very uncomfortable if you aren't used to it, especially when it comes to sleeping. So make sure to bring a sleeping mask, or check our super sexy Kuku one! If you don't want to bother wearing a mask, you best shot is to choose a camping option that will not let the light in, like a campervan: they are usually equipped with opaque curtains.
During the summertime, it is possible to use almost any type of camping option, except if you are cold sensitive, as temperatures are still low in comparison to most other places in the world. If you don't feel like sleeping under 10°C, don't worry, be sexy ! We have a lot of campervans equipped with overnight heaters, which will keep you warm at night and will make you feel cozy enough to enjoy the best sleep.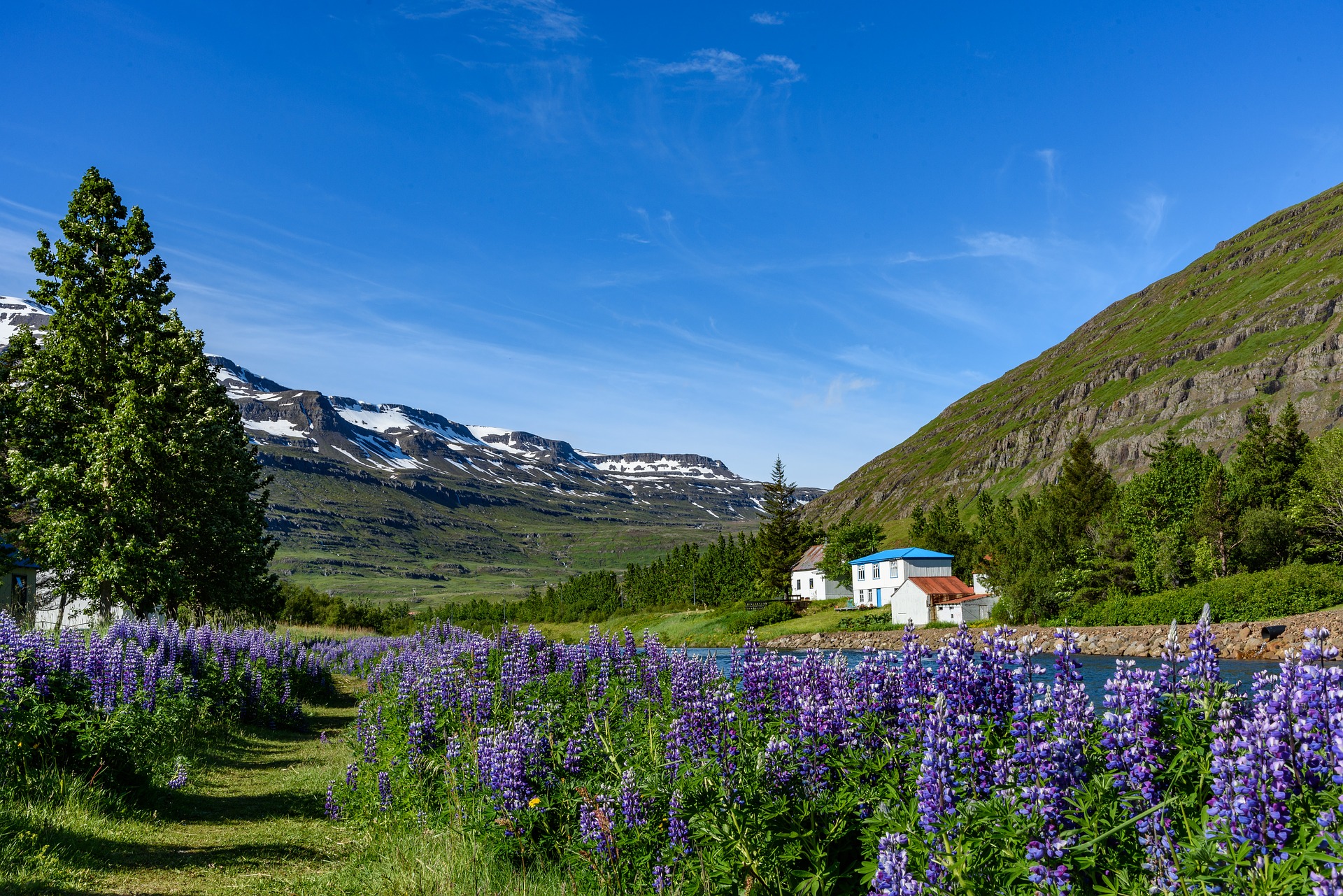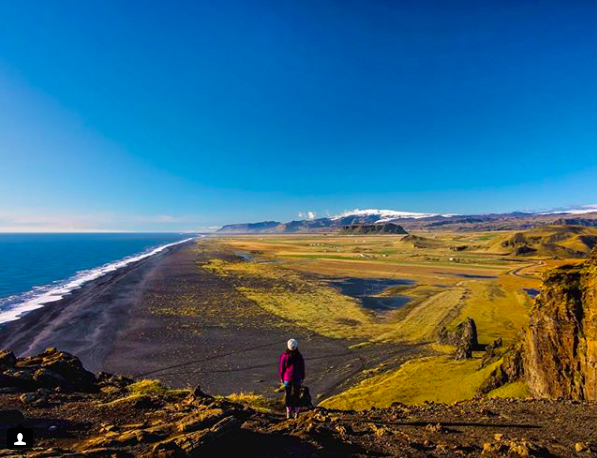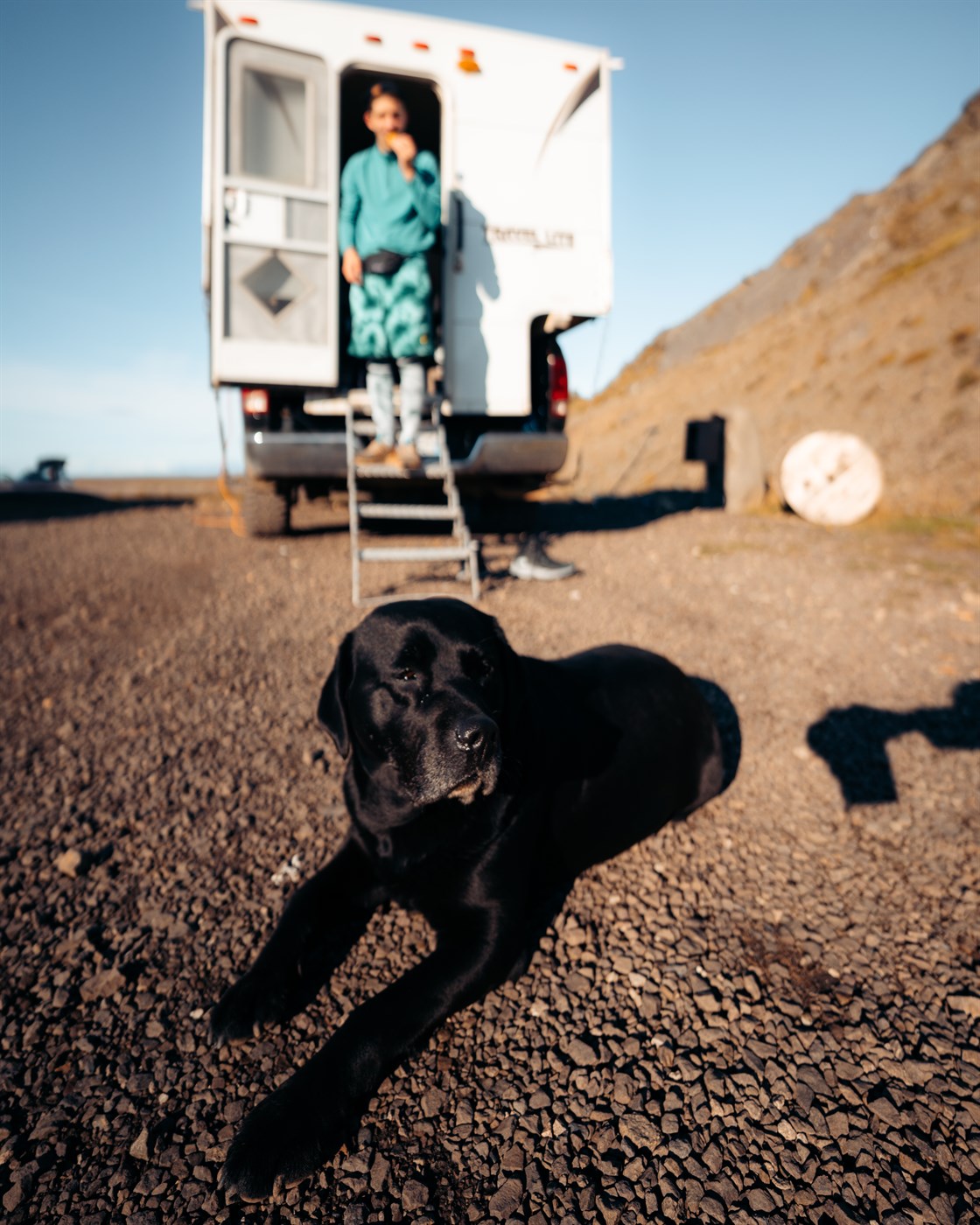 You must also know that almost all F-roads (roads only accessible with a 4x4) are only open during the summer, because the weather makes them safer to ride. So if you planned on visiting the Highlands for example, or escape the main touristic places to discover more secret spots of our beautiful island, you should choose to come during the high season.
Most campsites in Iceland will open for the summer season, which also gives you more freedom in choosing your spot for the night.
The summer season is itself sort of separated into two, from May to June, the least crowded months, and from July to August, the most crowded part. If you plan to visit the mainstream attractions of the country and don't like to be surrounded by too many other tourists, you should consider coming during May, June or even September. 
In any case, if you are planning to travel to Iceland during the summertime, you should book your campervan ahead, as options sell out very quickly!
   → Low season (September/October to April) ❄️🌲🌧️
Starting at the end of September, touristic traffic drastically slows down in Iceland, mainly because of the weather, as it gets much colder and thus less attractive to visitors. Temperatures can vary a lot from place to place, as the South experiences softer winter, around 0°C (32°F) whereas the North can get as cold as -25°C (-13°F).
However the fall/winter season has a lot of good things for you to take advantage of, such as the following:
Less people visiting, meaning you have some of the most touristic spots just for you!
Lower prices 🤑
Plenty of chances to witness the legendary northern lights.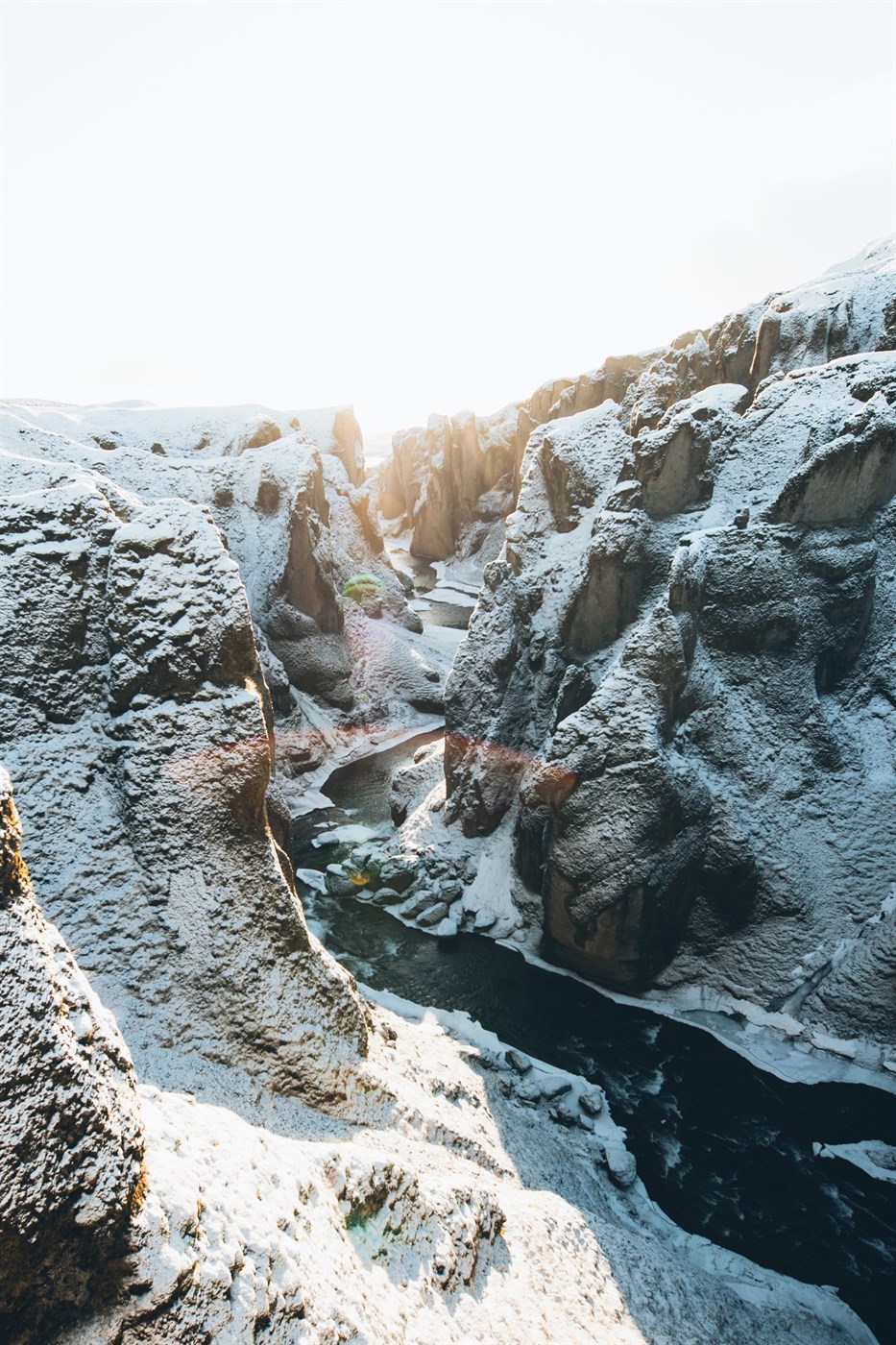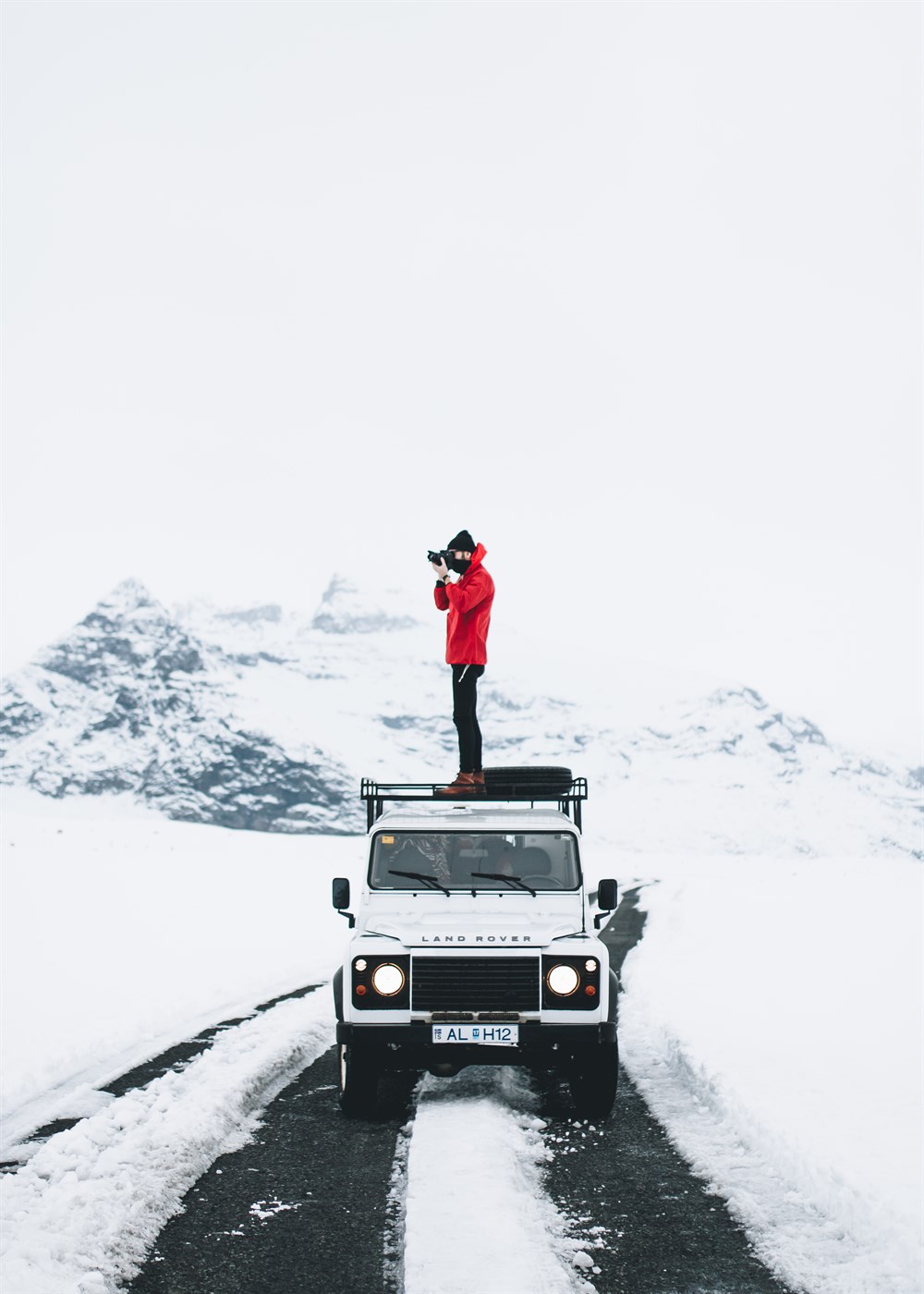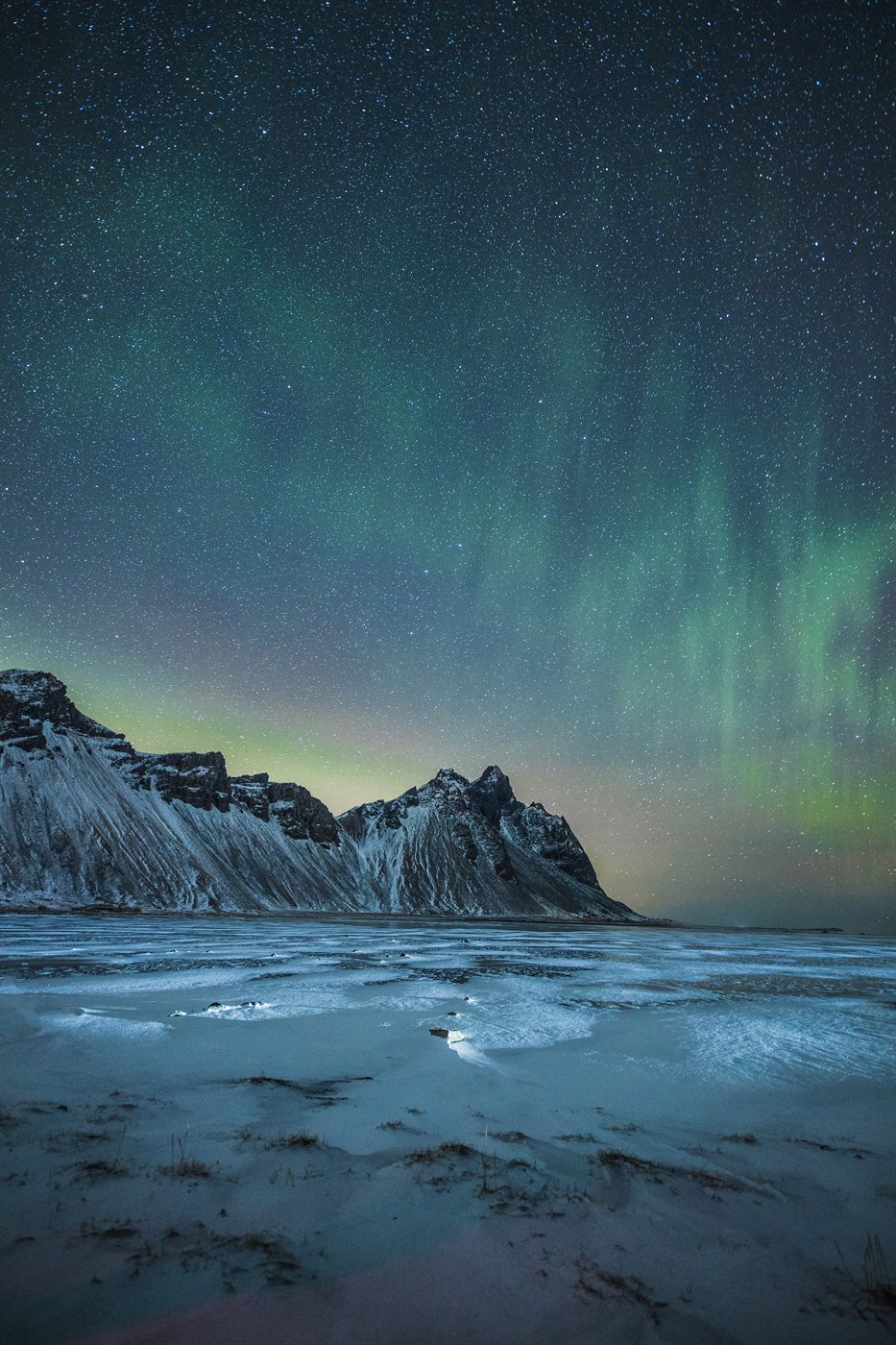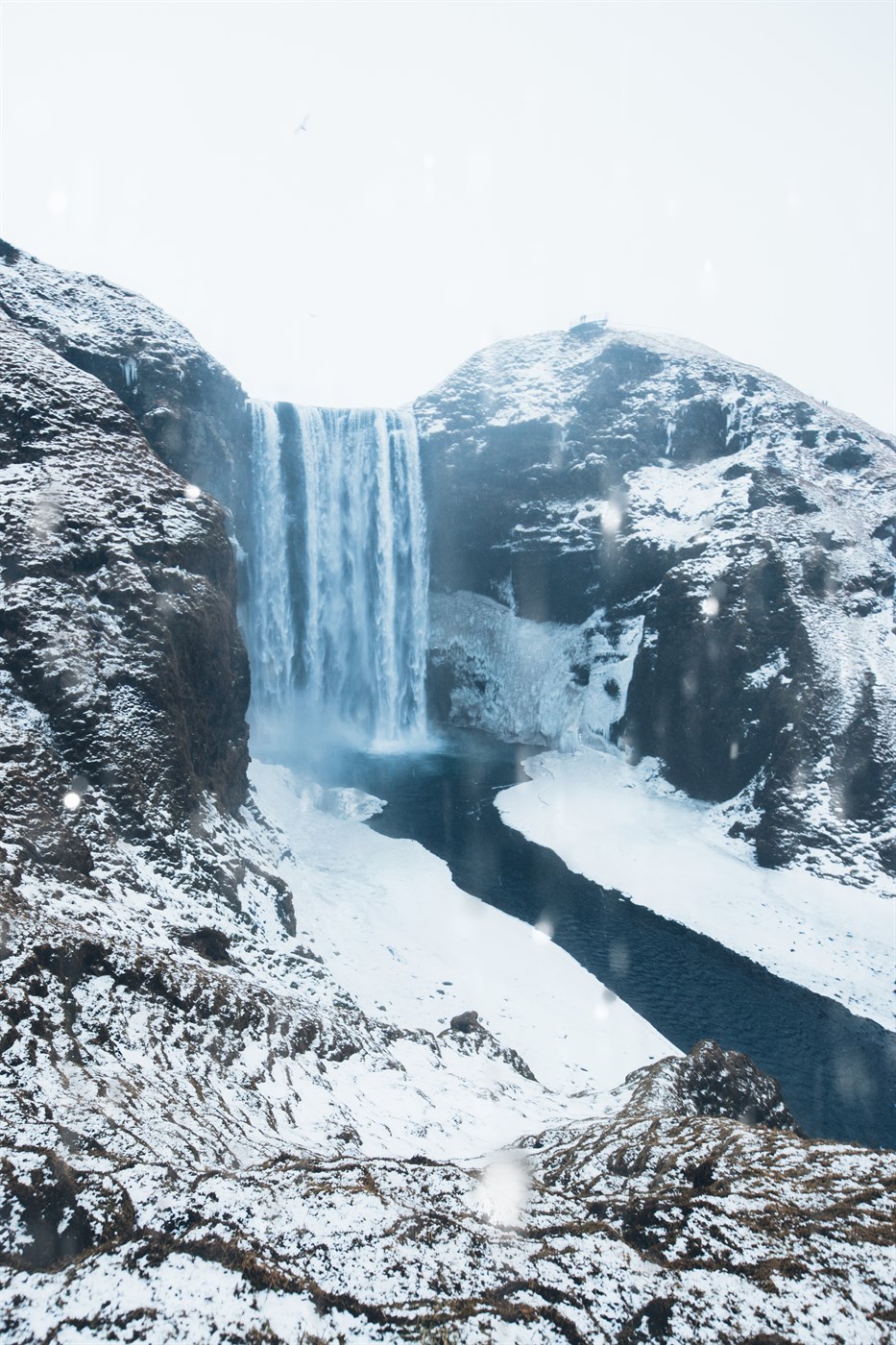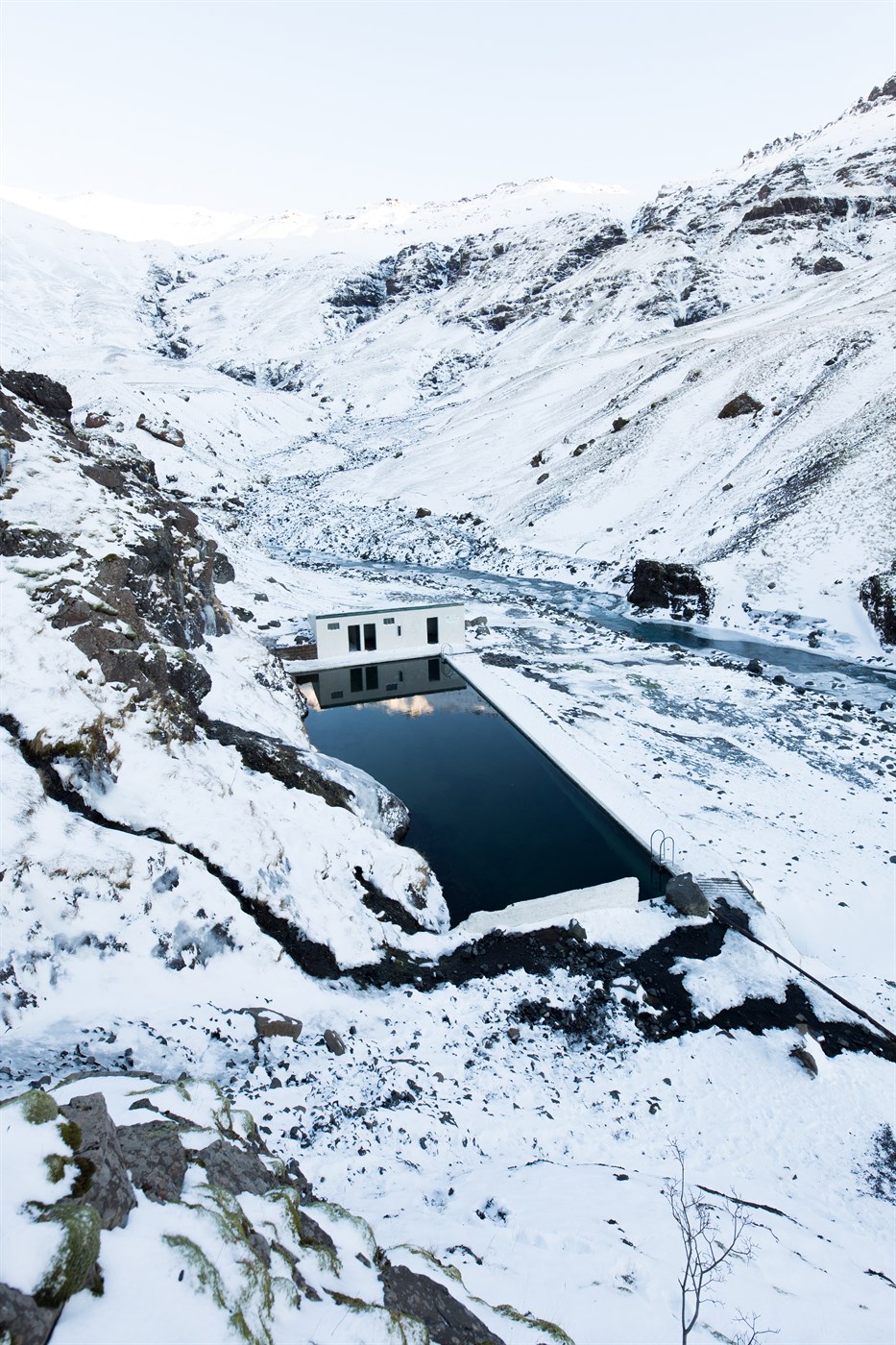 However, it also has a few drawbacks, like the fact that not a lot of campsites will stay open during this season, or the fact that some places will be unreachable because of poor road conditions.
If you want to know which campsites are open all year round, check our KuKu map: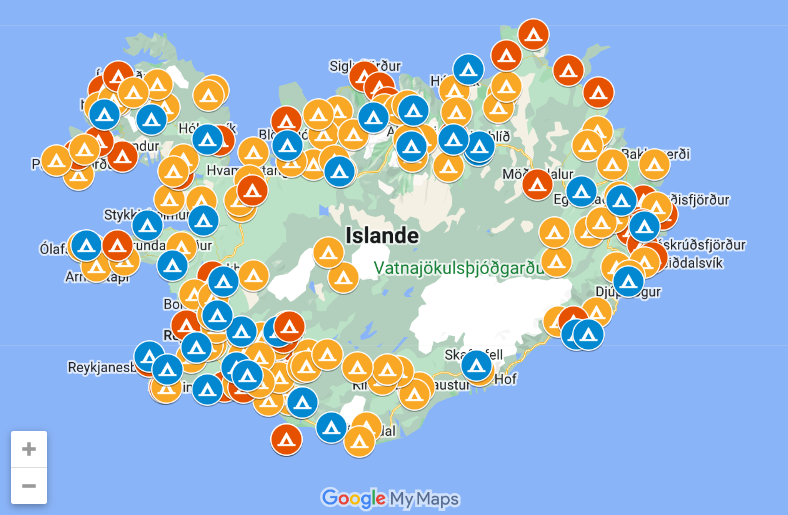 To stay updated on road conditions, make sure to check this website everyday: road.is
---
3. Stay safe on the Icelandic roads 
Because the weather is so unpredictable, roads can also become dangerous. Which is why you must know a few basics before hitting the Icelandic roads.
There mainly two types of roads: paved roads and gravel roads. You can see which ones are paved and which ones are graveled thanks to this map here.
Paved roads are safe to ride with any vehicle, and most of them are being taken care of during the winter when snow needs to be removed.
Gravel roads, like their name suggests, are not paved nor smooth, but a little more rocky. Some of them are safe to ride with a 2WD vehicle, some others are not: we call them the F-roads.
F-roads are only accessible with a 4x4 vehicle, sometimes only with extreme 4x4 that are very high on wheels because most of these roads are crossed by rivers, which flow can vary according to the rain. Our general rule of thumb is that regular 4x4 can cross rivers that aren't higher than your knees, or even more generally : no vehicle can cross a river that rises higher than the chassis of the vehicle.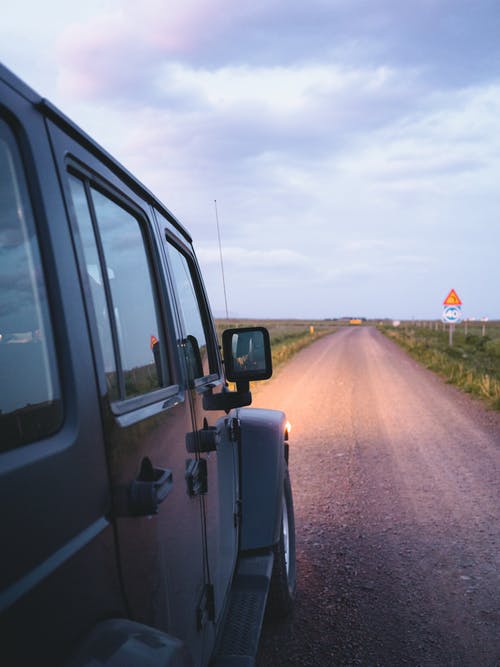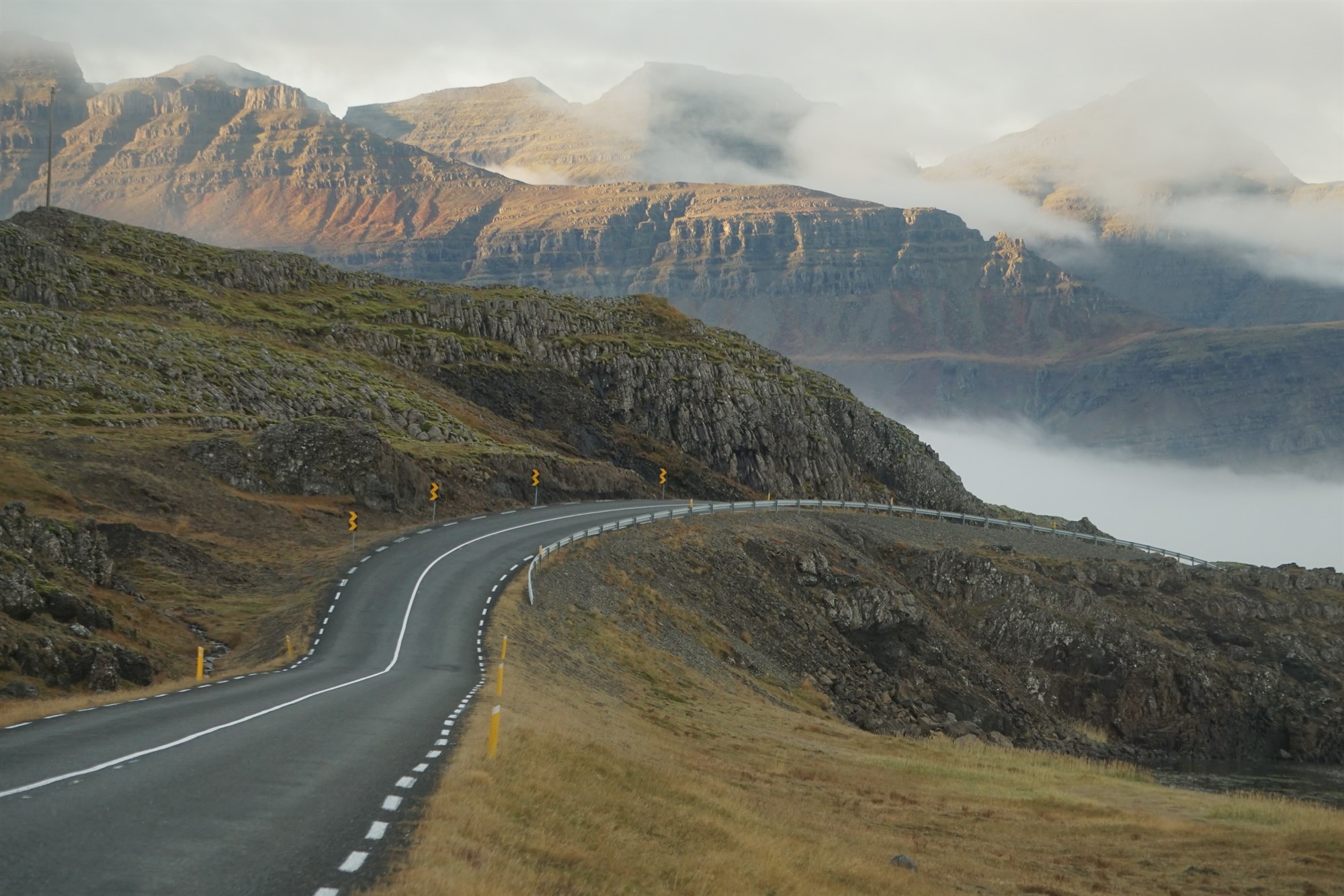 The best website to use in order to check road conditions in real time is road.is
For weather warnings, make sure to follow our Instagram and Facebook accounts, we always keep our followers and customers aware of any special weather to make sure everyone enjoys a safe ride in Iceland.
Bonus tip: since winds are very strong in Iceland, make sure that you always park facing the wind, so that when you open your campervan or car's door, it doesn't get carried away by the wind.
No jokes: we've see doors get detached from the vehicle because the wind litteraly took it away. 
---
4. Other important things to know
You cannot light campfires in Iceland 🔥
We all love the evenings of campfires, especially during group camping. The fire helps campers stay warm and allows them to share their daily experiences while enjoying coffee. Things are different if you're planning to go camping in Iceland. It's against the law to build a campfire in Iceland, and finding dry wood to make a fire is challenging in our country. Iceland's ecosystem is fragile, and a fire mistake can destroy massive vegetation that may take several years to grow.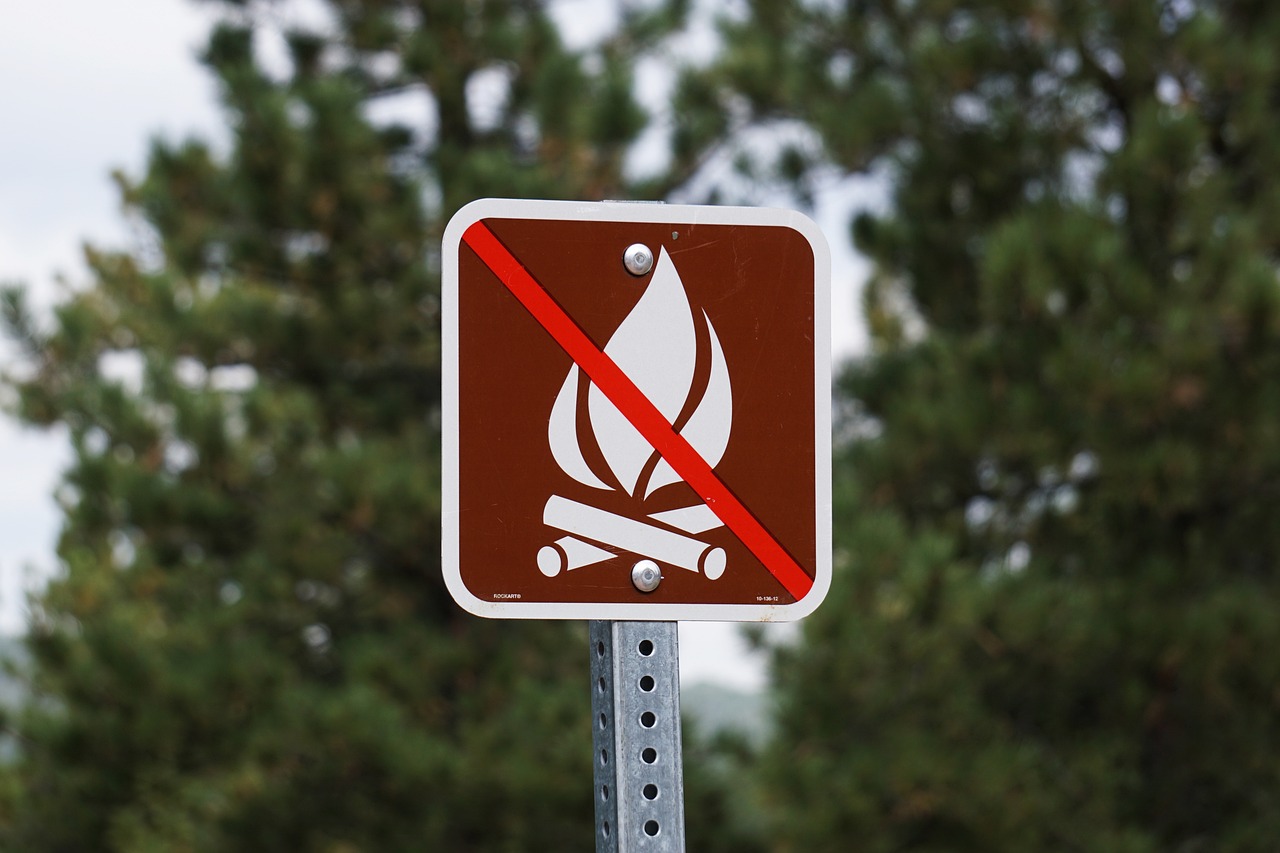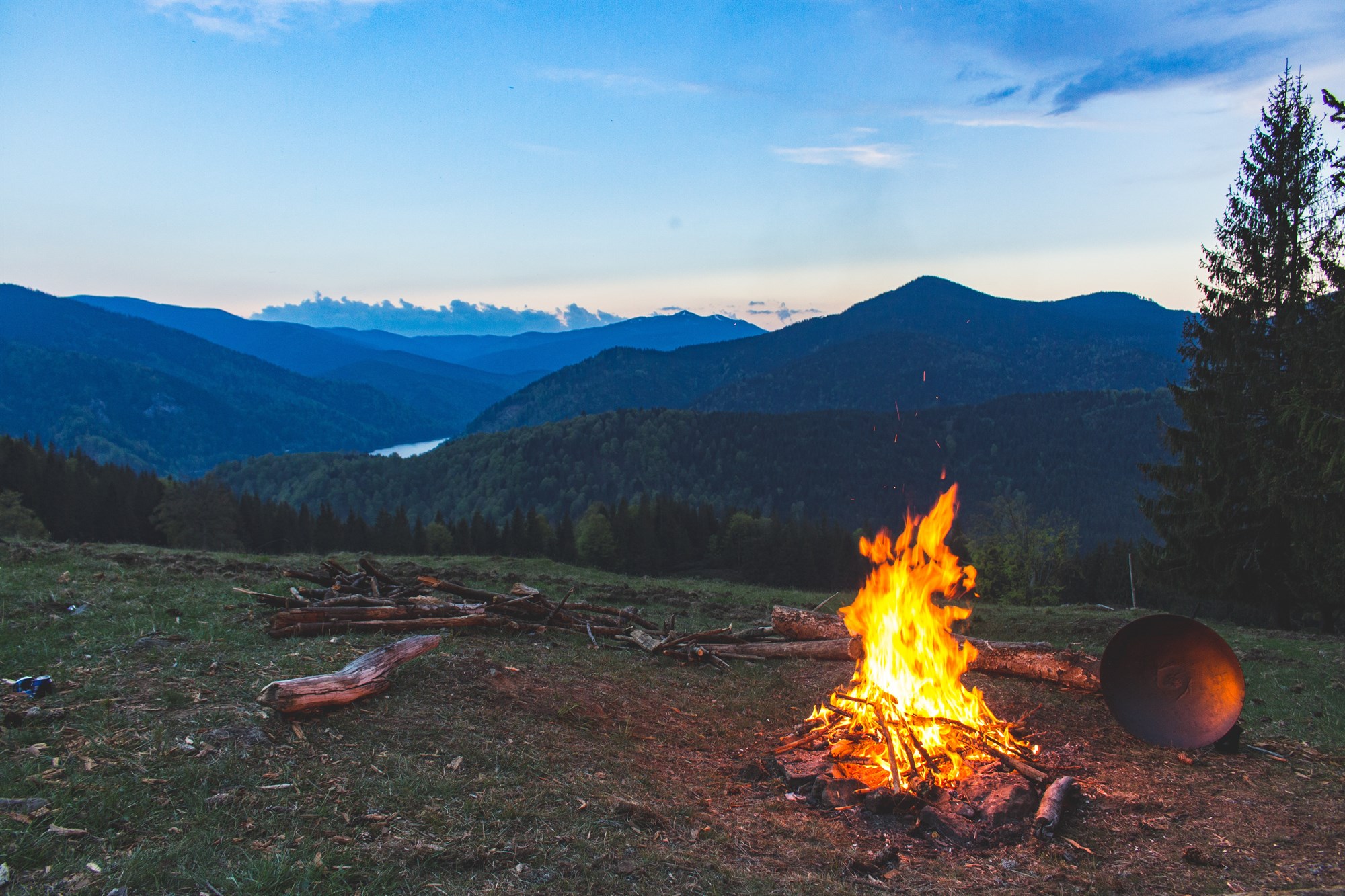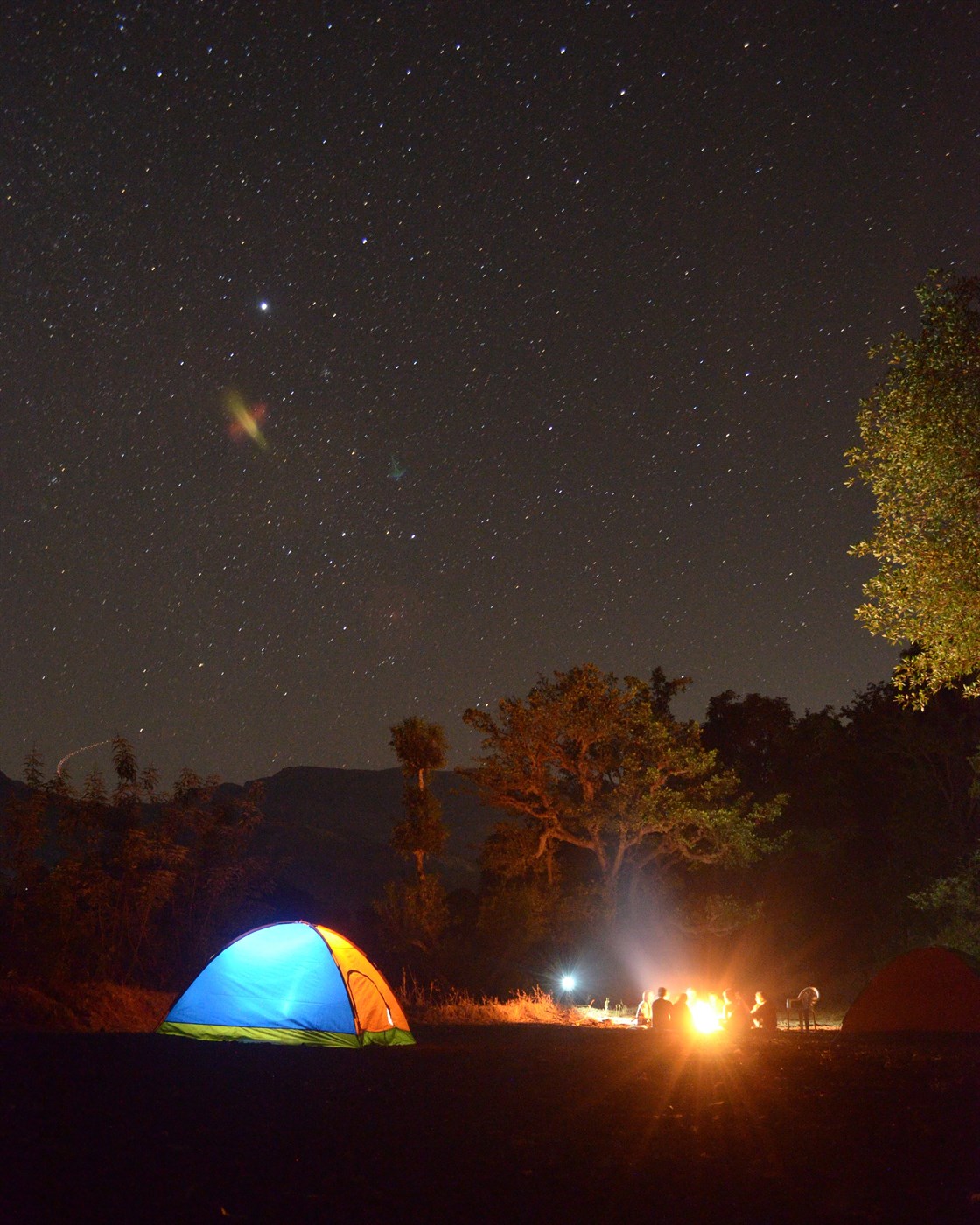 So, how can you deal with the cold evenings while camping in Iceland? You can opt for a campervan with an overnight heater, some campsites have indoor dining areas for you to enjoy dinner in a warmer atmosphere. You can also use grills available in several campsites but make sure you don't light any fire outside the grill.
Wild camping is prohibited in Iceland 🏕️
I know I just crashed your ideal picture of camping in the Icelandic wild landscapes, but for ecosystem conservation again and safety reasons, it is completely illegal. 
The good news, however, is: there are plenty of campsites for you to spend your nights in!
Which brings us to the next, very important, point...
---
5. Campsites in Iceland
There are hundreds of campsites distributed around the island, which means that you usually won't have trouble finding one.
However, most of them only open during the summer season, which means the number of campsites open during winter gets more scattered, but no worries: we've got the best resources for you to organize your trip and know everything about Iceland's campsites.
Yes, it took time, but we managed to create the ultimate map of Iceland's campsites! On this map you will be able to filter campsites according to their opening period and check all the information you need about them (amenities available etc.), we documented it with as many pictures as possible so you can find all the relevant information in just one place!
The campsites appearing in orange are only open during the summer period, and we try to update the exact dates as much as possible every year, so make sure to check the info section of each campsite.
The campistes appearing in blue are the ones open all year round, even during the winter season.
Finally the red campsites are the one included in the camping card.
(But what is a camping card though ?)
The camping card gives you access to a selection of campsites for a maximum of 28 nights, it includes up to 6 travelers (2 adults and 4 kids under 16 years old), all of this for a price of 179€.
In other words, it is a very wise choice if you plan to travel with your family for more than a week in Iceland, as most campsites charge according to the number of visitors, not per campervan or per space used. 
You can add this card to your cart when booking your campervan with us!
Oh and also make sure you check our list of favorite campsites to make the most of your camping experience in the island of fire and ice. 

---
6. Carry Enough Food Stock
Something else to keep in mind in Iceland, is the fact that grocery stores are scattered and far apart. Don't think that you will find shops in each town you visit as you head to your camping destination. For that reason, it's always good to carry sufficient grocery stocks if you don't get the supplies you need in designated stores.
Prioritize carrying non-perishable foods such as freeze-dried foods, canned soup, snacks etc.  
There is plenty of safe water in Iceland. However, it's also advisable to purchase bottles of drinking water from the groceries even if you're planning drinking tap water throughout your camping experience. And you can use the water bottles from the grocery store to refill them with tap water along the way.
---
7. What to pack for my camping trip?
Let us help you start planning the things you will have to pack for a camping trip in Iceland, of course you should adapt a few things to the season, but generally here is what you should think about: 
A camping pillow – Regular pillows take up a lot of space when you want to save on space while camping. Consider an easily-foldable camping pillow. You can also rent pillow as extras when renting your campervan with us, so you don't have to take it with you.
Cold-certified sleeping Bag – a warm and certified sleeping bag will keep you warm amid cold temperatures. PS: we also rent them.
A microfiber travel towel – microfiber towels dry quickly and take up little space. Getting one for your camping saves the cost of renting towels at the campsite.
Portable stove – buy or rent a camp stove as needed to cook your food, not all campsites offer a cooking area, so it's definitely a must have. Also don't forget to have enough gas bottles to power it during your trip. Most shops have them, but again make sure to have enough stock if you don't want to run out. PS (again): all our campers include one!
Layers of clothing - bring layers of clothing, thermals, good shoes and waterproof layers.
Swimwear - Just because it's Iceland doesn't mean your bikini isn't needed, in fact you MUST try at least one of the mystical Icelandic hot springs !
A Flashlight - especially if you are planning to visit during winter times.
---
You mights also like...
---