Hiking in Iceland: full guide to the best trails and treks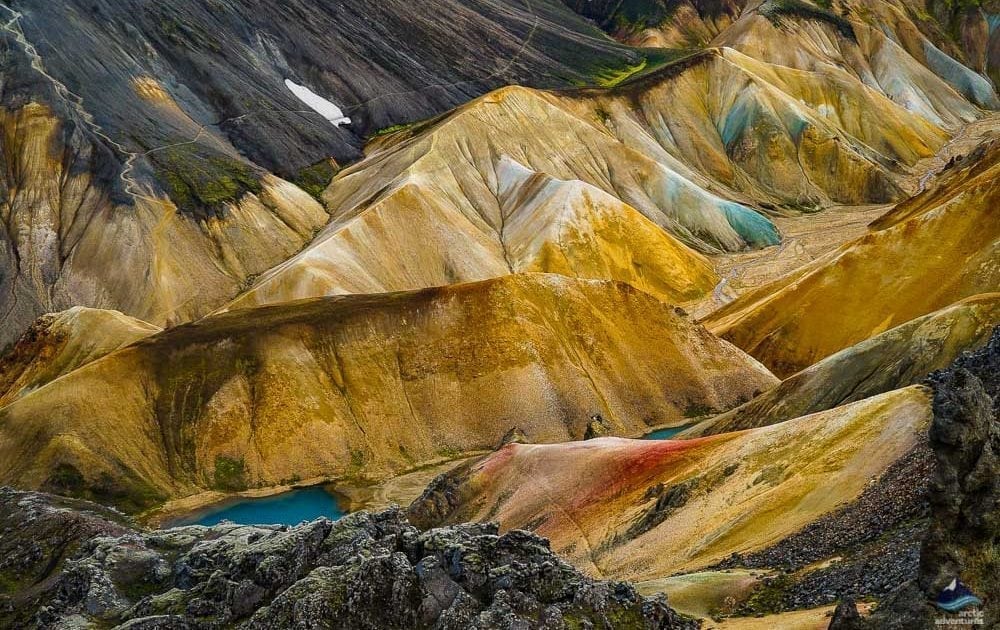 The best guide to hiking and trekking in Iceland
Ready to hear about the best hikes in Iceland ? You're in the right place! In this guide we will tell you everything you need to know before you go hiking on the land of fire and ice: the season, the weather, the transportation, safety, things to pack and places to go.
Iceland is a great touristic destination and the most sought globally because of its wondrous, pristine landscapes and endless routes, making it a hiking paradise. A country of treasures with waterfalls just a short hike from the ring road, others harder to reach. The unpredictable weather did not stop thousands of tourists from thronging Iceland yearly. Even seasoned campers and hikers need more of the thrilling adventure that Iceland can offer.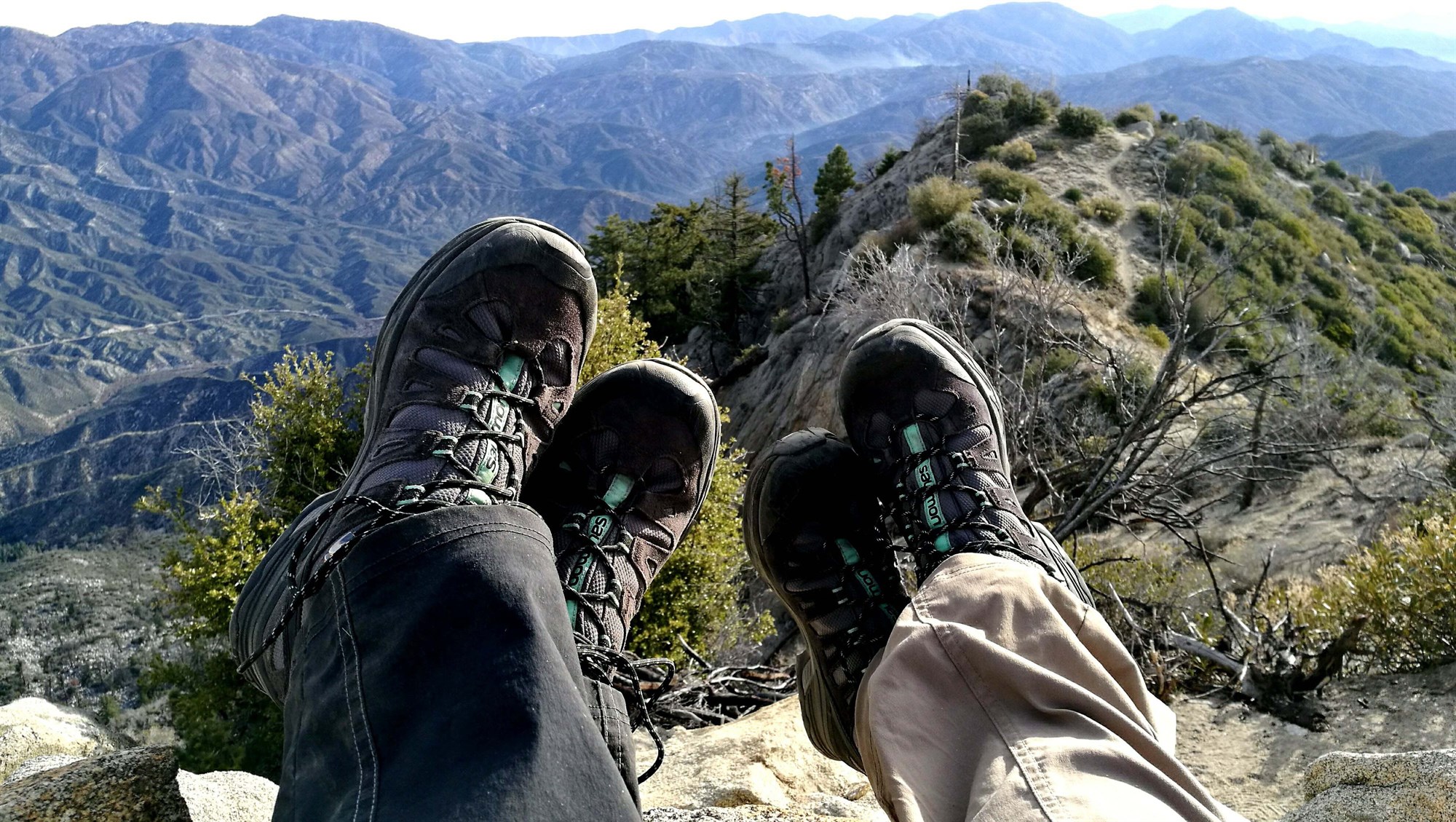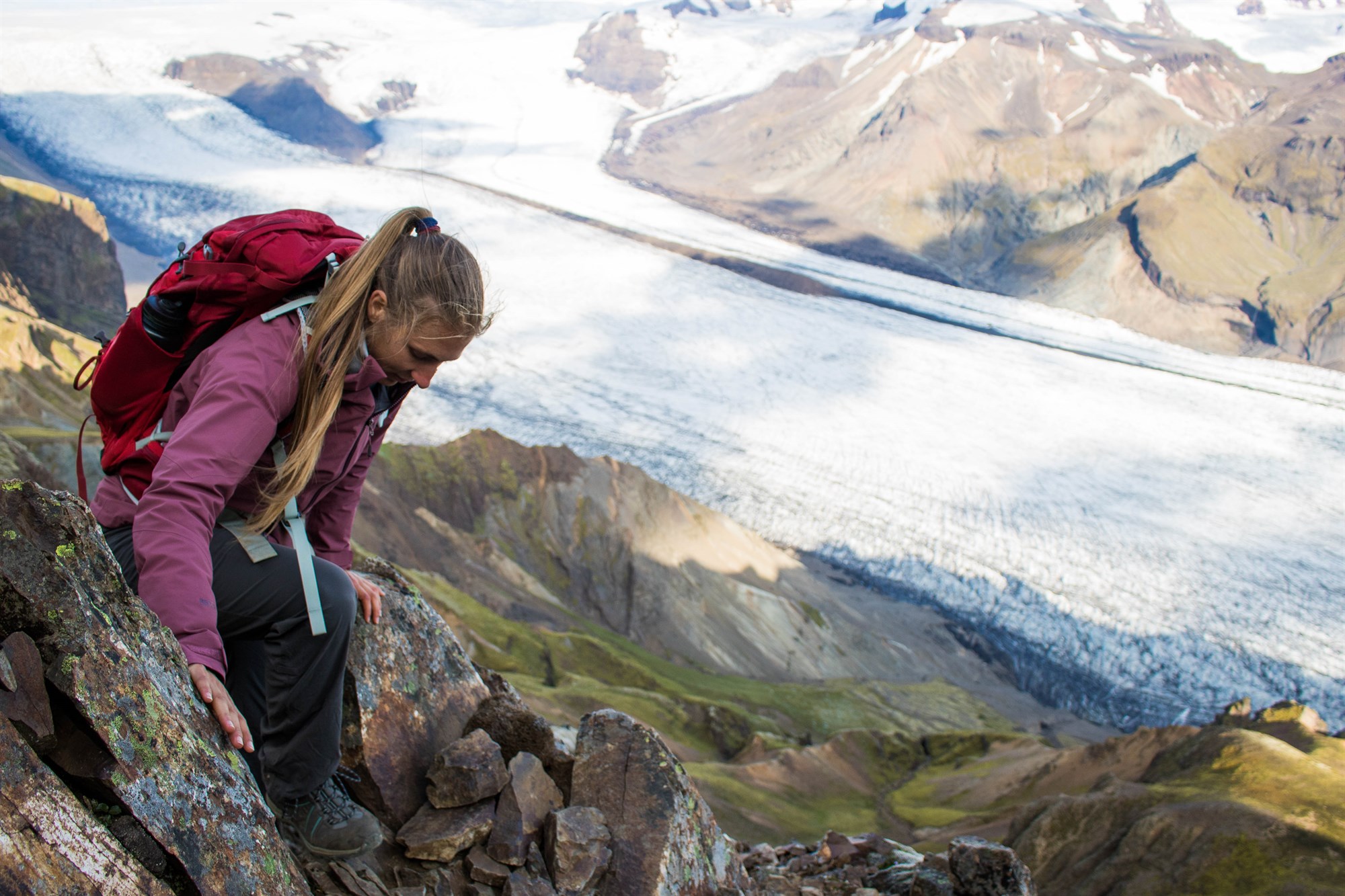 ---
A few important considerations
Iceland is a great hiking and camping destination thanks to the many different trails and trekking tours open all year round. Here are a few tips to get you started.
Skip to the list of best hikes ? Click here 
1. What is the best time to go hiking in Iceland ?
You can probably guess by the name that Iceland isn't the ideal country for some winter hikes. In fact it's not a coincidence if the high season in Iceland happens during the summer months, not only because the weather is much more bearable, but also because the days are very long, which allows you to travel around in the daylight sometimes all day long thanks to a summer phenomenon called the midnight sun.
2. The weather factor
You must know that weather can be extremely unpredictable, but you shouldn't be scared. The best thing to do is to prepare for quick and extreme weather changes and dress accordingly in layers. You may experience a hailstorm for five miles and experience calm weather and sun in a few minutes. It can be challenging to predict weather changes, but you can prepare yourself for the unexpected and stay updated about the weather forecast in Iceland here.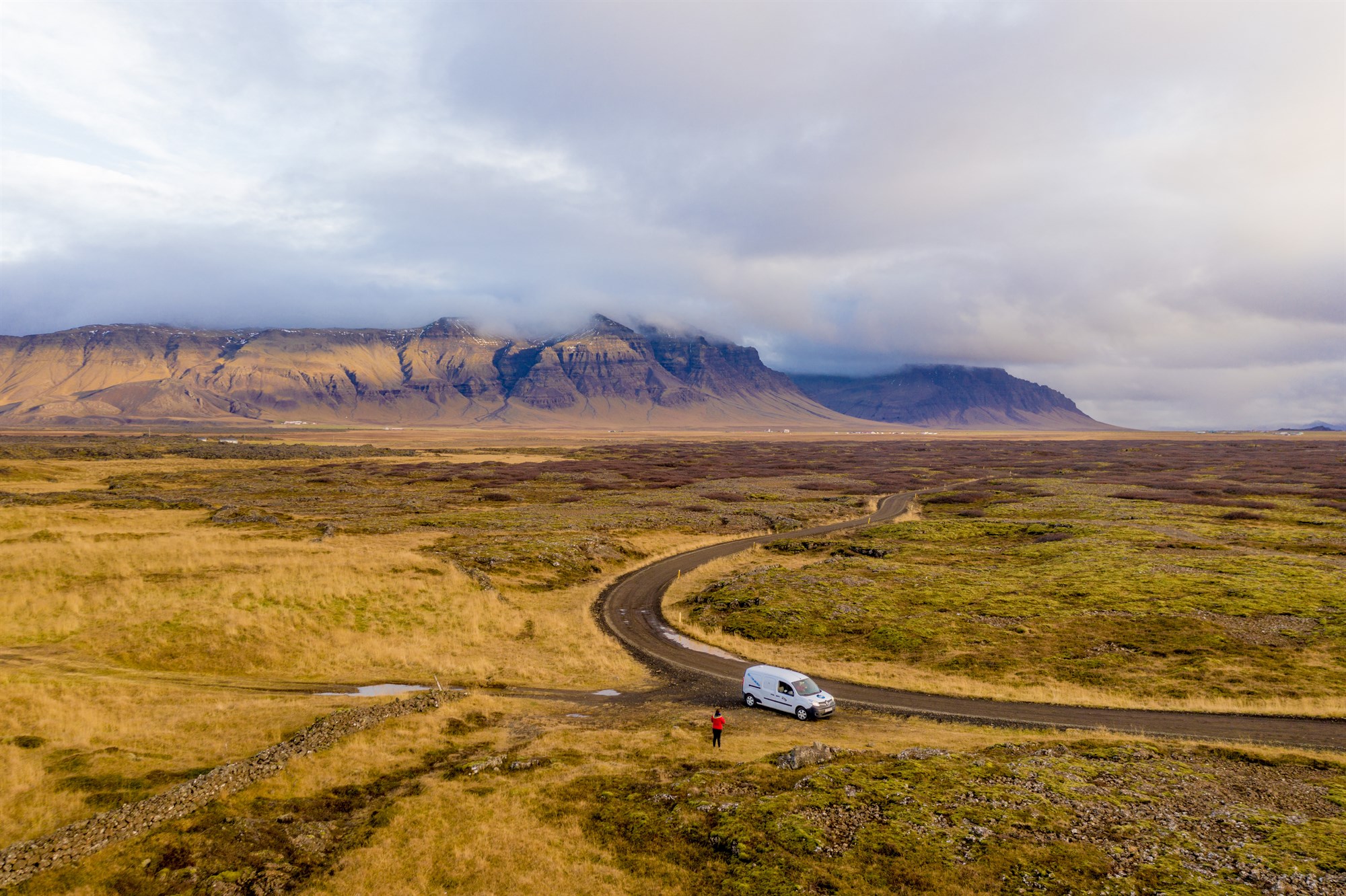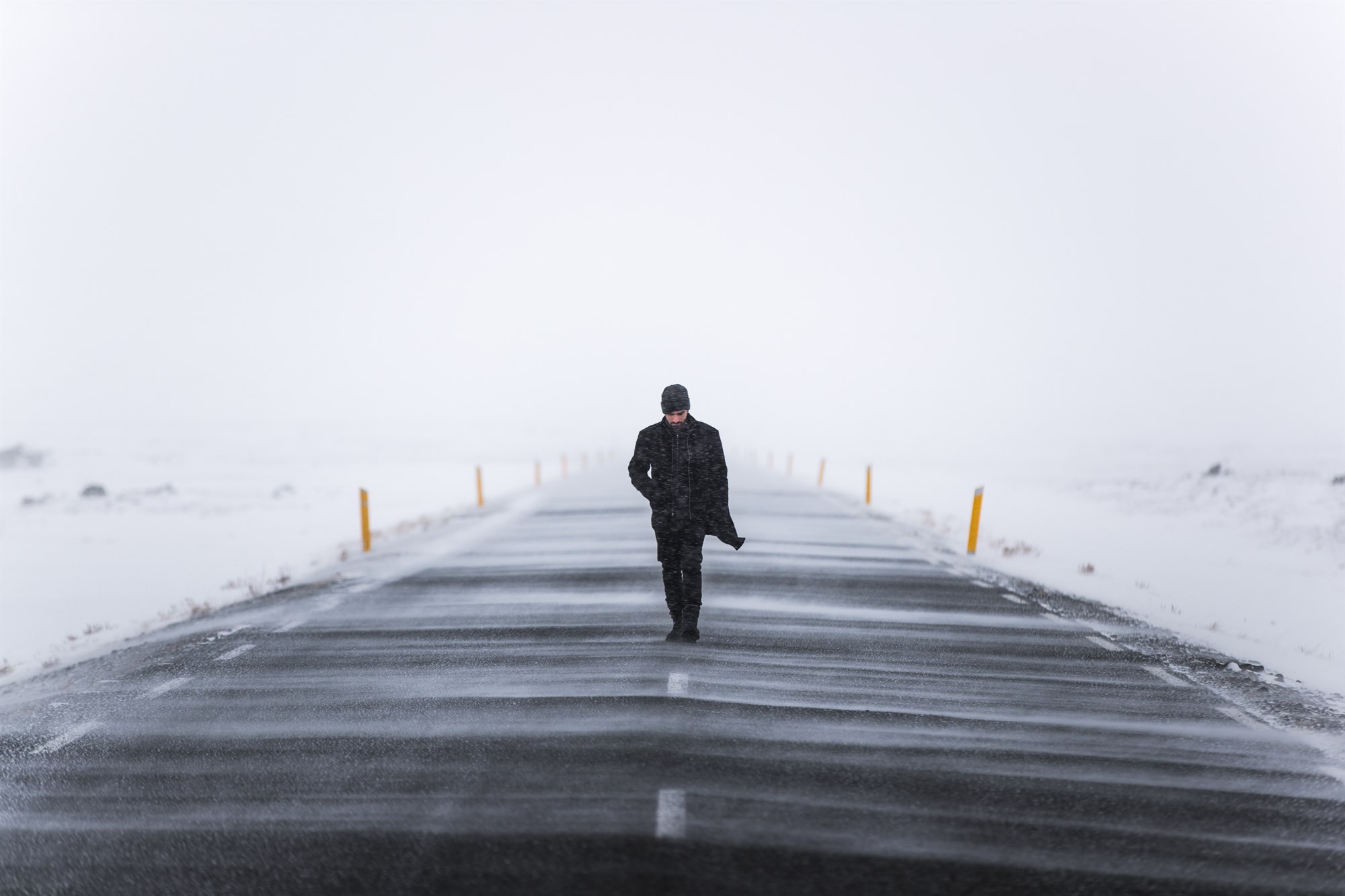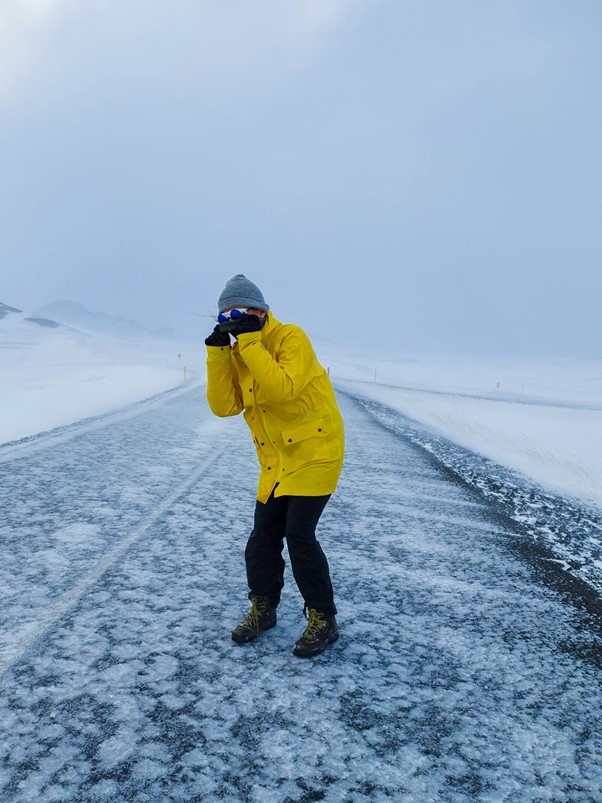 3. How to get around in Iceland when hiking ?
There aren't a thousand ways to move around in Iceland, considering the poor public transportation system outside the main cities, in all cases you will probably need to rent a vehicle. As van life addicts, you already know what our advice is. But let's get over other alternatives first:
→ Plane travel and guided tours ✈️
The national airline, Icelandair, has daily flights from the regional airport in Reykjavik (beware, it's not the same as Keflavik international airport) to all different cities around Iceland, from which you can find the starting points of very good guided tours. We'll come back to this point later on and give you some great tips and discounts, so stay around !
→ Car rental 🚗
There are plenty of car rental companies from Keflavik international airport and Reykjavik that will allow you to freely move around the country. The good part with a vehicle of your own is that you can in most cases get to the starting point of the trail on your own, and save the money from guided tours if you feel like hiking on your own. The only thing is that you will have to book hotels and accomodation in advance to spend your nights comfortably. And not only are these very sparsely scattered, but they also usually cost a lot of money. Which is why the definite best method to explore Iceland is...
→ Campervan rental 🚙
Motorhomes and campers are known to be the best way to explore and travel around Iceland with a reasonable budget. In fact, you won't have to pay extra money for accomodation, as campsites only charge about 10€ per night, and since most of them don't require booking in advance, you can enjoy the freedom of traveling on a day to day basis, without planning everything ahead. So what are you waiting for ? Get your own campervan for cheap now with the largest and sexiest rental company in the country !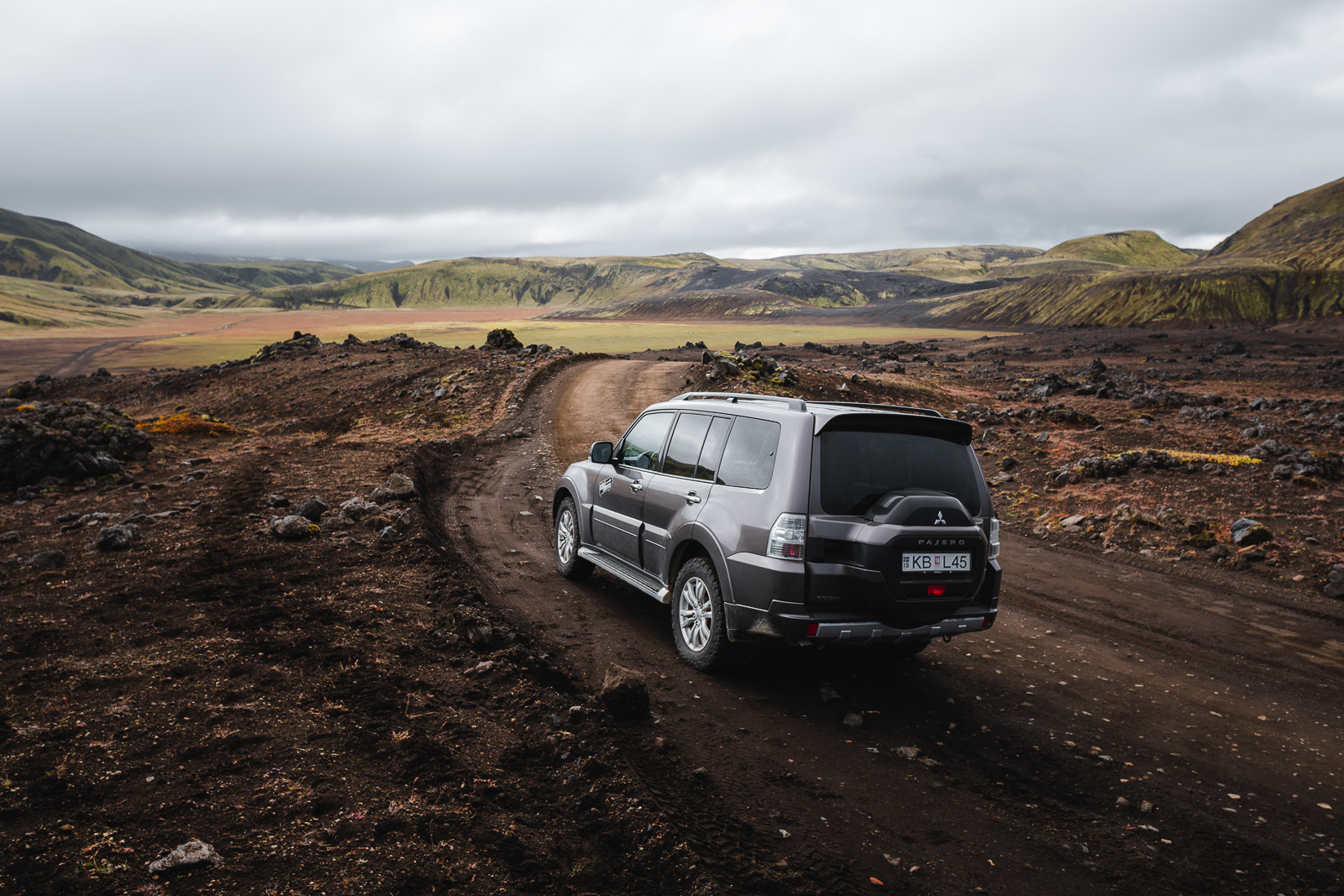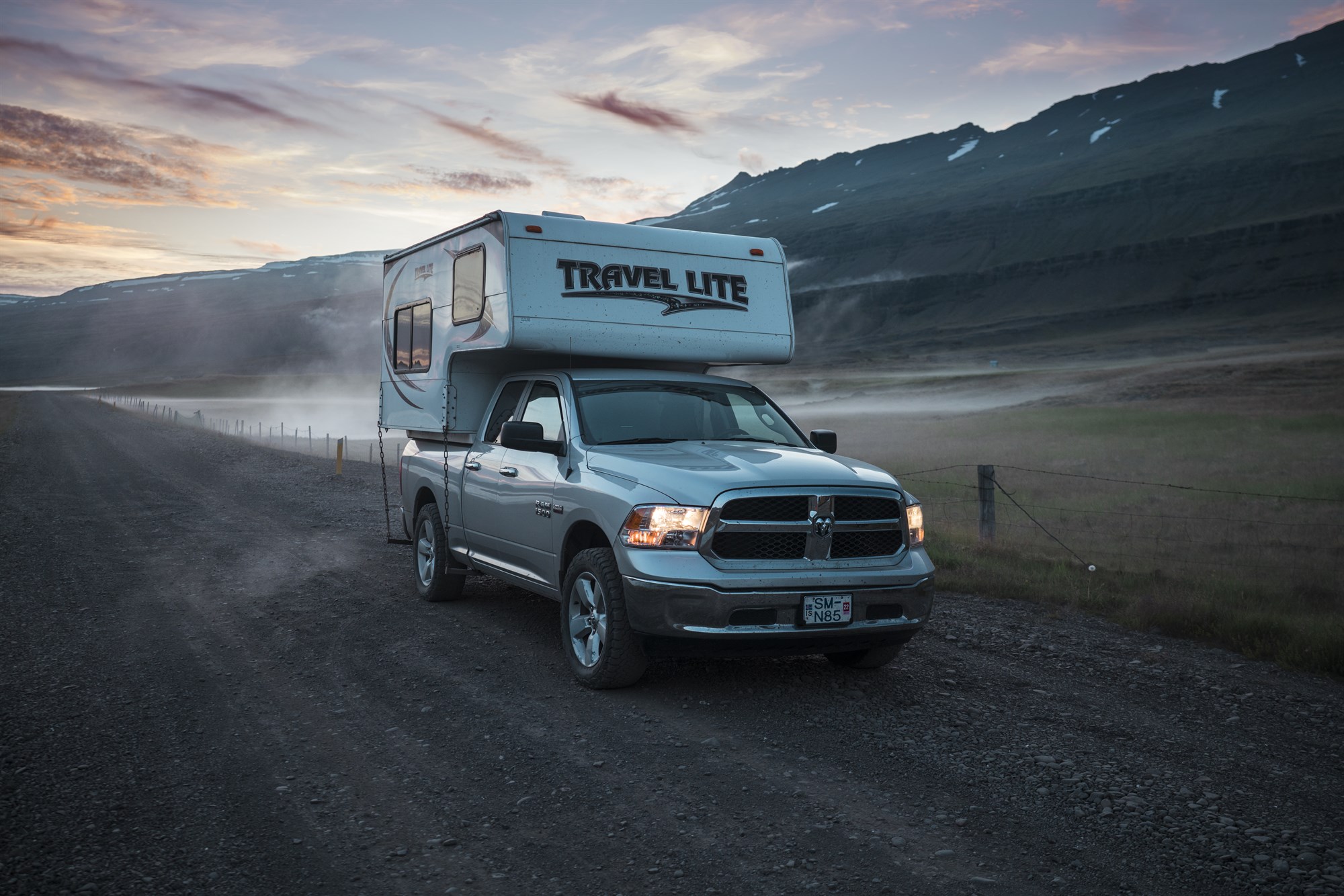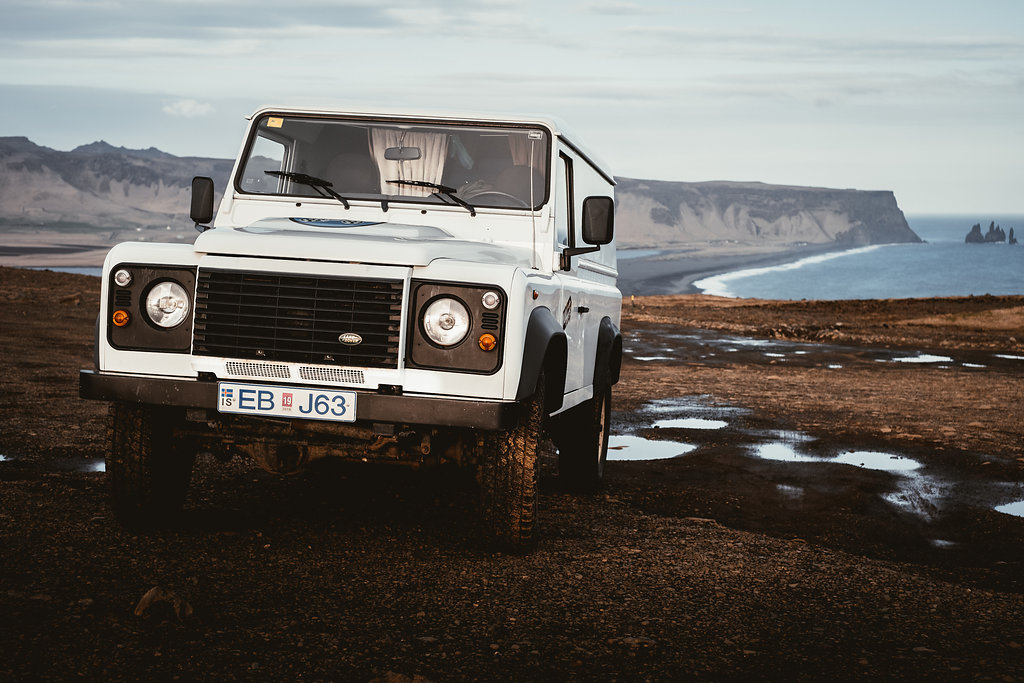 F.A.Q.     
One frequently asked question among first-time campers in Iceland is whether to go for a camper van or tent. The good news is that the choice is yours, although we must say that camping vehicles offer more comfort and convenience, especially when you want to move across different camping spots. A campervan also offers the luxury of soaking in different locations as you get the best out of your trekking in Iceland. Camping with tents offers a limited experience, especially if you rely on external means of transportation, and most importantly: tents don't have heating systems. And you better think about this…
Can I camp on the hiking trails ? 🥾
Iceland implemented several new principles to protect the environment and prohibiting individuals from camping in the sensitive landscape. The new regulations mean you have limited opportunities to pitch outside approved campsites in Iceland.
4. Safety rules
Iceland is a country with lots of geographically isolated areas. While there are plenty of places to camp, hike, and enjoy nature, you should always take precautions because the nearest help would be very far away from you. Your new best friend is now SafeTravel.is, a website that will keep you updated on any severe weather or alerts. They even have a special page where you can submit your travel plan and see whether it seems safe or not : https://safetravel.is/travel-plans/travel-plan/ 
For weather warnings, you can also make sure to follow our Instagram and Facebook accounts, as we always keep our followers and customers aware of any special weather to make sure everyone enjoys a safe ride in Iceland.
Always make sure that you inform someone of your travel and hike plans and the time by which you should be back. 
Last but not least, do what you are doing now; research! Iceland is really in a league of it's own, with unique terrain – make sure you know what you are getting yourself into and pack accordingly.
5. The roads in Iceland
Because the weather is so unpredictable, roads can also become dangerous. Which is why you must know a few basics before hitting the Icelandic roads.There are mainly two types of roads: paved roads and gravel roads. You can see which ones are paved and which ones are graveled thanks to this map here. 
Paved roads are safe to ride with any vehicle, and most of them are being taken care of during the winter when snow needs to be removed.
Gravel roads, like their name suggests, are not paved nor smooth, but a little more rocky. Some of them are safe to ride with a 2WD vehicle, some others are not: we call them the F-roads. 
F-roads are only accessible with a 4x4 vehicle, sometimes only with extreme 4x4 that are very high on wheels because most of these roads are crossed by rivers, which flow can vary according to the rain. Our general rule of thumb is that regular 4x4 can cross rivers that aren't higher than your knees, or even more generally : no vehicle can cross a river that rises higher than the chassis of the vehicle. 
Make sure you figure out which road leads to the trails you want to hike, so that you can adapt the vehicle you want to rent to your plans. 
The best website to use in order to check road conditions in real time is road.is
6. What to pack on a hiking trip ?
Since a picture is worth a thousand words, here goes our KuKu packing list for a safe and fun hiking trip in Iceland.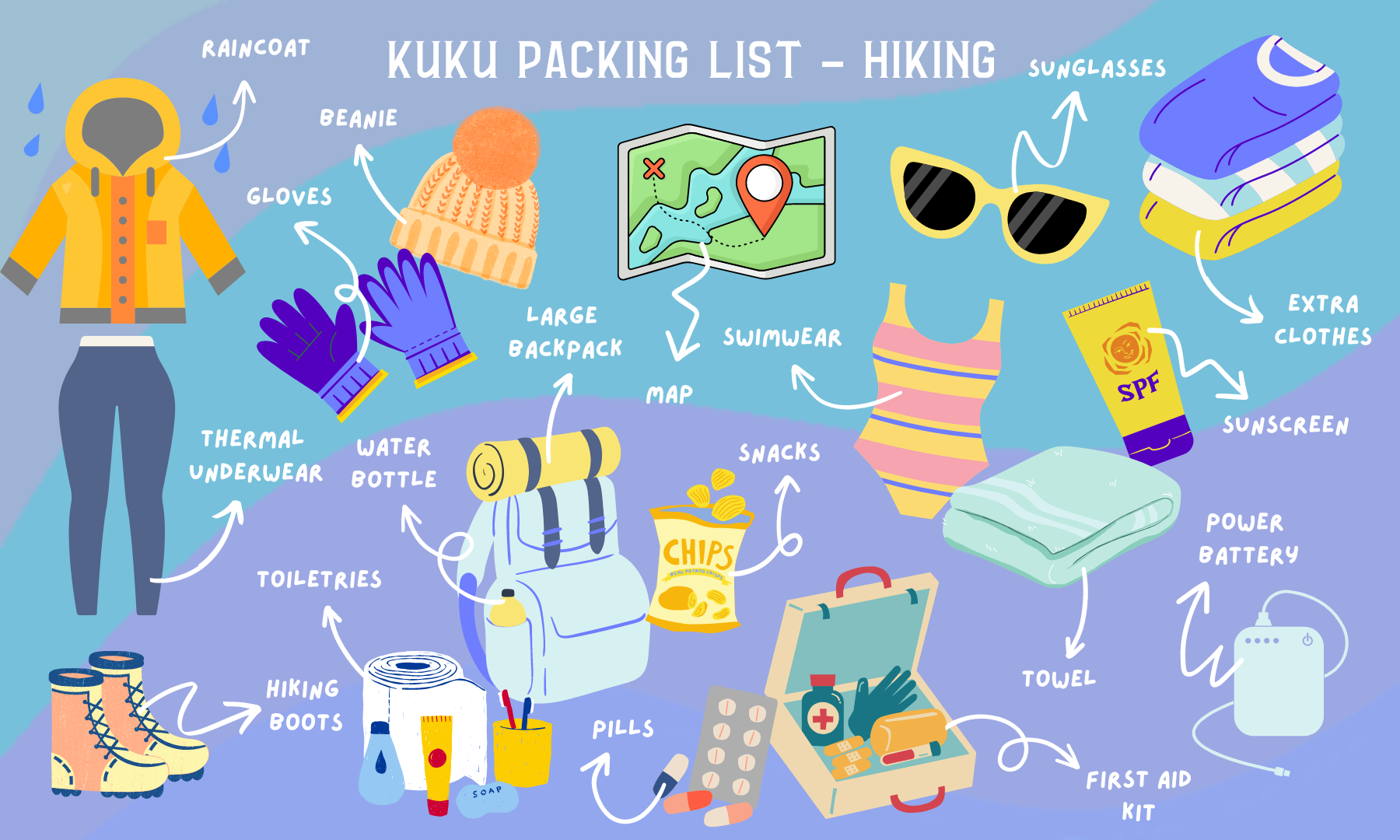 ---
Best hikes and trails in Iceland
We've split this ultimate list of the best hikes in Iceland into two parts: day hikes, with several different difficulty levels, ranging from very easy to difficult, and a second part dedicated to multi-day hikes, also called treks, for the most crazy aficionados.
Map of the best hikes 🗺️
---
Best day hikes in Iceland
Landmannalaugar loop

5-6 hours

Level = moderate

Distance = 10km

Ascent = 610m
Mt. Blahnúkúr and Mt. Brennisteinsalda are the most famous hikes in Landmannalaugar, and you can do both or them by following the hiking loop starting from Landmannalaugar main campsite. We strongly advise you to start with Mt. Blahnúkúr to get it over with the highest climb at the beginning of the hike.
Landmannalaugar is famous for its otherworldly landscapes, its colorful rock formations and its hot springs. You can knock the hike in one day, but we cannot advise you enough to spend a night at their campsite to enjoy the hot springs.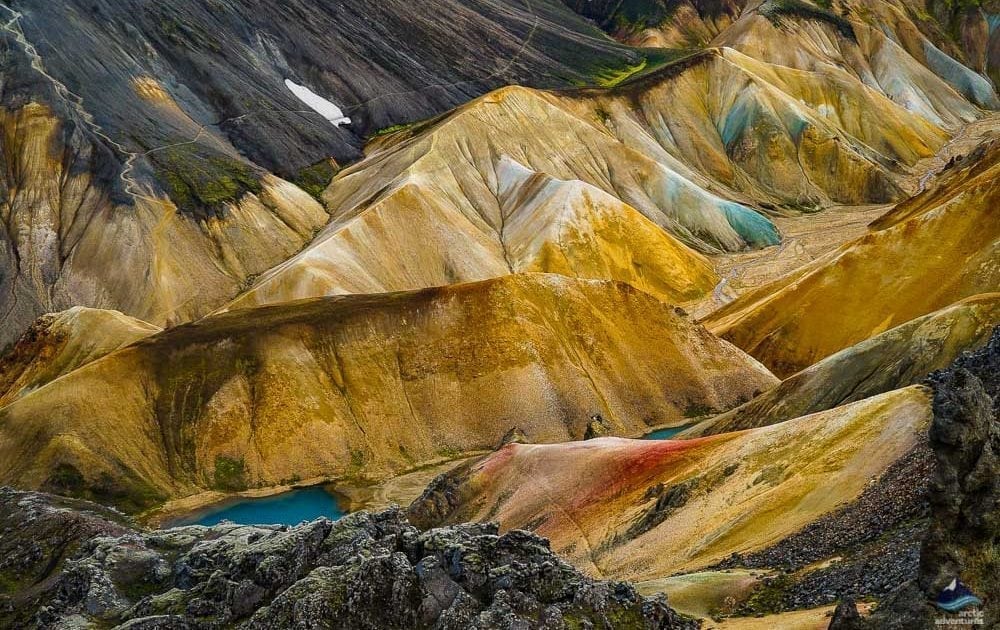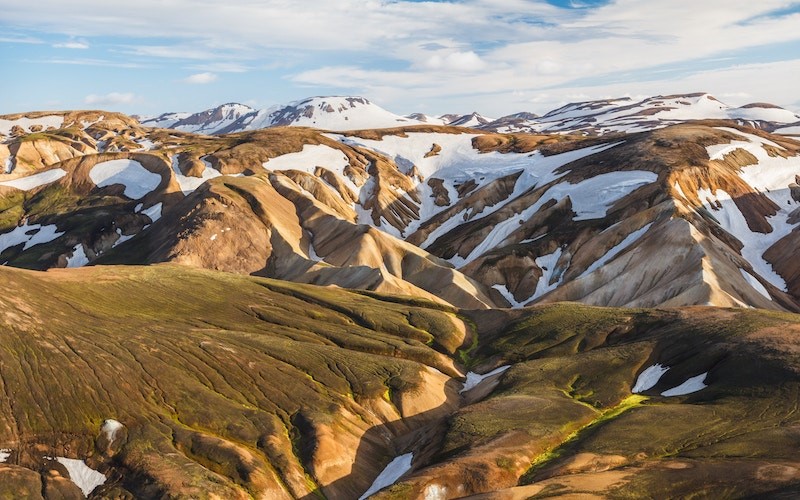 Fagradalsfjall volcano

8 hours

Level = medium

Distance = 20km
For three summers in a row now, Iceland has experienced a volcanic eruption. All of them were located in the same area, south of the Reykjanes peninsula, which is the most active region in the country. Since the first eruption in 2021, hiking trails have been defined by the authorities to allow the crowds to access the eruption site as safely as possible.
However as the fissure is moving north year after year, the hike gets longer every time since it starts from the parkings located on road 427, east of Grindavik and south of the volcanoes. If you want to access the newly created site, you must follow trail E, which is marked and updated by safetravel.is on their webpage dedicated to the eruption site. We strongly advise you to download their map of the site and follow the instructions provided by. We are talking about 18km back and forth, which takes up to 8 hours, make sure that you take that into consideration before starting the walk.
Always check the weather forecast way ahead of time, as gas pollution can be extremely dangerous and you thus want to make sure that the wind will not be blowing towards the trail. The best website for this is right here : https://en.vedur.is/volcanoes/fagradalsfjall-eruption/volcanic-gases 
Bonus tip: make sure you take a flashlight if going by night, as the path is completely wild and has no lights at all.
If you come back late at night, you can park your campervan at Grindavik's campsite, which is super close to the starting point of the hike.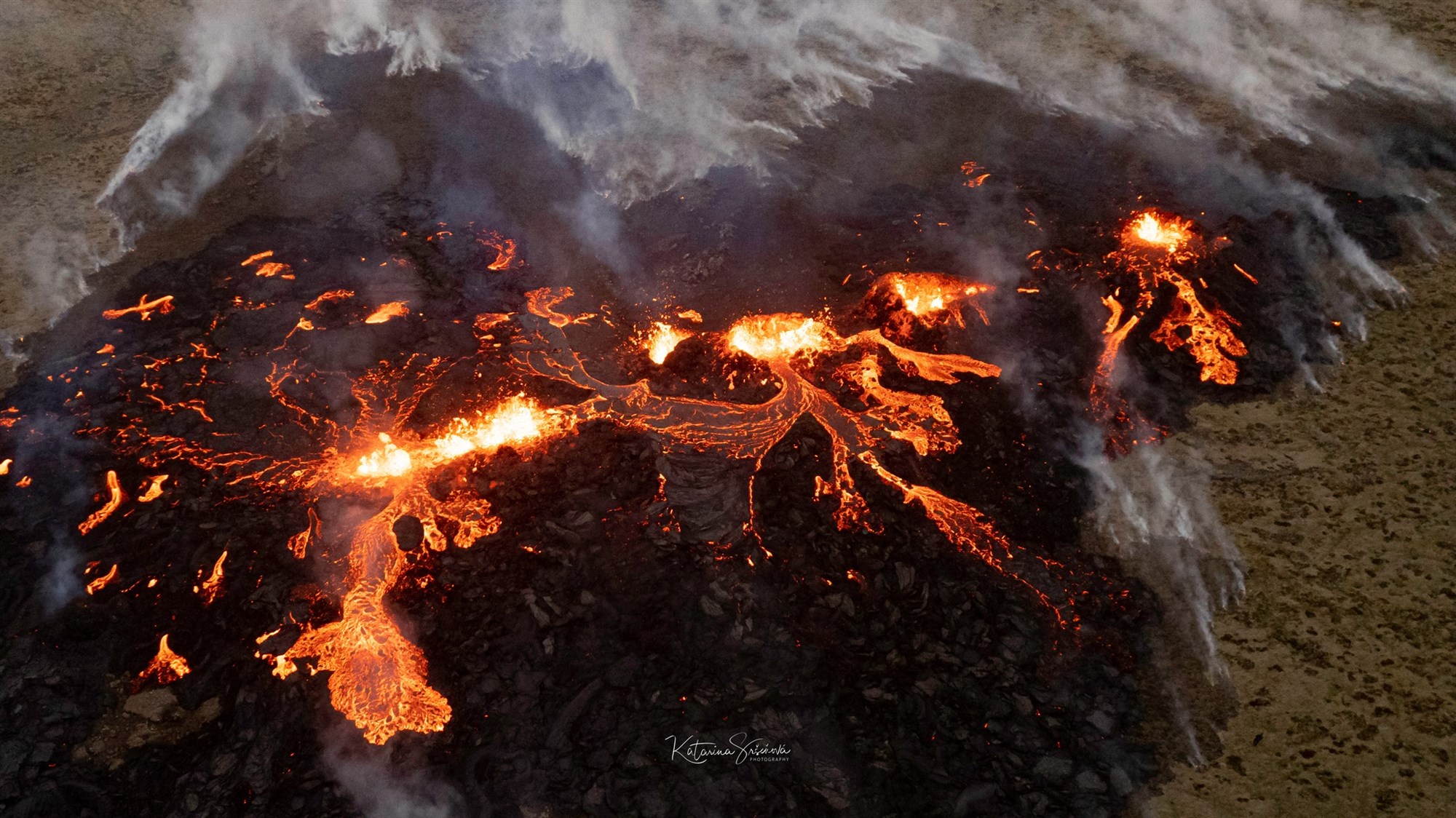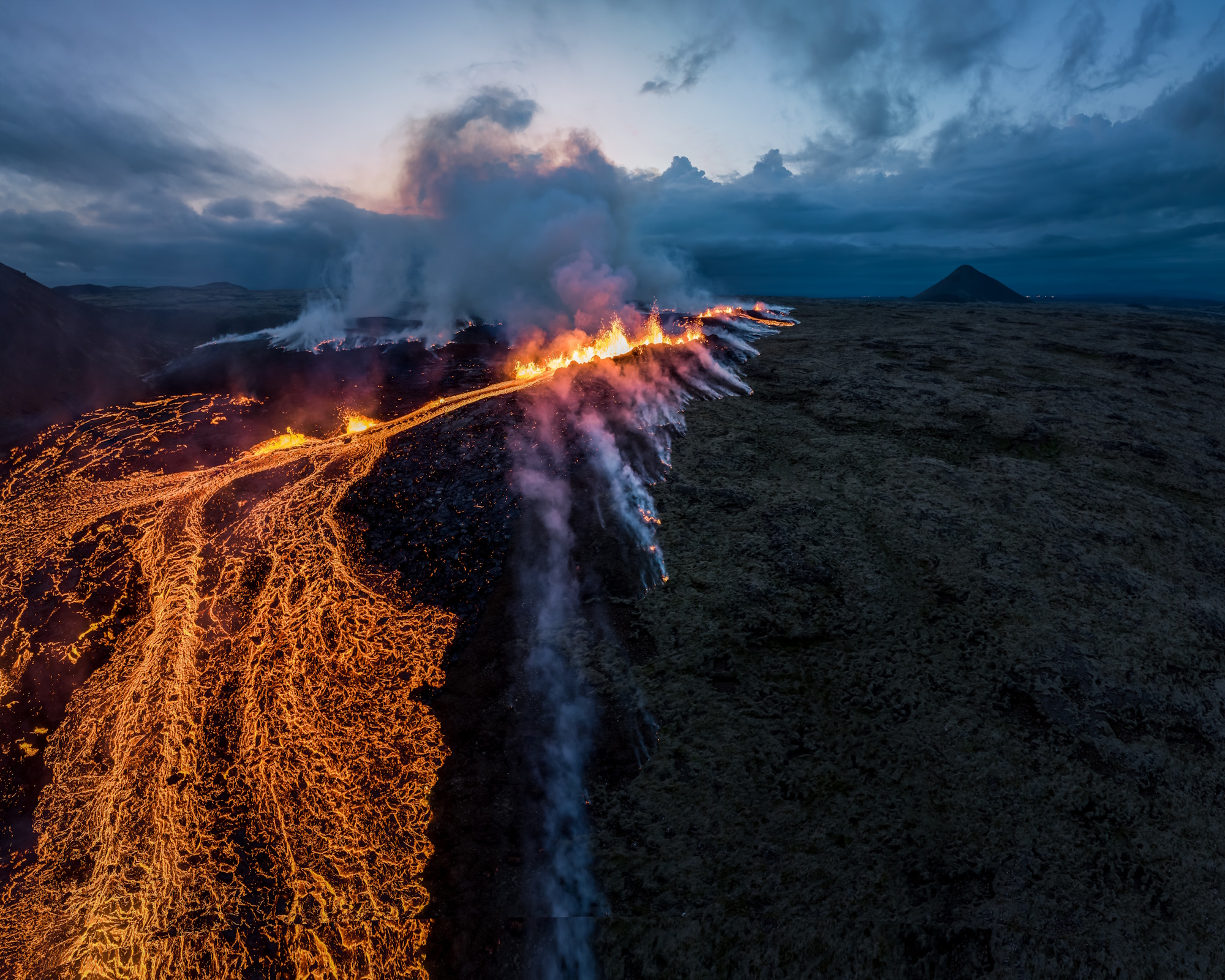 Kerlingarfjöll

8 hours

Level = medium

Distance = 24km

Ascent = 560m
The Kerlingafjöll mountains are a true heaven for hikers. Kerlingafjöll is only accessible with a 4x4 vehicle as it is located in the highlands and only accessible by mountain roads which are only open when the snow has cleared (which is usually in June). Even though the roads are open, snow can still remain on the path and cover the peaks into July, which makes August and early September the best time to go hiking and camping in Kerlingafjöll. 
There are numerous hiking trails beginning from the campground at the base of the mountains, and the beauty of Kerlingafjöll are sure to stun you when you see the combination of the colors of the earth combined with the geothermal activity of the area.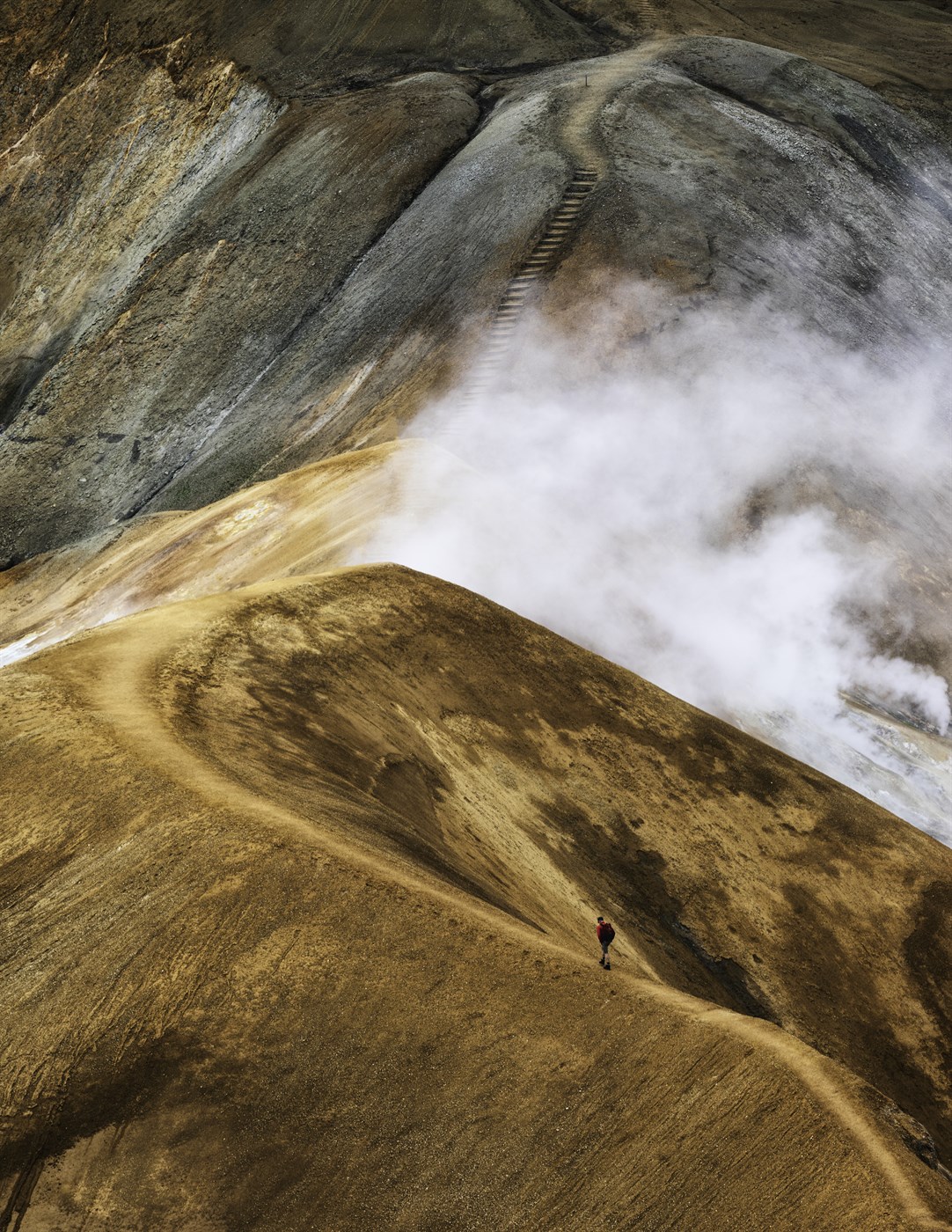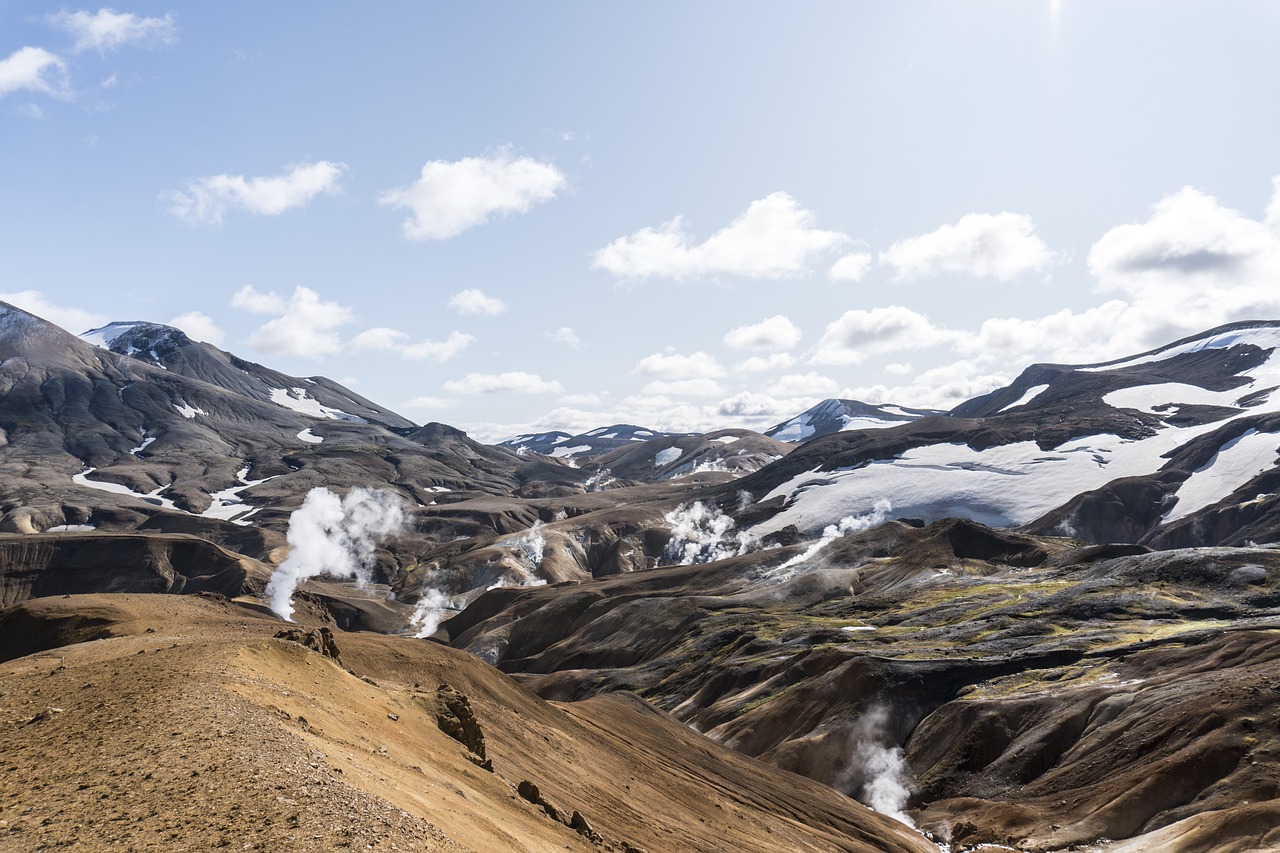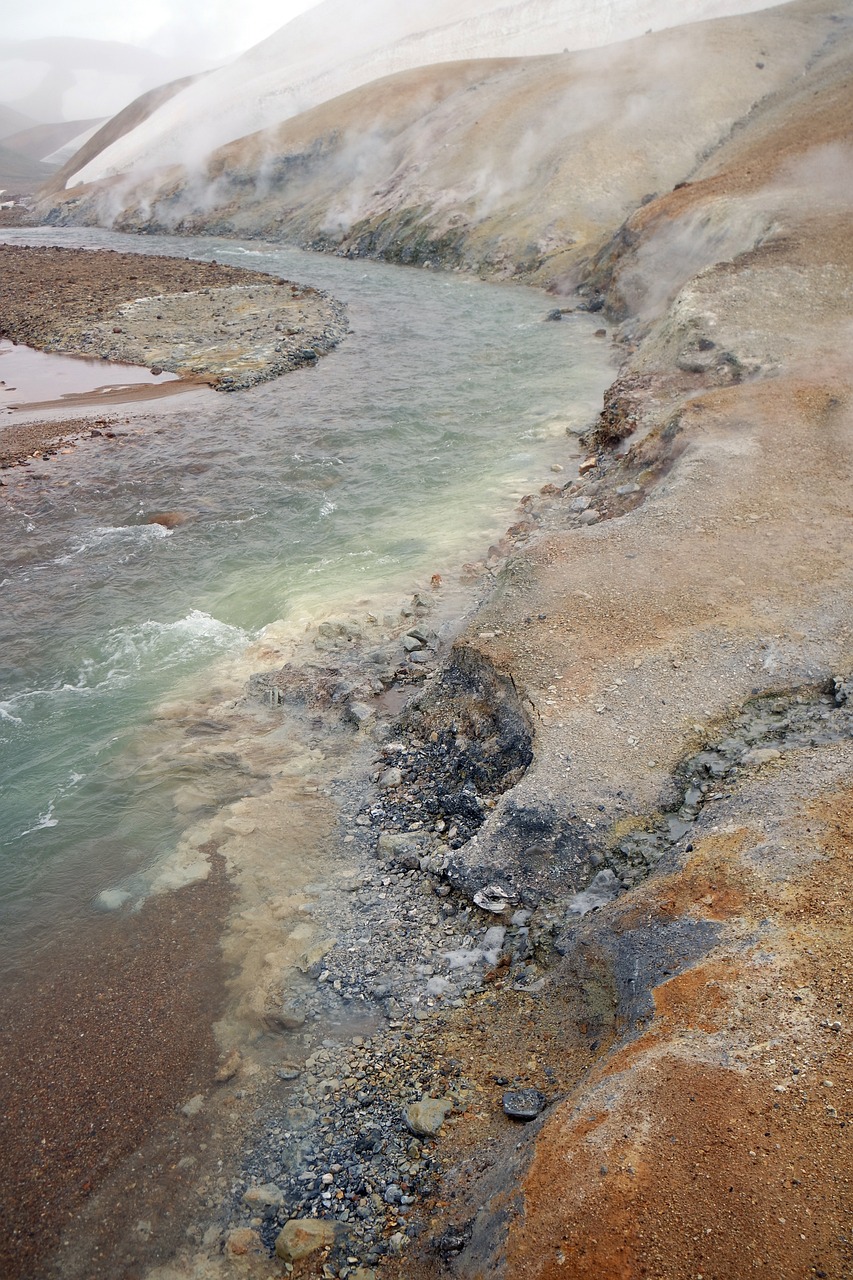 Thingvellir/Oxararfoss waterfall

2 hours
Level = easy
Distance = 5km
Ascent = 232m
If you are looking for a very simple hike, this one is just for you ! Thingvellir national park is so famous for its walk in between tectonic plates that it is the perfect easy and safe walk not too far from the capital city. And the bonus is that along the trail you can stop to admire the beautiful Oxararfoss waterfall !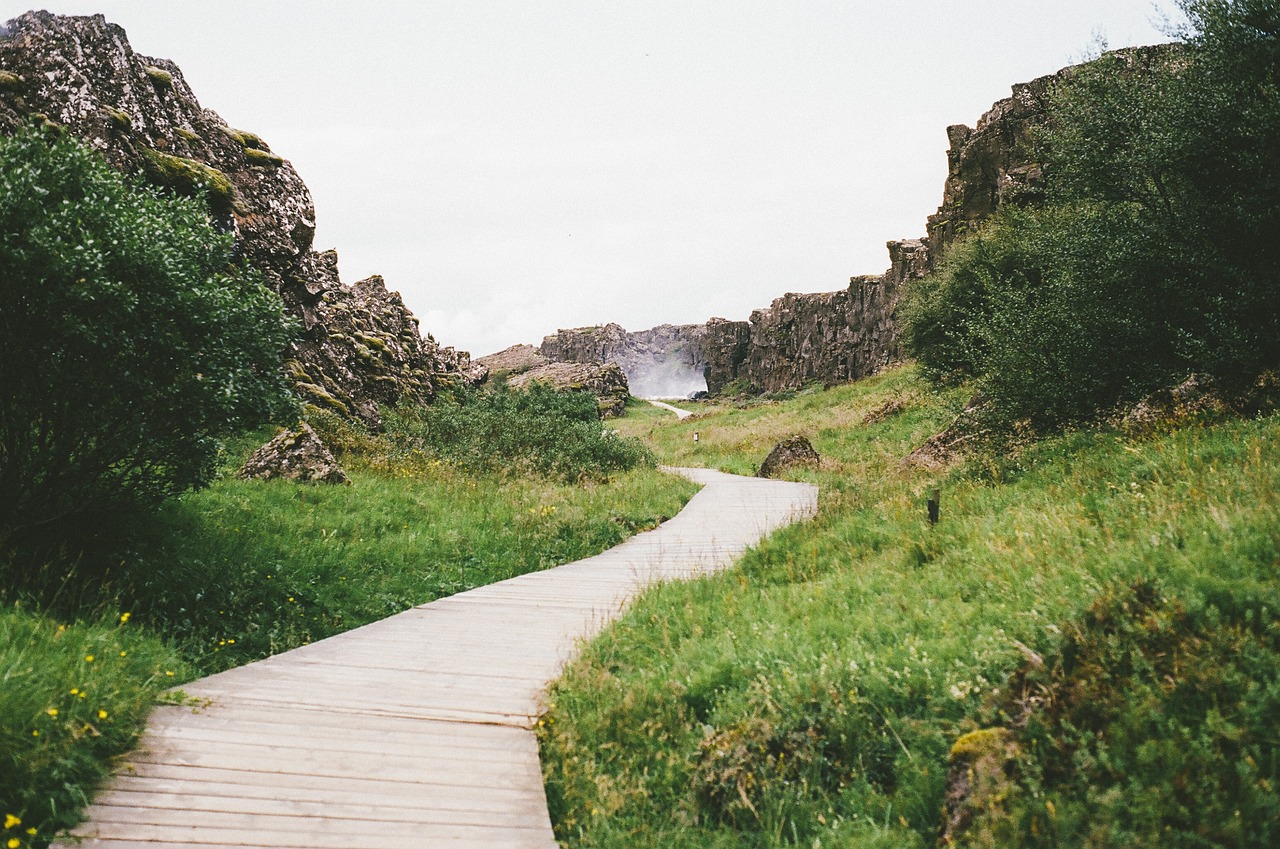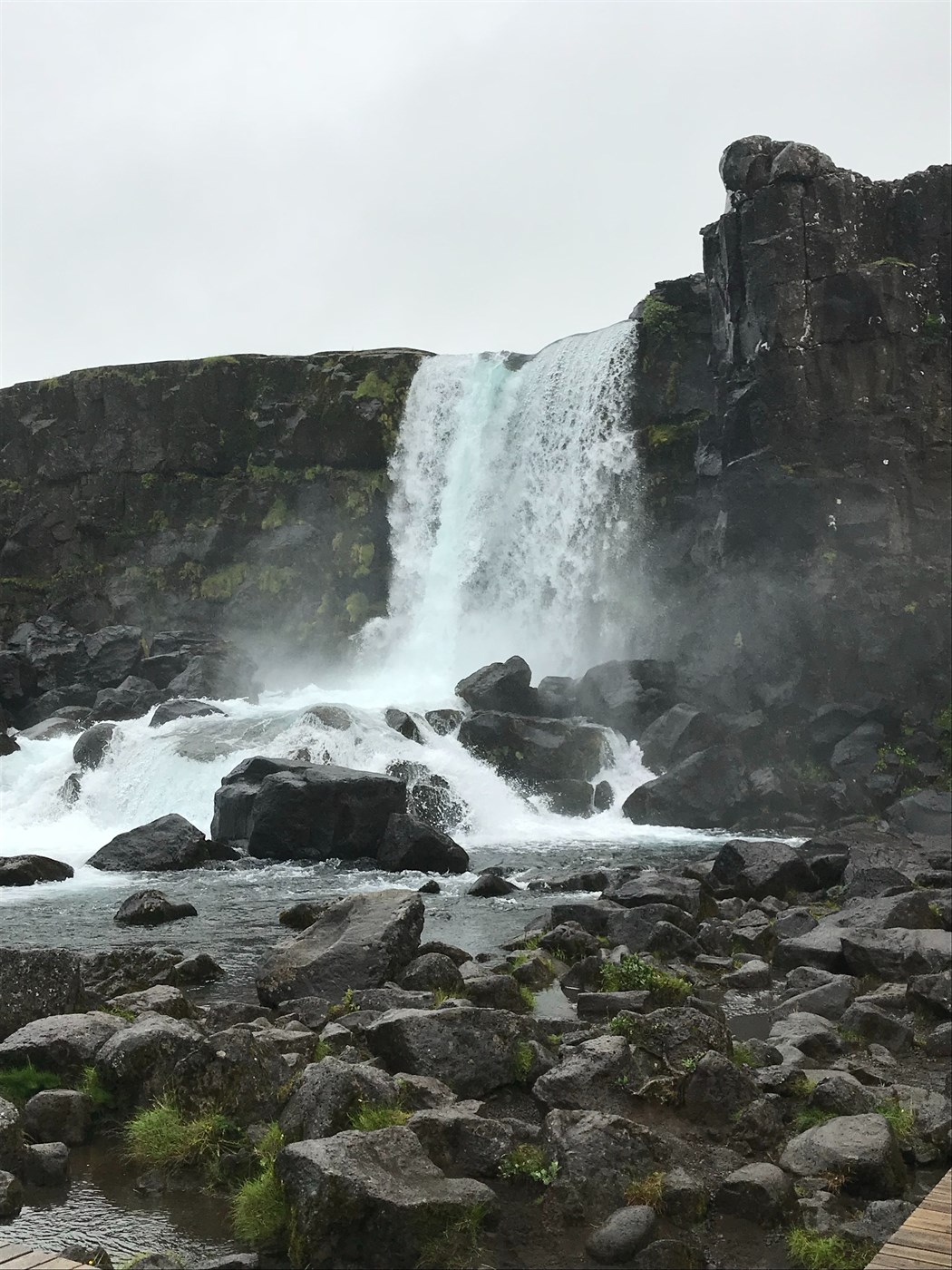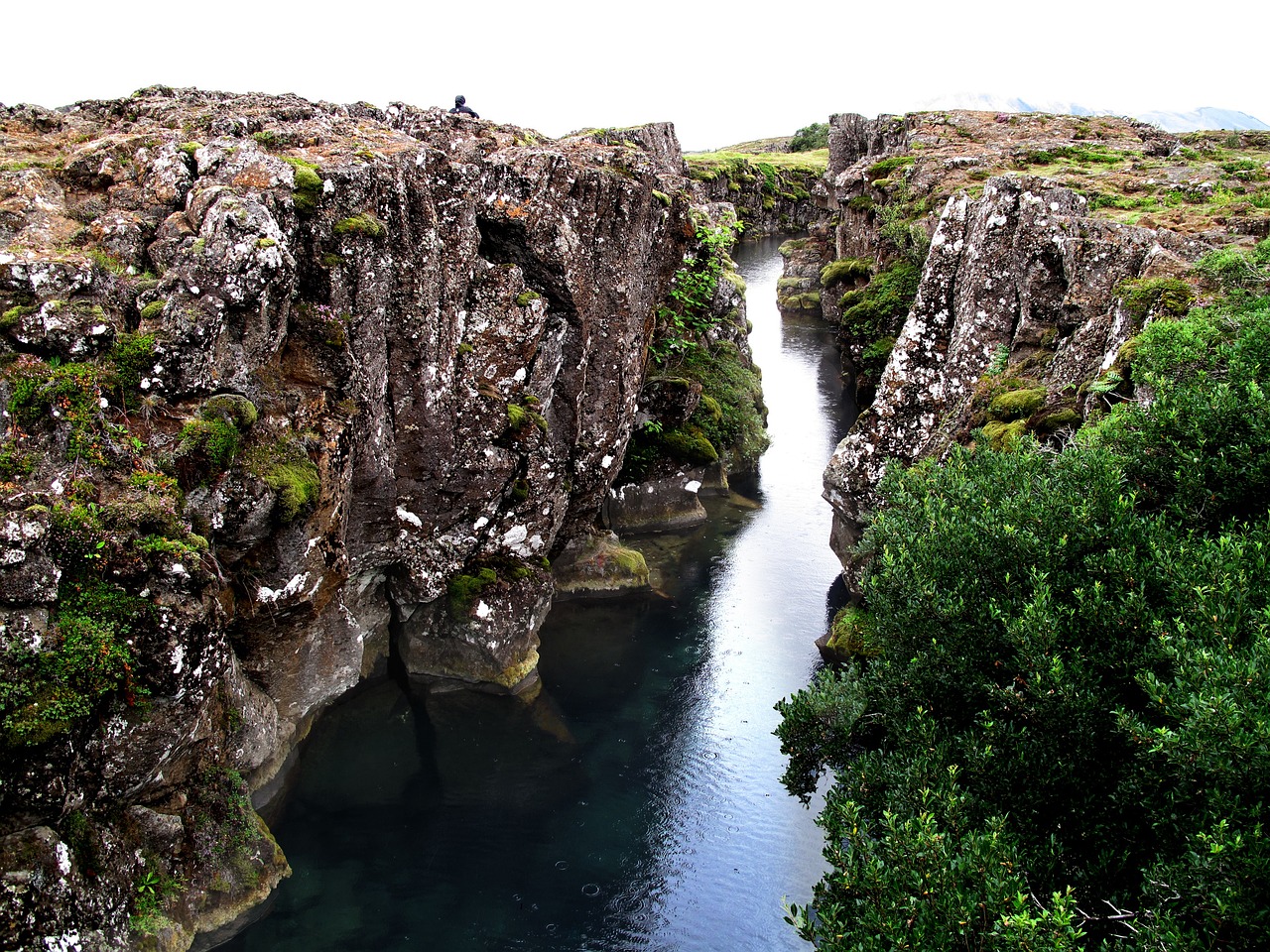 Svartifoss

2 hours

Level = easy

Distance = 5km

Ascent = 140m
Svartifoss is a one of a kind waterfall, famous for its unique basalt columns rock formations. The hike to Svartifoss is relatively easy, and not too long without much ascent, which makes it accessible to all types of hikers. You will see lots of other cute waterfalls on the way, which is the perfect excuse to stop by for a minute if you need a break.
We recommend you spend a night at Skaftafell Camping, in Vatnajökull National Park, it is one of the most scenic campsites in Iceland as it is surrounded by snowy mountains, which offer an excellent hiking site (ranging from beginner and advanced trails).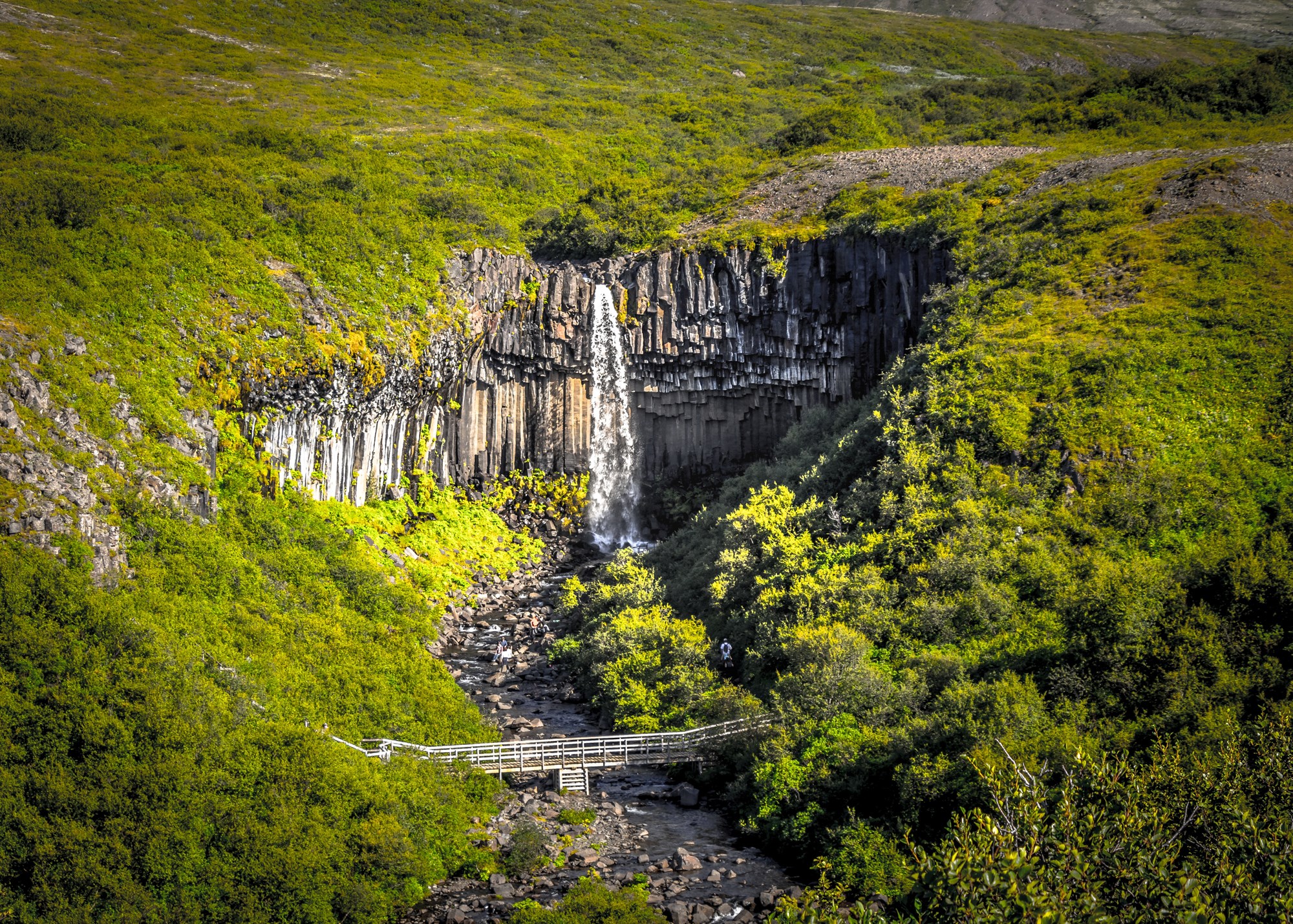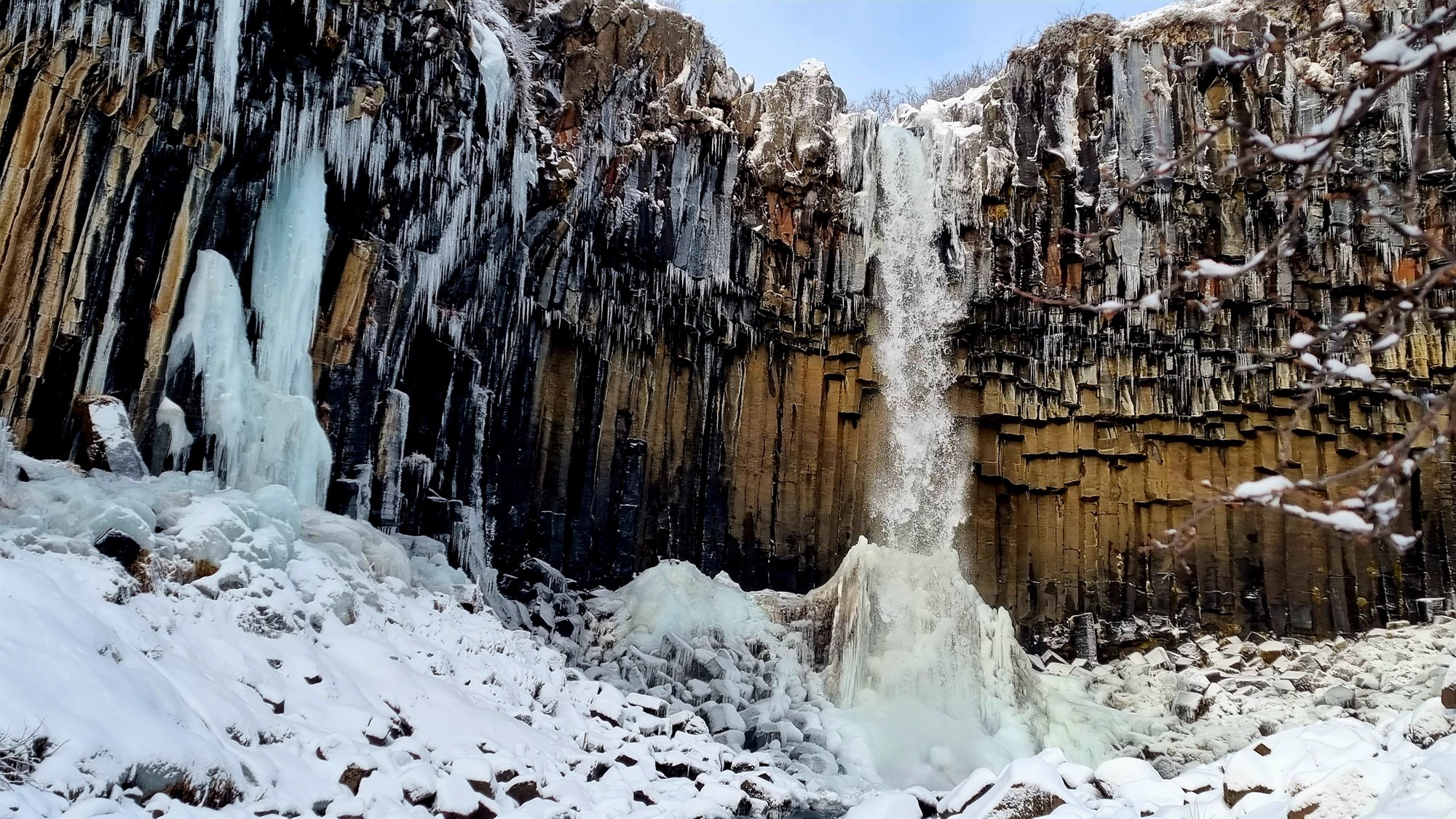 Hengifoss

3-4 hours

Level = easy-medium

Distance = 5km

Ascent = 400m
Hengifoss if one of Iceland's famous waterfalls, but again, all beautiful things require some effort, and this one is a short (around 1-2 hours) but tiring hike, mostly because there are some very steep slopes to climb, with about 300m elevation. On the way you will be able to enjoy the landscapes and other small waterfalls coming from Hengifoss. Beware: there are some river crossings involved in this hike, so make sure to wear appropriate gear. You also will have to pass some sheep fences, which means you probably will see some of them on the way as well. The last thing we need to warn you about on this trail is the wind: on a windy day it might get very challenging to hike the trail, especially as you approach the waterfall, make sure to hang onto the rope that's on the side of the trail as you get to the end.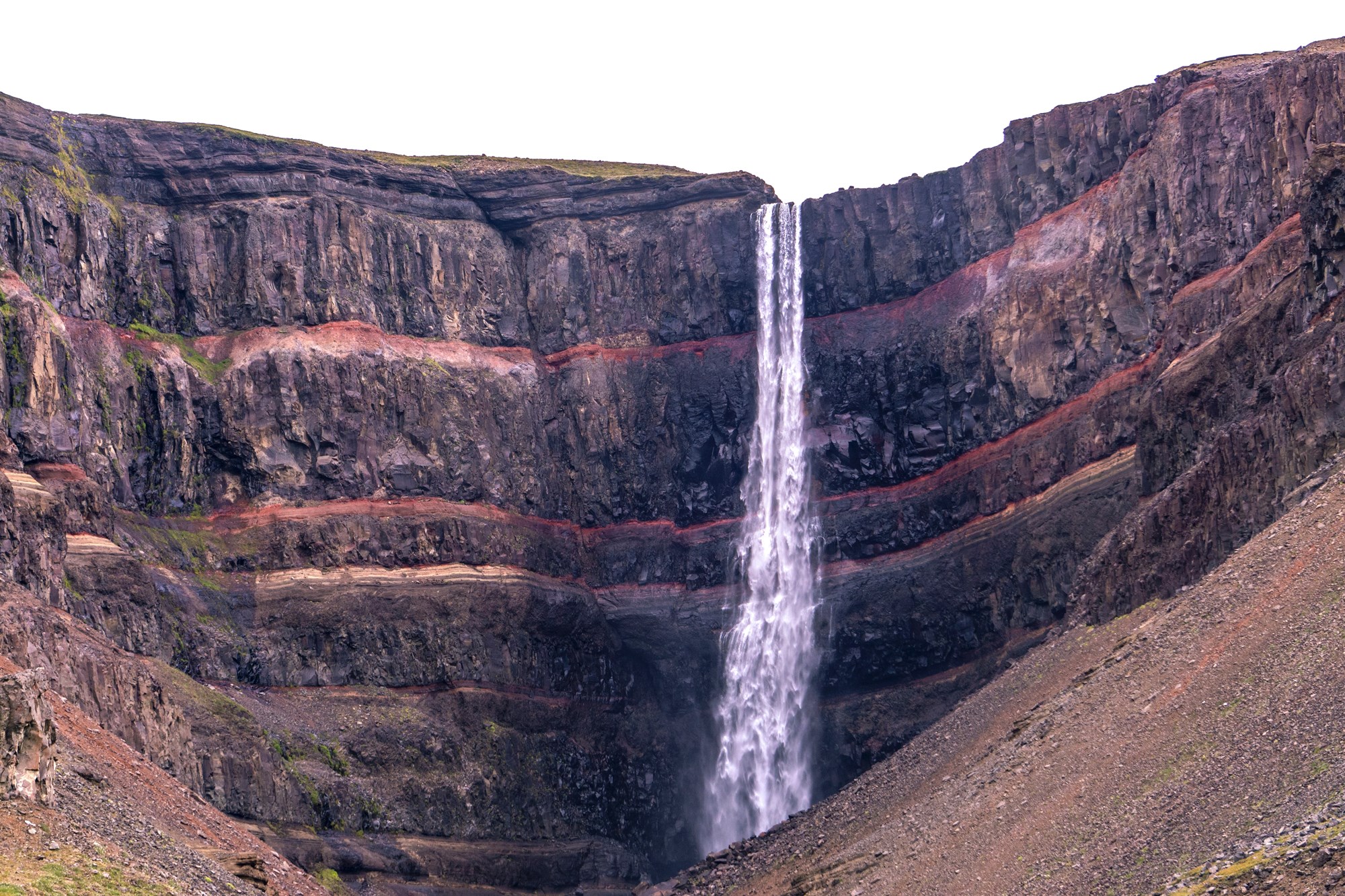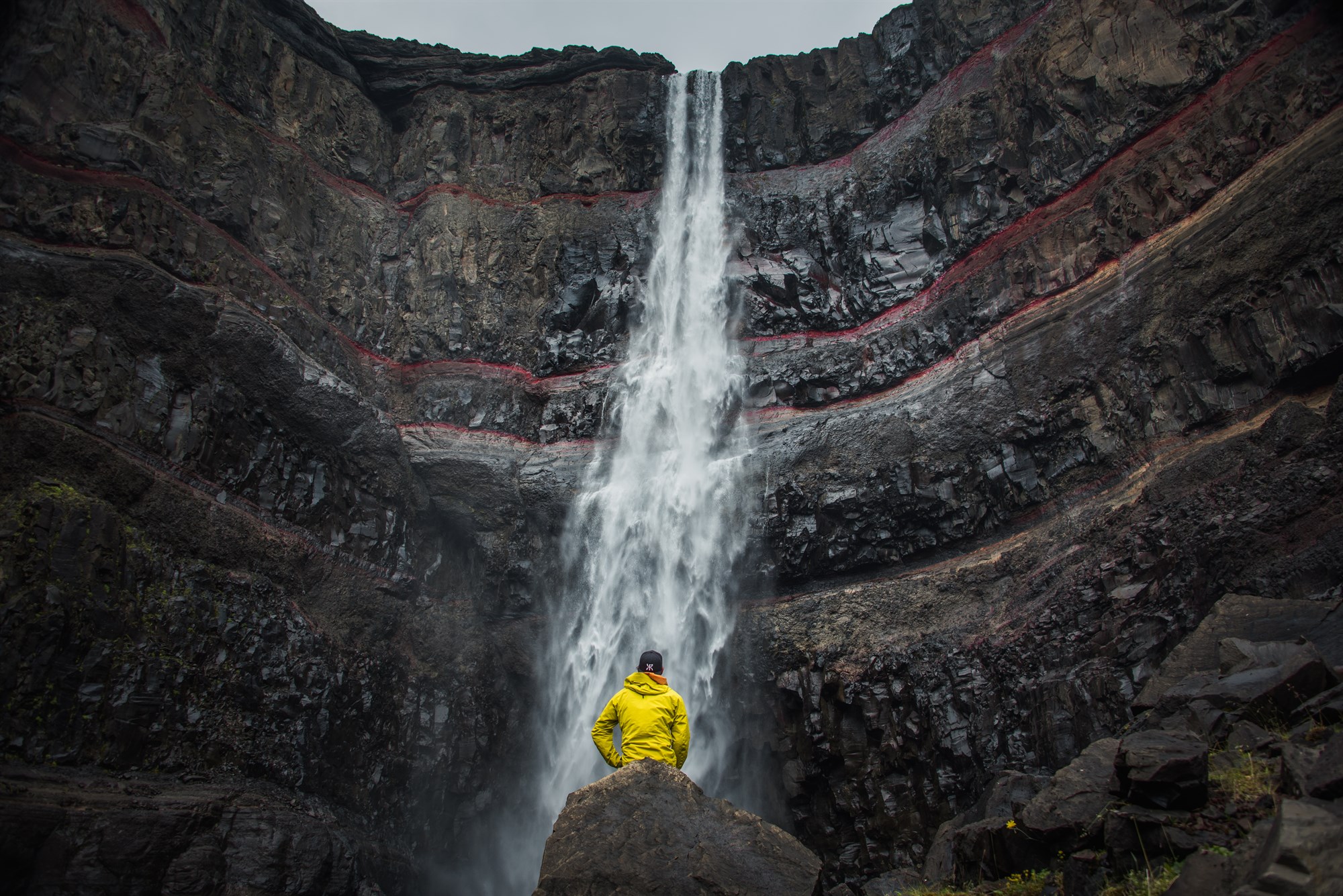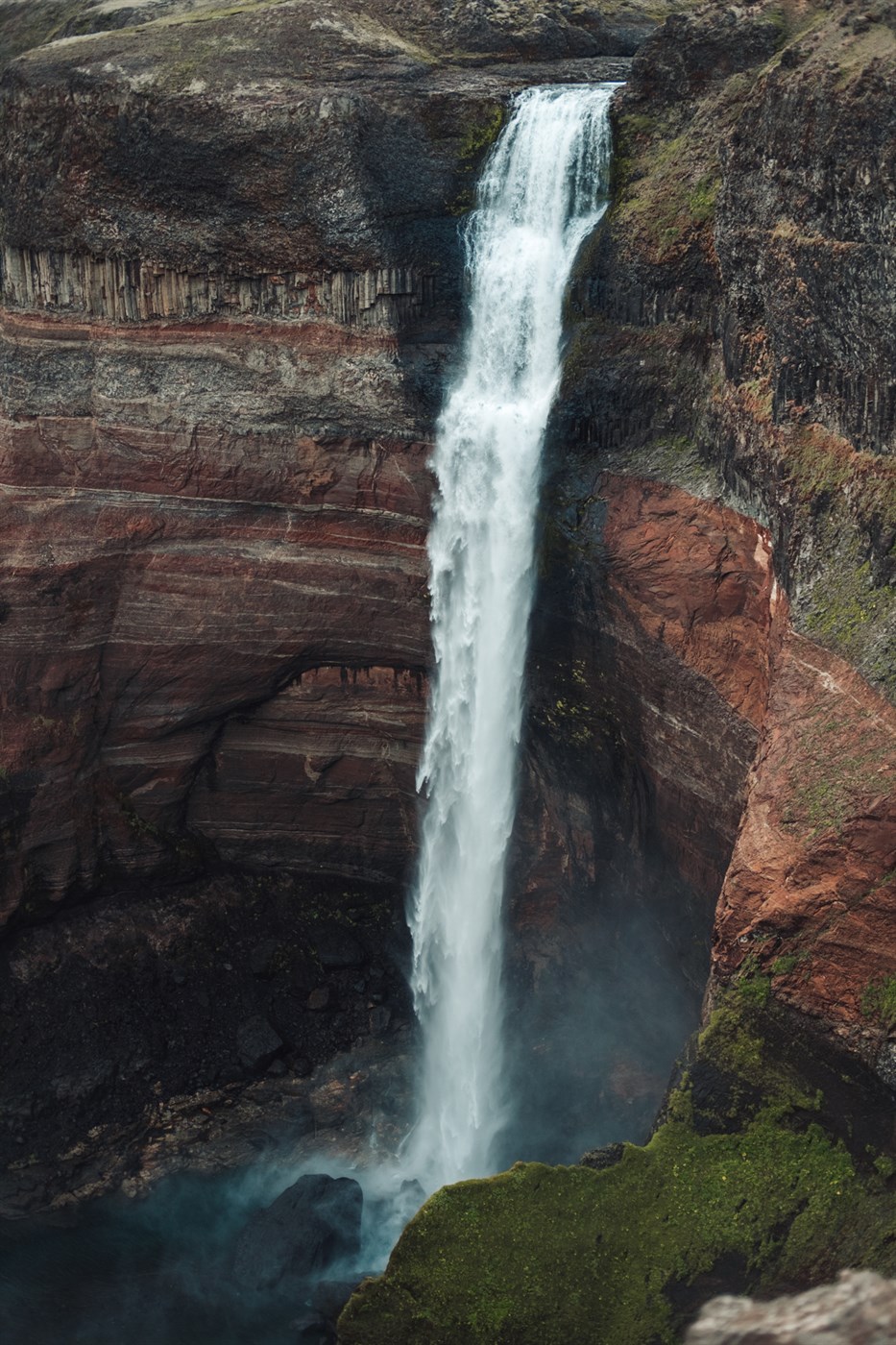 Reykjadalur hot river

3 hours + bathing time

Level = easy

Distance = 12km

Ascent = 347m
Reykjadalur valley is located near Hveragerði, in south-western Iceland, about 45 km from Reykjavík. The valley itself, which is known as the valley of steam, is filled with mud pools, hot springs, and a geothermally heated river. 
The hike to the river is relatively easy to handle, and is about 3 km long one way – it usually takes about 2 to 3 hours, including soaking in the geothermal river. The hike itself starts at the parking lot and follows the trail leading into Reykjadalur, on the hike you get to enjoy the scenery and the different colors of Icelandic nature; colorful green grass, steam, blue river, hot springs, grey blue mud pools and patches of silicon and sulphur. Be careful where you step and do not leave the trail, as there is a lot of geothermal activity in the area and most of the hot springs themselves are way too hot to bathe in, the mud pools can be hidden underneath just beneath the surface. The river where you can bathe in, has a decking area along the safe bathing area, and if you find the river too hot, just head downstream where the water starts to cool. 
The closest campsite to Reykjadalur, Reykjamörk camping is in the center of the neighboring town Hveragerði close to all services in town.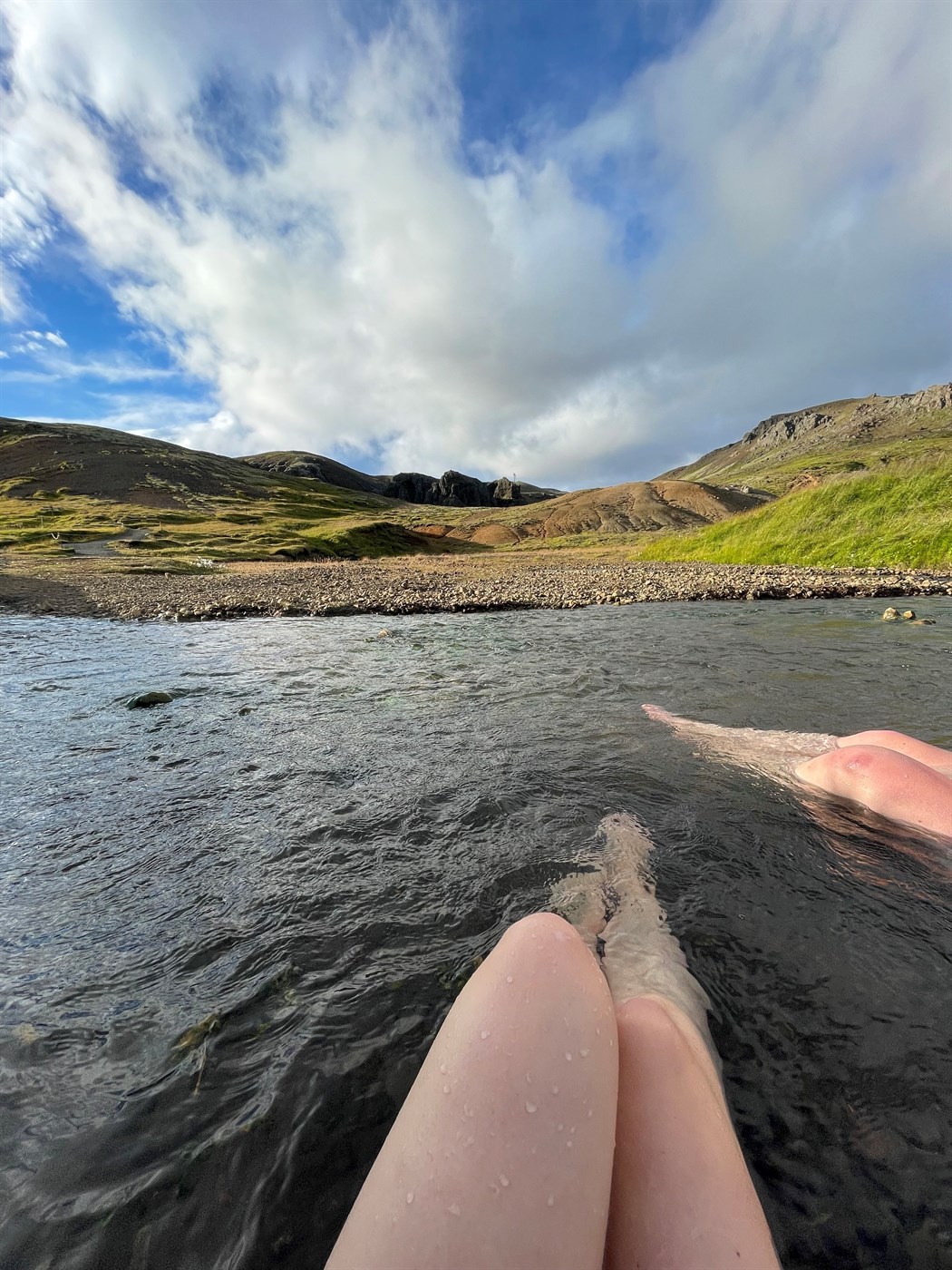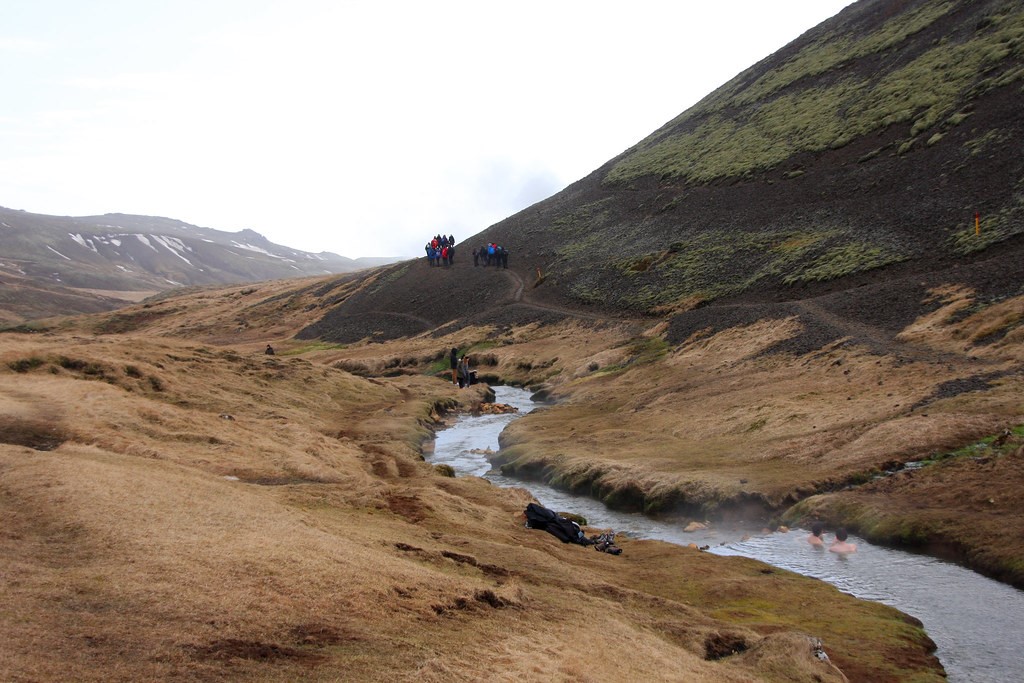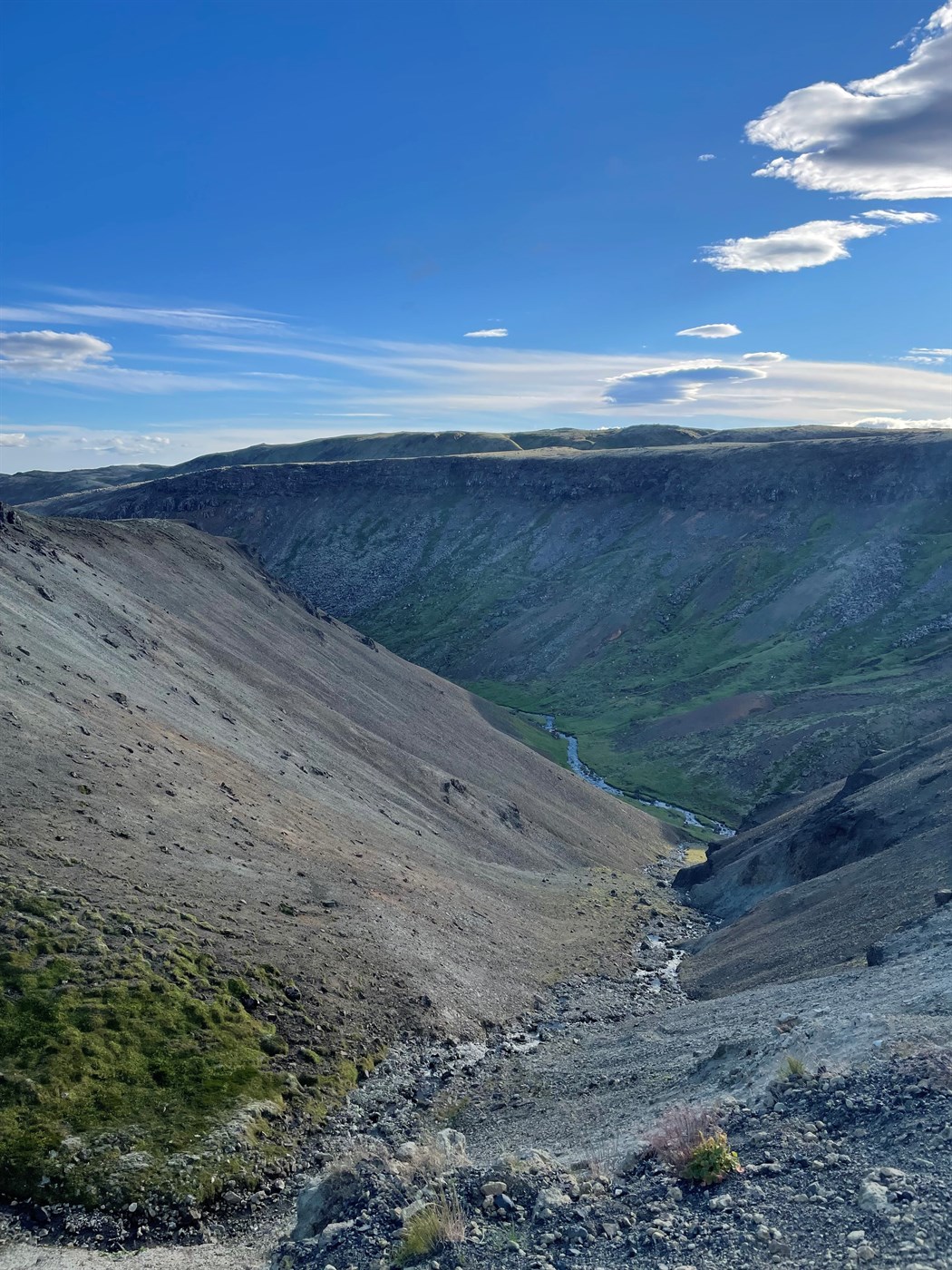 Mount Esja

2-4 hours

Level = medium

Distance = 8 km

Ascent = 723m
If you've been to Reykjavik, you must have seen this curious flat topped mountain that sits over the bay north to the capital city: Mount Esja. It's also one of the closest hikes to the city, and offers amazing views of Reykjavik and its surroundings.
Glymur waterfall

3-4 hours

Level = medium

Distance = 7km

Ascent = 425m
Glymur is famous for being the second highest waterfall in Iceland and thus one of the most appreciated hikes in the western side of the island. There are two ways to get to Glymur, either using the eastern trail and coming back the same way, or by starting with the northern trail and finishing by coming back on the first one, in a loop. 
We must advise: bring water shoes and waterproof clothes as you will need to cross a river at some point.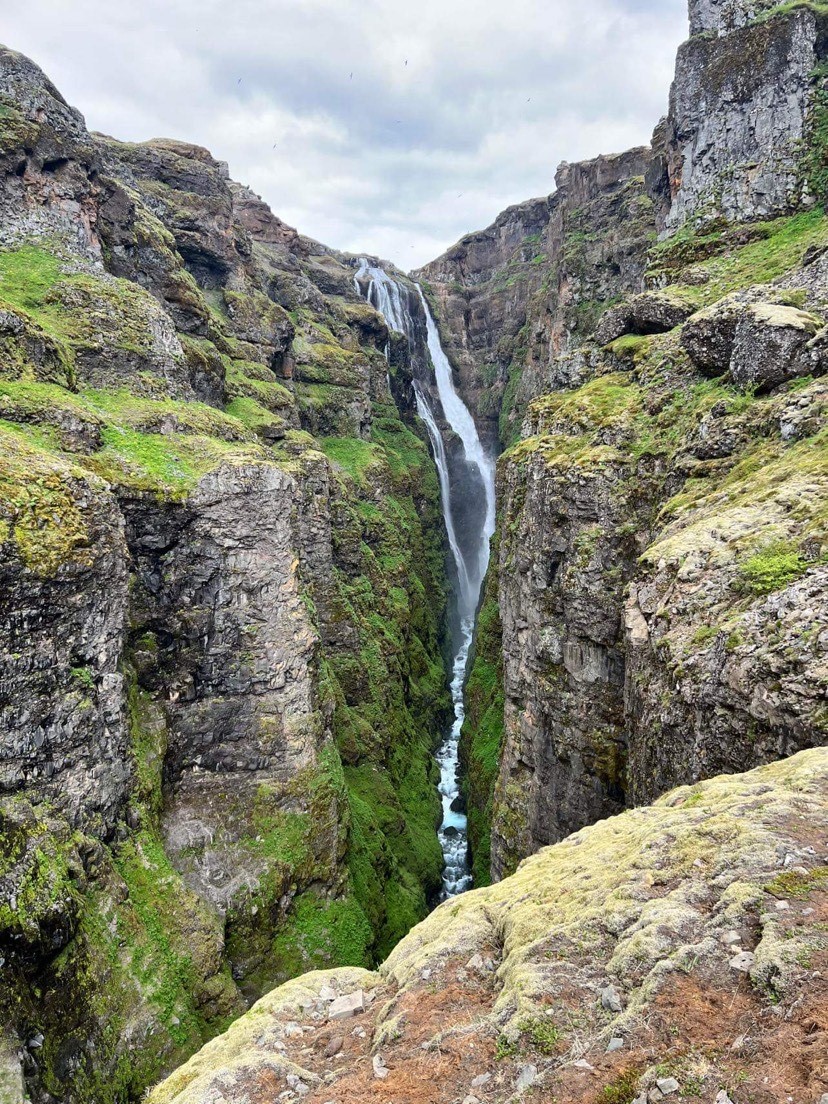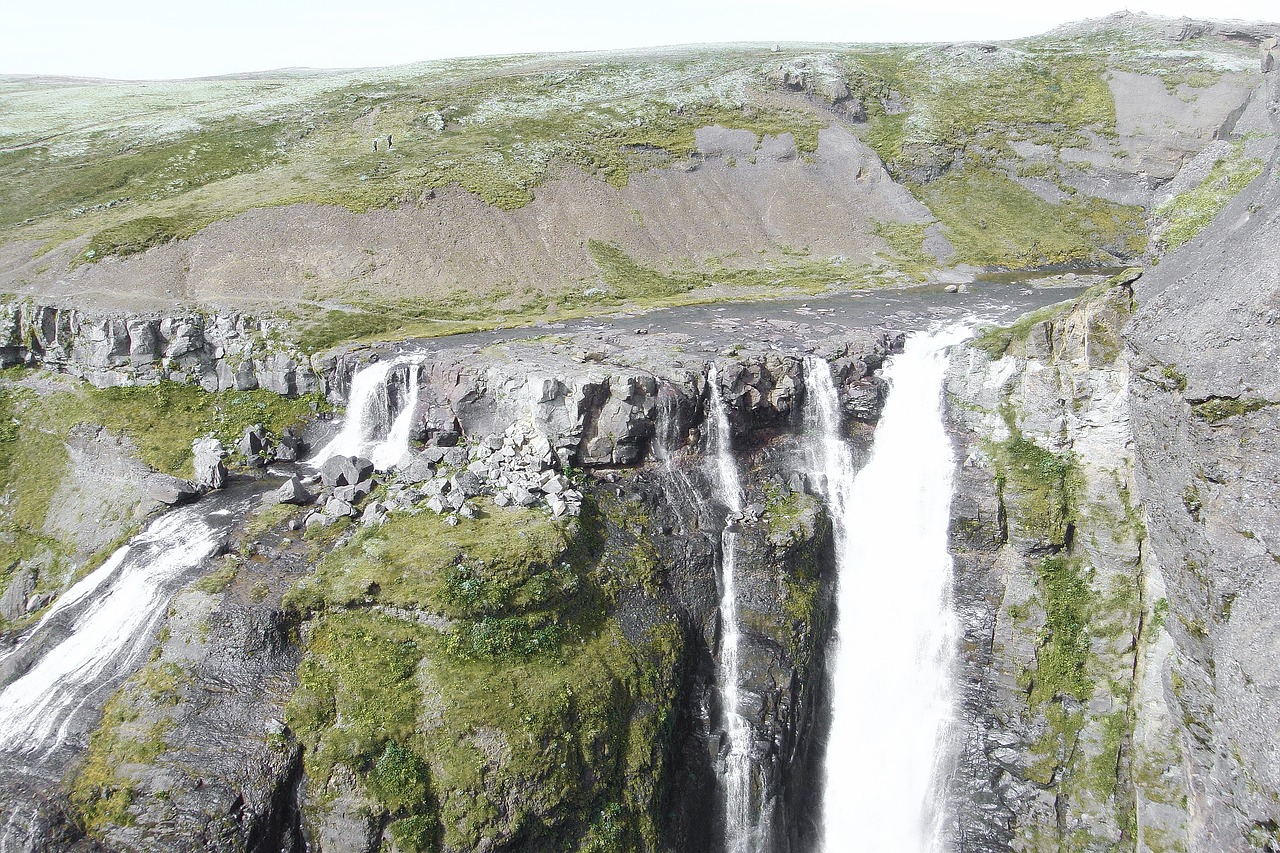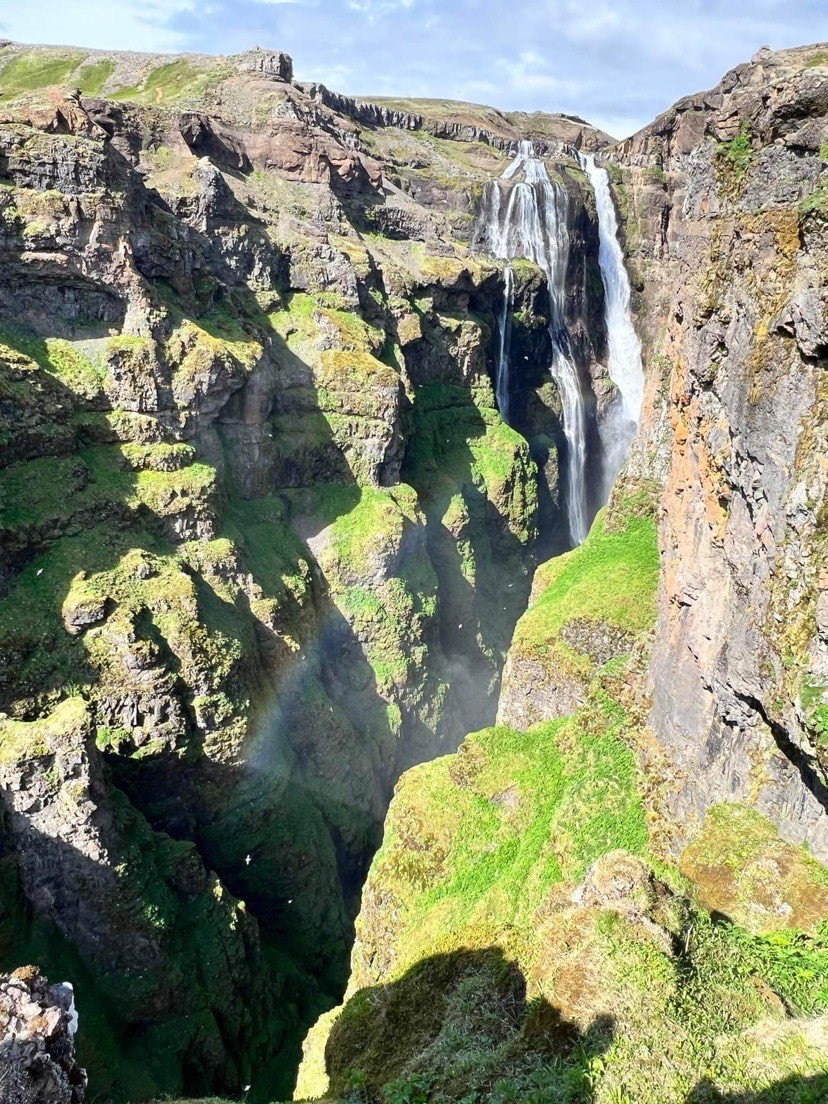 Stuðlagil

canyon

4 hours

Level = easy

Distance = 10km

Ascent = 500m
Studlagil canyon has become increasingly famous to tourists over the last years and is now probably one of the must-visit places of the island. You will be taken away by the rare beauty of this landscape, which will definitely make you feel like you just took a trip to a different planet. 
There are two different ways to visit Studlagil, let's put it like this: the easy way but not with the best view, and the harder way but with the stunning views from walking in the canyon.
In this guide we will talk you through the second option, as the first one doesn't involve a hike. The hike to the canyon itself starts from the eastern side of the river, coming from the north you will have to exit road 1 to find a small gravel road (it's not an F road, which means you can access it without a 4x4, but try to drive slowly and carefully, as there are many holes that could be dangerous for any low vehicle). At some point you will see a left turn that leads to a small bridge on which you can park and start the hike there. If you have a 4x4, you can try and go further to the next parking spot. The hike from the first parking lot takes about 2 hours one way, so make sure to plan accordingly. 
Once you get to the canyon, you will have to climb down using a rope to reach the bottom part of the canyon, we don't recommend it for young children, as the basalt columns can be spaced from one level to another and thus require to be of a certain height to climb up and down without risking to fall. Also make sure that you check the weather, in fact some rivers crossing the trail can become impassable if the rain has been striking the area the previous days, or is still flooding when you get there.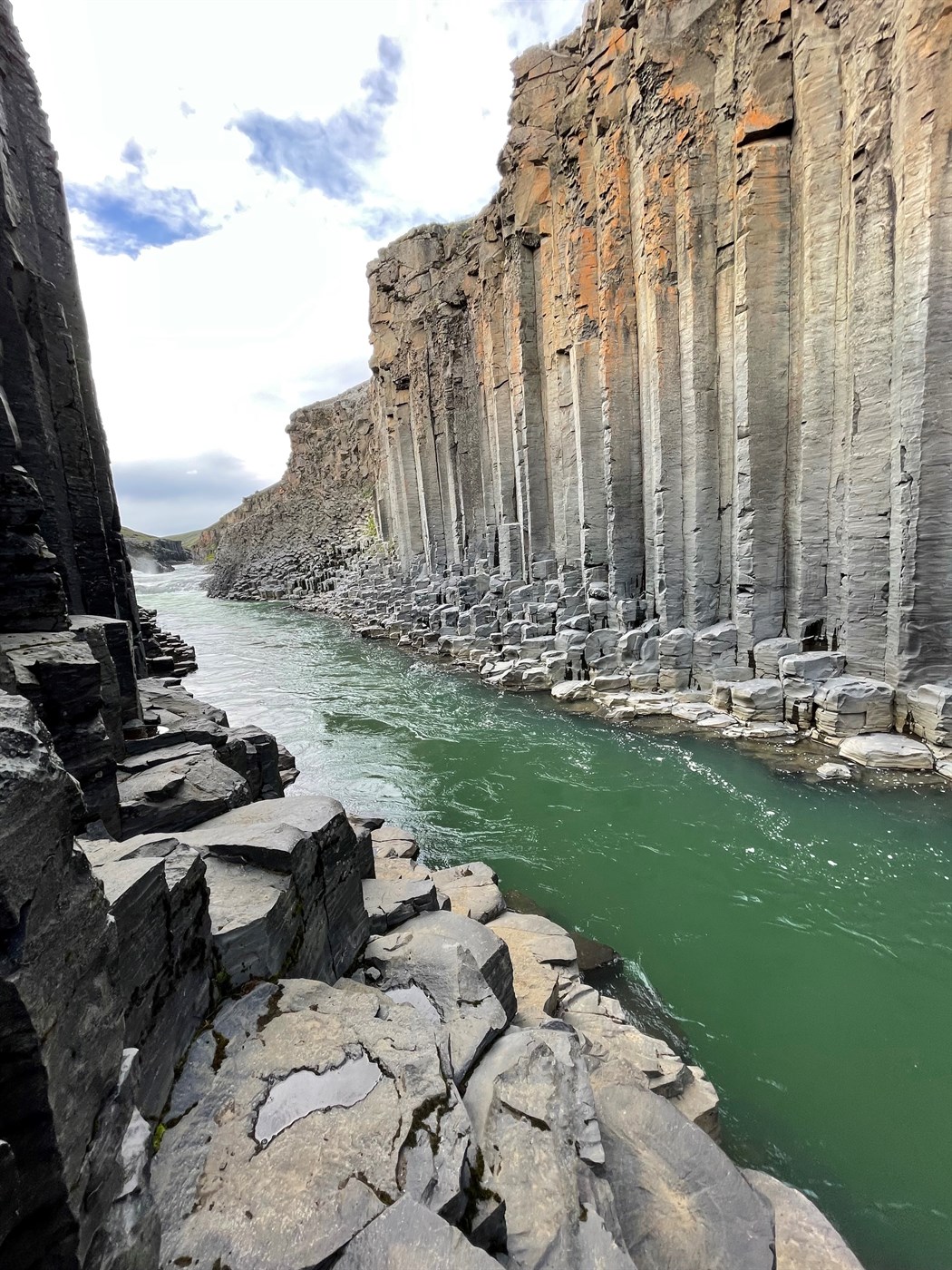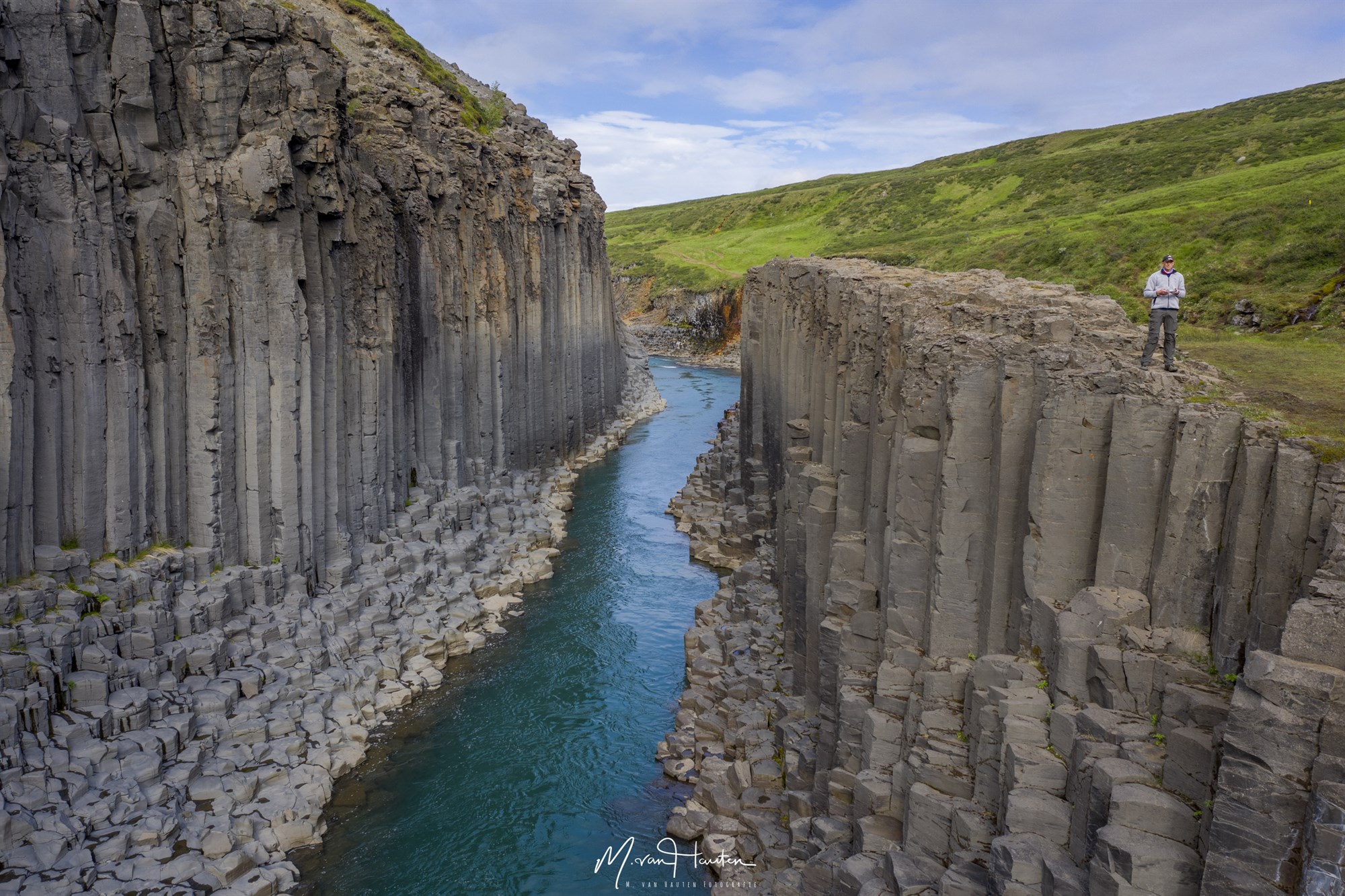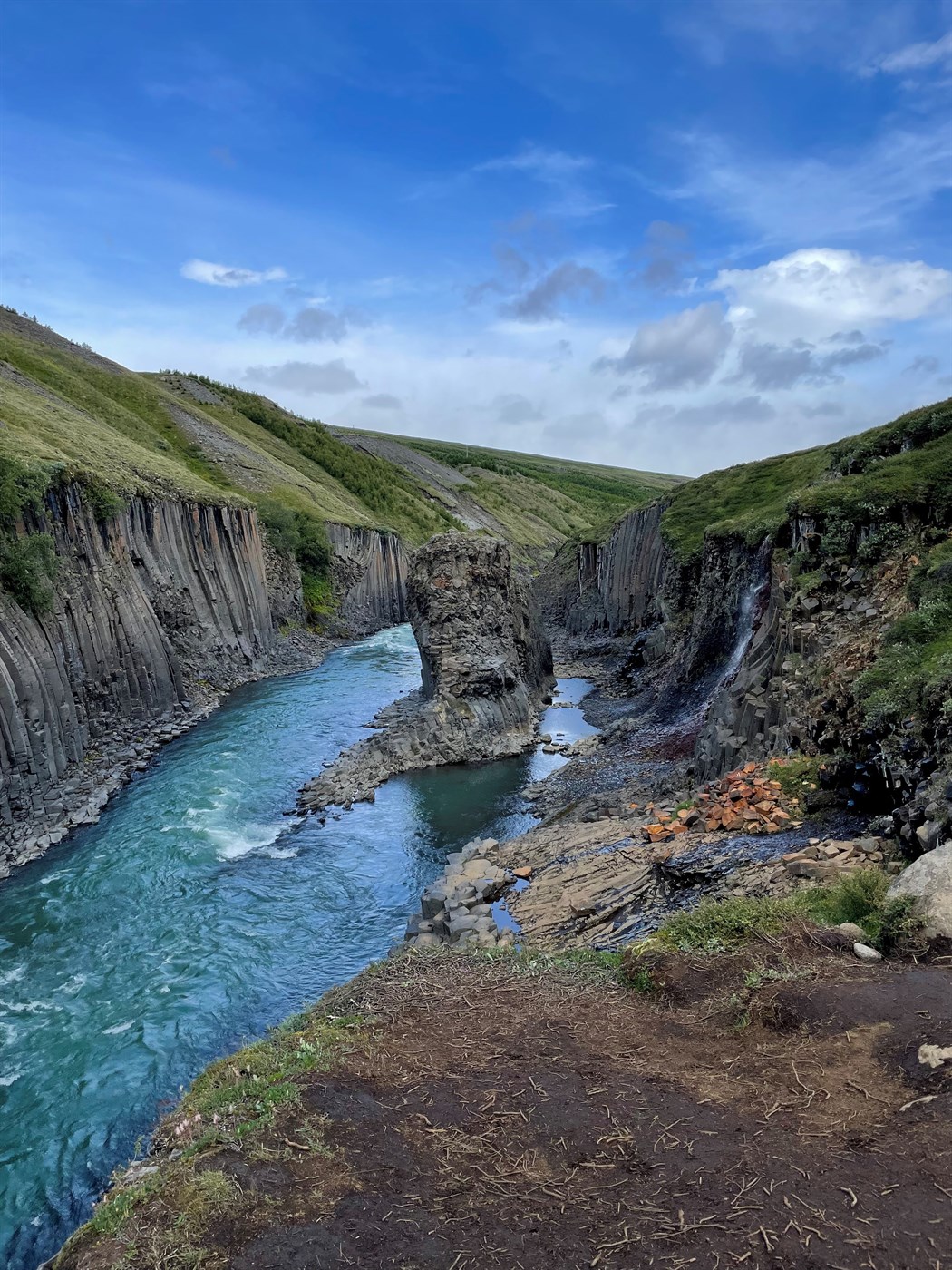 Asbyrgi

3-4 hours

Level = medium difficult

Distance = 14km

Ascent = 500m
Asbyrgi canyon is one of the best places to visit on the Diamond circle, while it used to be a waterfall gorge, it now is famous for offering beautiful and out-of-this-world landscapes: the grand canyon of Iceland, sort of.
The hike around the canyon will lead you to the top tip of it, which is definitely worth the effort to enjoy such an amazing point of view over the valley. You can decide to follow the complete loop, or to turn around and come back to the main starting point, where you can also find a cute little campsite that will be perfect to crash for a night. 
---
Multi-day hikes/treks
Laugavegur

4-5 days

Level = difficult

Distance = 54km

Ascent = 1702m
Laugavegur trail takes the average hiker about four days. The path is 54 km long (about 33 miles) from Landmannalaugar to Þórsmörk and allows the hiker to experience diverse landscapes along the way.
Seasoned and tough hikers will enjoy every moment of the Laugavegur hike. Remember to carry your camera and tell the world how amazing an experience you'll have throughout your trekking.
Most of our KuKu customers choose to do this hike before their campervan rental or after they return their camper back to KuKu Campers, and opt to use the shuttle bus from Reykjavík to Landmannalaugar – otherwise they need a 4x4 vehicle which they will leave behind and after they finish the hike in Þórsmörk they need to pick up their vehicle from quite some distance. And hey why leave the awesome KuKu campervan unattended for several days when you can not enjoy its company? 
There are also plenty of organized guided tours that will take you through the trek in very safe conditions, Icelandic Mountain Guides has trips available.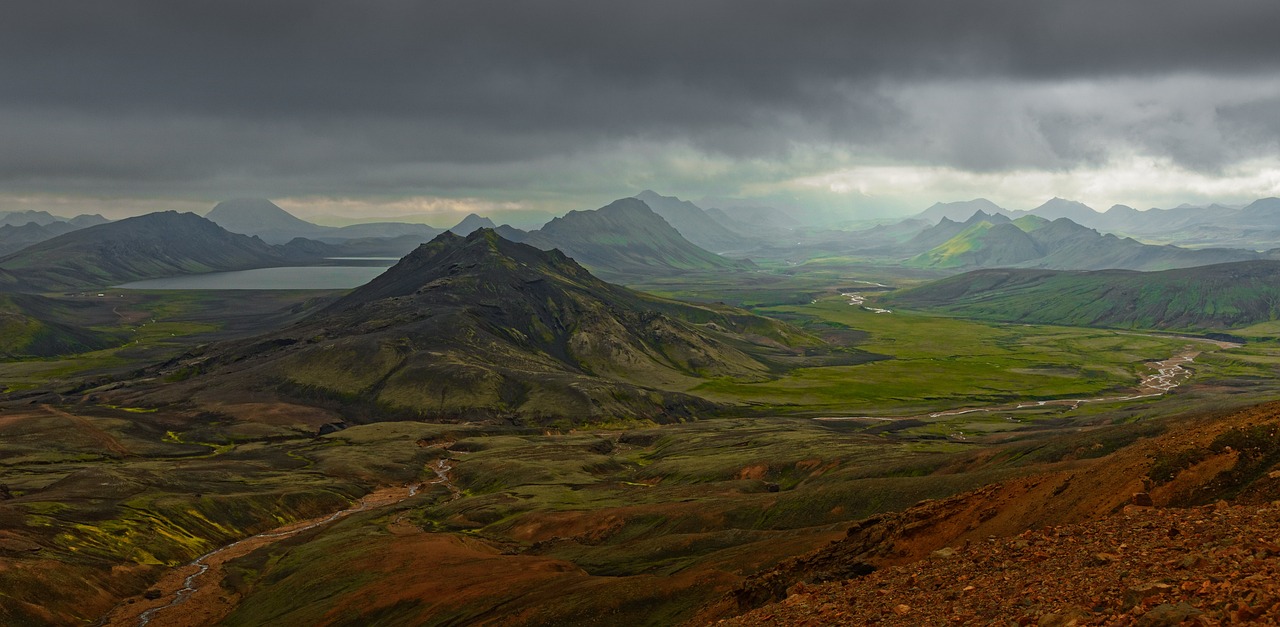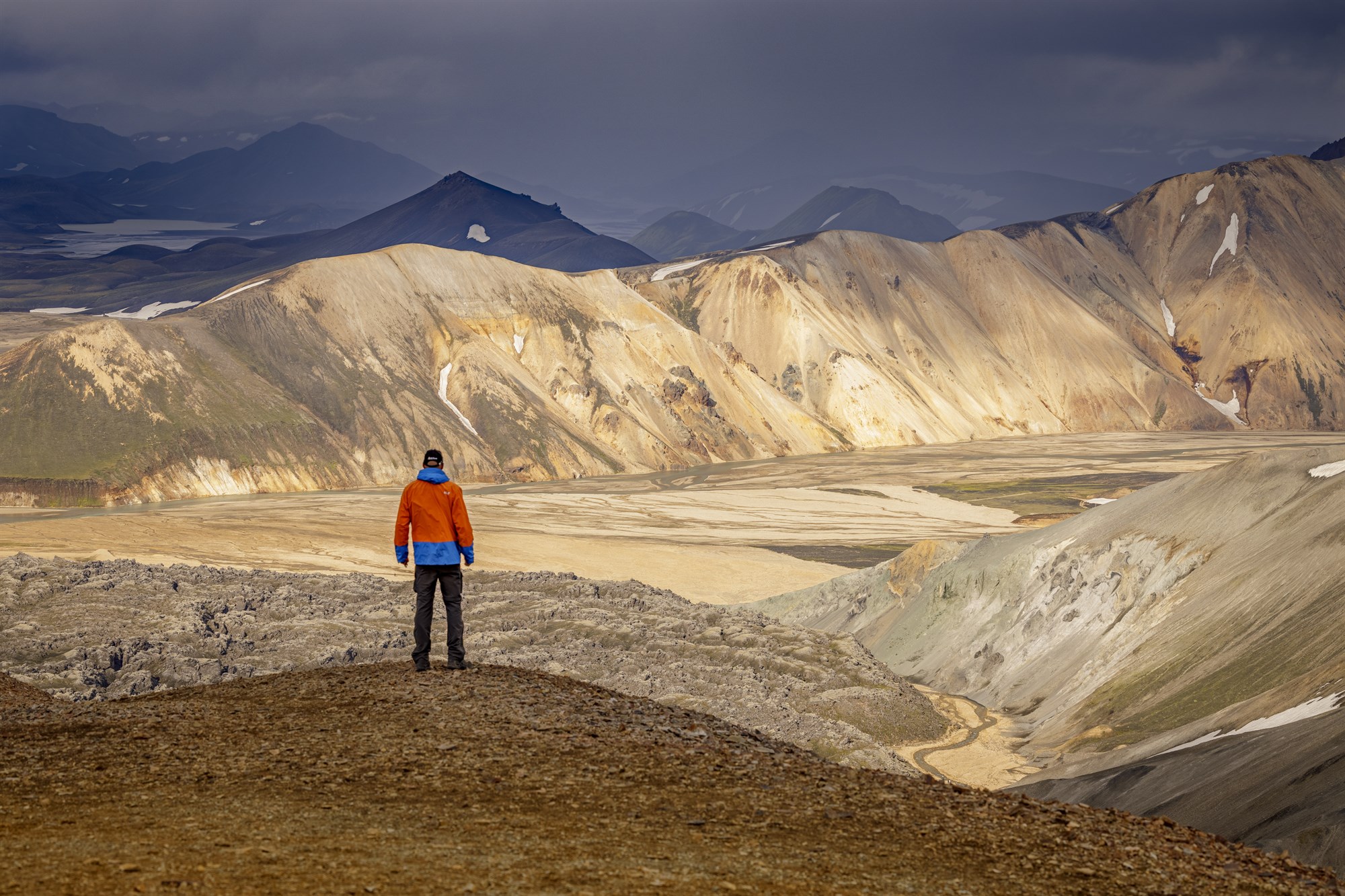 This natural reserve is located in the northernmost peninsula and is home to a huge population of arctic foxes. Other wildlife in the nature reserve include field mice, seabirds and seals along the beaches. There are also over 270 species of ferns and flowering plants in Hornstrandir Nature Reserve, including some very rare ones.
The hard part is to access this region of the Westfjords, in fact the only possible way is to take a ferry from Isafjordur through companies like Borea or Sjoferdir. The ferry costs between 80-120€, which makes about 160-240€ back and forth. You can also choose to book organized tours to explore the reserve with a guide.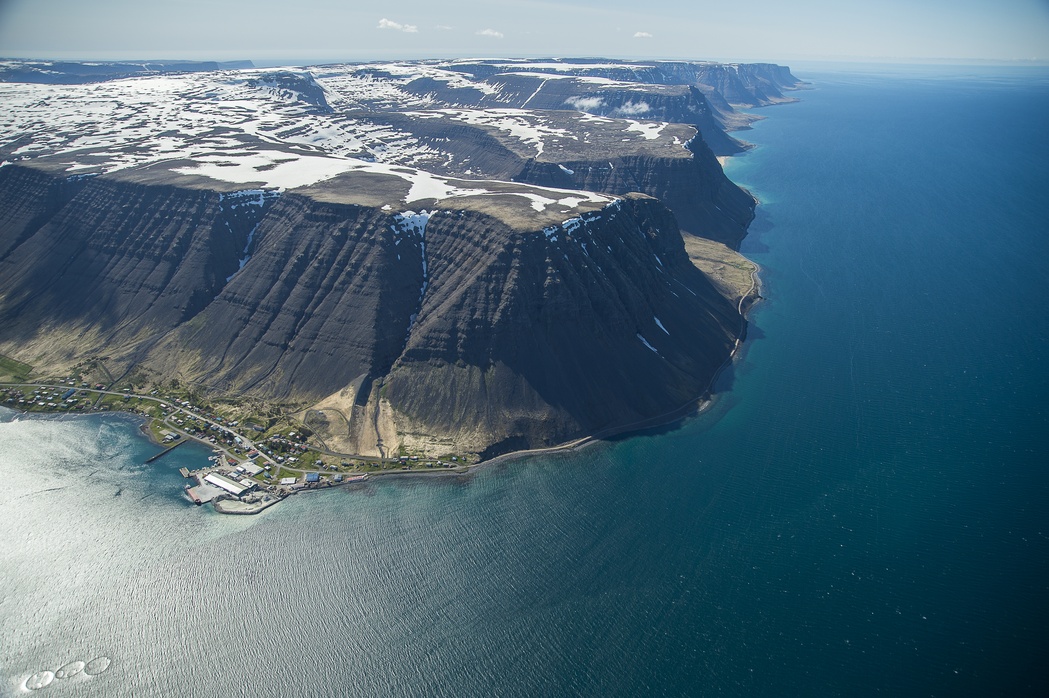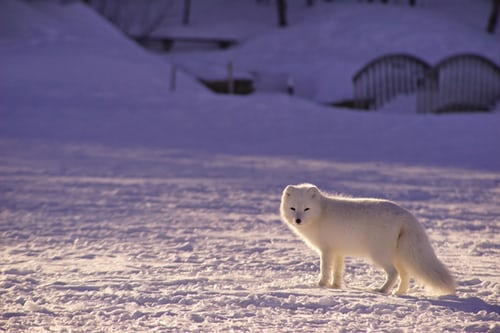 Viknaslodir

4-5 days

Level = difficult challenging

Distance = 74km

Ascent = 2 498m
Beware that Viknaslodir is not a perfectly set trail like Laugavegur, but more of an area with lots of different trails. The trek route starts from Bakkagerdi and finishes in Seydisfjordur, it takes about 5 days to complete and is, like most multi-day treks, a difficult hike, the trail shown on the map is the most famous and thus it is well marked, but we still suggest you bring a map with you, especially in case you run out of battery, or coverage.
Again if you prefer to go for a guided tour, you can check Icelandic Moutain guides.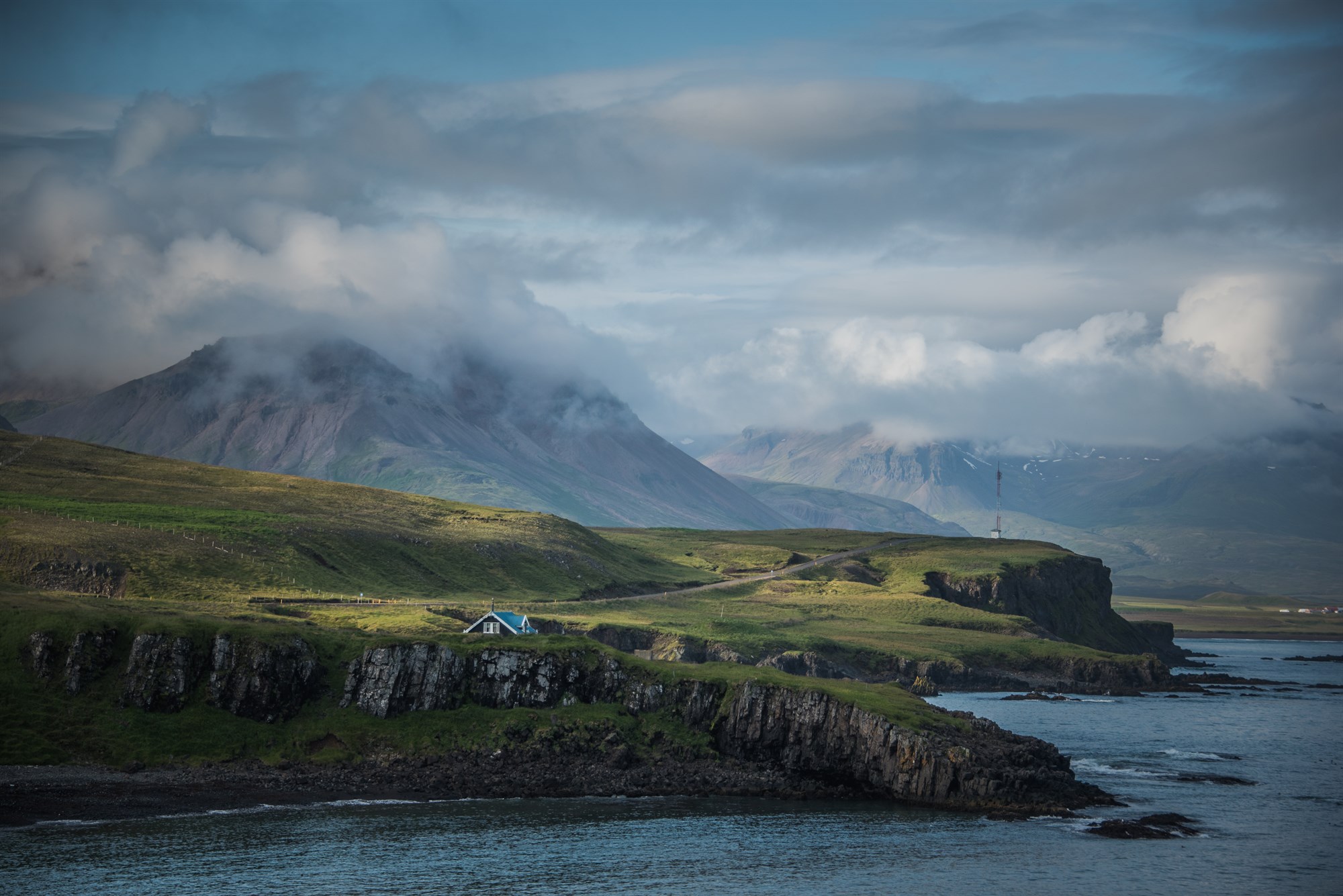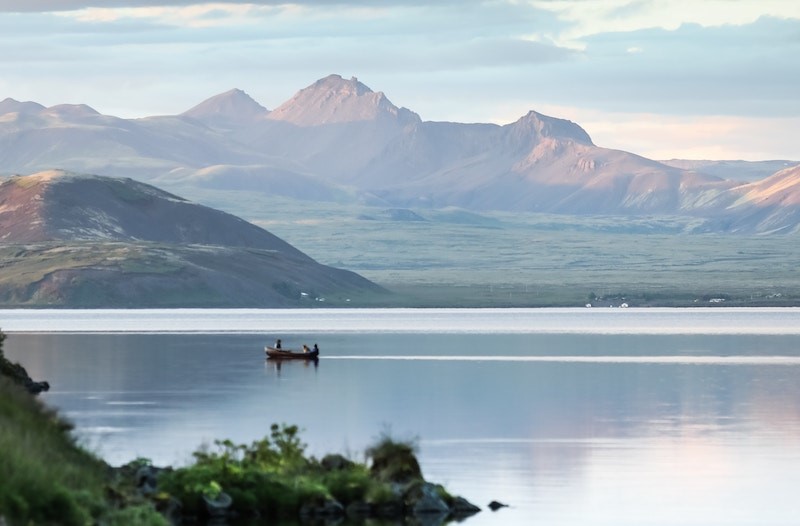 Fimmvorduhals

2 days

Level = medium difficult

Distance = 26km

Ascent = 1291m
If you're looking for a trek where you never get bored, this one is just for you. Along the Fimmvörðuháls trail, starting from Skogafoss waterfall, you will see about 26 waterfalls, 1 volcano and 2 glaciers!
There are plenty of campsites along the way, although not all of them have full equipment. We strongly suggest you to spend a night in your camper at Skogar campsite to enjoy the views of the waterfall before heading towards the Thorsmork area.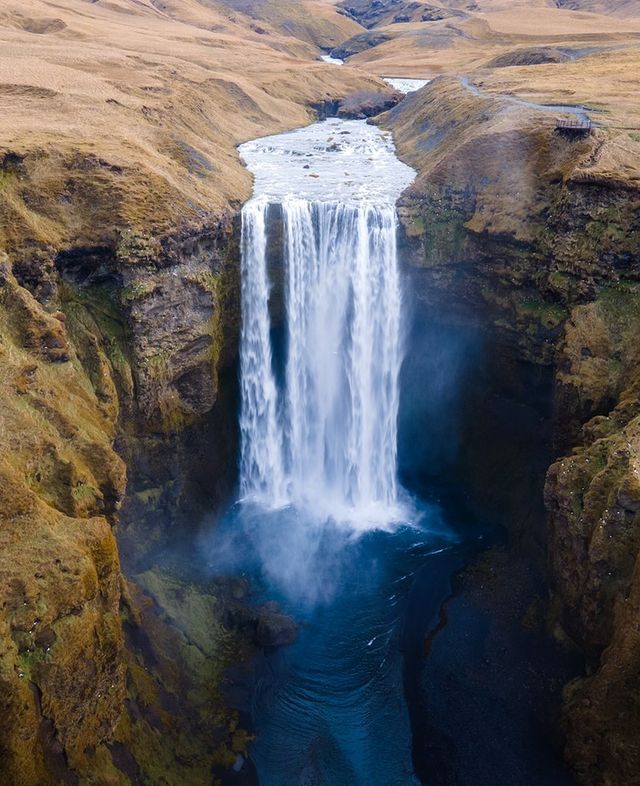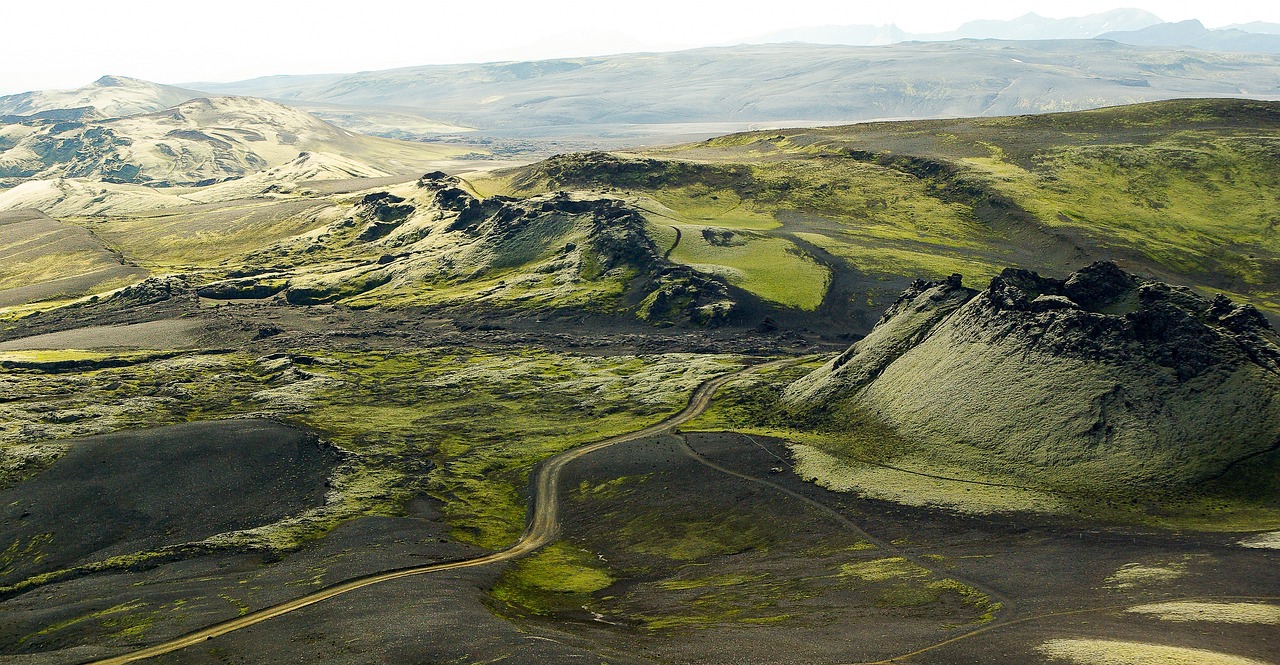 Askja trail

5 days

Level = difficult challenging

Distance = 95km
If you're looking for a true scenic highland experience while trekking in Iceland, then this trek won't disappoint you ! You will see all kinds of landscapes along the way, lava fields, waterfalls and the Askja area, which is definitely an otherworldly place.
The best part about this trek, is that it is not very touristic, so you will not be bothered by the crowds along the way. Being able to enjoy the mysterious silence of Icelandic highlands is a privilege! This trek is truly a hidden gem in the category.
The downside to that, is that the infrastructure on the trail is very basic, and paths can sometimes be hard to see, and not always marked. So make sure to carry a detailed map of the trek with you at all times.
Like most other discussed treks, you can access them on your own or with a guided tour, according to how confident you feel about hiking in remote places.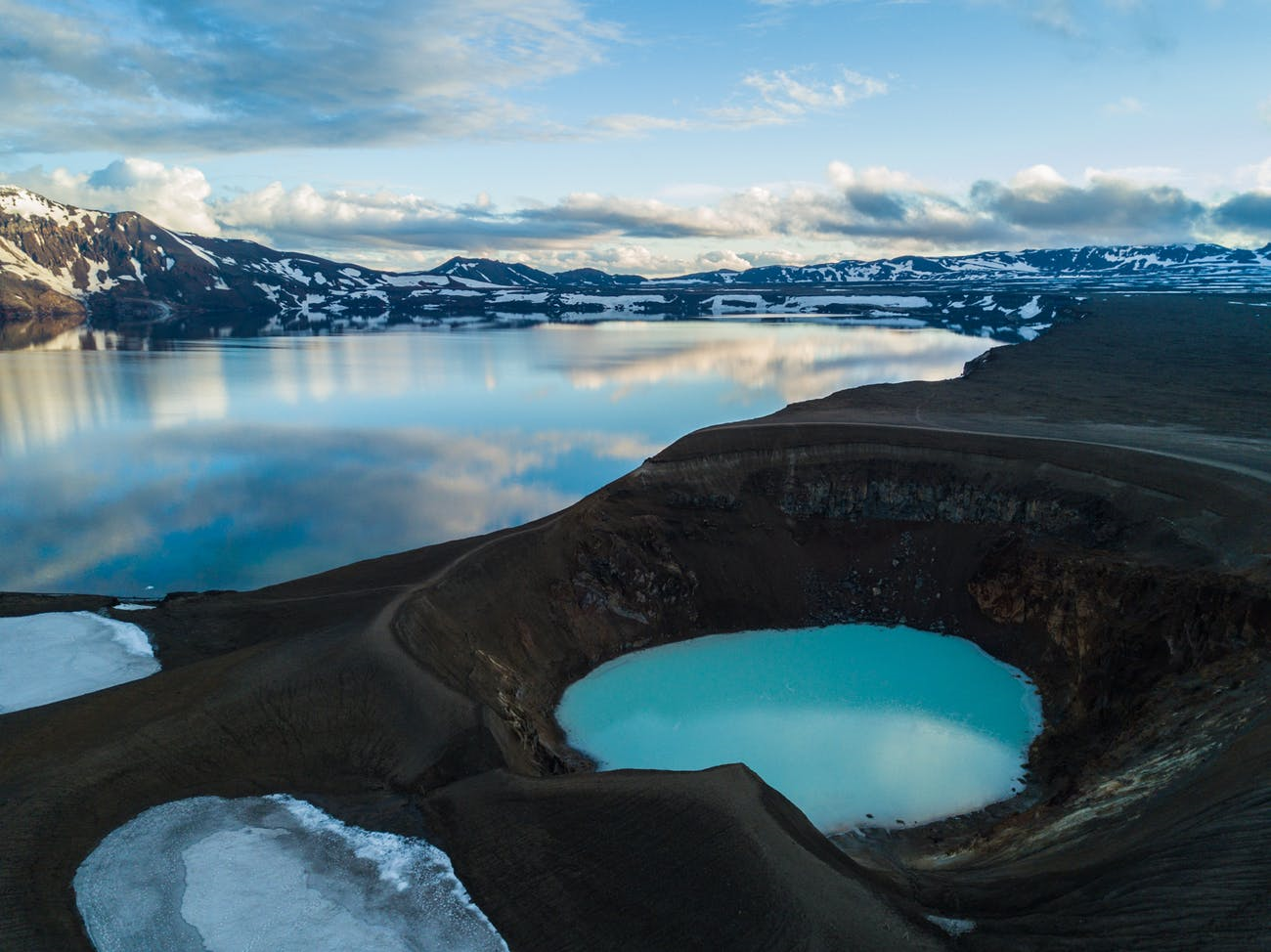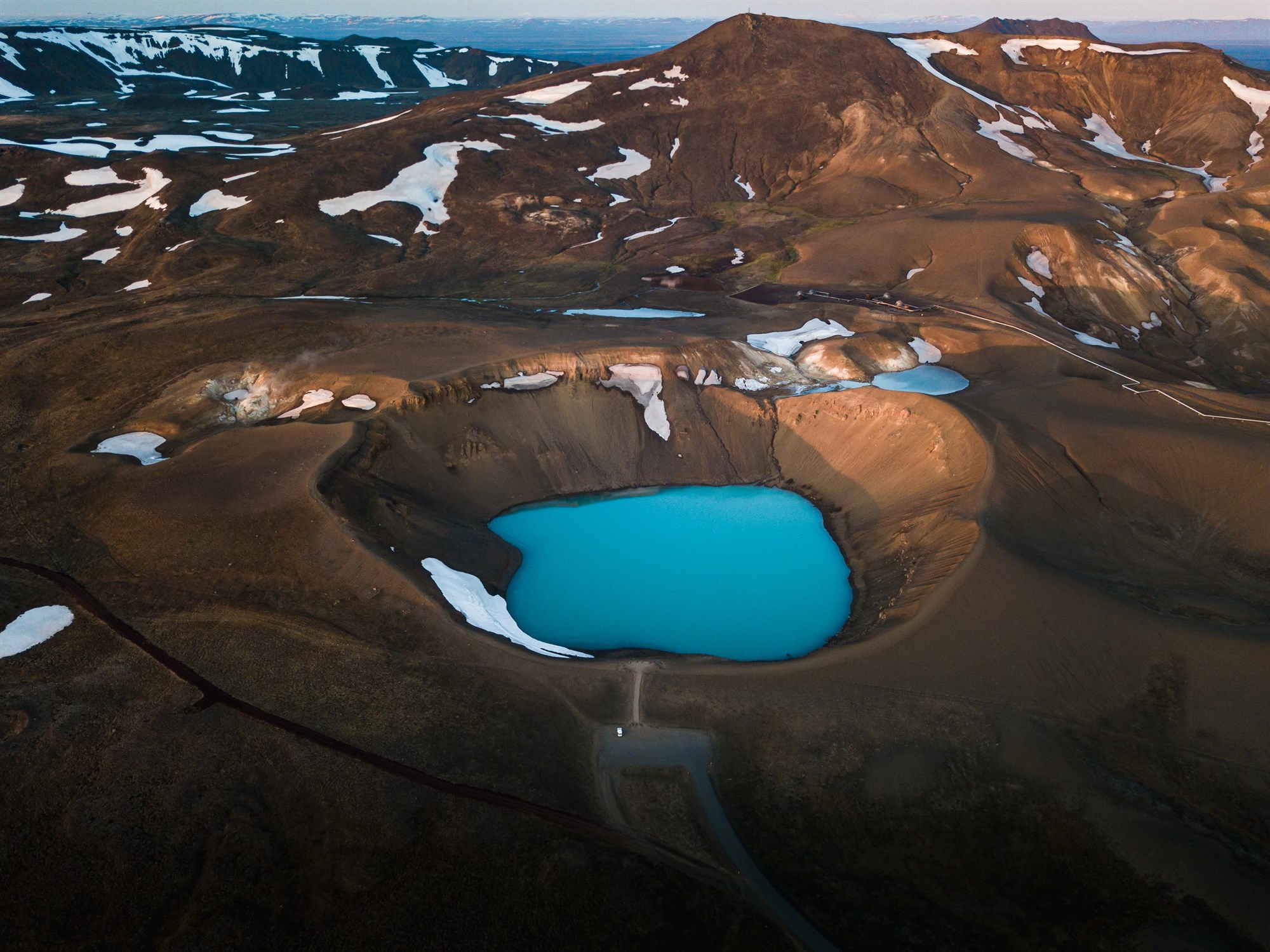 ---
You mights also like...
---