Why there is no best time to visit Iceland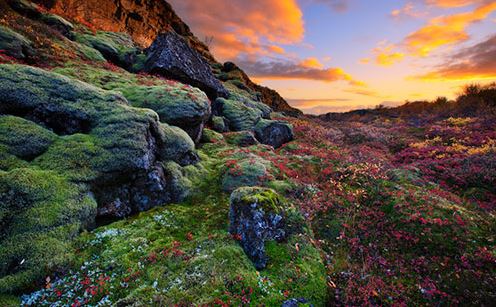 WHICH SEASON TO VISIT ICELAND ?
Many people have asked the question, "when is the best time of the year to visit Iceland?"
The answer is simple, there is no best time to visit Iceland, each season is unique and that is what I'm going to talk about here.
Iceland has been booming with tourism over the last few years, each year a record-breaker than the year before. We easily see over 2 million visitors per year from countries like the United States, Canada, the United Kingdom, France, Germany and Australia.
It truly is a place with picturesque sites to experience like no other place on earth.
There really isn't bad times to visit Iceland, it totally depends on what you're looking for on your trip. If you've never been for a trip to Iceland before, then it would be beneficial to understand what Iceland looks like during each season.   
In this blog, we will give you an outline the highlights from different seasons in Iceland so you can decide which time of the year you prefer to visit!
And, just for you my friends, at the end we give you our personal best time to travel in Iceland: The Ultimate Kuku Choice!
Seasons in Iceland
Coming in Iceland in winter or in summer would be a totally different experience.
We know that in other countries of the world there are 4 seasons: Winter, Summer, Spring and Autumn. But here in Iceland, we usually split the year in just two: Winter and Summer.
Those seasons affect a lot how we live, especially because of the daytime, with days being endless in summer, and short in winter.
In winter Icelanders just stay in their nice and warm houses, waiting for the warmer days to come. But they also enjoy hot tubs during this season, and we strongly recommend for you to do the same if coming during wintertime.
But in summer, they are all out, going to parties, to a summer music festival, traveling and camping in the country, etc… It is so good to enjoy those things after spending those colder and darker months spent inside.
But, just for you, here is what you can expect from you travel in Iceland for each season!
ICELAND IN WINTER
From September to November   
As Autumn takes its turn, tourism tends to start dropping again, the days have started getting shorter, and animals like the puffin bird begin to migrate for the season. 
Yet with all the winding down, Iceland never looks more beautiful than it does in the Fall.   
You'll still get plenty of good weather, (although Iceland is known for going from a clear sky to blizzard conditions quickly) but by bringing the right clothing and being protected within the comforts of your camper van, you'll be fine.   
Unique colors
This is a perfect time to travel around the island and see some of the plants and trees begin to turn orange, red and yellow before winter. This is also a great time to visit little villages and towns and experience Icelandic cultural life.
Lower prices
Yep, prices have just drop during this season. And it is really good if you're traveling in Iceland on a budget, for more tips on saving money during your trip, just read our dedicated article: Budget Tips
Tourism volume
There are less touristic crowds, and it's a great time to take some time to yourself to really soak in all the little things around you.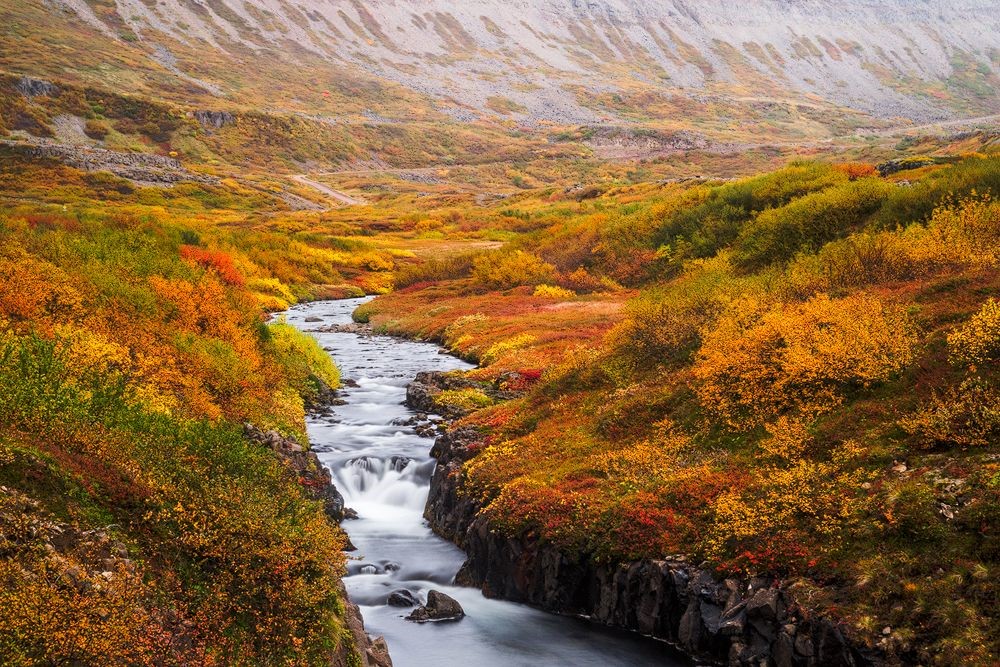 From December to March 
The winter months in Iceland obviously include more severe winter conditions and negative temperatures, but this is also the time in Iceland when the days are much shorter.
In fact, December 21st is Iceland's shortest day, with nightfall beginning around 3:30 p.m. and daylight finally cracking around 11:30 a.m., leaving about 4 hours of daylight! Although there is less time to go and see the landscapes in the sunshine, there is still plenty to enjoy during these darker months.
Despite that, the sightseeing is just incredible in winter, and you definitely want to see by yourself the purity of the landscapes filled with snow and ice. The lands, the mountains, everything is white around you!
During winter months the wind also carries thin snow on the road which creates a particularly beautiful scenery.
There is plenty of things to do in winter, and we made articles about that:
Winter Lights Festival 
Although the winter months are darker, they are a season where Icelanders focus on celebrating the light. The Winter Lights Festival is an event held in the capital city of Reykjavik. 
Every year, in February, you can enjoy what we call the "Museum Night", where every museum opens their doors from 18:00 to 23:00. You'll find special event such as theatre, lectures, lives music, films, and others… for free!
During the "Pool Night", all the swimming pools are free and opened from 17:00 to 22:00. Special light installations are created in the pools, that will make your pool experience so unique.
You must also attend to a light spectacle where some images and movies are projected on Hallgrimskirkja, the biggest church in Iceland.
The Northern lights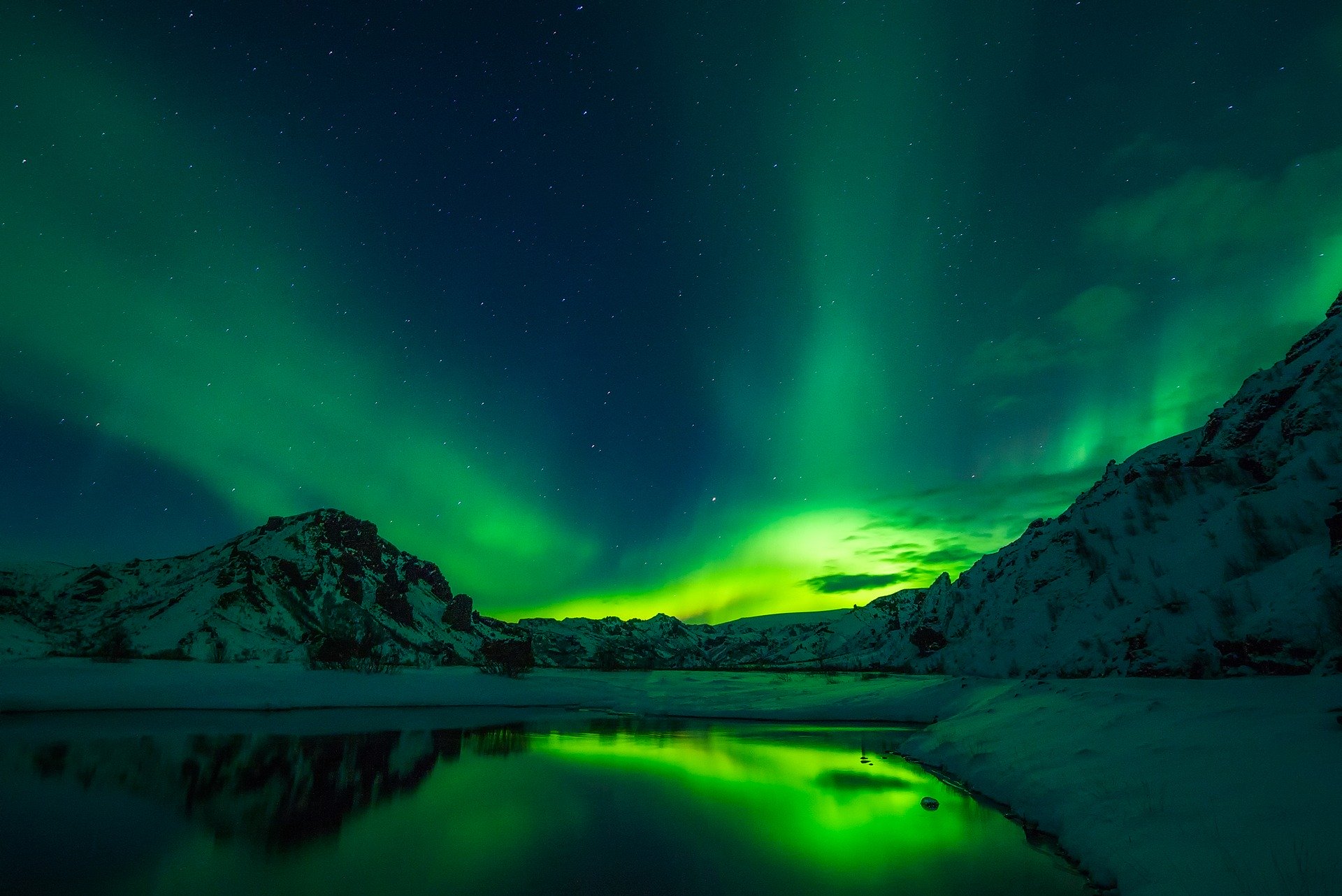 The winter months are also the best time to experience the natural phenomenon of the Northern Lights, which occurs more frequently during the longer nights. 
The best place to see this take place is on the northside of Iceland, or even in the city of Reykjavik. Be sure to have your camera and selfie stick - this is an outdoor event that you won't want to miss!   
Want to know more about auroras? We dedicated a full article that explains how they work, when and where! Want to know more just read our Northern Lights article!
Slow tourist season 
Lastly, the winter months are much slower as far as tourism goes, so if you're looking to experience some popular spots like the black sand beaches and or even enjoying soaking up the warm lagoon waters, you won't have to worry about tons of people. 
Ironically, winter is a great time to visit Iceland, and we encourage you to consider booking your Kuku Camper Van during this time!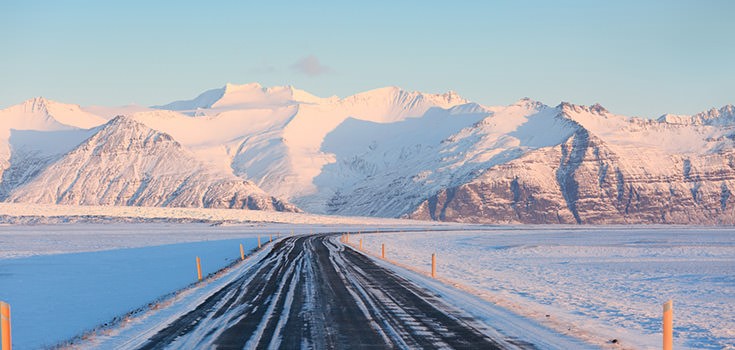 SUMMER IN ICELAND
April to May
This is the "Waking Up" season for Iceland, like a person yawning and stretching to get out of bed to start the day!   
The weather can be bi-polar - one day it can be sunny and warm, the next it can be unexpected blizzard conditions. One phrase you'll hear often here is that "there isn't bad weather in Iceland, just bad preparation".
This is true. It is always a good time to travel around as long as you're prepared for the weather!
Puffin, the magic bird 
Okay, you may have thought that traveling to Iceland during the Spring was a reason to save on airfare, but really, you want to be here to witness the exotic puffin bird,  which only appears during the months from April to September!   
Puffins can be seen on various places in Iceland, in west Iceland, you can go to the Westman Islands, where you can see the largest colony of the country. But can also see plenty of them if you go to the east coast of the island, at Borgarfjörður Eystri for example.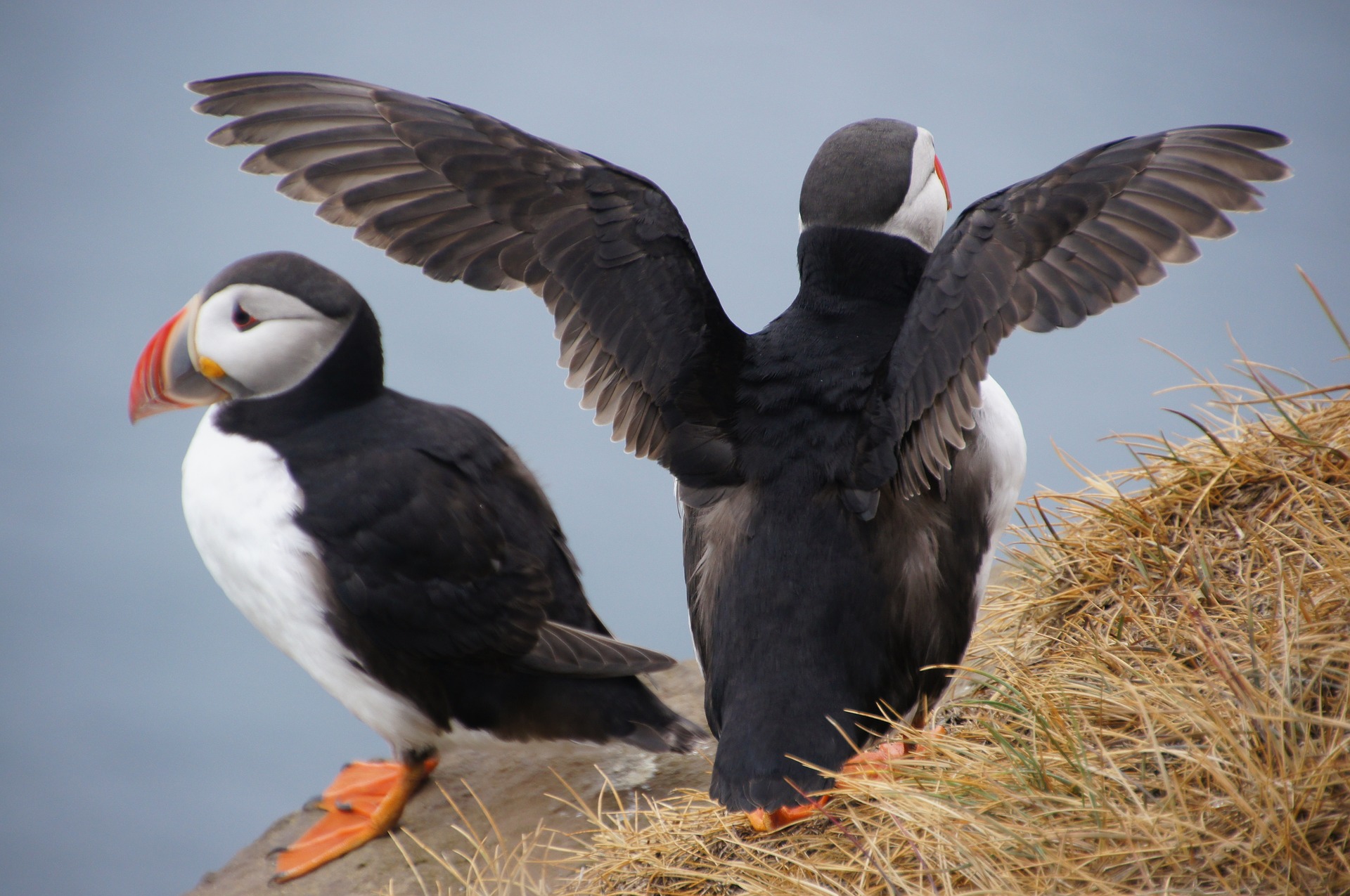 Photo: Spring is the best season to see puffins in Iceland
Fossavatnsgangan Ski Marathon
Do you love skiing? The Fossavatnsgangan Ski Marathon during the month of May offers skiers several races from 1 km for beginners and children to 50 km for the pros.       
Tourism volume   
The level of visitors in Iceland begins to increase during the month of May, as Summer also begins for Icelanders. But that's okay, there's still plenty of room for everyone!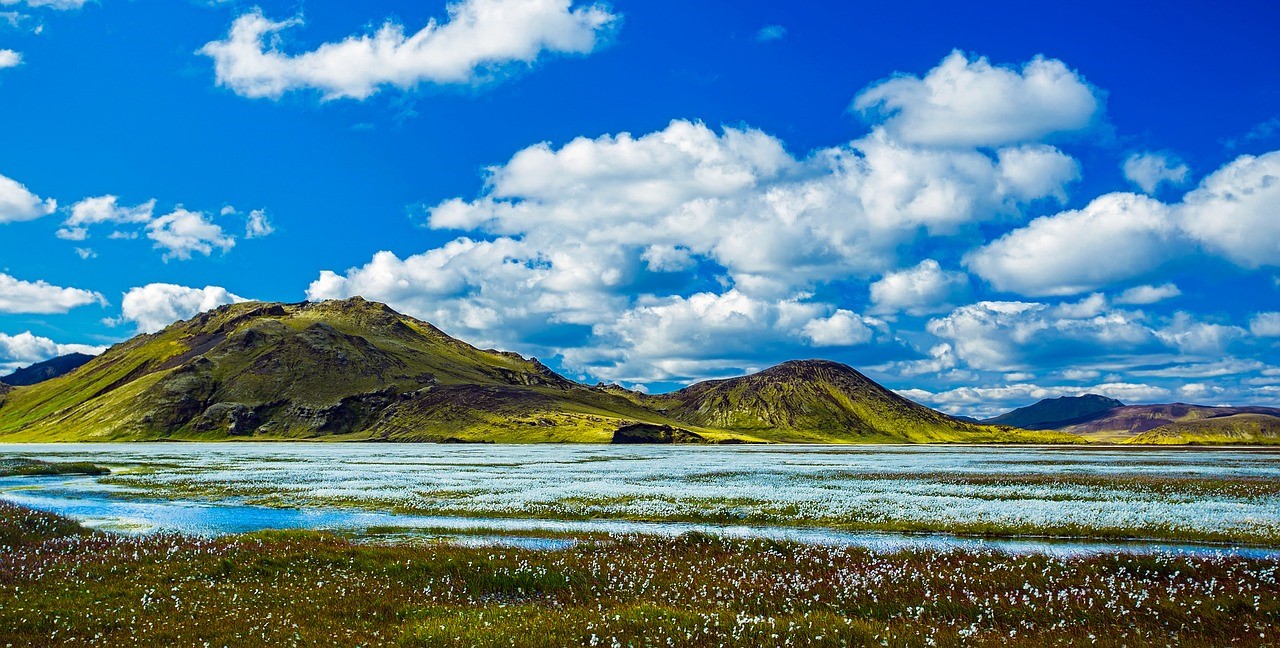 From June to August   
Summer is when Iceland comes to life! After months of long cold night, the people of Iceland are ready to get out in the sunshine once again!
The weather is much better that time and the sun shows up more often. During these months, the land is so green, and the flowers are all out, sheep walking on and off the road in total freedom (be really careful by the way), this is simply a wonderland.
Camping is the best thing to do during this period, there's no better experience than going out from your tent or your campervan in the morning enjoying a nice sunlight warming up your face.
Be sure to take a sleeping mask with you if you're traveling in a campervan, trust me, you're gonna need it, it is always daylight down here!
The Midnight Sun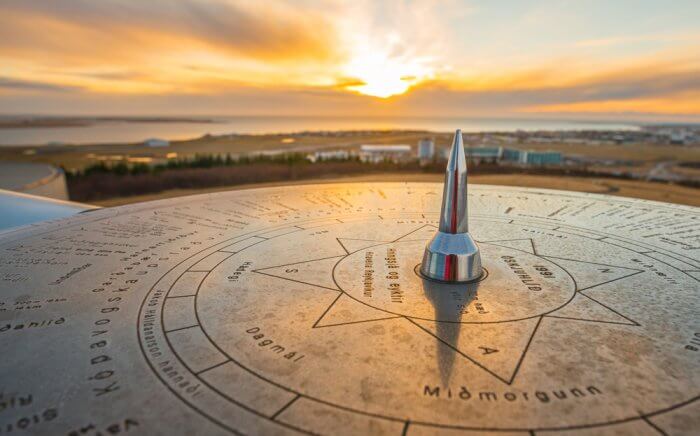 In summer season you can also experience one of the most incredible spectacles on earth: the midnight sun! This is a natural phenomenon that occurs each summer in Iceland, where the sun is always just above the horizon.
During this period, the sun never sets, which gives you incredible colors all around you, taking pictures is so satisfying during this never-ending golden hour.
Iceland National Day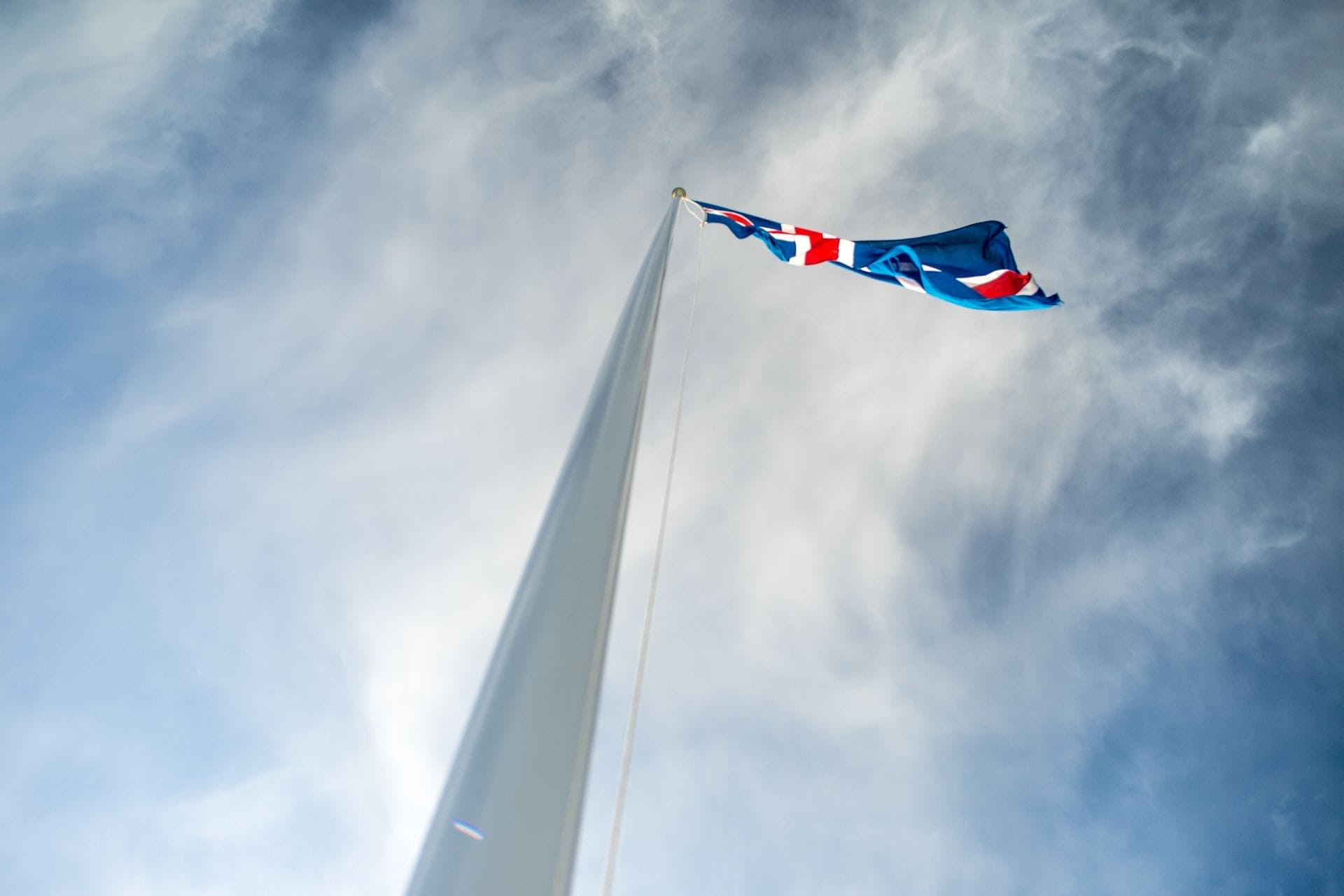 One of our favorite events is the Icelandic National Day in Iceland.
The national day commemorates the day where the Republic of Iceland was founded, on June 17, 1944. But you would already know if you had read our article about Iceland, no worries, it's right here : Everything you need to know about Iceland.
People here really like this celebration because it also means that summer is coming back.
Every single city and town in Iceland celebrate this day and it is something really expected by Icelanders. In Reykjavik the streets are crowded with people attending to nice parades, some are dressed in traditional Icelandic costumes or in very colored clothes with the Icelandic flag painted on their face.
The kids play in bouncy castles, you can buy food, hot dogs or nice icelandic ice creams from stands in the streets. It is the perfect day to spend with you family, remembering how good it is to live in Iceland.
Tourism volume
This is the busiest season for Iceland tourism. Hotels and lodging get booked out months in advance, and popular visitor destinations get pretty full     
But there's a reason the summer months are busy - there are so many places to go and things to see! This is the best season for road tripping along Route 1 for the week, to climb mountains, explore lush terrains of tall grass and crystal-clear streams. Besides the door being open for more traveling and sight-seeing, there are also many exciting events and festivals that take place.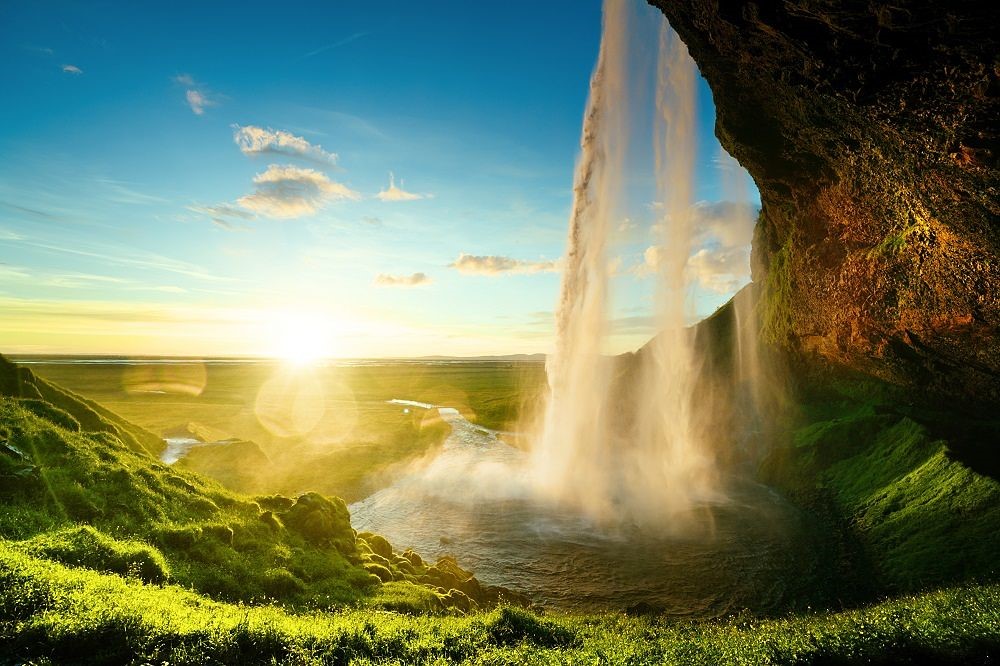 KUKU'S CHOICE
Our best time to visit Iceland in 2021
If you were asking for an expert opinion, you will be served. At Kuku Campers we have been traveling around Iceland for many years now, in each season and under each weather.
Without more suspense, we are going to tell you our best time to go to Iceland:
For us, the best season to travel in Iceland is during the shoulder season, from late August to September, for many reasons, here are our best:
The weather is still nice, with average temperature from 8 to 13 degrees Celsius in August and from 6 to 10 degrees Celsius in September, you should be all good with a bit of equipment

The days are long enough, so you can still enjoy many things in a day during daylight

You can experience northern lights in September, want a proof?

It's right here

There are less tourists, you can therefore enjoy more each place, take photos without being disturbed, and feel like Tom Hanks in Cast Away in its Icelandic version

The F Roads are still open, that's perfect for your road trip in a 4x4 Kuku campervan.

One of the cheapest time to fly to Iceland: Lower prices for flights and expenditures once on the island.
The period offers a really good in between, this is why we love that one.
But in the end, the choice is all up to you, when are you coming then? During the warmer days of summer and its midnight sun? Or, during winter for its challenging weather and stunning northern lights? 
A recent very serious study made by very competent scientists from incredible universities says that people are enjoying Iceland more in a KuKu Campervan. So whatever season you choose, be sure to rent your favorite, they're all here!