Winter Camping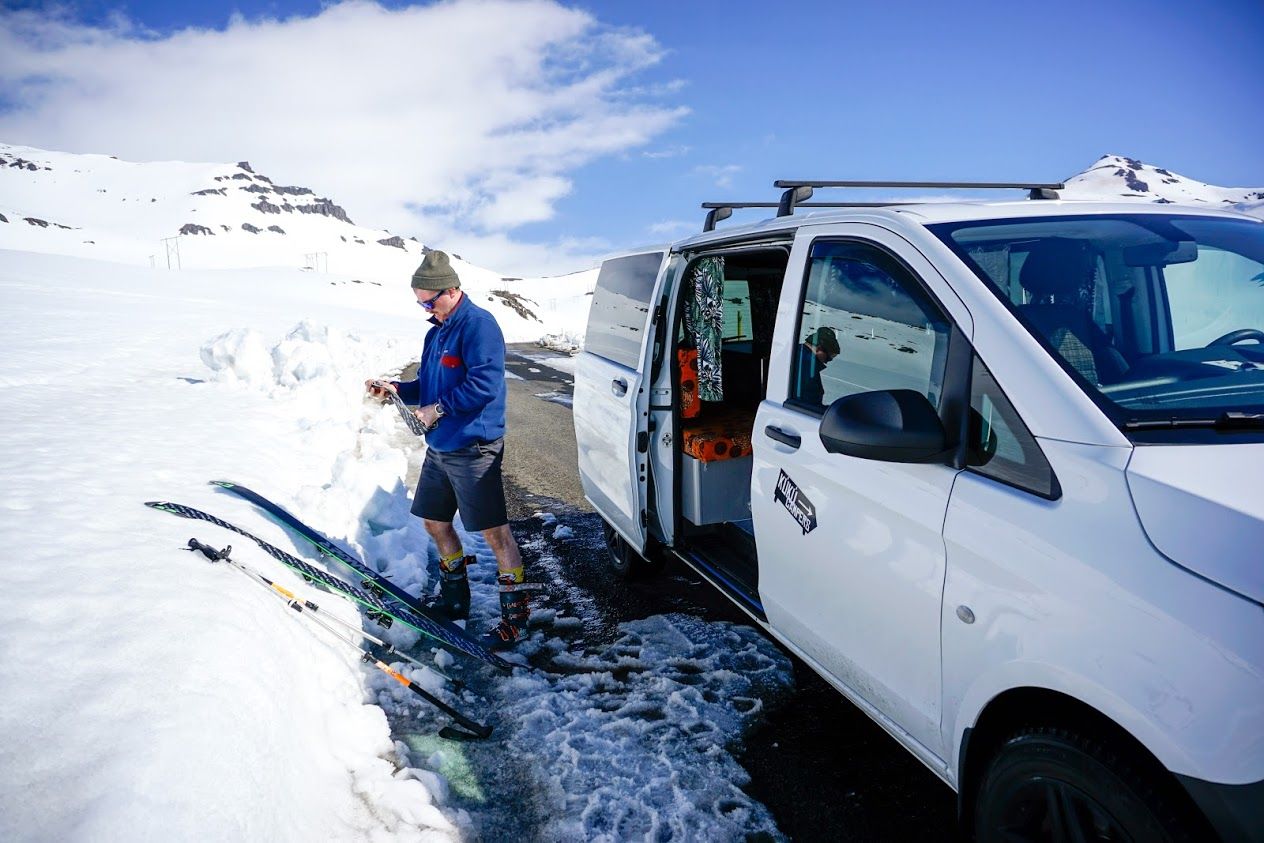 Winter camping in Iceland
A mind-blowingly awesome camping escapade in the chilly wonderland of winter or autumn, all thanks to the one and only KúKú Campers! Brace yourself for the ultimate comfort without breaking a sweat (or freezing your toes off!) because our campers come equipped with overnight heaters that'll make you feel like you're enjoying in tropical warmth, even if there's a blizzard raging outside. We've got your back covered with dual batteries to keep the cozy vibes alive. So, no more sacrificing comfort for adventure—embrace the adrenaline thrills and cuddly pleasure with KúKú Campers!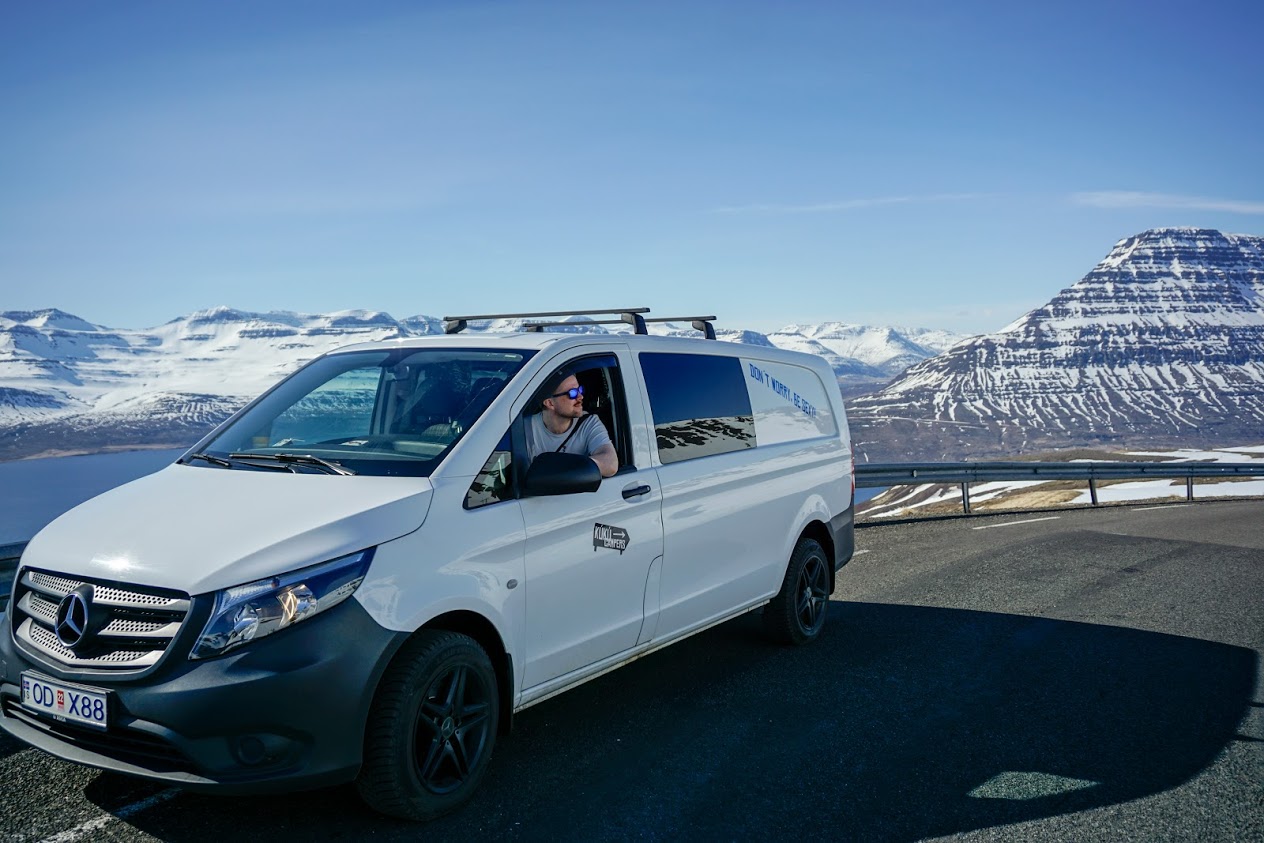 In winter, our road service heroes are at your service, keeping those main roads in tip-top shape all year long. So, fear not, because the road conditions are generally as smooth as butter ! We will give you an extensive overview on travelling in winter and show you how the camper works when you will arrive. Just remember to check the weather forcast, the road conditions, ask also around at the campsites and all of the information centers where the staff welcomes you with warm coffee and something interesting to see !
There are more than enough campsites (even a Reykjavik campsite..!) open all year round and most of our fabulus warm water swimming pools all around the country ! You only have to remember that during mid winter, the daylight is a bit limited so you must take that into consideration when planning how much you intend to cover each day.
Oh, we've got you covered, my friend ! Our campervans are winter warriors, ready to conquer the snowy roads with their trusty studded tires. No slip-sliding away for you! And guess what? Our road-side assistance superheroes are on standby. So, whether it's a winter wonderland or a summer sunburn, we'll be there to save the day! So buckle up, grab some hot cocoa, and let the adventure begin—because with our campervans, there's no road too icy and no season we can't handle!
Autumn Campervan trip in Iceland
Fall arrives early in Iceland, starting in September and lasts to the end of October or early November. Fall in Iceland sounds like a picture-perfect time for a campervan adventure ! The vegetation changing color from mid-September to vibrant shades of red, orange and yellow, making the contrasts in the landscape even more prominent.
The temperature is still mild during this season with monthly averages ranging between 7-12°C (45-55°F). As well this time of year offers around 11-13 hours of daylight, which means your days are not as short as the days in mid-winter, and thus giving you more time each day to explore Iceland ! You will also not have to struggle with the midnight sun when you are trying to unwind and going to sleep at your campsite for the night.
The crisp autumn air and shorter days present a magical opportunity to witness the Northern Lights, as they start to show up in September, painting the night sky with their celestial dance.
On top of mild temperatures, and long days, the tourist crowds of summer have diminished, giving you more arm and legroom at the most popular locations. So really the perfect time for you to enjoy a KuKu campervan trip in Iceland.
Oh, and did we mention that the campsites are quieter too? You'll have all the facilities to yourself, providing a more serene and enjoyable camping experience ! Summer campsites stay open until September 15th, after which the winter campsites take over. (see winter campsites further down).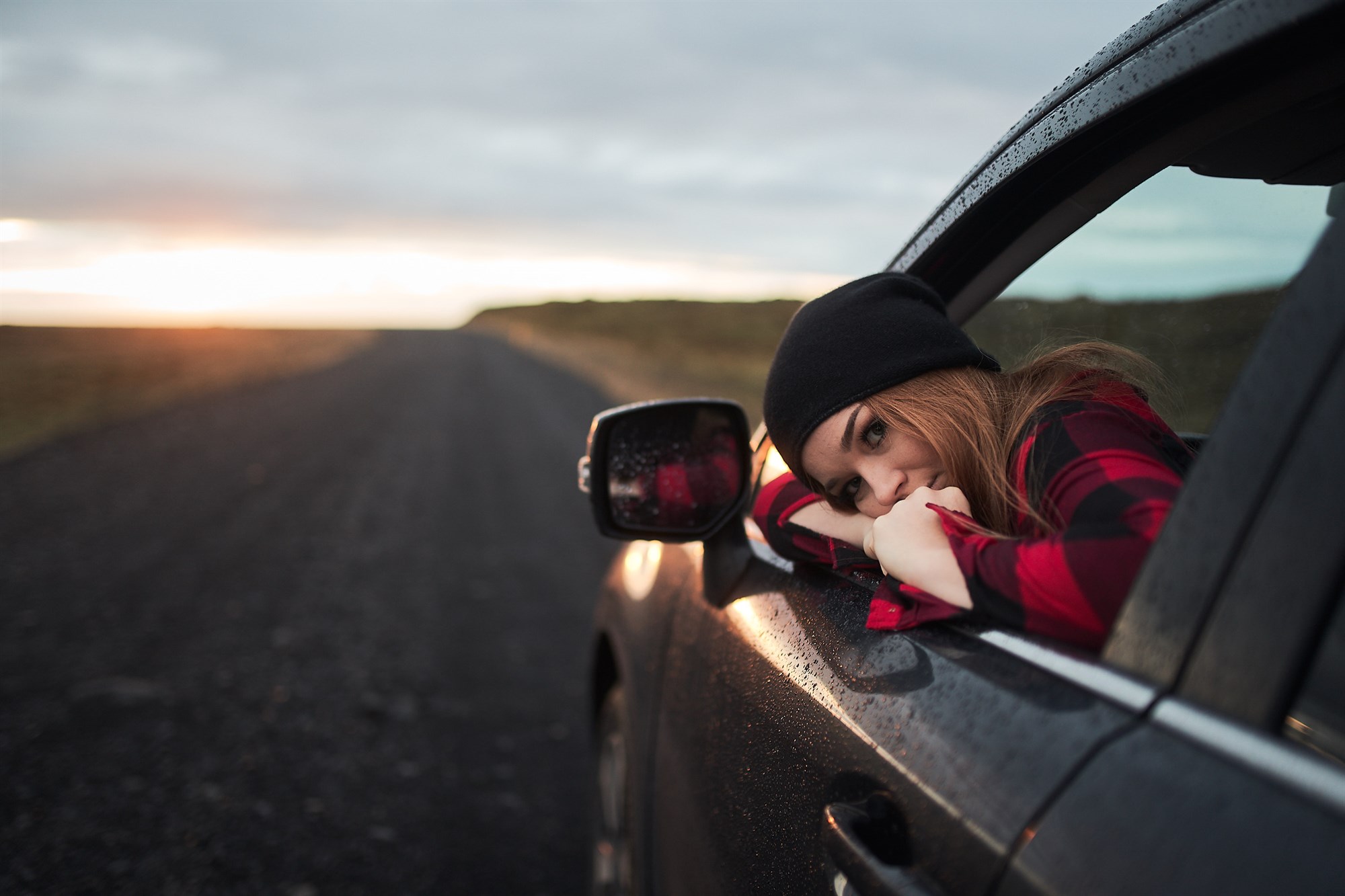 Northern Lights – Aurora Borealis in Iceland
The Northern Lights, also called Aurora Borealis, and Norðurljós in Icelandic, are one of the most spectacular shows on this earth and can frequently be seen in Iceland from September through March on clear and crisp nights. The Northern Lights occur high above the earth surface, where the atmosphere has become extremely thin, at an altitude of 100-250 km. They are created by electrically charged particles that make the thin air RADIANT. Auroras can be seen in auroral belts that form 20-25 degrees around the geomagnetic poles, both the north and the south.
Now, let's take a quick journey through history. The name "Northern Lights" was first documented in the original Old Norse as "norðrljós" back in 1230. In the 17th century, the term "Aurora Borealis" came into existence, thanks to Galileo Galilei and Petrus Gassendus. Drawing inspiration from the Roman goddess of Dawn, Aurora, and the Greek god of the North Wind, Boreas, the name evokes the majestic and otherworldly splendor of these auroral displays.
And here's the electrifying secret to this spectacular phenomenon, literally ! It's all about electricity, creating one of nature's most captivating and characteristic features of our northern skies here in Iceland.

Here you can find the Northern Lights forecast.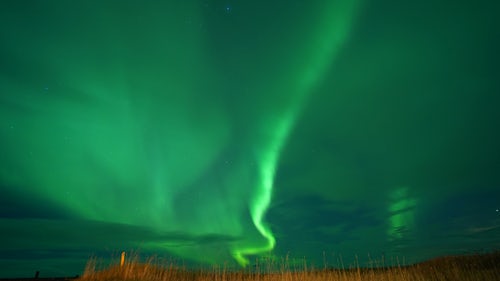 Warm baths in the Ice cold winter
Being outside in a bathing suit in the middle of Icelandic winter is one of many visitors favorite experience. It might seem like a contradiction in terms, but trust us, it's an experience you won't want to miss.
There are both natural hot pots and the public swimming pools to be found all around the country. It doesn't matter where your travel schedule takes you; there's always a relaxing bath nearby !

Here you can find location of the bath that fits you travel schedule.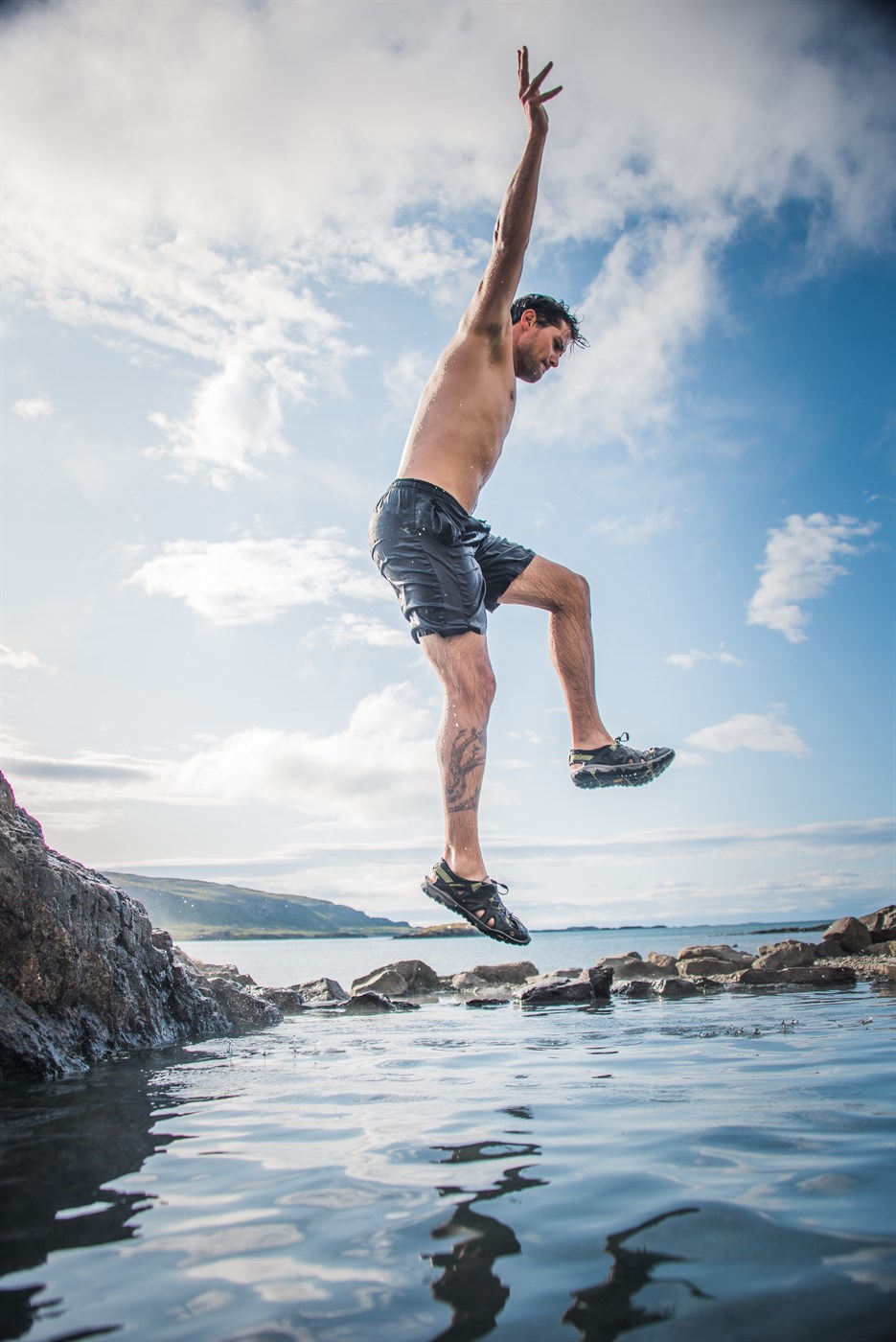 Weather in Iceland during winter
Iceland can be cold, windy, cloudy, rainy/snowy, and very unpredictable during winter. You may know the saying "The only thing constant is change" ?  Well it could have been written about the Icelandic winter weather so make sure to follow closely the forecast and ask locals for advice, for example at the nearest information center.
That being said, the temperature in Iceland is relatively mild for it's latitude due to the Gulf stream that brings warmth with it from the Caribbean. Which means it is not was cold as you might expect, the average temperature in winter in south Iceland being around 0-2°C (32-35°F) and in the north the temperature averaging around -10°C (14 °F) in winter. 
To check the weather forecast click here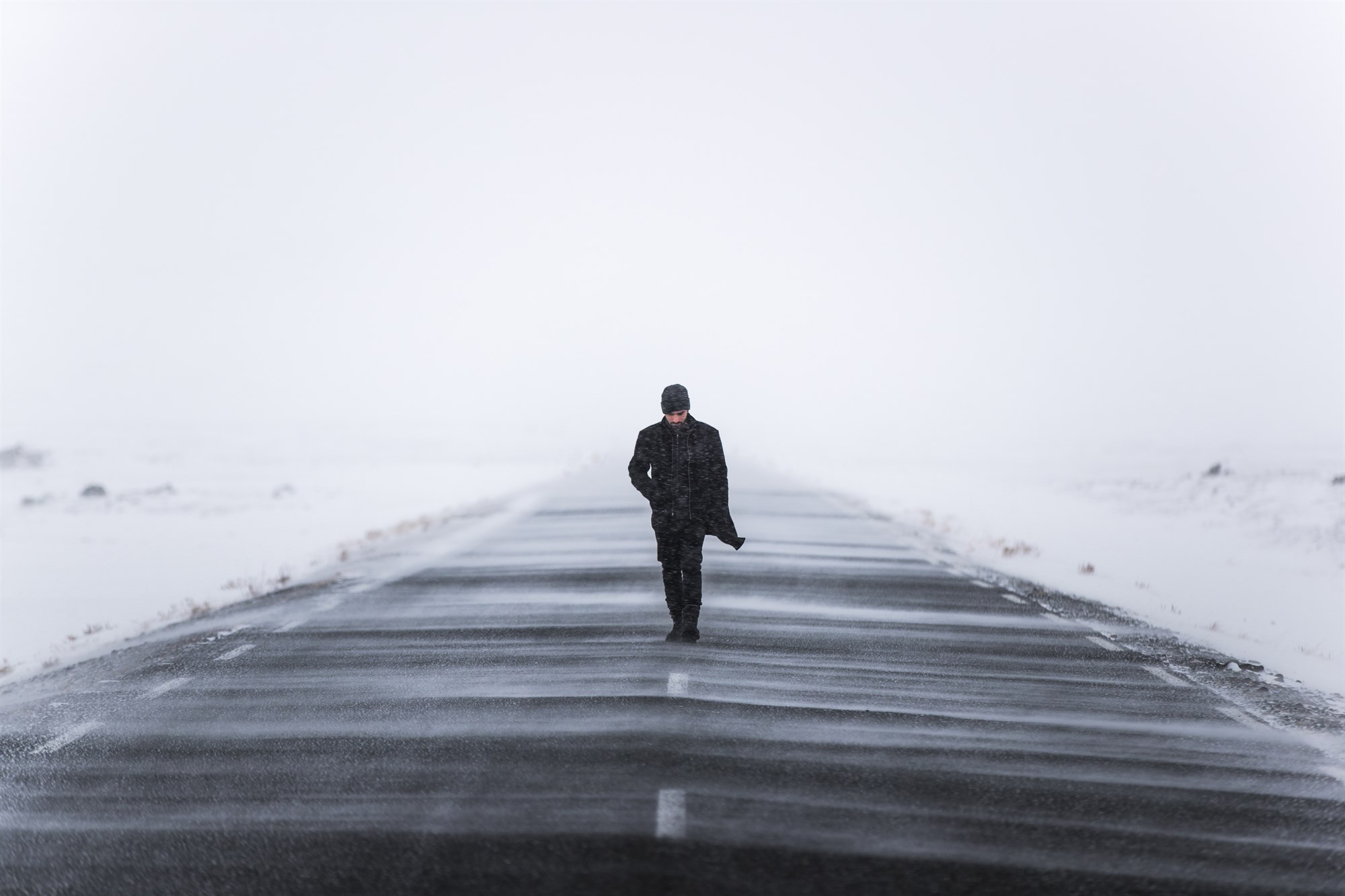 Road Conditions
Driving in Iceland during winter can be a challenge, but it's totally doable if you take some precautions and adapt to the road conditions. Just remember to drive cautiously and according to the weather and road conditions, and you'll be just fine. 
The main roads are well-maintained all year round. In the worst-case scenario, they might experience temporary closures for a few hours during heavy snow blizzards. But generally, they stay open and accessible.
You can explore most parts of the country during winter, except for the highlands, which are closed due to heavy snow until late June. So, as long as you stick to the main roads and are mindful of the weather, you can have a safe and enjoyable journey around this beautiful land of ice and fire !
For checking the road conditions you can click here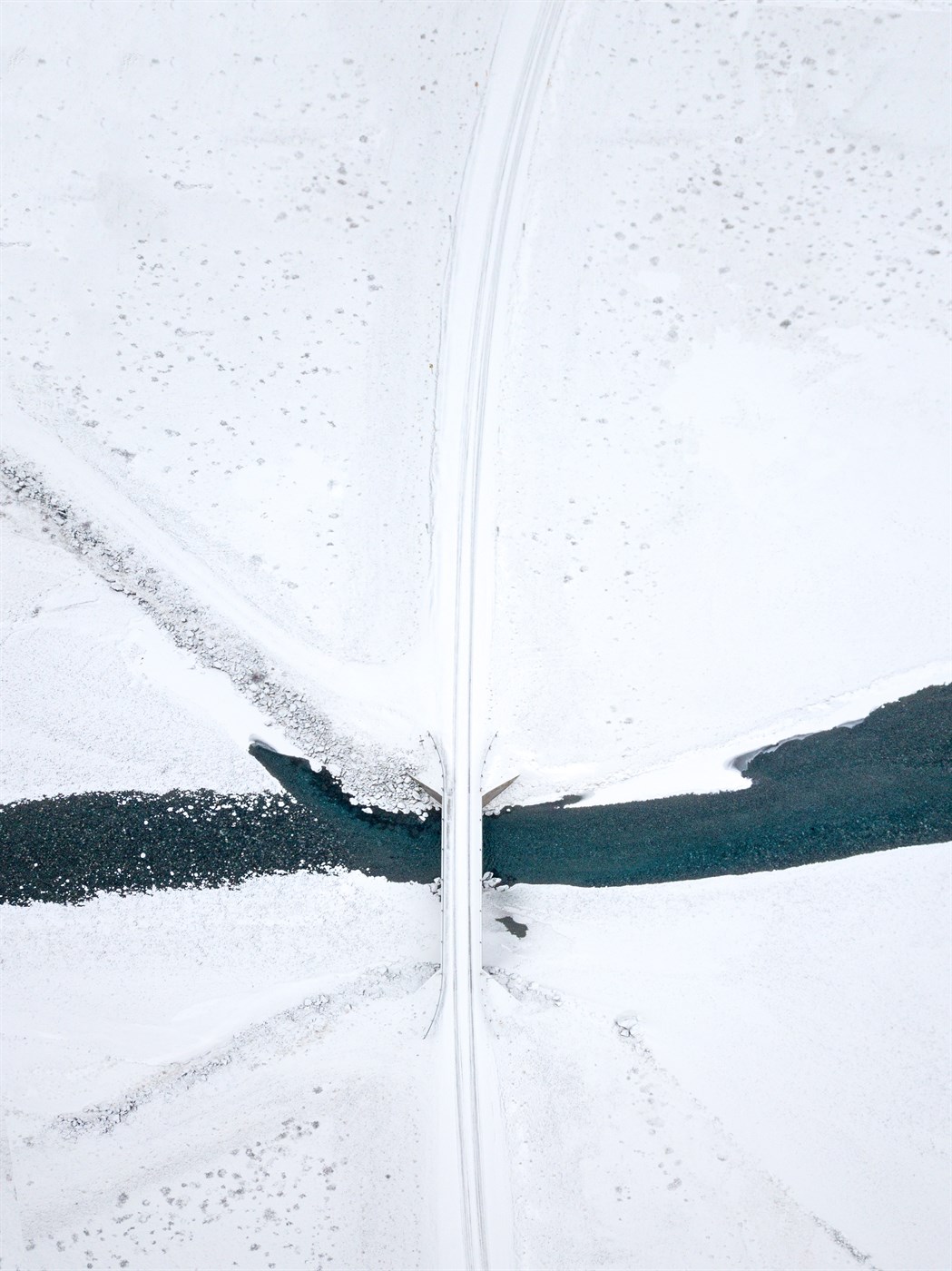 Days are short in the Icelandic winter
During the winter solstice on December 21st, Iceland experiences incredibly short daylight hours, lasting only about 4 hours. So, when planning your itinerary, it's crucial to take this limited daylight into account.
To make the most of your journey, aim to reach your planned overnight stay location before darkness sets in. This way, you can navigate safely and comfortably without worrying about driving in the dark.
Additionally, we highly recommend packing a flashlight as part of your luggage. It may come in handy during the extended periods of darkness, ensuring you can find your way around and have a smooth camping experience.
Winter campsites in Iceland
Even though there are many campsites in Iceland, most of them are only open over the summer months, but some are open all year round. The map below shows where you can find them.

The services vary from a simple field where you can camp for the night to some luxury camping sites with heated common room, hot showers, washing facilities and even it's own hot pots for relaxing northern light shows.
However, keep in mind that some campsites may be closed during specific times. If you happen to arrive at a closed site, don't worry, you're still allowed to stay there for free. Just be aware that there won't be any services available during your stay.
KuKu Campers favorite Winter Campsites
The Freezer is a multi-awarded renovated fish factory run by artists that offer
accommodation in the form of apartments, a one of kind funky-fresh boutique hostel
 AND a campsite. They are located within Snæfellsjökull National Park. The Freezer hosts frequent art and concerts as well as featuring a theater and a yoga studio. The campers have full access to the hostel facilities, so if you want the cozy hostel mood on your camping trip the Freezer is the perfect spot. 
The hostel and camping facilities offer restrooms, hot and cold water, cooking facilities and wi-fi.
The Freezer Hostel & Culture Centre
Hafnargata 16, Rif
360 Hellissandur
This free campsite is located close to Strandakirkja, just  outside of Þorlákshöfn on the south coast, and is for sure KuKu Campers favorite free campsite! The campsite is open all year around, however there is an age restriction. You need to be 25 years old or older. The campsite offers restrooms, shower and an indoor area equipped with counter space to cook with your cooking equipment and a sink with running water (the water is turned off during mid-winter). There is no electricity on site. If you are not in the mood to cook you can of course grab a hot dog at the hot dog stand!
Gata Hotdog stand and free camping
Gata land 1
Contact person; Guðrún tel. 863-9355
Hamrar Camspite is one of the most splendid camp sites in Iceland, located in the edge of Kjarnaskógur, the main outdoor area of Akureyri. 
The campsite is well equipped with excellent facilities, playgrounds and great hiking trails that are also accessible in winter. 
The campsite is divided into smaller areas, and the campsite has a few service houses in the area with restrooms. in the main cabin next to the entrance also offers showers, restrooms, washing machine, dryer, indoor dining facilities and a computer with internet access. Electricity is available on site, and the showers are included in the price. Akureyri offers the true winter wonderland in Iceland, as the town has one of the best ski slopes in Iceland, as well as they have a Christmas house that is open all year round. As well as everything else Akureyri, "the capital of North Iceland" has to offer.
Hamrar, Kjarnaskógur
The campsite at Kirkjubaer II is spacious, shelered and a part of the campsite has electricity for mobile homes. To get a spot with electricity, it is recommeded to arrive early. In general, the campsite requests guests to arrive before 10 o'clock in the evening. The service house offers restrooms, showers, washing machine, dryer, kitchen, and a dining room. From the campsite there is a short walk to Kirkjugólf (church floor) a low cluster of basalt columns, which have been eroded and shaped by glaicers and waves - and is now a protected natural monument. A little bit of a further walk (1 km) is Stjórnarfoss, a cute little waterfall.
Kirkjubaer II, Kirkjubæjarklaustur