Have A Drink And Taste The Most Popular Beers In Iceland!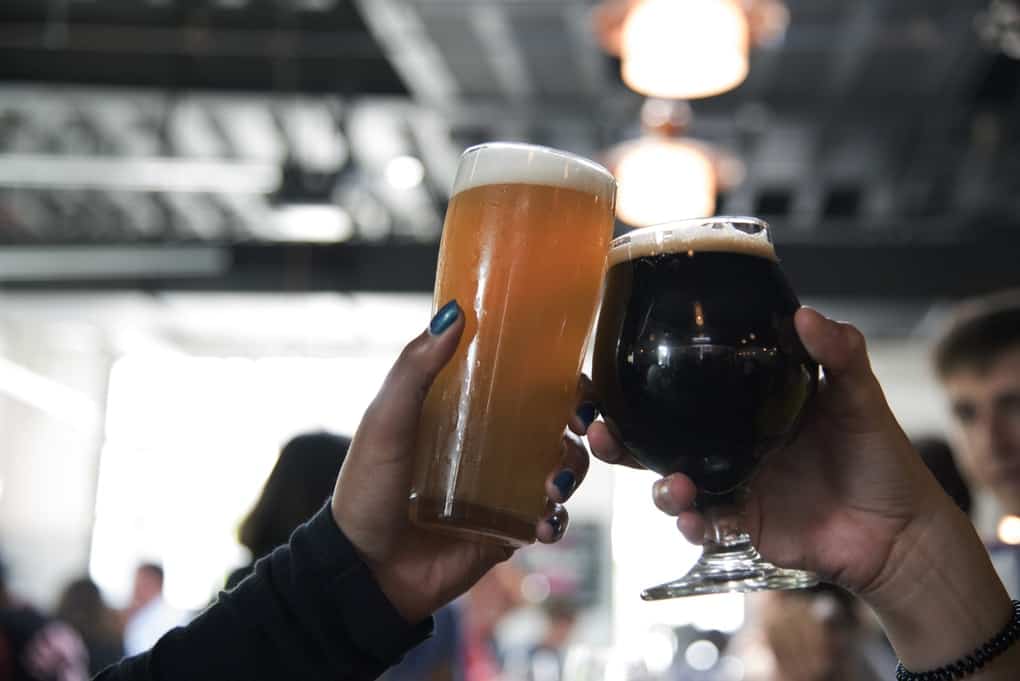 ---
---
Ahh, beer. The cause of- and solution to- all of life's problems. While Homer Simpson may not be the man to take advice from, we tend to agree that beer is one of life's great pleasures.
And nobody knows beer like the good people of Iceland, who have a bit of an odd relationship with the frothy beverage. An anomaly dating back to the prohibition of all alcohol in 1915 led to beer- but not any other alcoholic beverage- being banned for 74 years, with the beer ban finally being lifted in 1989. Icelanders didn't really seem to miss beer, as they were typically more invested in harder liquor such as spirits, but nonetheless, the people celebrated when the ban was finally lifted.   
Where can I buy Alcohol?
Vinbuðin
What is a good party without alcohol uh? But unfortunately, in Iceland, you must keep in mind that Vínbúðin is the only store allowed to sell alcohol. It means that you can't buy alcohol in all supermarkets like you would normally do in other countries. In fact, the only beers that you would find in a supermarket is some cheap beer brands.  It will be either alcohol free or contain less than 2,25% alcohol ! And that my friend is ton the strength you want you want the real 5%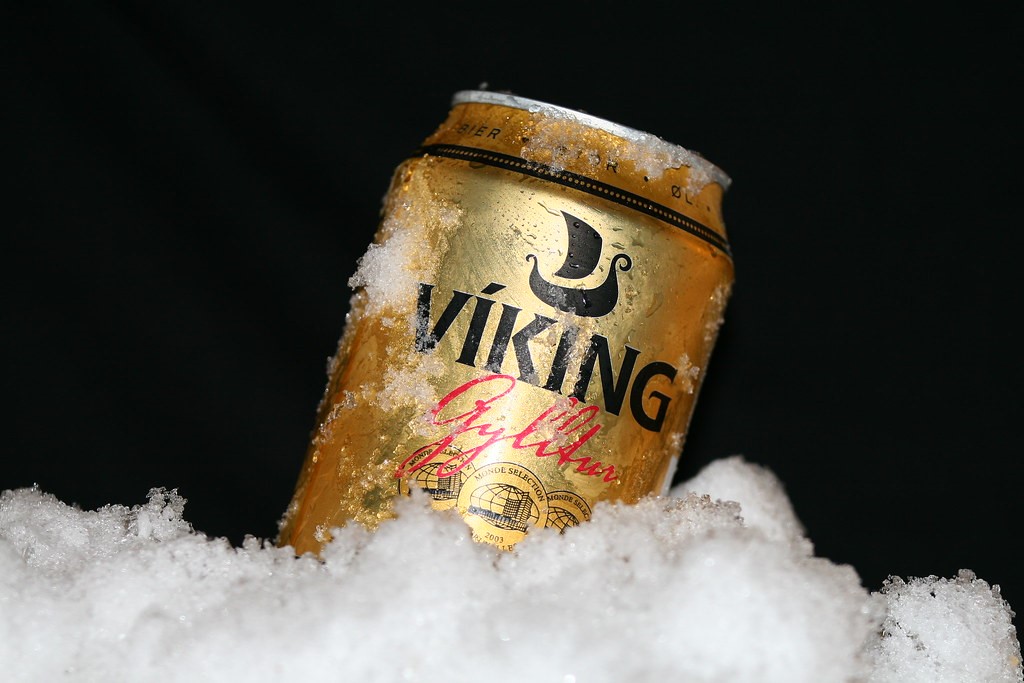 But it would be too easy if it were opened all the time don't you think? The opening hours of Vínbúðin vary a bit around the country but they are, in general, extremely limited. They are closed on Sundays and most public holidays. During summer and weekdays is opened from 11:00 until 18:00. On Fridays, some shops will have longer opening hours and also some shops will be open until 20:00 not 18:00!
If you are travelling in Iceland right about now and thinking of opening a bottle over the holidays, it would be better for you to think ahead.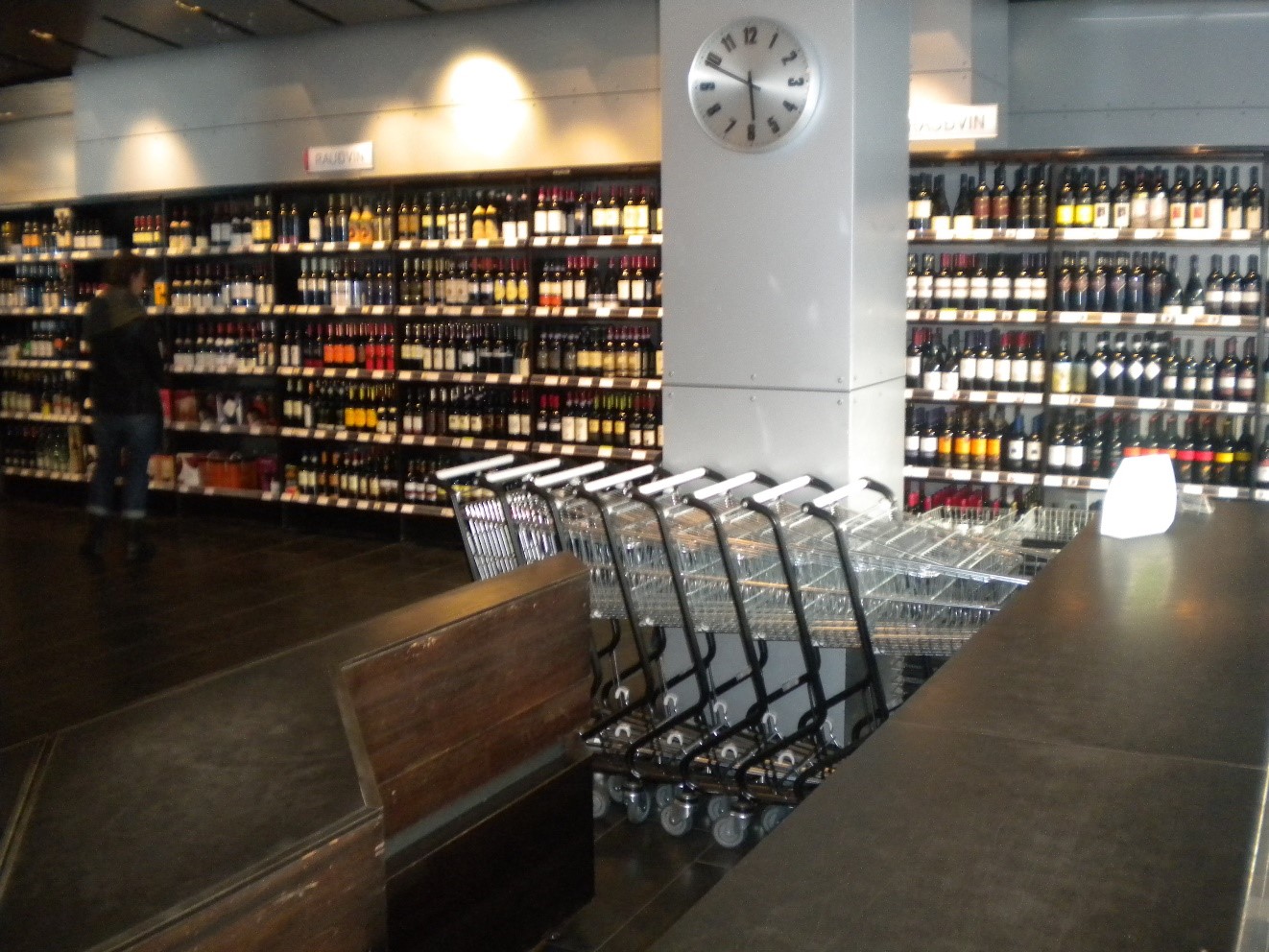 In Vínbúðin you can find all the alcohol types that you want and other typical Icelandic alcohol like Brennivín which is a famous Icelandic liquor alcohol shot or Reyka Vodka, an Icelandic vodka which is clam as the best in the world since the water used to make Reyka comes from a 4,000-year-old lava field which gives a special taste to the vodka.
Reykjavik bars
Things of Note about Icelandic Bars 
The bars in Iceland are more or less the same as anywhere else in the world in terms of etiquette and rules, but there are still some things you should know before heading out to the bars with your friends.
 For one,  the legal drinking age in Iceland is 20 ! Some bars have their own imposed ages for entry, usually either 21 or 22. Keep this in mind if you're on the fringe in terms of age, as you might need to plan ahead a bit.   
Beyond this, most of the bars do not enforce any sort of dress code.  If you spent the day hiking up glaciers, you can walk right into a bar in your boots and winter jacket if you really want to! Bars usually close at 1 a.m. from Sunday-Thursday, but close at 4:30 a.m. on Fridays and Saturdays. Again, this can vary, but these are the general times of operation for the bars in Iceland
Happy hours
Happy hours are a period of the day when drinks are sold at reduced prices. The hours are usually between 5 and 7 p.m., Monday through Friday, but it can stretch from as early as 4 pm to as late as 8 pm depending on the bars. It is the best time to have a good bear to drink with the cheapest prices in the Icelandic market!
How Much are Drinks in Reykjavík?
Unfortunately, the average cost of drinks in Reykjavík are some of the most expensive in the world. For Icelandic craft beers, the price can go up to about 1,600 króna (€ 10). And usually goes down between ISK 600 and ISK 750 during happy hours!
Hip Bars!
With a drinking age of 20, tons of people show up to drinking events throughout the year. So here's a handy list of some of the drinking festivals that take place in Iceland, along with some of the more popular bars to visit with your friends.

Kex Hostel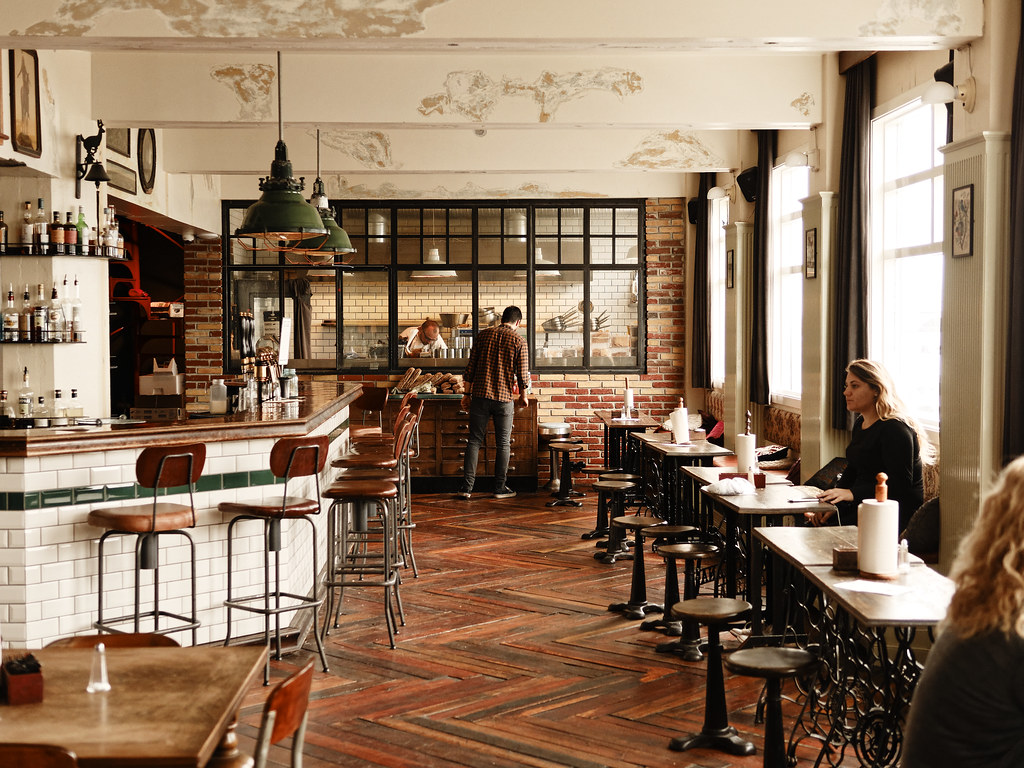 Kex Hostel ​is one of the most popular bars in Reykjavik- and is also the host of the Beer Festival! Situated in an abandoned biscuit factory, the building is an eatery and hostel as well as a bar. Live gigs are always playing nights at the bar, with several up-and-coming Icelandic artists making their way through Kex.   

Kaffibarinn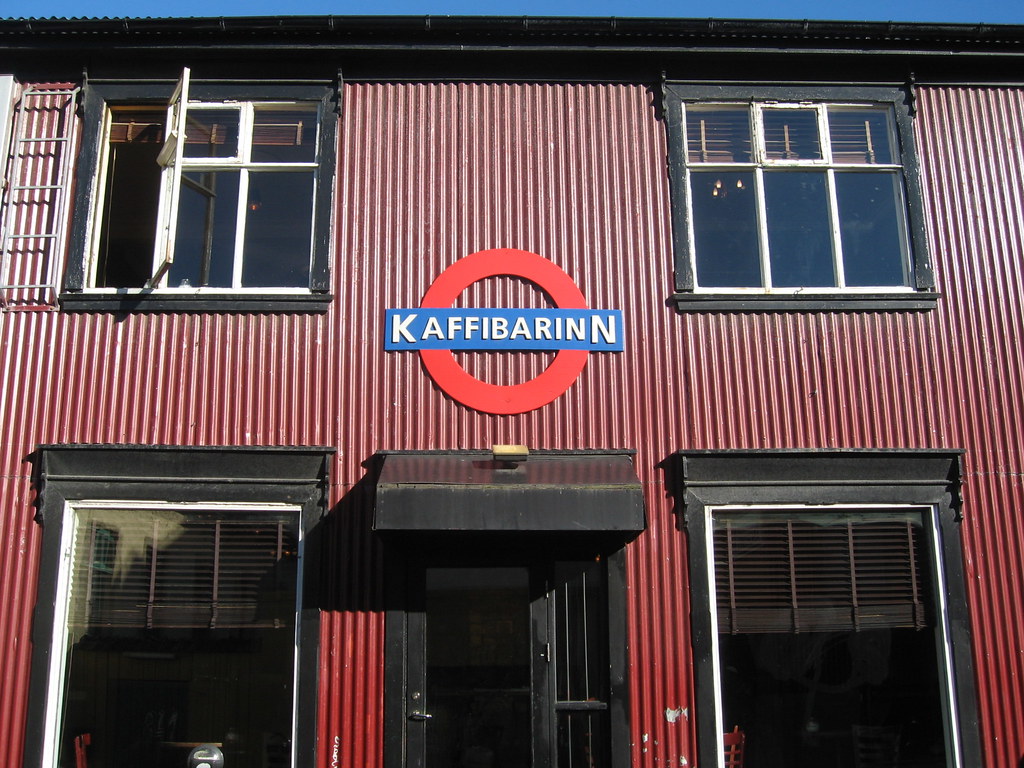 Kaffibarrin ​is a coffee shop by day, local night hotspot by night. With a vibrant dancefloor and a rotating set of DJs, this is a great place to go out and party in a high-energy setting. They serve a variety of drinks, such as Opal and Topas, which are liquorice liqueurs, as well as Icelandic vodka, known as Reyka. 

​Slippbarinn
The first cocktail bar in all of Iceland is ​Slippbarinn​, located right on the Reykjavik marina. With a great view of the waterfront and a rotating list of tasty cocktails, Slippbarinn is popular for locals and tourists alike. Using house-made syrups and fresh-squeezed juices, this cocktail bar is an oddity compared to the more traditional bars surrounding it, but it represents the burgeoning cocktail scene in Reykjavik.   

Micro Bar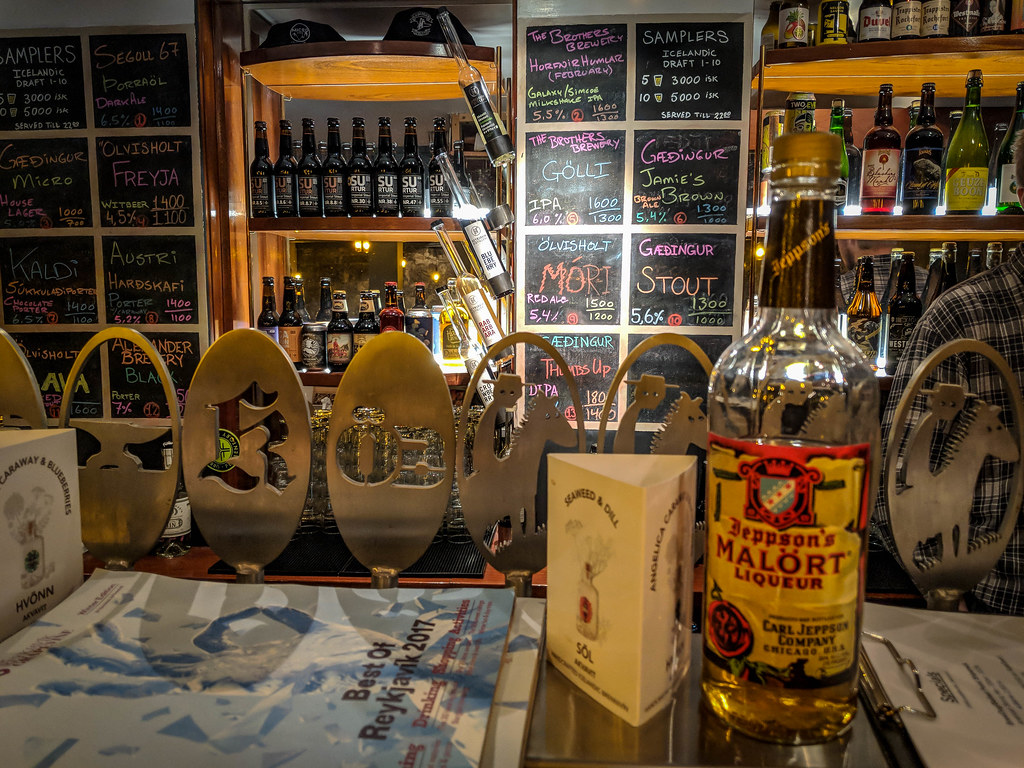 If you're a true microbrewery nerd, ​Micro Bar​ is a great place to check out local brews. Hosting locally crafted beer from all over Iceland as well as international crafts, Micro Bar is colorfully adorned with murals by local cartoonist Hugleikur Dagsson. It's a great place to test your palette with various brews, and it's located in the Center Hotel in Reykjavik.

Olstofa Kormaks og Skjaldar 
For a more low-key drinking experience, ​Olstofa Kormaks og Skjaldar ​is a much more relaxed setting than previous bars mentioned.  With no dancefloor and a sound track you can talk over, this is a great spot for late-night conversation. On top of that, they serve their house brand Brio, which beat out 4,000 other beer brands to win the World Beer Cup competition in 2012. 

Magic Ice bar
 The Magic Ice Reykjavík is a really nice ice bar which just opened up on the main street of Laugavegur. The ice-art gallery features sculptures that draw upon the Icelandic sagas and Viking history for inspiration. In addition to the gallery, the venue includes a pub with a bar carved out of ice. It is a perfect outing for all ages.
Top 10 best icelandic beers
I am sure you are wondering what is the best beer to drink in an Icelandic bar and what are the most popular beer brands. Well beautiful people, I can't make that choice for you, so here is a top 10 of the most amazing beers, to help you to make this tough decision!
1-NR 8.2 and NR 8.4 Surtur
This edition of Surtur was aged in bourbon casks giving it a smooth character with sweet yet sophisticated tones of vanilla and an oaky aroma.  
The beer will age with dignity in a dark, cool place until Ragnarök.
Alcohol: 14.5% alc./vol.
Look: Black colored with a small off-white head.
Smell: Roasted aroma of caramel, dried fruits, bourbon, and licorice. Roasted flavor of caramel, dried fruits, and alcohol. Warming alcoholic finish.
2-NR. 47 Surtur
Surtur is a force to be reckoned with. Under the tanned creamy head, shades of fire roasted corn and burned sugar blend mysteriously with darker tones of chocolate, licorice, and strong roasted coffee.
Ingredients: Pure Icelandic water, malted barley, malted wheat, coffee, hops, and yeast.
Advice: If you want a unique experience, go at Kaldi Bar located in Reykjavik where you can drink this beer which is served in a tulip glass slightly chilled!
Alcohol: 10% alc./vol.
Look: Pitch black with no head, thin mocha lacing on the rim.
Smell: Mild nose for an imp. Stout, typical of the class with smoke, chocolate, roast malts, and dark stone fruit all forward.
Taste: Roasted malt and dark chocolate forward with black coffee and plum/wild cherry on the black end. The feel is smooth and creamy with a heavy body and medium carbonation to balance.
In overall, it is a very tasty brew albeit pricy on tap at nearly $10 a glass
3-Kaldi Blonde
Kaldi blond is the first beer that Bruggsmiðjan Kaldi brought to the market, it is the most sold bottled beer in Iceland. It is a lager beer but brewed after the famous Pilsner tradition, so it is classified as such.
Ingredients: water, malted barley, hops and yeast.
Alcohol: 5% alc./vol
Look: blond copper golden, soft filling of roasted malt
Taste: It is slightly bitter but very gentle. 
All of the brand's beers are unpasteurized, without preservatives and added sugar.
4- Ulfur
Úlfur is just one of dozens of beers produced by Borg Brugghus, a craft brewery that started delighting the palates of Icelanders in 2010 and now has its own bar.
Here is some technical information for you:
Alcohol: 5,9% alc./vol
Look: nice head, dark orange, slight haze
Smell: very floral, slightly woodsy
Taste: grapefruit, balanced sweetness, medium high maltiness, not too bitter, finishes on a musty pone note
5-Einstök beer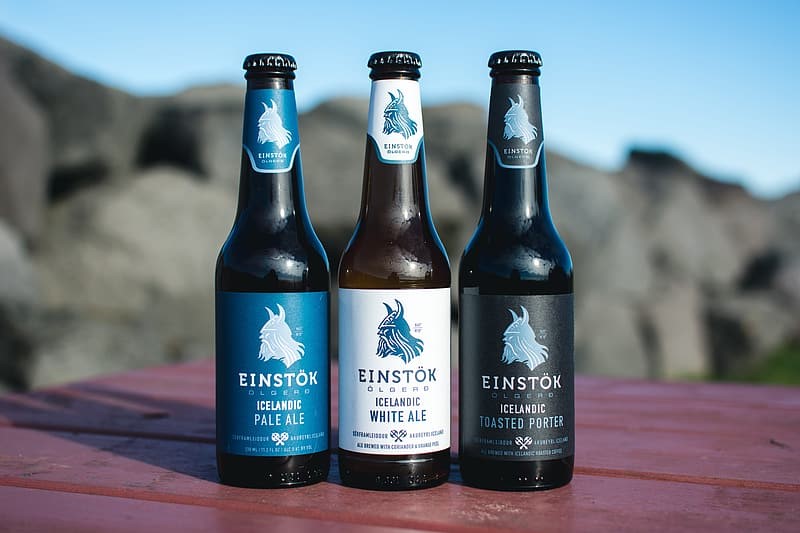 The Icelandic Einstok white ale features the complex flavors of the classic Belgian witbier, spiced with the traditional orange peel and coriander, all brewed with pure icelandic water to deliver a cool smoothness that is flavorful and refreshingly drinkable and great in the cold of winter or on a hot summer day.
Ingredients:
Wheat malt, oats, pilsner malt, Bavarian noble hops, coriander and orange peel.
Alcohol: 5.2% alc/vol
Look: Hazy, medium gold in color, finger finely pored white hear that receded to a wispy cap, nice lacing
Smell: nice blend of orange peel and coriander
Taste: Little flavor up front, from the middle through the end. You can taste orange peel with a touch of coriander, very refreshing.
6-Brio
Bríó took the world by storm in 2012, first by winning the German-style Pilsner category at the World Beer Cup, and then being named "World's Best Pilsner" at the World Beer Awards.
Alcohol: 4.7% alc./vol.
Look: Pale golden yellow with a small creamy white head and no lacing.
Smell: Strong floral notes with hints of lemon and some grain
Taste: Strong floral noble hops, some dankness, bit of weedy bitterness

7-Leifur Nr. 32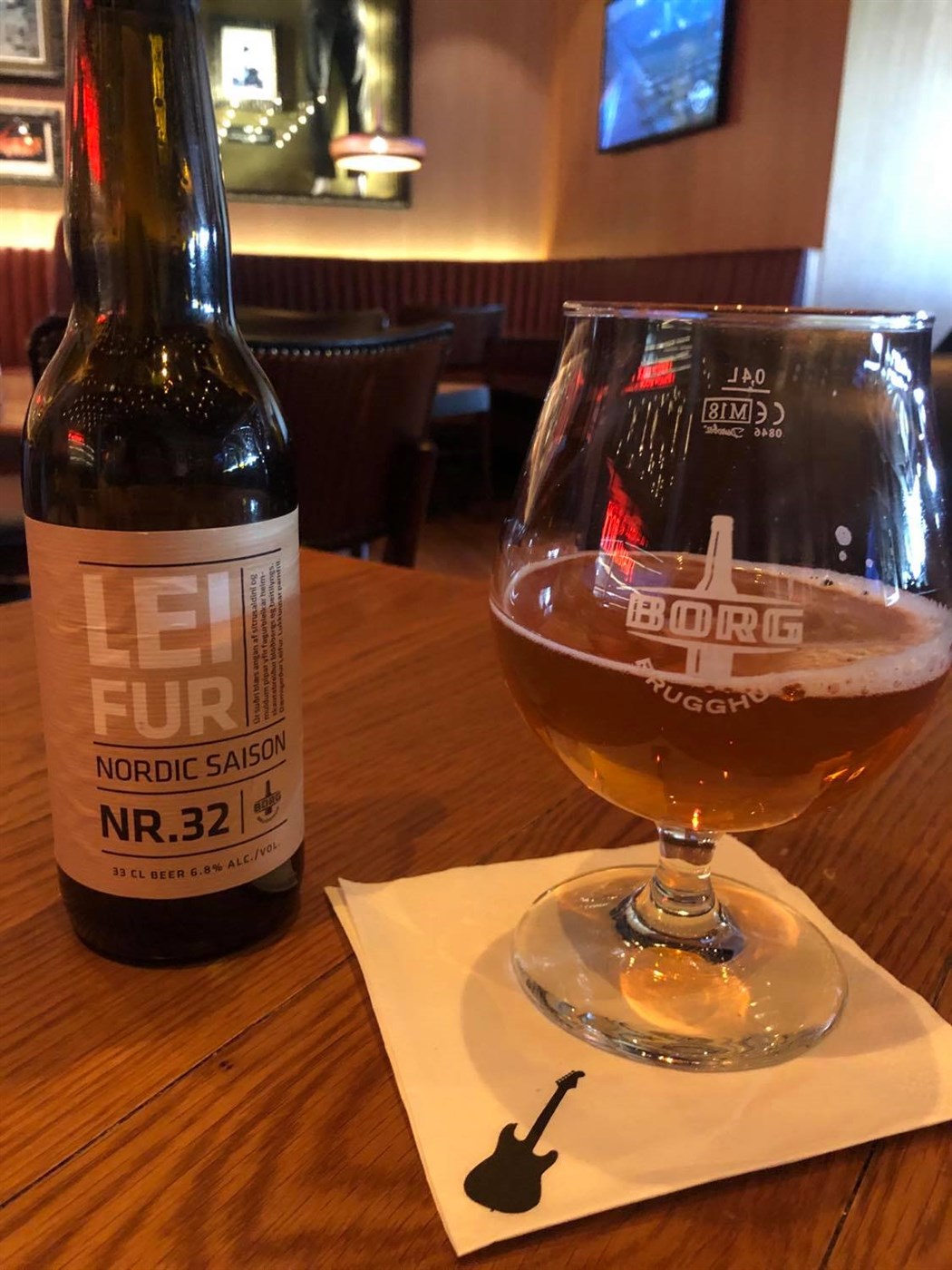 Leifur is brewed with wild Arctic thyme and heather, Belgian yeast and hops that deliver a tingling aroma of crushed pepper and citrus.
Alcohol: 6.8% alc./vol.
Look: Pours a hazy deep honey colour, slight haze, thin white head.
Smell: Caramel malt, coriander, and a typical Belgian yeast flavor. Finish brings a bit of spicy hops to round things out.
Taste: Same as the aroma but the peppery flavors seem to come forward a bit more. Very nice balanced flavor.
In overall, Leifur is a solid saison that offers some interesting flavors in an easy drinking package.

8-Gædingur Stout
The Gaedingur stout is one of the most famous dark beer brands in Iceland. It is a flavorful icelandic stout which is totally unfiltered so there is no flavor loss. Stouts are a dark beer made using roasted malts or roasted barley, hops, water and yeast.  There are numerous styles of stouts ranging from Dry Stouts, to Porters, and Oyster stouts. It is one of the most famous stout beer brands and It is a really good deal at only 1000 kroner a pint (7 euros).
Alcohol: 5,6%
 Look: Black with 1" of foamy head.
Smell: Chocolate, caramel, and smoke notes.
Feel: Rich and deep almost like milk with chocolate notes right on the front.  Flows into mild bitterness that leaves a smokiness in the mouth.
The flavors of the stout go well together. The sweetness is there on the front but then it blends into a bitter smokiness on the finish. 
9-Lava
Lava is quite unique in the Icelandic beer history and the first of its breed. Inspiration comes from the active volcano Hekla. In 2012 Lava was named the best Imperial Smoked Beer of the year in the US Open Beer Championship
Ingredients: Water, malted barley, wheat, hops, yeast, and brown sugar. 
Alcohol: 9,4% ABV
Look: full bodied, pitch black beer with a thick brown head.
Smell: Lava is a full bodied, pitch black beer with a thick brown head. Sweet with chocolate and roasted malt in the flavor.
 Feel: The aftertaste is roasted malt, smoke, and warming alcohol. Aroma is smoke, chocolate and bit of alcohol.

You can pair it easily with Red meat, smoked food, grilled food and desserts. Lava is also excellent as marinade.

10- SKYRGOSI
This beer is quite special, yeah, I know that they are all special but this one will surprise you! Indeed, this beer' secret ingredient is Skyr that was used to sour the mash. This beer is the spiced with cumin, birch smoked sea salt and herbs.
It was awarded the best beer at the Holar beer Festival 2019 and is now available at the MicroBars.
Alcohol: 4% ABV
Look: This one pours a lighter yellow color, with a small head, and no lacing.
Smells: You can get some sharp yogurt aromas, a little bit of citrus.
Taste : Kinda yogurty, which makes sense, since it's fermented with Skyr yogurt culture.
Here you are, the 10 best beers that you can enjoy in Iceland. Did you choose the one of your dream ? Don't leave now, Iceland has a little bit more to tell about beers!
The Annual Icelandic Beer Festival   
This is THE beer festival of Iceland. Hosted in February and going into its 9th year of festivities, the Icelandic Beer Festival is a four-day event in Reykjavik, the nation's capital. Select local breweries are highlighted and enjoyed by many, with some international breweries making their way in as well. Getting a festival pass will get you exclusive access to the brewers themselves, who will provide you with samples and teach you about the beer-making process. The party culminates with a final event in the heart of Reykjavik which includes live music and exclusive beer alongside delicious pub food. It sounds like a great time for everyone!   
Beer Day 
Taking place just a week after the Beer Festival, Iceland collectively celebrates the end of beer prohibition on the day of the referendum, March 1st, every year. The event marked a great cultural shift in Iceland; beer is now the alcoholic beverage of choice in a nation where the drink was banned just 30 years ago. Reykjavik gets particularly wild for Beer Day, with pub crawls (known as Runtur in Iceland) being commonplace and bars staying open until 4 in the morning. While there aren't any big events of festivals surrounding the day, Beer Day usually means special prices on beer at most of the pubs, so chug away!    
Beer spa in Iceland for a unique experience
Price from 11.900 ISK PER PERSON. (75 euros)
Wednesday-Saturday: 12.00-21.00
Duration 50 minutes
Available All year
You will find The Beer Spa at Ægisgata 31, 621 Dalvík
Created in 2017, The beer spa is available for one or two people at a time. There is no age limit for the beer bath because the bathwater is undrinkable, but there is a beer draught at every tub for anybody over 20 years of age. When taking a beer bath, you bathe in a big tub filled with beer, water, hops, and yeast. After 25 minutes, you go to a relaxation room for another 25 minutes.
There is also a big outside area where you can enjoy the great view over hrisey island, mountains and Þorvalds valley. There is an old house foundation built 1918 which will be used for two hot tubs with a beer blend for bigger groups.
Now that you are a beer master, you can take a sit, have a drink at an Icelandic bar read another blog to know everything about Iceland, and enjoy your trip in Iceland!