Robin Hood with KuKu Campers
We see it every day in our office when KuKu advenutrers are returnig their campervan how much fun they have had during the Iceland campervan trip.  We do apreciate any good words in our guestbook and not to mention when we have a piece of art drawn in it.
Fede, Lore, Gabo, Franco and Ivan, thanks a million for demonstrating your trip this way.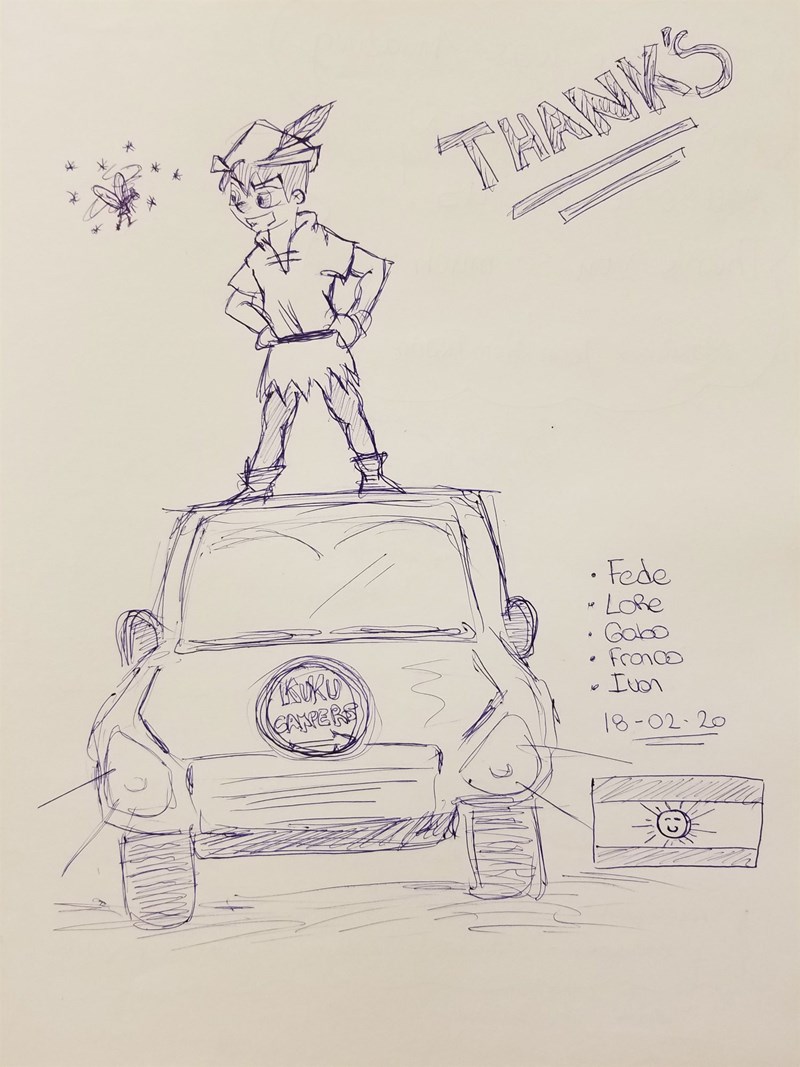 Romain and Aileen France 2019
Romain and Aileen put themselves in the fins of the puffin birds in Iceland - and apparently they do NOT like the tourists.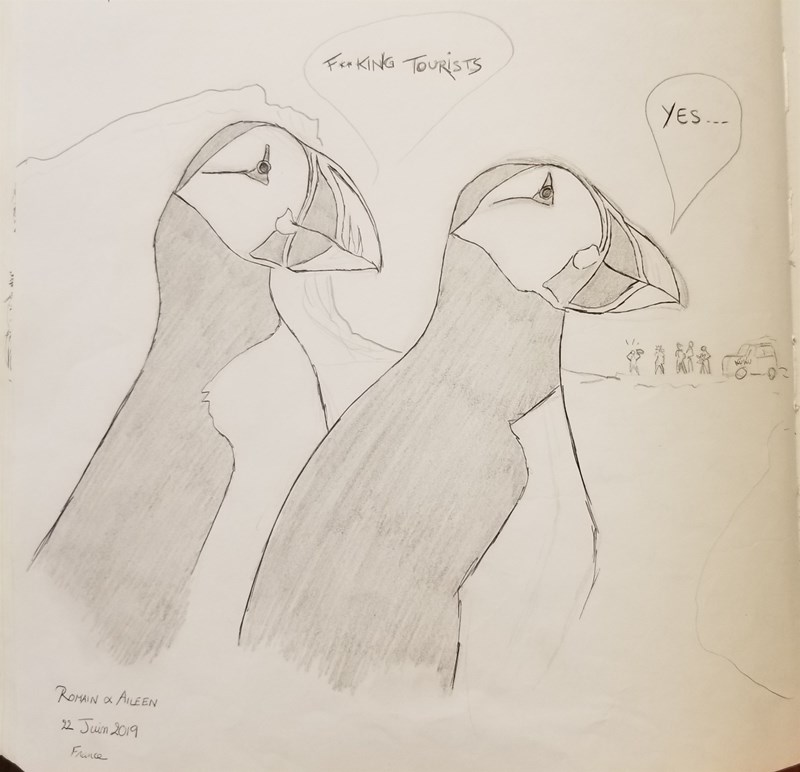 Carly + Raquel 2019
You can say for sure that Carly and Raquel did have a lot of fun on their KuKu Campervan adventure in Iceland.  It seems as they had some sunshine and booze, perhaps a little partying?  At least the KuKu cow seem a little tipsy.
Thank you for your Guestbook entry !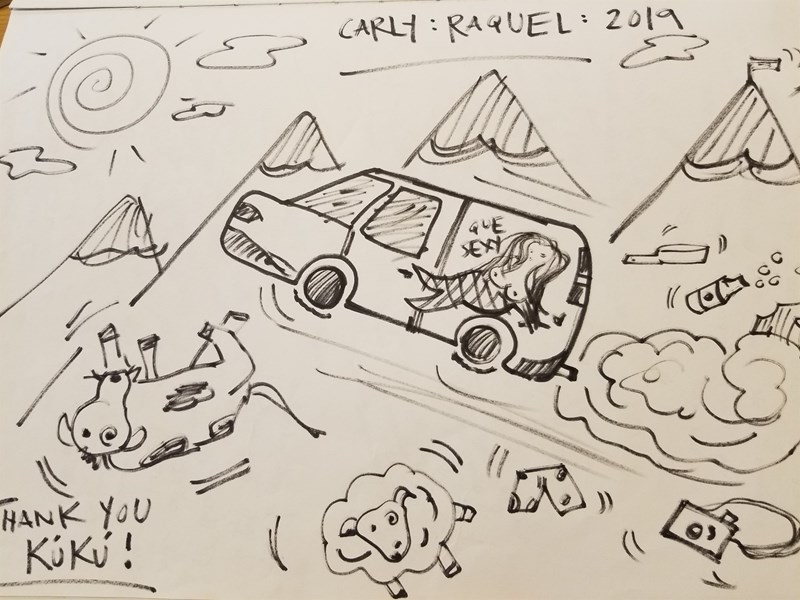 Lina, Mika, Guillaume, Laureen and Jeremy from France 2018
These five friends had the experience of a lifetime on their roadtrip in Iceland - and left this amazing picture for us to enjoy. Still something might have happened on the way as they write in the guest book "2 ways to die in Iceland". Sure hope it was just Mika catching a cold..  sure Lina did not catch it though in her long winter down coat!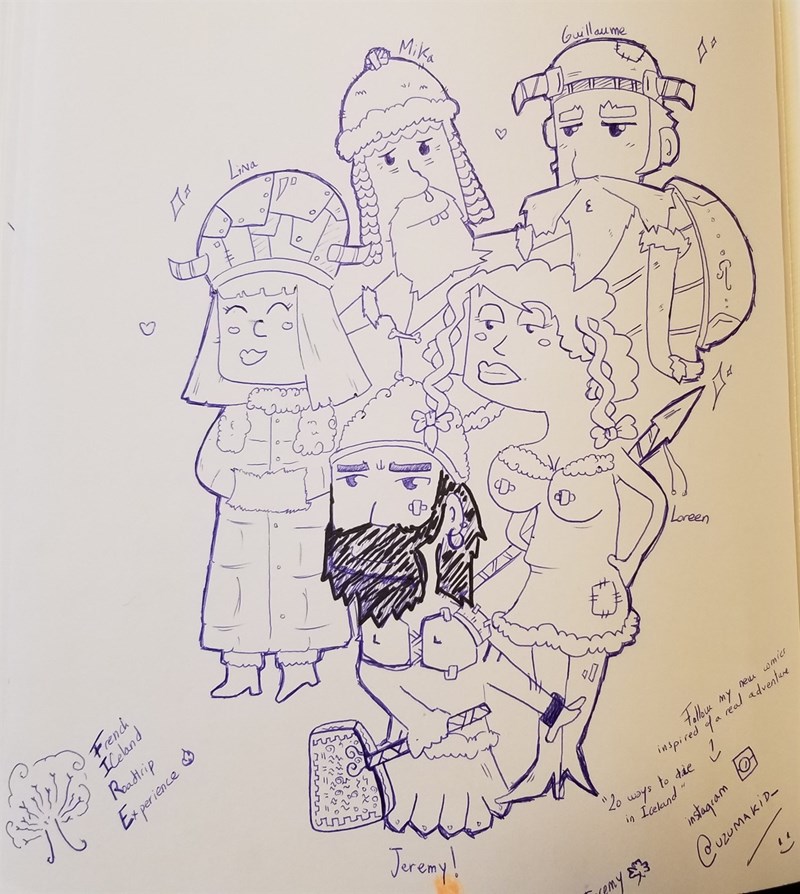 Christof and Naomi from Switzerland 2019
Thank you! Merci! Dankeschön!
We had að wonderful time with our KúKú-Camper here in Island! We explored the whole island (incl. the westfjords) and it was beautiful.
Liabi Gruass us dr Schwiiz
Christof + Naomi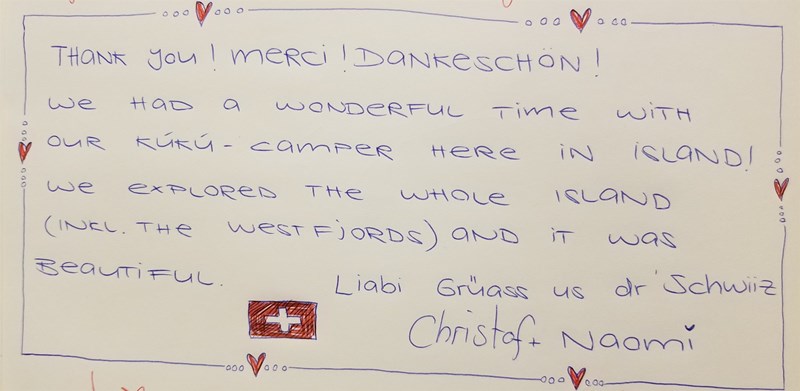 Syafi, Abdullah, Rafee and Fathurrahman from Singapore 2018
Syafi, Abdullah, Rafee and Fathurrahman drove 3000 KM on their 14 day campervan holiday in Iceland 2018 and seem to have had quite the adventure and even got up to some shenanigans along the way!
Winter is (still) coming
#bromania
#donttellmygirlfriend
They saw the golden circle, drove the ring road, went through a hell of a whale watching, saw puffins, glacial hiking, saw 5 waterfalls, caught a glimpse of the aurora, learned to keep Fathu way from the sun and the cold and refrain Abdulla from peeing in nature. A true "bro" trip - we at KuKu hope we are not spilling some serous beans here!!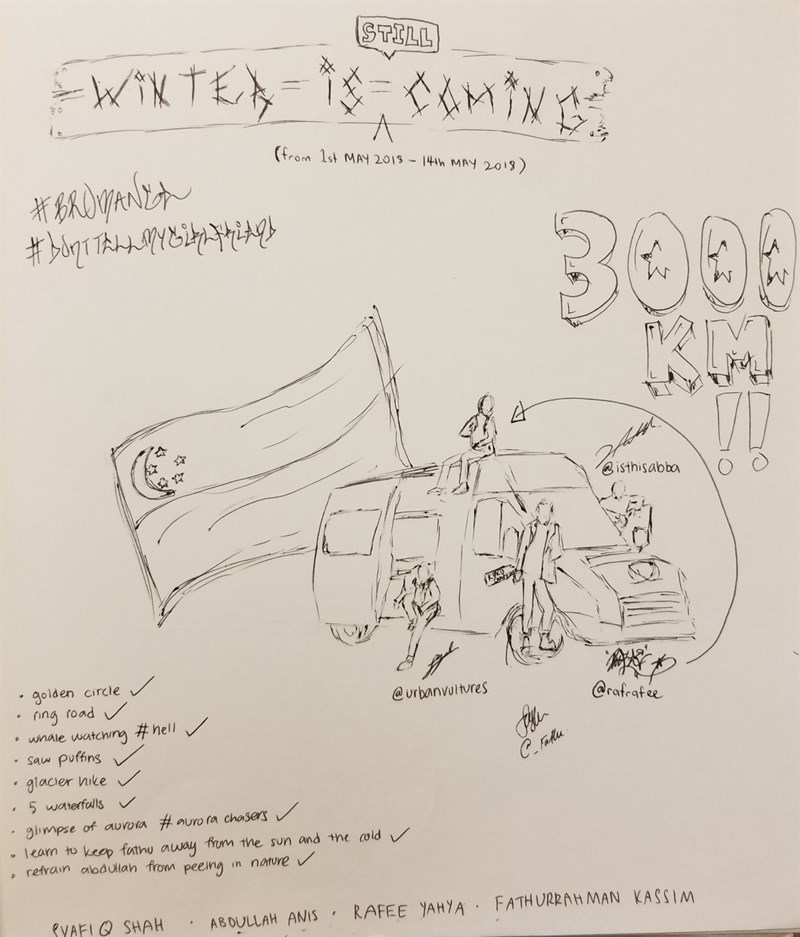 Dan and Gaby from Barcelona 2018
Thanks KuKu Campers, you rock!
Iceland we love you!!!
"Shakey" the Dokker van did us proud... Snæfellsnes peninsula - West fjords - North - East coast - South coast - Golden circle
Love Dan and Gaby (from Barcelona with love) 22/8/18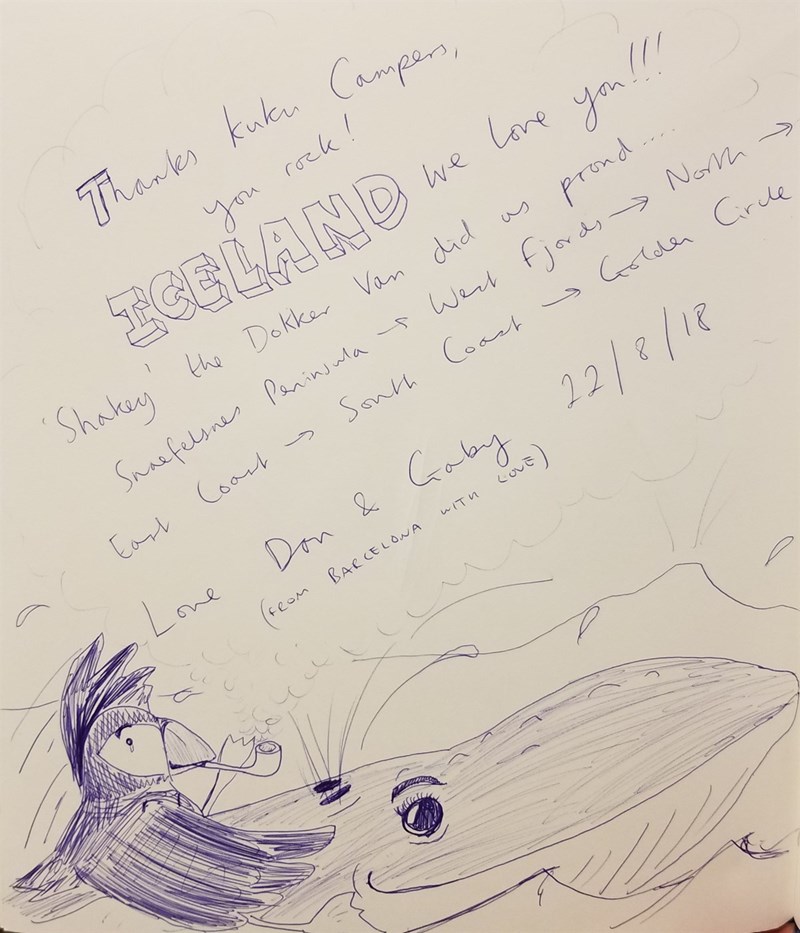 Rebecca and Antonio from London 2018
Rebecca and Antonio drew us a roadmap of their trip in Iceland, they saw seals, Geysir, glaciers, Hallgrímskirkja Reykjavik, the plane wreck in Sólheimasandur, Gullfoss and some geese - and this is what they had to say about their trip:
"Perfect trip with the perfect girl in this unforgettable country"
Rebecca and Antonio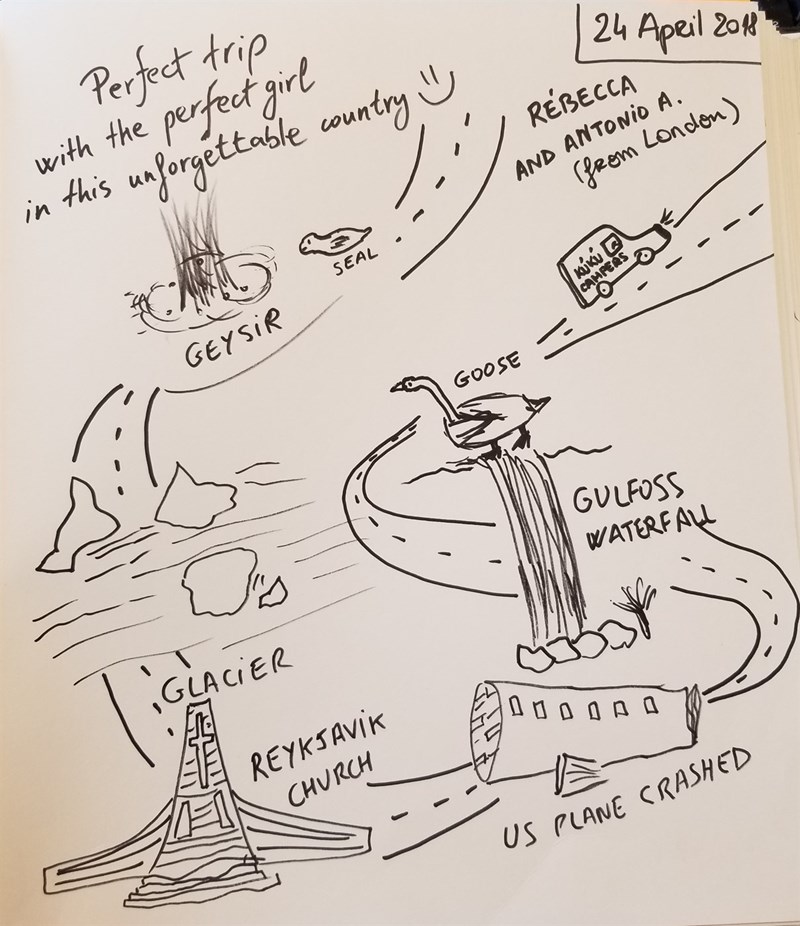 Lemon and Emma 2019
Thank you KuKu! You guys are frikn awesome (and like actually crazy)
Iceland was so much fun and the van was PERFECT
To Iceland: Thanks for all the fosses, allogical sheep, misty moutains and the sexy hole. Also thanks for the northern lights and warm baths. 
Love you lots
Lemon and Emma!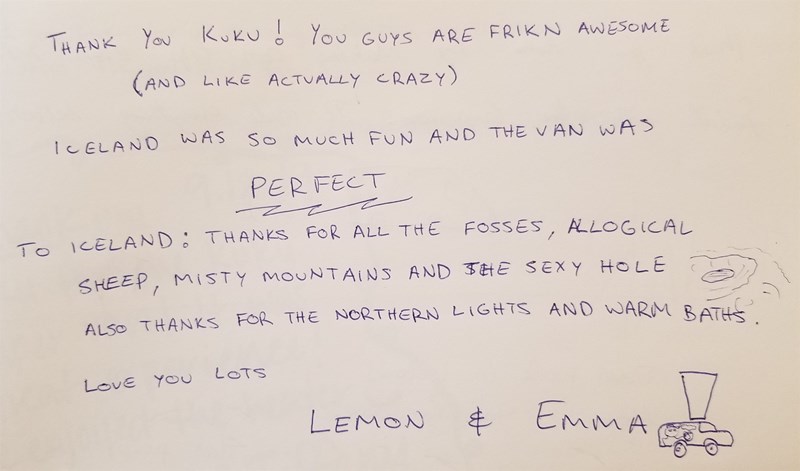 Thelma, Louise and Louise 2018
Thelma, Louise and Louise seem to have been horrified by the sight of Bárður Snæfellsás sculpture at Snæfellsnes and he seems to have reminded them of Pooka "monster". But Bárður is half Titan (good troll) and half human and protects the inhabitants of Snæfellsnes - and thus not the scary type at all.
-Don't worry be Sexy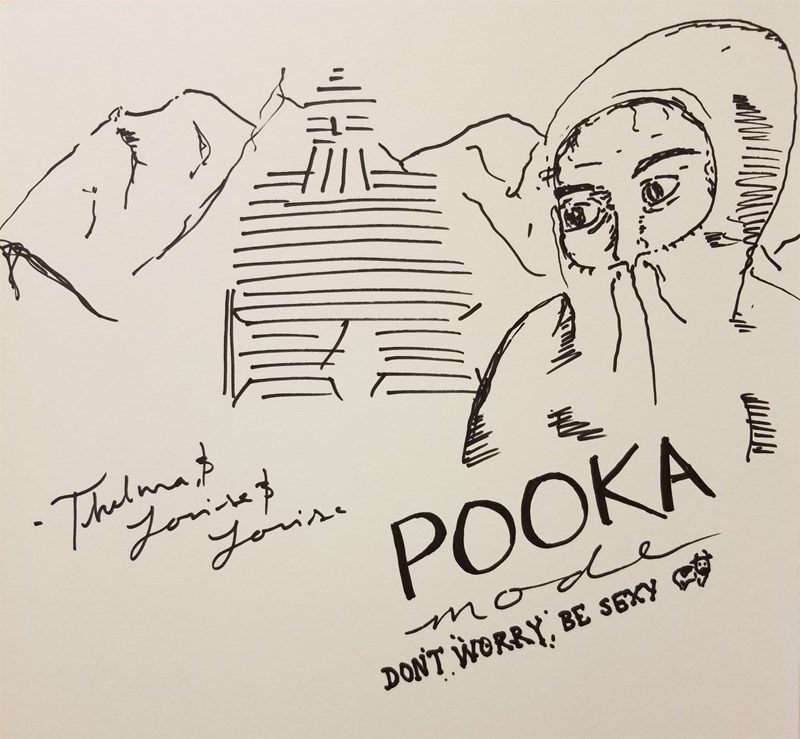 Carl Mark and Karen 2018
Here we get a snapshot into one of the most memorable moments in this couple's life - the proposal at Reynisfjara!
Thank you KuKu Campers!! As for her this was the best moment of her life..
From Carl Mark and Karen
We at KuKu Campers hope we see you again Carl and Karen for your honeymoon or an anniversary trip!! 
Glen and Natalie Rae from Toronto 2018
There are many who find the Icelandic language to be a tung twister and the comment Glen and Natalie left in our guestbook describes that very well when they describe where they took their KuKu campervan in Iceland
KuKu - Selfoss - Vík - Jo-something (the ice place) 
We can surely assume they are talking about Jökulsárlón (the glacier lagoon in south-east Iceland)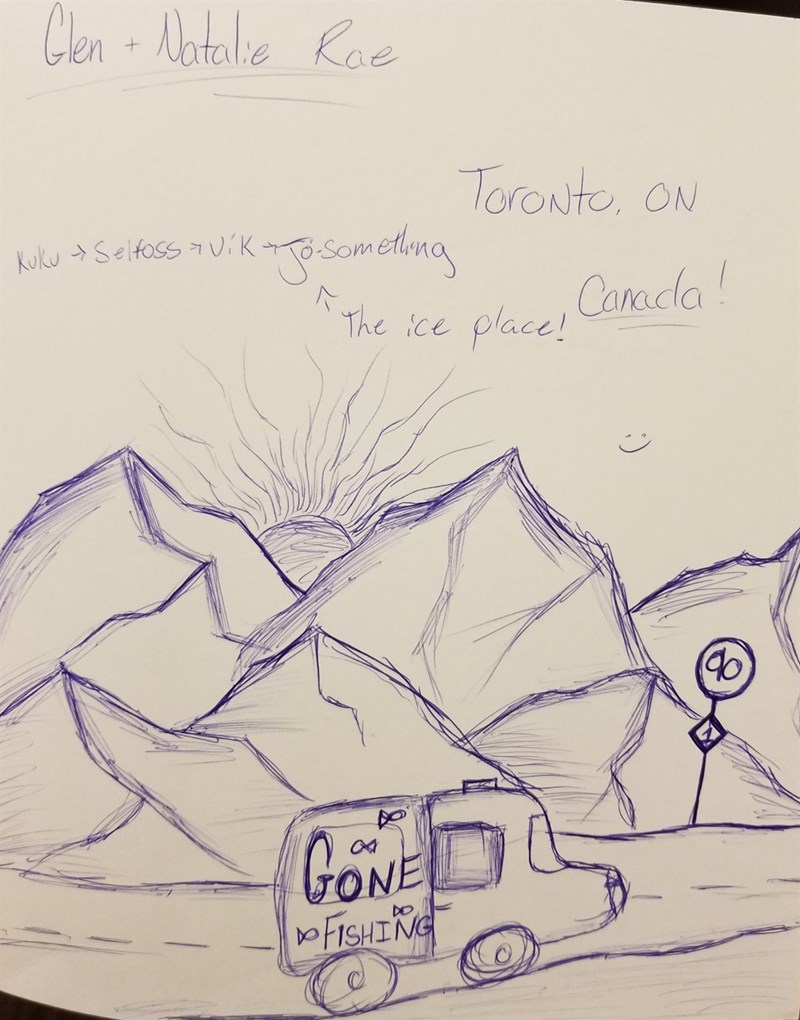 Alice and Jerome Switzerland 2019
2277 KM in 10 days (3 underwears)
We don't see whales but it was such an amazing adventure with our KuKu camper.
Thank you
Alice and Jerome (Switzerland)
- puffin (sorry I can't draw it)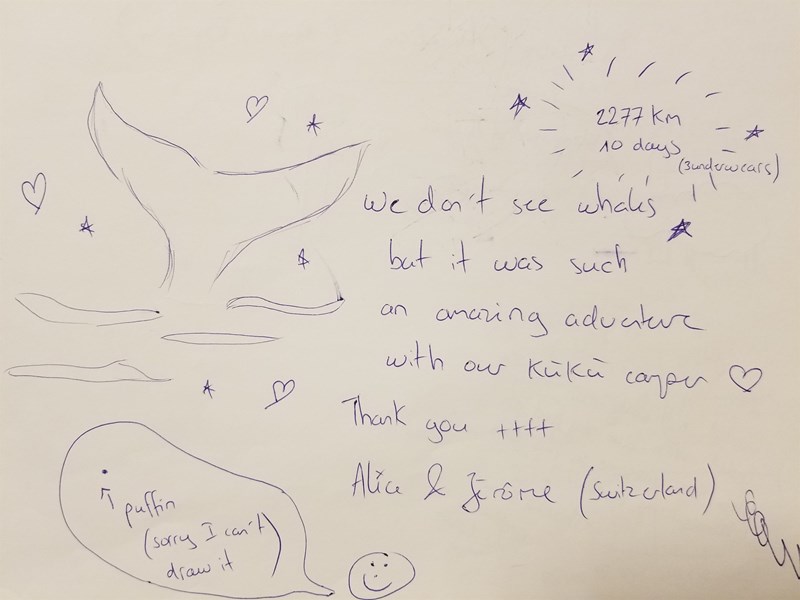 The Danish Vikings 2019
AARGHHHH!
Thank you for a great adventure 
From the danish vikings!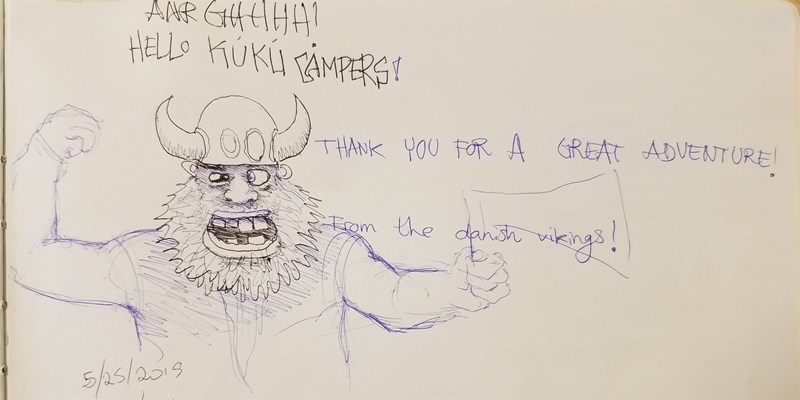 Katie and Kyle from Conneticut, USA 2019
5/25/2019
KuKu - we had an unforgetable wedding + honeymoon. We named our little camper Ingrid the Red. She was a wonderful companion. We are deeply sad to leave her.
Watch out, those sheep are waiting to jump in front of you and ruin your day!
Katie + Kyle from Connecticut, USA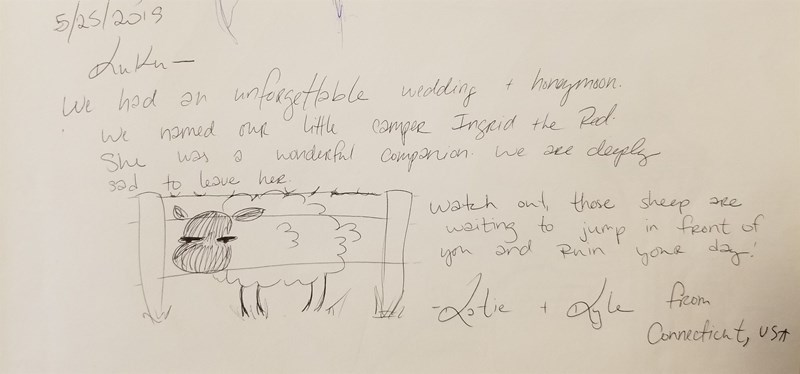 Esther and Rebecca from Seattle 2019
We had a great time
6/2/2019
Esther and Rebecca
Smoyce + Mitch from California 2018
We loved Vince Van - he was reliable as hell
Thanks KuKu!
Smyoce + Mitch, Bay Area, Cali
10/6/2018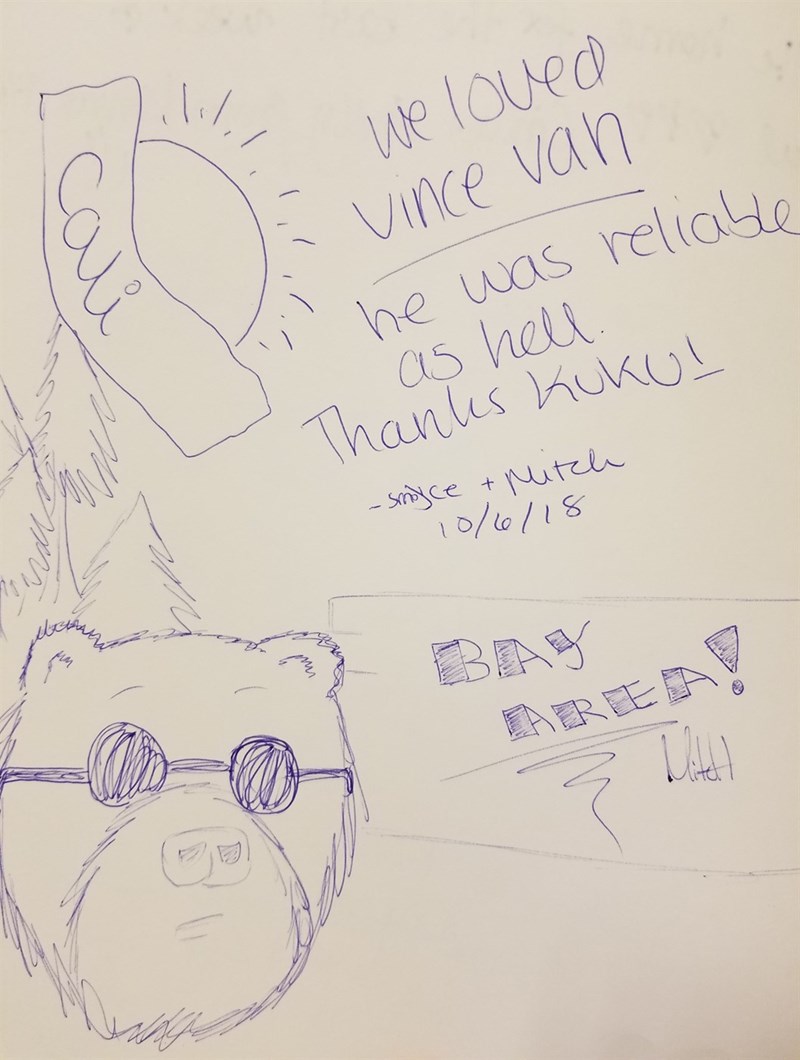 Jenna and Richie 2018
Had an awesome trip in our KuKu Camper! It was super cosy & relaxing. Iceland is a brilliant country! Thank you.
Jenna and Richie
Brisbane, Australia
xx
Tellington 2019
One road, one campervan, more than 2500 Km - a lot of fun!!!
Tellington even drew a map of their roadtrip, wich by the looks of it lasted 9 nights - they went to Blue Lagoon, the Golden Circle, Seljalandsfoss, Skógafoss, drove east, Mývatn Nature bath, Snæfellsnes and back to KuKu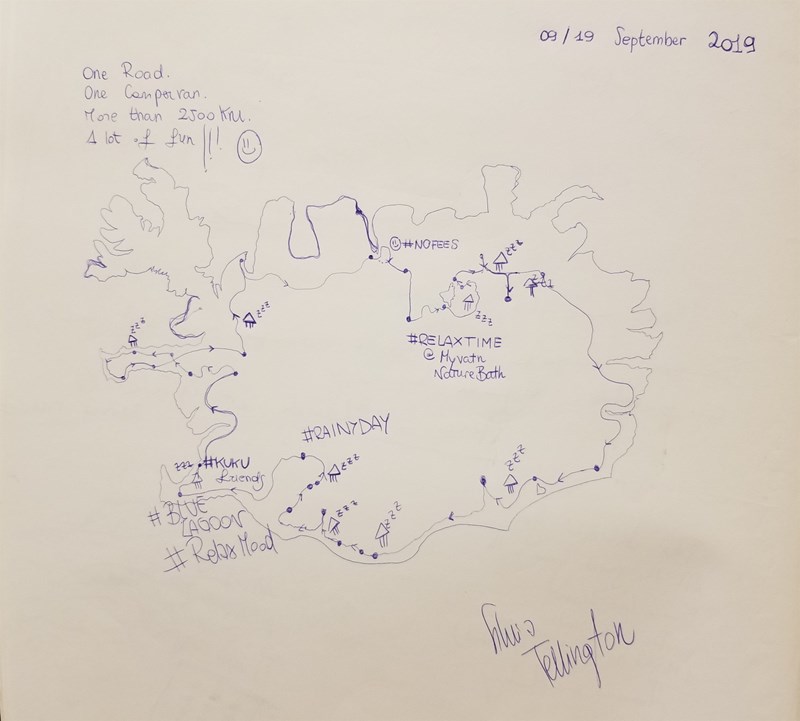 Paola, Guillermo and Alvar
Muchas gracias Joan, la mejor KuKu camper. Esperamos que te vaya todo muy bien. 
(Thank you very much Joan, the best KuKu camper. We wish you the best)
The van heating is working good :)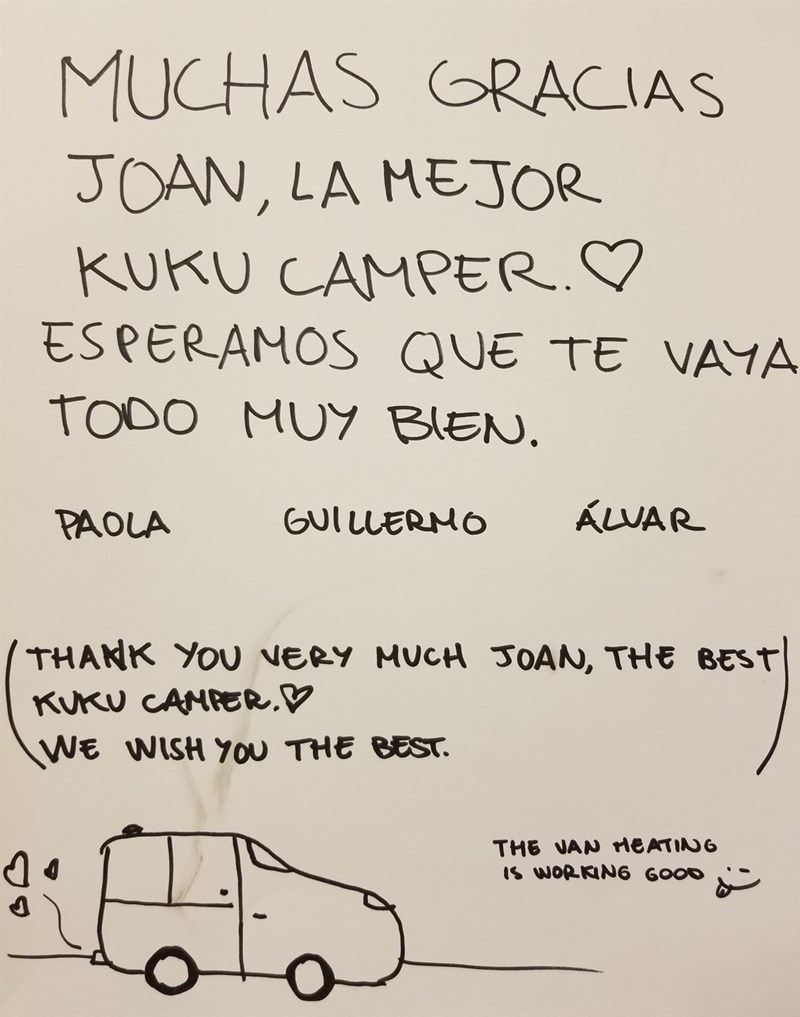 Molly, Lilja, Elvira, mor & far from Denmark
Three lovely sisters draw this amazing picture of their family campervan holiday in Iceland - they were traveling with "Mor" (danish for mom) and "Far" (danish for father) - we can also see they did not forget to draw in the family cats Billie and Ingolf (even though they were left in charge of their house in Denmark).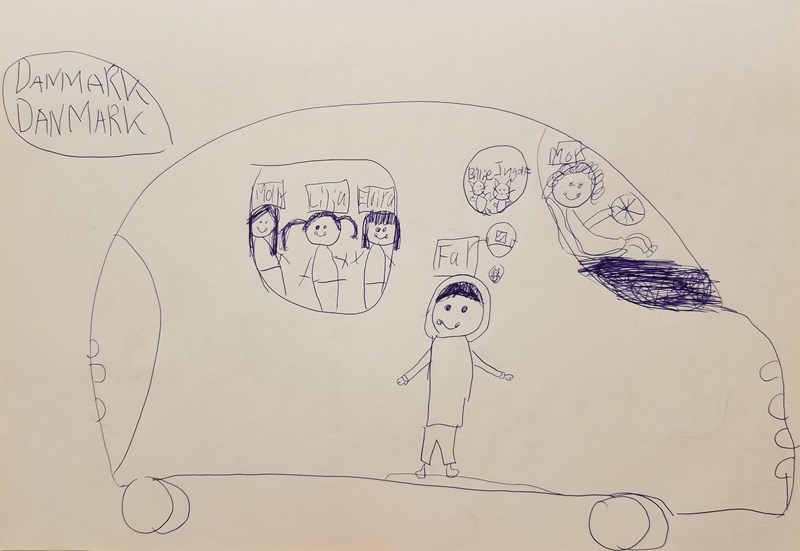 Charlie and Rithy from Montréal Canada
From Charlie and Rithy with love
Who drove the Ring road #1 1300 KM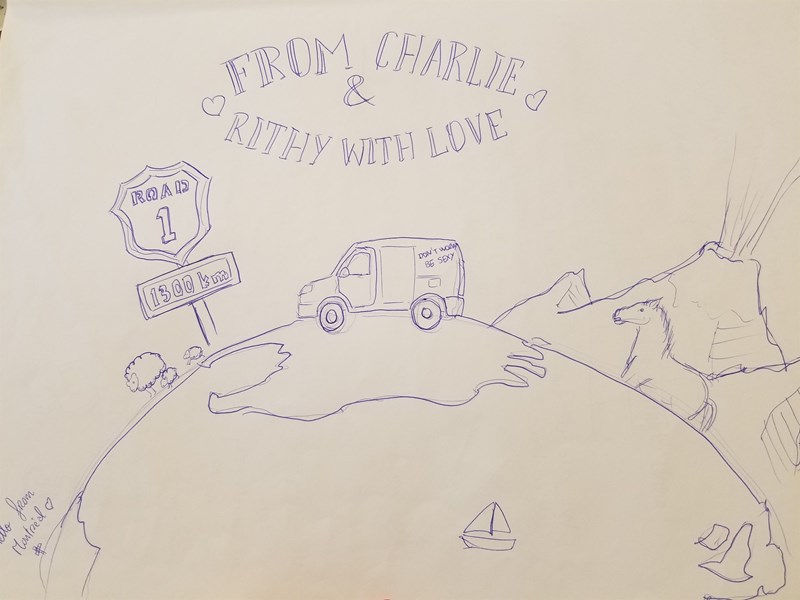 Sharon and Tiffany from Florida, USA 2019
Thank you KuKu for the KuKu camper van! It was a great experience! We enjoyed the heater :) Sharon & Tiffany (From Florida)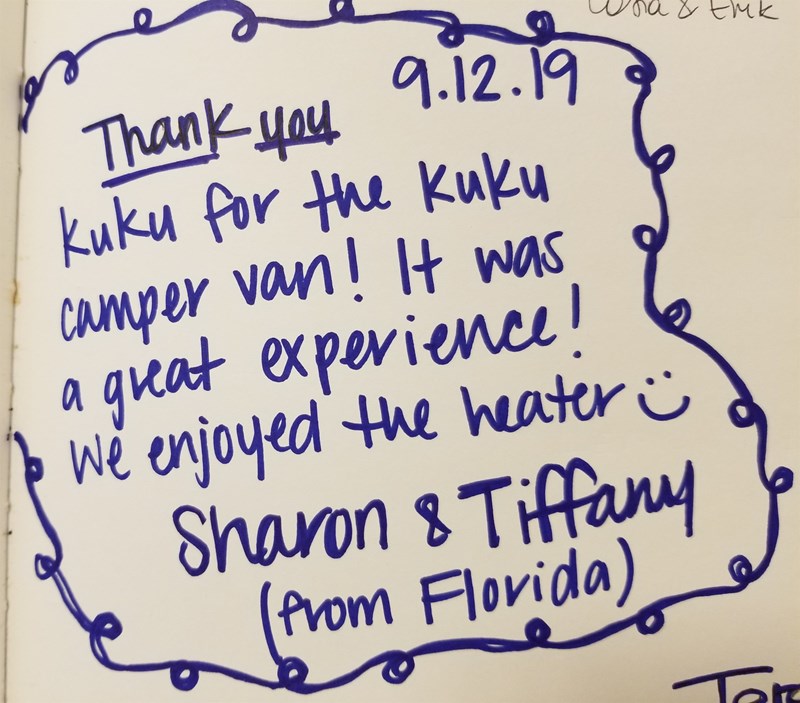 Francois et Julie 16.8.2018
Best trip ever in 2018!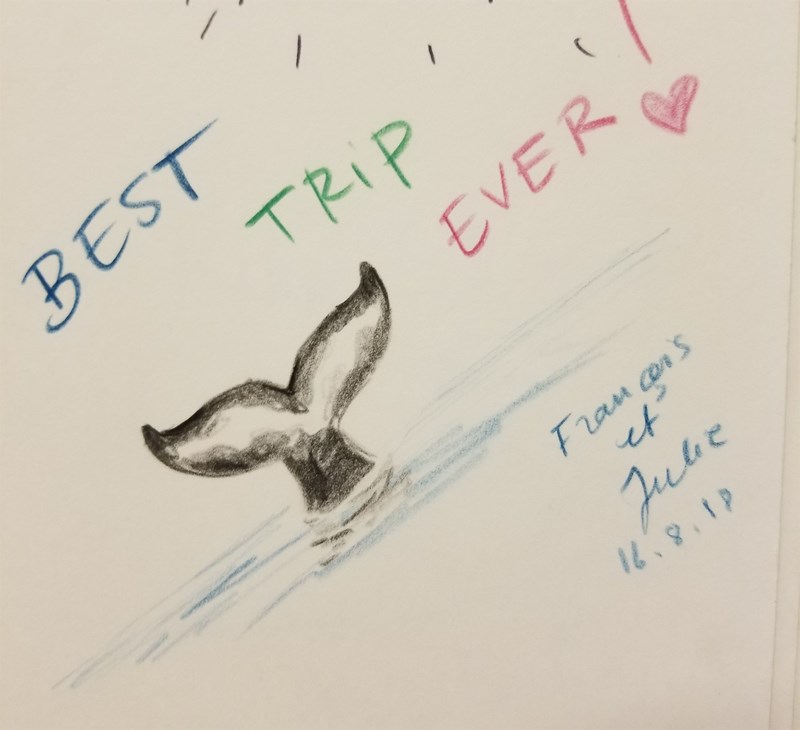 Amy + Trey - Ontario, Canada 2019
29.3.2019
We had an amazing 11 days in our KuKu Camper! An amazing unforgettable experience in a truly beautiful country. Thank you KuKu for being so amazing + to all the local Icelandic people for being so kind. So happy to check Iceland off our bucket lists & to have KuKu be a part of that. #KuKuBrotherhood #KuKuGang #KuKuLove
We survived Ring Road March 2019!! (With questionable moments) 
- Amy + Trey - Ontario, Canada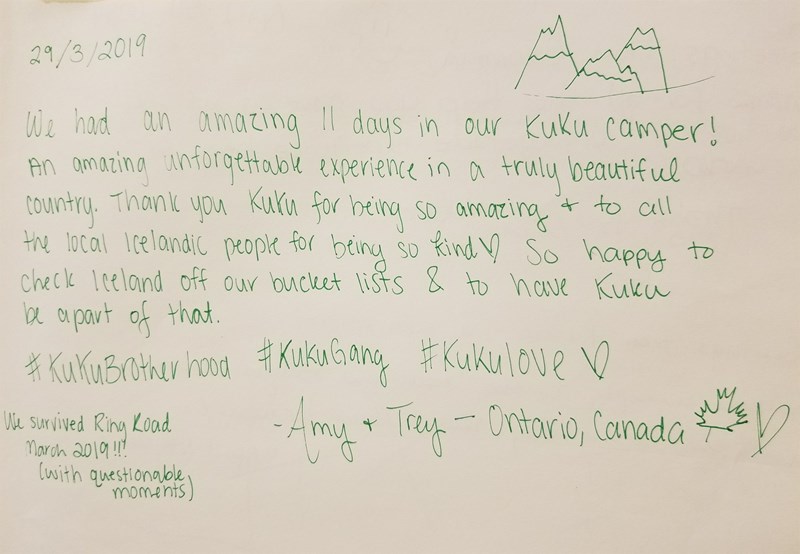 Sephanie and David, San Francisco, California
We love you, Iceland!! Thank you for an incredible journey, KuKu! Like nothing I've ever done before! Hot rivers, hot pools, waterfalls, little lambs, hiking, fish soup, midnight sunsets!! We will never forget those 2 weeks!!
Stephanie & David - San Francisco, California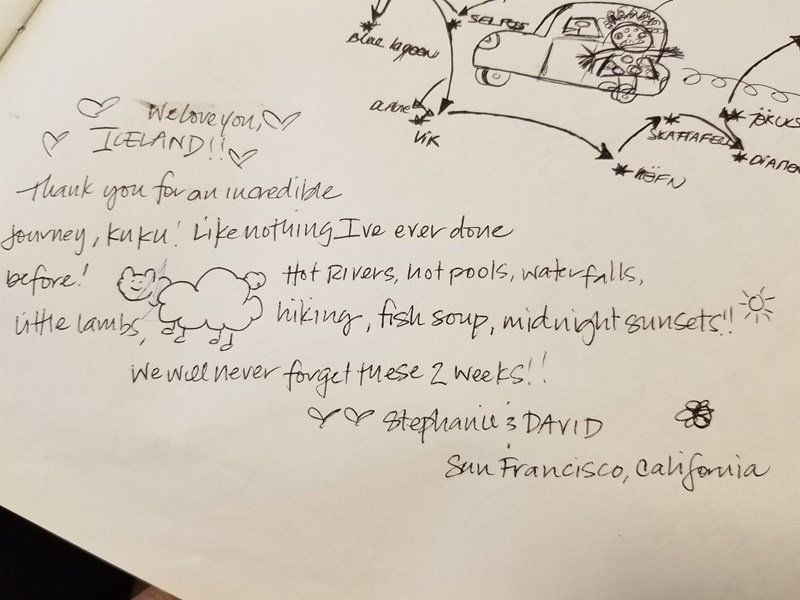 Javi, Isa, Migel and Mari Jose 2019
Javi, Isa, Migel and Mari Jose travelled from Spain to Iceland in 2019 and had a wonderful and amazing experience with KuKu Campers. They drew up this amazing portraits of themselves, displaying Javi was the main photographer on the trip and Mari Jose taking care of the maps on the road.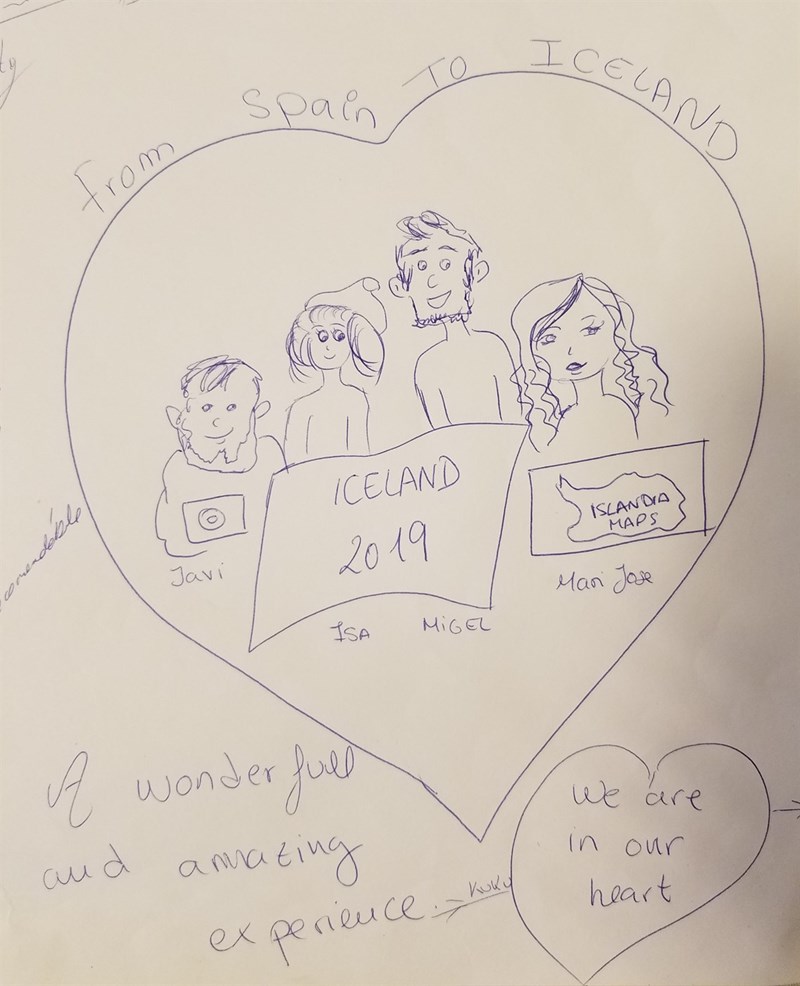 Margie, Sara, Kody and Anthony from Michigan USA 2019
Had an amazing time in Iceland with our KuKu Camper !  We wouldn't have been able to truly explore the land of fire and ice without it !