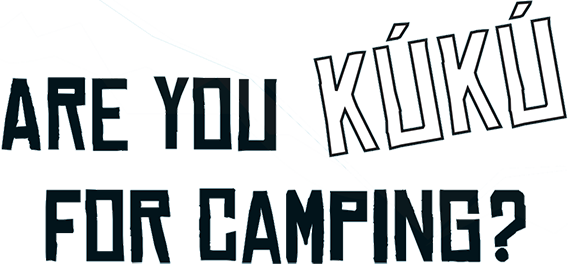 ---
The all you need to know guide
Dacia dokker or similar
Manual transmission
Sleeps and drives 2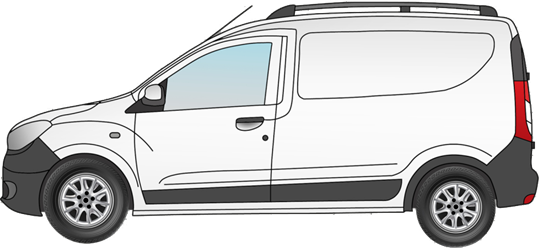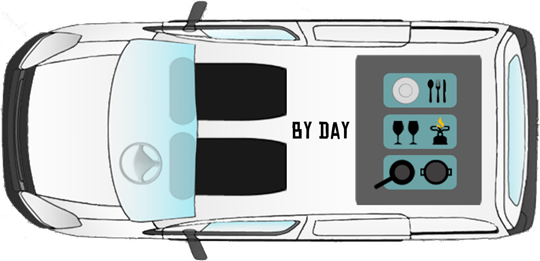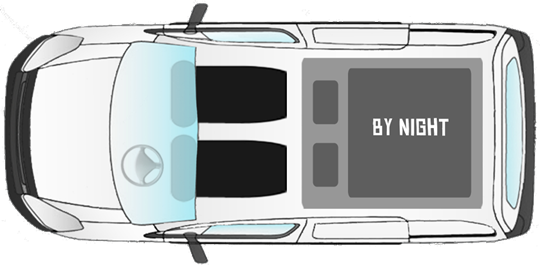 gas stove
pot - pan – plates – bowls – cups - cutleries
radio - bluetooth - cd - usb
A

category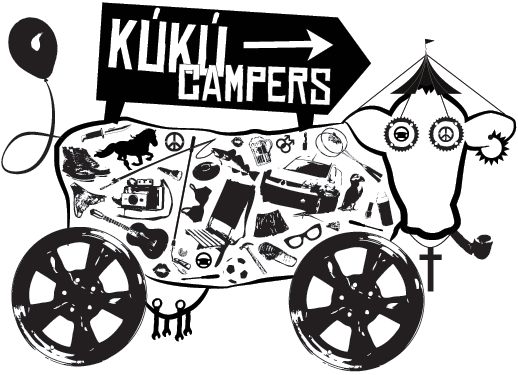 Useful websites
and phone numbers
---
www.vedur.is – Weather forecast
www.safetravel.is – Travel plan submissions, weather or road warnings
www.road.is – Roads condition and web road cameras
www.visiticeland.com – Travelling and camping info
www.n1.is/en/locations – Service station, 95 location around Iceland

Getting close to the end of your trip and needing to refill the car?
Check out this website to find all the nearest N1 gas station around you on the virtual map and get your 3kr discount per liter on your refill thanks to the N1 gas card your received at pick up. SO KÚKÚ!!


+354 415 5858 – KúKú Campers HQ
Choose 1 for reservation (8am – 6pm) or choose 2 for Road Assistance (8am – 8pm)


112 - Emergency
(Police, ambulance, firefighters, rescue team – not for towing)


For more information about the workings of the car please check "owners manual".
You can find it inside the glove box.
A

category
Accessories manual
Car information - dacia dokker or similar
Brand: Dacia Dokker | Engine: 1.6 Petrol | Tire size: 195-65-15 | Gearbox: Manual
---
1. sleeping area
Our A Cat. is equiped with a bed size 130 x 190 cm. During the night you can place your luggage in the front of the car and unfold the mattress to make it ready to sleep (1).
2. INTERIOR
Inside our A Category car you will find two tables. One from the back (2.1) and one inside the camper (2.2). In the back of the car you can find shelves with boxes which contain everything you need to cook and clean the camper (2.3).
Your camper is equipped with a camping gas stove. You can get gas at our office or any gas station.
Package with the stove (3.1)
Screw these pieces together (3.2)
Screw stove on top of gas (3.3)
Tighten it well (3.4)
Turn to release gas (3.5)
Light it up with a match / lighter (3.6)
You can find the spare tire underneath the car from the back (4.1) .
The tools are located on your left when you open the back doors (4.2) .
Please read official car manual for further information.
You drive me KúKú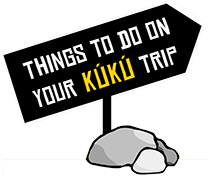 Have sex outdoors... errrday!

Send a KúKú postcard to your friends back home

Make a campfire and BBQ hot dogs on it

Enter a hot natural pool with your swimwear on your head

Do a baywatch Hasselhoff run on a black sandy beach

Eat shark meat without loosing face

Sleep outside in a lava moss field

Post a nude picture on KúKú campers facebook page
Camper van rental
Watch out
for the speed limits!
NO NEED TO SPEED
If you get a ticket from a speed camera then KúKú will be sent the ticket and we will have to charge you for it along with a €50 processing fee.
Remember to pay for parking where needed
If you get a parking ticket and it is not paid then KúKú will be sent the ticket and then we will have to charge you for it along with additional €50 processing fee.
How to take a dump in
Iceland
As you are probably aware, Iceland is a rural country. That means, no public Restroom every 5 minutes. Yes, we see you coming. Locals too.
---
When you really need to drop one, there are a few basic rules to respect. Be kuku, don't be kuka. Plz.
---
1) do not poop on peoples land
Driveways, farm felds, black sand beaches – iceland is 90% privately owned. Wherever you end up, you're probably in someone's backyard. Respect people, respect nature, and do not do to others what you would not like done to yourself. Basic human decency.
2) know the stops
Gas stations, camping grounds, swimming pools, cute cafes and cool bars. Iceland is full of life and these places are your go to for organic matter. Ask us for maps to assist.
3) in case of emergency
We understand that, well, shit happens. But if you REALLY NEED to go, make sure to dig a ditch AT LEAST 6 inch deep. Careful not to hit elves homes.
---
We get aroused so much by the outdoors that we always want to have sex there. Help us and help yourself by protecting nature with all your heart.
---
1) leave no trace
Cardinal rule, never trash nature. Pack garbage bags and pick up your stuff wherever you go. You can even go plogging to pick up the trash you find on your way! Giving back is real sexy. Make it fun!
2) recycle
Bring back all plastic bottles, gas canisters, beer containers and paper, you can recycle it all at our office or most campsites. Then who knows, they might turn into a kukucamper one day!
3) travel smart
Avoid buying stuff you don't need, it prevents useless packaging and saves precious money. Stuff you don't buy is stuff you won't have to throw away. Genius logic.
Insurance
Summer deliveries
KúKú Campers Basic insurance CDW
[CollisiOn Damage Waiver – Included as standard insurance]
Covers against damages to the car in an accident = Cost 0€
Liability: 3000€ (plus a towing fee around 500€ – 1000€)
---
KúKú Campers Super insurance SCDW
[Super collision damage waiver]
Covers against damages to the car in an accident (see exceptions)
Cost: 20€ per day and reduces the liability from 3000€ to 750€
---
KúKú Campers Platinum Damage Waiver PCDW
(Platinum Collision Damage Waiver)
Covers the lessee in case of damages on the car or accident (see exceptions)
Cost: 30€ per day and reduces the liability from 3000€ to 0€.
---
KúKú Campers Gravel Protection
[insures the glass Of the car]
Covers against chipped/broken window and headlight
Cost: 10€ per day and reduces the liability from 500€ – 0€
---
KúKú Campers Sand and Ash Protection
[against natural damages]
Covers against possible damages caused by sand and/or ash storms to the whole car including the paint, windows and lights
Cost: 10€ per day and reduces the unlimited liability to 750€
---
KúKú Campers Tire insurance
[covers possible damages of the tires]
Covers the cost of repairing the tire or the tire itself if a new one must be purchased. It also covers the workshop cost of mounting the new/fixed tire. You will however have to change the tire yourself when you have a flat and bring the damaged tire to a workshop.
Cost: 7€ per day.
---
Exceptions
Regardless of what insurance option you chose, we'd like to remind you about the things our insurances
do not

cover. Please keep in mind the following exceptions
---
Reckless driving - driving too fast, driving under the infuence of alcohol or drugs.

Categories A, AA, AB, B, BA, C and CA are allowed on paved plus smooth gravel roads only. However, driving on gravel part of road 35 and 550 voids insurance policy! If your car is found on F-roads, you will be fined 500€.

Campers categories D, E, EA, F, G, H, I & J are 4x4 vehicles which can enter mountain roads (the F-roads)
They can drive and are insured on them, except road F-88, F-210, F-249.



Undercarriage damage is not covered. If you drive over a big rock, check the car, especially for oil leakage.
Let us know how severe the damage is (Small unchecked problems can become major ones).

Rivers – Only 4x4 vehicles can cross rivers. Damage caused by river crossing is not covered. Please note that drowning the engine/car might result with extremely high costs (even around 40 000€). KúKú recommends to skip river crossing if you are unsure or uninsured.

Damage due to the wind catching the doors is not covered by the insurance.

Foreign objects blown onto the car such as: ashes, sandstorms, objects blown by storms.

Flat tires – It's the lessee's responsibility to change the tire, find a workshop and get the flat tire fixed.
(See obligations of the lessee, section 20 for further information).
KúKú Tips
... for a

KúKú

trip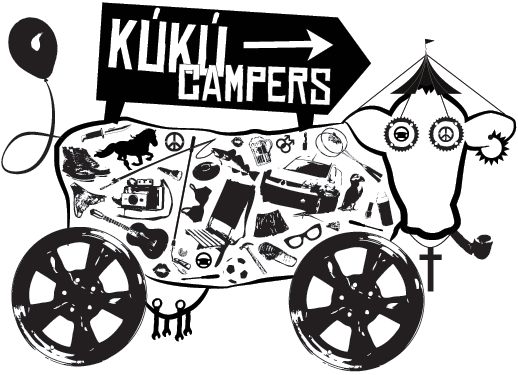 Other things
KúKú Campers

wants you to be aware of...
SHEEP – BE CAREFULL
They are dumb animals and behave illogically. Hurting or killing a sheep will result in a 500EUR payment for damaged property to the farmer.

CLEANING THE CAR ON THE INSIDE IS YOUR JOB
If you don't, we will charge you 50€ for: A–AA–AB–D–G–J campers and 100€ for: B–BA–C–CA–E–EA–F–H–I campers and the staff will party for it!

KILOMETERS
Unlimited mileage for you, KUKU friend.

BRAKES
When going down long hills, down shift and use the engine to slow the car down. Automatic cars not concerned. However, all cars must slow down when passing a car on a narrow road to avoid causing gravel damage to the vehicles.

SPEED LIMITS
SPEED LIMITS Highway 90 km/h – Towns 50 km/h – Gravel roads 60 km/h – Tunnels 70km/h. Speed cameras have really low tolerance! Note that you will be charged €50 processing fee if you get a fne!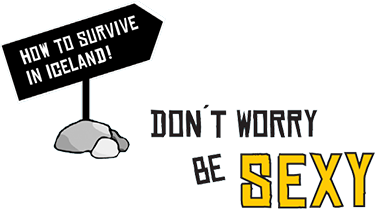 CAMPING IN ICELAND
We recommend staying at camping sites during your stay in Iceland.
Check www.visiticeland.com

STAY CONNECTED
If you are planning on driving around the ring road make sure you share your itinerary with someone who can help in case of an emergency, see www.safetravel.is
It's a good idea to check in with friends and family online too. Grandma misses you.

STAY CLEAN
Please don´t poop in nature. Restrooms and trash cans are available at gas stations, campsites and tourist information. Showers can be found at local swimming pools and campsites.

BE A GOOD TOURIST
Keep Iceland beautiful by leaving no trace! Dispose of your trash and use proper toilets, don´t enter roped off areas, park only in designated parking places, don´t go off road, avoid standing in the middle of the road to take selfes but most importantly stay clear of elves and trolls

SAFETY
We recommend you check the weather forecast and road conditions regularly as the weather in Iceland can change so quickly and it is very common to experience all 4 seasons in just a day, so… be ready, avoid the storms and drive carefully! We'd like to remind you that driving when wind speed reaches 20m/s is not recommended at all. It is advised that you'd reconsider your plans and change your route. Check www.vedur.is for weather forecast and www.road.is for road conditions.
Vaðlaheiði tunnel
and service stations


Online payment
---
Pay toll online within three hours before or three hours after driving through the tunnel, using the Single Trip Toll payment option at www.tunnel.is.

For further information contact tunnel helpdesk: +354 464 1790.

If you do not pay for the Vaðlaheiði tunnel KúKú will be sent the charge for it and we will have to charge you with additional 5€ processing fee.
KUKU MAPS


Kuku Campsites map 🏕️
The best tool for your road trip !
This map is a must have for all campers in Iceland ! You can filter campsites according to their opening periods, and if you are using the Camping card you will be able to see all campsites included in red.
Roundabouts in Iceland
... a headache to visitors
---
Before you hit the road and start driving your KÚKÚ mobile, you might be interested in finding out more about the Icelandic rules on the road.
While you might be focused on things like how traffic lights work here or what actual side of the road Icelanders drive on – the right, in case you didn't know – you will be surprised to learn that the difficulty comes from somewhere completely different. In fact, it's the country's roundabouts that will possibly cause you some small trouble. Here's why.
RIGHT OF WAY IN ICELAND
What keeps the traffic mainly fluid in Iceland is that drivers all understand who has the right of way in roundabouts.
On a two-lane roundabout in Iceland, the vehicle in the inner lane has the right of way. The vehicle in the outer lane must yield. As simple as that!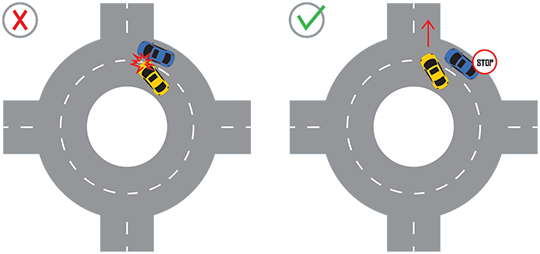 You probably stopped for a second and are now wondering how it is then, back home. Be sure that the opposite is true, but don't even bother checking a copy of the Icelandic highway code, there's nothing about roundabouts' rules except that it's forbidden to park on one. The right of way thing is not really a law but an accepted convention which is working well so far as everyone is aware about it and respect it.
In Iceland, it is required by law to have the headlights of any vehicle in motion switched on, any time of the day, all year round. Whether it is daytime or night-time, a bright summer day or a dark winter night, the headlights of your KÚKÚ car must be always on! Keep that in mind or you could risk getting fined by the police if they stop you with your headlights switched off while driving.
!!! BATTERY !!!
Remember to ALWAYS turn lights off when the car is off – unplug chargers from cigarette lighters and go easy on radio use when the engine is not running. Flat batteries happen faster than we think, and roadside assistance in that case is at the lessee's cost.
Holidays
... in Iceland
Given that you might be here for a short time, we thought it would be good for you to know and organize yourselves when Iceland has its public holidays, because a lot of businesses, stores and even banks may be closed or have limited opening hours.
Here is a recap for the next two years to come:
| | 2023 | 2024 |
| --- | --- | --- |
| New year's day | January 1st | January 1st |
| Maundy thursday | April 6th | March 28th |
| Good friday | April 7th | March 29th |
| Easter sunday | April 9th | March 31st |
| Easter monday | April 10th | April 1st |
| First day of summer | April 20th | April 25th |
| Labor day | May 1st | May 1st |
| Ascension day | May 18th | May 9th |
| Whit sunday | May 28th | May 19th |
| Whit monday | May 29th | May 20th |
| Independence day | June 17th | June 17th |
| Commerce day | August 7th | August 5th |
| Christmas eve | December 24th | December 24th |
| Christmas day | December 25th | December 25th |
| Boxing day | December 26th | December 26th |
| New year's eve | December 31st | December 31st |
Drop off options and how to get back to the airport...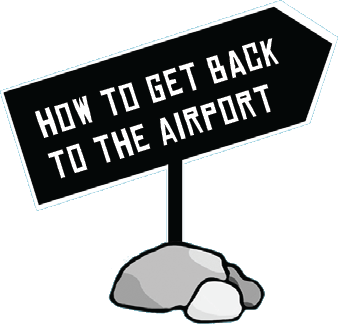 In the event where you can't remember our drop off options or if your plans have changed and you would like to arrange a different return.
---
Here is what we can offer you:
A free shuttle service from our office to the airport, every hour. If you would like to get dropped off at the airport, please ensure to call us in advance and book the shuttle according to your chosen timeslot.
The shuttle leaves our offce every hour from 8am to 6pm but, remember that we need to inspect the vehicle before we drop you off. Therefore, you need to make sure to arrive 15min before the scheduled departure time.
---
| CAR Drop Off | Shuttle departure |
| --- | --- |
| 7H30 | 7H45 |
| 8H30 | 8H45 |
| 9H30 | 9H45 |
| 10H30 | 10H45 |
| 10H30 | 10H45 |
| 11H30 | 11H45 |
| 12H30 | 12H45 |
| 13H30 | 13H45 |
| 14H30 | 14H45 |
| 15H30 | 15H45 |
| 16H30 | 16H45 |
| 17H30 | 17H45 |
Car drop off
... at the airport
Airport bus
Car drop off at the airport after hours only (from 7pm to 7am) for a price of 55€.

You can't return the camper at the airport during different hours.

If you would like that option, please contact us before dropping off as last-minute changes might not always be available. If you got that option confirmed by our staff, you will then need to leave the car at the airport in the long term P3 parking lot – section K, as KÚKÚ of course.

From that point you will leave the parking ticket and the car keys in the glovebox of the car and you will leave the vehicle unlocked. Take pictures of the whole car and send them to us at returns@kukucampers.is.
Bus
---
You can take the bus not far from our office to the airport for 550 ISK

Here are the directions on where to take the bus: www.straeto.is/en

You must look up for the route from Keilir to KEF airport and click on the search button. It's a direct line – the number 55 – a simple ride of 15 min.
Here you can check the timetable of the bus to plan your return without having to rush:
fares
Payment method when taking the bus
---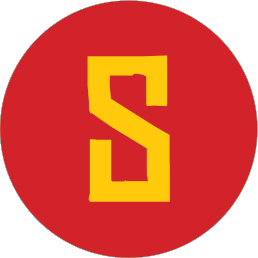 SINGLE TICKETS
Children up to 11: FREE



Children between 12 and 17: 285 ISK

Adults: 570 ISK
---
Since November 2021, Strætó uses a new ticketing system called KLAPP. If you would like to take the bus, you must download the app to be able to pay, as, by the end of the year 2022, it will be the only way available to purchase tickets. (The KLAPP app is available on Android and Apple smartphones.)
Taxi
---
You can also take a taxi from our offce to the airport if that is more convenient for you.
The price for such a ride would be around 3000 ISK.
We can of course book the taxi for you, don't hesitate to ask!