Camping advices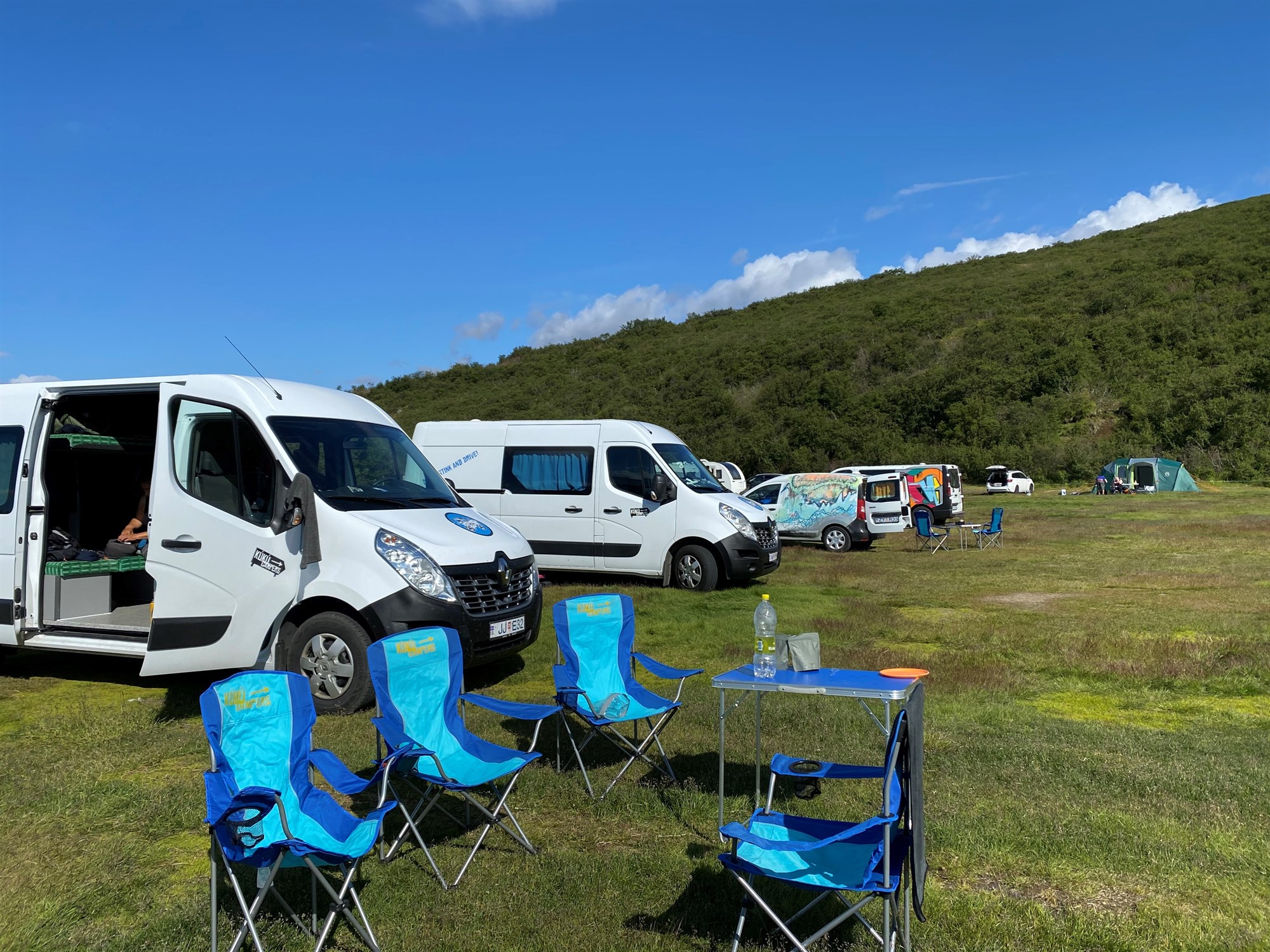 Guide to Camper van adventure in Iceland
So - you've set a date for your trip to Iceland. You've got all your items packed and you're ready to book car rental and an Airbnb for your stay. Now what?  
Now - we recommend you dump a bucket of ice water on your head, check your pulse, and pinch yourself a thousand times to make sure you're awake, because the  only way to successfully experience everything that Iceland has to offer is by road tripping it Kuku Camper Style!   
Ditch the Airbnb and car rental agencies - to conduct an Icelandic road trip right, you're going to need the Marley-mobile or Chillen in the Dillon van. Because here at kuku Campers, road tripping isn't about seeing places - it's about experiencing them!   
Many visitors to Iceland book their Kuku Camper Van and then wonder where to go from there. If all you have for your road trip is a torn up map that you can't make sense of, never fear - this guide to road tripping in Iceland will have you graduating to Road Trip Wizard in no time!   
In this blog post, there are a few things we'll address for you,  from best campsites to park for the night, the best routes to  take and what to expect while driving in Iceland.   
So buckle your seat belt (this is a law in Iceland) and blast the music baby (this is a law in Kuku Campers) and let's rock this guide!   
Iceland has no shortage of beautiful roads to travel, each one taking you to a wide variety of amazing outdoor places. Depending on what you have an appetite for, you have a couple of options that we recommend at least starting with:   
Golden Circle - ​Less driving, focuses on key attractions 
Ring Road - ​More driving, see everything in Iceland! 
 Golden Circle Route​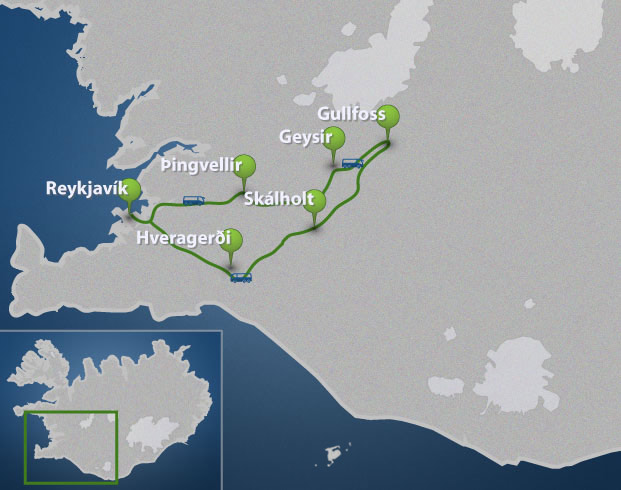 This route will take about 3.5 hours to drive, but we  promise you, you won't be driving the whole time! Packed into this scenic road are  several attractions to visit, including Þingvellir National Park, Geysir Geothermal Area  and Gullfoss waterfall. We could write a whole blog article on each of these places alone, but we'll keep it  short for now. Basically, if you want to see waterfalls, glaciers, ice caves and scuba dive, all within the same day, then this route was made for you!   
Ring Road Route ​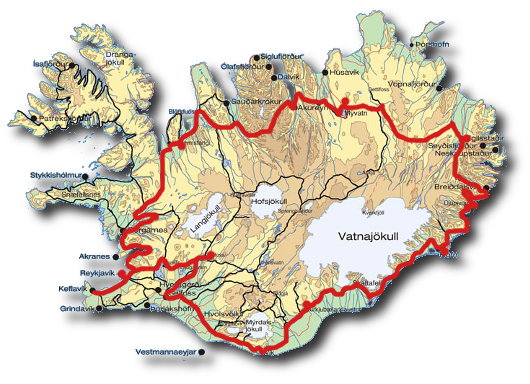 So you have more time to hangout with us in Iceland, more  like a whole week? Maybe you've just gotten married and you and your spouse want  to go crazy and soak in everything there is about Iceland? Then the Ring Road (officially called Route 1) is the road for you and your Kuku  Camper Van!   
Without stopping, it would take you about 12-13 hours to drive the entire road,  depending on how good the weather is - snowy conditions may cause delays.  This route will take you all throughout the north, east, south and west parts of  Iceland, where you can visit multiple popular attractions such as lagoons, black  sandy beaches and volcanic mountains. You will more than likely also met some  sheep crossing the road too! Speaking of sheep, now is a great transition into the next part of our road tripping  blog:   
Driving Safely in Iceland 
If you're coming from the U.K., remember that the driving lanes are opposite and the steering wheels are on the left side instead. Make sure to practice driving in the  parking lot if you have to in order to adjust to the change.   
It's also important to remember these safety rules before driving:  Follow the speed limits and road signs. Iceland has speed limits, road signs and in a few places, toll fees, and it's your  responsibility to abide by them. And never under any circumstances drive off the  road into the country side unless you have permission from the proper authorities.  
Be careful of high winds. 
I don't know where you're from, but here in Iceland, we have some kuku winds that are  strong enough to rip your vehicle door off, along with anything that might be holding on to the door. Be careful when opening your vehicle door, opening it with a firm grip.   
Yield to the sheep 
Yes, Iceland is known for sheep and cattle freely roaming the fields. Be mindful of your speed on the road, as you will probably need to stop for crossing animals. Don't worry, they're sweet, and you can probably manage to roll your windows down and  get a selfie with one if you're stopped!   
Be mindful of the weather. 
Besides high winds, Iceland is also known for changing weather quickly. You can be driving on a pretty calm day and have a blizzard out of nowhere show up. When this  happens, roads become too covered in snow to drive on and visibility is impossible.  If this happens, pull over somewhere safe in your Kuku Camper Van and wait until the snow dies down.   
Campgrounds for your Kuku Camper Van 
At the end of a long successful day of exploring, mountain climbing and hanging out  in the lagoons, nothing will feel better than pulling your kuku camper van in for the  night at a nearby camping site. Below are a few campgrounds on your routes that will allow you to park your camper van for the night! Note, they do have a small cost for staying per night, but it's dollars compared to staying in a hotel!    
Gesthus Campground, Southwest Iceland 
Gesthus has beautiful overnight accommodations located in the heart of the small town Selfoss, which allows for quick access to civilization, cafes, and stores, while also being near the Olfusa river, and right off the Ring Road. Depending on how late your plane flies into Iceland, we recommend this campground for your first night's stay, as it's less than an hour from Reykjavík, and is a great  starting point for your road trip. It also offers amenities such as restrooms, showers, laundry rooms and wi-fi.  
Þakgil Campground, South Iceland 
This campground is a favorite for many of our customers because it is right off the South Ring Road near the little town of Vík, just minutes from the coast. The name Þakgil, "þak" meaning roof and "gil" meaning canyon, and as the name might suggest the weather there is usually very good! Not only does it offer places for you to park your camper van for the night, it also offers restrooms, showers, laundry and Wi-fi. The dining area is inside of a natural cave, which has benches, fireplace and barbeques. There are also many beautiful hiking routes from the camping site. The gravel-road leading to the campsite is fit for all cars during summer.
Kleifar-Mörk Campground, South Iceland
If you are looking for the hidden gem of a campsite, Kleifar is your bet. The campsite is located at Geirlandsvegur, 2,5 km from Kirkjubæjarklaustur, conveniently located between Vík and Jökulsárlón (glacial lagoon). It is a relatively small campsite, with a price tag and amenities to match; restrooms, cold running water, benches and tables. The surroundings are stunning though, with a small mountain backdrop, with a beautiful waterfall; Stjórnarfoss running through a small canyon, and on a good day the water from the waterfall can become warm enough to go for a swim.
Eskifjörður Campground, East Iceland
The camping ground is where you enter the town of Eskifjörður, the proximity to the town has all the advantages as there is only a short ride to the supermarket, pool, hot tubs, restaurants and coffee shops. The camping ground offers restrooms, showers and a playground area for the kids.
Ásbyrgi Campground, Northeast Iceland
Asbyrgi is a beautiful horseshoe-shaped canyon, believed to be formed by Odin's eight legged horse; Sleipnir as he placed one of his feet on the ground as it sprinted across the sky. The 100 meter/328 feet high cliff creates the perfect shelter from the wind, which has thick woodland below and thus creating an area quite unique in Iceland. The campsite offers restrooms, showers, washing, drying closet, charcoal grill and playground area for kids. Wi-fi is available by the main restroom building and visitor center. The area has varied and well-marked hiking trails. 
Hamrar Kjarnaskógur Campground, Northeast Iceland
One of the biggest and most exquisite campsites of Iceland, located in the beautiful forest just outside the capital of North-Iceland; Akureyri. The campsite offers restrooms, showers, laundry, cooking facilities and a computer with internet access. They also have a playground for kids, boat-rental and more for kids, as well as excellent walking areas in Kjarnaskógur forest and surrounding area.  
Varmahlíð Campground, Northwest Iceland
This campground is located south of Skagafjörður, fjord on Reykjarhóll, an area that is forest grown, and close to the historical turf-house and museum Glaumbær. The camping area is divided into different areas, marked of with rows of trees. The offer restrooms, hot and cold running water, showers, washer, and dryer. Awesome playground for kids with a huge jumping mattress and a short walk to a pool with a hot tub. From Reykjahóll the view over Skagajförður at sunset is AMAZING.
Hólmavík Campground, Westfjords
The camp site is located next to the swimming pool in the town of Hólmavík, and guests are within an walking distance from all what the town has to offer. Including the most quirky museum in Iceland; the museum of sorcery and witchcraft. The facilities the campsite offers are restrooms, washing machine and dryer.
Tungudalur Campground, Westfjords
Tungudalur campground is the camping for Ísafjörður, the biggest town in the Westfjords. The campsite itself is situated about 1 km outside of town and is one of these picturesque campsites in Iceland as Bunárfoss waterfall divides the campground into two areas. What is more perfect than the sound of a waterfall as you cuddle up in your camper, about to fall asleep? The campsite offers restrooms, showers, washer + dryer, kitchen with a microwave, toaster, stove, water boiler and dining area. They also have a playground for kids and free Wi-fi.
Hellissandur Campground, West Iceland
Do you want to camp your camper in a middle of a lava-field? Not to worry, it is not active! The campsite is located at the tip of Snæfellsnes peninsula. They offer restrooms, showers and Wi-fi and amazing sunsets, within close proximity to Snæfellsjökull, glacier and sandy beaches.
Another interesting post in our blog
Make sure you get the most out of your camper van journey to Iceland with KuKu Campers